Whether you're a blogger, freelance writer, or social media marketer, email newsletters are a great way to keep your brand visible to existing or potential clients.
Newsletters with relevant and personalized content educate your audience, address their pain points, and nurture long-lasting relationships.
Simply put, email newsletters can help boost your digital marketing efforts.
In this blog post, I'll briefly cover what email newsletter copywriting is. I'll then share seven helpful tips to make your newsletter stand out and go over three surprising benefits of email newsletter copywriting.
As a bonus, I'll mention a powerful email marketing tool you can use to power up your newsletter writing efforts.
This Article Contains:
(Click on the links to jump to specific sections)
Let's jump right in.
What Is Newsletter Copywriting?
Newsletter copywriting is the process of writing newsletters for existing customers or new leads.
Like website copywriting, email newsletter copywriting is about engaging your audience and persuading them to take action.
You can use email newsletters to:
Inform your customers about a new product or service.
Share white papers to educate your readers.
Invite your subscribers to an informative webinar.
Showcase a recent press release featuring your brand.
Announce exciting offers your readers can benefit from, and so on.
Let's look at the essential components of an email newsletter next.
3 Main Components of an Effective Email Newsletter
Your email newsletter must have three key components:
1. An Irresistible Subject Line
The subject line is a window to your email newsletter, offering readers a sneak peek of your newsletter content.
That's why, as a newsletter copywriter, you'll need to leverage the email subject line to capture your readers attention.
But how exactly do you do that?
Just use an intriguing question or a humorous one-liner as your subject line to stimulate your audience and get them clicking.
Adding an element of surprise or an attractive offer in your subject line is also a great way to reel in readers.
For example, check out how Dominos Pizza advertises exciting offers in their subject line:

If you're a pizza lover, it's almost impossible to resist opening this email.
2. An Engaging Body Copy
After the subject line comes the body copy of your email newsletter.
Since engaging readers is critical, your email body copy must be compelling and concise, with only the necessary details.
But more importantly, your email body copy's tone should showcase your brand personality.
For example:
HBO Max's weekly newsletter has a laid-back yet inviting voice that uses nostalgia to get viewers excited.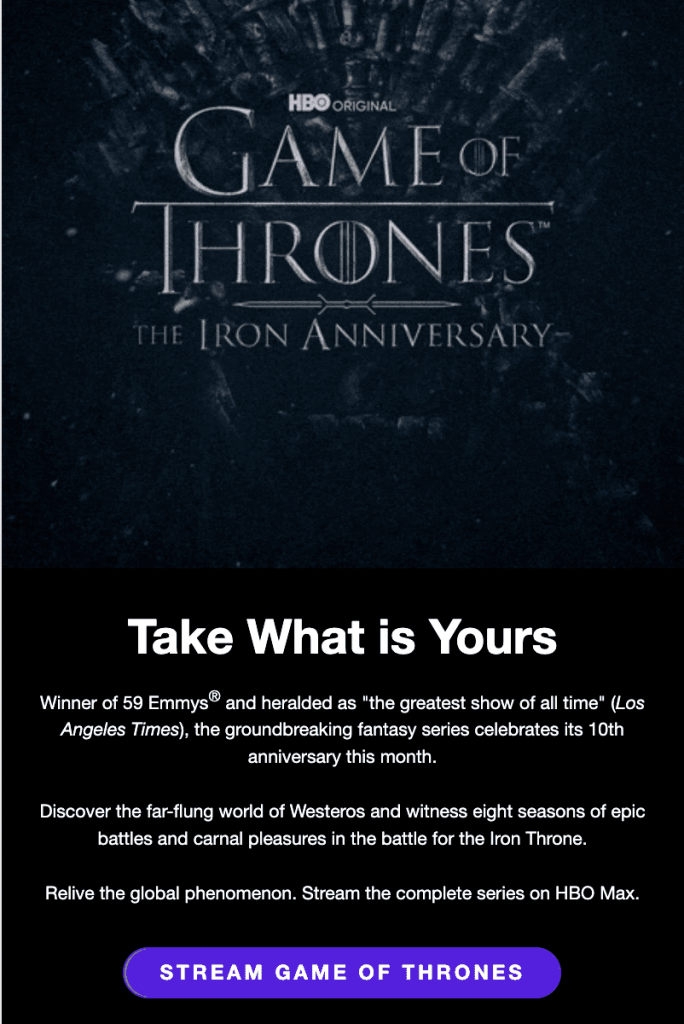 On the other hand, edX — an open online course provider — uses a more professional, direct tone.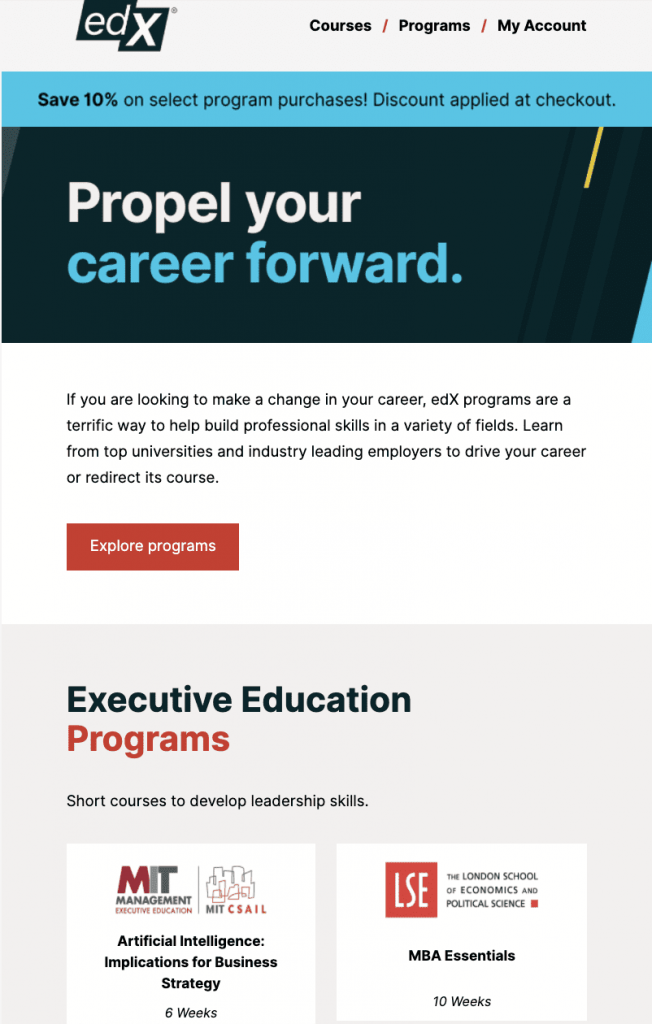 3. A Straightforward CTA
Drafting a catchy subject line and an impressive body copy may get your readers attention. But it won't lead them to act on that interest.
A successful email copywriter leverages the newsletter to persuade potential clients to:
Subscribe to their services.
Buy their products.
Visit their website, and so on.
But how do you achieve any of that?
Add a clear call-to-action (CTA) at the end of your email newsletter, telling readers exactly what to do. A call to action gives the recipient the last nudge to engage with you and even enter the sales funnel.
To write a compelling CTA:
Use actionable words like "Click," "Buy," or "Sign up" to drive readers to take some action.
Add a single CTA to the body copy instead of overwhelming readers with multiple, distinct CTAs.
Keep the CTA specific to what you want customers to do. "Redeem Your Offer" is a specific CTA that addresses them directly and leads to action.
While you're at it, customize the CTA button to stand out from the rest of your newsletter body copy.
Check out this CTA in Headspace's newsletter, asking you to subscribe to their service:

Next, I'll share helpful tips for improving your newsletter email copy and taking your email copywriting services to the next level.
7 Actionable Tips for Successful Email Newsletter Copywriting
Here are seven practical copywriting tips you can use to create outstanding newsletter copies for your current or potential clients:
1. Know Your Audience and Address Their Pain Points
Before writing your email newsletter, you need a clear picture of who your ideal audience is.
Why?
Even if you craft a stellar newsletter copy, there's no point if you send it to the wrong audience. For instance, your newsletter about the latest trends in women's apparel might not be relevant to the demographic of older men.
That's where knowledge of your audience comes in handy.
Knowing your audience helps you:
Understand the type of content your subscribers wish to read.
Tailor your newsletter's tone and structure to fit your readers' preferences.
This way, you can send relevant newsletters that resonate with the readers and convert better.
2. Create Clear, Personalized Content Aligned to Your Newsletter Goals
People have short attention spans and will likely ignore irrelevant messages.
If you seek to build long-term relationships with your subscribers, respect their time and share only clear, valuable, and informative content.
But that's not all.
You'll also need to personalize the email newsletters based on the recipients.
Why?
You need to let readers know that you care about them and genuinely want to address their problems through valuable content in your newsletters. This shows subscribers that you see them as unique individuals and not as faceless names on an email list.
To personalize your newsletters, you can:
Add your readers' names at the start of the newsletter.
Customize the subject line with the reader's first name.
Modify the images according to the recipient's demographic or geographic location.
Use a more conversational tone throughout the body copy.
Take a look at this newsletter from GEICO that specifically references the reader: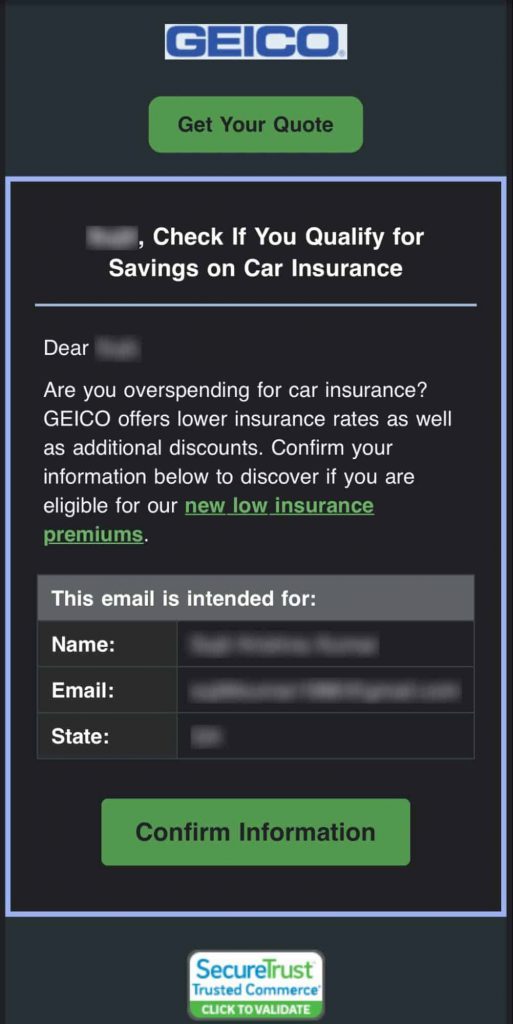 3. Establish Trust by Demonstrating Product or Service Impact
Starting an email marketing campaign is easy.
But to establish credibility among your readers, you'll need to prove the impact of your product or service on the market. Otherwise, the recipients will have no reason to trust you or your offerings.
But how do you build trust?
Simple — just include instances of social proof in your email newsletters.
You can:
Share a customer success story.
Feature in-depth case studies.
Showcase positive reviews by current users.
Highlight press mentions of your brand.
Link to white papers with original research, and more.
A customer success story takes center stage in this email newsletter from Copyblogger: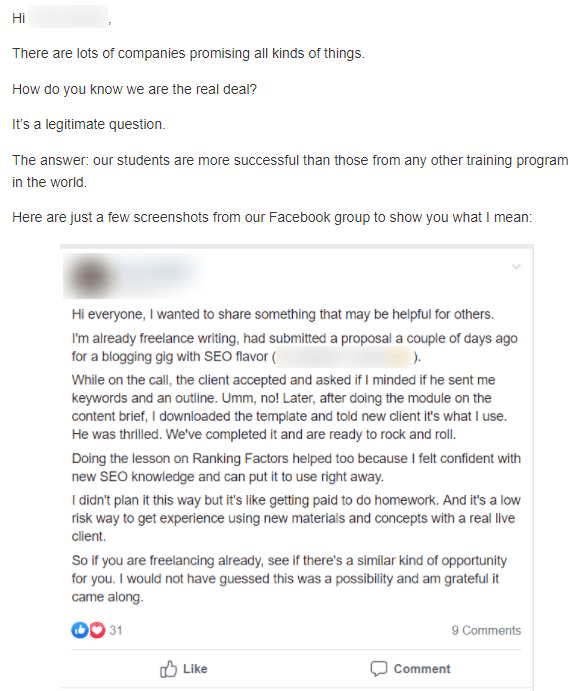 4. Use Eye-Catching Designs and Visuals
A newsletter with just text content can become monotonous and bore readers.
Feel free to add substance and style to your email campaign newsletters with a generous addition of graphics, images, and videos. Using a sleek template, a few aesthetic pictures, and some classy font can impress your subscribers.
In addition to captivating readers, an attractive email newsletter showcases your brand and its personality for prospective customers.
Here's an Etsy newsletter with a simple yet elegant design: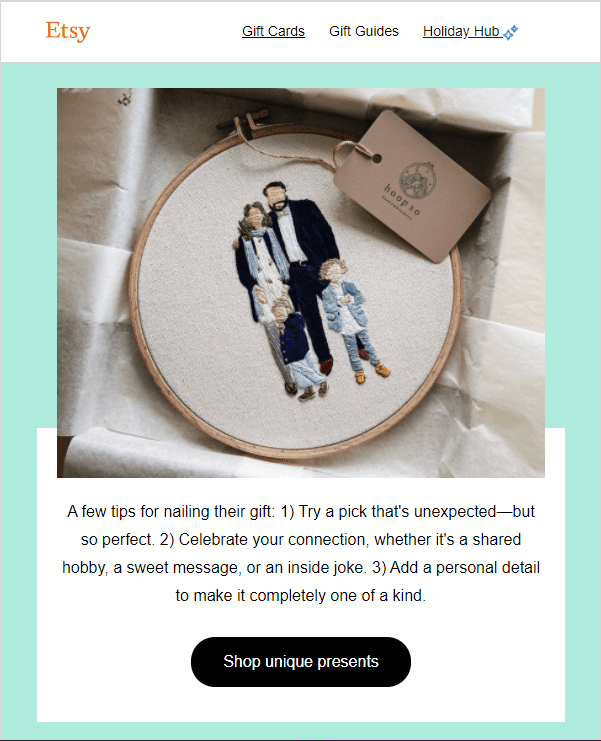 5. A/B Test Newsletter Copy to Find the Best Fit for Your Audience
If you're an email copywriter hoping to optimize your content marketing strategy, create slightly different versions of your email newsletters.
You can create variations of the newsletter's:
Subject line.
Body copy.
CTA.
Template, and more.
After that, test the success of each version in achieving your email marketing goals.
Split testing (A/B testing) different components this way can reveal what your email subscribers look for in your newsletters — what makes them click on your CTA or discard the copy without reading.
It also helps you fine-tune your email marketing strategy and adapt to the evolving needs of your target audience.
6. Optimize the Schedule of Sending Email Newsletters
Sending newsletters to clients' inboxes consistently is one way to improve the open rates for those emails.
However, this doesn't mean you send out an email newsletter every time you've got something to share.
Too many newsletters can overwhelm your audience.
A monthly newsletter with interesting and important updates can be a welcome sight in your readers' inboxes. On the flip side, a weekly newsletter only makes sense if you've got a ton of value to share or an exciting time-specific offer.
But when should you send out your newsletters?
Send your email newsletters during the mornings on weekdays when your readers are most likely to click on them.
Avoid sending them at night or on weekends, as they'll probably land at the bottom of your client's inbox pile and remain unnoticed.
7. Create Customizable Newsletter Templates
Creating an email newsletter for every new marketing campaign can be daunting.
Fortunately, you can design customizable templates that can be reused for future newsletters.
With customizable templates, you can present all the relevant information while personalizing the newsletter for your audience. But the template you use must also match the purpose of your newsletter and follow a style that complements your content.
Are you launching a new product?
Or, maybe you're offering a massive discount for existing customers?
You can use an email newsletter with appealing visuals and concise text in either case.
Here are a few newsletter examples that use eye-catching templates:
This email newsletter by Nike introduces a new product with an excellent copy and an attractive image taking center stage.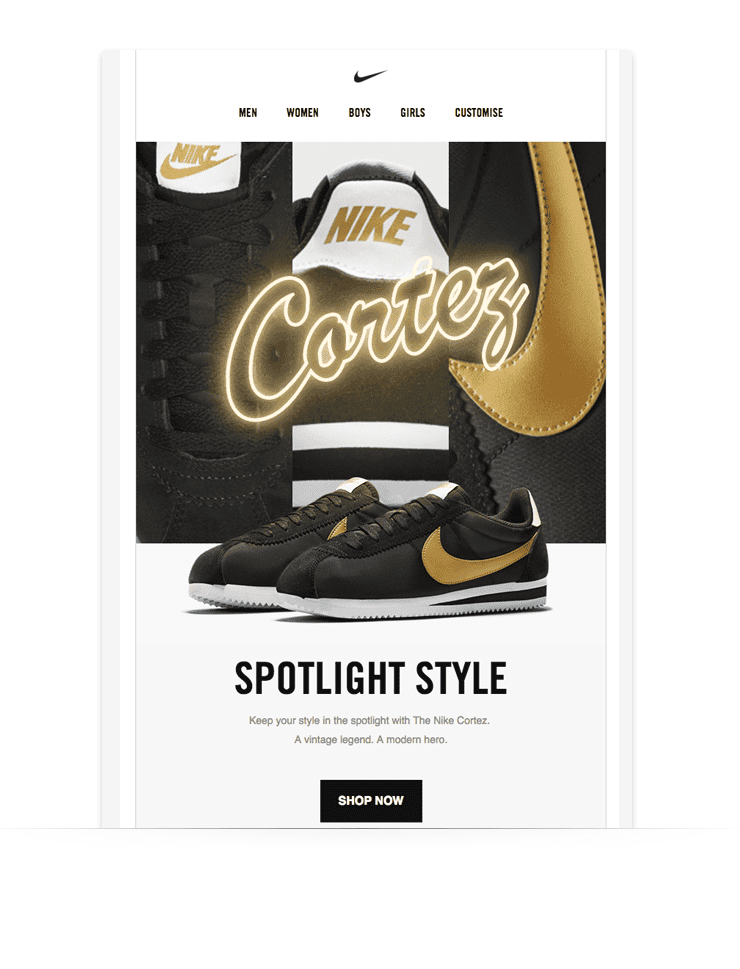 Kate Spade's email campaign focuses on the incredible spring season discount for existing customers, with its offer dominating the email copy.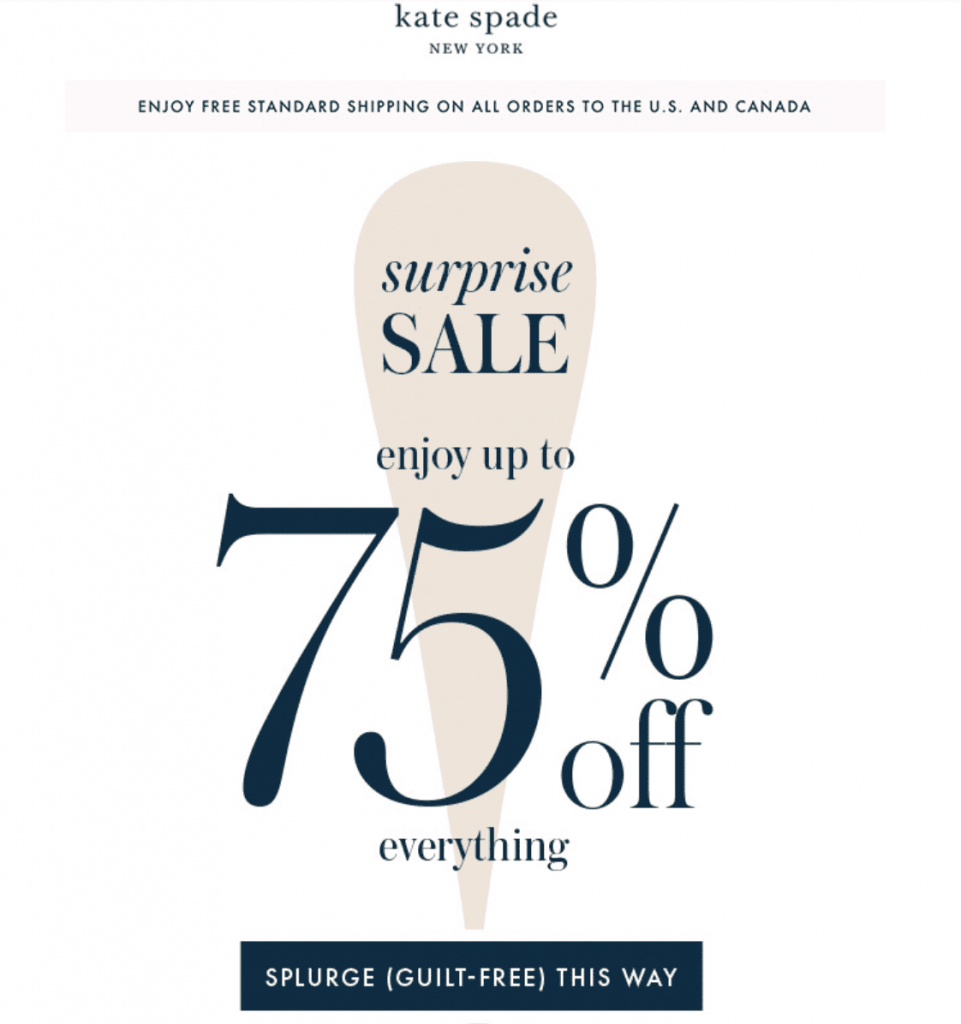 Amazon's newsletter provides a list of Kindle deals, with a balance of text and images.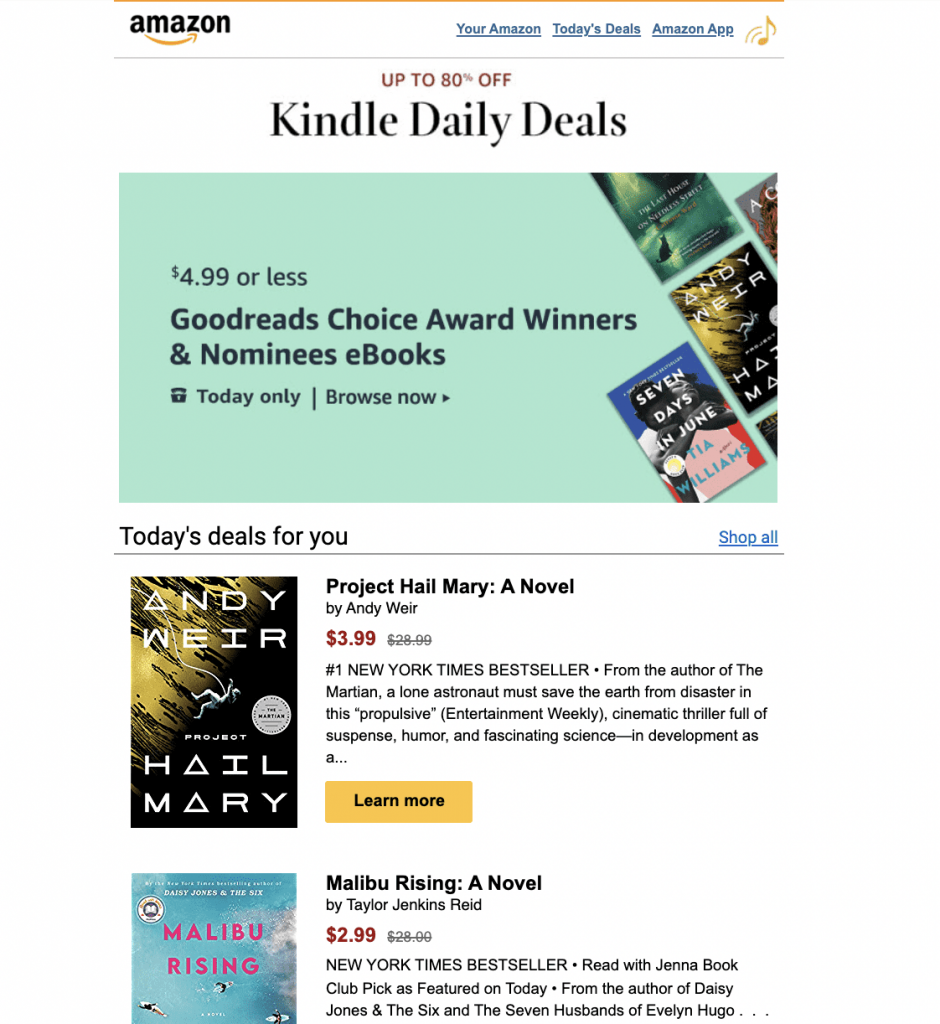 While your newsletter's template can vary depending on its purpose, you can always repurpose it for a similar email marketing campaign in the future.
Now that you're equipped with some practical tips to enhance your newsletter copywriting process, let's go over some benefits of writing newsletters.
3 Major Benefits of Newsletter Copywriting
The three advantages of email newsletter copywriting are:
1. Build Brand Awareness and Scale-up Website Traffic
Newsletter copywriting services can help startups, business owners, and individual clients effectively convey their brand's value proposition to potential customers.
With email newsletters, you can:
The more time customers spend engaging with your content, the likelier they will remember your brand.
And by including a CTA that redirects to your website, you can easily scale up traffic.
2. Improve Your Credibility and Authority
Newsletters that consistently provide valuable info become sources of knowledge for readers.
Writing informative newsletters related to your niche can help establish your legitimacy and authority among your target audience.
For instance, this newsletter from the Stamford Health Department of Surgery showcases their surgeons' deep expertise: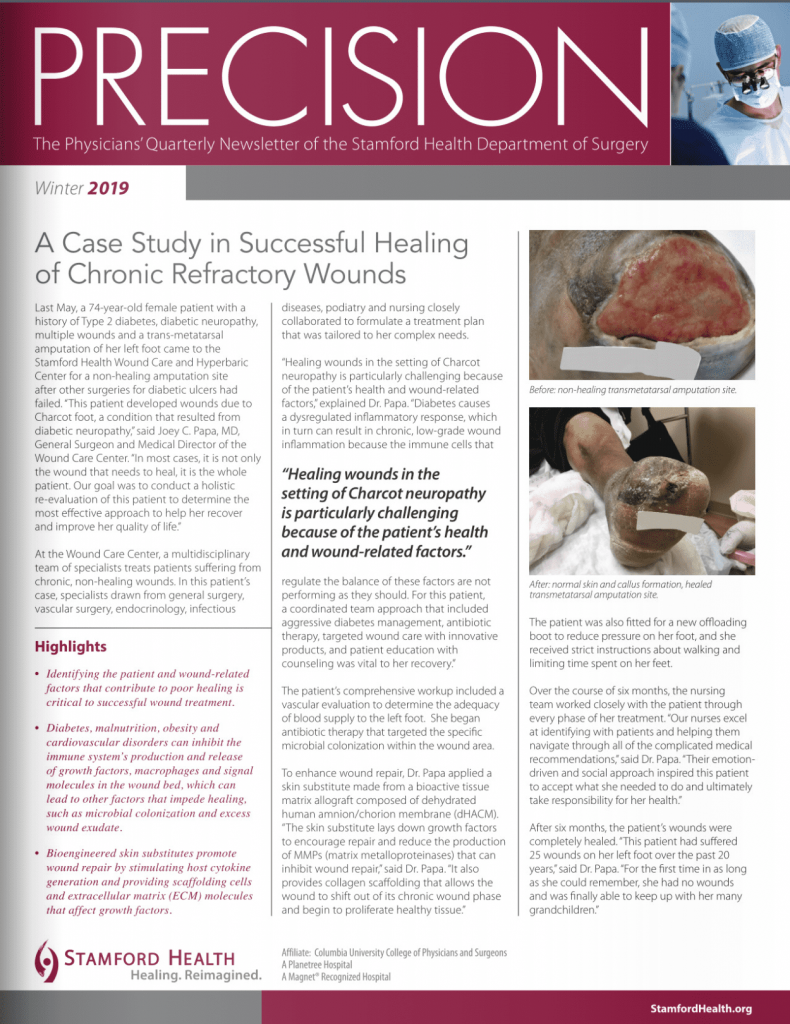 3. Nurture Leads and Increase Sales
Once prospects sign up for your email newsletter, you can add them to your email list.
After that, send the potential customers in your email list a monthly or weekly newsletter featuring essential details about your products/services, exclusive discounts, and more.
This way, you can get readers excited about your offerings and convert more sales.
Now that I've covered the benefits of newsletter copywriting, let's talk about an easy-to-use email marketing tool that can help level up your newsletter and email copywriting results:
Step Up Your Newsletter Copywriting Game with GMass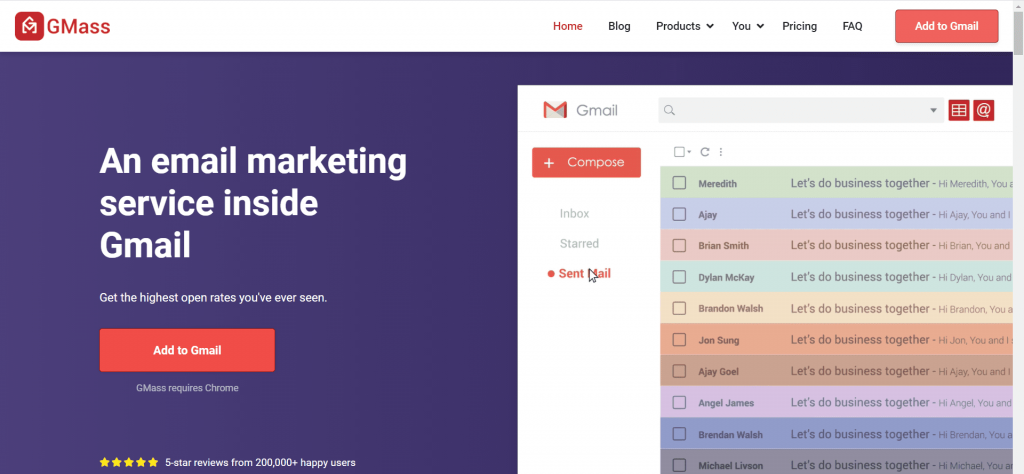 GMass is a powerful email marketing automation tool that lets you create and send personalized email newsletters at scale.
Its ease of use makes GMass the ideal email marketing solution for copywriters, digital marketers, SEO specialists, and small business owners. GMass is also the go-to email marketing tool for employees at social media powerhouses like Twitter and LinkedIn.
With GMass, you can:
To use GMass, download the GMass Chrome extension and sign up for free with your Gmail or Google Workspace account.
Wrapping Up
To become a successful newsletter copywriter, you first need to understand your target audience. Only then can you craft personalized content and persuasive CTAs that encourage your readers to act.
The no-nonsense tips listed in this blog post can help level up your email copywriting service, grow your audience, and heighten your brand awareness.
But to really amp up your newsletter writing game, use a powerful email marketing automation tool like GMass. The tool helps you automatically personalize email newsletters, A/B test them, and do so much more.
Download the free GMass Chrome extension today and take your email newsletter copywriting efforts to the next level!
See why GMass has

300k+

users and

7,500+

5-star reviews

Email marketing. Cold email. Mail merge. Avoid the spam folder. Easy to learn and use. All inside Gmail.

TRY GMASS FOR FREE

Download Chrome extension - 30 second install!
No credit card required
Love what you're reading? Get the latest email strategy and tips & stay in touch.