The goal with a lot of mass email campaigns is to, well, make them look like they aren't mass email campaigns.
At GMass, we've put a tremendous amount of focus on helping you make sure your mail merge campaigns closely simulate one-on-one emails — from advanced personalization to plain text automated follow-up sequences.
GMass also features the ability to send a new campaign as a reply to your most recent conversation with a recipient.
This is a powerful and unique feature — but because of that uniqueness, you might not instantly recognize how to utilize it to hit your email goals.
Today we're going to cover three example scenarios for GMass's send as replies feature to demonstrate its power — and to help spark your imagination around utilizing it for your future campaigns.
A Quick Guide to Send a New Campaign as Replies to a Previous Campaign
Before we dive into the scenario for using the "send as replies" feature, let's cover how to use it in GMass first. (It's very simple.)
Step 1: Write your reply in the Gmail compose window
Compose your reply email in the Gmail compose window, just like you'd write any email.
Step 2: Go to the Advanced settings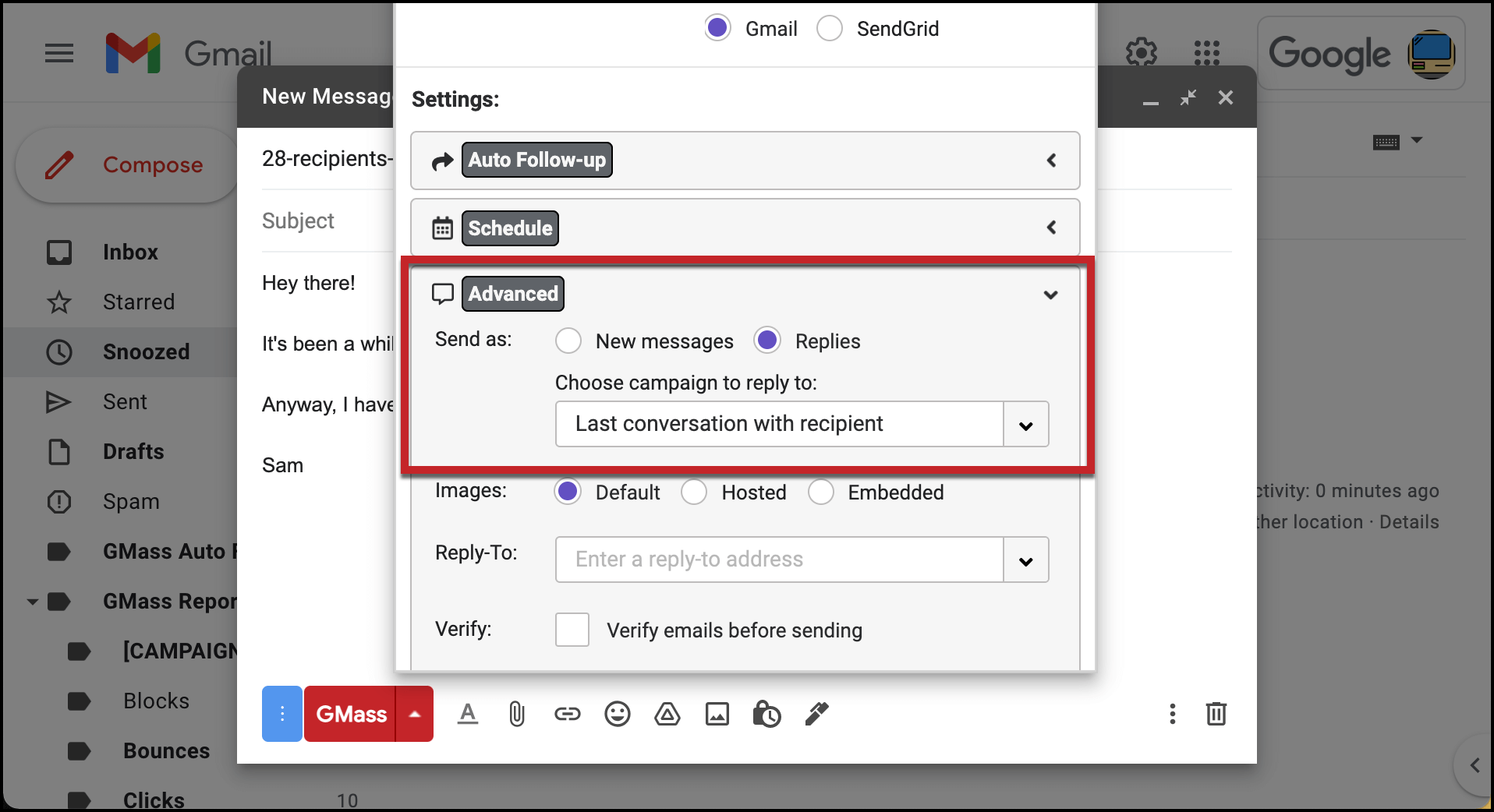 Open the GMass settings box. Then, in the Advanced area, look for the Send as section.
Choose Replies.
Step 3: Choose the email to which you want to reply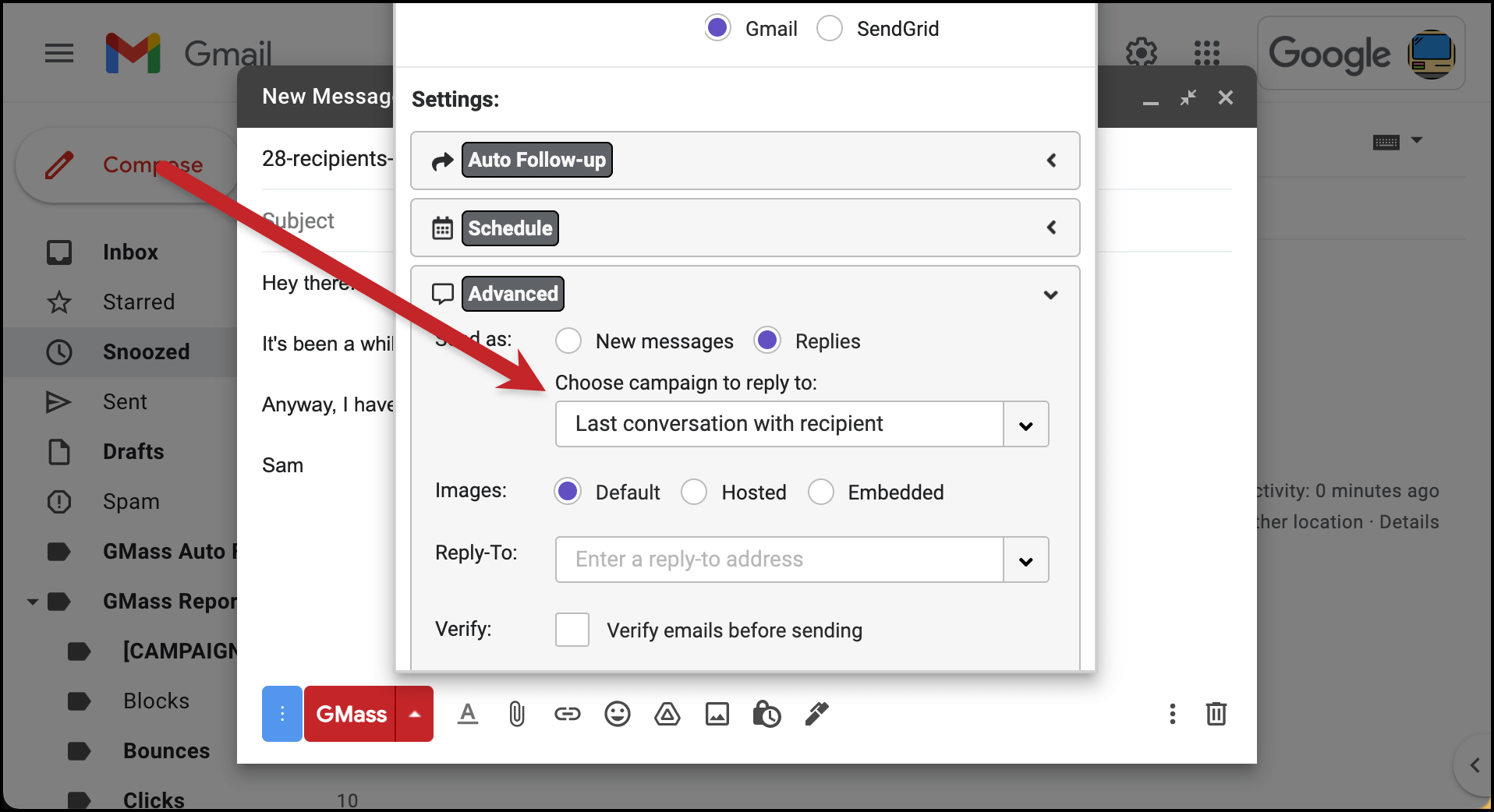 Next you'll have an option of what you want to reply to. Your choices are:
Last conversation with recipient – send your new campaign as a reply to your last message with that recipient, regardless of what it is
A specific previous campaign – send your new campaign as a reply to a prior GMass campaign; choose which campaign from the dropdown menu
The option you choose here really depends on the nature of your campaign. (Below, we'll cover scenarios that use each of the options.)
Step 4: You're all set
Your new campaign will now go out as replies to your last conversation with each contact or your last campaign to them, depending on the option you choose.
And if there are some people on your list who you've never emailed before, that's no problem: Your campaign will just go out as a new message to them.
Now, let's cover some scenarios when you can use the "send as replies" feature.
Scenario 1: Asking Customers for Product Feature Improvements (Then Following Up)
We wanted to lead off with this scenario because it's one we've even used ourselves here at GMass.
The initial email
In this case, we sent a campaign to active users in the beat making community to ask them what we could do to make GMass better for them.
Some people wrote back. Some people didn't. When people wrote back, we had one-on-one dialogues with them. (Using the regular Gmail send button to send normal email, not the GMass button to send them campaigns; one of the nice aspects about GMass living inside Gmail is you can go back and forth between campaigns and one-on-one messages so seamlessly).
Sending a follow-up as replies a few months later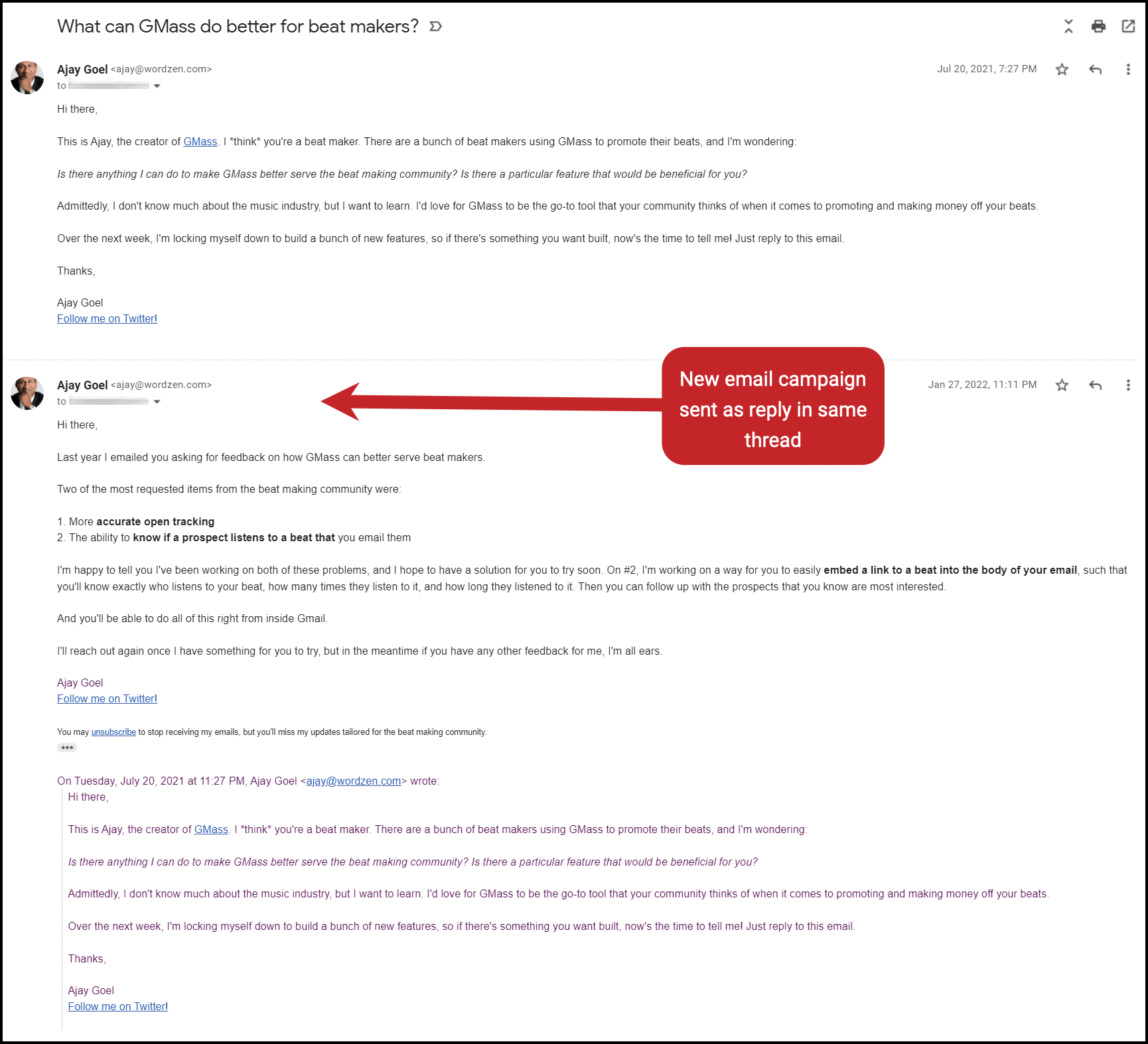 The "send as replies" feature kicked in a few months later. We sent a new campaign to everyone (as a reply) to let them know what features were most requested.
We chose the GMass option to send as replies to our last conversation with each recipient. That way, if we'd had one-on-one back-and-forths with the person, our new campaign showed up as a reply to that; if the person never responded, our new campaign showed up as a reply to the email we initially sent. (In this email pictured, the person did not respond to the initial email.)
In either case, we were using the "send as replies" feature to revive and further the conversation. It was more logical to send this campaign as a reply to the same conversation thread than as a new campaign with a new subject line.
Closing the loop with a final email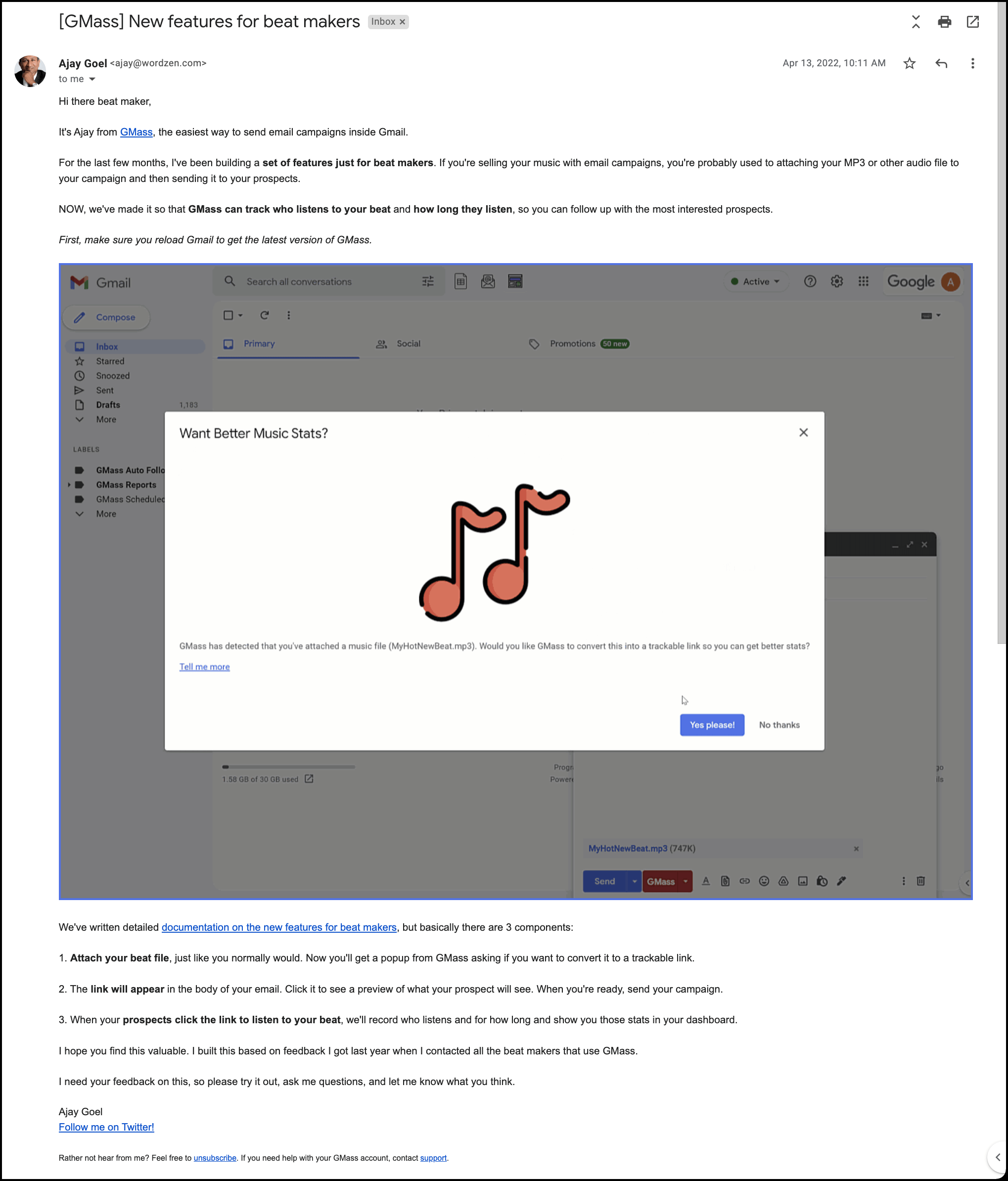 Finally, when we rolled out our new feature for beat makers after another couple of months, that could've been a reply to the previous campaign.
(Well… we wish it had been. We actually sent it as a new campaign with a new subject line because… well… we got so excited about the features we just blasted it out without remembering to send it as replies. Let that be a reassuring lesson: Even the people making these email platforms sometimes get too hyped up and send a campaign without getting every setting perfect.)
One more note: A week later, we sent another email as a reply to that thread sharing a requested tweak on the new feature.
Why sending as replies is valuable here
The entire process here is one extended conversation over several months: Asking for product improvement requests, following up on the consensus picks, then following up again when the features launched.
By sending as replies, we kept the conversation in one thread. That way, each recipient can see the entire path (without having to try to remember the previous steps).
Also, because this was situation with a lot of valuable back-and-forth correspondence, it made even more sense to unify it all inside one thread.
Scenario 2: Reigniting Interested Cold Leads with a New Offer
So you built a great list of cold leads. You sent them a compelling email series with automated follow-ups. But in the end, only a few people wound up buying what you were selling. Some of them opened your emails… but they didn't reply and didn't turn into customers.
In this example, we'll target the people who demonstrated some amount of interest in your initial campaign (by opening our emails) but didn't buy. We'll send them a new campaign as a reply to the previous campaign with an updated offering.
The initial emails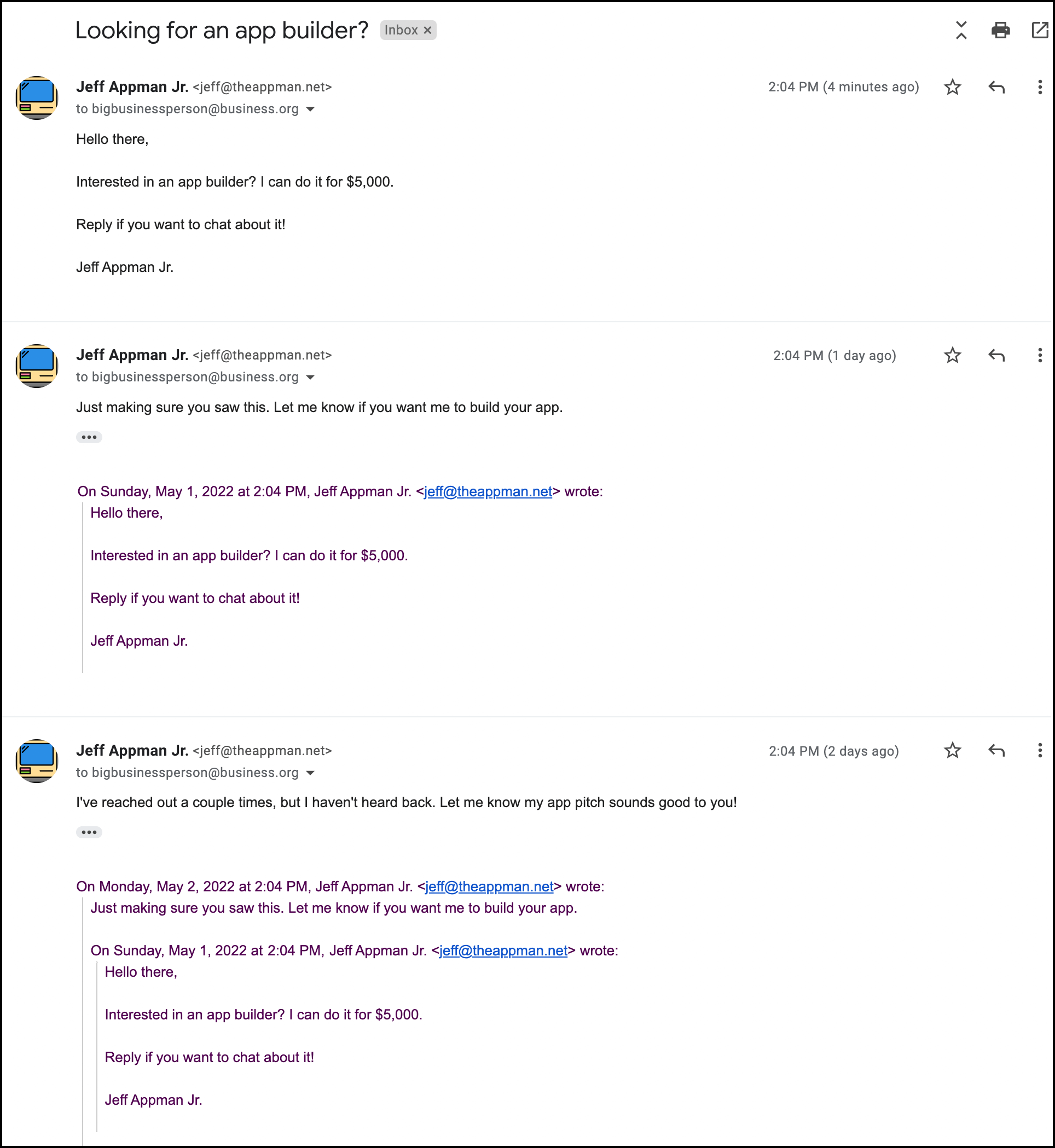 For this hypothetical first campaign, we sent a three-email sequence trying to sell our service. The sequence would stop when a recipient replied; if they never replied, they'd receive all three emails.
But now, a few months later, we have a new offer — so we're going to try reaching out again to see if we can spark more interest this time around.
Building the list of people who opened our email but never replied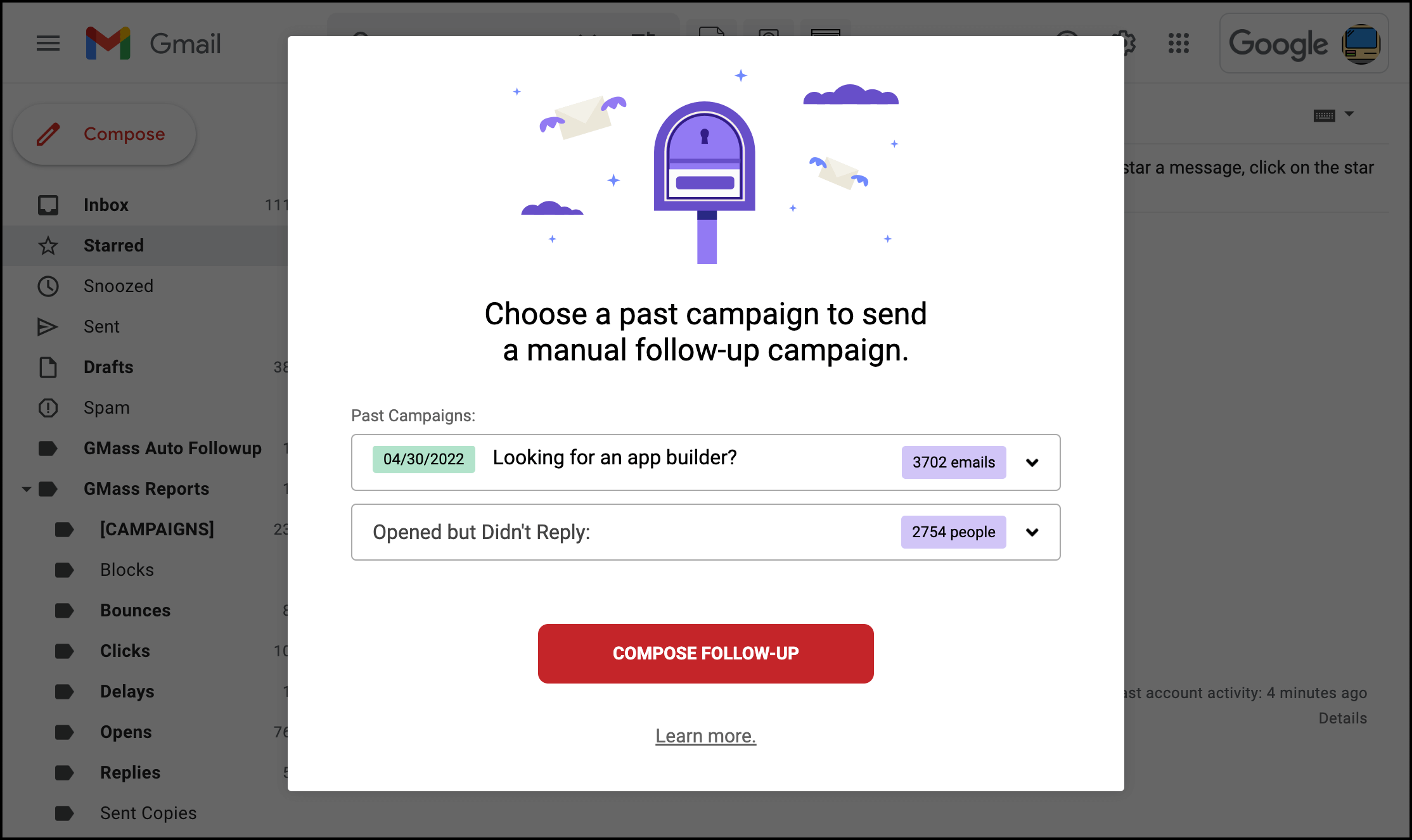 We'll bring another hot GMass feature into the fold here, which is our email list building feature.
With the email list builder, I can create a new mailing list out of the people who opened our prior campaign but didn't reply.
Sending our new offer as a reply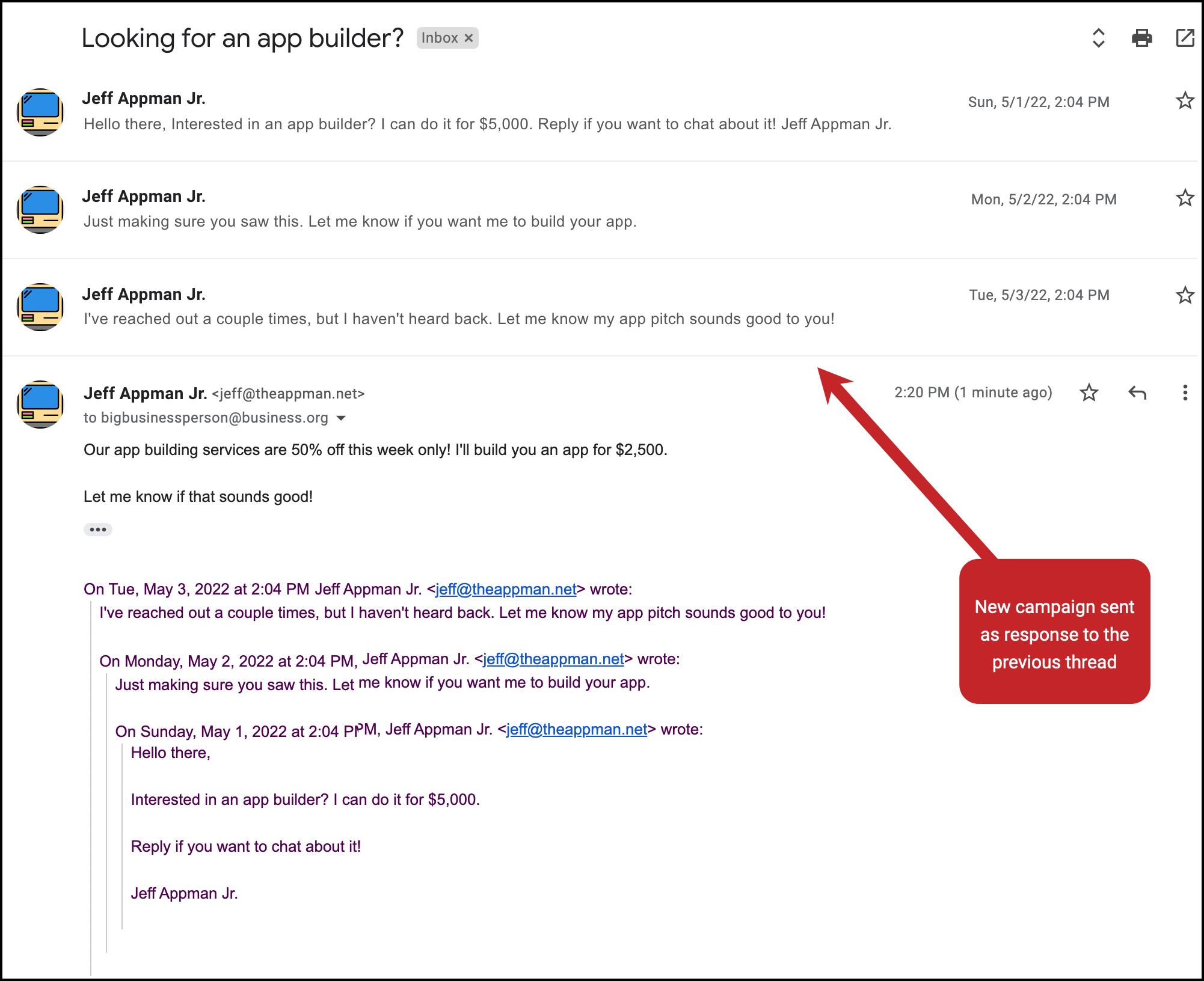 I wrote up an email with our new offer. Then I chose to send it as a reply to the previous campaign.
My new campaign also uses a few auto follow-ups; those will also go out as replies, continuing this one email thread with each recipient.
Why sending as replies is valuable here
We wanted our new offer to feel very personal to each recipient. Had we sent our new offer with a new subject, some contacts might think, "Did these people forget they already emailed me? Are they just spamming me?"
By sending as a reply to the prior campaign, we made it clear we were following up to give the recipients a more enticing offer. There was no ambiguity as to whether we remembered we'd emailed them before.
Plus, since we sent as replies, the recipients could easily look back through the previous messages to get instant context for the new offer.
Scenario 3: Using One Email Thread for the Entire Interviewing and Hiring Process
Managing a large group of job candidates through the hiring process can be challenging. You need to send emails as they schedule interviews, complete sample projects, and advance (or don't advance) to the next round.
In each of those cases, it makes sense to send your emails as replies, rather than starting a new thread every time.
The initial email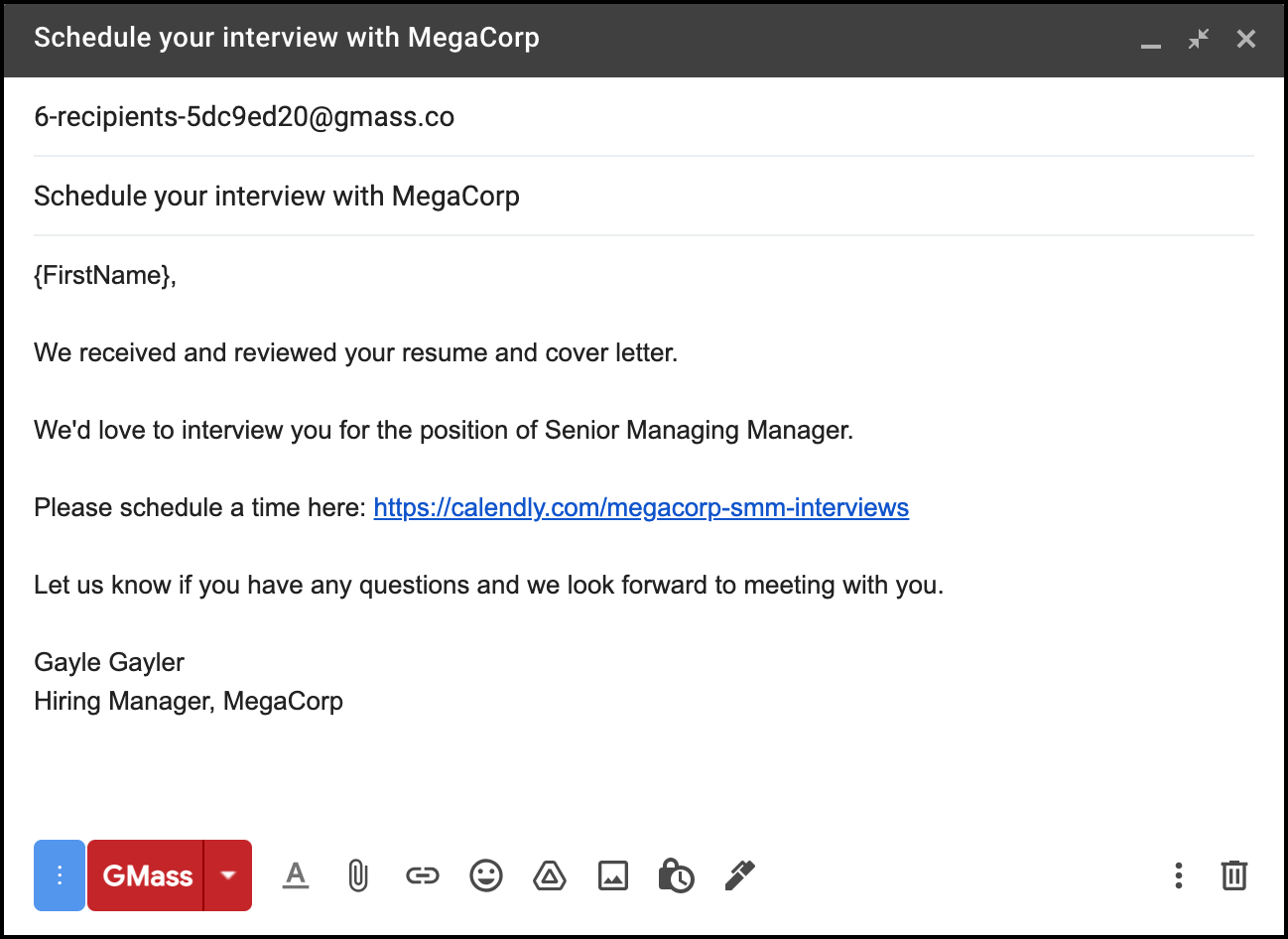 The first email to each of these job candidates asks them to schedule their preliminary interview and includes a Calendly link where they can do so. (Side note: You can do all sorts of fantastic things with GMass + Calendly using Zapier.)
Post-interview follow-ups: Next stages or rejections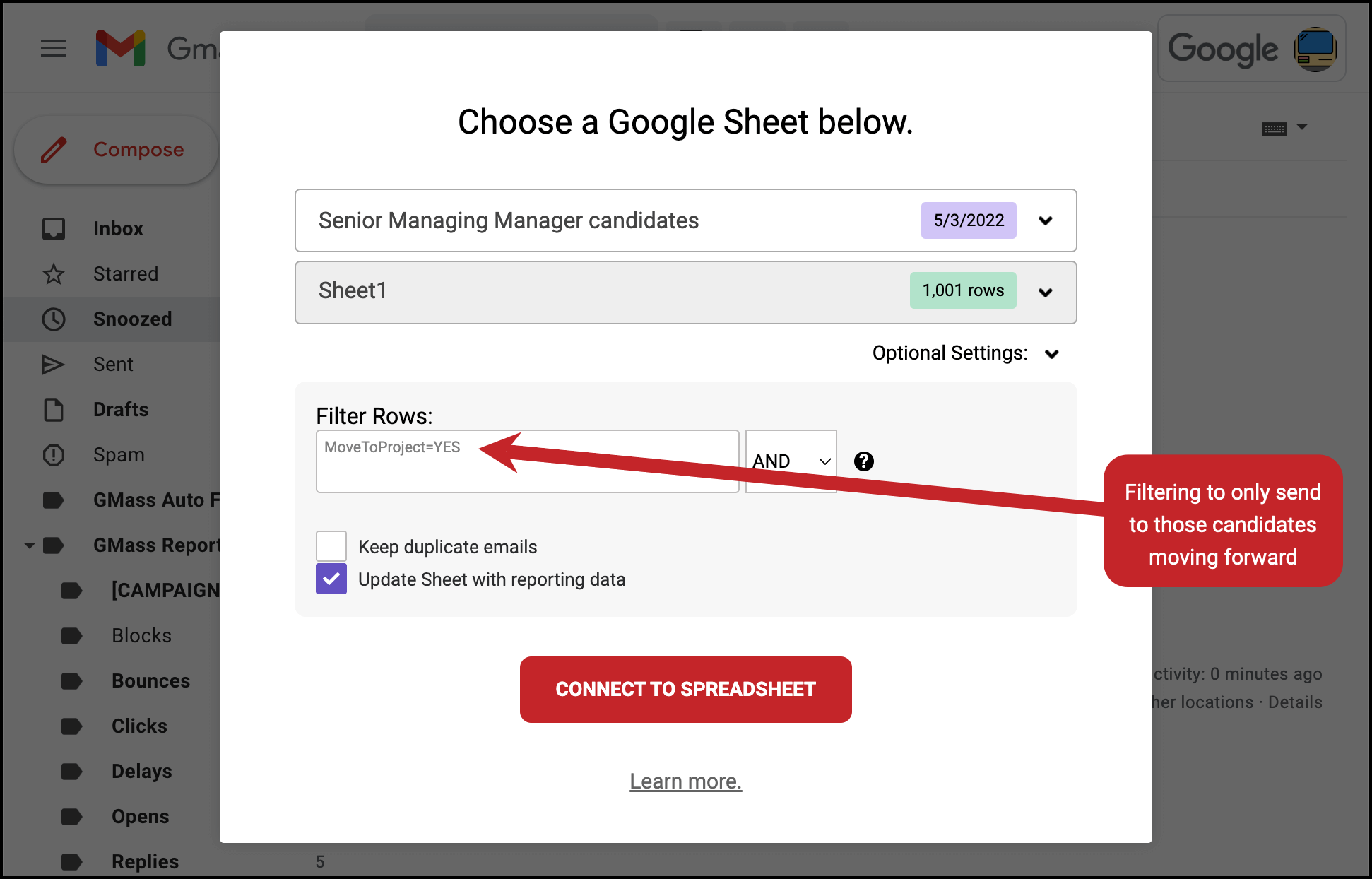 We added a column in our candidate Google Sheet where we noted whether each candidate would move to the next stage (a sample project) — or if this was the end of the road.
We created two campaigns, the "yes" track and the "no" track. We used GMass's filtering options as we imported the spreadsheet to make sure the right candidates got the right emails. Below you can see the rejection email.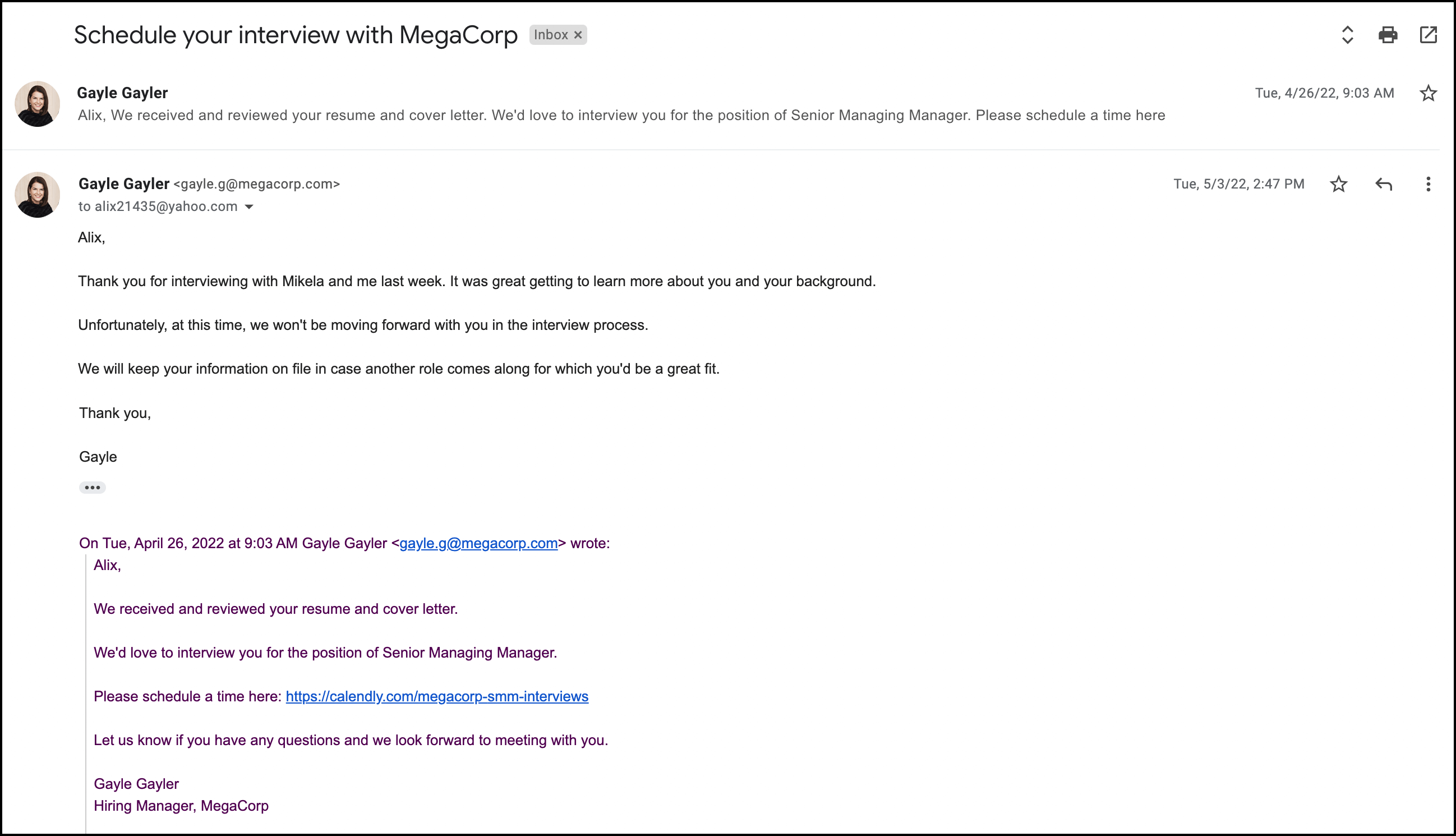 In both cases, we sent our emails as replies to the initial campaign, *not* to the prior message.
Why? Some candidates wrote thank you messages or corresponded after their interviews. We didn't want to make it look like our decision to move them forward or not was tied to that back-and-forth. So we replied to the campaign, not the last message, to help establish that separation.
Why sending as replies is valuable here
We won't play out the rest of this hypothetical, but it will continue with the same pattern: Moving some candidates along and ending the process with others — and sending emails as replies. This method allows us to handle the large group at scale while making sure everything feels as personalized as it should during the hiring process.
Bonus: 5 Other Scenarios to Send as Replies
While we covered these three scenarios in depth, there are endless ways you can use the GMass "send as replies" feature to keep a conversation going.
Link building. Send new campaigns as replies to websites that added a link to your website, asking them to add a link to another one of your blog posts.
Party details. If you're using GMass for party or wedding invites, send a follow-up with more details as a reply.
Member updates. Emailed the members of your club or organization asking for suggestions? Let them know you've received everyone's ideas and when you'll be meeting to discuss.
Responding to parents. Are you a teacher and have a bunch of parents emailing you because they're mad you read the kids a book that featured a duck without pants? Send a mass response (as replies) to make them feel heard. Even if you're rolling your eyes the whole time.
Job hunting. If you sent cold job outreach emails to companies, send an email as a reply down the road when you've added a new skill or certification that might be of interest to them.
Sending Emails as Replies: Conclusion
Sending an email campaign as a reply to a previous campaign and/or your last correspondence with a recipient is a powerful way to make your mass emails feel more personal, targeted and relevant.
While it might not be right for every scenario, it's right for a lot of them — and GMass is one of the rare email platforms that gives you the ability to send new campaigns as replies.
Plus, GMass also has lots of other features designed to make your mail merge Gmail messages look and feel like they're one-on-one — advanced personalization, conditional merge logic, tight control over automated follow-up sequences, and more.
To get started, download the GMass extension from the Chrome web store — and try GMass free.
See why

99%

of users say they've had their best deliverability ever with GMass

Email marketing, cold email, and mail merge all in one tool — that works inside Gmail

TRY GMASS FOR FREE

Download Chrome extension - 30 second install!
No credit card required
Love what you're reading? Get the latest email strategy and tips & stay in touch.