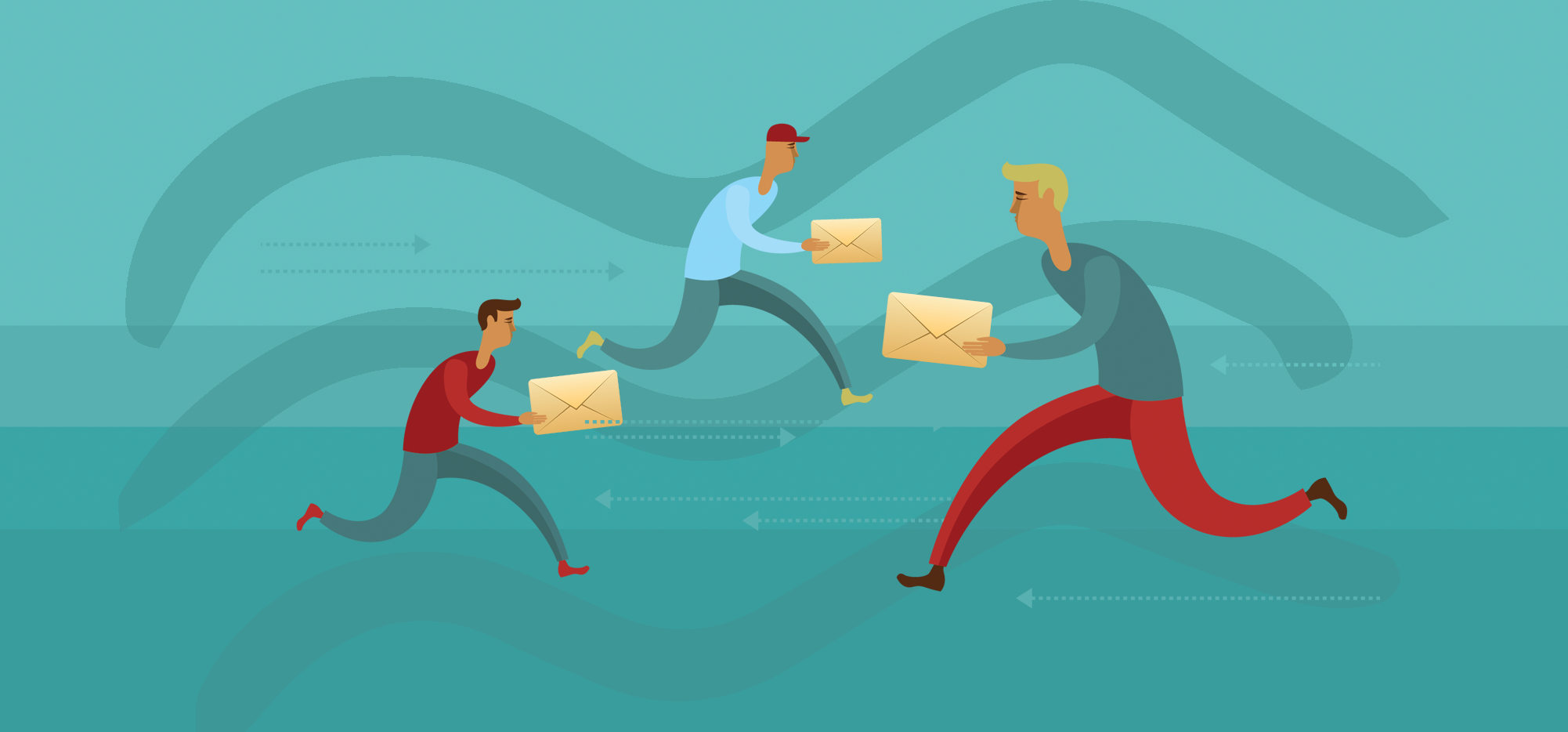 One of the most popular techniques employed by cold emailers is the auto follow-up email sequence — emails that ping the prospect every few days until the prospect replies. Sometimes though, you might need to send that same follow-up email manually because it didn't send automatically. Now why on Earth wouldn't the auto follow-up have been sent properly? There are several reasons this might happen:
You forgot to set your auto follow-ups on the original campaign, and now it's too late to go back and do so.
You accidentally deleted some critical data in your account that made it impossible to send the auto follow-up email sequences.
A bug on our end resulted in the auto follow-ups failing to send. Of course that's the least likely scenario!
Fortunately, it's easy to recover from this mistake and get your one or two (or three or more) follow-up emails out, just as if they had gone out with the normal auto follow-up system.
(Also, if you want to check to see if your auto follow-ups are going out as scheduled, you can check the calendar view for your campaign.)
Three Steps
Step 1
First, launch the manual follow-up tool and choose your campaign. After choosing your campaign, the various list segments will show up below it, such as "Replied," "Didn't Reply," "Opened," and "Didn't Open," etc. Most cold emailers are trying to get their prospects to reply, and therefore most auto follow-up emails are sent to those who didn't reply. Assuming that's the case for you, choose the "Didn't Reply" segment. If that's not the case for you, choose the appropriate segment.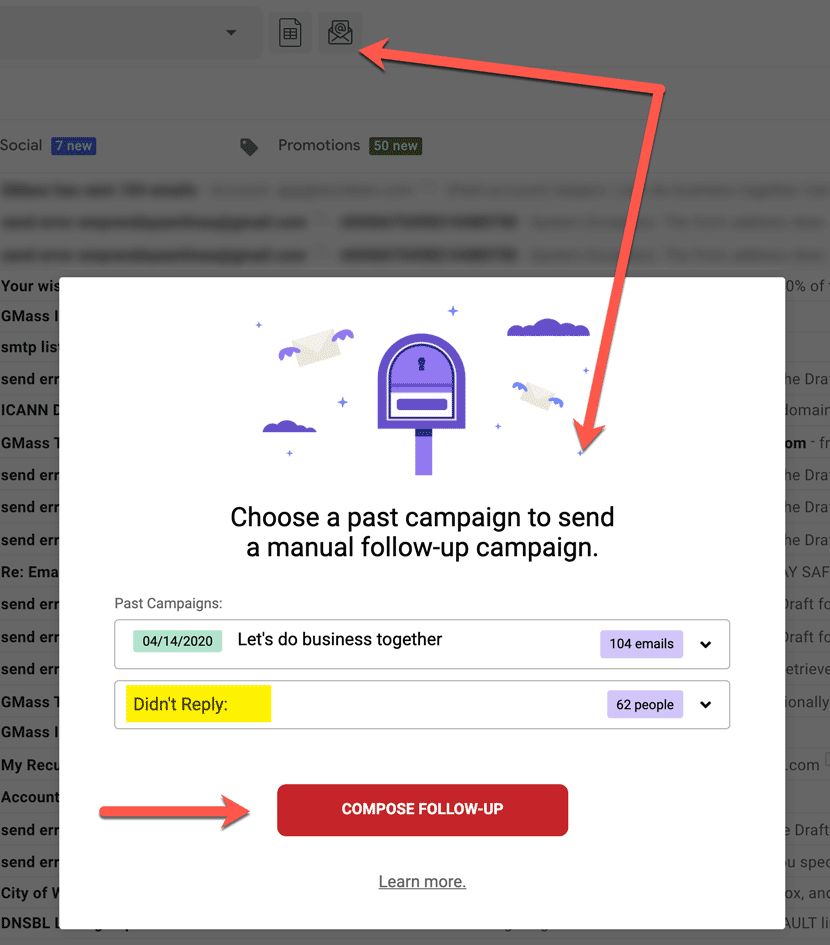 Step 2
After you click the button, a Compose window will launch and the To field will already be set to everyone who didn't reply to your original campaign.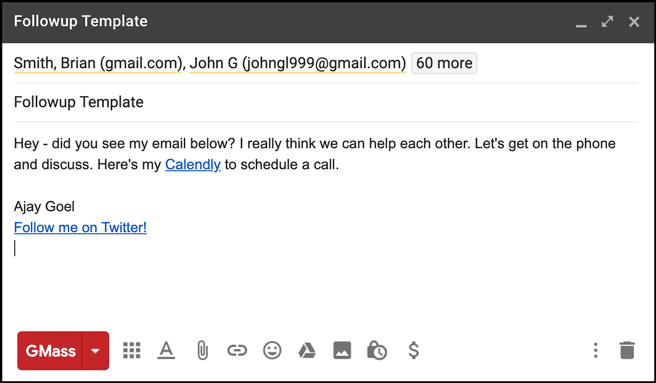 Put in the message that you wish to use as your follow-up email. The Subject Line is irrelevant since this message will be a part of the same conversation as your original email. The message you compose will be the message that appears on top of your original email when the prospect sees it in his Inbox.
Step 3
Finally, make sure you set the email to send "as replies" to your original campaign.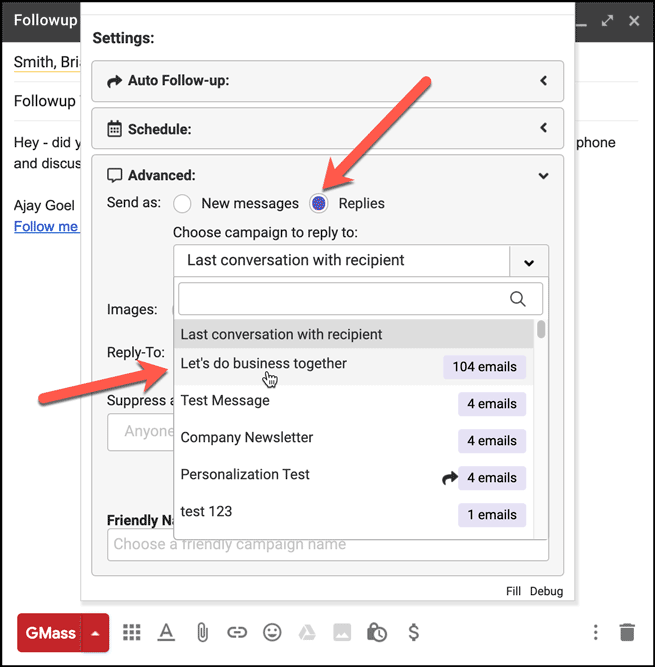 After you've done all this, hit the GMass button to send your follow-up message now. Of course, you can schedule it send later if you wish.
How does this work?
Any follow-up email sequence simply involves sending a new email as part of the same conversational thread as a prior email. The automatic follow-up feature does this for you in a seamless way. Even if these emails aren't sent automatically, though, they can always be sent manually because the "Send as replies" setting will look for a prior sent email to "thread" to the current email, making it all part of the same conversation both in your Sent folder and the recipient's Inbox.
In this case, the message you entered in the Compose window would have normally been the message you entered in one of the "Stages" for the auto follow-ups in your original campaign. By sending this current email "as a reply" to the original campaign, it essentially becomes the equivalent of an auto follow-up stage.
In fact, you can now set Stage 1, Stage 2, and more if you like. If you set Stage 1 now, that becomes the equivalent of what would have been Stage 2 in an auto follow-up sequence, and if you set Stage 2 now, that becomes the equivalent of what would have been Stage 3 in an auto follow-up sequence.
Ready to send

better emails

and save a ton of time?

GMass is the only tool for marketing emails, cold emails, and mail merge — all inside Gmail. Tons of power but easy to learn and use.

TRY GMASS FOR FREE

Download Chrome extension - 30 second install!
No credit card required
Love what you're reading? Get the latest email strategy and tips & stay in touch.