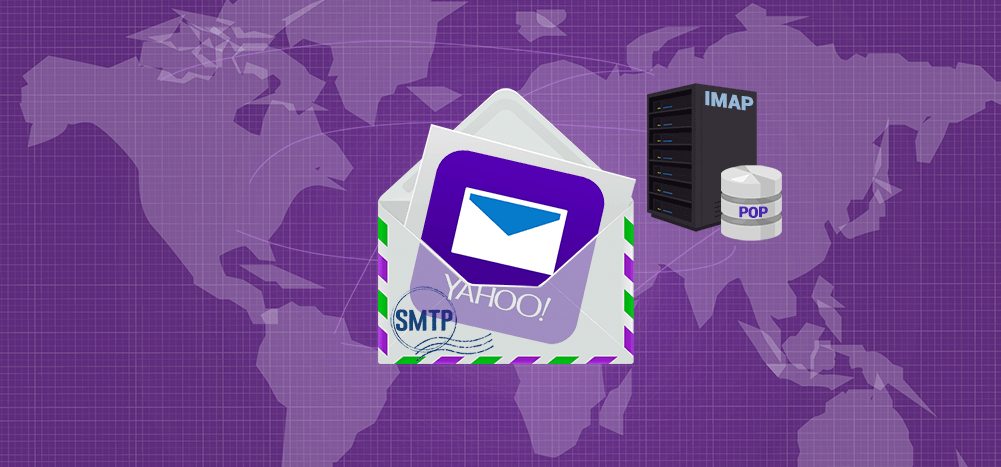 Want to set up Yahoo SMTP settings for your Yahoo Mail account?
While you need to sort out your SMTP settings to send emails via your Yahoo email account, getting it right can be tricky.
To make this process easier for you, I'll cover what Yahoo SMTP settings are and how you can successfully configure the mail server settings for your Yahoo account.
Additionally, I'll cover POP and IMAP settings and how you can set these up as an incoming server on your Yahoo email account. I'll also cover the drawbacks of using the Yahoo SMTP server.
Here's what this article covers:
(Click on a link below to jump to a specific section)
Only need Yahoo's SMTP setup codes without any additional information? 
Here you go:
Yahoo SMTP Settings
Yahoo SMTP Settings
Server: smtp.mail.yahoo.com
Port: 465 or 587
Encryption: SSL/ TLS
SMTP Username: Your Yahoo email address
SMTP Password: Your Yahoo mail password
For everyone else, let's get started!
How to Set Up Your Yahoo SMTP Settings
Note: To learn more about what SMTP is, click here to jump to that section. Once you have a better understanding of it, you can scroll back to Yahoo's SMTP parameters I describe here to get your mail server settings sorted!
Yahoo Mail is an email provider, which means that it takes care of the actual service of sending and receiving your emails.
On the other hand, an email program (also known as an email client) is the mail app or program you use to access your inbox and emails. Mozilla Thunderbird and Microsoft Outlook (formerly known as Hotmail) are two popular examples of an email program.
Usually, you can enter the SMTP settings in the account settings of the mail app you're using. Once you add your Yahoo account to the app, just enter the Yahoo SMTP server parameters to set up your outgoing server.
Naturally, the exact steps to access account settings would depend upon your email client.
For example, when using Microsoft Outlook: Go to Settings > Mail > POP and IMAP.
Then, go to More Settings > Outgoing Server to enter your Yahoo SMTP settings.
Yahoo SMTP Settings
Server: smtp.mail.yahoo.com
Port: 465 or 587
Encryption: SSL/ TLS
SMTP Username: Your Yahoo email address
SMTP Password: Your Yahoo mail password
These Yahoo SMTP server settings work with most desktop mail clients, and the same settings apply for a mobile device mail app or web-based email program as well.
How to Set Up POP and IMAP Settings for a Yahoo Mail Account
Now that you've set up SMTP settings, you can send emails via your Yahoo account from your preferred email client.
But you can't receive your Yahoo Mail account emails on your incoming server yet!
Why?
SMTP only deals with outgoing email.
To receive emails, you need to either configure POP mail server or IMAP mail server settings for your Yahoo account (click here to learn what POP and IMAP are).
Similar to the SMTP settings, the steps to set up your POP and IMAP settings differ based on the email app you use.
For example, in Microsoft Outlook: 
Navigate to Settings via the toolbar.
Then, go to Mail > POP and IMAP to set up your incoming server.
Here are the email settings you need to set up for each of the protocols:
Yahoo POP3 Settings
Server: pop.mail.yahoo.com
Port: 995
Encryption: SSL/ TLS
Yahoo IMAP Settings
Server: imap.mail.yahoo.com
Port: 993
Encryption: SSL/ TLS
When you've configured the server setting for either of these, you'll receive your Yahoo email on your incoming mail server!
What Is SMTP?
Now that you know Yahoo's SMTP, POP server and IMAP settings, let's understand what these protocols are and how they work with Yahoo email.
But wait… what exactly is a protocol?
A protocol is a set of rules that specifies how communication/information is exchanged from one email account to another.
SMTP (Simple Mail Transfer Protocol) is a protocol that's used to send emails over the internet. It's used by most email software to send outgoing mail.
SMTP works with a Mail Transfer Agent (known as the SMTP relay) to make sure your emails are sent to the right mailbox.
The protocol is used to send emails between SMTP clients (the email program you use) and SMTP mail servers (it moves from one server to the next until the destination is reached).
But what is an SMTP mail server?
Any computer running SMTP is an SMTP mail server! They make sure that the emails take the right route to reach the intended recipient's email program or email application.
How Does SMTP Work?
SMTP works with a set of codes and commands that make the entire process of sending emails much easier.
Each time you send an email to a full email address, it's transferred via several SMTP relay systems and Yahoo servers until it reaches its final destination — which, in this case, is your recipient's inbox.
However, SMTP can only transmit text!
So how are my attachments sent?
To help you send attachments along with your email text, the Multipurpose Internet Mail Extension (MIME) protocol is used. MIME encodes all the non-text data into text format before it is transferred across SMTP relay servers.
What Are POP and IMAP?
Like SMTP, POP and IMAP are also protocols used to transfer emails across the internet.
POP is short for Post Office Protocol, and IMAP refers to Internet Message Access Protocol. Both of these protocols are used to receive incoming mail from an incoming mail server to the recipient's computer.
Let's take a closer look at each protocol:
1. POP3
POP3 is the third version of the Post Office Protocol — which is used to receive incoming mail.
A POP server downloads incoming mail and stores it locally on your device. This way, you don't have to be online and access the email server whenever you want to check your email.
You can configure POP3 with any computer and app to make access through multiple devices easier.
2. IMAP
Like POP3, Internet Message Access Protocol (IMAP) is another protocol that's used to receive emails.
So how is IMAP different from POP?
The main difference between POP and IMAP is that an IMAP account stores all its mail on the email server instead of downloading your emails. While this allows easy access at any time, you need to have a reliable internet connection to use an IMAP account effectively.
As IMAP is a form of cloud storage on your incoming mail server, it's much faster and more efficient than POP3.
SMTP vs. POP vs. IMAP
Still confused about these three protocols?
Don't worry! 
Here's a summary of what we've covered so far:
SMTP: Used for sending outgoing mail.
POP and IMAP: Used for receiving incoming mail — IMAP is faster than POP as it doesn't download emails.
Regardless of whether you use a POP or IMAP account, the SMTP settings on your app remain the same for sending emails.
Why Gmail Is Better Than Yahoo Mail
While Yahoo Mail is a powerful email provider, it lacks several essential features for modern email needs.
Instead, it's far better to use Gmail for your email requirements.
Here's what makes Gmail a stronger email provider:
1. Gmail Is Simpler to Use
While many people use Yahoo Mail, its email client and app lack a user-friendly interface.
Gmail has one of the easiest user interfaces for both new and experienced email users alike.
For example, it auto-sorts your emails into several labels like Primary, Social, and Promotions for better organization. Gmail's smart compose feature also lets you write emails quickly by predicting entire sentences!
This saves you tons of time when composing emails — something that's not available in Yahoo Mail.
2. You Can Use the Same Gmail Account to Sign in Everywhere
A Gmail account is supported almost universally — which means that you can sign up for most websites and services with the same email account and app password! This lets you seamlessly connect the various tools you use.
A Yahoo email account, on the other hand, has extremely limited support compared to a Gmail account.
3. Gmail Supports Tons of Extensions
Yahoo does not support third-party extensions.
This limits the functionality of your emails!
However, as Gmail is part of the Chrome web ecosystem, it supports tons of powerful extensions to boost your email efficiency.
One of these is GMass — the perfect answer to all your email needs in Gmail:
What is GMass?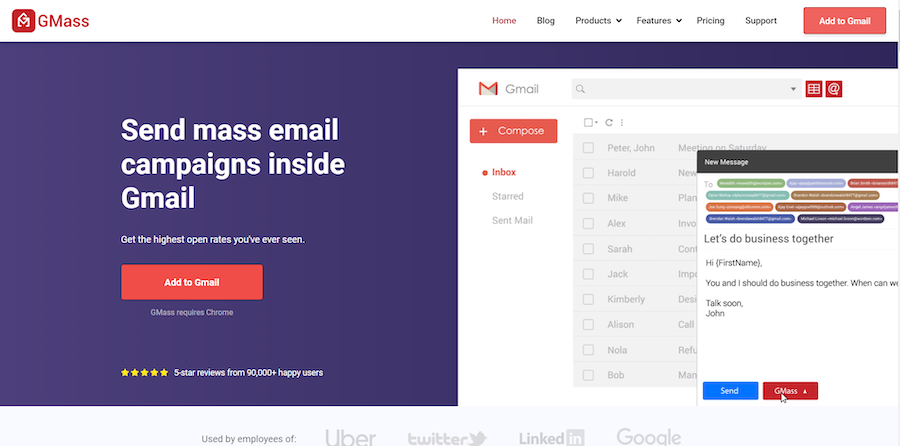 GMass is a powerful email platform used by large companies like Uber, Google, LinkedIn, and Twitter to boost their email outreach.
But GMass isn't just for tech giants!
Startups, schools, and even churches can use GMass to send mass emails to their audiences easily.
It lets you:
Send tons of emails right from your Gmail inbox.
Personalize hundreds of emails for mass campaigns.
Track your campaigns accurately.
Easily schedule emails and follow-ups.
Set up a custom tracking domain.
And the best part?
It's super easy to get started with GMass. Just download the Chrome extension, and you're all set!
Some handy GMass features
Here's a look at the features that make GMass perfect for your emailing needs:
A. Can bypass regular SMTP sending limits
Most email outreach tools and even your email provider (whether it's Yahoo or Gmail) have extremely low daily sending limits for your outgoing mail.
However, GMass integrates with third-party SMTP service providers like SendGrid to bypass Gmail sending limits. With this integration, you could possibly send unlimited emails every day!
Personalization is the key to improving your email engagement rates.
After all, no one likes generic mass emails that don't address their specific needs!
But this doesn't mean that you have to personalize each email manually! 
Instead, just use GMass's automatic personalization features!
It lets you personalize large email campaigns with powerful mail merge, automatic first-name detection, custom images, URL links, and more.
Sometimes your prospects may not respond to your first mail — or they didn't even see your email in the first place. So to get their attention, you'll have to send follow-up emails.
But you can't do that manually for thousands of recipients, right?
Luckily, GMass supports follow-up automation to help maximize your outreach. From deciding when to send a follow-up to the content of the follow-up email, GMass gives you tons of follow-up customizations.
After you send an email campaign in GMass, it auto-generates a Campaign Report that tracks various email metrics accurately. You can access these reports right inside your Gmail inbox itself to analyze your campaign engagement quickly!
GMass' detailed Campaign Reports cover several core email metrics — like unique email opens, number of unsubscribes, bounce rates, and many more!
How to Set Up Your Own SMTP Server with GMass
While you can use Gmail's SMTP outgoing mail server, that's not the only option available with GMass.
When it comes to configuring an SMTP server for your email needs, GMass gives you several options — including setting up a custom SMTP server for yourself!
Here's a detailed guide to help you out:
1. Choose an SMTP Server
The first step is to choose how you want to set up your SMTP outgoing mail server with GMass. There are three ways you can do this:
A. Use the GMass SMTP server
You can use GMass' own SMTP mail account on SendGrid if you fulfill either of these two conditions:
Your emails are non-commercial in nature.
You've built your email list completely organically.
If your email sending needs fall under any of these categories, click here to learn how to request access to SendGrid. Simply mention the kind of outgoing mail you send and ask for this service!
B. Create your own SMTP account
If you don't fulfill any of the above criteria or simply want your own SMTP outgoing server, you can create an SMTP account with a third-party SMTP email server like SendGrid or Mailgun.
Read my recent reviews of popular SMTP services:
Mailgun
Mailjet
SendGrid
Sendinblue
SMTP2GO
SocketLabs
Once you've configured your SMTP outgoing server and preferences, you can use it with GMass easily!
C. Set up your own SMTP server
This option is slightly more complex as it needs you to have some technical knowledge and expertise.
Setting up a custom SMTP outgoing mail server for your domain name is time-consuming and can be extremely complicated for most users.
If you're an expert-level developer, you'll want to read my technical review of popular SMTP services. 
2. Configure Your SMTP Account
Here's how you can link GMass with the external SMTP server:
Step 1
When connecting to an SMTP server, GMass does not use TLS/SSL. You can choose the SMTP port you use — port number 25 or 2525 are commonly allowed by SMTP providers.
Step 2
As GMass performs all the email tracking you need by itself, it's preferred that you turn off the option for the SMTP provider to track your mail opens and clicks.
This allows emails you send via GMass to remain unchanged by your SMTP outgoing server and simply pass through unaltered.
Step 3
Check the quota restriction on your SMTP mail account. These should be removed or large enough to not interfere with your mail campaigns.
Step 4
Check what RETURN-PATH address your SMTP provider is using. This may also be called an Envelope Form or a MAIL-FROM address.
You may need to verify your domain name, depending on what SMTP email service provider you've chosen.
Why?
While most SMTP providers use different domain names in your "from" address and the MAIL-FROM address, a few use the same domain. In the latter case, you need to verify that the domain names for both addresses match.
To complete authentication, you might have to alter DMARC, SPF, and DKIM records.
Step 5
Turn on Bounce notifications and set them to go to your "from" address.
This way, GMass can detect any email bounces and display them when needed.
3. Configure GMass to Send Mail through Your SMTP server
You've made it to the last step for connecting GMass to an external SMTP provider!
Here's how you go about it:
Step 1
Reload Gmail in Chrome to make sure you have the latest version of GMass. If you don't have GMass, get the Chrome extension. Once you're done, go to the Gmail compose window.
Step 2
In the "To" field, add smtp@gmass.co.
Step 3
Keep the email subject as "set" and wait until the form shown below appears in your email body: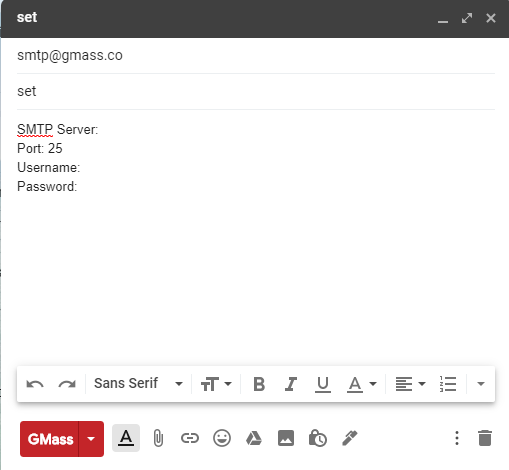 Step 4
Add your details after the colons.
If your SMTP server does not need authentication, leave your username field as "noauth" and keep the password field blank. If it requires authentication, add both these details.
Step 5
Click on the red GMass button under your email body.
GMass will now try to send a test email to your email account. If this test email is sent successfully, the SMTP server address has been set for your GMass mail account.
Now you're all set to send your mail on GMass via an external SMTP provider!
GMass Pricing
GMass offers tremendous functionality compared to other email platforms.
And the best part?
It doesn't offend your budget!
GMass offers some of the most affordable pricing plans for your email needs.
Here's a closer look:
Free plan: includes all features + free email tracking for up to 50 emails each day.
Individual:

Minimal: $8.95/month – all functions except automatic follow-ups + provides unlimited email tracking.
Standard: $12.95/month –  removes the GMass footer from emails and offers all "Minimal" features.
Premium: $19.95/month – offers all "Standard" features + provides automatic follow-ups.

Team:

Premium: starts at $89/month for teams of five users – supports all features.
Conclusion
Setting up an SMTP server and a POP server or IMAP incoming server isn't as hard as it seems! All you need to do is follow the steps and email settings I've covered above.
But remember, Yahoo Mail only gives you limited functionality. 
It's harder to organize and doesn't support useful extensions.
Why limit your productivity when you can use tools like Gmail and GMass instead?
Not only are they intuitive and cost-friendly, but GMass offers much more functionality than other email outreach platforms!
Try GMass out for yourself to boost your email productivity today!