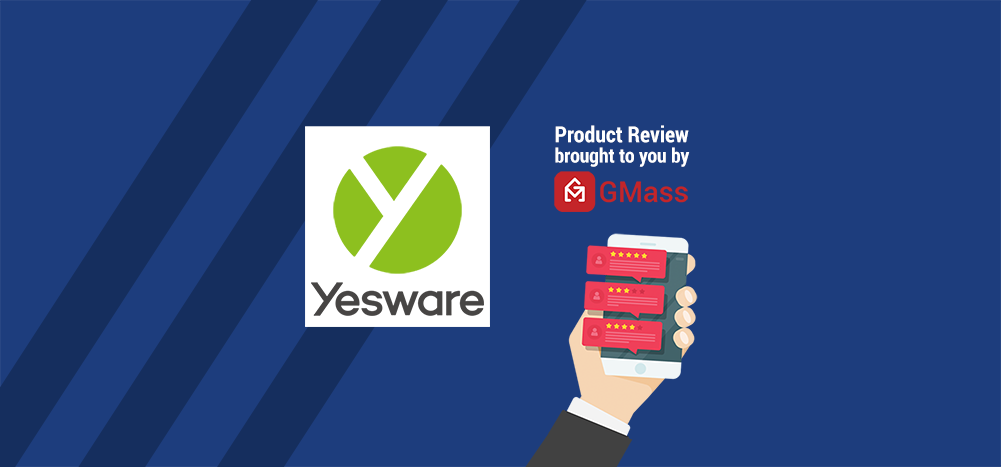 Is Yesware the right email outreach tool for you?
This Yesware review will help you determine whether it's a good fit for your email sending needs.
I'll go over its features, pros, and cons to give you a clearer picture of this email communication software. I'll also highlight the perfect Yesware alternative for your email outreach needs.
Here's what this article covers:
(Click on the links to jump to a specific section)
What Is Yesware?
Yesware is an email tracking and outreach platform that was developed in Boston, Massachusetts (United States).
Its email tracker helps you run campaigns in an email client like Gmail or Outlook. As Yesware CEO, Matthew Bellows, likes to put it, "It's not hardware, it's not software. It's Yesware."
The product allows you to:
reach out to prospects
track emails and monitor customer engagement
run email campaigns
handle customer support and sales
link with your existing sales toolkit via its Salesforce integration and LinkedIn sales solution
The Key Features of Yesware
Here's a closer look at some of the key Yesware features:
1. Email Campaign Management
Yesware comes with powerful campaigns to help you send mass emails to tons of prospects via your Gmail inbox.
Yesware's campaigns help you merge contact data from multiple sources such as:
CSV files
LinkedIn Sales Navigator
Salesforce
Any other compatible CRM
This functionality helps you boost sales productivity as you:
Don't have to add recipients manually to send large sales campaigns.
Can personalize your campaigns for each of your prospects to improve your business relationships with them.
(Check www.yesware.com for a list of all compatible SaaS integrations.)
2. Schedule Emails with Send Later
Send Later is Yesware's email scheduling feature.
It lets you schedule your emails by simply entering a date and time. Yesware will automatically send emails to the customer when that time arrives.
The benefits?
You won't have to be online to send emails.
Sales professionals can use this feature to boost email communication effectiveness.
How?
You can schedule emails to reach the prospect when they're most likely to check their inbox — thereby increasing engagement!
Yesware also lets you create schedules according to the timezone of the recipient. Additionally, you can set email reminders and schedule meetings via its Book a Time feature. This can help sales teams streamline their prospecting and email marketing activities.
3. Built-In Templates
Writing emails from scratch can be time-consuming.
Luckily, Yesware's pre-made templates can help you get started quickly. Just use a template, add your data, and send it out!
However, make sure your sales team personalizes these email templates.
Why?
Other email marketers and sales reps could be using the same email templates that you have selected.
As a customer, would you trust two brands who send the same email to you?
No. Right?
Tip: Yesware's Sales Navigator integration can help sales managers quickly find lead details to personalize their campaigns. 
Three Drawbacks of Yesware
While Yesware is a good email outreach product for sales reps, it's not perfect.
Here are its main drawbacks:
1. Its Basic Plan Misses Key Features
The biggest problem with Yesware is that it can be expensive to use.
A) Expensive Campaigns
Any basic email outreach tool should be able to create and send outreach campaigns, right? 
Regardless of company size, any sales funnel needs efficient email campaigns to target prospects.
However, Yesware doesn't offer campaign features in its basic Pro plan, which costs $15/month per user.
If you want to create campaigns, you have to go for their costlier plans like:
Premium Plan – $35/month per user
Enterprise Plan – $80/month per user
This Yesware pricing model can make the product very expensive for large sales teams with multiple sales managers and sales reps. You could be paying more than $500/month just for email communication and email tracking software!
Even if you do choose the Premium or Enterprise plan, all Yesware pricing plans have a sending limit of 1,000 recipients per upload and 5,000 recipients per campaign.
That limits the functionality of your campaigns — making it hard for any sales rep to reach their monthly targets. Additionally, it's impossible for most businesses to manage their large sales campaigns with such low limits.
B) Lack of a Mail Merge
Mail merge is a basic functionality offered by most email outreach tools (Toutapp, GMass, etc.), and computer software programs like Microsoft Word and Excel.
It lets you add basic personalization to emails by plugging in recipient data, such as their name and address, from:
a database like your CRM (Salesforce, Highrise)
or social media.
Unfortunately, you won't get this functionality with the basic tier of the Yesware pricing model.
Just like campaigns, mail merge is another feature that's only available in the Premium or Enterprise plan. You'll have to go for these expensive plans just to use the mail merge feature!
2. Firewalls Can Disrupt Analytics
False email opens are one of the biggest problems for any email marketer. It occurs when an email is opened, but not by the recipient. This can happen due to various reasons — firewall triggers being one of them.
Why is this a problem?
False email opens can inflate your email tracking statistics. Because of this, data analytics will show more engagement in your mass email than there actually was!
This, in turn, can affect how sales professionals analyze your campaigns.
For example, Yesware may inflate the number of times your tracked emails were opened.
How?
Yesware's attachment tracking and email tracking features usually falter when it comes to a firewall or anti-virus program. Users with these programs may be signaled as having opened your tracked emails, even if they haven't!
This could make your sales managers and sales teams think that their campaigns and subject lines are working well when they're not.
However, because these figures are inflated, the actual sales you receive from the campaign will be underwhelming.

Due to false opens, the email tracker could give you inaccurate stats that could disrupt your sales process. And as you will be building strategies based on false records, you could face low conversion rates and further productivity dips.
Note: This is one of the most frequent complaints mentioned in user reviews of the product.
The Perfect Yesware Alternative: GMass
Yesware is a great tool, but its disadvantages outweigh the pros.
Fortunately, GMass is an email outreach product that can solve all those issues!
What is GMass?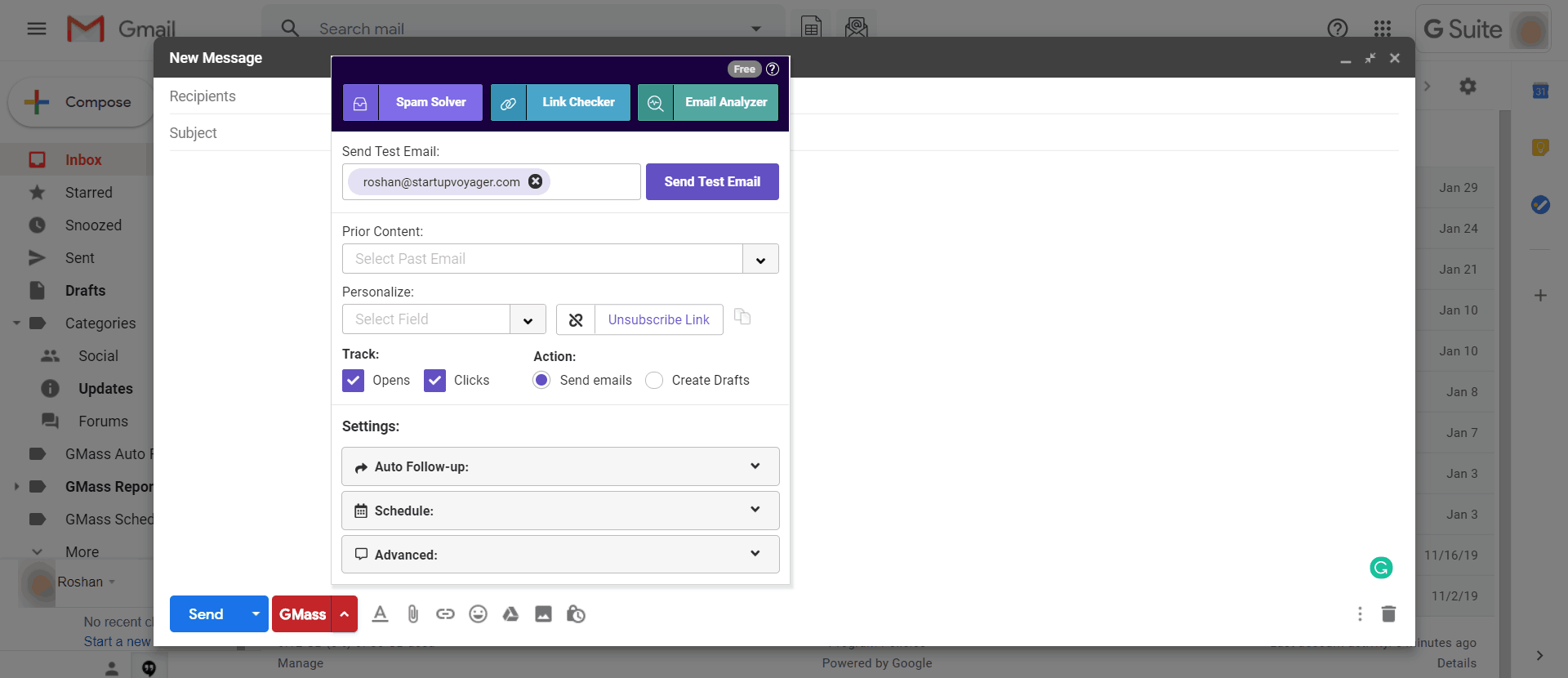 GMass is an email tracking software that tracks emails and manages email campaigns right inside your Gmail account. Its powerful outreach capabilities have made it a popular mail merge tool that's used by employees from Google, Uber, and social media giants like Twitter and LinkedIn.
However, it can also be used by individuals and small businesses to send emails to a target audience.
GMass lets you:
Automate campaigns in Gmail.
Create personalized mail merges for tons of clients.
Track campaigns with metrics like open, click-through, reply rates, and more.
Track results on the Gmail mobile app.
But that's not all!
Anyone can quickly get started with GMass — just download the Chrome extension, sign up with your Gmail account, and you're ready!
Why GMass Is Better Than Yesware
Here's a closer look at why GMass is better than Yesware:
GMass provides accurate email stats in a Campaign Report that's auto-generated after every email campaign. As this report breaks down your core email statistics with real-time tracking, you can gauge potential client engagement to improve your sales cycle!
It tracks metrics like:
Total Recipients: Number of email IDs that received your campaign.
Unique Opens: Number of unique email addresses that opened an email.
Note: GMass tracks unique email opens to show you accurate email stats. If the same person opens your email twice, it won't show up here to inflate your results.
Didn't Open: Number of email addresses that didn't open your email.
Unique Clicks: Number of unique recipients who clicked on at least one link in your email.
Replies: Number of email IDs that replied to your email.
Unsubscribes: Number of people who unsubscribed from your emails.
Bounces: Number of emails undelivered due to invalid email addresses.
Rejections because your Gmail account is over-limit: Number of emails that couldn't be delivered as you've gone over your account's email sending limit.
Blocks: Number of undelivered emails because the recipient marked your Gmail account as spam.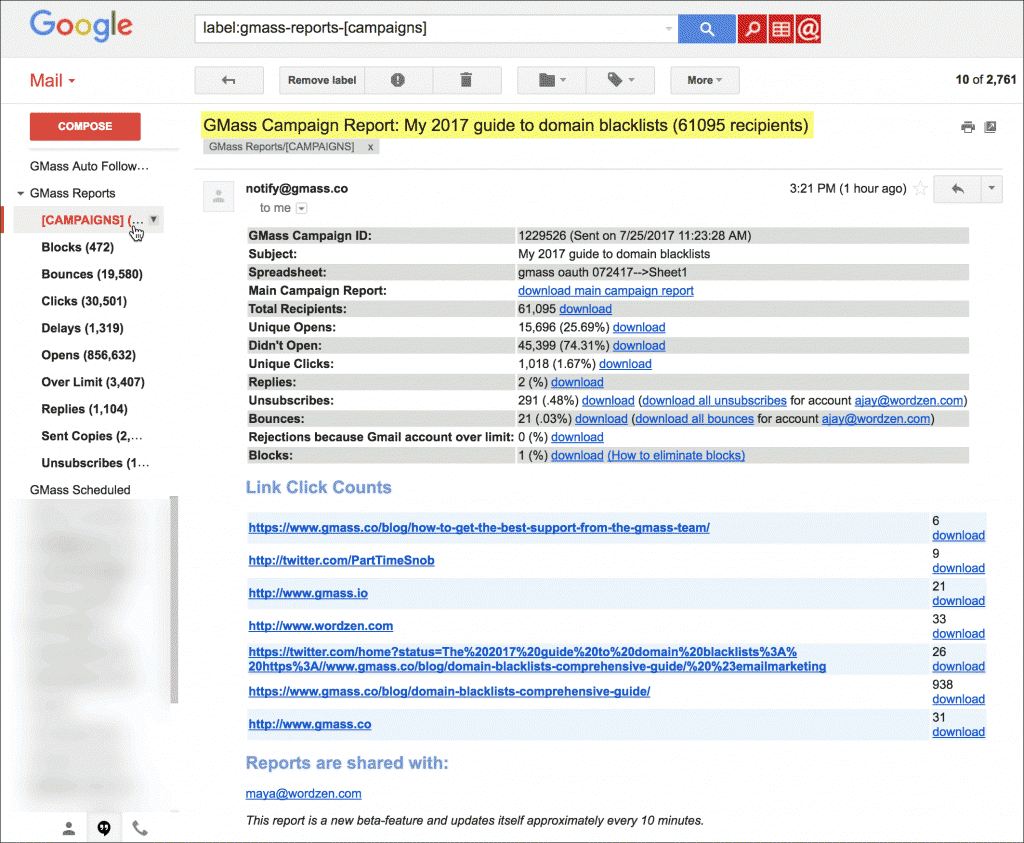 What's more…
The software places the Campaign Report right inside your Gmail inbox. You can easily monitor campaign tracking from your Gmail sidebar.
Additionally, as Google apps are compatible with each other, you can use this Gmail integration to track emails in the Gmail app on your Android devices.
Note: GMass can also send you notifications about campaign updates via email. For maximum ease of use, these notifications can be turned off easily. 
While Yesware only includes campaigns in its most expensive tiers, GMass offers campaigns and mail merges in all its plans. This lets you run email marketing campaigns irrespective of your budget and company size!
Additionally, as GMass places no limits on the number of recipients for a campaign, you can run campaigns for large email lists. 
What about Gmail's sending limits?
GMass can be integrated with third-party services like SendGrid to bypass Gmail sending limits entirely. The GMass team actually uses this integration to send newsletters to over 400,000+ recipients!
And the best part?
You don't have to leave the Gmail interface at all!
3. User-Friendly Pricing and Better ROI
GMass also offers more user-friendly pricing plans than almost every other outreach platform, including Yesware and HubSpot Sales.
The software has three pricing plans::
Free: supports automated email tracking for 50 emails/day + all the other features.
Individual:

Minimal: $8.95/month – unlimited email tracking + all features except auto follow-ups.
Standard: $12.95/month – includes "Minimal" features + removes GMass footer for sent emails.
Premium: $19.95/month – includes "Standard " feature + auto follow-ups.

Team:

Premium: starts at $89/month for a group of 5 and includes all features.
No matter what your company size, GMass is the best, most user-friendly email tool you can add to your sales toolkit.
Other Useful GMass Features
GMass has many more features that make email management and tracking emails a piece of cake!
Here's a detailed look at them:
While follow-ups are integral to email campaigns, it's impossible to follow up on each prospect manually.
Imagine doing that for hundreds of prospects!
Luckily, GMass lets you automate follow-ups to boost your sales productivity.
It also lets you customize each follow up email with settings like:
The trigger to send a follow up email.
For example, every time someone signs up for your newsletter, they're instantly sent a welcome email.
The number of follow-ups sent to each customer.
The time between each follow up email.
The follow-up message.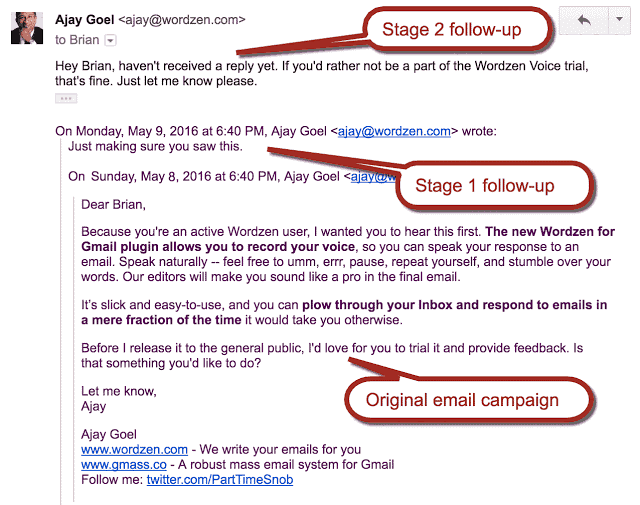 2. Integration within Gmail
Unlike most email tools, GMass' Gmail integration works inside your Gmail account.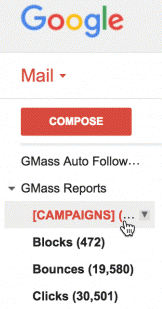 This way, you won't have to switch between tabs to manage your emails or familiarize yourself with a new interface!
Any task in your email to-do list can be handled within your Gmail inbox.
It doesn't matter if it's related to:
tracked emails
campaigns
analytics
With GMass, you'll never have to leave your inbox, or Google Chrome, for that matter!
This also extends to the Gmail app, where GMass is available as an Android add-on.
Email personalization is essential to improve your outreach.
Think about it.
What would you rather open:
A generic, spammy, mass marketing email?
Or one that's customized for you?
However, manually personalizing all your cold emails, from their subject lines to their content, would take forever!
To boost your productivity, GMass supports mail merge automation. With its Google Sheets integration, you don't need to create a separate CSV file for a mail merge!
GMass can automatically plug-in contact details from a Google Sheets file into each email campaign.
It provides email personalization features like:
First Name Detection and Entry – Automatically detect and enter each prospect's first name from their email address.
Personalized Blocks of Text – Personalize entire paragraphs for each recipient.
Customizable Images and Links – Personalize images and links for each recipient.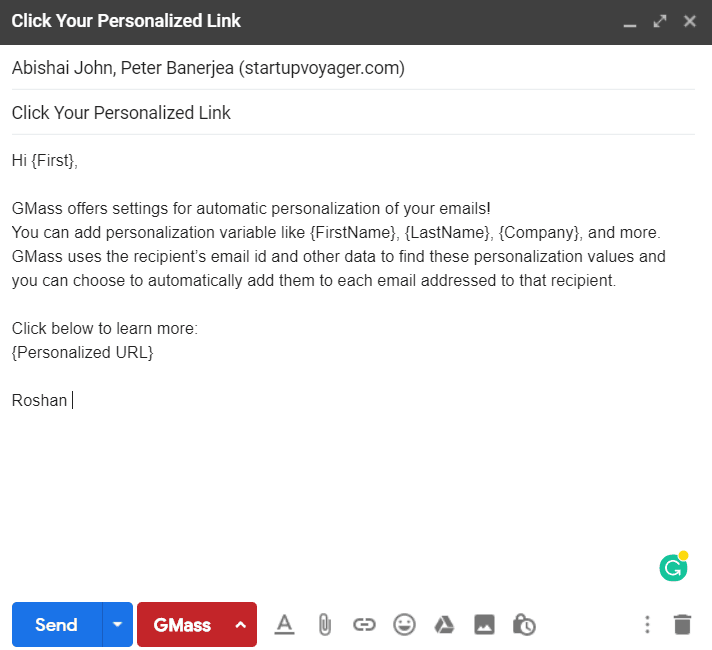 If you want to maximize conversions, you need to send your email campaigns at the right time — it's sales intelligence 101.
Think about it.
If your prospects receive your emails when they're most likely to check their inbox, they're more likely to open them.
But how do you send hundreds of emails at the right time?
GMass supports easy scheduling for all your email campaigns for maximum sales productivity.
Just compose the emails, set the schedule, and GMass will send them accordingly.
It's quick, simple, and automatic!
Change in the schedule? No problem. 
Just reschedule unsent emails through the Gmail Drafts folder, and you're all set.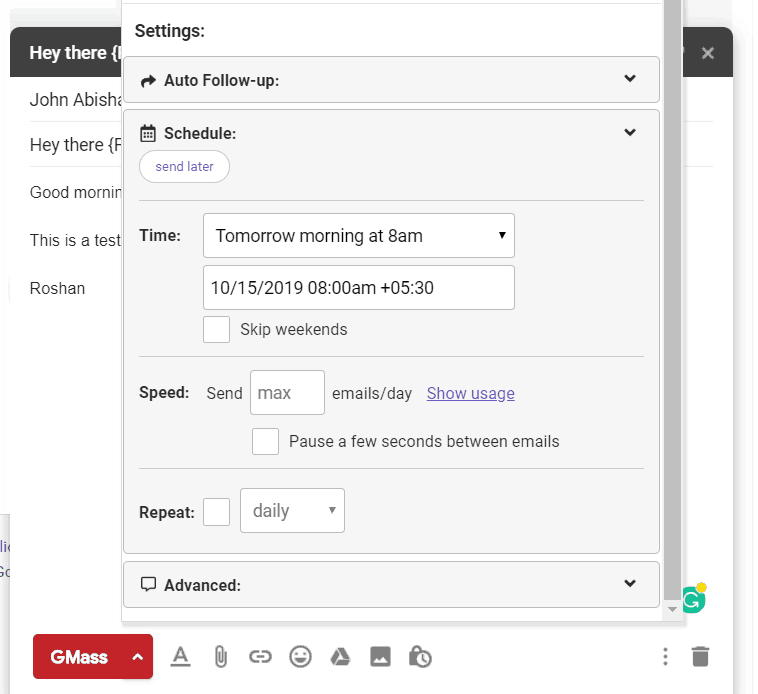 Conclusion
While Yesware is a useful tool for email outreach, it has some drawbacks.
The email campaigns and mail merge features are limited, and your analytics could get inflated by spam filters.
Why settle for this when a better sales tool like GMass exists?
This mail merge tool has all the features you need in your sales toolkit for successful email marketing! So why not download the Google Chrome extension today and experience it yourself?
Ready to send

better emails

and save a ton of time?

GMass is the only tool for marketing emails, cold emails, and mail merge — all inside Gmail. Tons of power but easy to learn and use.

TRY GMASS FOR FREE

Download Chrome extension - 30 second install!
No credit card required
Love what you're reading? Get the latest email strategy and tips & stay in touch.