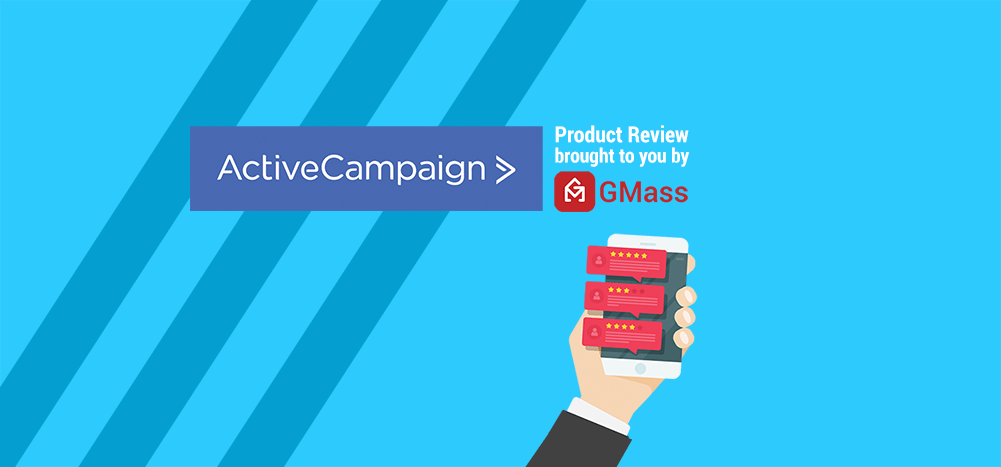 Looking for a comprehensive ActiveCampaign review?
ActiveCampaign used to be an email marketing tool, but over time, it has evolved into a comprehensive suite of omnichannel tools. It's currently an email tool in addition to having features like SMS and site messages that help businesses efficiently manage their sales and marketing pipelines and customer support workflows.
However, ActiveCampaign isn't the perfect email marketing platform for everyone.
For example, it doesn't have a free plan, and many of its more affordable plans lack essential email marketing features.
So is ActiveCampaign really worth it?
In this ActiveCampaign review, I'll cover all the details you need to know about this email marketing software product — including ActiveCampaign's pricing, key features, and limitations.
And if you're having second thoughts about the ActiveCampaign email service, I'll also highlight a powerful email tool that's a great alternative to ActiveCampaign.
This ActiveCampaign Review Contains:
Let's jump in.
What Is ActiveCampaign?
ActiveCampaign is a Chicago-based company that provides email marketing and automation, sales, and customer service solutions for businesses.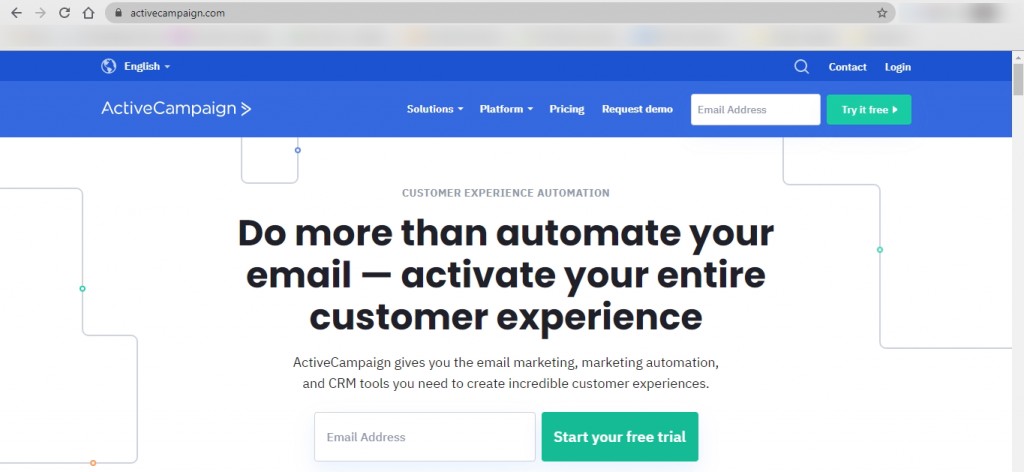 What can ActiveCampaign do for you?
ActiveCampaign is a useful marketing automation tool that can handle your email marketing, sales automation, and customer service needs. It also helps you automate email workflows to complete tasks more efficiently.
The ActiveCampaign team defines the software as a Customer Experience Automation (CAX) platform — which means ideally, you should use this automation tool to boost your customer's experience.
Some of the crucial ActiveCampaign features include marketing automation, email segmentation, and predictive email sending based on machine learning. These features let you deliver personalized email marketing messages to help boost your email deliverability rate.
ActiveCampaign also allows you to communicate across other marketing channels like chat, text, and social media sites such as Facebook.
The ActiveCampaign app, available for iOS and Android devices, helps you handle Customer Relationship Management data and track customer activity on the go.
Is ActiveCampaign a CRM?
ActiveCampaign does offer Customer Relationship Management solutions, but as I mentioned above, it does a lot more. So it would be incorrect to call it "just" a CRM platform.
Let's take a look at how the ActiveCampaign email marketing platform can help your business.
ActiveCampaign Features
Here's a brief look into some features of ActiveCampaign based on their general functions:
Marketing

Email Marketing

Drip email campaigns
Email autoresponders
Email scheduling
Marketing automation

Landing Pages

Drag-and-drop editor
Template library
Personalized web pages based on list segmentation data
Integrated with email marketing for capturing leads

Omnichannel

Send SMS
Integration with Facebook and Twitter

Unlimited email sending
Targeted web experiences
5-version split testing

Sales

Contact management
Lead scoring
Automated user behavior-based deal creation
Automated outreach
Site and event tracking of deal contacts

Support
Three Key Benefits of ActiveCampaign
ActiveCampaign is an email marketing platform with several useful features to manage various business functions. Here's a look at its three key features:
1. Provides a Wide Range of "Pre-Built" Automation Sequences
ActiveCampaign is one of the most powerful automation tools available today.
Why?
ActiveCampaign offers its users access to more than 200 pre-built automation sequences through its automation marketplace.
These "automation recipes" can be filtered based on the business needs, user experience level, and features offered by the automation sequences.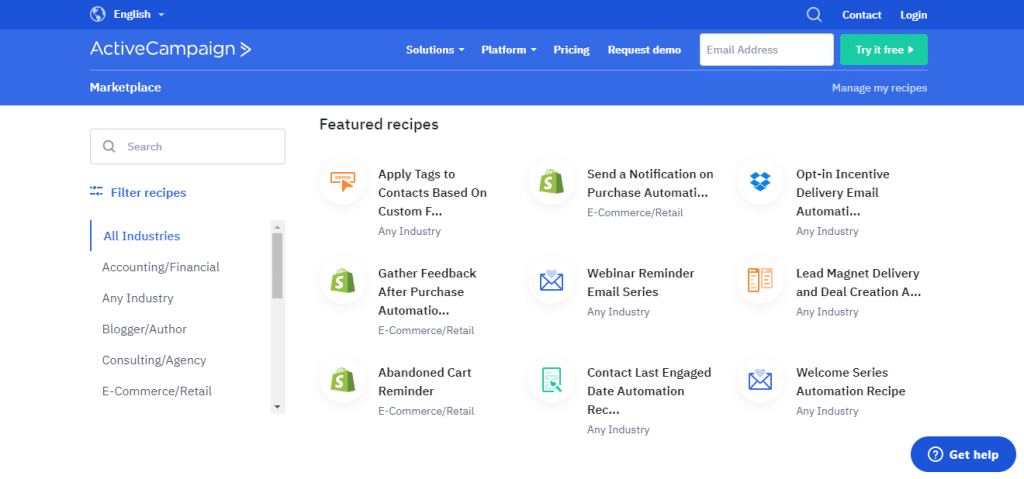 You can also pick automation recipes based on your industry. For example, if you manage a gym, you can use pre-built email automation to congratulate clients for hitting their fitness goals.
To add these automation templates to your ActiveCampaign dashboard, head to ActiveCampaign's automation marketplace, and choose the automation that fits your business' needs.
2. Has a Drag-and-Drop Email Editor
Want to build beautiful emails but don't have the time to design them from scratch?
The ActiveCampaign email marketing platform features a drag-and-drop email editor that can help you create beautiful emails easily.
Use the email editor to create blocks of text, insert an image or video, create buttons, spacers, line breaks, and even link to an RSS feed. You can also decide on the email's layout by choosing the background colors, borders, margin levels, and more.
Additionally, this email marketing platform has a conditional content setting that allows you to include content that's visible only to specific recipients. This way, you can send the same email to several recipients — but it will display different content based on the recipient's stage in the product life cycle. For example, you might want to add text about an upcoming new-client webinar without showing that content to established clients.
Ajay's Email Tip
While drag-and-drop designers can help you create beautiful emails, you still need a killer start to your email to grab your recipient's attention! Check out my guide on how to start an email to create the best openings for all of your emails.
3. Supports a Large Number of Integrations
Integrations are a must-have if you want to make your business workflows more efficient.
Why?
Integrations help apps work together to cut down wasted time so they can increase your productivity.
Since ActiveCampaign provides solutions for marketing, sales automation, and customer support, it offers app integrations for various types of tools like Salesforce, Zapier, Zoho CRM, Facebook, and more.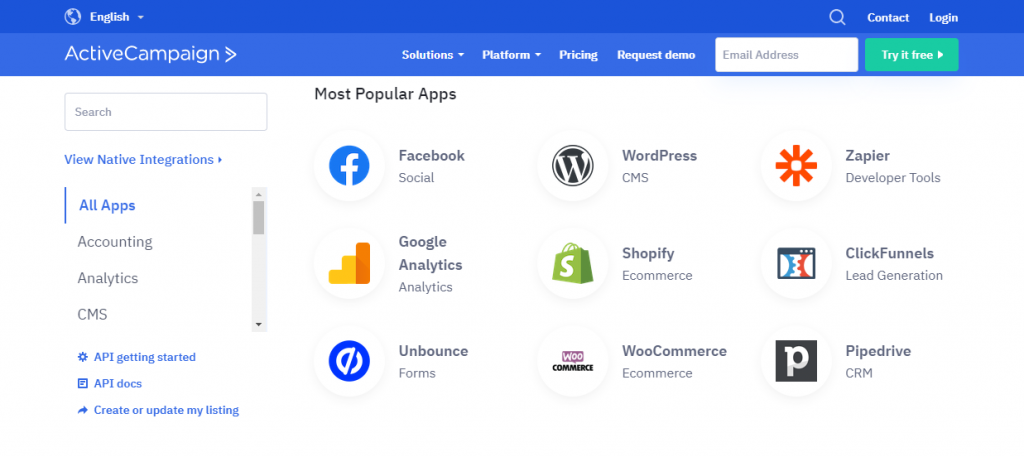 Some of these are native integrations, specifically designed to run on the ActiveCampaign platform. Other third-party integrations can be connected to the ActiveCampaign email marketing platform through its API (Application Programming Interface).
Once you access the integrations page on the ActiveCampaign website, you can choose integrations based on general functions such as analytics, customer relationship management, ecommerce, sales, and customer support.
ActiveCampaign Pricing
The ActiveCampaign email marketing platform currently offers four pricing plans: Lite, Plus, Professional, and Enterprise.
The pricing is based on the number of contacts you have in your email list. The minimum number of contacts supported is 500, and if you need more, you'll have to pay proportionately.
Here's what each plan in ActiveCampaign's pricing model includes:
ActiveCampaign Pricing 1: "Lite"
The Lite plan starts at $15/month with support for 500 contacts and includes:
Support for Up to Three Users
Email Marketing
Marketing Automation
Unlimited Sending
Event Tracking
Email Newsletter Sending
Chat and Email Support
Split Testing
Automation Builder
ActiveCampaign Pricing 2: "Plus"
The Plus plan starts at $70/month with support for 500 contacts and includes:
Everything in Lite 
Event Tracking
Support for Up to 25 Users
SMS Marketing
Integrations
Marketing Automation
Site Tracking
Dynamic Content
Automation Builder
Landing Page Builder
ActiveCampaign Pricing 3: "Professional"
The Pro plan starts at $159/month with support for 500 contacts and includes:
Everything in Plus 
Email Segmentation
Support for Up to 50 Users
Event Tracking
Automation Builder
Predictive Content with Machine Learning
Automation Strategy Consultation.
Predictive Sending with Machine Learning
Site Messaging
ActiveCampaign Pricing 4: "Enterprise"
The Enterprise plan starts at $279/month with support for 500 contacts and includes:
Everything in Professional
Support for Unlimited Users
Free Social Data
Custom Mailserver Domain
Email Segmentation
Dedicated Account Rep
Custom Domain
Four Major Limitations of ActiveCampaign
ActiveCampaign may have a wide variety of marketing and automation features, but it isn't perfect.
Let's take a look at some of ActiveCampaign's major limitations:
1. No Free Plan Available
ActiveCampaign offers several useful features, but none of them are free.
While you can go for the ActiveCampaign 14-day free trial, that's hardly enough to try out ActiveCampaign's marketing and automation functionalities.
If you're planning on using ActiveCampaign, you'll have to go for the paid plans — and the cheapest plan for this email marketing automation platform starts at $70/month.
And that's only for a team of three users!
If you have a team of more than four users and 2,500 contacts (like many businesses), your cost will increase up to around $99 per month!
2. Certain Features Can Overwhelm Users
ActiveCampaign is a great marketing automation tool for someone who thoroughly understands all the features it has to offer.
But what if you only wanted to focus on one function, like email marketing? 
If you're only planning on using ActiveCampaign for email marketing or customer support activities, you can be overwhelmed by sorting through the advanced feature library.
Additionally, the ActiveCampaign interface isn't exactly user-friendly, and you may be better off with a more accessible marketing platform that's email-focused.
3. Lacks Advanced Functions
ActiveCampaign has evolved into a suite from an email marketing tool.
But that poses a problem.
Why not just use separate, specialized tools for your landing pages, CRM, and customer support needs?
That way, you will have dedicated tools with far more advanced features. And since most CRM, support, and landing page tools are super-easy to integrate, you won't have trouble working with different programs at the same time.
4. No Phone Support for Lower Tier Plans
Every software platform needs to have a good customer service team, right?
When a marketing software service is as comprehensive as ActiveCampaign, a quick support solution is essential.
But if you're looking to get a customer support agent on the line quickly, you'll be disappointed. 
ActiveCampaign does offer phone support to clients, but it's reserved only for those on the Enterprise plan. The least expensive Enterprise plan starts at $279 per month (that's about $3,350 annually).
So if you run a small business that can't afford the Enterprise plan, you'll have to direct your problems to a live chat agent during business hours or contact the support team via email and wait for a response.
How to Deal with These Limitations Using an ActiveCampaign Alternative
If you're thinking ActiveCampaign may not be the right email marketing tool for you, I can't blame you. After all, there's no free plan, and there's a lot of unnecessary features that could complicate your day and come with limited customer support.
So then, what do you do?
Look for an email marketing software service that helps you with:
Scheduling emails
Automating follow-ups
Personalizing emails
Tracking email performance
That's where GMass comes in.
What is GMass?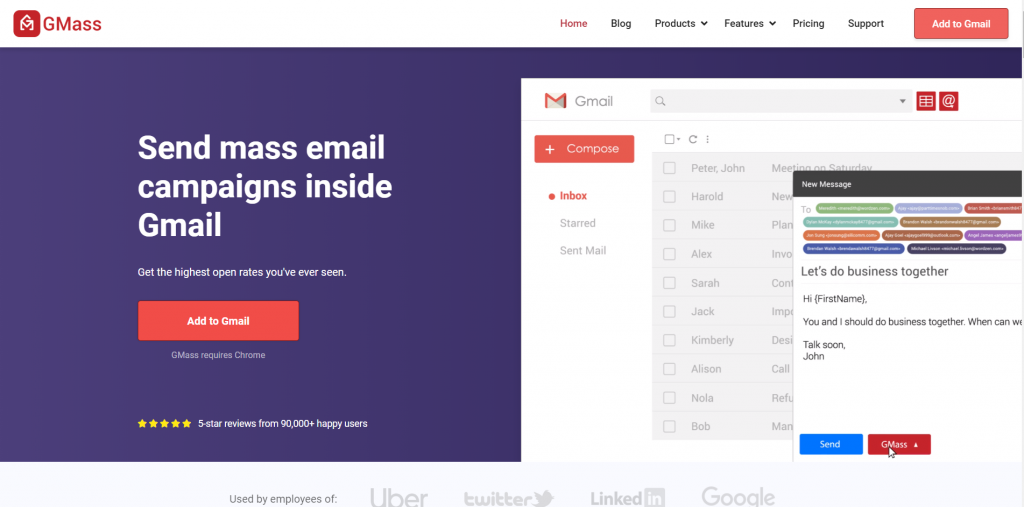 GMass is an email marketing tool that works right inside Gmail. It's a popular tool that employees from giant tech companies like Google and Uber, and social media platforms like Twitter and LinkedIn, use for email marketing and mail merges.
GMass is also perfect for SMBs, churches, solopreneurs, and other individuals and business owners looking to send emails from Gmail.
With GMass, you can:
Schedule and send an email campaign in no time
Automatically customize emails to increase engagement
Track important email metrics
Automate follow-up emails
Set up custom tracking domains for a better sender reputation
But here's the best part!
Anyone can get started with GMass.
All you need to do is add the Chrome extension to your browser, and you'll be good to go!
Why GMass Is the Best ActiveCampaign Alternative
Here's a brief look at some of GMass' best features:
1. Free Plan
Unable to stretch your budget for a dedicated email marketing tool?
Don't worry!
GMass is an email marketing automation tool with a free plan that anyone can use, and it supports most of the features offered in the paid plans, too.
Some of these features are:
Email list builder
Behavior-based campaigns
Reply management
Better email deliverability rate
Use the free plan for as long as you want, and upgrade to a paid plan when you have a complete idea of what GMass can offer you. There's no deadline pressure — try it out at your own pace!
2. Simple and Easy-to-Use Interface
GMass is an email marketing software that works completely inside Gmail.
How does this help?
With the GMass email marketing automation platform, you won't have to worry about learning a new interface or opening multiple tabs to manage things.
From creating personalized email campaigns to analyzing campaign performance, you can do everything from your Gmail inbox — it can't get easier than that!
3. Personalize Emails Automatically
Do you know that recipients are more likely to interact with emails that are personalized for them?
GMass helps you automatically personalize all of your outgoing emails. Easily add personalized text blocks, images, links, and even automatically insert recipient names from their email address.
4. Track Important Email Metrics
GMass can help you track the performance of every email campaign with ease.
Whenever you send out an email campaign with GMass, it automatically generates a Campaign Report.
Use this report to check several important email metrics like:
Unique clicks
No. of unsubscribes
Total no. of recipients
No. of bounces
No. of replies
No. of recipients who didn't open your email
For maximum accessibility, you can view these reports from the Campaigns tab in the Gmail email client.
Many recipients won't interact with the first marketing email you send them.
That's why it's essential to send follow-ups.
With GMass, you can automate these follow-ups so they reach recipient inboxes at the right time. You can pre-set various aspects of these subsequent emails, like the email content, how many follow-ups to send, and even the amount of delay between each automated follow-up message.
Tired of manually inserting email addresses each time you want to send mass email campaigns?
With GMass, you can easily link a Google Sheet of email addresses to your mail merges. This way, all you have to do is connect a spreadsheet, and voila! — you have an email list ready to go!
GMass also helps you schedule emails in advance.
All you need to do is type in the email and schedule it — GMass will take care of the rest. You can even reschedule any already-scheduled emails from right in the familiar Gmail Drafts folder.
Wrapping Up
If there's one thing that's clear from this ActiveCampaign review, it's that it's a good tool if you're looking for an all-in-one marketing automation option and you have a budget to support it.
If you're looking for a single solution for marketing, sales automation, and support functions, then consider giving it a shot.
However, if you're only looking for a great email marketing experience, it's probably not the best software choice for you.
Fortunately, GMass is an excellent email tool with everything you need to get the most out of your email marketing campaigns. Additionally, with a feature-rich free plan and user-friendly interface, GMass overcomes all of those ActiveCampaign limitations I mentioned in this review.
So why not give GMass a try today and skyrocket your email marketing activities?
Ready to

transform Gmail

into an email marketing/cold email/mail merge tool?

Only GMass packs every email app into one tool — and brings it all into Gmail for you. Better emails. Tons of power. Easy to use.

TRY GMASS FOR FREE

Download Chrome extension - 30 second install!
No credit card required
Love what you're reading? Get the latest email strategy and tips & stay in touch.