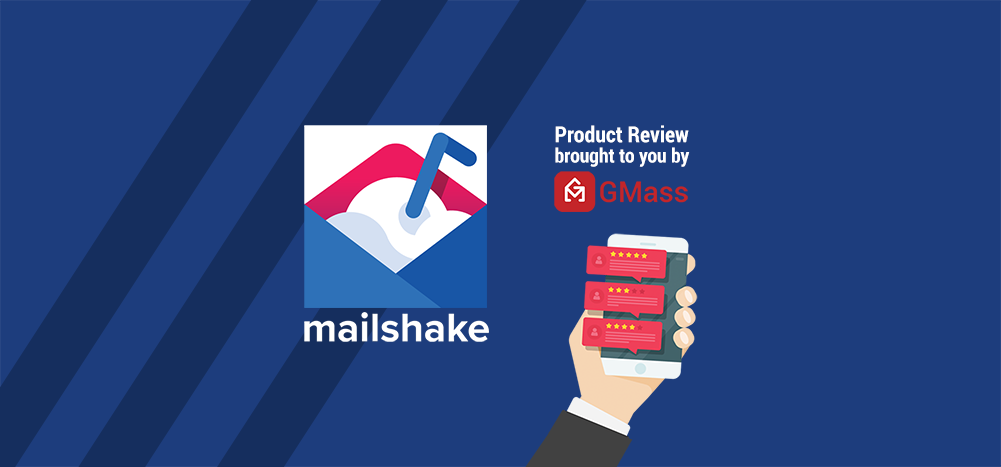 Is Mailshake the best email outreach tool for your needs? 
This Mailshake review will cover its pros and cons to help you decide if it's a good fit for your emailing requirements. I'll also include the best Mailshake alternative to handle your email outreach needs.
Here's what this article covers:
(Click on the links to jump to a specific section)
Let's get started.
What Is Mailshake?
Mailshake is an email outreach software and sales engagement platform that helps you send emails from Gmail and G Suite. It's mainly used by email marketers, SaaS companies, and sales teams to personalize, schedule, and track email campaigns with ease.
Note: Unlike Ninja Outreach or Buzzstream, Mailshake is purely an outreach software for email marketing. This means sales professionals need to have their own list of prospects with their contact information already. 
Would you prefer to choose a tool that has built-in prospecting features instead?
Don't worry; prospecting is easier than it sounds!
For example, you could use social media such as LinkedIn to get contacts and begin prospecting in seconds. You don't necessarily need a separate tool for it!
The Five Key Features of Mailshake
Let's check out some of Mailshake's key features:
1. Easy Email Personalization
Mailshake helps you personalize each cold email for better outbound sales campaigns.
How does this help?
As you're adding personalized details to your cold emails, they won't seem like spammy content marketing messages.
It won't be just another generic sales engagement email in your prospect's inbox; instead, it will be one that's tailor-made for their needs.
Even if you're using generic email templates, personalization alone can boost your campaign performance and response rate. This could help with better engagement and increased sales.
Mailshake automatically adds your recipient's details to your emails via a mail merge when you start a new campaign:
Here's what it can add:
First Name
Last Name
Company Name
Page URL
You can manually import a CSV file of your contact details to create an email list for your outreach campaign.
Alternatively, you can import data from another platform, such as:
LinkedIn lead generation forms
Pipedrive
Or any other compatible sales engagement platform via their Zapier integration
Note: Mail shake does not support Google Sheets, so you need to save your email list as a CSV file for the mail merge to work. 
2. Email Automation for Follow-Ups
Mailshake allows you to schedule follow-up emails that are part of the same thread as the original outbound email.
As these are part of the same thread, your follow-up messages will look more relevant and will be opened more. This is a simple solution to boost your cold email outreach.
It doesn't matter if your emails are about link building for white hat SEO or lead generation for outbound sales campaigns — keeping things in the same thread helps!
You can even customize the time between follow-ups and when the follow-ups stop with email automation.
For example, Mailshake can stop sending automated follow-ups once you receive a reply. You can then choose how to proceed with the client through the built-in CRM or via their Zapier integration with a supported sales engagement platform.
3. Live Campaign Management
One of Mailshake's best features is the option to edit campaigns that have already begun.
The tool allows you to edit the outbound email as well as follow-ups for recipients who haven't yet received the email.
Mailshake even allows you to pause email sending or add new recipients to an active campaign while you build your email list through prospecting.
4. Cold Email Templates
Mailshake has a few handy cold email templates to help you get started immediately. While these are designed to be used as they are, it's a good idea to personalize these email templates and their content to improve sales engagement.
Why?
Someone else is probably using the same email templates that you plan to use.
And why is that a problem?
If your first cold email to a list of prospects resembles something they've received before, they won't interact with it — making it hard to grow your business.
The Three Disadvantages of Mailshake
Mailshake is a useful email outreach tool, but it's not flawless.
Here are the main disadvantages:
1. Separate User Interface from Gmail (or Your G Suite Email Account)
Although your Mailshake account works via your Gmail or G Suite account, the app uses its own interface — separate from Gmail. 
This means you can't access your outbound email folders or drip campaigns within Gmail itself. Instead, you need to use Mailshake's separate interface.
This increases onboarding time, as you need to familiarize yourself with a new app and its interface. Moreover, it's distracting to switch interfaces when managing your emails.
Of course, you could contact their support team or customer service for help, but that would just further increase onboarding time and effort.
2. Setting Up Custom Tracking Domains Is Hard
While Mailshake can support custom tracking domains, setting them up is difficult.
But how do custom tracking domains help?
Many built-in spam filters automatically categorize certain domains as spam. If your cold email comes from the same domain, they're going to go straight to your recipient's spam folder. This will negatively impact cold outreach — whether you're aiming for link building or lead generation!
That's why you need a custom domain to grow your business. It's not going to be pulled up by most spam filters — increasing your chances of reaching a customer.
However, the Mailshake software makes it complicated to create a custom tracking domain. That's why most people bypass this step and could face issues with their email deliverability.
3. High Pricing
While Mailshake offers you email personalization, advanced integrations (such as Zapier, Slack, and Pipedrive, etc.), and analytics, it comes at a cost.
Their two pricing plans clock in at $59/month and $99/month.
As this is a user-based model, each team member increases the pricing significantly. When you're managing large sales teams, these costs can easily add up quickly, and you could be paying more than $1,000 a month just for your outreach tool!
GMass: The Best Mailshake Alternative
Although Mailshake is a great tool, it has some drawbacks.
Luckily, GMass is an outreach tool that acts as a simple solution for all of those issues.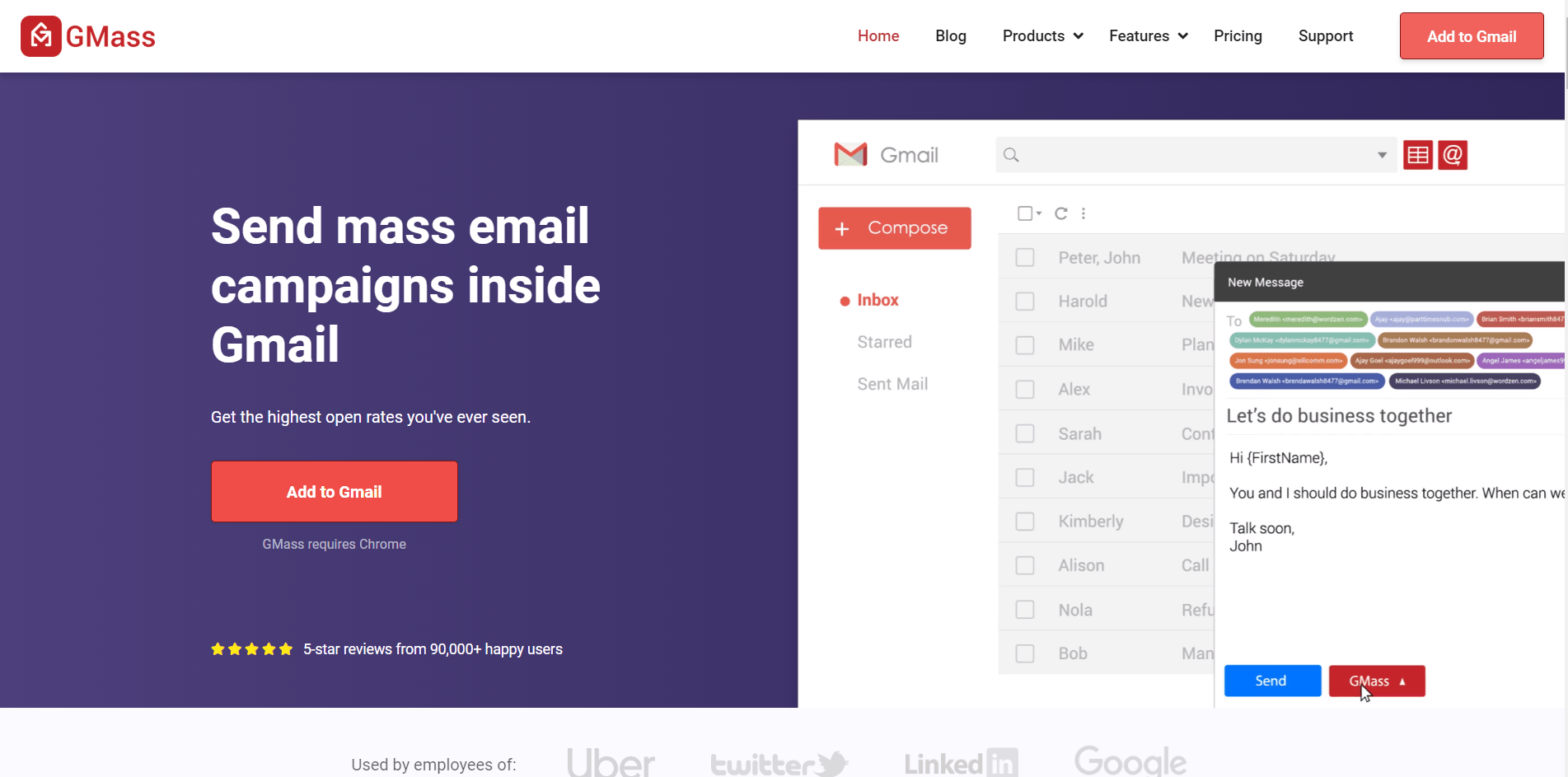 GMass is an email outreach software that allows you to manage email campaigns and email sending within your Gmail inbox itself. 
Apart from regular sales teams and SaaS companies, its convenient outreach features and ease of use have made it the ideal outreach software for clients like Google, Uber, and even social media giants such as LinkedIn, Twitter, and Facebook.
GMass helps you:
Automatically track campaign outreach stats
Easily send cold emails and drip campaigns to tons of influencers, contacts, or consumers
Automatically personalize email content for each customer individually.
Why GMass Is Better Than Mailshake
GMass overcomes a lot of the disadvantages that Mailshake faces.
Here's a closer look at how:
Unlike Mailshake, Ninja Outreach, and most other outreach tools, GMass is an outreach software that operates inside your Gmail inbox.
This means you can do everything, from creating drip campaigns and checking analytics to sending outreach emails, without leaving your inbox.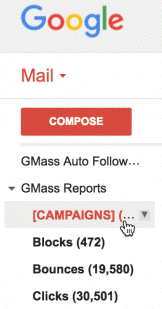 Unlike Mailshake, GMass' software lets you easily create custom tracking domains.
How does this help?
Custom tracking domains allow you to bypass spam filters that categorize spam by domain.
This way, you can quickly create a personalized campaign that's not trashed before it reaches your recipient!
GMass also offers you far more user-friendly pricing plans than almost every other outreach platform, including Mailshake and Ninja Outreach.
Here's a breakdown of GMass' pricing:
Free: supports automated email tracking for 50 emails/day + all the other features.
Individual:

Minimal: $8.95/month – unlimited email tracking + all features except auto follow-ups.
Standard: $12.95/month – includes "Minimal" features + removes GMass footer for sent emails.
Premium: $19.95/month – includes "Standard" features + auto follow-ups.

Team:

Premium: starts at $89/month for a group of 5 and includes all the features.
Whether you only need a single-user plan to drive sales and outreach or a team plan for many marketers to help grow your business, GMass' plans will always be the more user-friendly alternative.
Other Handy GMass Features
GMass also comes with tons of other email features that make managing campaigns a piece of cake!
Here's a closer look at them:
GMass automatically generates a Campaign Report after sending each email campaign. This gives you your core marketing statistics at a glance to analyze email engagement.
What's even better is that GMass displays the Campaign Report within your Gmail inbox. Instead of opening another interface, you can access all your outreach reports from the Gmail sidebar!
The GMass Campaign Report includes:
Total Recipients: Number of email addresses to which you sent your email campaign.
Unique Opens: Number of unique email IDs that opened your email.
Note: GMass tracks unique opens to give you accurate email stats. If a person opens the same email twice, the report won't show this as another "open" to inflate your results.
Didn't Open: Number of recipients who didn't open your email.
Unique Clicks: Number of unique email IDs that clicked on at least one link in your email.
Replies: Number of recipients that replied to your email.
Unsubscribes: Number of recipients who unsubscribed from your emails.
Bounces: Number of emails undelivered due to invalid email addresses.
Rejections because your Gmail account is over-limit: Number of emails that weren't delivered as you've surpassed your account's email sending limit.
Blocks: Number of undelivered emails as the email address marked your account as spam.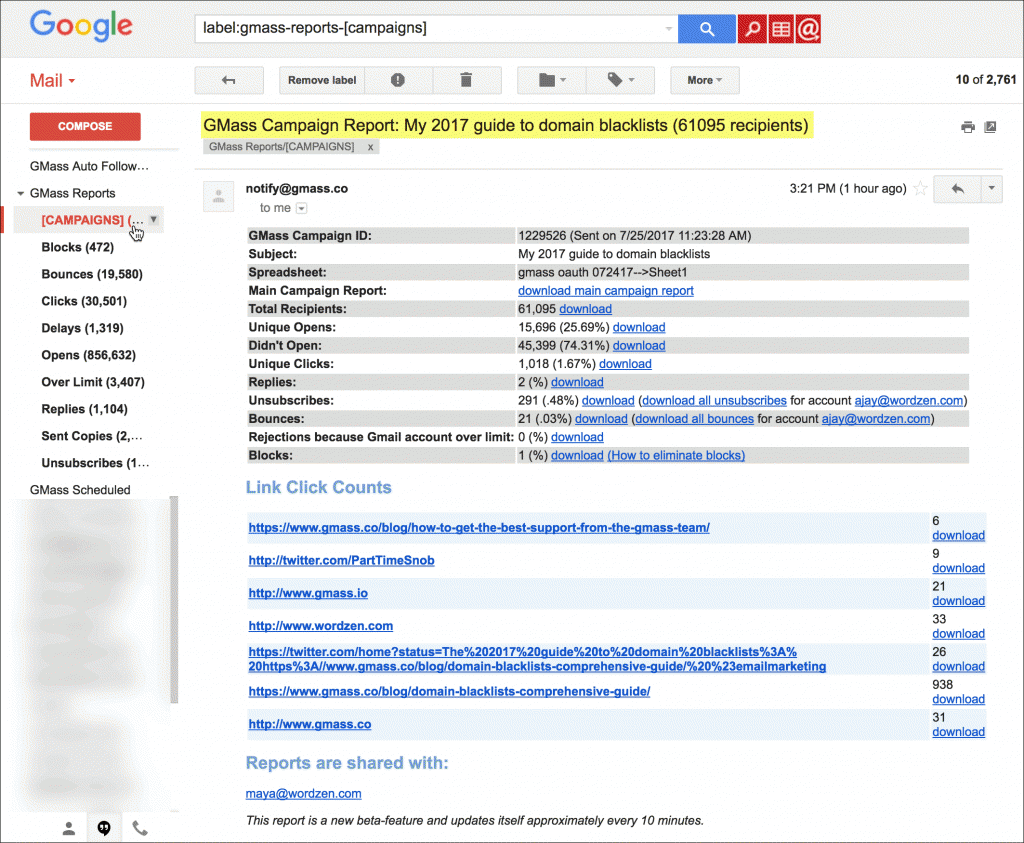 Email personalization dramatically improves engagement with customers.
After all, what would you rather click to open?
A spammy, generic, mass marketing email?
Or one addressed specifically to you and your needs?
However, manually personalizing hundreds of cold emails would take forever.
Luckily GMass automates this process for you.
Note: Thanks to GMass' Google Sheets integration, you don't even need to make a separate CSV file (something Mailshake forces you to do). All you need to do is enter your list of prospects into a Google Sheets document, and GMass will do the rest.
GMass' automatic email personalization features include:
Auto First-Name Detection and Entry: Automatic detection and entry of each recipient's first name from their email address.
Personalized blocks of text: Customize entire paragraphs for those customers or influencers who deserve special treatment.
Customized Images and Links: Personalize any email image and link for each email recipient.

Email marketers usually have to follow up on emails to optimize their outreach.
However, this can be a problem when it comes to mass marketing.
Can you imagine manually following up on hundreds of recipients?
Fortunately, there's a simple solution.
GMass supports follow-up email automation for up to eight stages.
GMass also lets you customize these follow-ups, such as:
The trigger for sending a follow-up email
For example, customers who sign up for a newsletter could instantly receive a Welcome email.
The number of follow-up emails each individual receives
The time between each follow-up email
The exact content of the follow-up email.

To maximize engagement, sending emails at the right time is vital.
Emails should be sent when the prospect is most likely to check their inbox.
But how do you make sure the email is always received at the right time?
By scheduling them in advance!
GMass lets you easily schedule all your email marketing campaigns.
Simply compose the messages, set the time, and GMass will send them at that time.
It's like leaving your email outreach tool on autopilot!
Moreover, if there's a change in schedule, you can reschedule any email from the Gmail Drafts folder in seconds!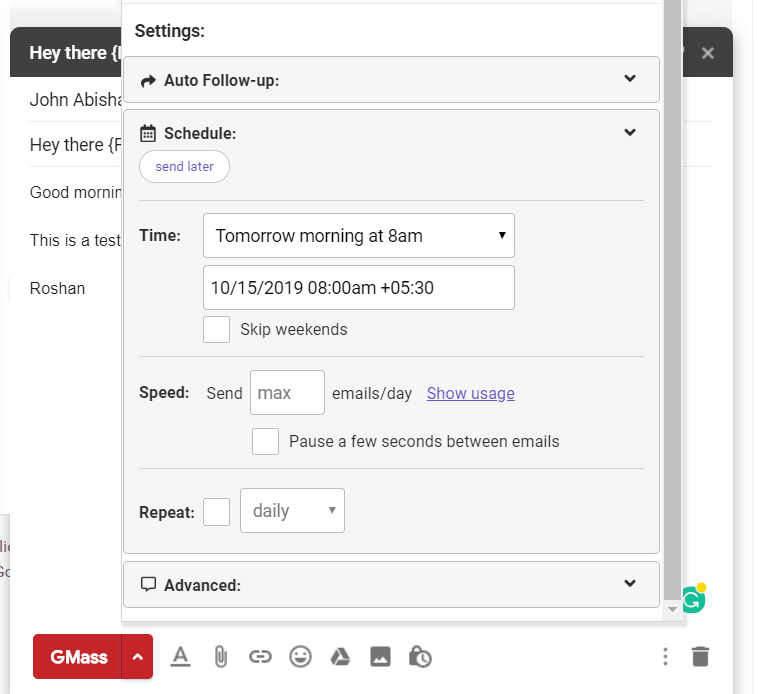 Conclusion
While Mailshake is a great email marketing tool, it isn't perfect. It's expensive, the app requires you to switch interfaces between tasks, and it doesn't support custom tracking domains.
Why settle for it when there's a better tool like GMass?
This email outreach platform has all the features you need for powerful management of all your email campaigns.
Why not download the Chrome extension today and try it out yourself!
Ready to send

better emails

and save a ton of time?

GMass is the only tool for marketing emails, cold emails, and mail merge — all inside Gmail. Tons of power but easy to learn and use.

TRY GMASS FOR FREE

Download Chrome extension - 30 second install!
No credit card required
Love what you're reading? Get the latest email strategy and tips & stay in touch.