We just added a feature that allows you to pause and resume your Gmail mail merge campaign at will. When a campaign has been scheduled or is in the middle of sending, just find the campaign's Draft in the GMass Scheduled Label, open up the Draft, and click the Pause button.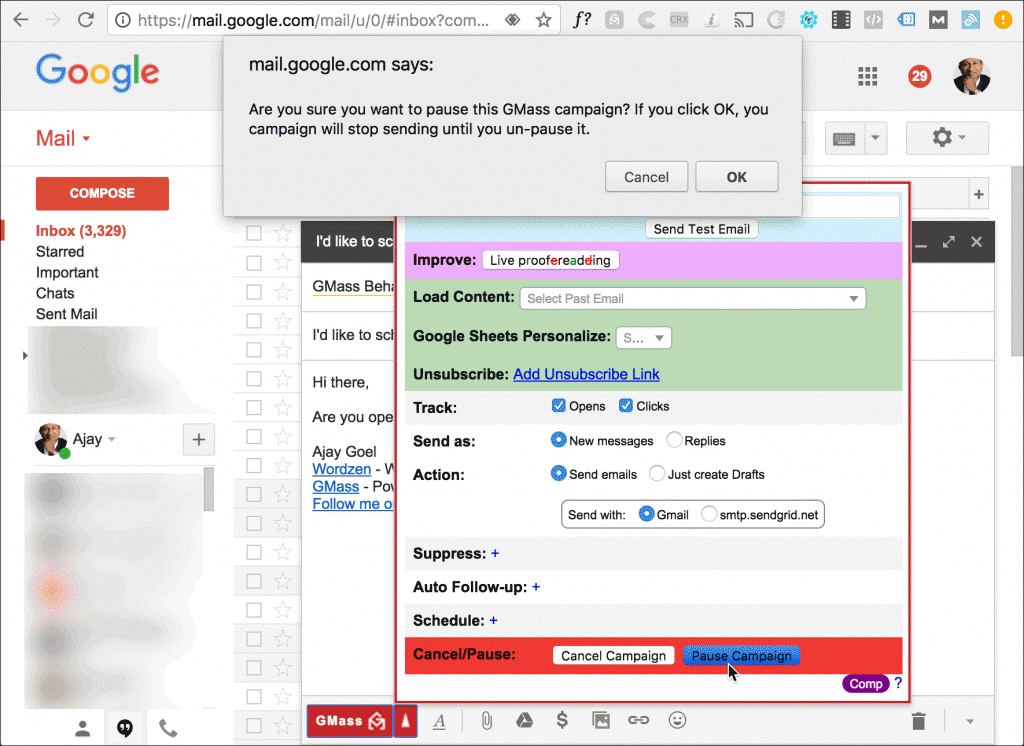 If the campaign is in process of sending, sending will attempt to cease, and you'll get an email notification when sending has paused. The campaign may send up to 50 more emails before it pauses sending.
If the campaign is not in the process of sending, but is scheduled to be sent in the future, then the campaign will not send at the scheduled time, but will instead "sleep" until it is "resumed" and after the scheduled time has passed.
Note that if you pause a campaign after some emails have already been sent, and you have auto follow-ups set for the campaign, those auto follow-ups will still send to the people that have already received the original email, unless you cancel the auto follow-up emails separately.
Pause vs Cancel
If you are certain that you are never going to want to resume the campaign, you can also cancel the campaign, which has a similar effect of pausing the campaign, with the exception that once a campaign is cancelled, it cannot be un-cancelled. If you change your mind after cancelling, you would have to re-creating the mail merge campaign from scratch.
Resume the campaign
After a campaign is paused, you can click the RESUME button to resume sending it on the schedule you've set. Clicking the RESUME button also has the effect of saving any edits you've made in the Settings box. When you click PAUSE, however, any edits you've made to the Settings box are NOT saved.
Ready to send

better emails

and save a ton of time?

GMass is the only tool for marketing emails, cold emails, and mail merge — all inside Gmail. Tons of power but easy to learn and use.

TRY GMASS FOR FREE

Download Chrome extension - 30 second install!
No credit card required
Love what you're reading? Get the latest email strategy and tips & stay in touch.