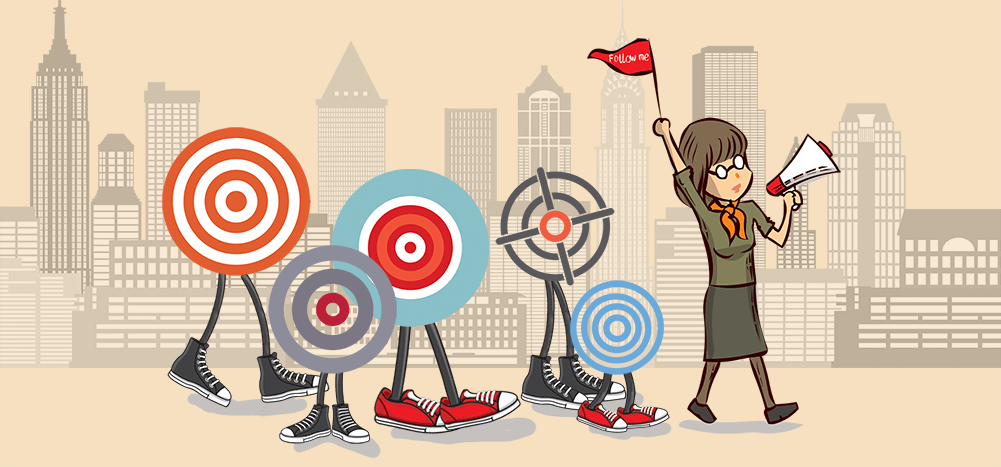 The concept of sales goals is constantly evolving.
It's 2023 and "sell as much as you can, as fast as you can" isn't a sustainable sales goal anymore.
You might have a clear vision of where you want to take your business, but without a set of well-thought-out sales goals that fit your team, your sales plan might never get off the ground.
In this article, I'll cover what sales goals are and why you need them. I'll also highlight six examples of sales goals and give you eight practical tips to set and achieve your sales goals.
This Article Contains:
(You can click on the links below to go to a section of your choice.)
Let's jump into it.
What are Sales Goals?
Sales goals are targets geared towards increasing revenue and boosting sales efficiency.
Sales goals can be defined from the standpoint of the company as a whole or just for an individual salesperson. In this article, we will share examples of both.
Typical sales goal examples are "increase annual revenue by 30%" or "reduce customer acquisition costs by 15%."
Businesses use sales metrics like revenue growth, customer acquisition costs, and lifetime value to measure whether they're on track to meet sales goals.
Most sales goals are set as both an annual goal and a quarterly goal. This helps sales teams to break down big goals into smaller, more manageable tasks for them to achieve in the short run.
It's important to note that a sales manager can't set sales goal plans alone.
They need to consult with other managers to set goals based on the company's growth plans. Once sales goals are decided, they're usually broken down into smaller steps so that reps can achieve their sales target quickly.
Why You Need Sales Goals
The sales goals you set for your business provide direction for your future marketing and sales decisions.
When you have clear sales goals, it keeps employees accountable. Clear sales goals also help team members visualize their goals and gamify the daily tasks of every salesperson, increasing their motivation levels.
Additionally, setting sales goals can help any sales leader quantitatively measure the performance of agents.
You now have a good idea of why sales goals are crucial for your business.
But which sales goals should you set for your team?
6 Examples of Sales Goals to Set for Your Team
Here are six examples of effective sales goals you can set for your sales team:
1. Breaking Down Sales Revenue
Increasing revenue is probably the most common annual sales goal set by sales teams.
When you set this goal for your team, you break it down by monthly, quarterly, or annual sales revenue.
You could also break it down by product, product category, territory, season, and other classifications.
Why does it matter?
Breaking revenue into categories helps your team create a more granular sales strategy.
It helps you understand what matters most in each product, season, or territory and adapt your sales strategy to that particular situation.
These revenue-based sales goals also play an essential role in determining other sales goals you may set for your team.
How can you achieve this goal?
The key to attaining these sales goals is understanding the dynamics of what matters most in each product category or market. A few ways to do this are:
Assign salespeople to the products where they are the most comfortable.
Assign sales territories based on knowledge of the customer preferences in those markets.
Have customized sales collateral based on the category.
Align your marketing strategy to each category and ensure that your sales and marketing teams work more closely to attain those goals.
Individual sales goals like activity goals should be in line with categories, such as how many product demonstrations they should conduct or how many sales calls they should make in a week.
2. Increase Your Win Rate
The win rate is the number of successful conversions of prospects compared to the number of leads in the pipeline.
Win rates aren't easy metrics to achieve.
Sometimes, a sales rep can do everything right but miss out on converting due to uncontrollable factors. Improving your win rate can be a challenging yet heavily rewarding process.
Why does it matter?
An increased win rate is vital for businesses because they bring in more revenue and can motivate a sales rep to do better.
Additionally, keeping track of your win rate can give you an idea of how effective your sales process is and what needs to improve.
How can you achieve this goal?
A good way to increase the win rate is by encouraging sales reps to focus more on the more qualified leads rather than just maximize the number of meetings. The better your potential customers meet the qualification criteria, the higher their chances of winning deals.
A sales professional should avoid jumping from prospect to prospect. Once you have enough interested parties, ensure your team develops deeper relationships with the most qualified leads. For example, if you're a B2B business engaged in B2B sales, forming relationships with C-level executives is critical.
Help prospects find solutions to their problems, then proposition your product when the time is right. This method can help you vastly improve your win rates.
3. Increase Customer Lifetime Value (LTV)
Customer lifetime value is the total amount of money a customer brings to your company throughout their lifecycle.
If your sales department is responsible for account management, increasing LTV can work wonders for your revenue goal.
Why does it matter?
Generating revenue from existing customers is much easier and cheaper than finding new prospects to convert.
Your LTV/CAC ratio has to be at least 3:1, and it's a lot easier to reach that number when you draw on existing customers.
How can you achieve this goal?
The key to increasing LTV is upselling (upgrade the current offering to the next tier) and cross-selling (sell complementary products and services).
Ensure your reps have enough time to communicate with existing customers and determine how they can benefit from upgrading. Additionally, you can use a good CRM tool to make interactions easier for your reps.
Increasing LTV is a goal that goes hand-in-hand with reducing churn, so you can couple them together. Look to customers at risk of churning and see if upgrading or cross-selling can help meet their needs.
4. Reduce Customer Acquisition Cost (CAC)
Customer acquisition costs are all the costs associated with bringing in new business. This includes sales and marketing expenses, as well as other overhead and administrative costs.
The goal of reducing CAC can have a significant impact on your profitability and even change the way your sales team handles prospects.
Why does it matter?
To profit from a specific customer, you need to increase their LTV (lifetime value) so that it exceeds their CAC.
As mentioned earlier, LTV refers to the amount of money a customer brings to your business throughout their lifecycle. When you reduce CAC, you have a better chance of generating profit from that customer.
How can you achieve this goal?
Figure out which steps in the sales process cost you the most and try to rework them. For example, if prospecting takes up most of the budget, you can change how each salesperson approaches prospecting to reduce costs.
Typically, customer LTV should be at least three times their cost of acquisition. If existing customers aren't reaching this threshold, you're better off targeting prospects that cost less to convert.
Additionally, refining buyer personas can help you stop wasting money on prospects that aren't likely to convert.
5. Decrease Customer Churn
Customer retention is essential if you want your business to survive.
Since most modern sales teams handle account management, reducing customer churn is an excellent sales goal to tackle.
Why does it matter?
Customer churn (customer attrition) happens when customers stop doing business with your firm. It's an obstacle to your company's growth that can compound if you don't pay attention.
Reducing churn means increasing retention — and it's much easier to sell to existing customers than finding new prospects.
How can you achieve this goal?
To reduce overall churn, companies have to identify and combat several types of churn.
For example, delinquent churn happens when payment methods like credit cards used by customers expire without them noticing. You'll need special software to deal with this type of churn.
Other types of churn can happen when customers don't find value in your offering. To reduce churn, talk with outgoing customers and ask why they're leaving.
Once you have the information, you can see which customers are at a higher risk of churn. Then, take steps to improve customer retention — engage with customers, provide incentives, and offer proactive customer service.
6. Boost the Number of Qualified Leads
Qualified leads are the basis of successful conversions. Your pipeline needs to have a sufficient supply of qualified leads for you to increase your conversion rate and generate more revenue.
Why does it matter?
A strong supply of qualified leads allows your sales team to focus on prospects that have a potential for high LTV. They won't have to waste resources on prospects that aren't likely to convert. Instead, they can use that time to initiate contact with high-value prospects.
How can you achieve this goal?
First, you can use sales software and processes to filter high-quality leads from the rest, streamlining the lead qualification process.
You should also incentivize your sales team by offering commissions on recurring revenue. That will prevent the practice of closing deals that end up churning.
Additionally, avoid setting too much emphasis on sales activity metrics that encourage people to talk to too many prospects rather than fewer qualified prospects.
8 Simple Tips to Set and Achieve Excellent Sales Goals
Here are some tips to help you set and tackle brilliant sales goals:
1. Decide on Company Goals
It's best to set your sales goals based on what your business wants to achieve.
Look at historical data and decide on what aspect of your business you want to focus. You can set organizational goals like increasing overall revenue, focusing more on high-margin product sales, or growing your customer base without worrying about profits.
Once you've identified the direction you want to take your business, you can set goals to help you move forward.
2. Analyze Market Potential
Before starting with goal setting, it's crucial to study the market and identify what prospects and customers want.
Determine if there's room for growth in the market and analyze which demographic will be the most successful target for your business. You can gather information directly from the market if your internal data is insufficient.
Once you have all the data you need, you can optimize your sales goals, making your sales objective easier to reach.
3. Calculate Your Ideal Sales Revenue
A good rule of thumb is to align the set goals to suit your target revenue.
Meeting revenue targets is critical for the growth of your business. When sales goals focus on increasing revenue, it's a lot easier to reach your revenue target and growth goals.
You can calculate your target revenue for the year and then split it up as a monthly sales goal. Use this monthly goal to decide your sales goals — like how much revenue every salesperson should bring in per month or how many customers you need to upsell.
Remember that seasonal variations can affect sales numbers, so your team will have to go beyond targets during good months to compensate for the weaker months.
4. Gauge the Capacity of Your Sales Team and Help Them Improve
If you give your team unrealistic targets, you'll do more harm than good.
Before you hand out sales quotas, evaluate your sales team. Learn their strengths and limitations by talking to them and analyzing past sales performance.
Once you know where they stand, educate and empower them to meet the sales goals you set. Break down each rep's sales approach and improve steps that aren't working well. Provide training so they can engage customers and prospects effectively and increase conversion rates.
Don't forget to provide tools like CRMs and other automation software to make their jobs easier — leaving them to focus on more important tasks like engaging prospects and upselling customers.
5. Set SMART Sales Goals
You've probably heard of SMART goals before.
But if you haven't, they stand for goals that are:
Specific – Focused and narrow goals help you plan easily
Measurable – Goals that are quantifiable help you measure progress
Achievable – Setting reachable yet challenging goals motivates your team
Relevant – Goals should be relevant to your business's long-term plans
Timely – A realistic timeframe should be set for each goal
Setting SMART goals is a way to guarantee success for your sales reps. They account for your team's capacity and prevent you from setting goals that are too vague or out of reach of sales reps.
SMART goals help any team leader set out clear, time-bound, quantifiable activity goals that reps easily understand.
These are also realistic sales goals, so your agents know what they need to do and will focus more on the tasks ahead of them.
An excellent way to set a SMART goal for your team is by handing out activity goals to reps. Activity goals are repeatable actions that have helped land sales in the past and are thus realistic goals.
6. Provide Incentives
Getting a salesperson to focus on your sales goal is key to achieving them.
And an easy way to keep reps focused?
Incentivize them.
Even if you're just starting with the business, you can work with your first sales reps to define a commission structure.
Pay each sales representative a base salary and as more deals are brought in, decide how you will pay out commissions. You can refine this commission structure as your business grows.
You can also incentivize employees by paying out retention bonuses.
These bonuses are paid when clients signed by a sales rep become repeat customers, upgrade to higher plans, and hit anniversaries like one year or two years with your business.
This helps reps focus on finding the correct type of customers.
Ideally, you should also look at rewarding employees for achieving stretch goals. Stretch goals are targets set above what's typically expected. If an employee reaches a stretch goal, it means they've gone above and beyond in their work and deserve to be rewarded.
7. Plan for When Errors Occur
Your sales staff won't meet every team goal you set out for them.
There'll be times you have to adjust goals based on the market or when most of your reps seem to be having a bad month.
When your sales goals fail, gather your team and determine:
What caused them to fail
Whether your team was focused entirely on the goal
Whether your team had the right tools to meet the goal
Once you have all the answers, consider a different sales strategy to achieve the goal.
You can repeat this process and try out alternative tactics until you arrive at the result you want. And even when you reach your business goals, continue to improve your processes so that you don't fall behind.
8. Leverage Technology to Meet Your Sales Goals
You may have a perfectly thought-out process, the best sales team, and a clear vision of achieving sales goals.
But without the right tools, you're going to have a hard time getting any sales activity off the ground. 
An essential tool for any sales team is a robust CRM.
You can use software like Zoho CRM and Pipedrive to track interactions with customers and prospects. If you're looking for a complete sales solution, consider a suite like Salesforce.
Sales automation tools like HubSpot and LinkedIn Sales Navigator can also help make things easier for your sales team, allowing them to automate repetitive tasks.
You'll also need a tool to reach prospects and customers directly. And for this, look no further than GMass. GMass is an email sales and marketing tool used by companies around the world.
With GMass, you can:
To use GMass, all you need to do is download the Chrome extension, and you're good to go!
Wrapping Up
There are tons of sales goals you can set for your team, but the best ones always revolve around reaching your company's growth milestones.
Go through this article and decide how you want to set your sales goals, and don't forget to pair them up with a tool like GMass.
That killer combination will have your agents consistently delivering above and beyond their sales goals!
Ready to

transform Gmail

into an email marketing/cold email/mail merge tool?

Only GMass packs every email app into one tool — and brings it all into Gmail for you. Better emails. Tons of power. Easy to use.

TRY GMASS FOR FREE

Download Chrome extension - 30 second install!
No credit card required
Love what you're reading? Get the latest email strategy and tips & stay in touch.