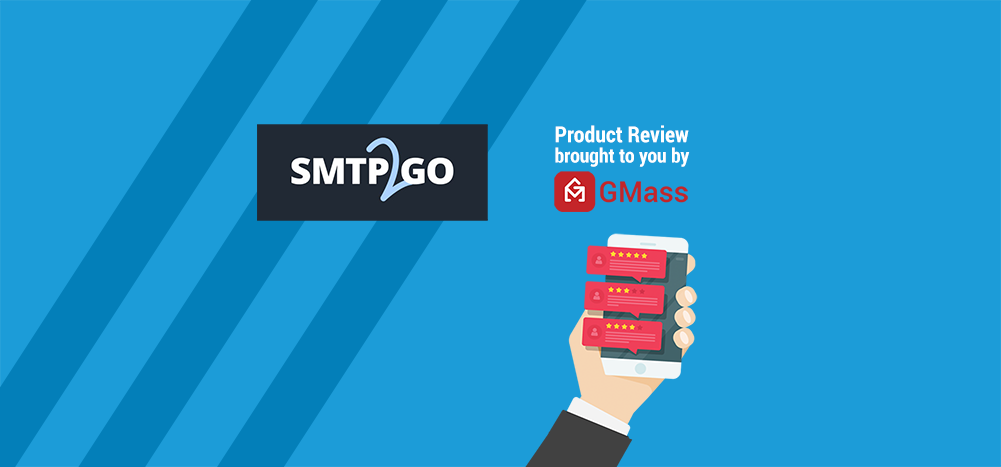 Looking for a comprehensive SMTP2GO review?
SMTP2GO is a popular SMTP service provider that allows users to send emails by connecting their email software such as Gmail or Outlook with a dedicated SMTP server.
Connecting your regular email software with an SMTP mail server network helps bypass spam filters and improve your email delivery rates by overriding email sending limits and more.
But despite its email authentication and other features, SMTP2GO is not a perfect tool — and it's worthwhile to take a look at everything it can offer you before you decide to invest in this SMTP service.
In this SMTP2GO review, I'll go through everything you need to know about the tool.
I'll cover what it is, its pricing plans, key features, and drawbacks. And if you decide not to invest in SMTP2GO after reading this article, I'll even highlight an alternative SMTP service provider you could consider.
This SMTP2GO Review Contains:
(click on the links below to jump to a specific section)
Let's get started.
What Is SMTP2GO?
SMTP2GO is an SMTP service provider tool used by tons of businesses worldwide to send transactional and marketing emails. You can set up SMTP2GO as the go-to SMTP provider on your email software (like Gmail or Outlook) to send your outgoing emails.
Why would you need a tool like SMTP2GO?
Here are its two key benefits:
1. Better Email Deliverability
When you send a high volume of transactional or marketing emails, you might trigger a lot of spam filters in email providers like Outlook, Yahoo, and especially corporate email servers.
By using an SMTP service, you get a higher email deliverability rate for all your outgoing emails.
Instead of you having to rely on your default SMTP servers, SMTP2GO uses its own SMTP servers to help you send high-volume emails easily. This often helps outgoing emails to avoid being labeled as spam by spam filters.
2. Higher Email Limits
SMTP2GO can even bypass email limits placed on users by an email client (like Gmail or Microsoft Outlook) or an ISP (Internet Service Provider).
Other benefits
The tool also has a built-in email tracker that will give you real-time updates on how recipients interact with your emails.
In addition to connecting with an SMTP relay, you can use its WordPress plugin setup through the control panel on your WordPress site. You can also create different user accounts on SMTP2GO so that your whole team can access it easily.
Also, SMTP2GO is known for its ease of use.
(However, if you're an advanced web developer and you'd like to customize your SMTP setup, read my technical review of SMTP2GO to get a feel for that landscape.)
Confused about what SMTP (Simple Mail Transfer Protocol) is? 
Check out our comprehensive guide to understand the protocol easily.
Three Key Features of the SMTP2GO Service
To understand how the www.smtp2go.com service can help you, we'll dive into three key features in this SMTP2GO review:
1. Email Authentication
It's no secret that there are tons of scams being carried out through email today. And that leaves businesses at risk of having their accounts compromised, and their recipients at risk of receiving malicious emails.
To boost sender reputation, an SMTP2GO account comes with an email authentication feature that will help your business send authorized emails.
It uses two security mechanisms known as SPF (Sender Policy Framework) and DKIM (Domain Keys Identified Mail) to authenticate your emails.
So how do SPF and DKIM work?
A. Sender Policy Framework (SPF)
SPF is a security mechanism that validates the IP addresses and web applications that send emails from a specific domain. For example, the SPF associated with your domain has a database of IP addresses and applications that are authorized to send emails using your domain name.
Here's how SPF works:
When anyone sends an email, it first arrives at the SMTP mail server, and then the SPF authentication process is carried out. If anyone sends an email from an IP address or application that is not listed in your SPF records, it's rejected by the server.
B. Domain Keys Identified Mail (DKIM)
DKIM is a process that encrypts any outgoing emails for security reasons. To ensure that nobody else can access these emails, they can be decrypted only by the receiver's email server.
These authentication measures by the SMTP2GO SMTP service help protect your outgoing email from being altered or intercepted.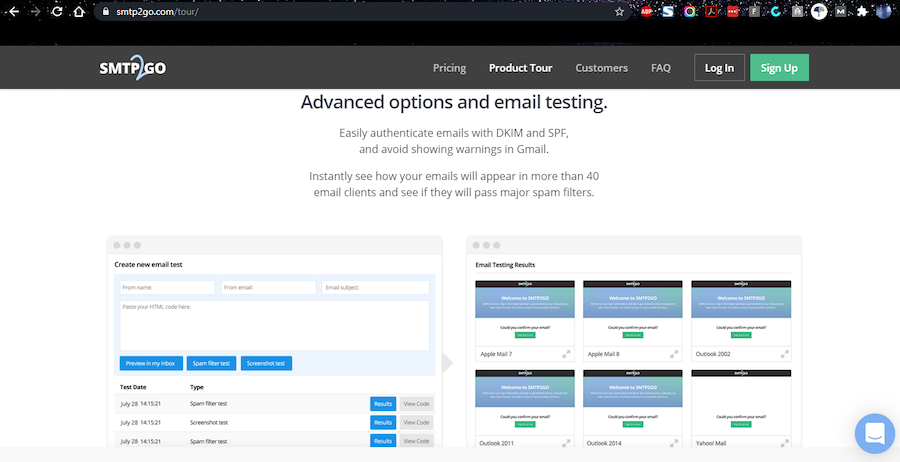 2. Automatically Deals with Technical Aspects of Your Emails
Have you heard of blacklist monitoring and ISP throttling?
What about a reverse DNS lookup?
Here's what these key email concepts mean:
Blacklist Monitoring: Refers to monitoring networks to check if a specific IP address or domain name has been blacklisted by ISPs or blacklist databases.
ISP Throttling: The intentional slowing down of broadband speeds by the ISP to reduce a user's bandwidth usage.
Reverse DNS Lookup: The querying of the DNS to find the domain name related to an IP address.
When you use the SMTP2GO email service, it takes care of things like blacklist monitoring, ISP throttling, manual reverse DNS lookups, blocked ports, feedback loops, bounce rates, and so much more!
If you were to use a private SMTP server, you'd have to worry about identifying and dealing with all these email challenges yourself and then manually contact your ISP about them.
However, with SMTP2GO, all you have to do is set it up and send your emails. SMTP2GO monitors the network constantly and will identify, resolve, and inform you of any issues that may be blocking your outgoing emails.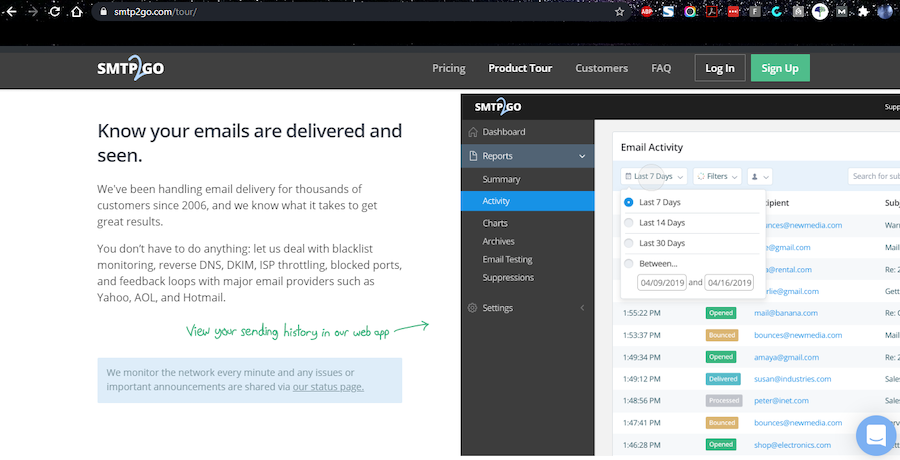 3. Multiple Server Systems Around the World to Enable Fast Email Delivery
A stand-out feature of SMTP2GO is how dedicated they are to keep their SMTP relay servers up and running.
They have multiple email server systems in cities like Chicago, London, Amsterdam, Singapore, and Sydney — all connected to their headquarters in Christchurch, New Zealand.
However, that isn't all.
SMTP2GO also has two data centers — one in Amsterdam and one in New York — that allow you to store data related to emails. They even let you pick the data center to store your data, as that can also play a role in boosting your email delivery.
These SMTP2GO features, which are part of a robust data network and infrastructure, allow SMTP2GO to provide an SMTP email service with virtually no downtime. So, you won't find yourself having to contact their customer support team regularly to get things to work.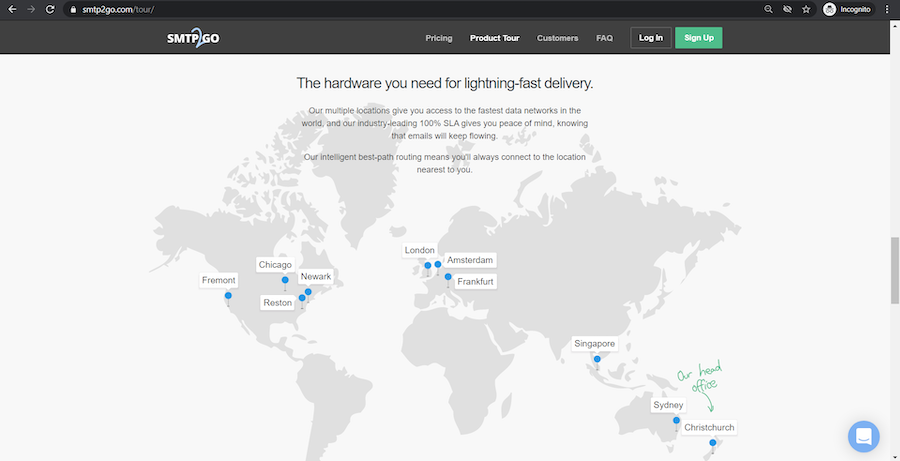 SMTP2GO Pricing
SMTP2GO has several pricing plans available for businesses of all sizes.
While the plans fall under three brackets known as Starter, Professional, and Premier Custom, the pricing depends on the number of emails you want to send per month.
Here's a quick look at SMTP2GO's monthly pricing plans:
1. Free Plan
Includes:
Support for sending 1,000 emails/month
5 days of email reporting
Customer support via tickets
2. Starter (from $10–$15 per month)
Includes:
Support for sending 10,000 to 40,000 emails/month
30 days of email reporting
Chat, ticket, and phone-based customer support
3. Professional (from $75–$520 per month)
Includes:
Support for sending 100,000 to 1,000,000 emails/month
All the perks in the Starter package
Dedicated IP address
Email testing tools like spam filter tests and screenshot tests
4. Premier Custom (custom pricing)
Includes:
Three Disadvantages of the SMTP2GO Service
Now that we know what SMTP2GO is capable of, let's take a look at where the SMTP2GO service can fall short.
There are three known cons we'll detail in this SMTP2GO review:
1. No Support for A/B Testing
Are you familiar with A/B testing?
It's the process of sending an email to one small set of subscribers and a variation of that email to another small set of subscribers.
The performance of these emails is then analyzed, and the version of the email with the most engagements (i.e., the one that performs best) is sent to all the other subscribers on your list.
Why is this important?
You can use A/B testing to analyze which email elements are the most engaging.
You can test:
Different subject lines
Variations within the actual content of the email
Links within the email
And more!
You can then optimize emails to increase the:
Open rate
Response rate
Click-through rate
However, the SMTP2GO service doesn't support in-built A/B testing, which is a drawback if you want to test mass emails before you send them.
So if you want to test your outgoing email to increase engagement, you'll have to obtain a separate email management software to conduct A/B testing.
2. Lacks a Built-In Contact Database
When you want to send emails to a list of recipients, it's essential to maintain a contact database, right?
Normally, a mail service includes a built-in contact storing system that helps users send mass emails to each recipient's inbox easily. The contact database of such an email message service can be updated individually or through CSV files.
Some SMTP service providers even use automated signup forms that can add email addresses to your contact database according to specific criteria.
However, the SMTP2GO platform doesn't support a contact database of its own. You can't use it to send mass emails to a customer list or any other contact database.
This can be problematic as you'll have to utilize SMTP2GO for your SMTP server setup and then spend for another tool that provides contact storing and the ability to send mass emails.
3. Expensive Pricing Plans
You'd expect a tool like SMTP2GO to be pretty affordable, right?
After all, it doesn't support essential features like A/B testing, template management, or a contact database.
However, smtp2go.com isn't what you'd call a cheap SMTP relay service, and if you run a small business, it probably wouldn't make sense to invest in a tool like SMTP2GO.
Remember, some of those plans cost upwards of $500 per month! That's an annual expense of $6,000 for a tool that lacks essential features.
Sure, SMTP2GO has a free version, but with very limited functionality.
For around the same amount you'd spend on SMTP2GO, you can find other SMTP providers that offer more features, like email campaign designers, viewing reports, and template management capabilities.
An Alternative SMTP Provider for Your Investment
Now that you know the pros and cons of SMTP2GO, do you think investing in it is worthwhile?
While it can offer some interesting features, this outgoing email service does lack some essentials that other tools in the same price range include.
Fortunately, we have a great suggestion for an alternative SMTP provider — SendGrid.
SendGrid is a tool that comes bundled with everything you need to optimize your emails for the highest deliverability and engagement rates.
Let's take a look at why SendGrid is a great alternative to SMTP2GO:
1. It Offers Better Value for Money
Twilio SendGrid is an SMTP provider used by large and small companies around the world.
It offers a free plan for its users, but the features that come with its paid plans make SendGrid one of the most reasonable SMTP providers out there.
SendGrid pricing plans are split into two main categories:
A. Email API Plans
This category focuses on a website and app integration that can send transactional emails through the SendGrid email delivery service.
The paid plans start at $14.95/month and offer features like template editors, conditional testing, and email delivery optimization.
B. Marketing Email Campaign Plans
This category is aimed at email marketers and helps users design an attractive email marketing campaign. Paid plans start at $15/month and offer features like A/B testing, audience segmentation, and design and code editors.
Both of these plans can offer your business a ton of functionality and help you send mail volumes so high that it'll feel like they're unlimited!
If you're looking for email software that can help you track email performance and boost revenue, click here.
2. Easy Onboarding
What's the point of investing in an email service provider if you don't know how to use it?
An SMTP provider deals with a ton of technical configurations for things like SMTP relay, authentication methods, and sending limits.
Regardless of how well these tools handle such technical factors (like the connection to the SMTP relay server and SMTP authentication), it's important that all this is easily accessible and manageable for you.
SendGrid provides some of the best training resources available to its users, including video tutorials, so you know exactly how to make the best use of your SMTP provider.
They even provide advice on how you can use SendGrid to manage mail campaigns better, helping you reach more prospects and boost revenue.
The Best Way to Add Functionality to Your SMTP Service
Irrespective of the Simple Mail Transfer Protocol provider you choose, one fact remains: it's primarily going to be an SMTP service tool — not a fully-fledged email marketing tool.
It's one reason why it's a good idea to always use an SMTP service provider alongside a dedicated email marketing tool.
But which marketing tool should you use for your emails?
It's simple: just use GMass!
GMass is an email software service that works directly with your chosen SMTP relay service.
So whether you use SMTP2GO or SendGrid, if you're looking for a powerful email marketing tool, GMass is the perfect software for you.
What is GMass?

GMass is a popular email marketing tool used by employees of global giants like Google, Uber, and social media platforms like Twitter and LinkedIn.
GMass works right inside the Gmail mail client, so you won't have to worry about using a separate plugin or email management software for your email campaigns.
GMass isn't only for giant businesses!
Solopreneurs, churches, individuals, and SMBs can use it to send emails to target audiences easily.
With GMass, you can:
Schedule and send any bulk email from your Gmail inbox.
Personalize every message in an email campaign.
Track how recipients engage with your emails.
Access its real-time reporting capabilities to gauge unsubscribe rates and more.
Register custom tracking domains for Gmail with easy setup.
Get support from a professional customer service team.
The best part?
It's incredibly easy to set up!
All you have to do is add the GMass Chrome extension to your browser, and you can start sending emails!
But wait, how does GMass work an SMTP plugin?
The setup for connecting GMass with your preferred SMTP setting is extremely simple, and I've outlined how to do it here.
For example, if you're using SendGrid, you have two options: either use the GMass SendGrid account, or make your own SendGrid account and link it to GMass.
Either way, you can easily enjoy the benefits of using SendGrid's limitless email sending within Gmail — all while bypassing your Gmail account's email sending limits!
Click here to learn more about the SMTP setting in Gmail with GMass. 
Wrapping Up
SMTP2GO is a handy SMTP provider that helps users boost the deliverability of their emails and bypass technical issues like spam checks that send emails to your recipient's spam folder.
However, it lacks critical email testing and other emailing features present in similar SMTP providers and email management software. Additionally, when it comes to pricing, you could probably get more value from another SMTP provider.
So what should you use instead?
SendGrid is a reliable service provider for SMTP that can increase engagement and provide you with a ton of features for better email campaigning and management.
However, irrespective of the SMTP service you choose, remember to connect it to GMass. The powerful GMass service will help you manage emails and boost bulk email engagement rates overnight!
So why not create a SendGrid account and then use it with GMass to take your email campaigns to the next level?
See why GMass has

300k+

users and

7,500+

5-star reviews

Email marketing. Cold email. Mail merge. Avoid the spam folder. Easy to learn and use. All inside Gmail.

TRY GMASS FOR FREE

Download Chrome extension - 30 second install!
No credit card required
Love what you're reading? Get the latest email strategy and tips & stay in touch.