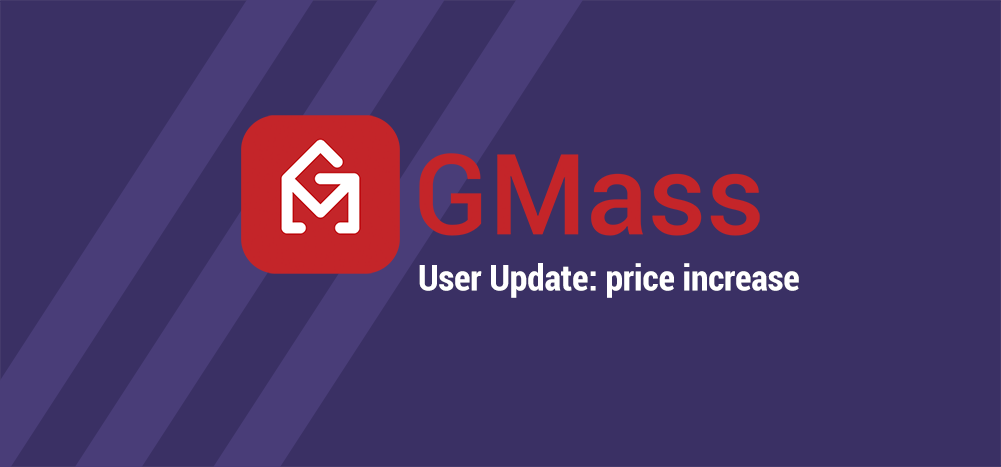 When I started GMass almost six years ago, it was just a simple extension for Gmail that let you send a few personalized emails at the click of a button. Today, GMass is a powerful email platform that rivals the biggest email companies in the world. To reflect this giant leap in the product's evolution, we're updating our pricing on November 15, 2021. Both the pricing plans and what we bill for are changing.
Hopefully you've kept up with all the investments we've made in GMass recently. In the last few months alone, we've added the following to your plan: A/B testing, sentiment analysis, The Gate, a stand-alone SMTP service, webhooks, a Zapier integration, and much more. In fact, over the last five years we've added over a thousand features, many of which we invented and are industry firsts.
Nobody likes paying higher prices, but in our case, GMass would not be able to sustain itself at our current pricing. Our current pricing was set over 5 years ago, when the world was a very different place and building apps on top of Gmail was much simpler. Much has changed during this time, including costly compliance requirements set by Google, worldwide wage growth, and just regular inflation. Many software companies adjust prices yearly. We haven't done that. I really hope you'll stick with us so we can keep building.
Individual Plans
For GMass to continue on this path, it's necessary to adjust our pricing — our first adjustment in a 5.5 year history. You can read the details of the price adjustments here, but in essence, our Standard Plan will go from 12.95/month to 19.95/month, our Premium Plan will go from 19.95/month to 29.95/month, and we're introducing a new Enterprise plan for 49.95/month that will include priority support.
The benefit of subscribing before November 15
Users who are subscribed to the Standard or Premium plans prior to November 15 will have the benefit of being legacied into their current feature sets, whereas starting November 15, certain features that were previously available on the Standard plan will only be available on the Premium plan or higher. These features include A/B testing, API access, and conditional logic.
Team Plans
Team plans will have similar adjustments.
| | | | | |
| --- | --- | --- | --- | --- |
| Plan | Old Pricing | New Pricing | Per-User Overage | Savings |
| Team 5-user | $89/month | $125/month | $28/user/month beyond 5 users | $5/month/user |
| Team 10-user | $159/month | $225/month | $25/user/month beyond 10 users | $7.50/month/user |
| Team 25-user | $348/month | $500/month | $23/user/month beyond 25 users | $10/month/user |
| Team 50-user | $597/month | $900/month | $20/user/month beyond 50 users | $12/month/user |
| Team 100-user | $994/month | $1500/month | $15/user/month beyond 100 users | $15/month/user |
Team Plan Overages
Additionally, for certain team accounts, we've had a long-standing bug where overages for team plans weren't being billed. Meaning, if you've been on the Team 5-user plan, but actually had 7 users in your team, we weren't billing for those 2 extra users. Starting November 15, we will be correcting that and billing for team overages.
Non-profit discount
If you have our 15% non-profit discount attached to your subscription, that same discount will still apply to the new pricing. As a reminder, that discount is automatically given to accounts with a .org or .edu email address.
Team Plans subscribed using PayPal
We've always offered subscribing via PayPal as an alternative to traditional credit-card based subscriptions which are handled by our payment processor, Stripe. The issue with PayPal though is that their APIs aren't nearly as robust, and therefore we aren't able to allow you to modify your subscription once you're subscribed via PayPal. Meaning if you want to switch your plan from Standard to Premium, and you're subscribed via PayPal, you have to cancel your Standard subscription and re-subscribe to the Premium plan. Another consequence is that we're not able to bill for overages on the team plans. For this reason, starting November 15, users subscribed to a Team plan via PayPal won't be able to add more team members than their plan allows.
Annual Plans
Just like before, going forward, all annual plans, both Individual and Team plans, will be priced at the monthly price x 10 instead of 12. Meaning, all annual plans offer a discount of 2 months off the monthly rate in exchange for pre-paying for the year. So, there are two benefits to subscribing or upgrading to an annual plan before November 15: a) locking in current pricing for up to a year and b) getting the additional savings of 2 months off.
Usage-based billing for emails sent via SMTP
We have some users who send millions of emails/month through GMass and an integration with a third party SMTP service but still only pay a nominal monthly fee on the Standard plan. This isn't really fair because this type of account uses far more resources, both with storage, and handling heavy-load features like open tracking, click tracking and auto follow-ups. Therefore in addition to the monthly fees, we'll also begin billing for high volume senders that send via a third party SMTP service or via our in-house SendGrid account. Regardless of which SMTP service you're integrated with, we'll charge a nominal $0.40 (40 cents USD) per 1,000 emails transmitted to an SMTP service, with the first 10,000 emails being free. For 95% of users sending via SMTP, this will have no impact on billing.
Super old legacy pricing
A small minority of users are on some of our very old plans that we no longer offer. These plans were at the price points of $6.95/month and $8.95/month. All of these plans will be migrated to the Standard plan of 19.95/month.
You'll soon be receiving an email from us about the change to your specific plan.
You can always make changes to your plan by logging in to your dashboard. If you have any questions about these changes, you can reply to the individual email you'll soon be receiving or comment below.
The price change only goes into effect with your next renewal after November 15, 2021. If you upgrade to an annual plan, such that your renewal does not happen monthly, then you can lock in savings compared to the monthly price and postpone the price increase for up to a year.
In addition to everything we've packed in this year, we're soon going to be launching native Salesforce and HubSpot integrations. For GMass, 2022 will be the year of integrations, with the goal of making it even easier and faster for you to send an email campaign. Here's to your future success with email!
Email marketing, cold email, and mail merge

inside Gmail



Send incredible emails & automations and avoid the spam folder — all in one powerful but easy-to-learn tool

TRY GMASS FOR FREE

Download Chrome extension - 30 second install!
No credit card required
Love what you're reading? Get the latest email strategy and tips & stay in touch.