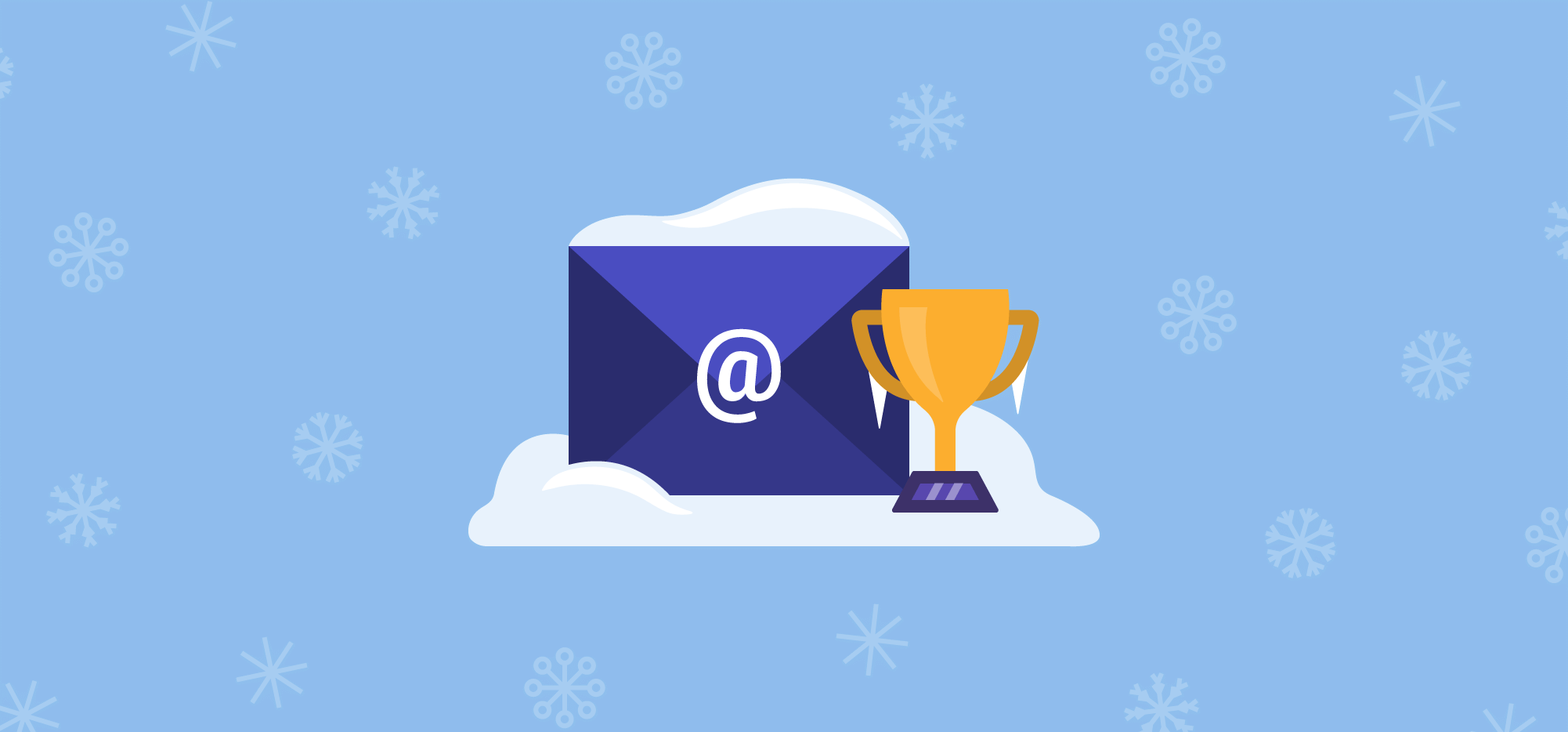 It's no secret that many cold emails are simply terrible — which is why they aren't cold emails that get responses. If you have an inbox, you already know this because you've received tons of them. They don't feel authentic, they have shockingly stupid subject lines, and they presume that you have nothing better to do with your time. That may be why only a quarter of recipients will open these emails.
There's a reason that poor marketers don't have success with cold email marketing. The average response rate for run-of-the-mill cold emails is less than 10%.
However, when done correctly, cold-email marketing can create tremendous results. For example, one B2B company was able to get a 57% open rate, 21% response rate, and 16 new B2B customers, all by changing a few elements in their cold emails.
That raises the crucial question: How do you write cold emails that actually get responses?
In this post, we're going to give you six winning tactics for cold email copywriting for responses that will resonate with the reader, connect you with prospects, and ultimately generate more sales.
Ready? Let's dive in.
Step #1 for Cold Emails That Get Responses: Get Into the Mind of Your Prospect
First and foremost, take the time to get inside the mind of your prospect. Consider their psychology and figure out their stress points.
Avoid throwing "everything" into an email and hoping that by sending out a large volume of emails, you'll generate some sort of response. That doesn't work when there are real people on the receiving end of your emails. They'll see your message as spammy and reach for the delete key.
So how do you get into the mind of your prospect?
Remember that your job is to convince an individual, not a company. A human is reading your email, and most people make decisions based on emotion, not logic. When writing your emails, consider the emotional state of your prospects. What are their aspirations, job demands, stress points, and struggles?
When writing your emails, tap into those motivators. Help recipients see why working with you will alleviate their greatest obstacles or fears, as well as help them achieve their goals.
Also, consider the timing of your email. How does your prospect typically work? Are they checking their inbox all day, or do they look at email only in batches?
While you can't know the answers for certain, you can time your email for best results. You'll have a greater chance of getting to both types — frequent and infrequent inbox checkers — if you send your email early in the morning (6 AM-ish) to get their attention first thing in the day, or in the late afternoon, shortly before they head home.
Step #2 for Cold Emails to Get Responses: Target the Right Person
It's essential to get your email in front of the right person on the first try. If you rely on others to forward your emails spontaneously to the right people, you're kidding yourself, and the results will prove it.
You need to communicate with the one person who will benefit most from what you're offering and who has the authority to make the decision to work with you.
If you're reaching out to small businesses, contact the owner directly. If you're reaching out to larger businesses, it can be tricky to find the right person. However, LinkedIn is an excellent at helping to find good targets.
Search for a specific job title within an organization, such as "VP of HR IBM," and LinkedIn will give you a match. (For more help, check out our guide to LinkedIn prospecting for cold emailers.)
Once you have found the right name, you can use a tool such as Hunter.io or Voila Norbert to find your prospect's email address.
If you're not sure that the person you've targeted is the decision-maker or right influencer, you can include a line in your email that says something like, "If you're not the one who is responsible for [your topic] at [company], could you put me in touch with the person who handles this?" That can increase your chances of getting in front of the right person even if you've targeted the wrong one.
Step #3 to Get Responses to Cold Emails: Craft a Compelling Subject Line
Your subject line is no different than the headline in a newspaper. Add interest so that people can't help but open your email. It's the most important line in your email because if you don't get the subject line right, no one will read the masterpiece that follows.
There's a reason almost 50% of emails are deleted without ever being opened. It's because half of all email subject lines didn't do their job.
So how do you craft the perfect subject line?
Make it specifically relevant to the reader. For example, let's say that you know the reader is likely to be struggling with a certain problem. You could tailor your subject line to speak directly to that challenge. It could say something like, "7 Tips to Help with [challenging issue]."
Evoke curiosity. A subject line like "Quick question" is powerful because it creates a sense of curiosity in the reader. They want to know what your question is in case they can lend their expertise or opinion. They also know that because you used the word "quick," your email will be short. (Make sure it is.)
Congratulations. If you know that your prospect has recently achieved something praiseworthy, acknowledge that in the subject line. People love to receive recognition for their achievements, and by doing so, you make it more likely that they'll open your email.
Acknowledgment of expertise. This is a similar form of personal recognition with a slightly different flavor. If you know that your prospect is an expert in a particular area, highlight that expertise in the subject line. For example, you could say, "Your work [in X area] made me want to get in touch."
Use a personal sender name. Hubspot's A/B tests for email marketing showed that open rates increase when you add your personal name to the company name in the sender line, instead of just a company name alone.
If you need inspiration, consult our 43 Cold Email Subject Lines That Get Your Emails Opened Instantly.
Kyle Gawley of Get Invited puts it this way:
"I get loads of cold emails myself and one of the things that surprises me is that many of them begin with a generic "Hi" and fail to include my name.
Do I read past this? Absolutely not, it's obvious that I'm just one of potentially thousands of people that are being contacted in a mass email campaign and this person has no idea who I am, what my business does or why I should buy their product. I'm just a number in an email database."
Pay attention to your first sentence. Most email clients preview the first sentence of the email for the reader, in addition to the subject line. This means that your first sentence must be as compelling and interesting as your subject line, so use the same tactics to grab the prospect's attention. (Have a look at our tips on how to start a cold email to get your messages off on the right foot.)

Keep your subject lines within zones that promote high open rates. MarketingLand suggests these and other subject line tactics to boost email opens and responses.
Step #4 to Get Responses with Your Cold Emails: Introduce Yourself
Once you've hooked the reader with the subject line, it's time to introduce yourself. This is your opportunity to explain briefly who you are and why that matters to the recipient. People want to feel like they're talking to a real person, and they definitely do not want to feel like they're part of an impersonal email campaign, so make a human connection.
How do you avoid being impersonal? It's simple: Take the time to personalize your email by introducing yourself, telling your prospect what you do, and then getting to the point quickly. ("I'm Eric, an engineering audit specialist in Southern California.") Don't take up their time with a wordy introduction, as they probably won't read it on their way to clicking the delete button.
Introducing yourself successfully is never more important than during a job search. If you're looking for a new position, read our tips for job searches using cold emails.
Tip: You may want to consider including a photograph of yourself. This can go a long way toward making your email feel more personal, especially if you run a small business.
Step #5 to Write Cold Emails That Get Replies: Write Compelling Body Copy
After you've introduced yourself, it's time to write the body of your email. Given that recipients will delete most emails in less than four seconds, you need to get to the heart of your request right away.
What makes compelling body copy? One proven formula is the Before-After-Bridge method.

In the "Before" section, you talk about the prospect's current problem. Maybe they're not generating enough leads. Perhaps they're having trouble getting conversions from their website. Or possibly their ROI on email marketing isn't high enough. Whatever the case, this is your opportunity to highlight the problem that you can solve. Your goal is to agitate the problem enough so that the reader feels compelled to keep reading.
In the "After" section, you highlight what their world will look like once that problem is solved. Paint a picture of life after their pain-point disappears. Help the reader visualize freedom from their current discomfort once they reach the better world you're offering.
Finally, in the "Bridge" section, show them how your solution can transport them to those greener pastures, from before to after.
For a deeper look at the Before-After-Bridge method, check out Yesware's explanation.
Tip: To keep your emails feeling personal, use email tools to insert your prospect's name or company name in natural-sounding places within the body of your message.
Step #6 to Get Replies to Your Cold Emails: Automate Your Outreach
Even if you use the best techniques, cold email outreach still requires that you send a lot of emails. One way to make your life easier is to use a tool like GMass to automate your follow-ups and track sales, etc. Set them up in advance and let the software handle distribution for you.
If you're just starting out, don't be discouraged if your first email gets too little response. Sales experts know that it takes anywhere from three to nine touches to get a prospect's attention, so don't be tempted to give up after one or two.
Tip: If you automate your email campaigns and follow-up responses in advance, you will be more inclined to complete the whole campaign, and less inclined to give in to early discouragement. In the end, you'll have better results.
What are the most effective follow-ups?
Immediately after you leave a voicemail. If you try calling your prospect and don't get an answer, send them an email immediately following your call. Because you're reaching out to them both audibly and visually, you increase the odds of them calling you back.
Reference their behavior. If your prospect is opening and reading your emails, you can use that information in your follow-up emails. "I noticed that you read my last email and wonder if we could follow up with a call tomorrow."
Craft your followup emails carefully. Your followup emails should be crafted just as carefully as your initial email. Don't simply regurgitate what you said in the first email. Be just as compelling, interesting, and relevant in your followup emails as you are in your first email.
Cold Emails That Get Responses: Final Thoughts
Cold emailing is not just a task, it's an essential investment in your success. So, it should come as no surprise that it takes work to do it well. Put in the time to create compelling outreach emails that get inside the heads of your target audience. Make a serious effort to craft an irresistible subject line and first sentence. And write powerful body copy.
It's well worth the effort.
Done right, cold email outreach can generate huge results, so don't wait any longer. If you need a head start, look at our highly effective cold email templates, which you can customize to your needs. You can begin today by using GMass to personalize your approach as you reach and follow up with your carefully selected prospects.
See why GMass has

300k+

users and

7,500+

5-star reviews

Email marketing. Cold email. Mail merge. Avoid the spam folder. Easy to learn and use. All inside Gmail.

TRY GMASS FOR FREE

Download Chrome extension - 30 second install!
No credit card required
Love what you're reading? Get the latest email strategy and tips & stay in touch.