LinkedIn prospecting is the process of identifying and connecting with LinkedIn members to convert them into customers.
But where do you start?
In this article, I'll cover the essentials of LinkedIn prospecting.
I'll explain how you can find prospects on LinkedIn and build authentic relationships with them. I'll also highlight four excellent tools that can amp up your LinkedIn sales prospecting efforts.
LinkedIn Prospecting: Table of Contents
(Click on links to jump to specific sections.)
Let's begin.
What is LinkedIn Prospecting?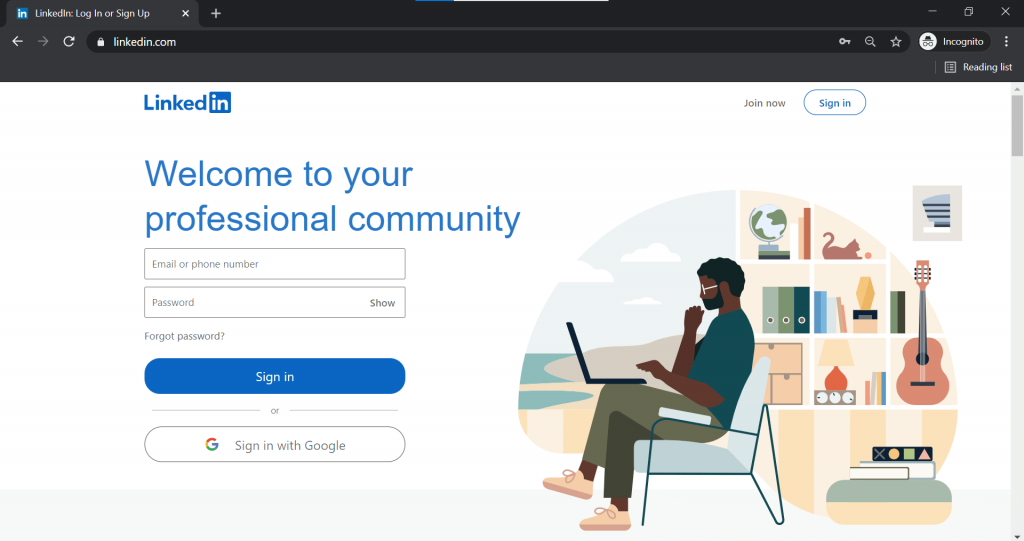 LinkedIn prospecting is a form of prospecting that focuses on identifying your ideal clients on LinkedIn and building authentic relationships with them. You sift through LinkedIn to uncover sales leads who can benefit from your offerings and then try to convert them into customers.
Think of it this way:
LinkedIn prospecting is like cold calling, only it's much less intrusive and a lot more effective.
Why LinkedIn Prospecting Matters
With over 810 million users worldwide, LinkedIn is a gold mine of B2C and B2B buyers.
And since it's a professional network, people mostly use LinkedIn to build their network and nurture professional relationships.
This makes it an appropriate setting for a sales professional to send out a connection request or an InMail message to a potential client you're not familiar with to discuss your solutions.
However, just because you can connect with people you don't know doesn't mean that you should reach out to hundreds of people at once.
Now, back to why LinkedIn is so helpful.
LinkedIn is perfect for sales prospecting since it helps you:
Gather potential prospect info like employment history, interests and contact details
Communicate with a large audience
Analyze a competitor's customer base and prospecting strategy
Discover new developments in the prospecting field
Check out my ultimate guide to prospecting for more information about why prospecting is so helpful.
What are the Steps Involved in LinkedIn Prospecting?
Here are the steps involved in LinkedIn prospecting:
A. Develop a Customer Profile and Buyer Personas
Before you can start prospecting on LinkedIn, you'll first need to define what a good-fit lead is.
A good-fit lead is someone who can benefit from your product or service and can offer long-term value to your company.
Creating an ideal customer profile and detailed buyer personas can help you identify a good-fit lead:
An ideal customer profile specifies the essential qualities that make the person or business a good fit (an "ideal client") for your product or service.
Buyer personas offer more detailed descriptions of the type of people who make up your target market. The personas can cover the interests, behavioral traits, and challenges individuals or employees face in your target companies.
When used together, the ideal customer profile and buyer personas help a sales professional narrow down prospective buyers based on their:
Industry or niche
Company size and revenue
Job title
Demographics
Age group
Occupation or role
And more
B. Discover Potential Customers on LinkedIn
Using your customer profile and buyer personas, pick out contacts who are most likely to become your customers — a.k.a. your prospects.
To find such contacts, you can use various LinkedIn outreach and discovery features like:
Groups: hubs for people in the same industry or people who share common interests
Mutual Connection lists: connections you share with a contact
Advanced Search Filters: search for contacts and filter your search results based on specific criteria
C. Structure Your LinkedIn Outreach Campaign
After identifying a prospect, it's time to make it to their LinkedIn inbox. (Or, even better, reach them in a multichannel fashion both on LinkedIn and via cold email.)
For this, you'll need an effective cold outreach strategy that answers critical questions like:
What are your goals when communicating on LinkedIn?
What kind of message would this LinkedIn prospect appreciate receiving?
What is the best time to approach this prospect on LinkedIn?
How often should you follow up with this prospect?
D. Reaching Out to Your LinkedIn Prospects
Send personalized messages to your LinkedIn prospects to see if they're interested in learning more about your product or service offerings.
Once you've had a few conversations with them and established a rapport, it could be time to move your conversations out of LinkedIn. This way, you can ensure that your outreach efforts eventually end in sales.
Now that you know what the prospecting process involves, how do you go about finding these LinkedIn prospects?
5 Techniques You Can Use to Find LinkedIn Prospects
Finding prospects on LinkedIn isn't complicated if you know where and how to look.
You can use the following techniques to discover a new prospect on LinkedIn:
1. Leverage the Power of LinkedIn Search
LinkedIn has a powerful built-in search engine that lets you zero-in on promising businesses and individuals. This way, you can quickly find prospects who are a good fit for your business.
After you perform a search on LinkedIn, you can filter the results based on:
Connections: 1st-level connections (people directly connected to you), 2nd-level connections (people connected to your 1st-degree connections), and 3rd-level connections (people connected to your 2nd-degree connections)
Location
School
Current company
Past company
Industry
Service categories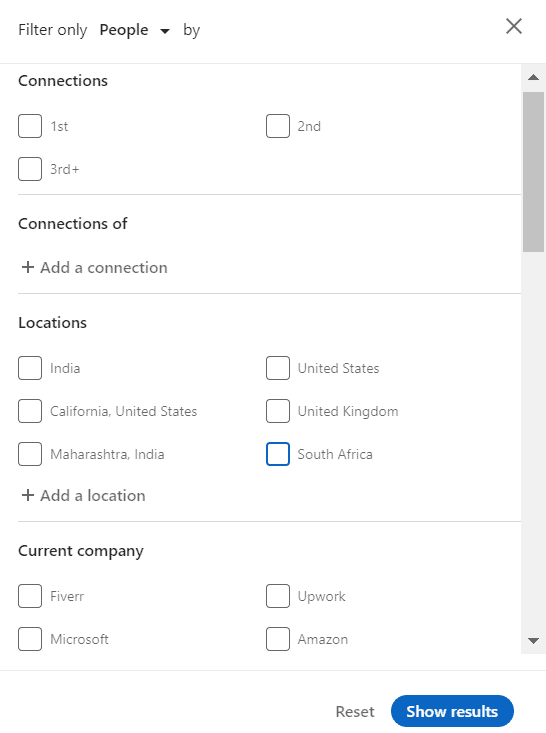 Filtering helps you find qualified prospects (that fit your ideal customer profile and buyer persona) who are more likely to convert, letting you focus your efforts on them.
Additionally, with a LinkedIn Premium account, you also get to filter search results according to company size, groups, seniority level, and so on.
After you've found good prospects, it's best to get them into a Google Sheet. Check out our section on tools later in this article where we cover how to do so using Magical.
2. Join Relevant Groups
Another way to uncover potential customers is by joining different LinkedIn Groups.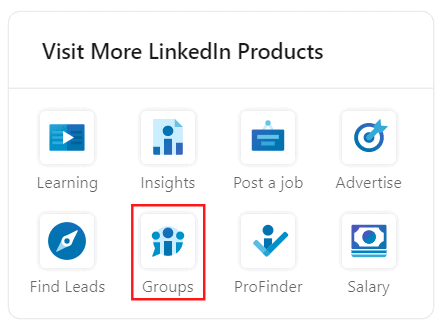 Relevant groups contain professionals who might be a good fit for your business and share common interests.
However, when joining groups, choose less populated ones
Why?
In an over-populated LinkedIn group, it's challenging to stand out and be perceived as an expert in your industry or niche.
Bonus Tip: To find prospects on a LinkedIn group easily, publish relevant content in the group on a consistent basis. This way, you can identify potential customers based on how group members interact with your posts.
3. Go Through the Similar Profiles People Have Viewed
An invaluable tactic to find LinkedIn prospects is by using the "People also viewed" list.
It's a column on the right side of a LinkedIn profile you're viewing.

The list features profiles that:
Other searchers also viewed
Have a similar job title
Share an industry or niche
And so on
Essentially, it contains people with traits that are similar to the prospect you're viewing — people who are also likely to fit your buyer personas.
But that's not all.
The "People also viewed" list provides insights into a prospect's network. It helps you identify the people who could influence the prospect's decision-making process.
4. Sift through Competitor Networks
You can also find quality prospects by going through the LinkedIn network of a sales rep or sales leader in a competitor's company.
A competitor's salesperson might be connected with people who qualify as a good-fit prospect for your company. Besides, selling your solution to a competitor's customer is much easier than identifying people who are unfamiliar with your product or service type.
If you can convince a competitor's customer that your solution is a better alternative, you might have gotten yourself a customer and potentially poached one away from them.
Note: This approach doesn't work if a competitor has hidden their connections on their LinkedIn profile.
5. Make Use of Google Boolean Search
You can leverage Google's Boolean search capability to find prospect profiles on LinkedIn. Here, you type keywords related to your prospects into the Google search bar with some operators to discover LinkedIn profiles that match some of your criteria.
It involves using Boolean operators or modifiers like AND, OR, quotation marks, and more to narrow your search for LinkedIn prospects.
Here's a brief look at how each operator works:
OR: Use the OR operator (all-caps) between two words in your search query to return results containing either the first or second term. For example, GMass OR Wordzen.
AND: Use the AND operator (all-caps) between two words in your search query to return results containing both the words. For example, GMass AND Ajay.
" ": Use quotation marks to enclose a word in the search query to return results containing the exact phrase. For example, "Ajay Goel" will return only those precise words — not one without the other. 
All you have to do next is go to the Google search bar and type site:linkedin.com/in and combine your keywords with the operators to discover LinkedIn profiles to pursue.
For example:

Now that you know how to find LinkedIn prospects, how do you build relationships with them?
How to Build Relationships and Nurture Your LinkedIn Prospects
After identifying your prospects, the LinkedIn outreach stage of your prospecting strategy begins.
Although your end goal as a salesperson is to close a deal, never start your conversation with a sales pitch or demo offer. If you do that, your prospects will get the feeling that you're just here to push a sale and don't really care about their goals and challenges.
Instead, use this stage to get to know your potential client better.
Find out how you're uniquely positioned to help a target prospect overcome their challenges and achieve their goals. Your goal must be to build a genuine relationship that continuously adds value to a potential client.
Here are some ways in which you can build and nurture relationships with your ideal prospect effectively:
1. Connect and Engage with Prospects on LinkedIn
The objective here is to find a new prospect who's in the awareness stage of their buyer's journey.
What's that?
In this early stage, the potential prospect is aware that they have a challenge that needs to be addressed to achieve their goals.
You can try out these tactics to connect and engage with qualified prospects:
Congratulate a LinkedIn connection on starting a new role.
Respond to the posts shared by current connections and qualified prospects you follow to convey your acknowledgment.
Send out a connection request to a potential client and use LinkedIn Messaging to thank them if they accepted.
Provide genuine compliments on the achievements of a target prospect.
2. Provide Value to Your Prospects
The best way to build rapport and trust with your LinkedIn prospect list is to provide value.
For this, you can create and publish helpful content related to your industry or niche like:
Trends
Developments
Ideas
Stats
Challenges
And more
Once you've created value-added content, feel free to share it with your prospect list directly or in a relevant LinkedIn group.
If you have a hard time coming up with original content ideas, that's okay.
You can share posts created by other business professionals or thought leaders and then credit them by tagging their names. Doing so offers the additional benefit of potentially building relationships with influential industry leaders.
Additionally, you can offer some free insights that your current connections and followers might benefit from — like pointers to improve their social media traffic, tips and tactics for better negotiation, and so on.
The goal here is simple: you want to stay on top of their minds.
This way, when an ideal prospect faces a difficulty specific to your industry or niche, they're likely to approach you for guidance, and you can use this opportunity to help them explore your offerings.
3. Personalize Your Outreach Messages
Many sales reps use LinkedIn Messaging to send generic messages to their prospect list. For example, "I'd like to add you to my professional network on LinkedIn."
Such generic messages aren't built for engagement and can affect your company's reputation.
When reaching out to someone on LinkedIn, always personalize your messages.
I'd recommend that you go the extra mile in learning as much as you can about a new prospect. You can go through their LinkedIn profile, check their company's press releases or blogs, and other public sources to find info.
Next, leverage this info to craft personalized LinkedIn messaging that:
Shows that you thoroughly understand their context
Establishes you as an expert in your field or industry
Indicates that you're uniquely qualified to help the target prospect
Your prospects would appreciate that you took the time to learn more about them and created a message tailored to their specific interests — ultimately increasing your chances for conversion.
4. Move Your Conversations Out of LinkedIn
When your prospects hint that they're interested in exploring your solutions, it's time to move your conversations out of LinkedIn.
Why?
LinkedIn is a social media platform like Facebook and Twitter. This means that it too can get bogged down by unproductive discussions that distract your prospects.
So it's best to move your conversations to a more focused channel like email.
Emails are a great medium to nurture an ideal prospect and amp up your sales conversion rates.
Fortunately, nurturing prospects through email is easy with GMass.
What's GMass?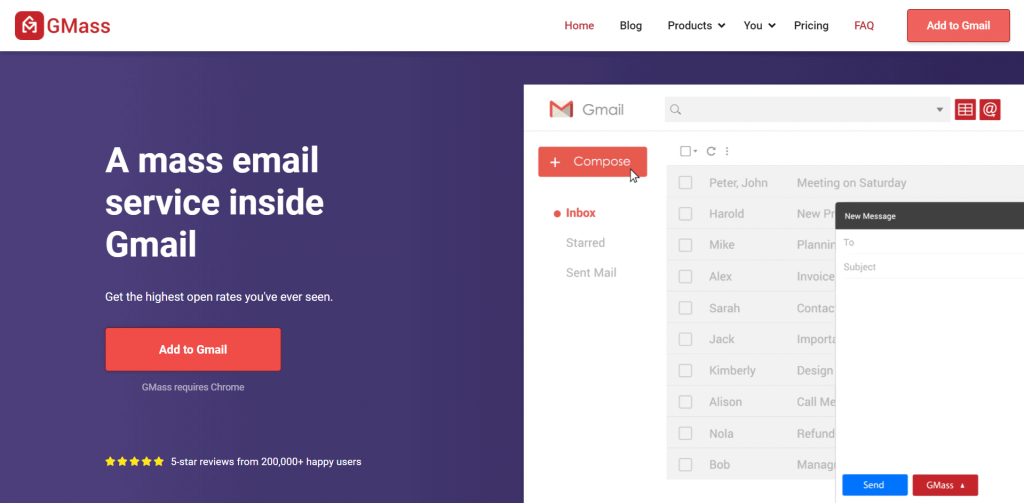 GMass is an email outreach and marketing automation tool that's perfect for approaching and engaging with prospects.
Its ease of use has made it a popular tool used by employees in tech giants like Google and Uber and even those working at large social media companies like LinkedIn itself!
Moreover, GMass is also perfect for small businesses, solopreneurs, consultants, and more.
And the best part?
GMass works completely inside Gmail, so you don't have to worry about getting familiarized with a new tool.
GMass lets you:
1. Automatically personalize the paragraphs, links, and images in your emails to create messages that feel tailor-made in no time.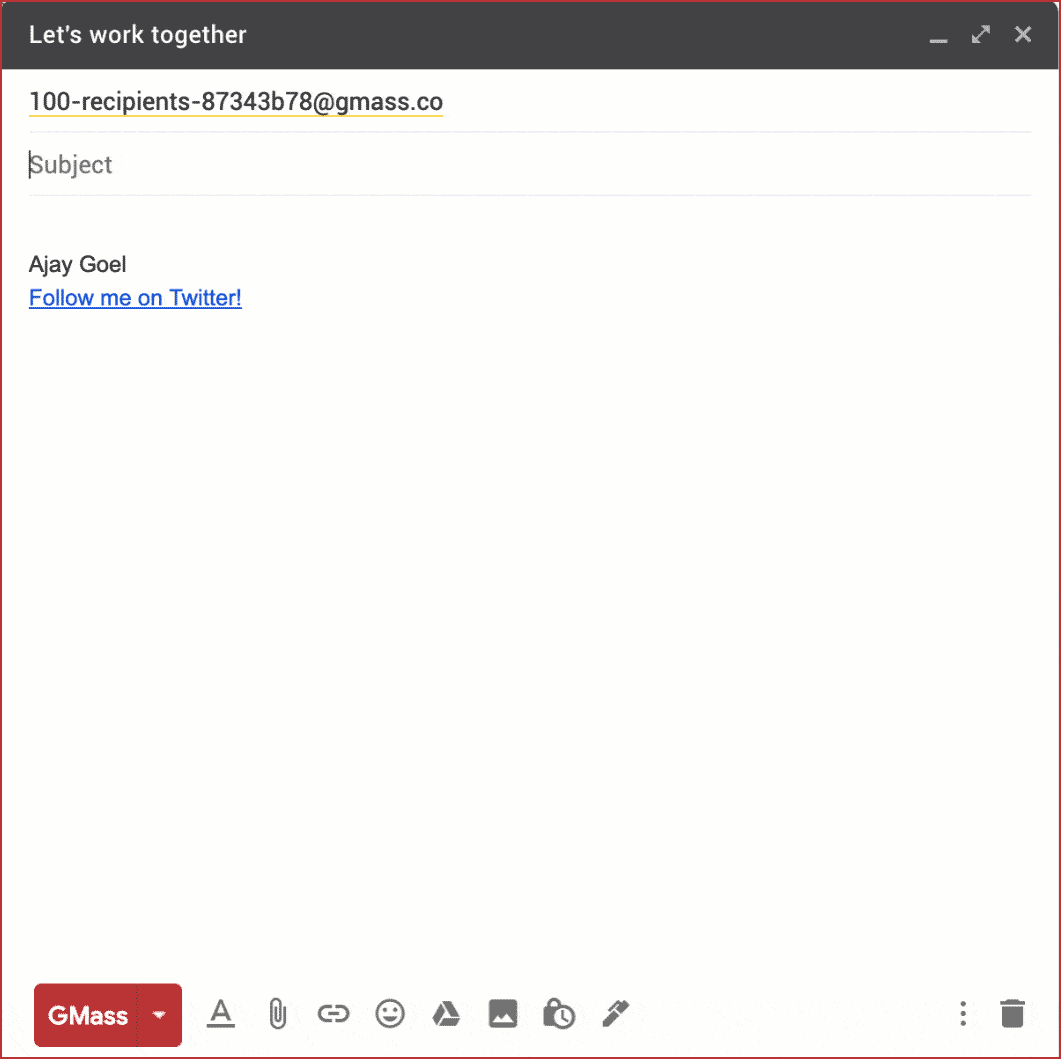 2. Send out automated follow-up emails to your prospects until they open, reply, or click on a link inside.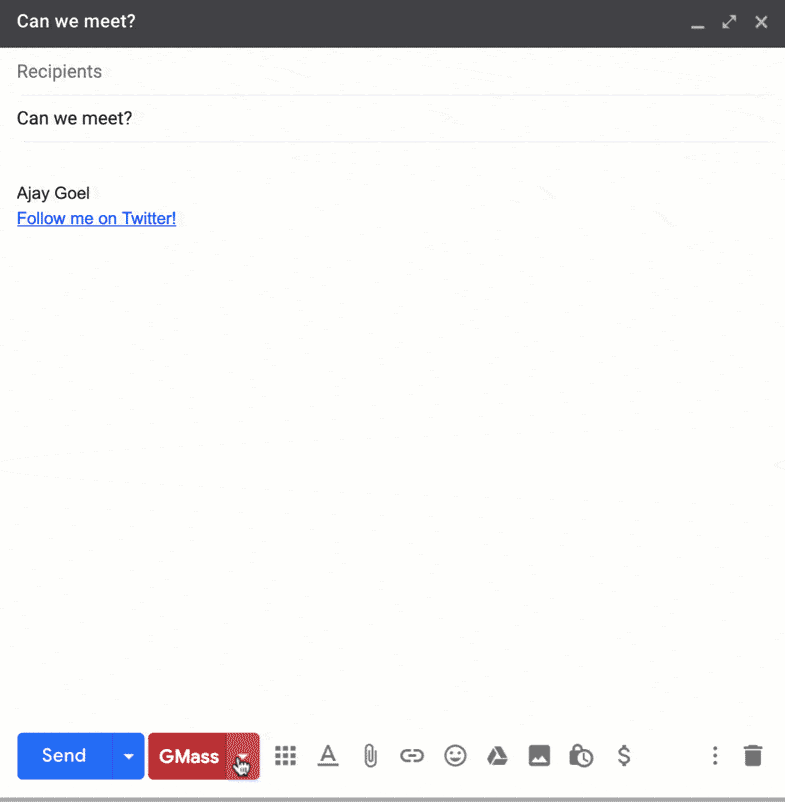 3. Evaluate your email deliverability through detailed analytics reports generated in your Gmail inbox.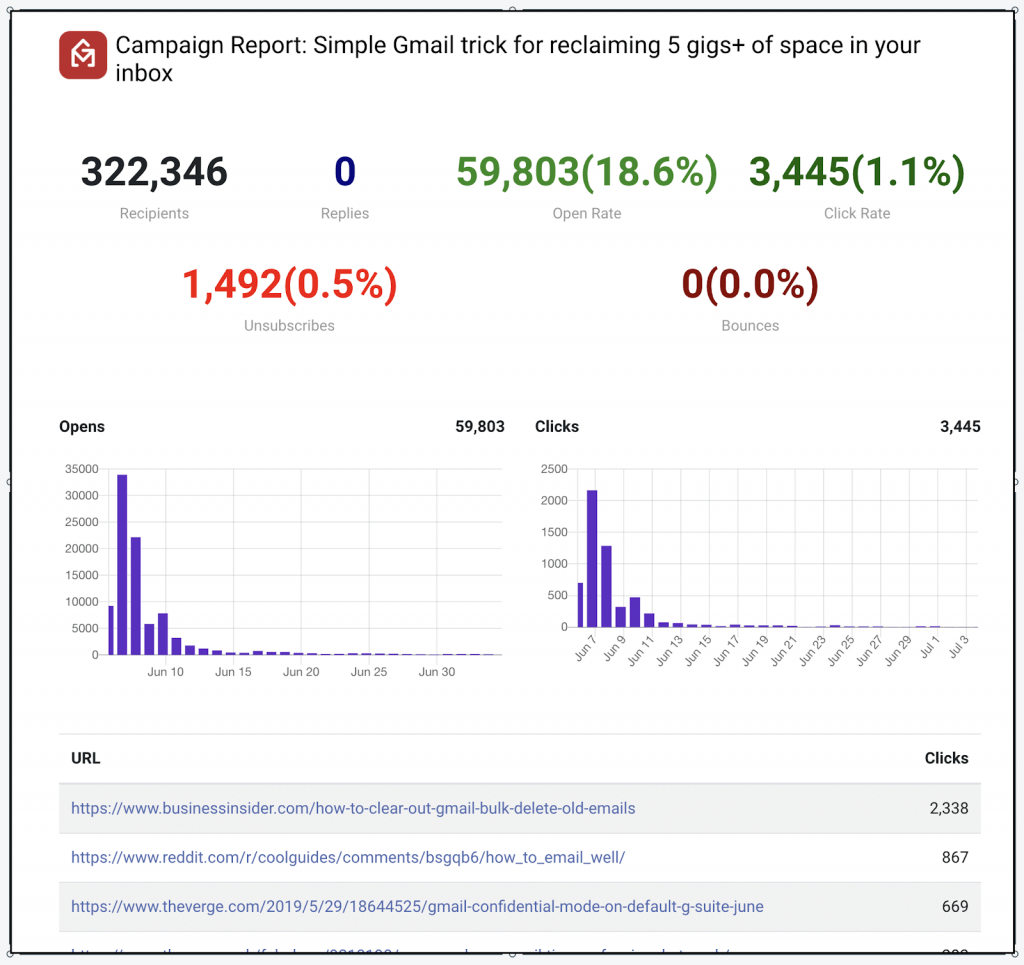 4. Schedule bulk emails to go out at optimal times, so they reach your leads when they're most likely to engage.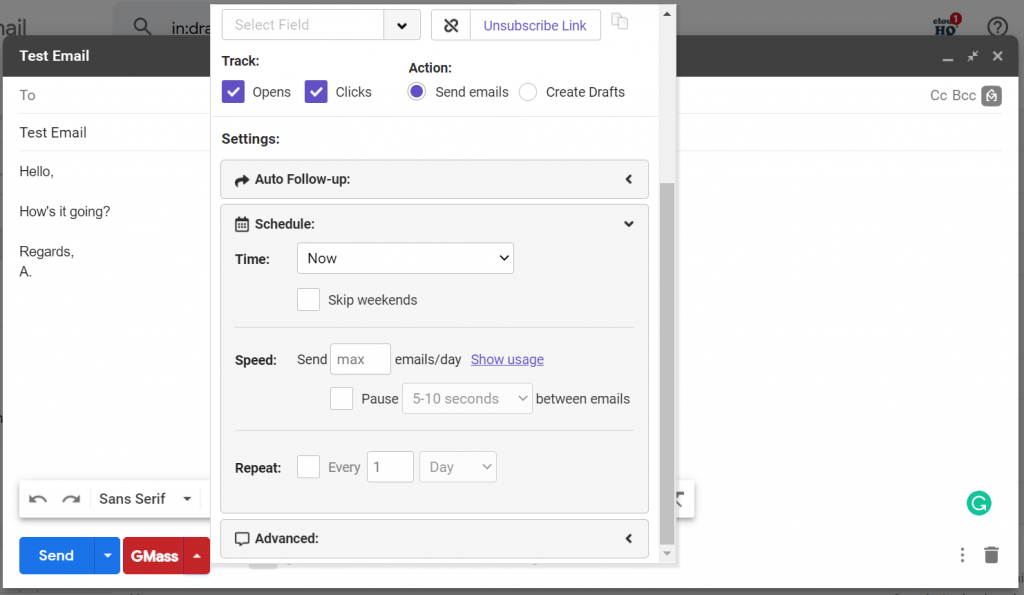 5. Send out behavior-based campaigns that build on how a potential prospect responded to your older outbound sales emails.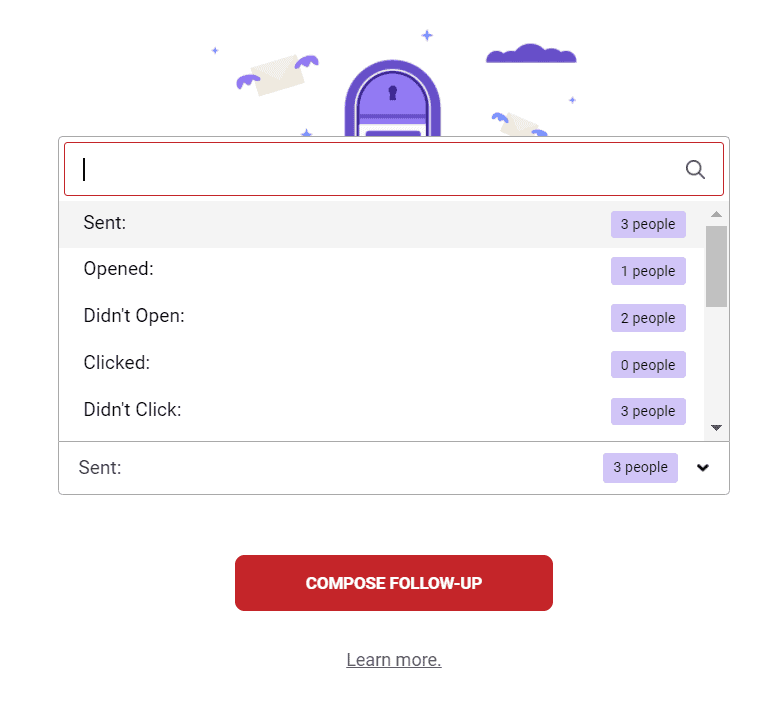 To start engaging your LinkedIn prospects through GMass, simply download the Chrome extension and sign up for free with your Gmail account.
You can also use some LinkedIn-specific prospecting tools that help you automate and streamline your prospecting process:
Top 4 Tools for LinkedIn Prospecting
To simplify your efforts, I've rounded up four excellent sales prospecting tools designed specifically for LinkedIn:
1. LinkedIn Sales Navigator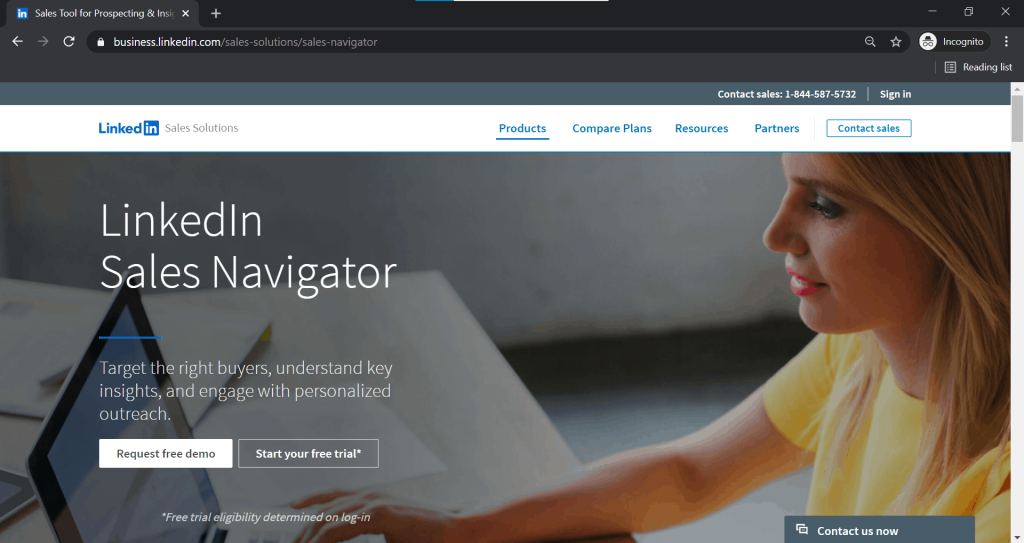 LinkedIn Sales Navigator is a prospecting tool from LinkedIn that helps you find B2C or B2B buyers for your product or service. Its lead generation and cold outreach capabilities make it the perfect tool to support your LinkedIn prospecting strategy and streamline your sales process.
LinkedIn Sales Navigator Key Features
Advanced Lead and Company Search helps you find potential prospects easily.
Lead Recommendations provide customized suggestions on targeted accounts.
InMail Messages let you approach people you're not connected to on LinkedIn.
Smart Link Presentations allow you to share sales content and track engagement.
Real-time Sales Updates offer valuable insights on prospects, including their job changes.
LinkedIn Sales Navigator Pricing
LinkedIn Sales Navigator has three pricing plans:
Core ($79.99/user per month):
Advanced search
Extended network access
Lead and account recommendations
Create custom lists
Advanced ($125/user per month):
Supports all "Core" features
Share content and track engagement
Get warm intros from teammates
Advanced Plus (contact their sales team for a custom quote):
Supports all "Advanced" features
CRM integration
Advanced enterprise integrations
LinkedIn Sales Navigator Ratings
G2: 4.2/5 (1290+ reviews)
2. Magical
Magical is a free productivity app that helps sales professionals speed up repetitive tasks like prospecting, messaging, or data entry as they work. No integrations, APIs, or magic wands required.
It's really useful for a number of LinkedIn prospecting tasks. Here's how you can incorporate Magical into your workflow:
Move LinkedIn prospects to Google Sheets in a few clicks
Just open up LinkedIn profiles in different tabs, open Magical, and the app will automatically scrape all the info you need from those pages into a Google Sheet. You can then keep track of your prospecting efforts — or use that Google Sheet to directly begin a new GMass email outreach campaign.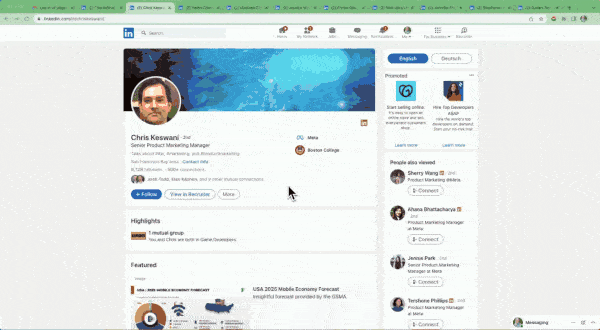 Save your personalized outreach message templates on LinkedIn
You can save your outreach messages as templates in Magical, then "expand" them when you send connection request messages on LinkedIn. Magical can automatically fill them in with prospects' info like first name, company name, job title, and more.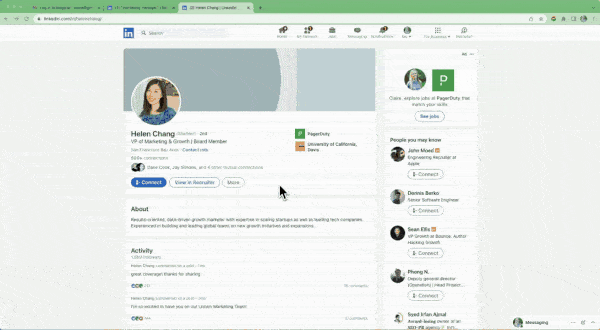 Use AI to help write messages on the fly
You can use Magical's AI to write your messages (or at least your first drafts) on LinkedIn, in email, and anywhere else.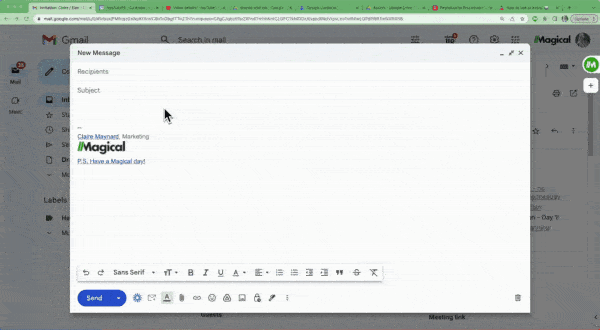 Magical Pricing
Magical is 100% free at the Chrome Web Store
Magical's Ratings
500,000 users at 20,000+ companies
Chrome Web Store: 4.6/5
G2: 4.8/5
3. Dux-Soup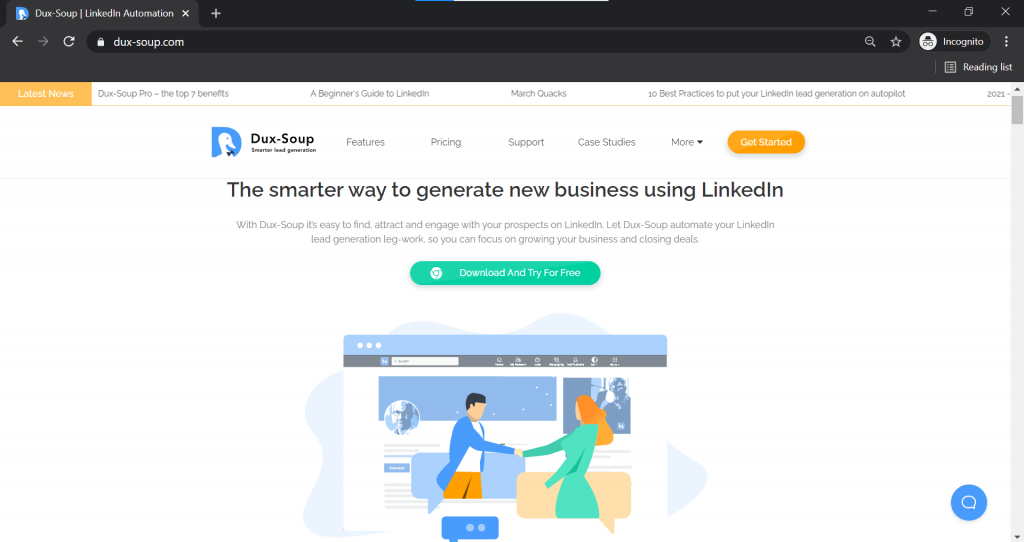 Dux-Soup is a LinkedIn prospecting tool that lets you automate your lead generation and nurturing activities. It simplifies the social selling process on LinkedIn and helps you close a B2C or B2B sale more efficiently.
Dux-Soup Key Features
LinkedIn Automation enables you to send personalized messages automatically.
Notes and Tags help you create action points on profiles you're reviewing.
Downloadable Profile Details provide access to profile summaries, skills, and more.
Performance Dashboard offers insights into various metrics and even lets you connect this data with a CRM tool.
Integrate with Zapier to connect your workflows with other third-party tools.
Dux-Soup Pricing
Dux-Soup has three pricing plans:
Find prospects
Support for Sales Navigator
Target previously tagged profiles
And more
Pro ($14.99/user per month):
Supports all "Starter" features
Auto-InMail any profile
View automation history
And more
Turbo ($55/user per month):
Supports all "Professional" features
Send automatic follow-ups on LinkedIn
Send drip campaigns on LinkedIn
And more
Dux-Soup Ratings
Capterra: NA
G2: 4.2/5 (30+ reviews)
4. Octopus CRM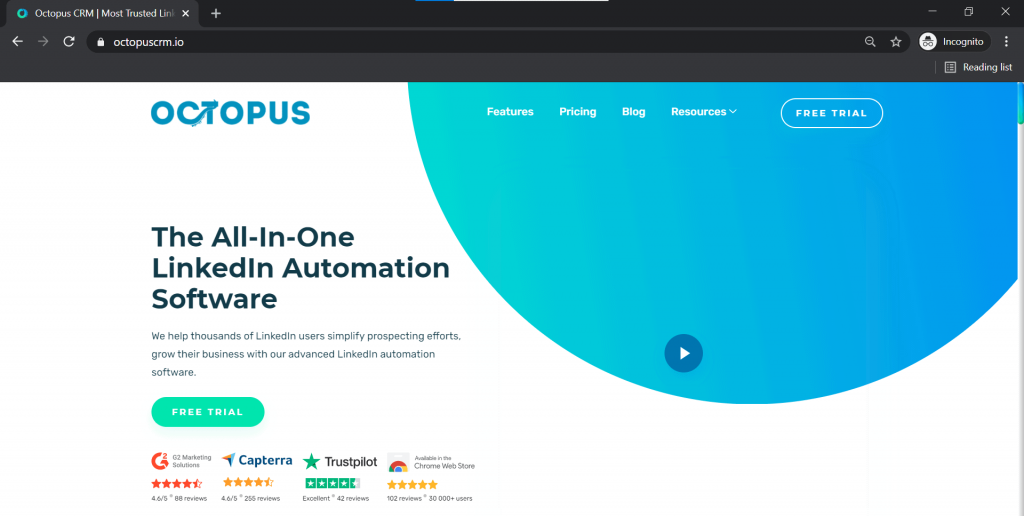 Octopus CRM is a LinkedIn prospecting tool that simplifies your sales prospecting efforts and helps you grow your business.
Octopus CRM Key Features
Automations let you automatically send LinkedIn connection requests and bulk messages.
Activity control protects your profile by receiving instant notifications when there's excessive activity on your LinkedIn profile.
Account compatibility allows you to connect with LinkedIn Free, Basic, Premium, Sales Navigator, and Recruiter Lite accounts.
Dashboard helps you assess your prospecting efforts, profile views, and search appearances.
Lead generation funnel can help you track your prospects and your conversion progress.
Octopus CRM Pricing
Octopus CRM has four pricing plans:
Personal CRM with stats
Personalized auto-invite
Ability to connect with only Premium LinkedIn users
And more
Supports all "Starter" features
Auto view profiles
Auto endorse skills
And more
Supports all "Pro" features
Export or import data
Build funnels
And more
Unlimited ($39.99/month):
Supports all "Advanced" features
Activity control
Personal account manager
And more
Octopus CRM Ratings
Capterra: 4.6/5 (250+ reviews)
G2: 4.6/5 (80+ reviews)
LinkedIn Prospecting: Final Thoughts
LinkedIn prospecting helps you connect with people who fit your customer profile and match your buyer personas.
However, after you've built rapport with a prospect on LinkedIn, it's essential to shift your conversation to a more focused environment like email.
With an email tool like GMass, nurturing your LinkedIn prospects is a piece of cake.
You can use GMass to send out personalized emails to your prospects, track their engagement, set up auto follow-up email workflows, and accomplish so much more.
So why not try GMass today and convert your LinkedIn prospects more efficiently?
Ready to

transform Gmail

into an email marketing/cold email/mail merge tool?

Only GMass packs every email app into one tool — and brings it all into Gmail for you. Better emails. Tons of power. Easy to use.

TRY GMASS FOR FREE

Download Chrome extension - 30 second install!
No credit card required
Love what you're reading? Get the latest email strategy and tips & stay in touch.