A cold email for job hunting is an introductory email you send to a company representative to build a connection for future employment opportunities.
And when done right, it can help you stand out from other candidates and land you your dream job. Do it wrong, and you might as well cross that company off your list of potential employers!
But don't worry.
In this article, I'll explain what cold emails are, how to write a cold email for a job, and six actionable tips for a successful response. I'll also give you a free, customizable cold email template and show you two examples of effective cold emails for a job.
Cold Email for Job: Table of Contents
(Click on links to jump to specific sections.)
Let's dive into it.
What Are Cold Emails?
A cold email is an introductory email you send to someone you haven't interacted with before. It's useful for networking, employment, or business opportunities. It's often the first step in establishing a professional connection with someone.
If you're a job seeker, you can use cold emails to inform a company of your interest in working for them. And if you're a freelancer, you can use the cold outreach method to get in touch with a potential client about what you can offer, similar to an elevator pitch.
You can also use cold emails to:
Set up an informational interview with a human resources manager.
Reach out to a company representative for career advice.
Enquire about the hiring process for an internship or job opening.
Reach out to a potential client.
Follow up with a client or potential employer after an unanswered cold email.
But why should you use cold emails?
While cold outreach emailing is similar to cold calling, your chances of getting noticed are higher if you send an email.
Here's why cold emailing is better than cold calling for a job or internship:
Cold emails are non-invasive: They are quick and easy to respond to and give the employer the space to respond when they're free to do so. It's also easier to follow up on an email than a call.
Emails are more likely to reach the right person: Your email has a greater chance of reaching the person in charge than cold calling. A gatekeeper could easily block a phone call. 
You can perfect your message beforehand: You can craft the ideal message in your cold email and attach your resume, together with any relevant links to portfolios of your work.
To sum up, if you're a job seeker, cold emails can help increase your chances of landing an interview with your dream employer. And if you're applying for a job opening on a job board, it's also a smart way to get an advantage over candidates who don't send an introductory email.
Cold email templates are a fantastic jumping off point — as long as you know how to use them, adapt them, and structure them to meet your specific needs.
For more information on cold emails, read my Ultimate Guide to Cold Emails.
How to Write a Cold Email for a Job (Step-by-Step Guide)
Once you've identified the companies you're interested in working with, you'll either have to send a resume through a job board or cold contact someone at the company.
Here's how you can compose some great cold emails that get you noticed by prospective employers.
Step 1: Identify the Right Person to Email
An often overlooked but important step in writing a cold email for a job or internship is finding the right person to contact.
There's no point crafting the perfect email if it goes to the wrong person.
You can go through the directory or "about us" pages on the company website and look up the right person to cold contact, along with their email address.
In most cases, you'll be able to determine the ideal cold email recipient from their job title. You may also find them through a blog post on the company website.
Some of the job titles you should look for include the hiring manager, talent acquisition consultant, human resources manager, etc.
If you have difficulty finding the appropriate person on the company website, you can search the company's LinkedIn profile, Twitter, or other social media accounts.
You can also use email finder tools, like Clearbit Connect or AeroLeads, to find the right person to contact.
Step 2: Craft a Convincing Subject Line
On average, professionals in the US have more than 200 unopened emails in their inboxes at all times. Additionally, they receive about 120 new emails every day.
Clearly, they have crowded email inboxes.
So how do you get the recipient to notice your email?
By crafting a compelling subject line that captures your prospect's attention!
Subject lines are among the first things a person notices when checking their inbox. It can help them decide whether they should open your email or simply ignore it.
Keeping your cold email subject lines short, personalized, intriguing can increase your open rate.
Here are some tips to help you out:
Keep it concise: Long subject lines are difficult to read, especially if the recipient views your email on a mobile device. That's why your subject line should ideally be around six to ten words, which is the limit for most email apps.
Ensure it's personalized: Personalize your email subject line to make it more appealing to the recipient. It ensures that you don't come across as someone mass-emailing them.
Include only important information: Mention only vital information like the name of the actual position you're interested in so the recipient knows exactly what the email is about.
Avoid clickbait subject lines: Often used by untrustworthy email senders, this tactic misleads the recipient with a sensationalized subject line. As a result, your email could end up in the recipient's spam folder.
Want to learn more about crafting a great subject line?
Check out 43 Cold Email Subject Lines That Get Your Emails Opened Instantly.
Step 3: Decide on the Right Salutation
Once you have a good subject line, you need to work on your salutation or greeting. While it's just a small part of your email, it sets the tone for your entire message.
Starting with "Dear," followed by Mr./Ms./Mx. and the recipient's last name is one example of a suitable salutation.
While these greetings are formal enough for a job-related email, it also shows the recipient that you specifically crafted the email for them — and they aren't part of a mass emailing list.
Skip the traditional "To Whom It May Concern" and "Dear Sir or Madam," as these come across as rigid and vague.
For example, let's say you're emailing a company about a job application, but you couldn't find the name of the right HR team member. Instead of using "Dear Sir or Madam," you could write something like "Dear Company X Hiring Team," "Hello, Company X Recruiter," or "Attn: Company X Hiring Manager."
Please use the above as a last resort only when you can't find the name of the hiring manager. In most cases, going through the website and the company's LinkedIn activity will provide you with the right name, and it will signal to the hiring manager that you took the time to learn about their company.
Still not sure which salutation to use?
Read my guide on How to Start an Email in 2022 for some helpful pointers and examples. 
Step 4: Polish Your Introduction
The next step is to write a great introduction.
You should use the opening lines to explain briefly who you are and the purpose of your email.
Additionally, you should mention why you chose to write to the recipient specifically.
Was it a recommendation from a mutual connection, or did you meet at a networking event? Or maybe you're inquiring about a job posting you found online.
But remember, don't write long-winded introductions — people prefer emails that get straight to the point.
Step 5: Focus on Your Qualifications and Skills in the Email Body
The email body should focus on your qualifications and your shared interest in a particular field. However, this doesn't mean you should summarize your resume.
Instead, you could share your unique accomplishments and value proposition — what problems can you help them solve or what value can you add to the company.
If your email requests an informational interview with the recipient, introduce yourself, explain your career goals, and mention why you want to meet the recipient.
Moreover, you must briefly mention your educational accomplishments, career achievements, and relevant experience. This helps the recruiter confirm that you are qualified for the job.
Step 6: Include a Call to Action and Note of Thanks
Include a clear, simple call to action requesting a job interview, phone call, or responding email. This will make your intentions clear and convey your desire for your recipient to respond.
To end your email body on a positive and gracious note, you should also add a brief message of thanks for their time and consideration.
Step 7: Conclude with Your Name and Contact Information
Finally, you should use a straightforward closing statement to end your email.
Here are some common email sign-offs you could use (or avoid):
"Best" — This is a popular and neutral way of ending emails. However, you could run the risk of sounding dull. Instead, you could add a variation on this sign-off like "Best wishes" and "Best regards."
"Regards" — While this is a simple sign-off and the current neutral standard for many such emails, it could also come across as bland. To add a friendlier tone, you could modify it to "Kind regards" or "Warmest regards."
"Best regards" — This is a frequently used compromise that's suitable for any job-seeking email.
"Sincerely" — Some older traditional sign-offs such as "Sincerely," "Sincerely yours," and "Yours Truly" are polite but very old-fashioned ways of ending an email. It's best to avoid them if you want to be seen as a savvy, contemporary job applicant.
For more ways to end an email, check out my post on How to End a Professional Email.
Regardless of the sign-off you choose, you must mention your full name, phone number, email address, and other contact information. This further clarifies who you are and how the recipient can contact you to set up a job interview.
Step 8: Thoroughly Proofread It Before Sending
Before sending any email, especially a professional email, you should proofread it several times.
Why?
As this cold email is the first impression your potential employer will have of you, it needs to be perfect.
You could even have someone proofread your email before sending it to ensure you didn't miss anything. Proofreading also helps to confirm that the email's tone comes across as you intended.
This is the last step in writing the email that could help you land your dream job.
Now that we've covered the basics of how to write a cold email for a job, I'll give you some quick pointers to help you nail your cold emails.
6 Actionable Tips for Sending Cold Email Job Inquiries
Here are six practical tips to help you send successful cold emails for a job.
1. Personalize Your Message
Personalizing your cold email is essential to increase your chances of being noticed by the recipient. It makes it easier to develop a personal connection with the email recipient.
Including the recipient's name in the email, what they're looking for, and referencing notable company projects are some quick ways to personalize your message.
For example, if you're applying for a position in the advertising department, you could mention a past advertising campaign run by the company. This conveys a genuine interest in your potential employer. 
But when you could be sending dozens or more cold email job inquiries, personalizing each one can be tedious and time-consuming. Fortunately, you can use cold email outreach tools to send bulk cold emails tailored to prospective employers with ease.
2. Follow Up If You Don't Get a Response
Your recipient is probably a busy person, so a cold email follow-up could give them a gentle nudge if they've forgotten to reply or missed your first email.
Ideally, wait a week after sending your cold email, and if you haven't received a response, send a short follow-up email. (Skip ahead to check out a simple cold email follow-up example.)
To make the follow-up process a lot easier, you can use email outreach software to send automated follow-up emails based on the recipient's engagement with your previous email.
For example, let's say you included your resume link in the original email, but the recipient hasn't clicked on the link yet. You could send them a follow-up email two or three days after your initial email, reminding them about your job application.
3. Send Your Email at an Appropriate Time
Sending your emails at the right time helps boost the chances of the recipient opening your email.
Avoid sending emails late at night or very early in the morning, when the recipient is less likely to check their inbox. Instead, it's more professional to send cold emails for jobs on a weekday, during business hours.
But that can be tricky if you're not in the same time zone as the hiring manager or if the best time to send your email is when you're busy at your current job.
Fortunately, you can use email outreach tools to schedule your emails to go out at the right time automatically. All you'll have to do is compose your email, choose a specific date and time, and the software will send your email when the time arrives.
4. Keep it Short and Simple
Most people don't have the time to read long emails.
That's why, if your email is too long, they could open it, notice the length and close it without actually reading it — even if you're one of the best candidates. Or they might just get bored and stop reading midway through the email.
A short and to-the-point approach is best to ensure the recipient reads the whole email and understands your request. Similar to an elevator pitch, you want to get to the value proposition as soon as possible.
5. Include Your Availability
Since you're cold emailing about a job, you should mention when you're available for an informational interview or meeting.
Inform them of your availability but let the recipient choose the date and time.
Additionally, if you're applying for an immediate position or opening, let them know when you're available to start work.
6. Leverage Cold Email Outreach Solutions to Simplify Job Inquiry
A job search is no easy task.
You'll need to research companies and search jobs based on your skills, reach out to relevant people via cold emails, prepare for each interview, and more.
Fortunately, you can use the right software to make the cold emailing stage a lot easier.
And one of the best cold email outreach tools available today is GMass — a powerful email tool that works entirely within Gmail. Try it for free.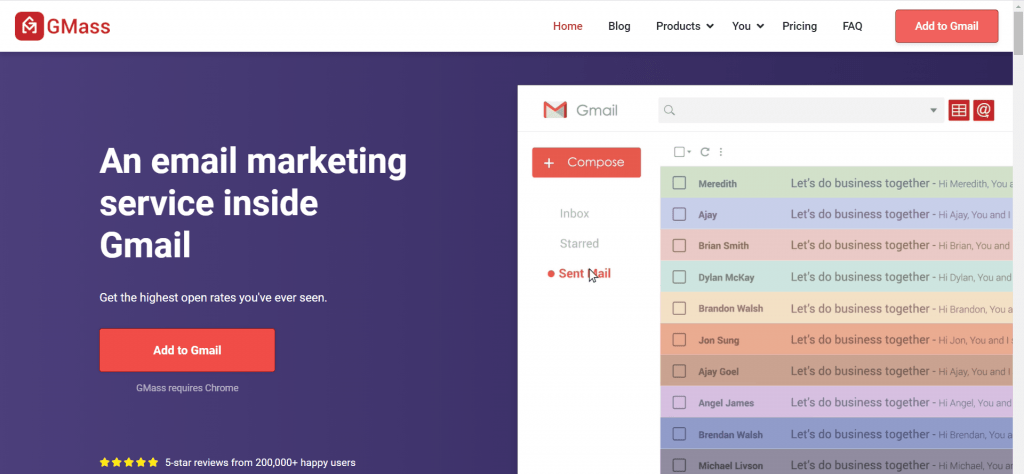 With GMass, you can:
To start using GMass today, just download the GMass Chrome extension and sign up with your Gmail account.
Now, let's look at some cold email job inquiry templates and examples you can use to get started instantly.
A Simple Cold Email for Job Inquiry Template
Here's a cold email template that you can customize to your needs:
Subject: [Insert an attention-grabbing subject line]
Dear Ms./Mr./Mx. [recipient's surname],
My name is [your name], and we recently met at a networking event held by your organization. 
As a long-time admirer of your company's work in [mention the field or your area of interest], I'm writing to inquire about career opportunities within your organization. 
I'm a graduate of [mention the institution] and have experience in [mention any relevant experience].
I specialize in [mention your field of specialization], and I believe I could make a valuable contribution to your company — [mention any special projects or areas within the company where you feel you could contribute]. 
I believe my qualifications and experience make me a strong candidate for [current/future] positions at [company name]. 
For your convenience, I have attached my resume and cover letter with more information. 
I would appreciate the opportunity to meet with you for an interview at a convenient time. Please contact me by email at [your email address] or phone [your phone number].
Thank you in advance for your time and consideration. I look forward to hearing from you. 
Kind regards,
[Your Name]
Two Cold Email Job Inquiry Examples
Here are two examples of great cold emails for a job inquiry:
A. First Cold Email for a Job
Here's an example of how to send your initial email inquiring about a job opportunity: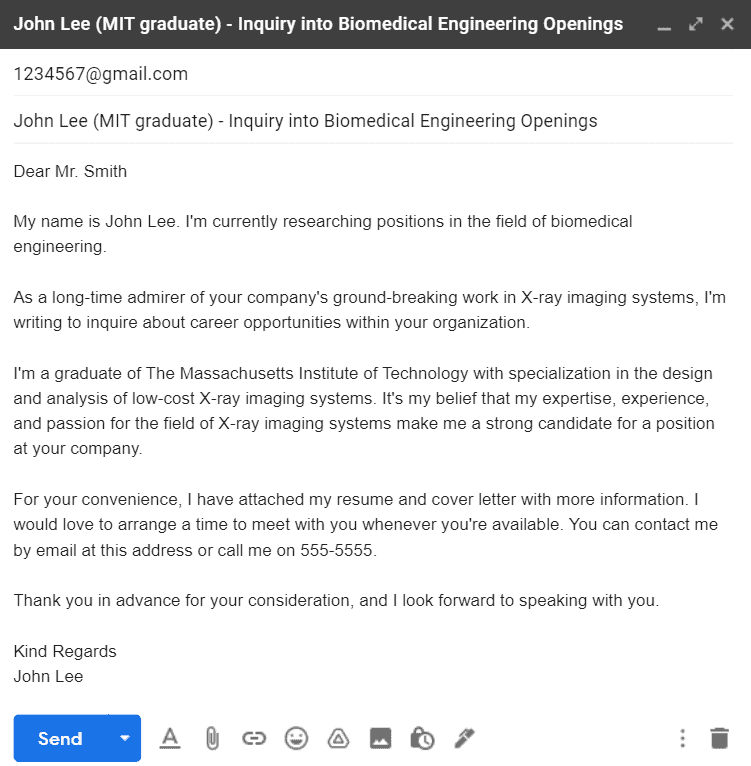 B. Follow-Up Emails
Once you send your initial cold email, you could wait about a week before sending a follow-up email. Remember to include your contact details again to make it easier for the recipient to get in touch with you.
Here's a sample email format you could use: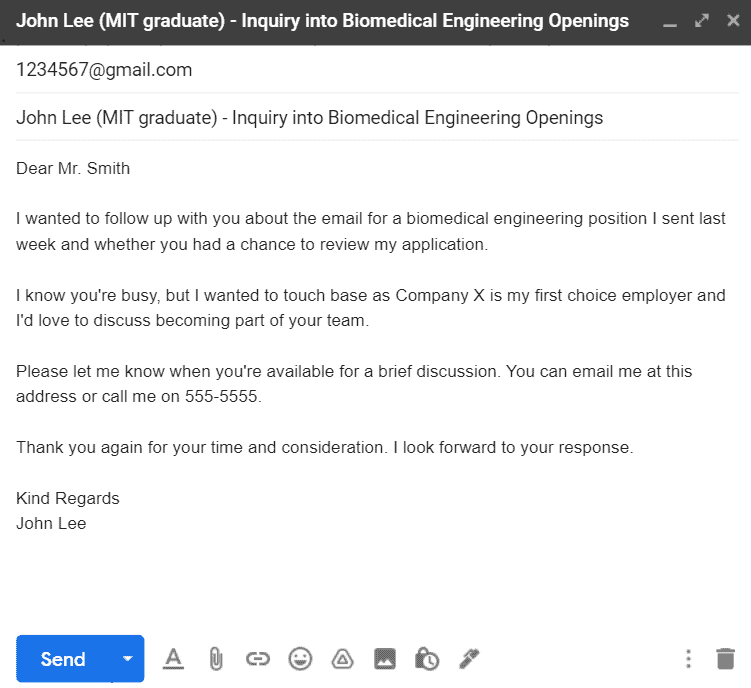 Cold Email for Job Hunting: Final Thoughts
Writing a cold email for a job can seem daunting, but it doesn't have to be. You can increase your chances of getting your foot in the door by focusing on the right aspects of the email content.
Create a compelling subject line to grab the prospect's attention, personalize your approach, follow up with your recipients, and highlight what value you can add to the company.
Once you've nailed those aspects, you're almost guaranteed a response.
Additionally, you can use tools like GMass to send personalized cold emails and follow-ups at scale to increase your chances of getting hired.
Why not install the GMass Chrome extension today to make your job search a breeze using cold email as your go-to tool?
See why GMass has

300k+

users and

7,500+

5-star reviews

Email marketing. Cold email. Mail merge. Avoid the spam folder. Easy to learn and use. All inside Gmail.

TRY GMASS FOR FREE

Download Chrome extension - 30 second install!
No credit card required
Love what you're reading? Get the latest email strategy and tips & stay in touch.