Need to write a great cold email but want some guidance on your cold email copywriting?
Writing a high-converting cold email requires thorough research about your target audience and a solid understanding of the key components of an email copy.
Sounds intimidating?
Don't worry.
To help you out, I'll go over the four main sections of a cold email. I'll then list ten actionable tips to help you ace cold email copywriting and share three ready-to-use cold email templates you can steal.
As a bonus, I'll show you the best cold email tool of 2022.
Cold Email Copywriting: Table of Contents
(Click on links to jump to specific sections)
Let's go.
The 4 Key Sections of Your Cold Email Writing Copy
Before writing the cold email copy, ask yourself: what makes a great email?
Simply put, a great email has:
We'll take a closer look at each section to help you craft a high-converting cold email copy:
A. Subject Line
Your subject line is one of the first things a recipient notices about the email.
If your subject line is bland, generic, or spammy, your cold email may get buried under the onslaught of other emails in their inbox. 
In fact, 47% of recipients decide to open an email solely based on the subject line.
My point?
Your email subject line should capture the reader's attention from the get-go.
To that end, personalize the subject line by mentioning your recipient's name or company name, a mutual connection, an intriguing and relevant statistic, or a unique pain point your audience struggles with.
But keep things short.
Otherwise, you risk losing the reader's attention.
To set you up for success, here are three subject lines you can try today:
How [product/service] solves [prospect's pain point]
Congrats on [trigger event], [prospect's first name]!
[X]% companies in [prospect's niche] use this tactic for [objective]
Discover 43 cold email subject lines that get your emails opened.
B. Opening Lines
The subject line may get your foot in the door — earning you an open.
But it's the opening lines that convince a recipient to keep reading.
Your opening lines must pique the reader's interest and help you start a conversation. More importantly, they should tell readers why they should care about your cold sales email and should set the stage for your main email body copy.
You can take inspiration from these three opening lines:
What would you do if you could achieve [milestone], [prospect's first name]?
[Mutual connection's name] said we should talk about [your area of expertise].
I'm reaching out to you about [clear objective].
Learn how to start a cold email, including the best salutations and opening lines.
C. Main Body
Imagine that your opening lines captured the reader's attention, and they want to read on.
What now?
Your cold email's main body should deliver on everything you've promised or claimed so far.
For example, if you promised to share a strategy for scaling up website traffic from 0-10,000 monthly visitors, tell them how. Explain the reasoning behind your strategy, and highlight past results. And if you've got any charts, add those too.
Essentially, showcase what you can do for the recipient — your value proposition.
Here's a main body copy example for reference:
[Your company name] helps customers in [lead's industry] accomplish [relevant goal]. 
We achieve this through:
[Strategy #1]
[Strategy #2]
[Strategy #3]
Recently, we helped [lead's soft competitor] reach [relevant milestone]. Here's the complete case study showing the exact steps we took to get there: [URL to case study]
D. Call to Action
Once a lead finishes reading the email main body, you need to tell them precisely what to do next — schedule a meeting with you, visit your landing page, read a case study, or watch a short video.
That's where a call to action (CTA) comes in.
A clear CTA prompts readers to engage with your content further and drives them towards conversion.
But a word of caution.
Stick to a single CTA per email. Too many CTAs can overwhelm readers and hurt engagement.
Check out three hard-to-ignore CTAs you can steal today:
Download the complete case study!
Schedule a meeting with me here: [meeting scheduler URL]
Sign up for the webinar.
Now that we've gone over the main components of a cold email, I'll share some no-nonsense tips to level up your cold email copy game.
10 Practical Tips to Level Up Your Cold Email Copywriting Efforts
Here are ten actionable tips to help you ace cold email copywriting:
1. Know Your Target Audience — Their Goals, Challenges, and Preferences — Inside Out
Your cold emails won't get responses if you don't understand the target audience thoroughly.
What do I mean by that?
You need a clear understanding of your prospects':
Goals.
Challenges.
Preferences.
Let's take the example of an eCommerce store selling skincare products to understand what it means to really know your target audience.
One goal for buying skincare products can be to protect your skin from internal damage. Another might be slowing down the aging process. Some consumers will purchase these products to address skin-specific issues.
A challenge your potential client might face is buying without testing these products.
As for preferences, your prospects may be inclined towards ethical and vegan skincare products.
My point?
Knowing their aspirations, pain points, and interests helps you craft cold emails that resonate better with your target audience.
2. Ask Incisive, Open-Ended Questions in Your Cold Emails
Your cold email isn't about pushing a sale.
In contrast, it's about starting a conversation with a lead so that you can gradually build a relationship with them.
One way to get recipients talking is to ask questions.
But not just any questions.
You need to ask incisive and open-ended questions that force readers to think and reveal valuable insights about their business, like:
How do you usually address [pain point] in your company?
When using [competitor's product/service], do you face any issues?
What do you think about [industry trend]?
However, when asking questions, don't go overboard. You wouldn't want to make it seem like an interrogation.
3. Be Crystal Clear about Your Value Proposition in the Email Copy
Many marketers and sales professionals focus too much on themselves. They ramble on about their company, products, features, pricing, etc.
But that's a terrible idea!
Your customers probably don't care about you. They want to know how you can help them.
A better idea is to write email copy that focuses on the prospect's aspirations, pain points, experiences, and how your offerings fit into the picture.
Simply put, show prospects how you can benefit them without sounding sales-y.
Wondering how to do that?
Let's say your SaaS company helps readers find their prospects' email addresses.
Instead of talking about the clever technicalities of how your product works, tell readers how much time your product can save them. Help them understand the kind of ROI they can expect. Show them how your product will make their lives easier.
Being clear about your value proposition gives prospects the confidence to engage with your cold sales email and potentially become a customer.
4. Personalize Your Cold Email Copy for Relevance
Sending a generic cold email is a surefire way to get ignored or marked as spam.
Personalizing your emails makes them more relevant to the reader and shows you've researched well about the reader before reaching out.
How do you personalize an email?
To begin with, include the recipient's name or company name in your subject line and body copy.
Then, take things up a notch by mentioning:
A shared interest.
A blog post they wrote that caught your attention.
Any relevant trends in their industry or niche.
A business goal they're pursuing.
A pain point they're struggling with, and more.
Essentially, use personalization to make your email look tailor-made to the recipient. Show the reader that you see them as a real person with genuine needs and not just as another name on a faceless list.
However, a bit of advice — while personalization is great, don't over-personalize your emails.
For example, mentioning a comment the prospect left on a Facebook post six years ago is probably a bad idea. It may come across as trying too hard and can actually hurt your conversion rate.
Ideally, stick to recent, professional, and public information when personalizing your emails.
5. Establish Credibility by Adding Social Proof to Your Emails
Your readers may not trust everything you say in the cold email.
And that's fair.
They don't know who you are or what your story is.
You need to show them what makes you and your product/service stand out.
But how?
Easy — just add social proof to your cold sales emails.
Social proof is any evidence showcasing the value a customer received from using your product or service.
As social proof, you can include:
Customer testimonials.
Case studies.
Press mentions.
Approvals from industry-recognized experts.
Awards, and more.
A customer saying how much your product has helped them is much more compelling than you talking about the product's benefits in your cold pitch. It gives prospective customers a hint of what they can experience when working with you.
6. Leverage Urgency, Scarcity, and Exclusivity in Your Cold Emails
Even if you send a great cold email, there's a real chance the recipient puts it off for later.
They could be busy at the moment, and replying to your email may not be a priority. But then life happens, and the next thing you know, the recipient has entirely forgotten about your email.
Don't let that happen.
Here's what you can do about it:
Leverage FOMO (Fear Of Missing Out) to create urgency while cold emailing. Add phrases like "don't miss out" and "limited time offer" to your email subject line and body copy.
Use scarcity to prompt action from recipients. For example, if you own an eCommerce watch store, mention something like "Only 12 watches left at this price – buy yours now!" in your subject line.
Promise exclusive benefits to people who respond to your cold email campaign — a unique discount code they can use during checkout, a free month when subscribing to your service, etc.
Essentially, incentivize prospects to act soon before their interest in your offerings goes down.
7. Send Value-Added Follow-Ups to Your Cold Emails
Sending a single follow up email can improve your response rate by 65.8%.
While follow-ups are powerful, very few salespeople utilize the full potential of follow-up emails. Most sales reps send generic follow-ups gently reminding the recipient about the first email they sent out.
But there's a better way: sending a follow up email that adds value.
What do I mean by that?
In your follow up email, try to:
Link to a helpful blog post.
Share a relevant case study.
Offer tips to overcome a pain point.
Suggest best practices to improve a process, and so on.
Providing continuous value through your follow-ups shows prospects you care about helping them out. As a result, they'd be more likely to engage with your cold email.
Learn how to write a sales follow-up email with proven templates.
8. Edit Out Errors and Spam Words from Your Cold Email Copy
When you're done crafting the cold email, thoroughly proofread your email.
Check for:
Typos.
Stray punctuations.
Grammatical errors, and more.
Any errors can take away from your cold outreach email's clarity and hurt your credibility.
Additionally, remove any suspicious words from your cold email copy like "lowest price", "loans", "no fees", "full refund", etc. Such words may trigger the spam filter and cause your cold email to go to the spam folder, hurting your open rate and email deliverability.
Discover why your emails go to spam and how to solve it.
9. A/B Test Your Cold Email Campaigns to Check Their Effectiveness
You can research a prospect, personalize your cold email, reach out to the right person, add social proof, and do everything by the book.
After all that effort, a good cold email you write can still get ignored.
That's okay.
It happens to the best of us.
One strategy you can use to achieve a great email response rate is A/B testing or split testing.
During A/B testing, you test different versions of a cold email copy to see which version brings the best results.
You can experiment with different:
Subject lines.
From names.
Social proofs.
CTAs.
Email send times, and more.
The end goal here is to develop an effective cold email copy.
10. Convert Your Best Performing Cold Emails into Reusable Templates
Writing an email from scratch every time you want to send a cold email campaign is impractical.
But if your sales team were to save your best cold email copies as templates, you can quickly reuse them later with a few modifications.
In other words, cold emailing becomes much easier once you've created a template.
Your sales rep simply needs to:
Add/load the cold email template into a new email message.
Swap out any personalization fields with relevant info from your CRM.
Proofread your email copy.
Hit "send".
GMass automatically lets you reuse any past cold email you've sent as a template, making this process as simple as possible.
Next, I'll share some read-to-deploy templates your sales team can use in the next cold email campaign.
3 Cold Email Copywriting Templates You Can Use Today
Here are three cold email templates that can increase your conversions:
1. Cold Email Using the Before-After-Bridge Technique
This cold email template works because it gives recipients an idea of how your product/service can improve their lives. It paints a picture of the prospect's life before you came in and what it can be like after using your solution.
Subject: [Prospect's first name], want to overcome [pain point]?
Hi [prospect's first name],
I know how frustrating [pain point] can be.
If only there were a way to overcome [pain point] without compromising on [goal], right?
There is.
[Your product/service] helps customers in the [prospect's industry] space achieve [milestone]. 
We do this through:
[Technique A]
[Technique B]
[Technique C]
If you're interested in learning more about how we can help you, let's get on a 30-minute call at [time] on [date].
Best,
[Your email signature]
2. Cold Email Sharing a Valuable Resource
Sending a value-added cold email positions you as an asset to the prospects. Since it shows prospects you care about helping them reach their goals, they're likelier to respond to your cold outreach email.
Subject: Thought you might find this blog post helpful, [prospect's first name]
Hello [prospect's first name],
We recently wrote an exhaustive blog post on [relevant topic].
It talks about:
[Key point #1]
[Key point #2]
[Key point #3]
I think you might find it interesting.
Here's the link to the blog post: [URL]
You can check out more related articles on [your website].
Please let me know if you've got any questions.
Have a good day,
[Your email signature]
3. Cold Email Following a Trigger Event
A trigger event presents a genuine reason for your sales rep to approach a potential client. If the trigger event is an achievement or milestone, you can write an effective cold email congratulating them and hinting at how your product/service fits into their journey.
Subject: Congrats on [milestone], [prospect's first name]!
Hi [prospect's first name],
Just read about [prospect's company name] achieving [milestone] on [social media platform].
It's an impressive feat!
Companies reaching [milestone] usually have [objective] as a priority because [reason]. Recently, we helped a company in [prospect's industry] accomplish [impressive goal] using [strategy]. 
If this interests you, feel free to schedule a meeting here: [meeting scheduler URL]
Regards,
[Your email signature]
Let's now explore a powerful but easy-to-use email tool that can level up your cold email copywriting efforts.
The Best Cold Email Tool to Use in 2022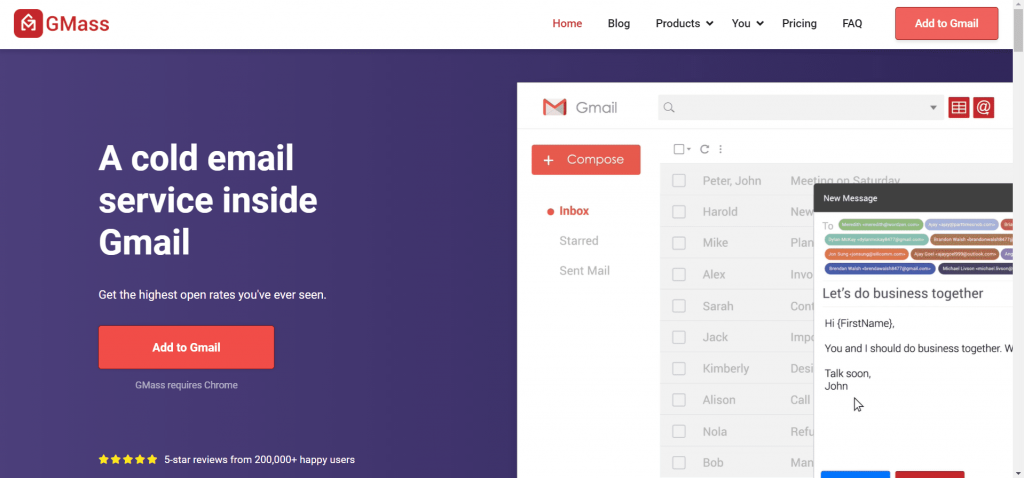 GMass is a robust cold email outreach and automation tool that works entirely inside Gmail.
Its advanced capabilities and ease of use make it the go-to cold email software for salespeople, email marketing professionals, startup founders, entrepreneurs, and even employees at social media giants like Twitter and LinkedIn.
With GMass, your can:
To use GMass, download its Chrome extension and sign up for free with your Gmail or Google Workspace account.
Cold Email Copywriting: Final Thoughts
Mastering cold email copywriting can be challenging.
But it doesn't need to be.
Just follow the tips I've mentioned above to create effective cold email marketing messages, prospecting emails, and more that resonate with your recipients and improve conversions.
If you're looking for an easy way to automate and scale up your cold emailing efforts, try out GMass. This powerful cold email outreach software helps you send personalized emails at scale, automate your follow-ups, leverage A/B testing, and do so much more.
Download the GMass Chrome extension today and step up your cold email copywriting efforts!
See why

99%

of users say they've had their best deliverability ever with GMass

Email marketing, cold email, and mail merge all in one tool — that works inside Gmail

TRY GMASS FOR FREE

Download Chrome extension - 30 second intall!
No credit card required
Love what you're reading? Get the latest email strategy and tips & stay in touch.