While email outreach is one of the sharpest arrows in your sales-marketing quiver, not knowing how clients respond to your message can blunt its effectiveness.
That's why you should track your email performance. It helps you determine if recipients clicked, opened, or ignored your messages and tweak your campaign strategy for better outcomes.
In this article, I'll discuss email tracking in depth. I'll cover what it is, its four major benefits, how it works, and the best way to track your emails.
This Article Contains:
(click on a link below to jump to a specific section)
Let's dive in.
What Is Email Tracking?
Email tracking is the process of monitoring your recipients' interactions with your sent email messages. It provides clear insights into the level of engagement your emails receive, such as:
The exact time readers opened your message.
The frequency of interaction with your emails.
The clickthrough rate for links and attachments, and so on.
But email tracking isn't just about analytical metrics. When used effectively, it can also:
Boost your marketing and sales efforts.
And you can get all these insights with an email tracking tool that can undertake the bulk of your email tracking work.
Now that you know what email tracking is, let's take a quick look at how it works.
How Does Email Tracking Work?
Here are three techniques commonly used by email tracking tools to track a message:
1. Read Receipts
A read receipt is an email tracking feature used by email clients like Gmail, Apple Mail, and Microsoft Outlook to send you a real-time notification whenever a recipient opens your email.
With read receipts, you can verify email deliverability and ensure that the right person engages with your message.
However, they have certain limitations, such as:
The recipient must authorize the sending of the read receipt or permit it in their email client settings.
A read receipt only works if you and the recipient have the same email client.
2. Image Pixels
The most common way for email open tracking is to embed a 1-pixel invisible image (tracking pixel) into an individual email. It's used by most email tracking software and tools like Google Analytics.
When the reader opens your message, their email client connects with the image server to load the tracking pixel, and it's logged as the email open.
However, recipients could use pixel blocking tools like PixelBlock and Email Privacy Protector to block the tracking pixel, preventing you from tracking the email engagement.
3. Trackable Links
Another way email tracking tools track engagement is by including a trackable link in the email body.
What's a trackable link?
It's a URL containing a short text code (tracking code) that can be deciphered by a tracking tool and used to track your campaign's performance.
Once a recipient clicks on the trackable email link, the tracking software will decode the link and send you a notification about who clicked on it and when.
But that's not all!
You'll also get additional link tracking data like:
The number of clicks.
The recipient's geo-location.
The web browser used to access the link, and more.
Note: If the recipient has their Mail Privacy Protection setting turned on (in Apple Mail), you won't be able to access their IP address or geo-location.
Next, let's explore how you can track your sales and marketing emails.
How to Track Your Emails?
If you want to track your emails, you need to find the right email tracking software for your needs.
This can be a simple add-on or plugin that only tracks email open rates or a comprehensive tool that provides real-time reports and analytics.
Irrespective of the email tracking feature you require, there are several tracking software tools you can choose from, such as:
The Best Email Tracking Software in 2022: GMass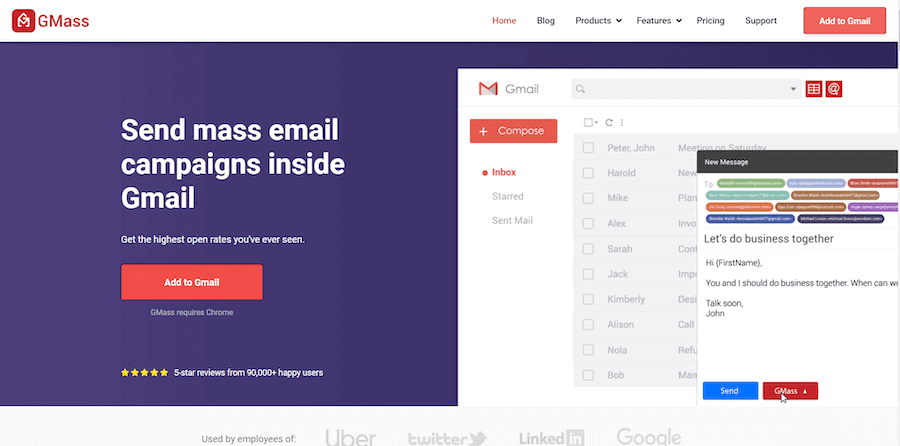 GMass is a robust email outreach and tracking tool that allows you to execute email marketing campaigns from inside your Google inbox. Its powerful mail merge capabilities make it a favorite email tracker among employees at social media companies like Twitter and LinkedIn.
Using the GMass Google Chrome extension, you can:
Accurately track email metrics automatically. (We're even the first cold email software to separate potentially false opens from Apple Mail Privacy Protection.)
Send mass automated follow-ups for maximum engagement.
Automatically personalize your sales or marketing email campaigns.
Schedule mass emails effortlessly.
Send sales and marketing campaigns quickly.
Now, let's take a closer look at some of the key features of GMass' email tracker:
GMass accurately tracks different email metrics to deliver comprehensive breakdowns in your campaign reports.
The campaign analytics report is auto-generated once you send an email campaign and includes metrics like:
Total Recipients: The total number of email IDs to which an email campaign was sent.
Unique Email Opens: The total number of unique recipients that opened your sales or marketing email.
Unique Clicks: The total number of unique email IDs that clicked on at least one link in your email.
Didn't Open: The total number of email recipients who didn't open your email.
Replies: The total number of email IDs that replied to your campaign.
Rejections because your Gmail account is over-limit: The total number of recipients who didn't receive your emails because of your Gmail account's limited sending ability.
Unsubscribes: The total number of email recipients who unsubscribed from your sales or marketing emails.
Bounces: The total number of emails returned as undeliverable because of the recipients' invalid addresses.
Blocks: The total number of undelivered emails because the recipient's address rejected your email as spam.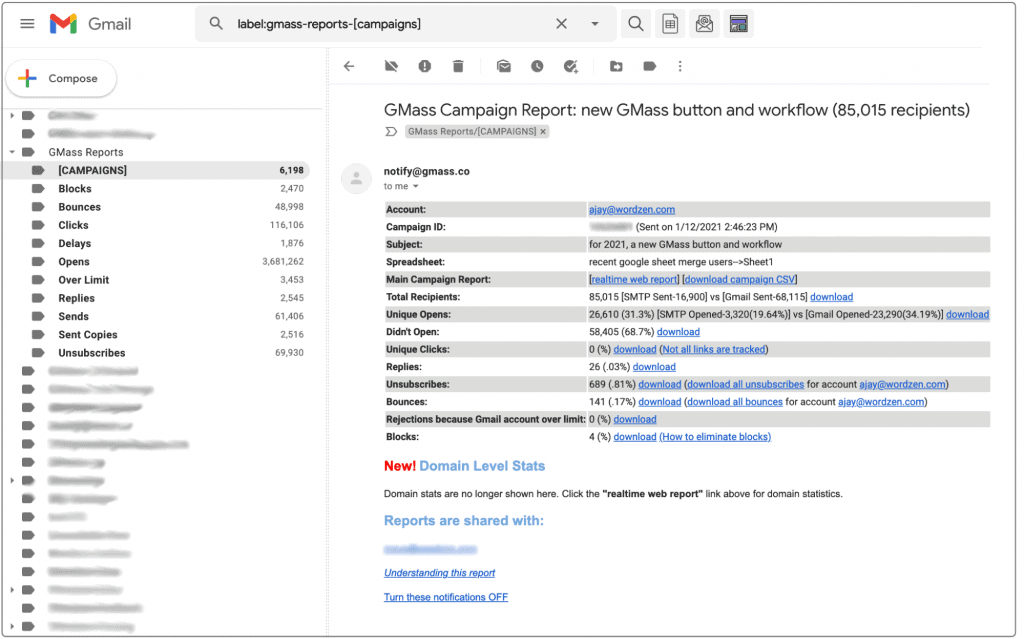 Unlike other email marketing tools such as SalesHandy or ContactMonkey, you obtain GMass campaign reports right inside your Google inbox for easy access.
But that's not all. The GMass email tracker also allows you to track email metrics using a dedicated, flexible dashboard on both desktop and mobile platforms.
Based on your campaign responses, you may have to send meaningful follow-ups to engage recipients.
However, manually following up with individual email recipients can be challenging when you have a large email list.
No worries!
With the GMass mail tracker, you can easily automate the follow up process to target recipients for maximum engagement.
You can customize:
The contents of your follow-up email message right inside your Gmail inbox.
The number of follow up messages for each recipient.
The time interval between follow-ups.
The trigger for sending a follow-up email.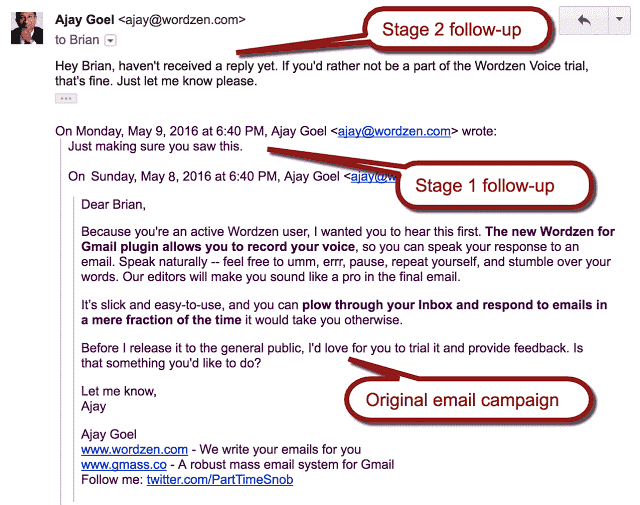 No one wants to see a generic and ugly email in their inbox!
That's why GMass gives you an automated personalization feature to customize your sales and marketing emails on a recipient-by-recipient basis.
The advanced functionality in GMass comes with:
Automatic first name detection: GMass auto-detects your recipients' first names from their email addresses and adds them to the emails directed to them.
Personalized text blocks: With GMass, you can personalize complete text blocks in your email depending on the recipient.
Personalized attachments: The tool lets you send personalized attachments to every recipient.
Customized images and links: Using GMass, you can include customized links and external images for every email recipient.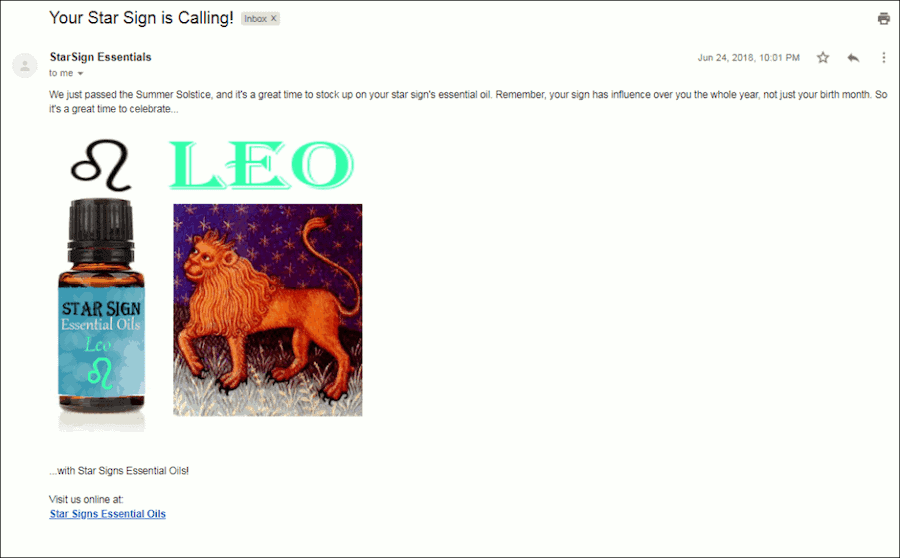 If you want people to engage with your emails, your email should reach the right inbox at the right time.
Why?
Let's say your recipient lives in a different time zone. A campaign you sent at 10 A.M. might reach them at midnight in their time zone, undermining your email's success.
To avoid such problems, the GMass mail tracker lets you schedule your messages in advance to plan more effective email marketing campaigns — you won't have to stay online once you schedule your emails.
If you want to change the schedule at any time, you can always reschedule your tracked email in the Gmail Drafts folder.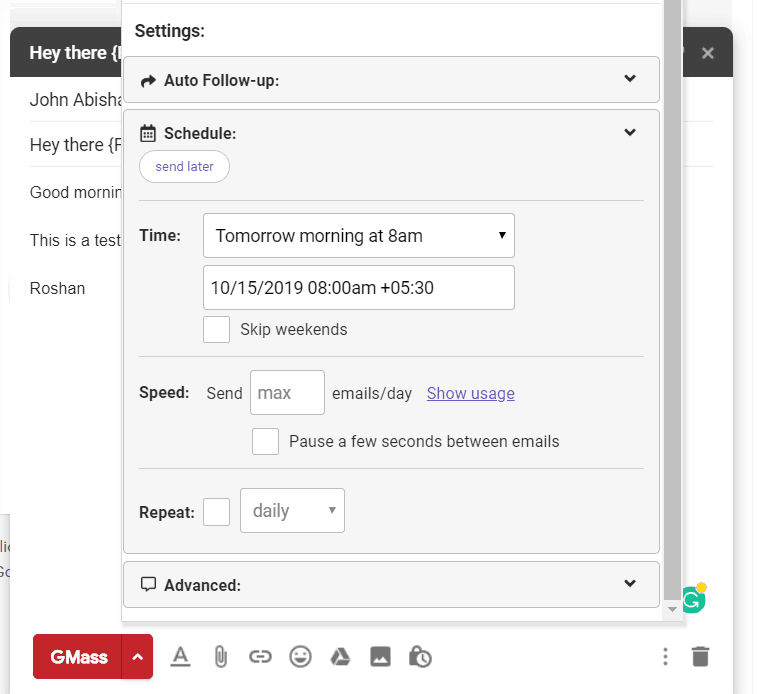 Ajay's Bonus Tip
Set clear guidelines for your sales and marketing teams to ensure proper use of the email tracking software. For example, you should clarify when and how to respond to a recipient once you receive a 'read' real-time notification.
You should also specify the use of the email tracking software in your organization's privacy policy and inform people when they sign up for email subscriptions.
Let's now explore the major advantages of tracking your emails.
4 Remarkable Benefits of Email Tracking
Here are four reasons to track your emails:
1. Gain Insights for Campaign Optimization
Knowing what emails receive maximum clicks, are most read, or are regularly overlooked helps you determine what changes to make to your email marketing campaign for better results.
Once you identify your campaign's strengths and weaknesses, you can:
Optimize future email marketing campaigns for more responses.
Personalize sales and marketing emails according to recipients' needs.
Build a more responsive list of email contacts who engage with your messages.
For example:
If prospects spend more time on emails with images and videos, you can focus on adding attractive images and videos (of your product or service) in future emails.
If you get more clicks by sharing a case study to back your sales claims, you can delve into including more case studies, testimonials, and research data.
2. Save Time for Impactful Follow-ups
Email tracking lets you know if prospects found your first email intriguing enough to open and are receptive to follow-ups.
If they ignore your initial outreach emails and the next couple of follow ups, they're unlikely to engage with future messages too. In such cases, you can save time by redirecting marketing emails to leads interested in your campaign.
You can also learn how often a recipient interacts with your tracked email and schedule timely follow-ups. Keep an eye on the email open rates and email link clicks on your outbound messages to follow up when readers are most likely to engage.
3. Get the Context for Prospect Interaction
If you want to build and nurture relationships with prospects, it's crucial to understand how they interact with your emails.
It helps you tweak your email marketing strategy to cater to the specific needs of your recipient.
For instance:
Contacts who open your emails more than once a day will be receptive to follow ups while you're still top-of-mind.
Including links or attachments in an email and tracking the clicks they receive lets you know if readers are interested in your product or service.
Tracking follow-up emails help you gauge if readers/subscribers are reviewing your messages after the initial outreach.
These email analytics provide a context to calibrate your outreach campaigns for maximum engagement.
4. Build A Robust Email Schedule
Outreach and follow-up emails sent randomly can often turn off clients and appear spammy.
That's why developing the perfect email schedule is vital to boosting engagement among your prospects.
How does email tracking software help here?
It helps you study your recipients' responses to your emails and set a schedule around the time they're willing and prepared to engage with your email message.
You get precise details of the exact time recipients engage with your emails and follow-ups, helping you develop a robust email schedule for each contact on your mailing list.
Wrapping Up
Tracking your emails is an effective way to identify problem areas in your marketing and sales efforts. Once you determine how recipients engage with your emails, you can develop a strategy tailored to their preferences.
And that's where an email tracking tool like GMass can come in handy. It can automatically track your sent email messages, helping you gain accurate insights into their performance.
Why not download the free GMass Google Chrome extension to track all your email campaigns today?
See why GMass has

300k+

users and

7,500+

5-star reviews

Email marketing. Cold email. Mail merge. Avoid the spam folder. Easy to learn and use. All inside Gmail.

TRY GMASS FOR FREE

Download Chrome extension - 30 second install!
No credit card required
Love what you're reading? Get the latest email strategy and tips & stay in touch.