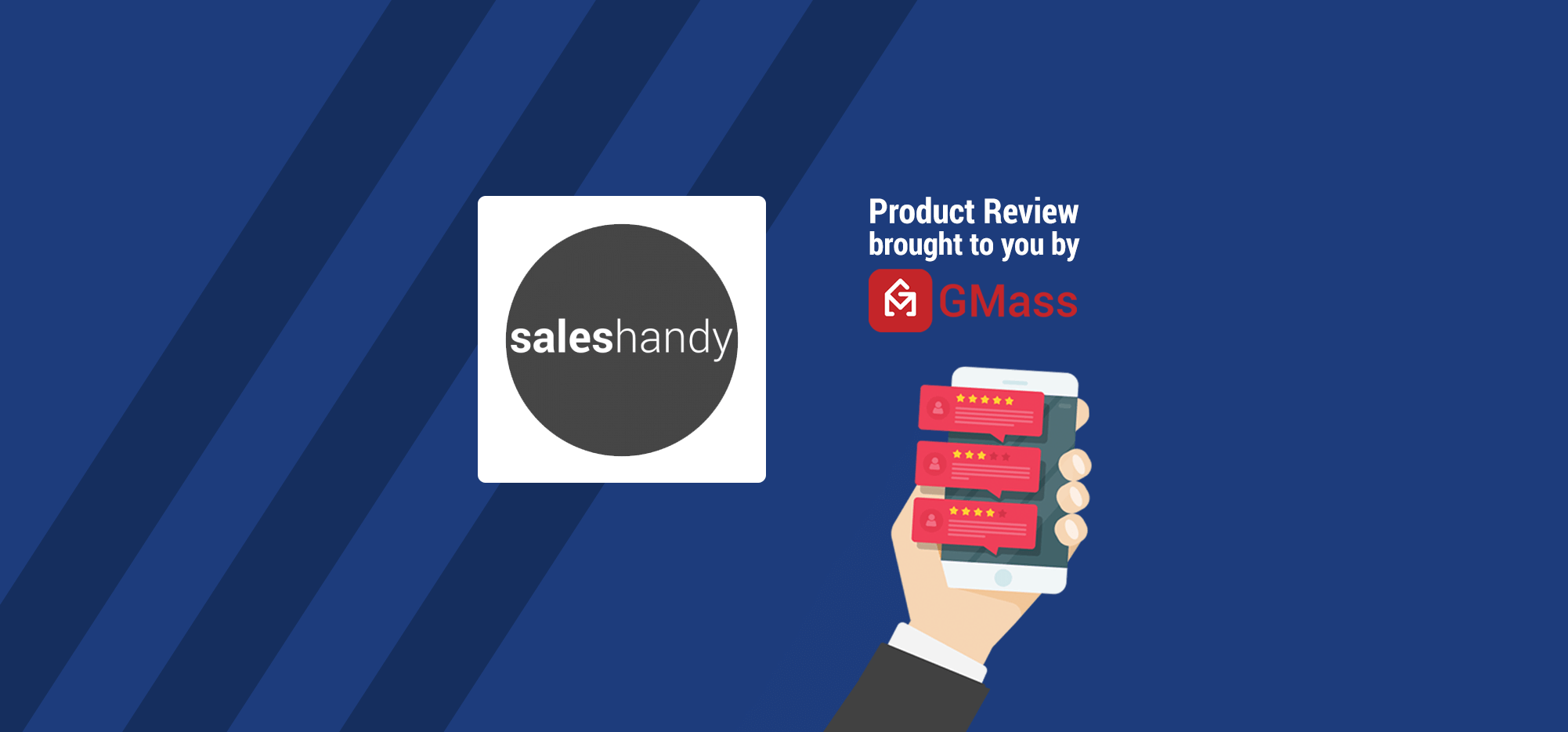 Saleshandy is an email outreach platform with sales enablement capabilities.
You can use the tool to send mail merge campaigns, track email performance metrics, use email templates, and more.
However, is Saleshandy the right tool for you?
This Saleshandy review will answer that question as we explore Saleshandy's four key features, pricing plans, and three main drawbacks. I'll also mention a powerful Saleshandy alternative you can start using for free today!
This Saleshandy Review Contains:
(Click on links to jump to specific sections)
Let's get started.
What Is Saleshandy?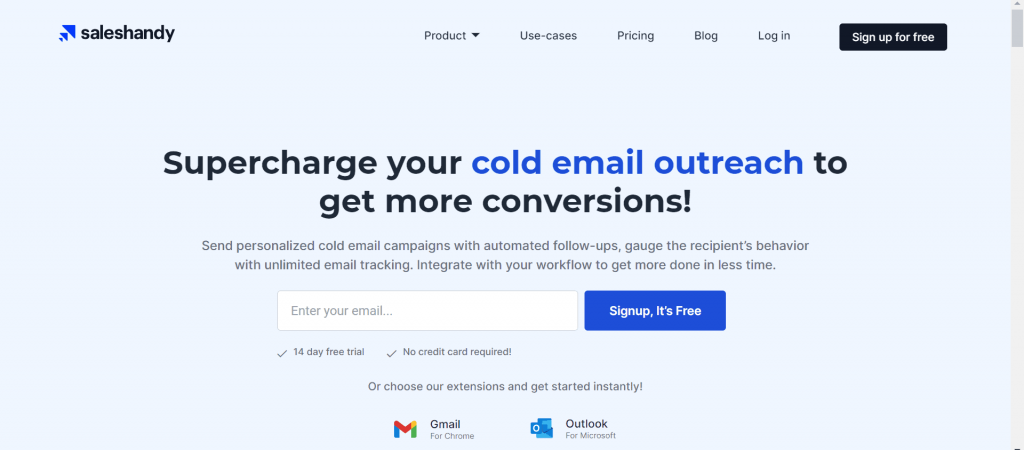 Saleshandy is a cold email outreach and sales enablement software that lets you send personalized email campaigns from your Gmail and Microsoft Outlook accounts.
The tool also lets you track email metrics and use auto follow-ups to improve engagement.
Now, let's explore how Saleshandy can be useful for digital marketing and sales professionals.
4 Key Features of Saleshandy
Here's a closer look at four key Saleshandy features:
1. Detailed Email Tracking
Saleshandy allows you to track emails sent via Gmail or Microsoft Outlook.
With the Saleshandy plugin, you can track your:
Email Open Rate: Discover how many times a recipient opened your email.
Email Click-Through Rate: Use individual link tracking to know how many times the recipient clicked each link in your email.
Email Reply Rate: Know how many recipients replied to your emails and quickly narrow down to important responses.
Email Bounce rate: See how many emails failed to reach the recipients' inboxes.
Like most tracking software, you can connect Saleshandy with Zapier and copy your email data analytics to your Salesforce or HubSpot CRM. This helps you segment customers better, view customer relationships more holistically, and trigger sales actions based on email engagement.
However, this feature is only available in Saleshandy's paid plans.
Note: Saleshandy provided a document tracking (or attachment tracking) feature, which allowed users to track the total number of document downloads and other engagement metrics. But this feature isn't available for Saleshandy accounts created after June 2020.
2. Personalize Email Campaigns with Mail Merge
Like Yesware, another sales enablement software, Saleshandy lets you send personalized email campaigns using mail merge.
Why do personalized emails matter?
Personalized emails can boost your email open rates, regardless of your email client.
Unlike a generic marketing email, a personalized email is tailor-made to a recipient. It usually includes elements like the recipient's name, company name, industry, alma mater, affiliations, interests, and more.
Essentially, a personalized email shows that you've researched the recipient.
And since you took the effort to learn more about them, the recipient will be more likely to respond, improving your sales conversion chances.
In Saleshandy, you can send personalized emails using its mail merge feature.
How does that work?
Here's an overview of the steps involved in creating a mail merge campaign inside Saleshandy:
Upload a CSV file containing recipients' data, such as their names, company names, email addresses, etc.
Craft your email message and customize it using the column headings of your data fields as variables.
Configure your email outreach campaign — by scheduling the campaign, setting the intervals between multiple emails, adding CC/BCC fields, etc.
Once done, Saleshandy will automatically send your personalized campaign at the scheduled time.
3. Automated Follow-Up Emails
One effective strategy to improve your open rate or response rate is sending effective follow-up emails. A study shows that sending a single follow-up email can boost your response rate by 21%.
However, sending follow-ups to an extensive email list can be tedious and time-consuming.
That's where Saleshandy's email sequence feature becomes useful.
Your sales professionals can quickly create a personalized email sequence to send automated follow-ups.
Additionally, they can:
Create workflows to send multi-stage follow-ups based on different trigger conditions —  "Not Replied", "Not Opened", etc.
Configure the SMTP settings to send automated follow up emails from non-Gmail and non-Outlook servers.
Include an unsubscribe link as a mail merge tag so prospects can easily opt-out if they want to.
You can also send automated follow up emails in the same thread to help recipients see a new email message in the context of previous emails. This can increase your email open rates, which then helps improve your team's sales performance.
4. Load Email Templates into Gmail and Outlook Mail
Crafting emails is time-consuming.
And if you have tons of recipients, creating a unique email for each person may not be feasible.
What can you do instead?
Use email templates to save time.
In Saleshandy, you can create an email template and load it to your Gmail or Microsoft Outlook compose window to craft a new email message quickly.
Now, if you've made several email templates, you can use folders to organize them.
Saleshandy's email template feature also offers other benefits, like the ability to:
Add mail merge tags, enabling you to send personalized emails that boost outreach and engagement.
Create shortcuts to load templates to your compose window quickly.
Track template performance to get an overview of the effectiveness of your email templates.
Now that we have had a good look at Saleshandy's key features, let's go over its pricing plans.
Saleshandy Pricing
Saleshandy offers four pricing plans to meet the requirements of different customer segments:
Free:

Email open tracking
Email scheduling
Read receipt desktop notifications
And more

Regular ($12/month per user):

Includes all "Free" features
SMTP integration
Outlook add-in for Windows
And more

Plus ($29/month per user):

Includes all "Regular" features
Campaign performance report
Advance mail merge
And more

Enterprise ($59/month per user):

Includes all "Plus" features
Assistance with ESP migration
Dedicated account manager
And more
Next, we'll look at some of the potential disadvantages of using Saleshandy.
3 Drawbacks of Saleshandy
While Saleshandy is a good sales engagement tool, it's far from perfect.
Here are its three main disadvantages:
1. Base Plans Lack Essential Campaign Features
Sure, not many email outreach tools support advanced capabilities in their free plan.
But with Saleshandy, you can't even access essential features like auto follow-ups and advanced mail merge even when you're on the paid "Regular" plan.
In other words, when you spend $12/ month for each user, you only get to use very basic mail merge and email tracking capabilities. Moreover, the "Regular" plan lets you send just 200 emails per day — which severely restricts your reach.
While you can upgrade to more expensive plans to increase your sending limit, those plans may not be affordable for most freelancers and small business owners.
2. Limited Campaign Functionality in Gmail
Saleshandy has extremely low email sending limits for a SaaS sales enablement platform — even the "Enterprise" plan only lets you send only 5000 emails per day!
Why should low sending limits matter to you?
A low email sending limit can handicap your cold emailing and lead generation efforts since you can't email your entire recipient list at once.
That's not all.
The Saleshandy software doesn't integrate with bulk mail services like SendGrid to let you bypass Gmail's sending limits.
What are these limits?
A regular Gmail account has a sending limit of 500 emails per day, whereas a Google Workspace (formerly G Suite) account allows you to send up to 2000 emails per day.
As a result, even if you opt for Saleshandy's "Enterprise" plan, you can't send over 500 emails (with a regular Gmail account) or 2000 emails (with a Google Workspace account) per day without hurting your email deliverability.
Tip: If you use Microsoft Outlook or another mail provider, make sure to check the sending limits of your email client. Whatever the limit is, that becomes the default sending limit for your Saleshandy sales engagement platform.
3. Limited Mail Merge Capabilities
A native Saleshandy integration isn't available for Google Sheets.
What does that mean for you?
If your contact list is saved inside a Google Sheet, you'll have to either:
Convert each list to a CSV file before you upload it to Saleshandy.
Use a third-party app like Zapier or Integrately to integrate with your Google Sheet.
Both methods are tedious and take up the valuable time of sales and digital marketing professionals!
Even if you use CSV files, Saleshandy imposes a limit of 2,000 contacts per file.
As a result, if you've got an extensive email list, you'll have to split it into multiple marketing campaigns every time. Not only does it make managing campaigns harder, but it also decreases the email productivity of your marketing and sales teams.
If only there were a way to overcome these drawbacks, right?
There is — meet GMass!
The Best Saleshandy Alternative: GMass
While Saleshandy can be a helpful email tracking app, it has several disadvantages.
Fortunately, when using a tool like GMass, you'll never have to worry about any of these drawbacks.
What Is GMass?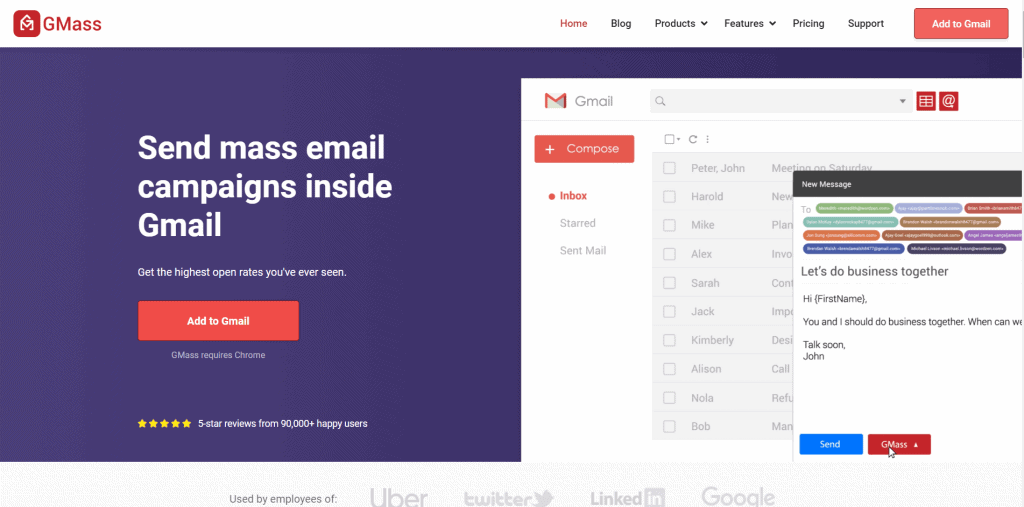 GMass is a robust email outreach and email marketing automation platform that works right inside your Gmail inbox. Its powerful mail merge capabilities have made it a popular software used by employees in tech giants like Uber, Google, LinkedIn, and Twitter.
The software is also perfect for small businesses, SaaS startups, institutions, marketing and sales teams, customer support teams, and even regular email senders.
And the best part?
You can get started with GMass instantly — download the GMass Chrome extension and sign up for free (no credit card needed) with your Gmail or Google Workspace account!
Why GMass Is Better Than Saleshandy
Let's take a closer look at what makes GMass a superior alternative to Saleshandy:
1. Powerful Free Plan
While Saleshandy's "Free" plan offers basic email tracking and scheduling features, GMass' free version supports all that and more.
You get free access to advanced functionalities like:
Additionally, when you opt for GMass' cost-effective paid plans, you get to leverage unparalleled email capabilities like sentiment analysis, email API, and more.
GMass doesn't limit the number of campaign recipients, allowing you to send unlimited email campaigns every day.
How?
You can integrate GMass with third-party services like SendGrid to bypass Gmail sending limits. When you've reached the sending limit, GMass will automatically route the rest of your emails via SendGrid.
The GMass team sends mass emails to 400,000+ recipients with this integration!
Thanks to GMass' native integration with Google Sheets, creating a personalized mail merge campaign is a piece of cake.
GMass lets you directly connect your email lists from a Google Sheet instead of converting them to a CSV file. The integration also helps you add placeholder tags to mass emails with just a single click.
Additionally, the tool lets you create mass personalized emails with advanced personalization features such as:
But that's not all!
GMass provides several other easy-to-use features, some of which we'll take a look at next.
Other Useful GMass Features
With GMass, you can leverage:
Final Thoughts
While Saleshandy is a useful sales tool, it has several glaring drawbacks.
Its email outreach features like campaigns and mail merge are expensive and have limited functionality.
Why settle for that when there's a far better Saleshandy alternative like GMass?
GMass has tons of powerful features for all your email marketing needs. You can send automated follow up emails, schedule emails to go out at the best times, perform mail merge campaigns, leverage behavior-based campaigns, and do so much more.
Why not download the GMass Chrome extension to take your email outreach to the next level?
See why

99%

of users say they've had their best deliverability ever with GMass

Email marketing, cold email, and mail merge all in one tool — that works inside Gmail

TRY GMASS FOR FREE

Download Chrome extension - 30 second install!
No credit card required
Love what you're reading? Get the latest email strategy and tips & stay in touch.