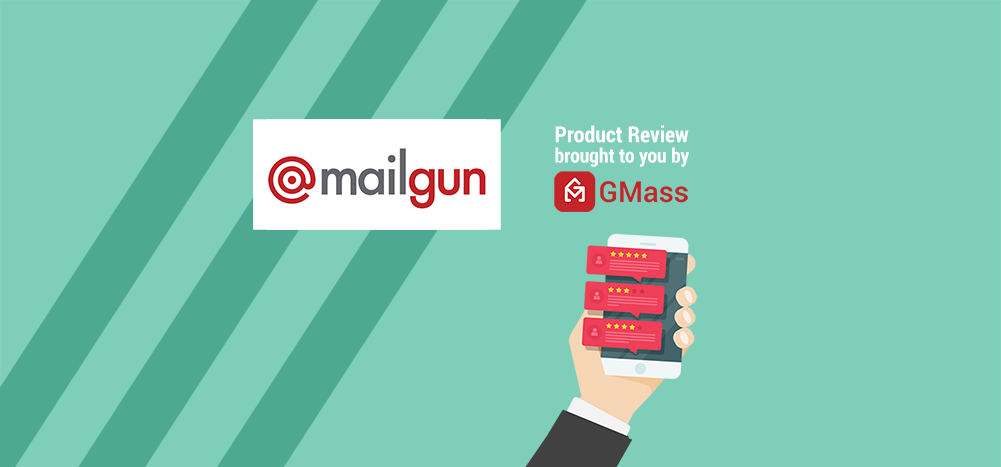 Looking for a detailed Mailgun review?
Mailgun is an SMTP email service designed specifically for software developers. It focuses on helping users send out bulk emails quickly and boost the engagement of their emails.
However, Mailgun isn't a perfect tool.
For starters, Mailgun doesn't have some basic email marketing features, like built-in email templates that are found in most other email tools.
Additionally, as it's designed for developers, most Mailgun reviews highlight how setting it up and using it can be difficult for anyone who's not familiar with software programming.
So, is Mailgun worth investing in for your company?
I'll try and help you answer that.
In this Mailgun review, I'll cover everything you need to know about the service.
I'll highlight its key features, pricing, and drawbacks to give you an in-depth look at the tool. I'll even go over the best email tool to add more functionality to Mailgun.
This Mailgun Review Contains:
Let's get started!
What Is Mailgun?
Mailgun (mailgun.com) is an email service designed for software developers who want to use an API (Application Programming Interface) to send out mass emails.
What is an email API?
An email API is a tool that gives websites and applications access to the enhanced functionality that's typically only available on a mail platform. For example, with an email API, your website or app could send transactional emails to your customers.
One of the best things about having a Mailgun account is that the tool also integrates with WordPress. This way, you can install Mailgun as a plugin on your WordPress site to send emails directly from there.
However, the Mailgun mail service isn't just limited to its powerful API features.
It also has email validation, A/B testing, burst sending, and deliverability optimization features.
Confused about what these features are? 
Don't worry. I'll get to them in a minute.
But before that, I need to highlight Mailgun's SMTP server for sending bulk emails.
What is SMTP, and why do you need it?
SMTP (simple mail transfer protocol) is an email protocol used to send emails online. Setting up your own SMTP helps you bypass the sending limits of email clients like Outlook and Gmail.
For example, when you use Gmail, you're limited to sending 500-2,000 emails/day, depending on whether you use a Gmail or G Suite account.
When you have an extensive mailing list, this daily sending quota might be extremely limiting. In a situation like this, investing in tools like Mailgun, which have virtually limitless email sending capabilities, can benefit your business.
If you want to learn more about SMTP, check out my ultimate guide to SMTP.
Remember, Mailgun Isn't an Email Marketing Tool
What you need to keep in mind is that Mailgun is designed as a mail API and SMTP relay tool instead of a marketing tool. If you're looking for email marketing in particular, you're better suited to using a tool like Mailjet with Mailgun for efficient marketing email sending.
For a detailed look at Mailjet, check out my review here.
Now, that we've covered what Mailgun is, let's take a look at some FAQs regarding the Mailgun app:
What Does Mailgun Do?
Mailgun (www.mailgun.com) is a transactional email service used by developers and information technology professionals to send, receive, and track emails using its powerful API. Developers can use it to send out transactional emails, monitor their performance, and optimize emails for higher engagement rates.
What are transactional emails?
Transactional emails are "triggered/automated emails" that are usually sent to the customer after a specific action has been performed on an app or website. For example, an email sent to the customer after creating an account on an app can be called a transactional email.
Mailgun also supports various programming languages like Python, Java, Ruby, and the PHP framework to help developers set up Mailgun in a familiar programming language.
Is Mailgun Secure?
Yes, Mailgun is a secure tool. It doesn't share customer information with unauthorized third parties, and their server infrastructure is stored at top-tier data centers.
Is Mailgun Legit?
Yes, Mailgun is a legit SaaS company based in the United States.
It's been in operation for over nine years and is trusted by leading tech brands, universities, sports associations, and hotel chains worldwide. Mailgun was acquired by Rackspace in 2012 but became independent again in 2017.
Can Mailgun Receive Email?
Yes, you can use the Mailgun email API for inbound mail processing, and even filter emails for spam by using a spam filter. However, if you're looking to connect your personal mail address to Mailgun, it's not recommended.
This is chiefly because Mailgun is designed specifically for developers instead of for general use.
Three Key Features of Mailgun
Here are three key Mailgun features that can help you get the best out of your emails:
1. Email Validation
How many times have you had your outgoing mail bounce because the recipient's email address was invalid?
Every year, businesses lose thousands of dollars because of bounced emails. Each email that bounces causes your engagement metrics and sender IP reputation to drop. And a low IP reputation means more deliverability problems for all of your emails.
This is why email validation is so important.
It lets you filter out inactive or undeliverable mail addresses before sending mail, and that keeps your bounce rates low. This way, your sender IP reputation isn't adversely affected.
There are two ways you can use the Mailgun API to validate your emails:
A. Real-Time Email Validation API
Mailgun's real-time email validation API identifies invalid emails at the time of capture (when an email address is inserted into your database). This way, no user will be able to insert an invalid mail address into Mailgun.
B. Bulk List Validation Tool
Mailgun has a bulk email validation tool that makes it super easy to clean out inactive emails from your list. All you have to do is upload your contacts as a CSV list, and Mailgun will take care of the rest — identifying and removing invalid accounts.
 2. Burst Sending Feature
Why do people ditch standard mail clients in favor of specialized email services like Mailgun?
Email clients like Gmail and Outlook have daily limits on how many emails you can send out. And most of the time, these limits aren't enough for businesses that need to send thousands of emails in one go.
If you need to send a mass email to thousands of people on Gmail, it can take hours or even days for the mail to reach your last recipient. And that's if your account isn't blocked for spam before that!
This is why tools like Mailgun are specially designed for super-fast, high-volume email delivery. Mailgun is focused on sending out any transactional email as quickly as possible.
With Mailgun's Rapid Fire feature, you can choose to send your emails in bursts at predetermined times, or send out high volume emails around the clock.
Mailgun also features intelligent queue management features, which promises to send out 99% of emails within the first five minutes.
How does this work?
While it's slightly complex to break down, Mailgun's cloud architecture allows it to adjust the availability of its resources based on demand. This way, Mailgun can initiate the delivery of your emails in a very short time.
And if your business needs a very high volume of emails delivered, Mailgun also supports performance packages that will attempt to send up to 15 million emails per hour.
3. Email Performance Prediction
There are tons of tools that can show you how many of your emails were delivered.
But how many email tools can tell you the folder in which your mail actually lands?
Knowing whether your emails reached a recipient isn't enough. You have to know if your email made it to the recipient's primary inbox, or if it was labeled as spam and sent directly to the spam folder.
This allows you to tweak future emails to perform better.
Mailgun has a feature called Inbox Placement, which can predict email deliverability issues and help you resolve them before sending out your emails. This way, you can increase recipient engagement and ROI from your emails.
But that's not all.
The feature will also show you how well your emails are doing with each email provider (like Gmail and Outlook), and which email service providers you need to focus on optimizing.
Whether it's a problem with your subject line, email content, or anything else — Mailgun will help you diagnose these issues and work on them before your email is sent.
Ajay's Mail Tip
To increase engagement rates, you should also know how to start and end emails to engage your audience. Check out my detailed guides on how to start and end your emails for some no-nonsense tips.
The Four Disadvantages of Mailgun
Now that you know the key features of Mailgun, let's take a look at some of its drawbacks:
1. Setup Can Be Tough for Non-Developers
Most specialized email tools try to have an easy setup and maintenance process. This ensures that they remain as user-friendly as possible.
However, as Mailgun is such a technical tool, it isn't easy to set up. To reap the full benefits of Mailgun and its mail server, you must either be a web developer or hire a developer to use the Mailgun API. (In that case, you may want to read my technical review of SMTP services, including Mailgun.)
That's why, if you lack the necessary programming knowledge, Mailgun may not be the right tool for you.
2. No Email Marketing Features
Remember, Mailgun isn't built to cater to most email marketers. It's specifically designed for developers who want to connect the Mailgun API to a website or app.
If you're an email marketer looking to send your next email marketing campaign, you may not find Mailgun to be very useful.
Mailgun doesn't feature any email templates and doesn't support automated email follow-ups to recipients. These are both features that are essential to efficient campaign management.
3. No Free Plan
Tons of email services today offer a free tier for users who don't have buckets of money to invest in email. While Mailgun used to offer a free plan which supported 10,000 emails per month until the start of 2020, they currently don't have a free plan for users.
The lowest tier they offer is the Flex plan, which provides three months of free emails.
Mailgun then charges you based on the number of emails you send after the initial three months.
Additionally, when you consider the fact that you need to use a separate tool with it for email marketing, this isn't a very affordable mail service.
4. Limited Support for Lower-Tier Users
When you spend your money on a service, you expect their customer support teams to be available whenever you need them, right?
Unfortunately, with Mailgun, you might not be that lucky.
Mailgun has five pricing tiers, and even though Mailgun support is available through instant chat and live phone service for the upper-tier plans, it works differently on the lower tiers.
If you use their Flex plan (the most affordable plan), you can submit a ticket whenever an issue arises, but you'll have limited support from the Mailgun team.
This issue will impact your business severely in situations when you're in the middle of an urgent email campaign, and your account gets blocked.
Why would your account be blocked?
Your account might get blocked from sending emails because lower-tier users don't receive a dedicated IP; they have to use shared IP addresses. And if another sender abuses an IP address, any account linked to that IP address (like yours) will be blocked from sending emails.
Matters like this require urgent attention, and if the customer service team can't deliver quickly, it can cause significant issues for your business.
How Much Does Mailgun Cost?
Now that I've covered Mailgun's key features, let's take a look at how much Mailgun costs.
The Mailgun pricing is split into five plans: Flex, Foundation, Growth, Scale, and Enterprise.
Here's what they include:
Mailgun Pricing 1: "Flex"
Three free months, then pay-as-you-use. This plan includes:
5,000 emails/month for free, for 3 months.
$0.80/1,000 emails after the first 3 months.
Powerful API for emails, SMTP relay, and webhook forwarders.
Email tracking and analytics.
Suppression management.
Retention of searchable logs for 5 days.
Detailed documentation.
Limited 24/7 ticket support.
Mailgun Pricing 2: "Foundation"
From $35–$75 per month. This plan includes:
Everything in the Flex plan.
Support for sending 50,000 to 100,000 emails/month.
Inbound email routing.
1 dedicated IP for foundation 100k and up.
Email address validation.
Inbox placement.
1 day of message retention
24/7 ticket support.
Mailgun Pricing 3: 'Growth'
From $80–$650 per month. This plan includes:
Everything in the Foundation plan.
Support for sending 100,000 to 1,000,000 emails/month.
1,000 email validations.
Retention of searchable logs for 15 days.
1 dedicated IP address.
10 inbox placement tests.
Message retention for 3 days.
Customer support via instant chat.
Mailgun Pricing 4: "Scale"
From $90–$1,250 per month. This plan includes:
Everything in Growth.
Support for 100,000 to 2,500,000 emails/month.
1 dedicated IP address.
Instant chat support.
Live phone support.
5,000 email validations.
15 inbox placement tests.
Send time optimization.
Retention of searchable logs for 30 days.
Message retention for 7 days.
Mailgun Pricing 5: "Enterprise"
Custom pricing. This plan includes:
Everything in scale.
Support for sending 2,500,000+ emails/month.
1 dedicated IP.
Custom features.
Rapid Fire Burst Sending.
The Best Way to Add More Functionality to Mailgun
It's now clear that while being an extremely powerful tool, Mailgun definitely falls short when it comes to user-friendliness and email marketing.
But what if you could add marketing functionality to Mailgun through another software without having to deal with any added technical work?
It's simple; all you have to do is connect Mailgun with a powerful, user-friendly email-marketing tool.
In other words, just connect it to an email system like GMass!
What is GMass?
GMass is a comprehensive email marketing software service used by employees of giant organizations like Google, Uber, and social media platforms like Twitter and LinkedIn.
But GMass isn't just meant for giant businesses!
Solopreneurs, small businesses, churches, and individuals can use GMass to send bulk emails to a target audience.
Additionally, GMass works completely inside the Gmail user interface, so you don't have to worry about using separate tools or opening new tabs to manage your email campaigns.
With GMass, you can:
Schedule and send any email marketing campaign from your Gmail inbox.
Track the way recipients engage with your marketing emails.
Access real-time reports to understand how your emails are performing.
Use custom tracking domains.
Connect with Mailgun to send powerful, personalized emails to an unlimited number of recipients every day.
That's not all!
GMass is super easy to set-up.
Just add the GMass Chrome extension to your Chrome browser, and you can start sending marketing emails to your customer base!
How Does GMass Work with Mailgun?
You can set up Mailgun as an external SMTP provider on GMass to send emails through Mailgun's SMTP server.
With GMass' enhanced functionality and ease-of-use, you'll easily optimize your email campaigns and enjoy the benefits of Mailgun's limitless mail service inside Gmail.
Click here to learn more about setting up an SMTP connection server in Gmail with GMass. 
Wrapping Up
Mailgun is a useful tool if you're a developer looking for a specialized email service.
However, if your use case is sending out marketing and transactional email, it's not a great fit.
Luckily, there is a way around Mailgun's marketing drawbacks.
All you have to do is invest in GMass to add more marketing functionality to Mailgun. Once connected, GMass can help you craft flawless email campaigns in no time!
So what are you waiting for?
Create a Mailgun account and link it to GMass to take your email game to the next level! 
Ready to send

better emails

and save a ton of time?

GMass is the only tool for marketing emails, cold emails, and mail merge — all inside Gmail. Tons of power but easy to learn and use.

TRY GMASS FOR FREE

Download Chrome extension - 30 second install!
No credit card required
Love what you're reading? Get the latest email strategy and tips & stay in touch.