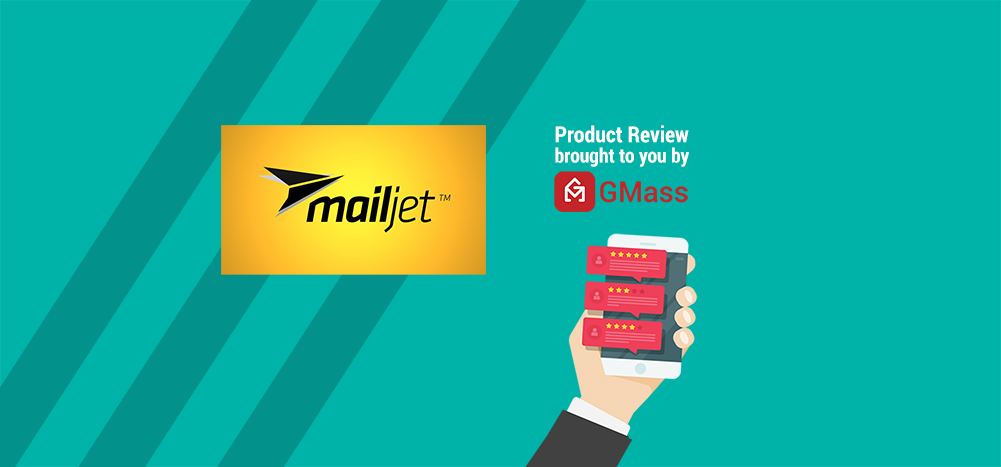 Looking for a detailed Mailjet review?
Mailjet is a comprehensive email tool that helps a user send marketing emails to masses of recipients. It has several user-friendly features like email tracking, customizable templates, and it even boasts an SMTP server to help you send tons of emails.
However, this doesn't mean that Mailjet is a perfect tool.
In this Mailjet review, I'll go through everything you must know about the Mailjet platform.
I'll cover what Mailjet is, its key features, and its shortcomings to help you decide if this platform is the best solution for your needs.
This Mailjet Review Contains:
Let's dive in.
What is Mailjet?
Mailjet (mailjet.com) is an email tool used by email marketers to create and send custom emails to a target audience.
Available in five languages (including Spanish and Italian), Mailjet also features an email builder that can help you create highly responsive emails in no time. Additionally, it integrates with platforms like WordPress for added functionality.
Mailjet service also has a free SMTP server to help you send unlimited marketing emails via an SMTP relay.
Wondering what SMTP and SMTP relay mean?
Check out my ultimate guide to SMTP to learn everything you need to know about SMTP. 
However, here's a very brief look at what an SMTP service can do for you:
Setting up an SMTP server of your own helps you bypass the sending limits imposed by email clients like Gmail. For example, Gmail has a limit of sending 500-2,000/emails a day, depending on the kind of account you have.
If you were a company with tons of customers, a daily 2,000 limit may be too restrictive for your operations. In this case, investing in an SMTP server like Mailjet that can send an unlimited number of emails every day would help.
How Do I Use Mailjet?
You can sign up on Mailjet's website and subscribe to the package you prefer. Once the signup process is complete, you can use Mailjet to design emails to capture your audience.
Then, just use Mailjet's SMTP service to send out high-volume emails to your contact list.
(Or, if you're technically advanced and you want to set up a customized installation of Mailjet, you'll want to read my technical review of Mailjet before you go any further.)
What is Mailgun?
Mailjet also has an email API (Application Programming Interface) platform called Mailgun. Mailgun is suited to businesses looking for a more technical email solution without most of the marketing features.
Businesses use Mailgun to set up SMTP and increase deliverability rates without worrying about email templates or other marketing features.
However, it's important to remember that the Mailjet service doesn't feature a landing page builder, unlike similar email providers such as MailChimp, ActiveCampaign, and GetResponse.
Five Key Features of Mailjet
To get an idea of how the Mailjet service works, here's a quick look at five key Mailjet features:
1. Comprehensive Email Tracking
If you're an email marketer, you need to keep track of how your email campaigns perform, right?
Mailjet is a software service that generates comprehensive email statistics, helping you see exactly how your outbound marketing emails perform.
The Mailjet service also has automatic email tracking that keeps you updated on participants' email activity in real-time. Besides tracking core metrics like email opens and clicks, Mailjet also allows you to track every individual customer who has opened the incoming emails you've sent.
Mailjet also shows you tons of other email metrics like your deliverability rate and the percentages of unsubscribers, soft bounce emails, and hard bounce emails.
Unsure what softbouncing and hardbouncing emails are? 
What are soft bounce emails? 
Emails that get returned after reaching the recipient's receiving mail server. This usually happens because the receiver's inbox is full, the email is too large, or because the server is down.
What are hard bounce emails?
Emails that are rejected because the email address is invalid or doesn't exist.
If you're looking for a list of email tools that feature built-in email tracking, check out my review of the top 10 email tracking software. 
2. Multi-User Collaboration
What's the point of using an email marketing platform if your entire digital marketing team can't use it, right?
With the Mailjet mail service, you don't have to worry about sharing one account with everyone.
The Mailjet service is built around team collaboration and offers tons of features for team collaboration. For example, Mailjet lets you set individual permissions for each team member.
What does "setting individual permissions" mean?
You get to decide which members of your marketing team can create, manage, view, and send email campaigns.
You can even decide if a user gets to create and edit email templates, or if they have no access to email templates at all.
If your business has several managers, you can also give them access to transactional email features. These emails further the recipient's interest in your business and lead to transactions that will boost your sales.
What are transactional emails?
Transactional emails are event-triggered emails that usually complete a transaction initiated by a customer. For example, if a customer made a purchase on your website, the receipt that gets automatically emailed to them is called a transactional email.
But that's not all!
The Mailjet mail service allows you to create sub-accounts for separate departments, teams, and clients. These sub-accounts will function completely independently of each other, which means users can't access sub-accounts without authorization.
3. Customizable Templates (Passport)
Do you want recipients to interact with your email marketing campaign? 
Then you should stop sending generic email templates!
If you want recipients to engage with your marketing emails, you need to send personalized emails that are tailored to the reader.
How does Mailjet help you here?
Mailjet has several built-in, customizable email templates from which you can choose. These can range from a simple newsletter template to an interactive marketing email template.
This Mailjet feature is known as "Passport," and it can help you design attractive marketing emails in a matter of minutes. It's a comprehensive and easy-to-use editor that allows you to add customized text, images, links, and social media buttons to your emails.
If you're looking for extra customization of your bulk emails, you also can add blocks of HTML code and insert a unique email body and subject line for each customer.
Passport also allows you to test how your bulk emails look on various screen sizes before you decide to send them.
Ajay's Email Tip
To boost recipient engagement rates, knowing how to customize marketing emails with templates isn't enough. You should know how to start and end bulk emails in a way that engages your audience.
4. Free SMTP Server
Do you want to be limited by your email client's sending limit?
Or would you like the ability to send an unlimited number of marketing emails?
SMTP, or Simple Mail Transfer Protocol, is an email protocol used to send outgoing mail.
When you use an email client like Outlook or Gmail, they limit how many emails you can send in a day to avoid clogging up their email servers.
But with an email tool like the Mailjet service, you can set up your own SMTP server, which supports limitless email sending!
You can easily set up the Mailjet SMTP server with any email system and authenticate it with your credentials. The Mailjet SMTP server allows you to use a wide range of SMTP ports depending on your ISP and email client.
Why is a range of ports helpful?
While the standard SMTP ports are 25 and 2525, some ports can be blocked by your ISP. By using the Mailjet service, you get all the variations you need to avoid dealing with blocked SMTP ports.
You can also encrypt your marketing emails using the SSL or TLS encryption methods. This ensures that your emails are secured when moving from your server to the recipient's email server.
Mailjet also has a dedicated deliverability support team that will help you set things up and monitor your emails to maintain high levels of deliverability.
5. Other Handy Mailjet Features
Here's a roundup of some other excellent features Mailjet offers:
A. A/B Testing
Know what A/B testing is?
It's the process of sending out two variations of the same email to two different sets of recipients.
Once these emails are sent, their performance is analyzed, and the best-performing email is sent to the rest of the recipient list.
These emails are tested for their:
Subject line
Body of the email
Links in the email
After testing, you can optimize them for:
Open rates
Click-through rates
Higher responses
But that's just traditional A/B testing.
With the Mailjet service, you can send out not two, but ten versions of the same email to different sets of recipients! The best performing email is then sent to your contact list.
With A/B testing in the Mailjet service, you can test various aspects of your email like:
Sender name
Subject
Content
Email design
You can even check which call-to-action is more effective based on the responses you receive. You can also compare your campaigns on metrics like open rate, click rate, soft bouncing emails, and hard bounces.
B. Subscriber Management
A strong subscriber base is the root of most successful businesses.
However, the problem with subscribers is that they rarely come to you looking to sign up on your email lists. It's up to you to attract website visitors and impress them enough to join your contact list.
Mailjet can help you here because it's more than just an email marketing platform. The Mailjet service gives you access to a subscriber widget that you can easily customize and add to your website.
You can customize text and email design, and choose to embed the subscriber widget on a page or deploy it as a pop-in. When people visit your site, you can also ask them for personal information to customize future emails even more when you send them.
Mailjet also has a double opt-in feature, where a pop-up opens to reconfirm whether a site visitor wants to be added to your mailing list. This double opt-in feature serves as legal protection, as it helps Mailjet stay GDPR compliant.

(GDPR is a data protection regulation enforced by the European Parliament to protect their citizens' data.)
Three Disadvantages of Using Mailjet
Now that I've covered Mailjet's essential features, let's take a look at the disadvantages of using Mailjet:
1. Limited Automation Functionality
Automated emails are key to developing your marketing strategy.
You can use automation and autoresponder features to send out emails at the right time, even when you're not online.
While similar email marketing tools support email automation based on whether emails are opened or left unopened, Mailjet's marketing automation conditions are mostly limited to time gaps between emails.
So you can't set up automation workflows to send follow-up emails based on whether a recipient opened or ignored your original email.
Additionally, once you activate an email automation workflow, Mailjet prevents you from editing it. So if you need to change something, you'll have to create automation workflows from scratch.
2. Managing Lists Can Be a Hassle
Sending out promotional emails doesn't guarantee that you'll get a response from recipients.
Your emails can end up unopened, not replied to, or could even bounce.
When an email bounces, it could be a soft bounce or a hard bounce.
Soft bounces are temporary issues that are resolved with time. However, hard bounces are permanent since they only occur when the email address is invalid or doesn't exist.
It's normal to remove hard bounces from your contact list to avoid bounce notifications in the future. You can also decide to remove inactive subscribers who don't interact with your emails.
However, the Mailjet app doesn't give you the option to remove any subscribers from your campaign activity page. You have to go to a separate contacts page or the campaign exclusion list and manually take an email address off your campaigns.
That's not all. 
If you've entered a wrong email address, Mailjet doesn't allow you to correct it. You'll have to delete that specific entry and enter the contact details all over again.
If you'd like to use a tool that has hassle-free list management, you can check out the GMass guide to building email lists here.
3. Limited Choices for Segmentation
Ever wondered why segmentation is important for an email marketer?
Let's say you've subscribed to the mailing list of an electronics store.
You're interested in items like phones and laptops, but you don't care about TVs or cameras.
But what if the weekly incoming emails from that store talked mostly about TVs and cameras, and very little about new laptops?
You'd probably lose interest and eventually unsubscribe, right?
However, if the store sent you incoming emails that focus more on laptops and phones, you'd be interested and even make purchases from them.
This is why segmentation is important. 
It helps group people with similar interests and behaviors together.
This way, businesses can send different emails that cater to specific groups of their audience, increasing their chances of making a conversion.
While Mailjet has a feature that allows segmentation, it's limited to using basic contact information and behavior as criteria for its segmentation. For example, you're limited to using clicks and email opens that occur within a given timeframe as segmentation criteria.
You don't get access to tons of other, more helpful segmentation criteria like geographic location, personal interests, and survey or quiz results.
What Is Mailjet Pricing?
Now that you know what Mailjet can do for you, let's take a look at how much it'll cost you to invest in the Mailjet app.
Mailjet has four pricing plans that can be billed as monthly or annual credit card payments: Free, Basic, Premium, and Enterprise. These plans differ based on the number of emails you're allowed to send and additional features.
Here's how much they cost and what you'll get with each plan:
1. Free Plan
Includes:
6,000 emails/month (limited to 200 emails/day)
Unlimited contacts
Email editor
Email stats
API and SMTP relay features
2. Basic Plan (From $9.65–$333.95 per Month)
Includes:
All free plan features
Support for sending 30,000 to 900,000 emails/month
Dedicated IP address for users who send 150,000+ emails/month
No Mailjet footer
Customer support
Free sub-accounts
3. Premium Plan (From $20.95–$398.95 per Month)
Includes:
All Basic plan features
Support for sending 30,000 to 900,000 emails/month
Marketing automation
Multi-user collaboration features
Contact segmentation
A/B testing
Priority customer support
4. Enterprise Plan (Custom Pricing)
Includes:
All Premium plan features
Support for sending over 900,000 emails/month
Dedicated account manager
Unlimited scalability for high volume email sending
Custom onboarding and migration procedures
Custom number of users and advanced permissions
And more
You can contact Mailjet's customer service team at contact@mailjet.com to find out more about the Enterprise plan pricing.
Wrapping Up
Sure, Mailjet is a useful email tool that provides several important features for any email marketer and helps increase your email deliverability.
Its ease of use makes it a good choice for the emailing needs of large and small businesses engaged in e-commerce.
However, it's not perfect.
For a tool that offers tons of advanced features, it misses out on covering basic things like meaningful automation and hassle-free list management.
In case you decide that Mailjet isn't the email service provider for you, consider looking at other email marketing tools that better cater to your needs.
And if you're looking for some tools to send out marketing emails, you can check this guide to the top 7 cold email tools.
But to spare you the trouble of going through another article, why not give GMass a shot?
GMass is a popular email marketing software used by companies like Google, Twitter, and Uber.
It's affordable, works within your Gmail account, and even features a Chrome extension for easy access. GMass also integrates with SendGrid (an SMTP service provider) to give you everything that Mailjet offers and more!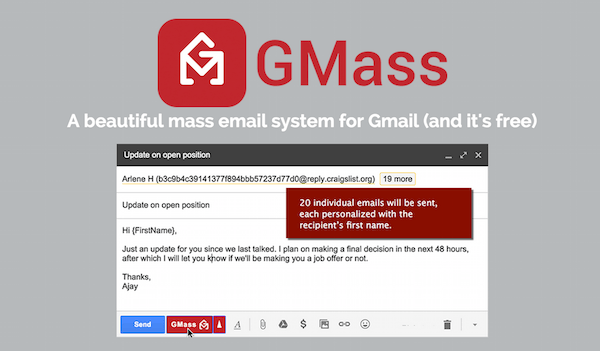 Ready to

transform Gmail

into an email marketing/cold email/mail merge tool?

Only GMass packs every email app into one tool — and brings it all into Gmail for you. Better emails. Tons of power. Easy to use.

TRY GMASS FOR FREE

Download Chrome extension - 30 second install!
No credit card required
Love what you're reading? Get the latest email strategy and tips & stay in touch.