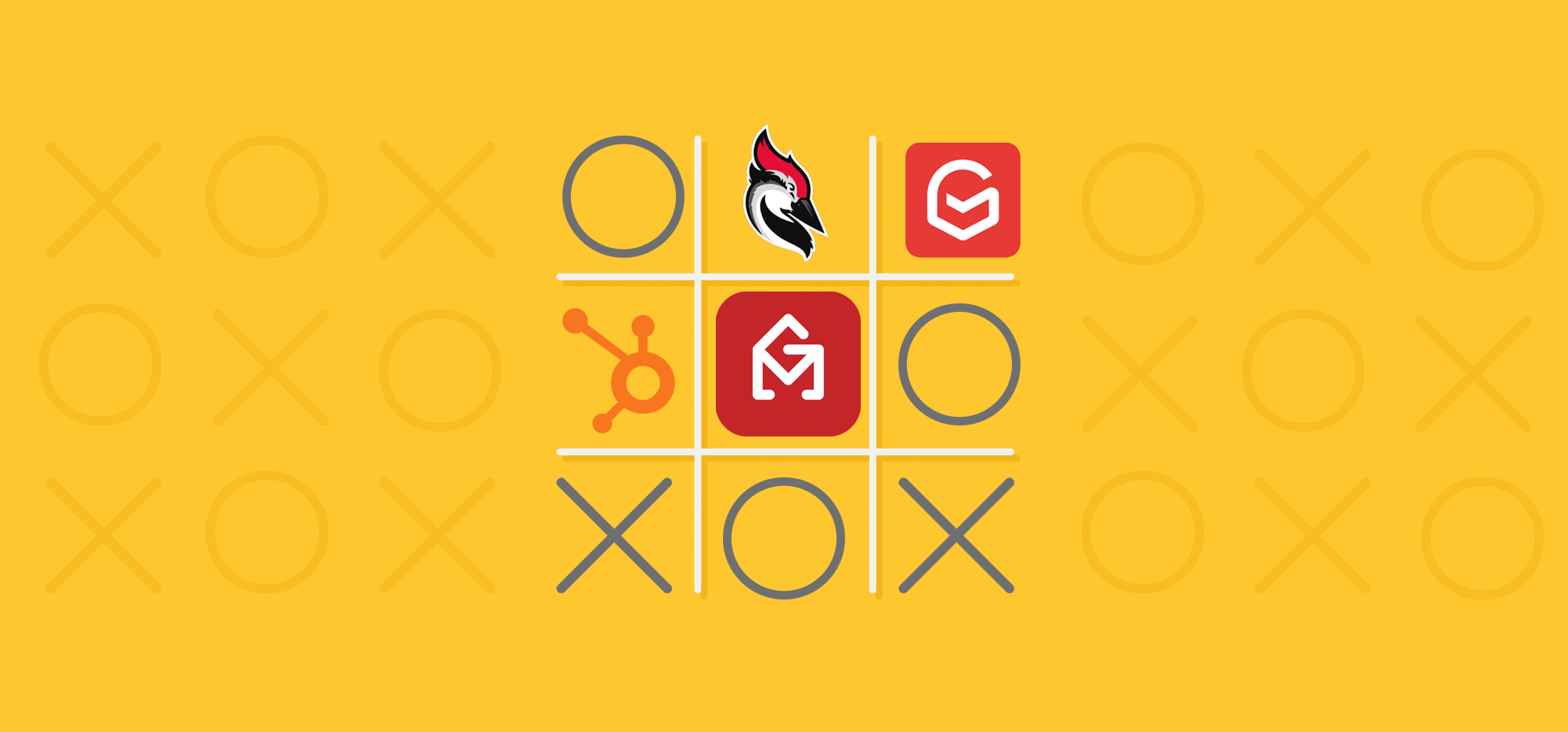 Looking for a Mixmax alternative?
While Mixmax is used by many sales reps and marketing teams for their email marketing campaigns, it isn't perfect.
It lacks several essential features, has a very steep learning curve and limited integrations in some of its plans.
In this article, I'll highlight four great mail merge tools that you can use instead of Mixmax to boost email deliverability and increase overall productivity.
Here's what we'll cover:
(Click on the links below to jump to a section of your choice)
(includes their key features, pros, cons, software pricing and customer ratings)
Let's get started.
What is Mixmax?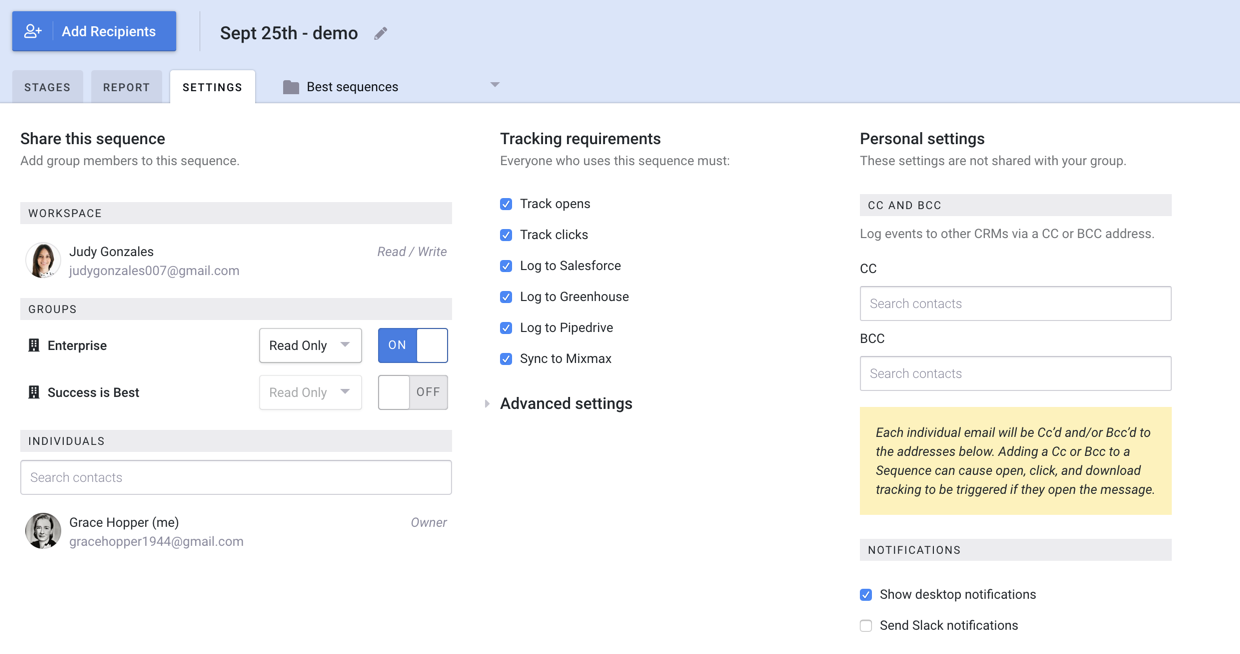 Mixmax is an email outreach tool that helps you connect with prospects and track email engagement. You can use it to send cold emails for sales, content promotion, recruiting emails, networking, etc.
Key Features
Shows you who opened your email and the content they viewed.
Can share your Google calendar to eliminate back-and-forth messages.
Can integrate with systems, tools, and apps like Salesforce, Pipedrive, and Slack.
Can increase reply rates with polls, link previews, and embedded videos.
The Two Drawbacks of Mixmax
While you can use Mixmax for your email marketing needs, it has two significant drawbacks.
1. Mixmax is Expensive
Mixmax isn't the greatest option if you're on a budget.
Here's why:
A. Lack of Key Features in Affordable Tiers
While Mixmax has basic features like email tracking and email scheduling, most of its advanced features – like workflow automation and personalization, are reserved for the more expensive membership plans.
They have four pricing plans:
Starter: $12 per month per user – email tracking + email scheduling.
Small Biz: $29 per month per user – offers "starter" features + templates.
Growth: $65 per month per user – offers "small biz" features + email sequences.
Enterprise: Custom software pricing – offers "growth features" + reporting and insights.
If you want to benefit from Mixmax, you're going to have to upgrade to the more expensive membership plans like Growth and Enterprise.
And as their pricing is on a per-user basis, this can push membership costs for marketing and sales teams over $500/month!
B. Costly Integrations
The end goal of utilizing a tool for all your emails is to make things easier, right?
But if your tools don't integrate, it's going to make things harder and make your inbox messier!
Unfortunately, essential Mixmax integrations with an app like Slack or Salesforce are only available for the higher membership tiers.
Even CRM software integration (with apps like Greenhouse and Pipedrive) aren't available to users of the affordable plans.
To make things worse, several of Mixmax's competing email productivity tools offer these integrations in their basic packages!
Drawbacks like this make Mixmax unsuitable for small businesses and mid-sized businesses looking to get the best value for their money.
2. Works As a Separate Interface and Increases Onboarding Time
You can't afford to waste time figuring out how to use a tool when you have thousands of emails to send out, right?
Compared to most of the competing email productivity tools we've listed here, learning how to use Mixmax can be quite time-consuming.
Mixmax works as a separate tab in your browser. It doesn't embed itself into your Gmail inbox.
You'll have to keep multiple tabs open just to manage your email campaigns and engagements. Additionally, you'll have to familiarize yourself with a new interface, which increases onboarding time.
Top Four Alternatives to Mixmax
Here are some of the best email outreach tools you can try instead of Mixmax:
1. GMass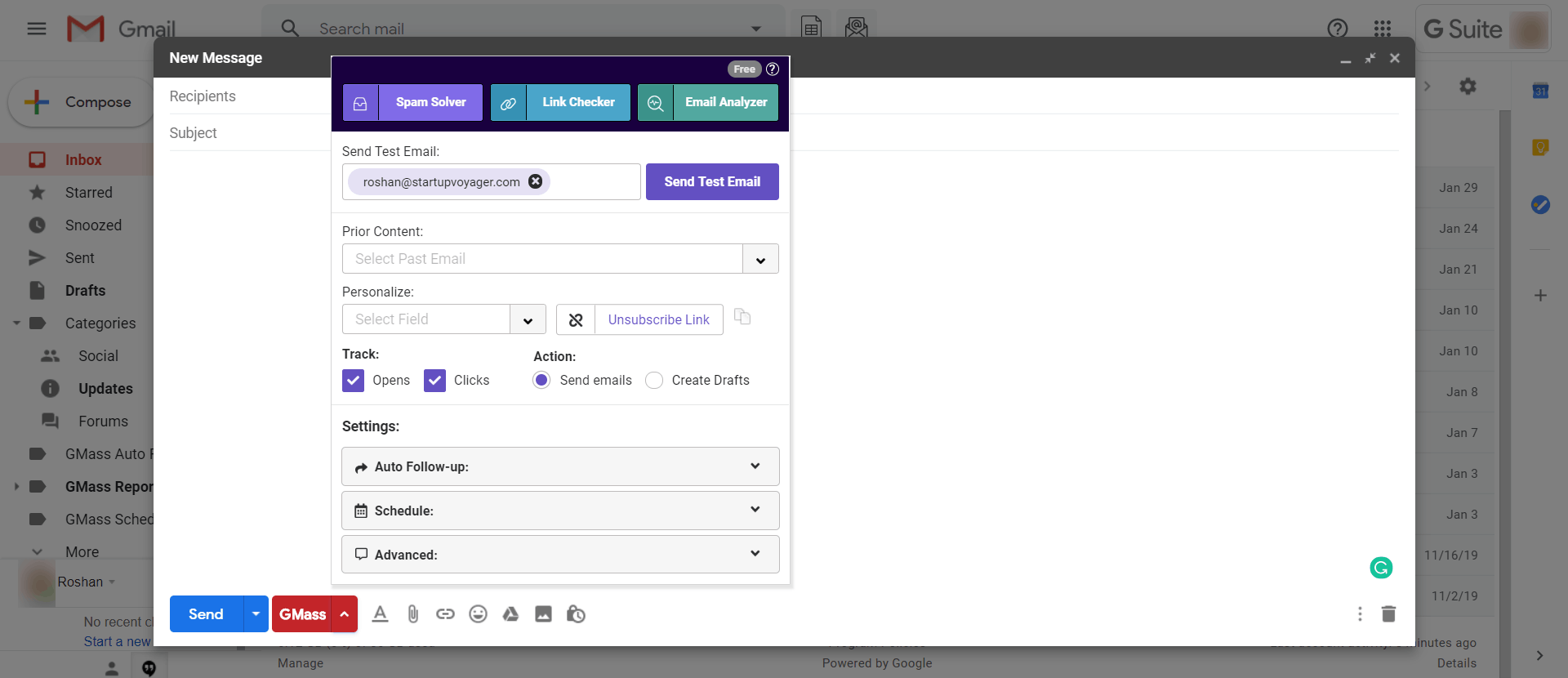 GMass is a powerful email outreach tool that can help you run email marketing campaigns straight from your Gmail account inbox.
People at giants like Google, Uber, Twitter, and LinkedIn use GMass as their go-to mass emailing tool because of its powerful outreach capability. With all its email automation features, GMass can help increase your team's productivity in no time!
But GMass isn't only for email marketers and sales teams.
Individuals and even small or mid-sized businesses can use GMass to send emails from Gmail to a target audience.
With GMass, you can:
Quickly send sales or marketing emails to tons of prospects from your Google inbox.
Personalize email campaigns on a recipient-by-recipient basis.
Auto-track your campaign and sales engagements accurately.
Simplify scheduling campaigns and follow-up email reminders.
Easily set up custom tracking domains.
Anyone can get started quickly with GMass — just download its Chrome extension, sign up with your Gmail address, and you're ready to start! It's what makes GMass one of the best productivity tools to run straight out of your Google inbox.
Key Features
Here's why GMass is a great Mixmax alternative:
A. Advanced Email Personalization
Personalizing emails is essential for better engagement.
Think about it.
Would you rather engage with a generic outreach email or one that's tailor-made for you?
An easy way to increase sales engagement in cold emails is to send out personalized emails. But with a large list of recipients, it can take you forever to personalize each email manually.
Luckily for you, GMass can help you automatically personalize your email campaigns with advanced personalization features.
You can quickly personalize any mass email in GMass with features like:
Auto First-Name Detection and Entry – GMass auto-detects a recipient's first name from their email address and lets you add it to an email addressed to them.
Add Customized Paragraphs – Personalize large blocks of text in your email on a recipient-by-recipient basis.
Add Personalized Images and Links – Add customized photos and links for each person in your email list.
Click here to learn more about sending personalized emails to each recipient.
B. Powerful Email Analytics and Comprehensive Campaign Reports
Whenever you send an email campaign using GMass, it auto-generates a Campaign Report. This is a detailed report that breaks down the core email metrics needed to analyze email engagements.
Here are some of the metrics presented in a Campaign Report.
The total number of email IDs to which an email campaign was sent.
The total number of unique email IDs that opened your email.
Note: GMass gives you accurate email stats by tracking only unique opens. If a recipient opens an email more than once, the report won't show these new opens.
The total number of unique IDs that clicked at least one link in your email.
The total number of recipients that replied to your email.
The total number of recipients that unsubscribed from your emails.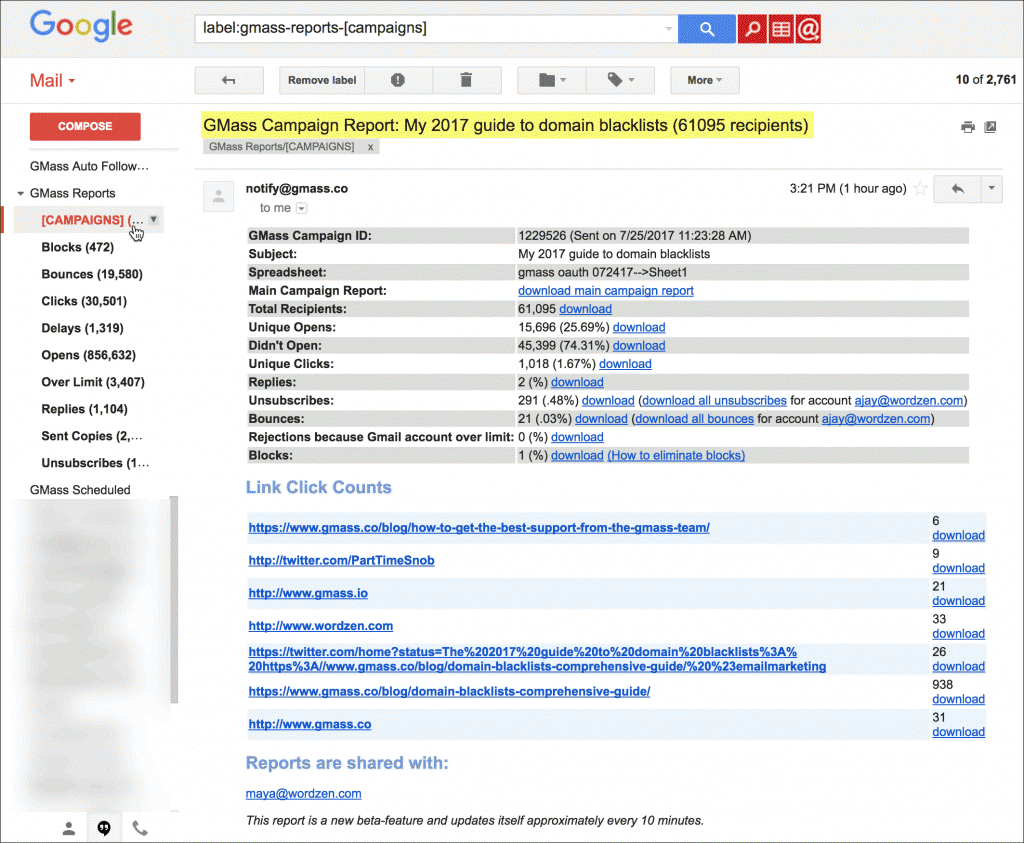 But that's not all!
Most email tracking tools like Mixmax and MailChimp require you to open a separate tab, but GMass puts your Campaign Reports right inside your Gmail inbox. This makes using GMass far more convenient and user-friendly than any other email tool!
You can access them from the [CAMPAIGNS] label in the sidebar.
C. Create Large Email Lists Easily
Building an email list manually is a tiring task.
Imagine putting thousands of email addresses together to make a list in your cold email campaigns!
Luckily, GMass automates all of that for you.
And the best part?
GMass works with Google Sheets.
Sure, you can always use a CSV or an Excel file to create a mail merge, but if your contact data is saved on Google Sheets, you can directly connect it to GMass!
That's not all.
GMass has a Build Email List feature that makes it effortless to create large email lists from scratch.
Once you do a Gmail search using a keyword, the tool will build an email list with the resulting email IDs. You can even use the tool to build a list from your transactional emails!
For instance, let's say you own a business called "Ted's Tadpole Tanks."
If you want to send emails to people who left feedback on your website, you can perform a Gmail search using the keyword "[Ted's Tadpole Website]." GMass will then build an email list using all the email addresses from the transactional emails: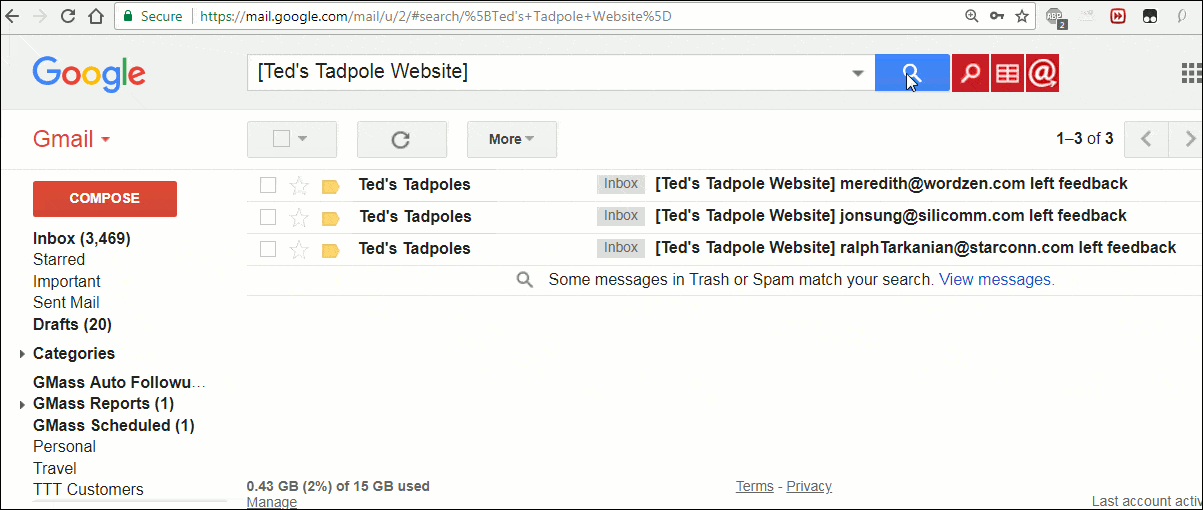 D. Automate Follow-Up Emails
Some of your recipients may forget to respond to emails, while some may not even open them.
So you need to send email reminders to grab their attention, right?
But how do you send a follow-up email to thousands of recipients?
Simple.
You use GMass!
GMass helps you boost response rates and increase productivity by automating the follow-up email process.
You can even customize these follow-up emails by:
The trigger for sending the follow-up email.
For example, GMass can send a follow-up when a cold email recipient clicks on a link in your email.
The number of follow-ups to be sent.
Scheduling time gaps between each follow-up email.
The follow-up message.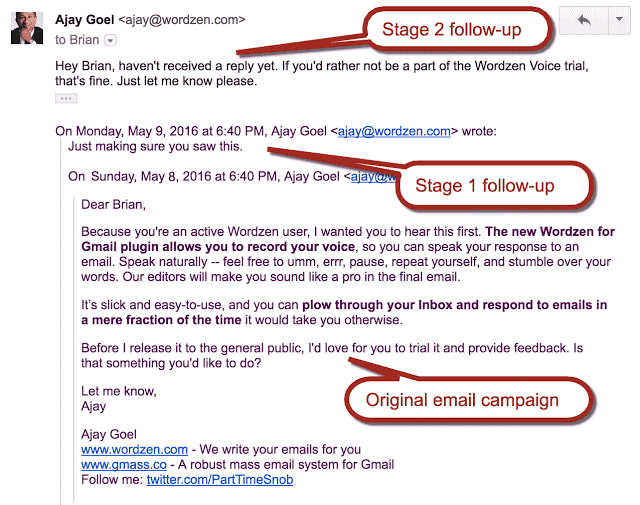 E. Simplify Email Scheduling
Sending your email campaigns at the right time is essential for maximum engagement.
However, you can't always stay online to send email campaigns at the right time, right?
Thankfully, GMass lets you schedule your email campaigns in advance to maximize engagement.
Just compose your email, schedule a date and time, and GMass will do the rest for you.
How does this help?
You don't have to be online to send your email campaigns and reminders to prospects.
You can plan email outreach campaigns in advance.
You can set your email marketing campaigns to reach recipients when they are most likely to check their inboxes.
What if there's a change of plans?
Don't worry!
You can always reschedule your emails from the Drafts folder.

Pros
Simple interface for maximum ease of use.
Works inside Gmail.
Quickly builds email lists using any search criteria in your Gmail account.
Can easily import contact data from a Google Sheets file.
Emails are auto-saved to be reused as templates for future campaigns.
Can send attachments with mass emails.
Can connect to Zapier to create automated email sequences.
Has a powerful Gmail add-on for Android devices.
Can optimize email deliverability for emails.
Works with Salesforce CRM.
Attentive customer support team.
Cons
GMass can be used only with Gmail and G Suite accounts.
The desktop version works only with Google Chrome.
Pricing
GMass comes with three pricing plans:
Free plan: all features + supports email tracking for 50 emails per day.
Individual:

Minimal: $8.95 per month – all features except auto follow-ups + unlimited email tracking.
Standard: $12.95 per month – offers "Minimal" features + removes GMass footer from emails.
Premium: $19.95 per month – offers "Standard" features + auto follow-ups.

Team:

Premium: starts at $89 per month for a team of five – supports all features.
Customer Ratings
2. Woodpecker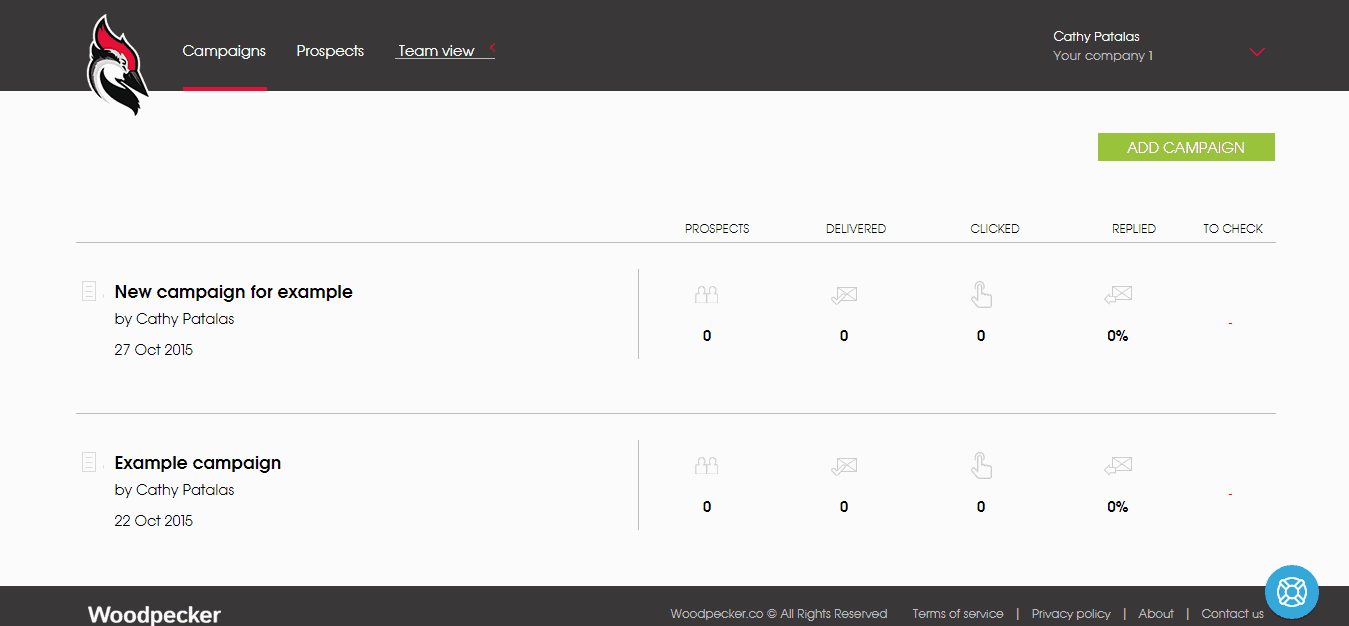 Source: woodpecker.co
Woodpecker is another of those email tracking tools mainly used by Gmail and Outlook users. Its personalized emails and document tracking features make it a good option for owners of small or mid-sized businesses.
Woodpecker also doubles as an excellent cold email campaign tool for better email deliverability. However, unlike some other tracking tools, Woodpecker doesn't integrate with social media.
Key Features
Can send automated follow-up email reminders.
Helps personalize bulk emails with custom fields.
Can access detailed reports that highlight open rate and bounce rate, etc.
Supports auto-detection of campaign replies.
Works with email clients like Outlook and Gmail.
Pros
Offers custom lead generation features for businesses.
Helps identify duplicate IDs in campaign emails.
Has a Google Chrome extension.
Cons
Doesn't support email attachments.
Doesn't work inside the Gmail inbox.
The base plan is fairly expensive.
No native app for iPhone and iPad.
Pricing
Woodpecker email automation software is available in three pricing plans:
Start-up: $40 per user per month – email automation + email scheduling + real-time reporting features.
Team Pro: $50 per user per month – includes "Start-up" features + Zapier and CRM integration.
Enterprise: custom software pricing – includes "Team Pro" features + custom solutions.
Woodpecker also features a 14-day free trial (no credit card required) with snippets of all the features in the pro plan.
Customer Ratings
Click here to read my detailed review of Woodpecker email.
3. HubSpot Sales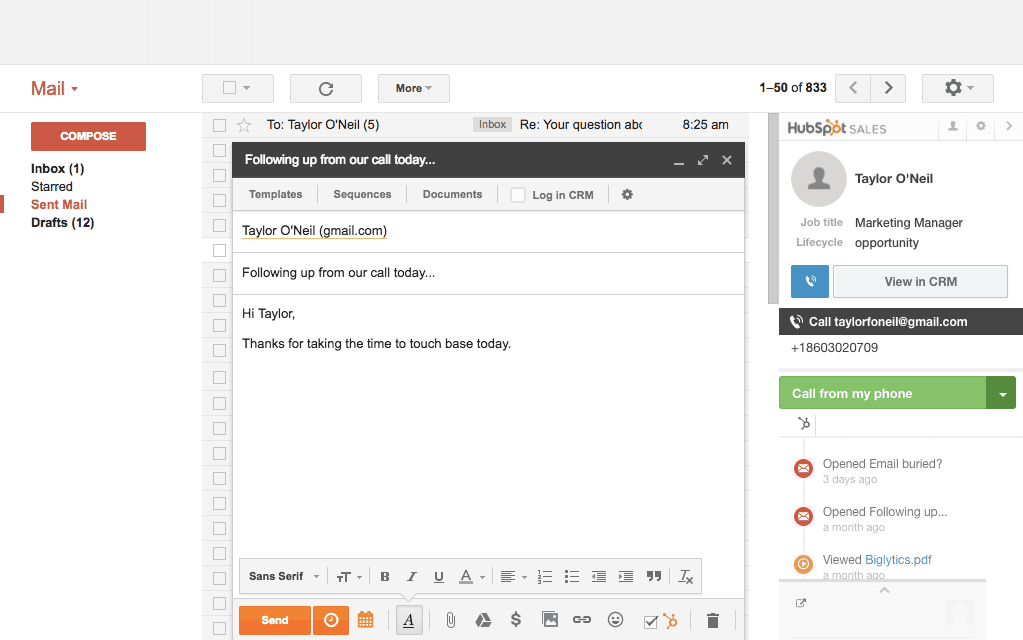 Source: hubspot.com
HubSpot Sales is an email marketing tool that helps you track leads and streamline sales activities. HubSpot Sales can also be used as a comprehensive marketing automation tool to create personalized email sequences, send email reminders, and monitor prospect interaction.
Also, HubSpot can unify your sales engagement activities by integrating with tons of other productivity tools. It works with several email client apps and integrates with social media apps as well for better results.
Key Features
Can send reminders through automated email follow-ups.
Has a built-in activity stream that auto-logs each lead's activity history.
Helps you prioritize prospecting through lead-scoring.
Can access customizable reports that track campaign engagement.
Pros
Uses built-in or customized email templates; share them with your sales teams and sales reps in one click.
Offers a drag-and-drop sales pipeline editor.
Integrates with Salesforce and HubSpot CRM.
Has an iOS app so that you can use it on your iPhone and iPad.
Cons
Can be time-consuming to configure sales workflows.
Not ideal for cold email purposes as it goes against their user policies.
The basic starter plan lacks several features.
Pricing
HubSpot Sales offers four pricing plans:
Free plan: includes HubSpot CRM + five templates + 200 email notifications + live chat and real-time reporting features.
Starter: $35 per month – includes " Free" features + 1,000 templates + email sequence features.
Professional: $350 per month – includes " Starter" features + sales emailing features + Salesforce plugins.
Enterprise: $840 per month – includes "Professional" features + team management and lead scoring features.
Customer Ratings
4. Gmelius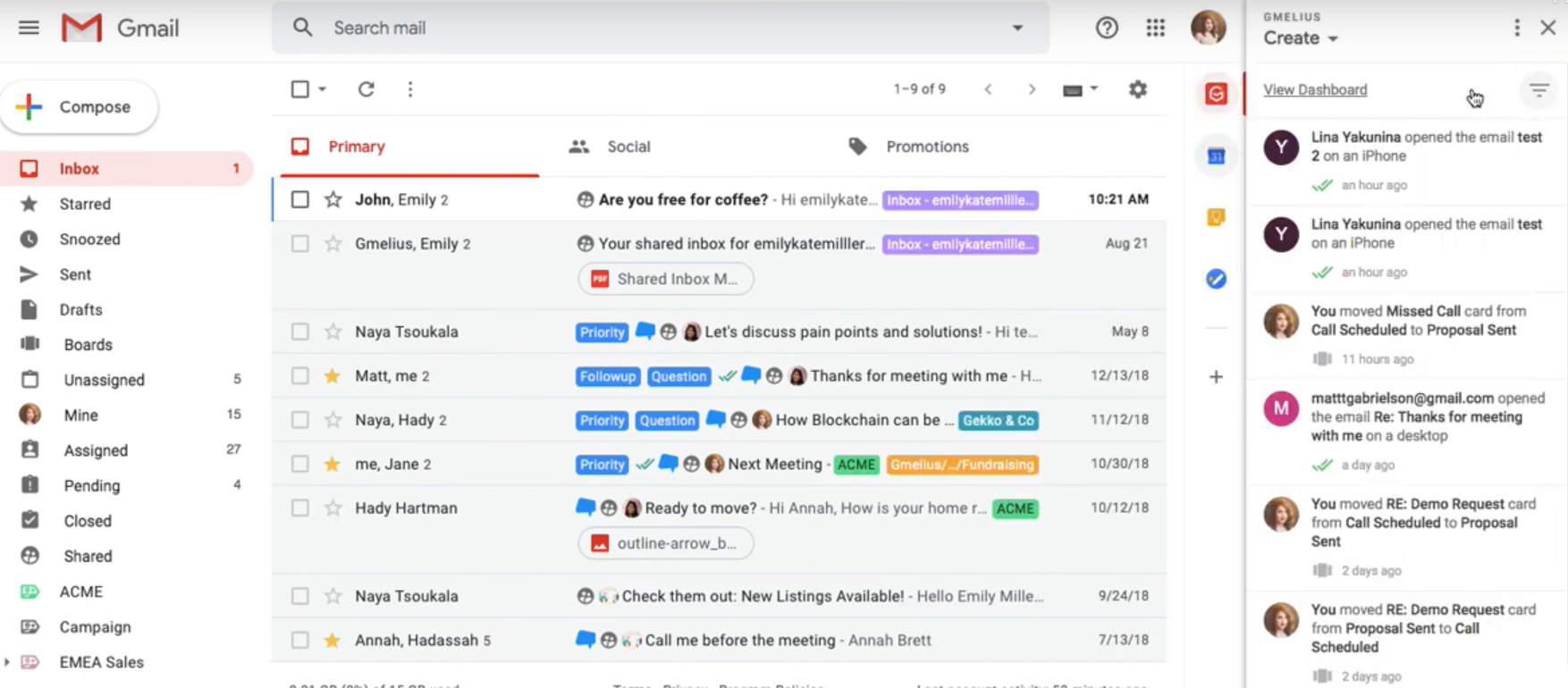 Source: gmelius.com
While Gmelius is a cold email and email outreach tool, it's also used by marketers as sales and marketing automation software. Like other email tracking tools, companies use Gmelius to manage all of their email marketing campaigns.
Gmelius also integrates with several productivity tools like CRMs to make it one of the most widely applicable tracking tools.
Key Features
Supports personalized drip campaigns for each recipient.
Can build and share email templates with your sales reps.
Generates detailed reports that highlight core metrics.
Supports mail merge via spreadsheets to send mass emails.
Pros
Can collaborate on email campaigns with your team.
Chrome extension for Gmail users.
Integrates with Salesforce and HubSpot CRM.
Has an iOS app, so you can use it on your iPhone and iPad.
Cons
The app notifications can clutter your Gmail inbox if you don't open it frequently.
The Free plan has limited email tracking and document tracking features.
Pricing
Gmelius is a marketing automation software that comes with four pricing plans:
Free plan: offers five email templates + email tracking, link tracking, and document tracking.
Plus: $12 per user per month – offers "Free" features + lead nurturing + team collaboration features + unlimited email templates.
Growth: $24 per user per month – offers "Plus" features + mail merge + click tracking.
Enterprise: $69 per user per month – offers "Growth" features + dedicated customer support + data recovery service.
Customer Ratings
Capterra – 4.6/5 (30+ reviews)
G2 Crowd – 4.4/5 (100+ reviews)
Conclusion
While Mixmax is a decent tool, it has many drawbacks that keep it from being perfect.
Why settle for less when you have tons of alternative tools from which to choose?
While you consider these tracking tools, check out the special features in GMass. It's a solid Mixmax alternative and has several advantages over the other email tracking tools I've listed here.
With powerful email tracking features, attractive pricing plans, and attentive customer support, GMass is one of the highest customer-rated tools out there!
Why not download the Chrome extension and give it a try today?