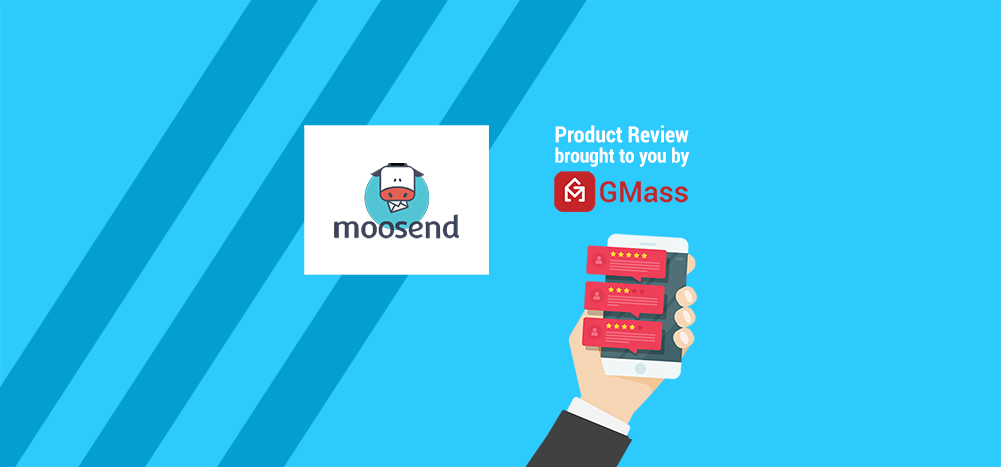 Wondering if Moosend is the right email marketing tool for you?
Moosend is an email marketing platform and email automation tool that helps businesses send and manage bulk emails.
But is it the perfect software for you?
To help you out, I'll cover everything you need to know about it in this Moosend review. I'll highlight its key features, drawbacks, and pricing details. I'll also mention a great Moosend alternative if the Moosend software doesn't live up to your expectations.
This Moosend Review Contains:
(Click on a link to jump to the specific section)
Let's get started.
What Is Moosend?
Moosend is an email marketing and marketing automation platform designed to help you send and manage an email marketing campaign. It allows businesses to segment mailing lists, send newsletters, and evaluate their email campaign performance.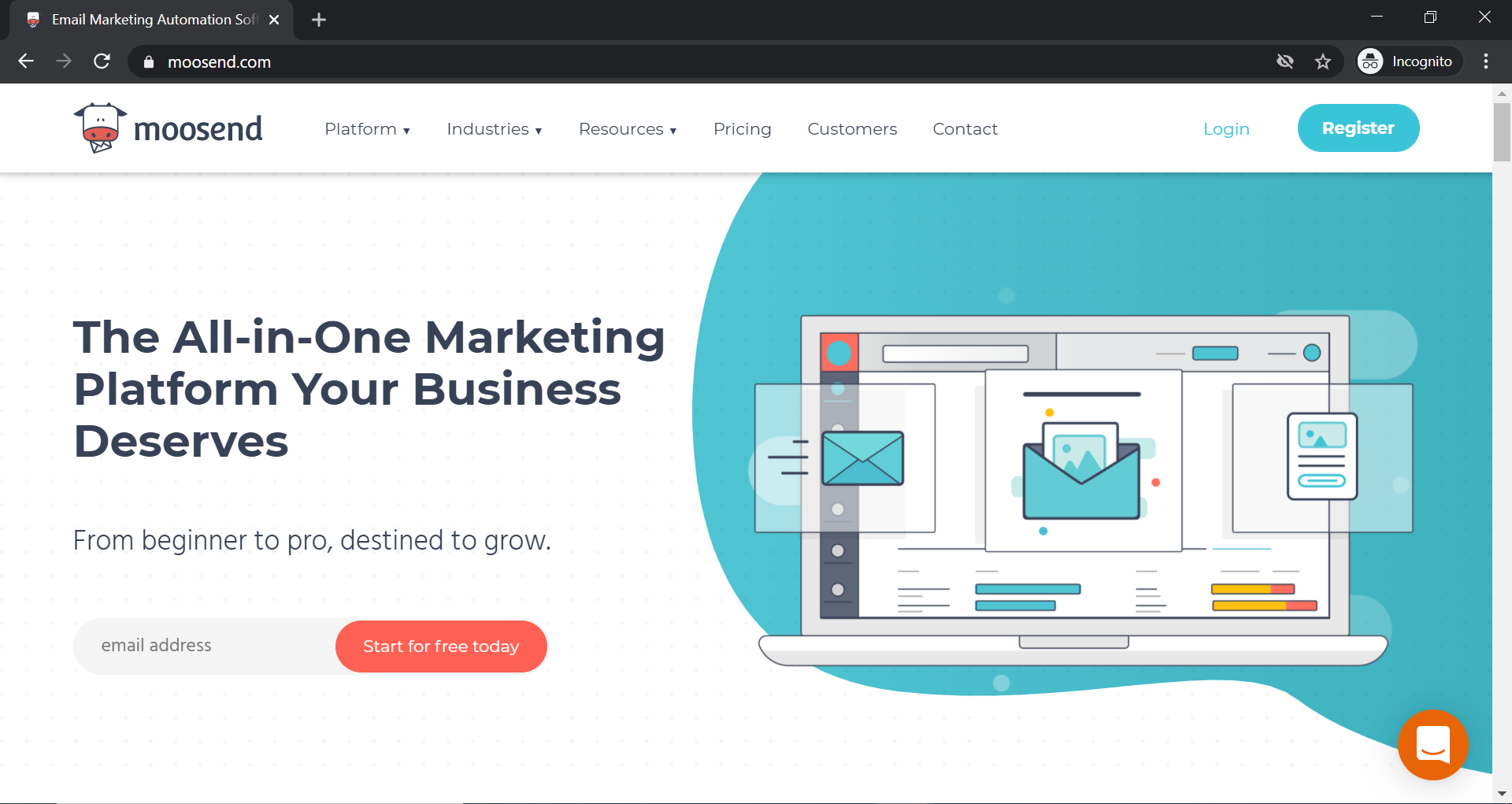 What Is the Need for an Email Marketing Platform?
An email marketing platform or email marketing software helps you streamline your business' email outreach campaigns.
You need an email marketing platform if you want to:
Reach out to your email subscriber list.
Create personalized emails for them.
Understand your deliverability metrics in real-time.
Implement email automation workflows.
How does Moosend help you?
With the Moosend software, you can:
Reach out to subscribers and customers through bulk emails.
Create a personalized email marketing campaign.
Segment your mailing list.
Implement email marketing automation
Analyze campaign deliverability
Who Are the Typical Users of Moosend?
Moosend is email marketing software used by businesses of all sizes, from startups to huge companies like Ogilvy and Fox. Agencies, publishers, SaaS companies, and nonprofits make use of Moosend's services for email marketing.
Which Mobile Platforms Does Moosend Support?
Unfortunately, Moosend doesn't offer its services on mobile devices. You'll need to use a laptop or desktop to manage email campaigns.
What Are the Main Features of Moosend?
In this Moosend review, I'll highlight four key Moosend features to help you decide if it's the right tool for you:
Here's a closer look at each feature:
1. Campaign Creation
Email marketing is all about running effective campaigns to convert people on your mailing list into potential customers.
Running campaigns with Moosend is pretty straightforward with its campaign editor.
The Campaign Editor feature lets you create different campaigns, like a regular campaign, an A/B testing campaign, and an automation campaign.
How to Create a Campaign on Moosend
To create an email campaign, use the Campaign Editor feature and follow these steps:
Pick a campaign name, subject, and sender.
Choose the campaign type (for example, a regular or automation campaign).
Select your mailing list.
Choose the text/HTML format for your email content.
Upload the email content.
Perform a primary spam and delivery test.
Schedule your delivery.
Review everything.
If you want to send an email newsletter to stay in constant contact with everyone who has signed up on your subscription form, use the newsletter editor feature. It's a drag-and-drop editor for adding images, text, buttons, and more — helping you create newsletters easily.
Additionally, Moosend offers newsletter templates for creating a newsletter instantly. This way, you won't have to waste time building one from scratch.
2. Marketing Automation
Moosend offers an email automation feature that helps you create an automated workflow for repetitive tasks, making email marketing much more comfortable.
What can you automate?
Let's say that I own an eCommerce website:
One of my customers views some of my products on my website and places a product in the cart, but doesn't make a purchase.
Now, if I have the contact details for this customer, I can manually send them a gentle reminder about their cart abandonment saying, "You still have items in your cart. Would you like to purchase them now?"
Instead of wasting time doing this manually, Moosend lets you automate the process of sending such transactional emails to alert and convert your customers quickly.
Here are a few other examples of automations:
Send a product promotion email only to subscribers who have clicked a specific link in your newsletter.
Segment your list automatically based on link clicks in a newsletter.
Remove subscribers from a segmented list if they haven't opened your last 20 emails.
What's a transactional email?
A transactional email is a one-to-one email that's usually automated and essentially completes a transaction between you and your recipient. For example, the order completion email you receive from an eCommerce website after finishing a purchase is a transactional email.
How to Use the Automation Feature on Moosend
Automation is performed using a predefined "recipe" in Moosend.
Each recipe is essentially an automation sequence where you define triggers, conditions, and steps.
Triggers are events that start the automation when the conditions hold. The steps state what actions the Moosend automation tool must perform. For added flexibility, you can also build a custom automated workflow to your liking.
3. Lists and Segmentation
Remember, one of your primary goals in email marketing is to grow your mailing list.
After all, you need to reach out to more potential customers to grow your business.
With a Moosend account, you can add contacts from Google/Salesforce accounts and import them from spreadsheets or CSV files. This way, you can create massive email lists quickly.
However, if your subscriber list is spread across very diverse demographics, sending the same message to everyone doesn't work very well. You need custom campaigns with personalized emails that reach out and impact your target segments.
Moosend's List Segmentation feature lets you segment your customer list based on several broad criteria to cater to varying audience interests.
You can form an unlimited number of groups that classify your customers based on:
The number of your campaigns they've been part of before
The products they've viewed
Their cart abandonment habits
And more
Ajay's Mail Tip
One quick way to boost recipient engagement is by understanding the right way to start and end emails. Read my detailed guides on how to start and end your emails to learn how to do it.
4. Integrations
You can't expect one tool to support all the functionalities you and your company need for your email marketing strategy.
To address that, Moosend offers various integrations between its services and third-party software using Zapier and Piesync.
What Integrations Are Available on Moosend?
Some of Moosend's integrations include:
SMTP service: offered by Moosend for sending bulk emails using an SMTP relay.
ConnectWise Manage: used to manage customer relations with your subscriber list.
LiveChat: a live chat feature to enhance the customer support experience.
WordPress plugin: include subscription forms on a WordPress site.
Salesforce: transfer information between Moosend and your Salesforce CRM.
Moosend Pricing
The Moosend pricing model offers three plans:
Free: supports unlimited emails, options to create your website subscription form, reporting, and analytics functionality.
Pro: $8/month — offers all features in "Free" plan + options to create a landing page, transactional emails, customer support through phone, SMTP server.
Enterprise: custom rates — includes all features in "Pro" plan + custom reporting + account manager + onboarding and migration features.
What Are the Drawbacks of Moosend?
Sure, Moosend is a handy tool, but it does come with critical drawbacks.
Here's what you should watch out for:
1. Uses a Separate User Interface from Gmail
No matter how user-friendly a tool's user interface claims to be, it doesn't beat something you're already familiar with, like Gmail.
Sure, you want a tool that'll make your life as an email marketer easier. But the ease of using a tool also matters — and that's one place where Moosend lags.
Moosend uses an interface that's separate from Gmail.
You don't want to spend all your valuable time trying to figure out how to use a marketing tool like Moosend when you could use that time for lead generation and growing your business. Additionally, you'll have to spend time juggling between Moosend and Gmail to make sense of your campaigns!
2. Limited Features in the Base Plan
When you're looking for email marketing software, there will be features you absolutely need more than others.
And unless you use Moosend's Pro or Enterprise plan, you're losing out on some essential basic features on the free account.
For example, you don't get priority support in the free plan.
Additionally, the base pricing plan (Pro plan at $8/month) doesn't support custom reporting features.
Why is this a huge deal?
Custom reports on campaign performance help you make better decisions about your marketing campaign. It's a feature that businesses of all sizes rely on heavily — unless they use Moosend, of course.
3. No Mobile Support
Moosend doesn't offer a mobile app for your email campaigns.
Why does that matter?
When you're on the move, using a desktop or laptop to manage your email campaigns can be super inconvenient. Unfortunately, since Moosend doesn't have a mobile app for Android or iOS devices, you can't easily manage an email marketing campaign when you're not at your workplace.
The Perfect Moosend Alternative: GMass
While Moosend is a decent tool, it comes with several drawbacks that could severely limit your campaign management.
Fortunately, there's a better email marketing solution — GMass.
What's GMass?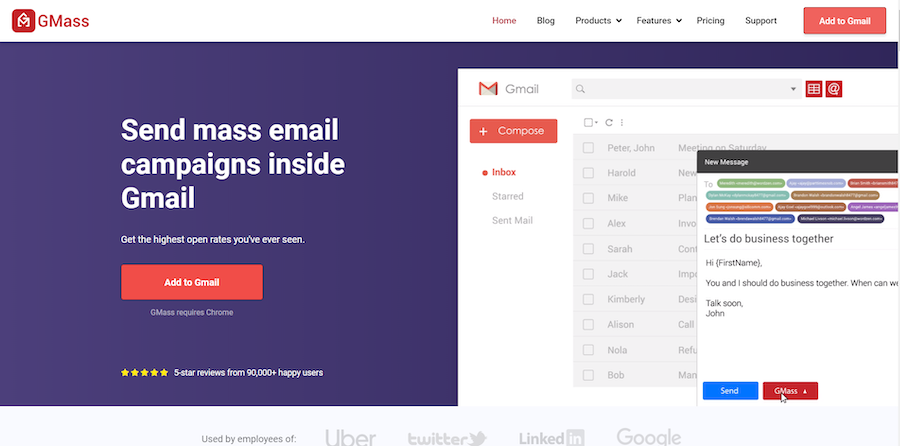 GMass is a powerful email marketing tool and marketing automation platform that offers ease of use and powerful outreach features. That's why it's a popular mail merge tool that's used by employees from large companies like Google and Uber, as well as social media giants like Twitter and LinkedIn.
However, GMass isn't only for tech giants.
It's also perfect for individuals, small business owners, institutions, and churches that want to send emails to a target audience and grow their numbers of subscribers.
GMass helps you:
Craft personalized emails at scale.
Schedule emails in advance to send to your audiences, even if they're large.
Track and evaluate campaign progress.
Set up an automation sequence for follow-ups in Gmail and G Suite.
And that's not all…
To get started with GMass, just download the Chrome extension and sign up with your Gmail account.
It's that simple!
Three Reasons GMass Is Better Than Moosend
We've talked about Moosend and its drawbacks. Now, let's look at how GMass can help you resolve those drawbacks:
1. Works Right Inside Gmail
GMass works within Gmail itself, unlike most email marketing tools.
As you'll already be familiar with the Gmail interface, you can quickly get started with GMass.
Additionally, since GMass uses the Gmail email editor, you can compose emails the same way you already do in Gmail. As a result, all your email marketing tasks can be dealt with within Gmail itself!
That includes:
Tracking emails
Running campaigns
Marketing automation
Evaluating analytics
This way, you don't have to switch between multiple tabs or windows to manage your email campaigns — with GMass, everything stays right inside Gmail.
2. All Features Offered on the Free Plan
Unlike other email tools, all GMass' powerful mail merge and outreach features are included in the free plan.
With the free plan, you get:
Unlimited emails
Powerful scheduling
Personalization for bulk emails
Real-time analytics
Google sheets integration
Email list builder
Customer support
3. Integrated as an Add-On with the Gmail Android App
GMass is also available as a Gmail Android app add-on.
How does that help you?
Using the app, you can effectively manage campaigns and your subscriber list right from your smartphone!
Whether it's tracking deliverability, performing marketing automation and analytics, or conducting drip campaigns, pretty much everything can now be handled from your mobile.
Other Powerful GMass Features
GMass comes equipped with other advanced features as well.
Let's take a closer look at some of them:
Personalization is key to customer engagement, and this is something most marketers can't afford to take lightly.
Your customers don't want generic emails sent to them. They don't want a boring opt-in form or an impersonal link to your landing page.
They want to feel unique and valued.
Luckily, there are several ways in which you can use GMass to personalize the subject and message of your mail-merge campaigns in Gmail. With GMass, you can send custom sign-in forms and special links to your webinars, and so on.
GMass offers several advanced personalization  features like:
First Name Detection and Entry – Automatically detect and enter each prospect's first name from their email address and add it to their email.
Personalized Blocks of Text – Entire paragraphs can be personalized for each recipient.
Customizable Images and Links – Each recipient can be sent personalized images and links.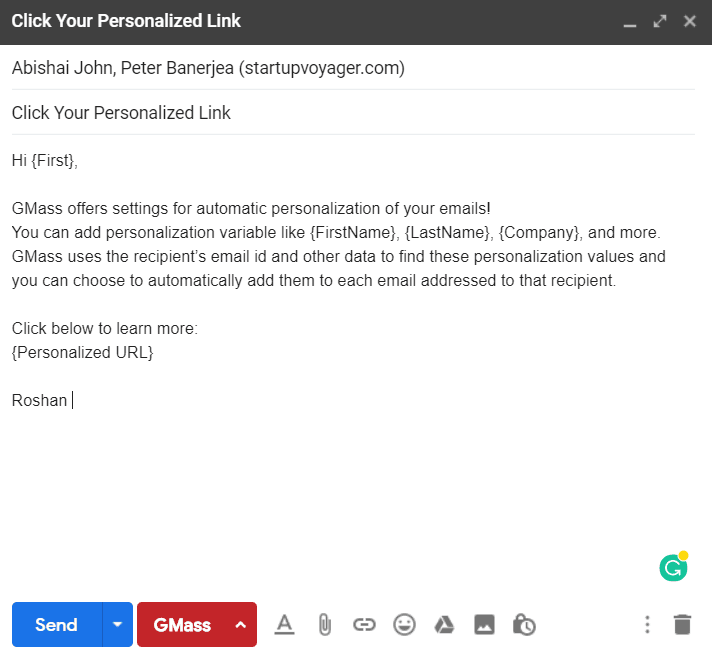 Note: If you're someone who prefers using a Microsoft Excel sheet or a Word mail-merge, here's a simple tutorial with step-by-step instructions on how to use them with GMass.
When you send your email campaigns, you usually need to include a call-to-action. This could be something like asking the recipient to revisit their abandoned cart, make a purchase, renew their membership, or simply respond.
However, your customers are busy people. They could miss the first marketing email you send them, or get busy and forget to respond.
Unfortunately, sending a manual follow-up reminder mail to everyone will eat up tons of otherwise-productive time.
Why not use an automation tool for your transactional emails instead?
This drastically reduces the amount of manual effort you'll need to put in to prompt and remind your potential customers to act.
That's why GMass includes an automation feature for follow-ups.
Everything about the automated workflow can be customized, such as:
The trigger for a follow-up email (such as when someone opens your email or clicks on a link, etc.)
How many follow-up emails will be sent during your automation campaign
The frequency and interval between follow-up emails
The content that goes into the body of the follow-up message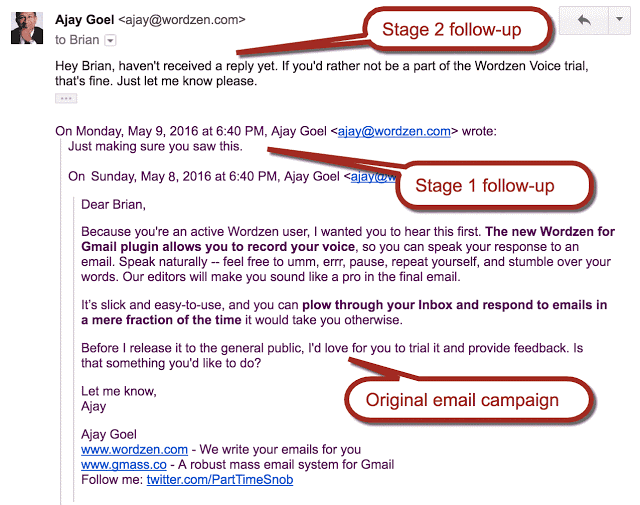 Note: If you're looking for a more advanced email automation feature, you can always use our Google Sheets Zapier integration.
You can't piece together productive campaigns without gauging the deliverability of your bulk emails. To stay ahead of the curve, you need an in-depth campaign report that breaks down how your emails are doing.
GMass automatically generates a Campaign Report after you send an email campaign. The report gives you a holistic view of your marketing statistics at a glance.
And all of this is accessible within Gmail itself.
Just click on [CAMPAIGNS] from the Gmail sidebar to view your GMass Campaign Reports.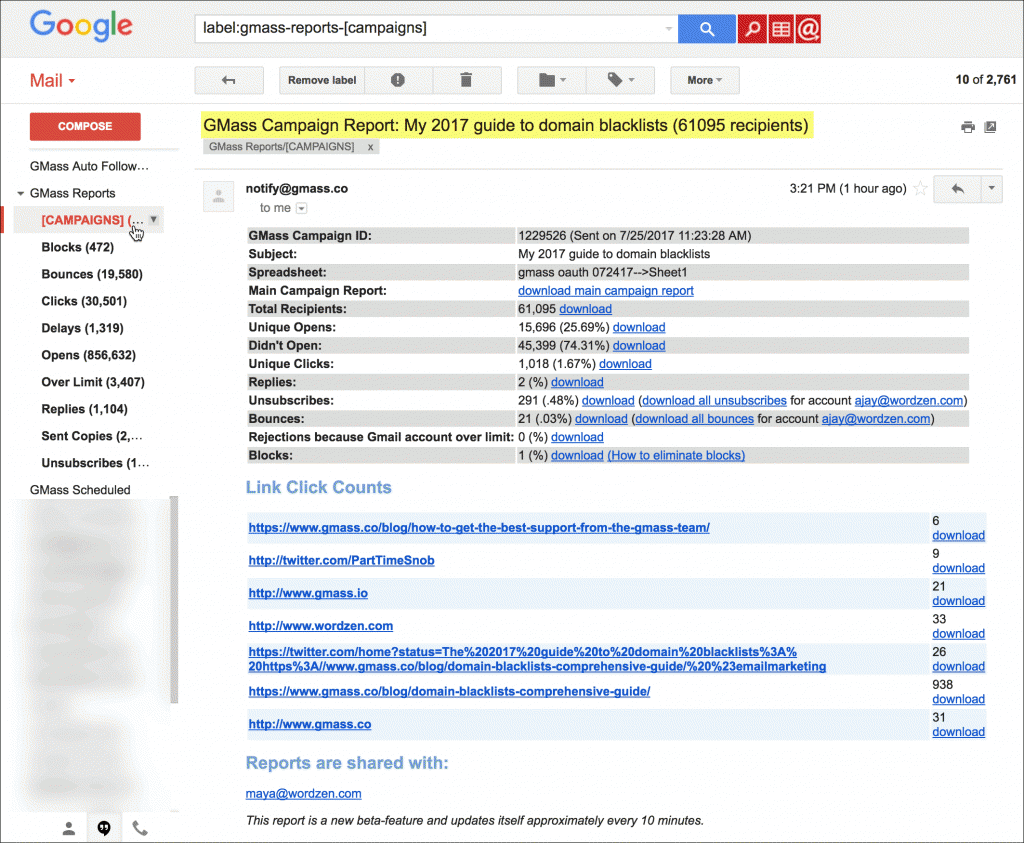 The Campaign Report highlights several core email metrics like:
Total Recipients: Number of people to whom you've sent your email campaign
Unique Opens: Number of unique recipients who opened your email campaign
Didn't Open: How many people didn't open the email you sent them
Unique Clicks: Number of distinct email addressees who clicked at least one link in your email
Replies: Number of replies from recipients to your email campaign
Unsubscribes: How many email addressees chose to unsubscribe from your mailing list
Bounces: Number of undelivered emails due to invalid email IDs on the campaign mailing list
Rejections because your Gmail account is over-limit: Number of emails that couldn't be sent because you've overshot the limit for sending emails from your Gmail account
Blocks: Number of emails that went undelivered because the recipients' email address marked your account as spam.
Conclusion
Moosend is a great email marketing tool used by many businesses.
However, it comes with some serious limitations you'll want to consider. The base plan's got limited features, its interface is separate from Gmail, and most importantly, there's no mobile support.
Fortunately, GMass has tons of powerful features to overcome these disadvantages. From a feature-loaded free plan to mobile support — you've got everything for your email marketing needs.
With GMass, you go from a regular email marketer to an expert email professional in no time!
So why not download the GMass Chrome Extension today and try it out for yourself?
And if you were wondering about trying out any other mass email tools, why not check out how GMass compares and outperforms them, too:
Ready to

transform Gmail

into an email marketing/cold email/mail merge tool?

Only GMass packs every email app into one tool — and brings it all into Gmail for you. Better emails. Tons of power. Easy to use.

TRY GMASS FOR FREE

Download Chrome extension - 30 second intall!
No credit card required
Love what you're reading? Get the latest email strategy and tips & stay in touch.