What do you do when you're checking a campaign's calendar view to see your auto follow-up schedule… and you spot someone on the list to receive follow-ups who shouldn't be there?
To remove someone from an auto follow-up sequence, find the campaign Draft under the GMass Auto Follow-ups Label. If you can't find it, you may have accidentally deleted. Try restoring the deleted Gmail Draft first.
Note that in February 2022, the location of this setting changed.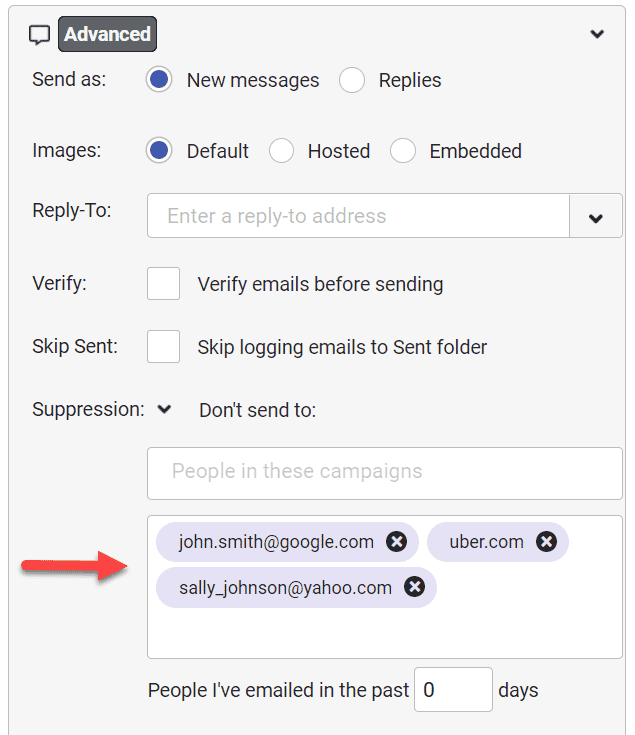 Open the Draft, click the GMass Settings arrow, and find the Suppression section under Advanced. Under the box labeled "Domains and email addresses", you can add domains and email addresses to suppress for this campaign.
Why would you want to manually remove someone from an auto follow-up sequence?
Several scenarios come to mind:
The recipient called you instead of replying to your email. You wouldn't want a sequence of emails designed to get a response to keep sending to this person if you're already communicating by phone.
The recipient emailed you from a different address and started a new email conversation, which would prevent GMass from detecting that this person has "replied", since he didn't really "reply".
The recipient engaged with you in some other way other than email or phone, so that you are now in active communication with your target prospect.
Why suppress an entire domain?
Note that you can add email addresses as well as domains to the Suppression box.
Suppressing a domain comes in handy when you're sending cold prospect emails to multiple people at an organization, hoping that just one person will respond. After that one person responds and engages with you, that one person will already no longer receive follow-up emails, but you may wish to then suppress the entire domain to prevent follow-ups from going to that person's colleagues.
This effect can also be achieved by enabling the "Domain matching" setting: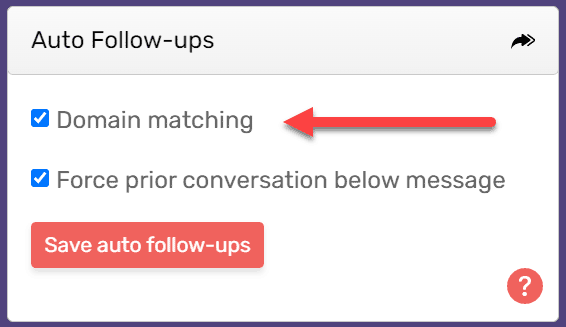 See why

99%

of users say they've had their best deliverability ever with GMass

Email marketing, cold email, and mail merge all in one tool — that works inside Gmail

TRY GMASS FOR FREE

Download Chrome extension - 30 second intall!
No credit card required
Love what you're reading? Get the latest email strategy and tips & stay in touch.