Picture this:
You've been nurturing a potential customer for some time now, and they're finally ready to advance along the sales cycle and purchase your product or service.
What's next?
All you need to do now is craft the perfect sales proposal document to close the deal.
Why does it have to be perfect?
A sales proposal can be the difference between closing a deal or losing a potential customer.
But don't worry.
In this article, I'll give you a step-by-step guide on how to write a winning proposal. I'll also highlight three tools that can help you create sales proposals effortlessly.
This Article Contains:
(Click on links to jump to specific sections)
Let's dive in, shall we?
What is a Sales Proposal?
A sales proposal is a formal document you use to pitch your offerings to a potential customer.
It helps you:
Convince the prospect that you are uniquely positioned to meet their needs
Offer insights into the nature of a client's problem or pain point
Provide a walkthrough of your deliverables, scope of work, associated costs, and more
Inspire them to take action and purchase your product or service
Essentially, a sales proposal describes how you'll help the prospect or the prospect's organization address their challenges and accomplish their goals.
What are the Different Types of Sales Proposals?
You'll generally come across two types of sales proposals:
1. Solicited Sales Proposal
When a prospect asks you to send them a proposal, it's known as a solicited sales proposal. With these kinds of proposals, the prospect is already interested in your offerings — you just need to highlight how well your services are suited to their requirements.
There are essentially two kinds of solicited sales proposals:
A request for proposal (RFP) is issued when your prospect knows their pain points but doesn't know how to solve them. When you receive one of these, your goal is to describe how you're uniquely positioned to alleviate the prospect's pain points.
A request for quotation (RFQ) is sent when the prospect wants to know your specific deliverables and costs (for example, a bid proposal). Your competitors might also be asked to send an RFQ, so you could highlight how you have an edge over your competitors.
2. Unsolicited Sales Proposal
Here, a prospect could be aware of their challenges and might be looking for solutions to address them — but they haven't asked you to send them a sales proposal.
That's why, when you send an unsolicited sales proposal, it's essential to build your case.
Explain your reasons for reaching out, describe how you can help them overcome their challenges, and show why you're the best solution out there. Moreover, you can also use unsolicited proposals to pitch new solutions to existing clients or extend current contracts.
In any case, if you create your sales proposals the right way, you stand a good chance of bagging a client and generating more revenue for your business.
Now that you know what sales proposals are, let's see what goes into creating the perfect sales proposal.
How to Create an Impactful Sales Proposal
Creating a sales proposal that balances genuine value-addition with the right amount of persuasion can be tricky.
To make things easier, just follow these seven steps when developing your sales proposal:
I'll cover each of these steps in detail to help you create a high-converting sales proposal:
Step 1: Understand Your Prospect's Unique Challenges and Goals
Every prospect has unique challenges and goals.
As a result, the value you can add and the proposal you send will vary on a case-by-case basis.
That's why, to draft an effective sales proposal, you'll first need to identify your prospect's needs.
Determining a prospect's unique goals and challenges will help you understand how to serve their needs best and put forward an individually tailored solution.
There are two ways to go about this:
A. For a Solicited Sales Proposal
Here, you'll already have an idea about the potential client's needs and goals.
You just have to analyze your prospect's requirements in detail to see if your product or service can solve their problems. Moreover, you can determine what other solutions a prospect might be considering and explain how your solution fares in comparison.
B. For an Unsolicited Sales Proposal
For an unsolicited sales proposal, you'll need to uncover some challenges that are unique to the prospect.
You could go through:
Trade journals
Annual reports
Newspapers and magazines
Conferences and trade show reports
Social media content
Podcast or blog interviews
Online groups and forums
Since a prospect isn't expecting a proposal from you, it's crucial to establish that you've got a firm understanding of their challenges and goals before you can present your proposal.
Step 2: Conduct In-Depth Research
Simply digging up data on your prospect's goals and challenges isn't enough.
For a more holistic understanding of your prospect's context, you'll also need to keep tabs on recent trends and developments in their industry or niche.
Additionally, I recommend researching a prospect's direct and indirect competitors in the market. Look into the competitors' strategies, strengths, and weaknesses. Analyze their value propositions, and see where you can help the prospect achieve an edge.
You can then include these findings in your sales proposal to show them that you've done your homework and are genuinely interested in helping the prospect achieve their objectives.
Step 3: Analyze How You Can Help a Prospect Overcome Their Challenges
Evaluate how your product or service is uniquely positioned to help a potential customer overcome their challenges and accomplish their goals.
You can start by analyzing the historical data from your sales process to identify how you helped past and existing customers in the same niche.
With that in mind, think of the benefits you can offer to new customers.
Analyze how each of your features will potentially solve a prospect's problem. Finally, develop a unique selling proposition that distinguishes you from the competition and explains how you will add value to overcome their challenges and please their customers.
Step 4: Prepare a Rough Outline of Your Sales Proposal
A sales proposal is usually comprehensive, so it's easy to get lost in the details and lose sight of your objective.
To overcome this, create an outline that will act as a blueprint for the entire sales proposal. It can cover the following key sections:
A. About Us
Provide a quick introduction to your business and product or service.
Talk about your values and your mission. The goal here is to help your prospects get to know you better and leave a lasting positive impression.
B. Challenges and Goals
Organize the unique challenges faced by your prospects and their primary goals in a logical sequence.
Remember, this is a crucial part of a winning sales proposal — it will demonstrate how well you understand a potential customer's needs and prove that you're not randomly approaching them to make a sales pitch.
C. Additional Market Research
Present market research insights that show them that you understand their:
Business environment
Target market
Competitors, and
Other external factors
This can show a potential client that you have an excellent grasp of their business and industry.
D. Proposed Solution
Describe your personalized solution here.
Walk your prospects through your strategy for making their lives easier. Talk about the positive implications of using your product or service — like increased revenue, better customer experience, more efficiency, and so on.
Additionally, mention the particular objectives you'll be tackling and any critical milestones in the process.
E. Deliverables
List the features you'll provide, the type of support you'll offer, and related promises. Help your potential customer understand what your proposed solution will look like in terms of deliverables.
You could also walk them through your estimated execution timeline and scope of work to give the prospective client a clear idea of what to expect and when.
F. Costs
Explain your product's or service's costs here. If it makes sense, offer options so the customer can choose a price that fits their budget.
Jot down the pricing structure, the features included under each plan, whether you charge extra for things like additional users or upgraded levels of support, etc.
If the client has solicited a sales proposal from you, it's always a good idea to include only the pricing options that fall within the prospective client's budget.
G. Social Proof
Social proof can inspire trust in your offerings and encourage your prospects to buy your product or service confidently.
Consolidate positive reviews, testimonials, and recommendations from your existing customers or clients and include them in this section.
H. Call to Action
A call to action (CTA) is a great way to conclude your sales proposal as it clearly tells the prospect what they should do next.
Specify the next steps you'd like a prospect to take if they're interested in your solution. Your objective here is to make it easier for an interested client to close a deal quickly.
Step 5: Write an Informative and Compelling Sales Proposal
With your research and rough outline complete, you're all set to draft your winning proposal.
Fortunately, there's no standard length for a successful sales proposal.
It usually depends on the type of proposal you're writing.
However, you don't want to create an overly long or ineffectively short document.
To keep that from happening, here are my five tips for writing a great sales proposal:
A. Keep It Brief and Simple
Keep your sales proposal to the point — only include info that will add value to your prospects and aid their decision-making process.
Use clear titles, spacing, and bulleted lists appropriately to improve the presentation. An effective sales proposal makes it easier for prospects to skim through the sales proposal and pay attention to critical information without getting distracted.
B. Focus More on Solving Problems
A great proposal focuses more on how you can satisfy your customer's needs and less on your service's/product's features.
Center the entire service or product sales proposal around your client's needs.
Describe how your product or service is uniquely positioned to solve a particular prospect's problem efficiently.
C. Add Visual Elements
Use visuals to break the monotony of your sales proposals.
You can add relevant visual elements like infographics, flow charts, graphs, and more to your business proposal. They help you better explain complex ideas, challenges, and outcomes.
D. Use the Prospect's Language
Most sales professionals tend to use too much technical jargon in their sales proposals.
However, if your prospect is unfamiliar with the product or service type, they could be confused about what specific terms mean. Or worse, if they don't understand what you're talking about, they can easily assume there's no pressing need to buy what you're selling.
As a rule of thumb, emulate the language your prospect would use to help them understand your business proposal better and build rapport quickly. To gauge what tone your prospect is comfortable with, look at their social media profiles, blogs, press releases, annual reports, and more.
E. Make Use of Sales Proposal Templates
If you're approaching a large number of leads, drafting a brand-new, winning sales proposal from scratch each time can be inefficient.
Instead, you can use an easily adjustable sales proposal template for a prospective customer based on their persona.
For example, if you're running a marketing company, you could use a sales proposal template to pitch to someone matching the following persona:
Job title: Marketing Manager
Industry: SaaS
Revenue: $1 million to $5 million
Location: East Coast
On the other hand, you could use another template for a different persona like:
Job title: Chief Marketing Officer
Industry: Retail
Revenue: $50 million to $100 million
Location: Across the United States
Modifying a proposal template based on a buyer persona for a prospective client can save you a ton of time and help close more deals. Fortunately, many sales proposal tools offer customizable templates that you can modify and reuse to match varying buyer personas.
Step 6: Proofread and Edit Your Sales Proposal to Perfection
When your sales proposal draft is done, read through it carefully and check for spelling or grammatical errors. Additionally, you can use an app like Grammarly or Hemingway for advanced insights on improving your draft.
I'd also suggest keeping a checklist of questions to help scrutinize and improve your final proposal, like:
Does the sales proposal provide clarity on how you can be of assistance to this potential client?
Did you include a compelling, unique selling proposition?
Do you sound genuine and confident?
Are your key benefits and deliverables tailored to this prospect's needs?
Is the sales proposal brief and easy to understand?
Have you clearly stated the next steps this prospect can take?
Step 7: Deliver Your Sales Proposal
When you feel that you've got a great proposal, it's time to deliver it to your prospect.
Emails are often the best way to deliver your proposal document as they're quick, reliable, and effective. And for successful email outreach, there's no better tool than GMass.
What's GMass?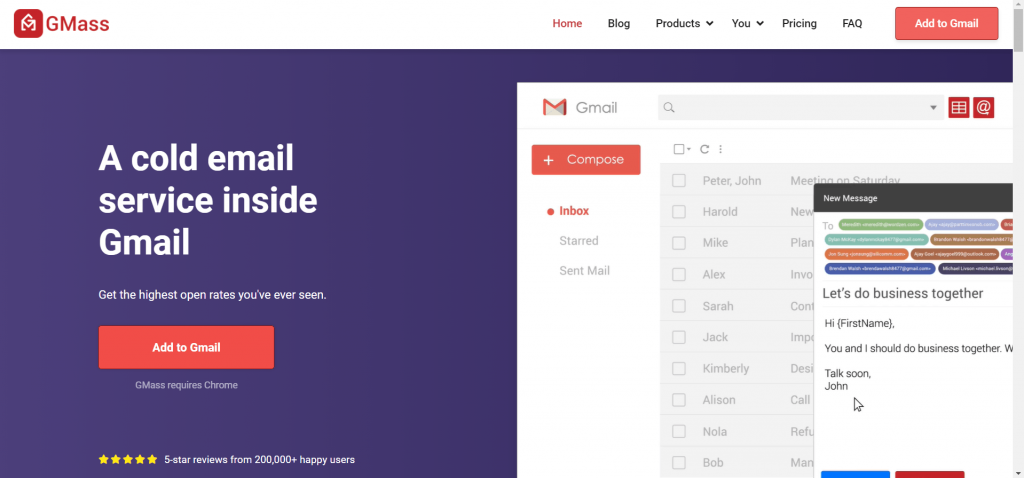 GMass is a powerful email outreach and automation software that works inside Gmail.
Its ease of use makes it a popular tool used by employees in large companies like Google and Uber and social media powerhouses like Twitter and LinkedIn. GMass also works perfectly for small business owners, solopreneurs, and more.
Here's a quick look into how GMass helps you deliver your sales proposals:
Create automatically personalized links for your sales proposals, so your prospects don't have to download them.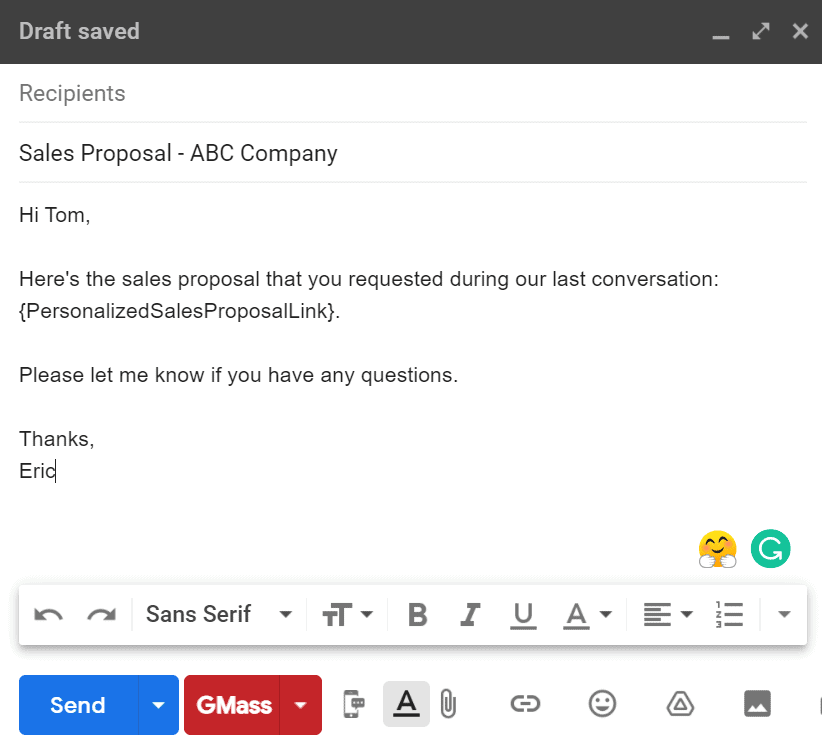 Additionally, with GMass, you can automatically add personalized images, attachments, and paragraphs to your sales email message.
Schedule sales proposal emails to go out at optimal times to reach prospects when they're most likely to engage with your emails.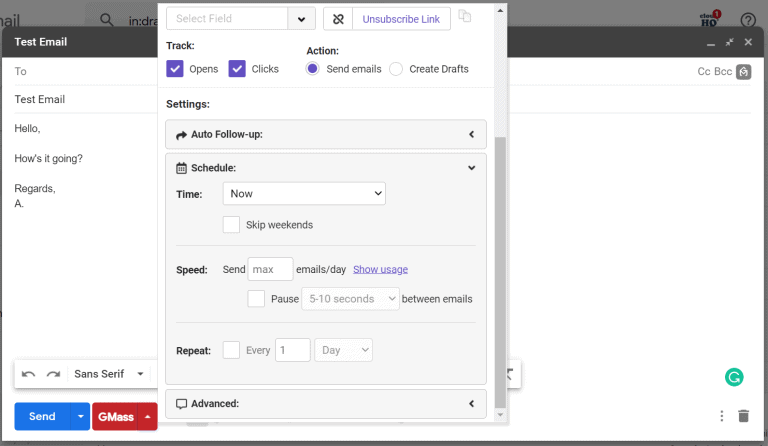 Quickly build an email list of prospects who match your buyer personas to convert more leads.

Set up automated workflows to follow up on your sales proposal emails and boost conversions.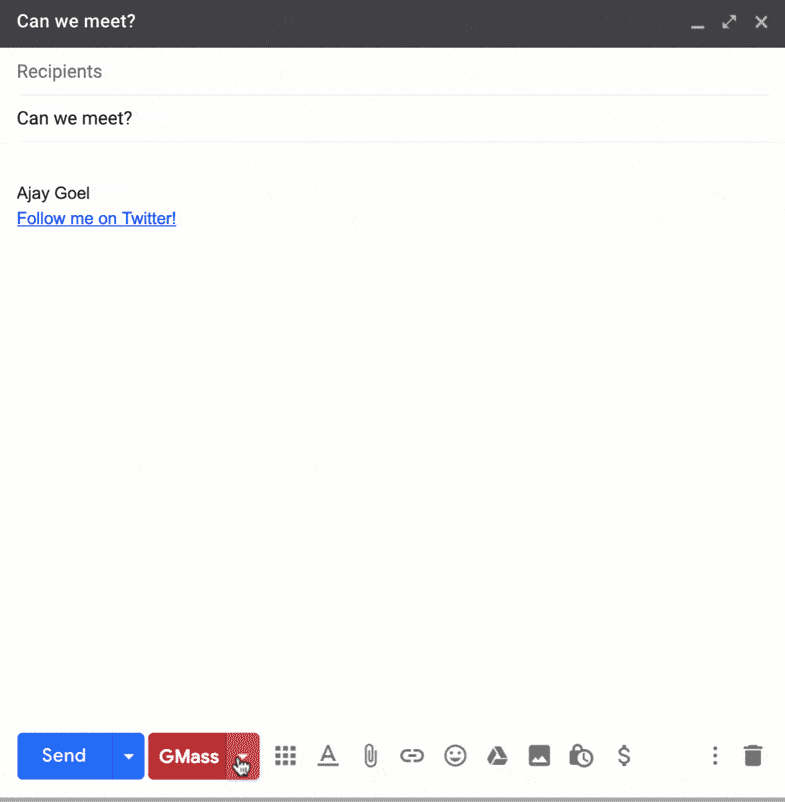 Track the performance of your sales proposal emails through analytics reports that cover the click-through rate, open rate, and more.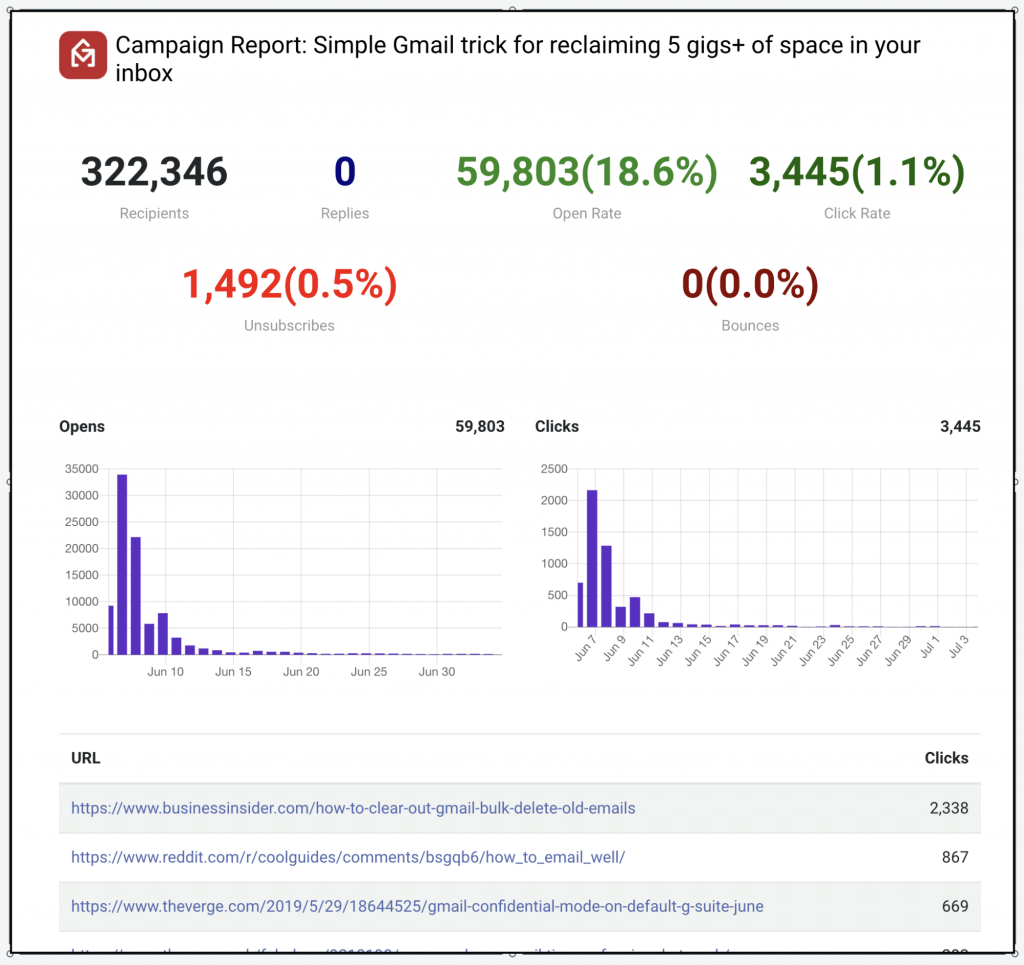 Great!
Now you know how to craft and deliver great sales proposals.
However, you could still have a hard time managing multiple sales proposals at once.
To make things easier, here are three tools that could help streamline your sales proposal processes:
3 Excellent Tools to Help You Create High-Converting Sales Proposals
I've covered each tool's key features, pricing, and user ratings to give you a comprehensive overview:
1. PandaDoc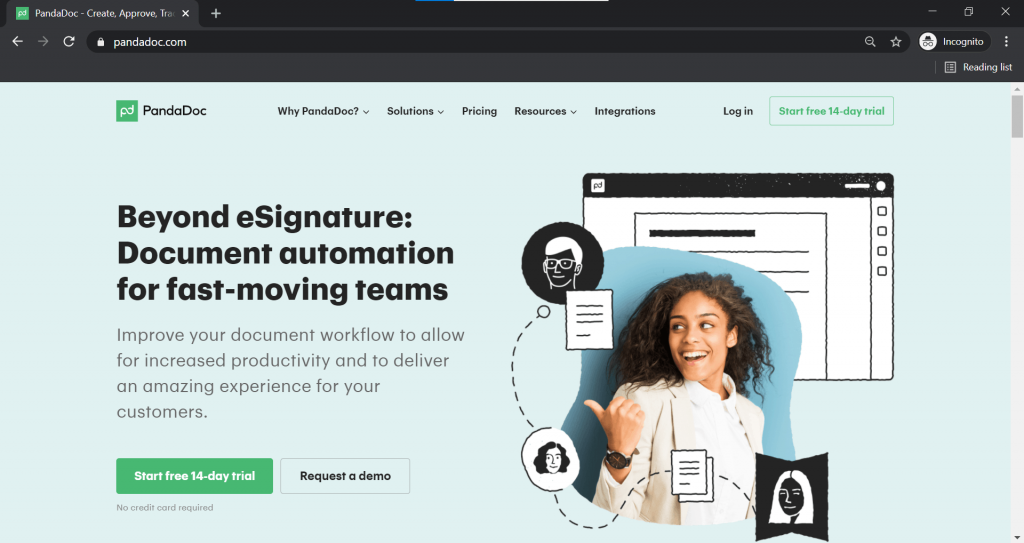 PandaDoc is a document automation software that helps you streamline the process of creating, approving, and signing your business proposal, sales contract, and more.
PandaDoc Key Features
Pre-built templates help you create sales proposals in minutes.
CRM integrations allow you to personalize the service or product sales proposal based on unique customer data.
Collect necessary information from a prospective customer via forms to create an effective sales proposal.
PandaDoc Pricing
PandaDoc offers a free plan and paid plans that start at $25/user per month.
PandaDoc Ratings
Capterra: 4.5/5 (760+ reviews)
G2: 4.6/5 (830+ reviews)
2. Proposify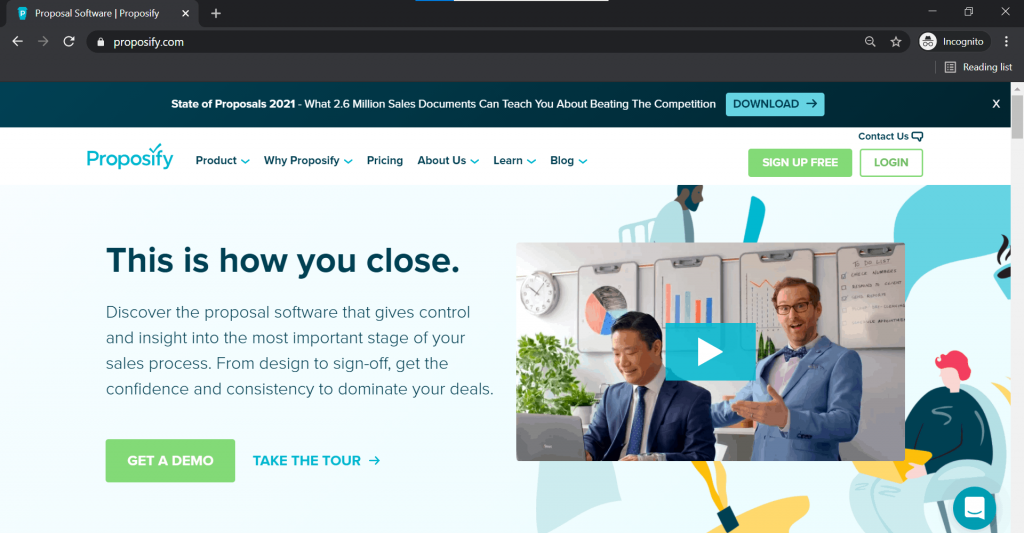 Proposify can help you manage your sales proposal workflow, close deals faster, and create a winning proposal.
Proposify Key Features
Pre-designed and approved templates help build a successful sales proposal in minutes.
Design editor helps you create sales proposals that are visually appealing and on-brand.
Approval permissions ensure that your product sales proposal is thoroughly vetted before it goes out to a potential customer.
Proposify Pricing
Proposify offers paid plans starting at $49/user per month.
Proposify Ratings
Capterra: 4.5/5 (250+ reviews)
G2: 4.7/5 (370+ reviews)
3. RFPIO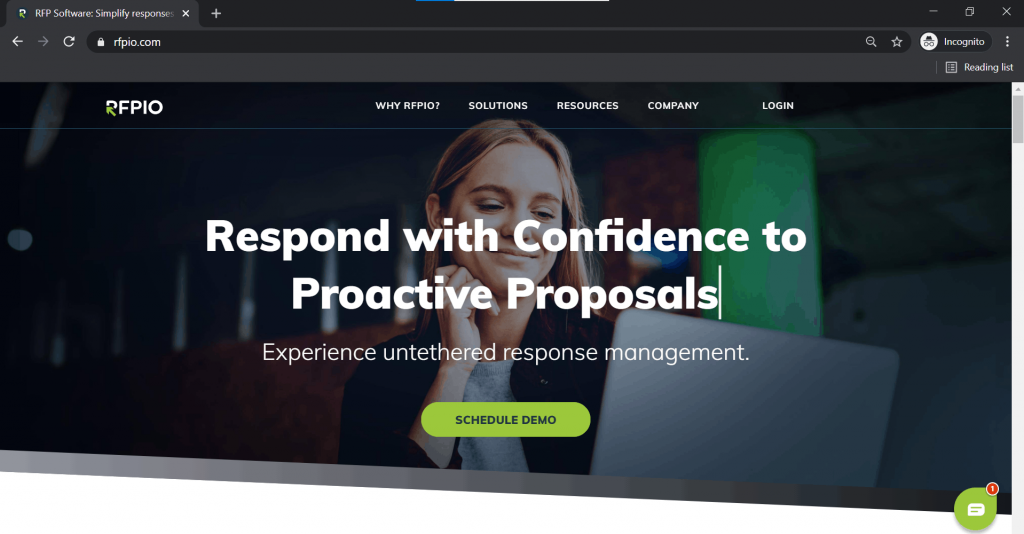 RFPIO is a request for proposal (RFP) response software that helps you automate the bid proposal response process and close deals more efficiently.
RFPIO Key Features
CRM integrations help you build contextual proposals.
You can maintain all proposal-related team sales conversations in one place.
Reports and dashboards offer insights on win rate, revenue attribution, and resource use.
RFPIO Pricing
Contact their sales team for pricing details.
RFPIO Ratings
Capterra: 4.8/5 (80+ reviews)
G2: 4.7/5 (340+ reviews)
Final Thoughts
A great sales proposal helps your prospect understand the value of your solution in the context of their unique needs.
However, creating a successful sales proposal is only half the battle.
You also need to deliver the final proposal the right way to your prospective customer and follow up as necessary to convert a sale — you need GMass.
With GMass, you can automatically add personalized proposal links in your email, send them out at optimal times, track prospect engagement, and do so much more.
So why not try GMass today and deliver your winning sales proposal the smart way?
Ready to

transform Gmail

into an email marketing/cold email/mail merge tool?

Only GMass packs every email app into one tool — and brings it all into Gmail for you. Better emails. Tons of power. Easy to use.

TRY GMASS FOR FREE

Download Chrome extension - 30 second install!
No credit card required
Love what you're reading? Get the latest email strategy and tips & stay in touch.