Looking for the best sales tracking software for your business?
Sales tracking tools collect and analyze sales data to help business owners track their sales pipelines and make the best decisions for their organization.
But which sales tracking software should you choose — given your budget, company size, and the nature of your sales operations?
In this article, I'll cover what sales tracking software is and the features to look for when selecting a sales tracking app.
I'll also highlight the best sales tracking software available today and show you the best way to track your sales emails and boost sales numbers.
This Article Contains:
(Click on any link below to go to a section of your choice.)
Let's get started.
What Is Sales Tracking Software?
Sales tracking software refers to any tool that helps businesses track their sales activity accurately.
Most sales tracking tools update sales activity data in real time, letting managers know when reps conduct sales activities — like reaching out to new leads, advancing them through the pipeline, and closing sales deals.
In addition to providing real-time insights, sales tracking software can help you:
Identify customer issues proactively
Better understand your target market to provide a meaningful customer journey
Tailor customized offerings for clients and prospects
Improve resource allocation
Note: If all you want is a list of recommended sales tracking tools, skip ahead to that section.
Five Key Things You Should Look for in Sales Tracking Software
Your sales tracking software should provide accurate sales reports that help you gain insights into how each sales activity is performing.
Some essential reports that a sales tracking app should generate include:
A. Sales Forecast Reports
Sales forecasting is the process of analyzing past sales data to try to predict future sales performance. This will give you a good idea of what to expect, and you can use this sales data to determine how well you'll actually perform against sales targets.
That's why it's important to invest in a tool that analyzes the past and present data from your sales activities to predict future sales performance with accuracy.
B. Sales Activity Reports
An excellent sales tracking tool should help you check how each sales rep performs, with information on:
When your sales agents follow up on leads
The communication channels they use most often
Response rates from leads
When you look for sales tracking tools, consider only the tools that provide these kinds of detailed activity reports. This will allow managers to track how productive each sales rep is easily and devise unique sales strategies for various prospects.
C. Sales Funnel Reports
These reports break down each stage of your sales funnel. If your leads continuously get stuck in a particular sales funnel stage, a funnel report will bring this to your attention, and you can step in to solve any issues.
Funnel reports also give you insights into the most effective sales strategies, how close your leads are to closing, and where most leads drop off in the sales pipeline.
D. Loss Reports
If you want to boost your sales numbers, keeping track of your successful sales deals isn't enough. You also have to understand which leads fell through and why. This way, you won't repeat the same mistakes in future sales campaigns.
Tools that analyze losses through sales reports will also help you become more effective when predicting future sales numbers since they consider both wins and losses when forecasting.
E. Reports on Important Metrics
Here are three important metrics your tracking software should measure:
1. Revenue per Sale
This metric tells you the average revenue your company makes whenever you close a sale.
A higher revenue per sale is generally better as long as your business can consistently close deals.
This metric is especially important for companies with several product tiers or upgrades. They can assess revenue per sale to understand how efficient they are at upselling customers.
2. Conversion Rate
New lead generation can be one of the most painstaking parts of the entire sales cycle.
An easier way to generate more revenue is to work on the leads you already have and convert them.
A great sales tracking tool can calculate conversion rates automatically for individual sales reps or sales teams. You can then analyze these sales metrics and see how you can improve your sales operations.
For example, you can ask reps with the highest conversion rates to train struggling team members.
3. Won Sales Opportunities
Knowing how many sales deals you managed to close in a given period doesn't just motivate your team. It also tells you which approaches work and which don't.
That's why you should always invest in sales tracking software that can track new sales and won opportunities in addition to tracking sales processes.
The Five Best Sales Tracking Software Tools in 2021
Now you know why it's essential to use a sales tracker and what to look for when choosing one.
But with several tracking software options available in the market, which tool should you pick?
Here's a look at five of the best sales tracking tools available today:
1. Pipedrive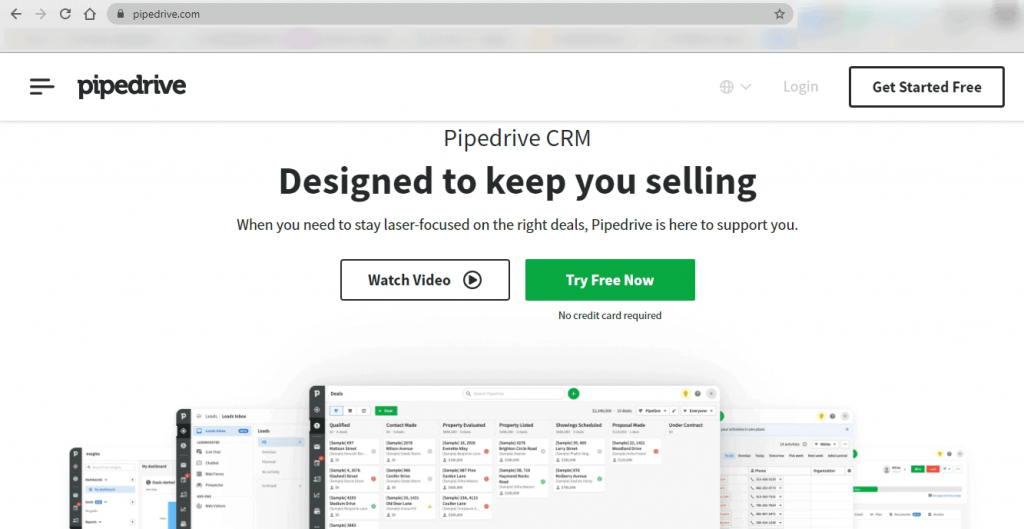 Pipedrive is a popular sales tracking system that provides users with access to automated pipelines, lead management, detailed reporting, and communication tracking features.
Pipedrive also has a unique deal rotting feature that informs the sales team of deals that have stayed idle for too long. This way, your sales agents can change their approach and work proactively to prevent such deals from becoming a missed sales opportunity.
Pipedrive Key Features
Activities Overview dashboard to keep track of all your sales
Revenue projection features for accurate forecasting
Detailed reporting to analyze performance
Supports communication history tracking to track lead interactions
Pipedrive Pricing
The Pipedrive tracking software offers four pricing plans:
Essential ($15/user per month)

Deal Management
Customizable Pipelines
Custom Fields
Deal Rotting
Advanced ($29/user per month)

Includes Everything in the Essential Plan
Product Catalog
Google Drive Integration
Professional ($59/user per month)

Includes Everything in the Advanced Plan
Security Dashboard
Team Management
Custom Fields and Sales Reports
Enterprise ($99/user per month)

Includes Everything in the Professional Plan
Custom Onboarding and Support
100 Workflow Automations
24/7 Phone Support
Pipedrive Customer Ratings
Capterra – 4.5/5 (2200+ reviews)
G2 – 4.3 /5 (1300+ reviews)
2. Salesforce CRM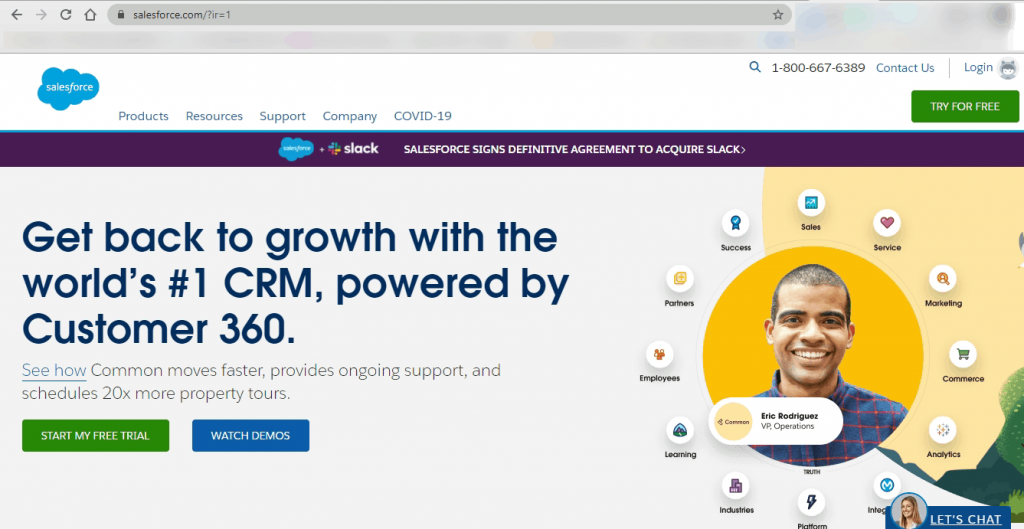 Salesforce is a powerful sales management tool that has analytics powered by artificial intelligence to track all aspects of your sales activities. It also offers users the ability to gather granular sales data easily on each lead and sales opportunity.
Salesforce Key Features
Contact management features for an easy overview of customer data
Lead management to help you track leads from start to finish
A secure file sharing platform for teams to collaborate efficiently
iOS and Android mobile apps to run everything from your phone
Real-time reports for effective sales forecasting
Salesforce Pricing
This customer relationship management tool is available in four pricing tiers:
Essentials ($25/user per month)

Includes Account, Contact, Lead, and Sales Opportunity Management
Mobile App
Web-to-Lead Captures
Professional  ($75/user per month)

Includes Everything in the Essentials Plan
Lead Registration
Collaborative Forecasting
Enterprise ($150/user per month)

Includes Everything in the Professional Plan
Workflow and Approval Automation
Unlimited ($300/user per month)

Includes Everything in the Enterprise Plan
24/7 Support and Configuration Services
Salesforce Customer Ratings
Capterra – 4.5/5 (15000+ reviews)
G2 – 4.2 /5 (11000+ reviews)
3. Zoho CRM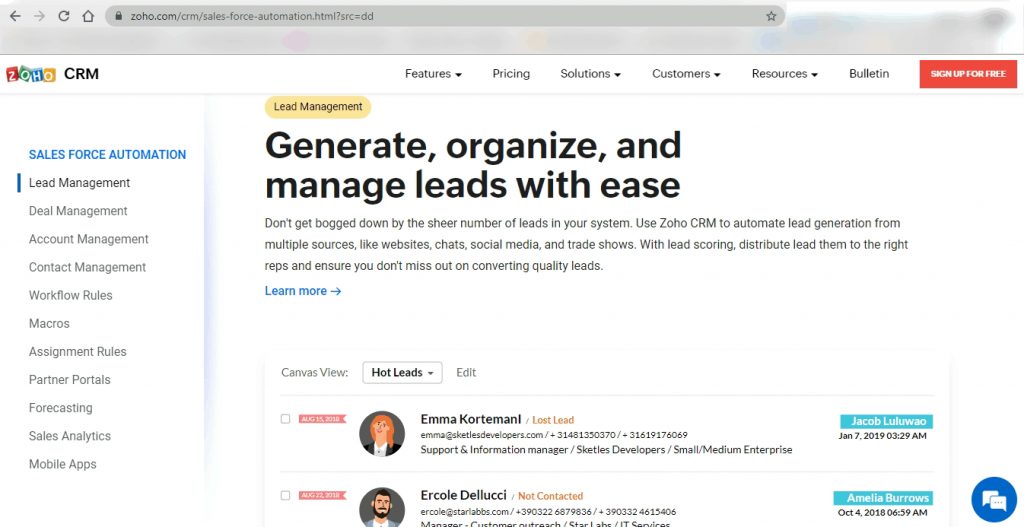 Zoho CRM is a popular sales tracking software. It comes with several features like customizable dashboards, sales forecasting, and analytics.
Zoho CRM Key Features
Automated data entry workflows to catalog leads easily
Detailed analytics to help users create reports and pinpoint sales trends
Gamification to help sales managers turn mundane tasks into fun competitions among sales reps
Customized dashboards with several widgets for data visualization
Integrates with other Zoho tools to increase productivity
Zoho CRM Pricing
Zoho CRM has five pricing plans:
Supports Three Users
Includes Contact and Lead Management
Supports Account and Deal Tracking
Offers a CRM View and Support for Tasks, Events, and Call Logs
Standard ($18/user per month)

Includes Everything in the Free Plan
Scoring Rules
Multiple Pipelines
Workflows
Custom Dashboards
Professional ($30/user per month)

Includes Everything in the Standard Plan
SalesSignals
Validation Rules
Inventory Management
Enterprise ($45/user per month)

Includes Everything in the Professional Plan
Canvas
Advanced Customization
Mobile SDK and MDM
Ultimate ($55/user per month)

Includes Everything in the Enterprise Plan
Enhanced Feature Limits
Zoho CRM Customer Ratings
Capterra – 4.2/5 (4700+ reviews)
G2 – 4/5 (1800+ reviews)
4. Bitrix24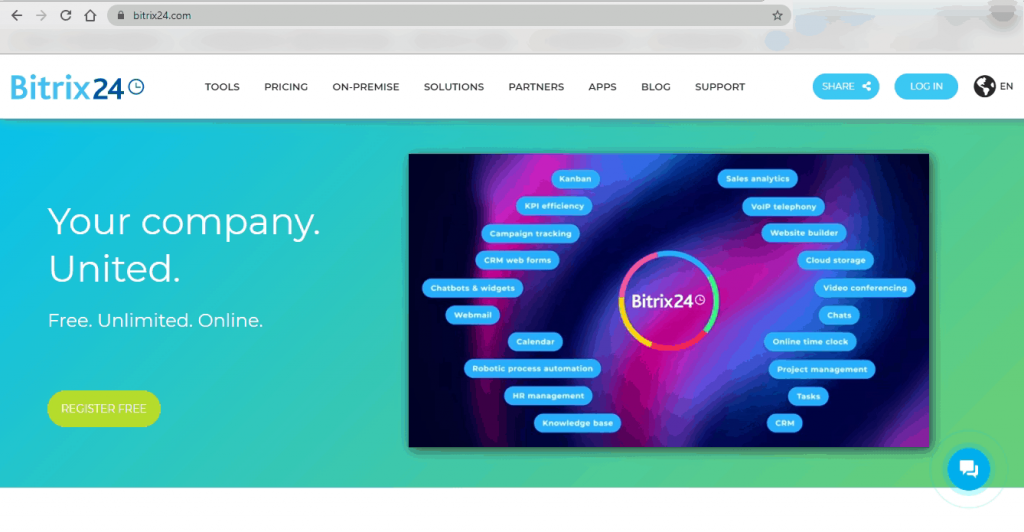 Bitrix24 is a powerful software suite used by small businesses. In addition to its sales tools, it offers solutions for communication, project management, and collaboration.
Bitrix24 also provides a comprehensive CRM tool users can use to generate leads, manage visual pipelines, and automate their sales process.
Bitrix24 Key Features
Offers unlimited visual pipelines
Supports multiple channel tracking to manage leads
Built-in lead scoring helps you automatically assign sales agents to leads
Easy sales automation setups to save time
Advanced workload management to monitor project activity easily
Bitrix24 Pricing
Bitrix24 offers six pricing plans:
Supports Unlimited Users
Includes 5GB Online Storage
Basic CRM Tool
Tasks and Projects
Communications
Start+ ($24 for two users/month)

Includes Everything in Free
10GB Online Storage
Advanced CRM Support
Limited Sales Center Support
Customer Support
CRM+ ($69 for six users/month)

Includes Everything in Start
50GB Online Storage
Limited CRM Marketing Support
Project+ ($69 for 24 users/month)

Includes Limited CRM Software Support
50GB Online Storage
Advanced Administration Support
Standard ($99 for 50 users/month)

Includes 100GB Online Storage
Advanced Support for All Features
Professional ($199/ month for unlimited users)

Includes 1TB Online Storage
Pro Support for All Features
Bitrix24 Customer Ratings
Capterra – 4/5 (400+ reviews)
G2  – 4.1/5 (300+ reviews)
5. HubSpot Sales Hub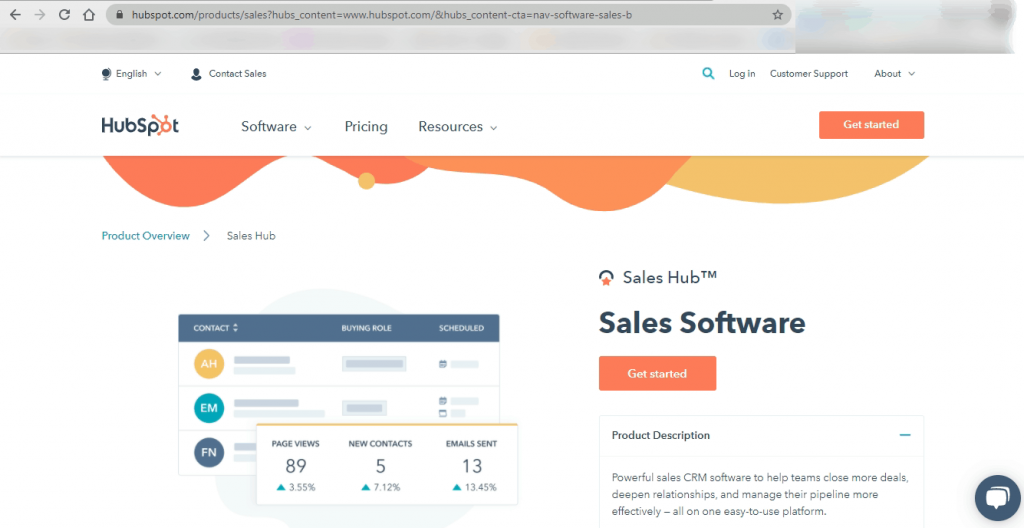 HubSpot is a popular tool used by teams for sales, marketing automation, and CRM functions. Its Sales Hub software offers several features that can help you manage your sales pipeline with ease.
HubSpot Key Features
Appointment and meeting scheduler
Sales automation to help create a personal touch with outreach
Deal stages help to keep track of all leads easily
Detailed sales analytics and reporting
Collaboration features to help your sales and marketing teams work together
HubSpot Pricing
HubSpot has four pricing plans:
Free

Contact Management
Live Chat
Meeting Scheduling
Deal Pipeline
Starter ($50/month)

Includes Everything in the Free Plan
Simple Automation
Conversation Routing
Multiple Currencies
Professional ($500/month)

Includes Everything in the Starter Plan
Phone Support
Custom Reporting
Enterprise ($1200/month)

Includes Everything in the Professional Plan
Predictive Lead Scoring
Forecasting
Playbooks
HubSpot Customer Ratings
Capterra – 4.5/5 (280+ reviews)
G2 – 4.3 /5 (6700+ reviews)
While all five of these tools help you track your sales leads and how they're progressing through the funnel, you also need a way to track your interactions with them. And since emails are the go-to option for most salespeople, you need to invest in a powerful email tracking tool, too.
Luckily, you won't have to do much digging to find the perfect one:
The Best Way to Track Sales Emails
Tracking sales emails helps businesses understand how well they're interacting with their leads.
What is GMass?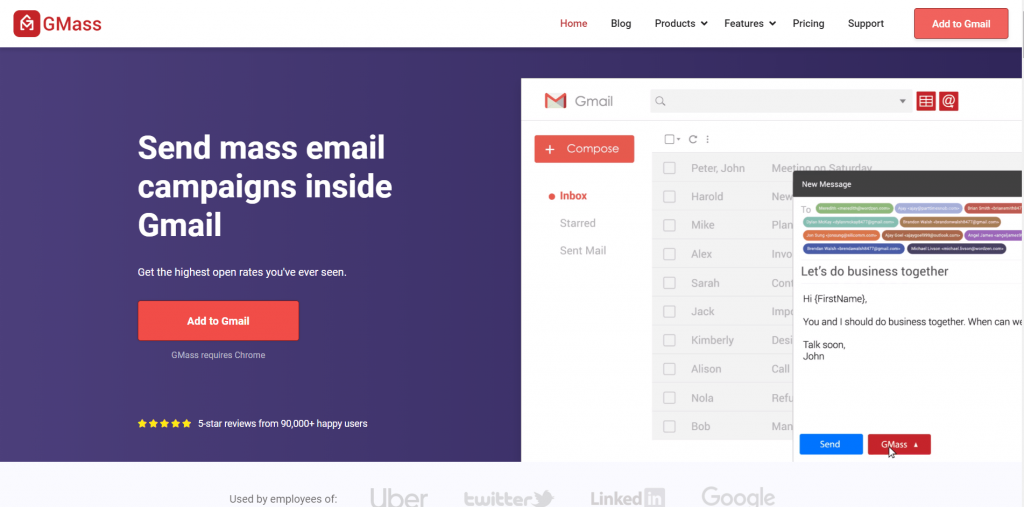 GMass is a popular email marketing tool you can use within Gmail. Its powerful outreach and email tracking features have made it a popular tool used by employees of tech giants like Uber and Google and social media platforms like LinkedIn and Twitter.
Any small business, institution, and individual can use GMass to send out email marketing campaigns and track them with ease.
GMass helps you:
Track email performance with metrics
Schedule and send bulk emails
Personalize outgoing emails automatically
Automate your follow-up emails
Use custom tracking domains for improved email deliverability
Remember, anyone can use GMass. 
All you have to do is install the GMass Chrome extension, and you're good to go!
GMass Key Features
Here are some of GMass' best features that can boost your sales processes:
When you send an email campaign with GMass, it automatically generates a Campaign Report that shows you core email metrics like:
Open rate
Click-through rate
No. of replies
No. of unsubscribes, and more
This helps you quickly analyze your campaign performance and identify areas of improvement for future emails.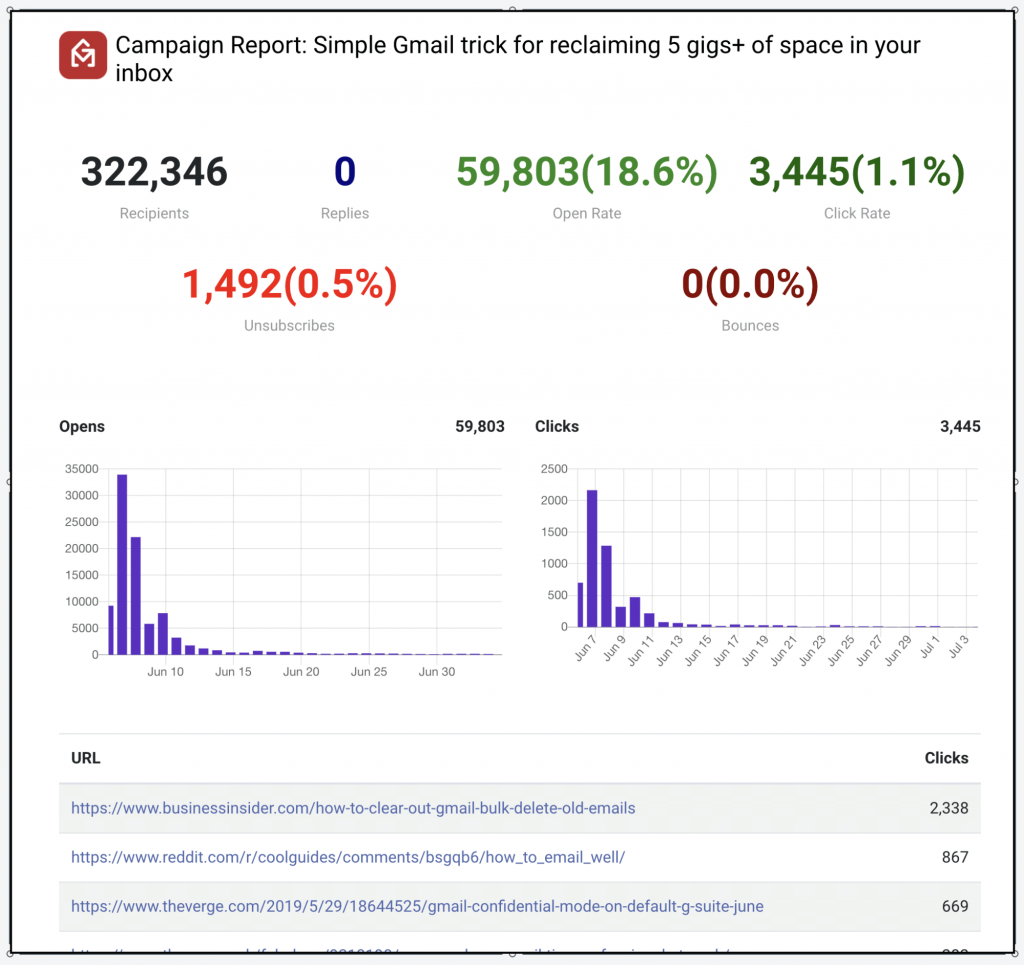 Ideally, when you reach out to prospects during your sales process, you should personalize each email message.
Why?
Email recipients are far more likely to interact meaningfully with an email that's tailored to their needs rather than a generic email.
GMass can help you automatically add a personal touch to every outgoing email. GMass can automatically add custom images, links, and blocks of text — and even add recipients' first names from their email addresses.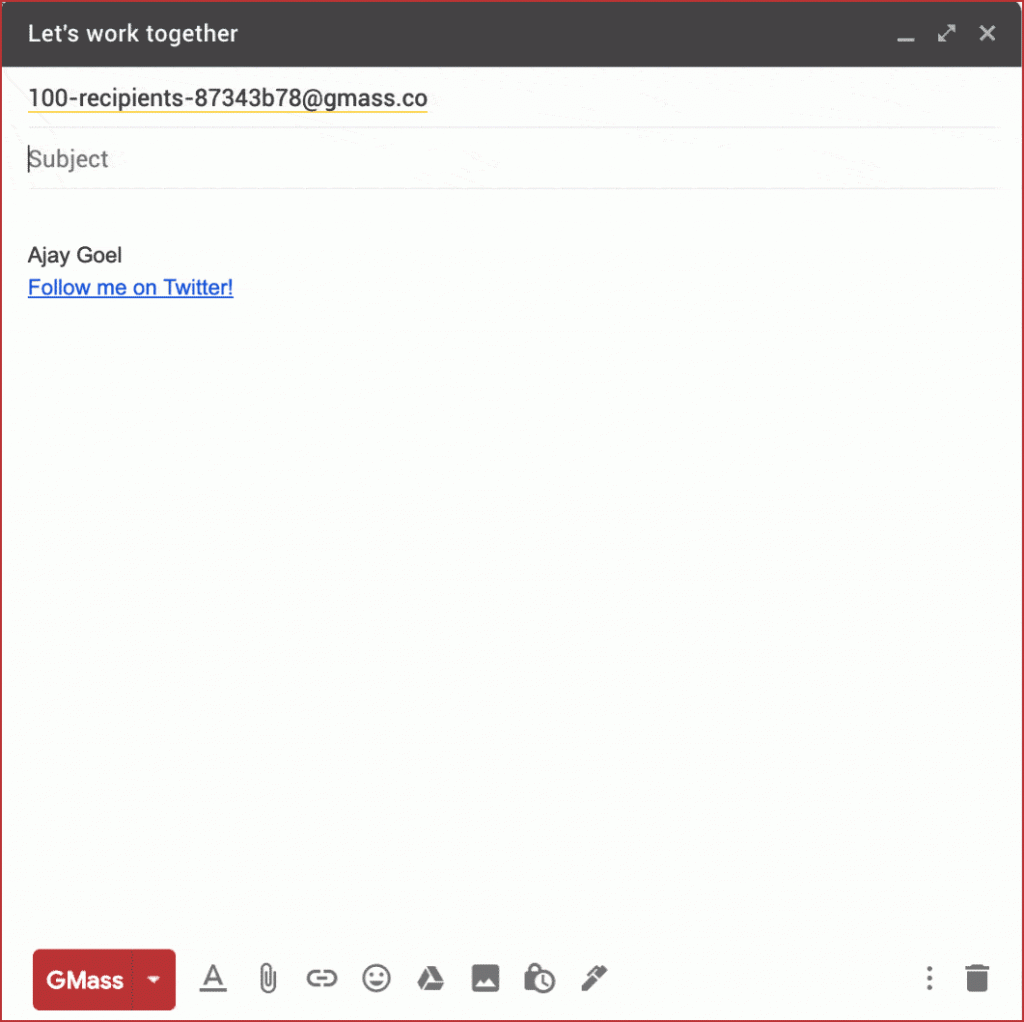 Moreover, GMass supports conditional content to help you further customize thousands of emails at once.
Conditional content helps you personalize your emails based on specific criteria. You can separate your email list by those criteria and send emails relevant to those contact groups.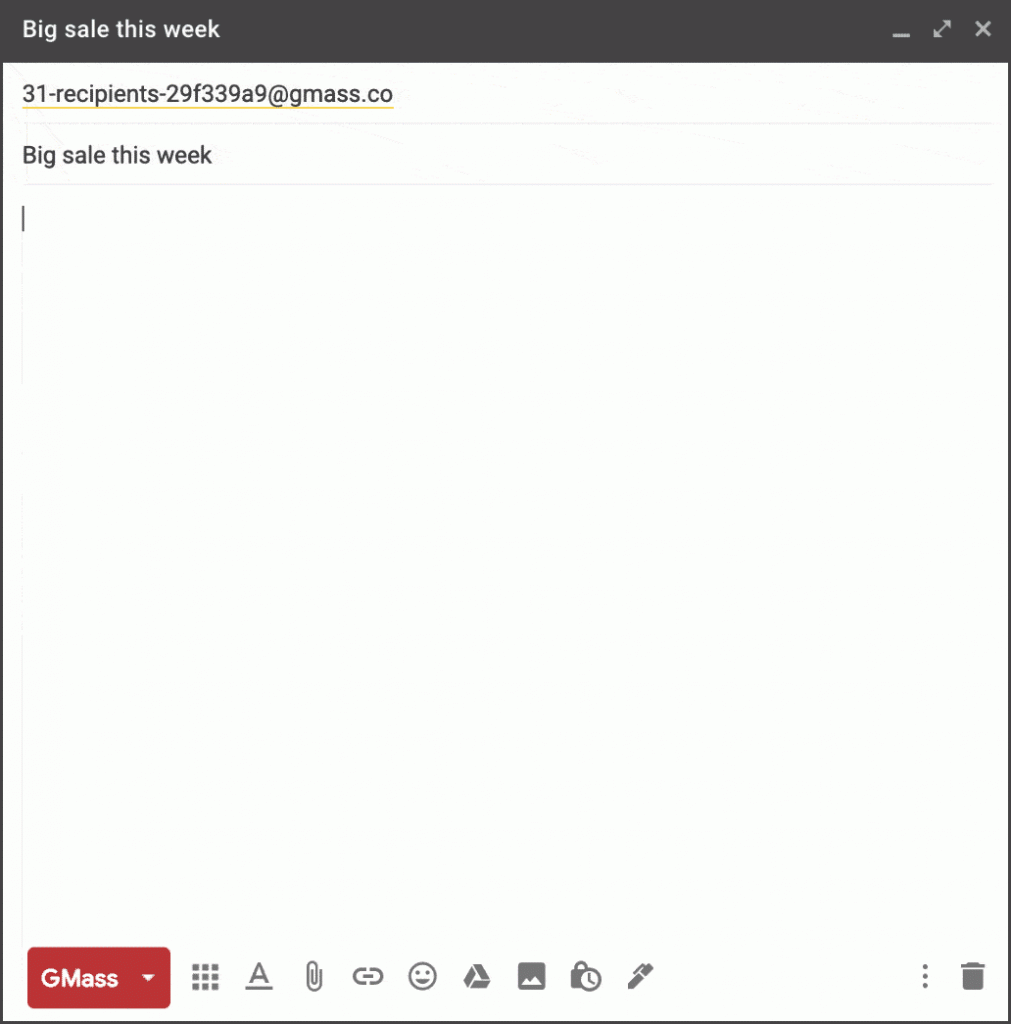 Your initial sales email might not always get a response.
Recipients might ignore it or just forget to reply.
That's why it's essential to send out consistent follow-ups.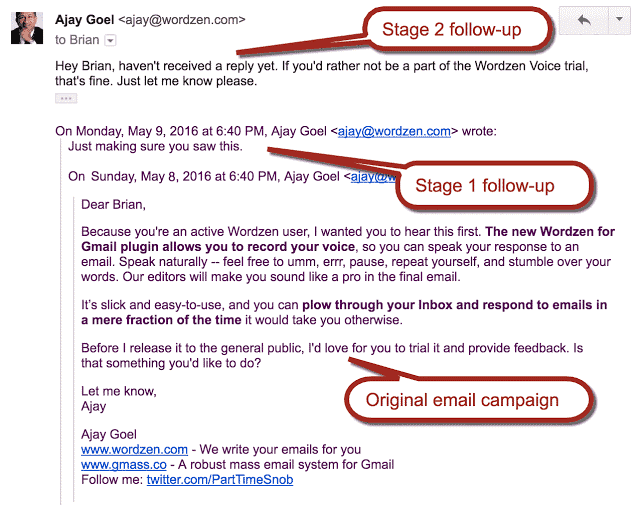 GMass can help you automate the follow-up process to ensure you eventually get replies. You can even customize the email content, the number of emails to send, the time gap between follow-ups, and more.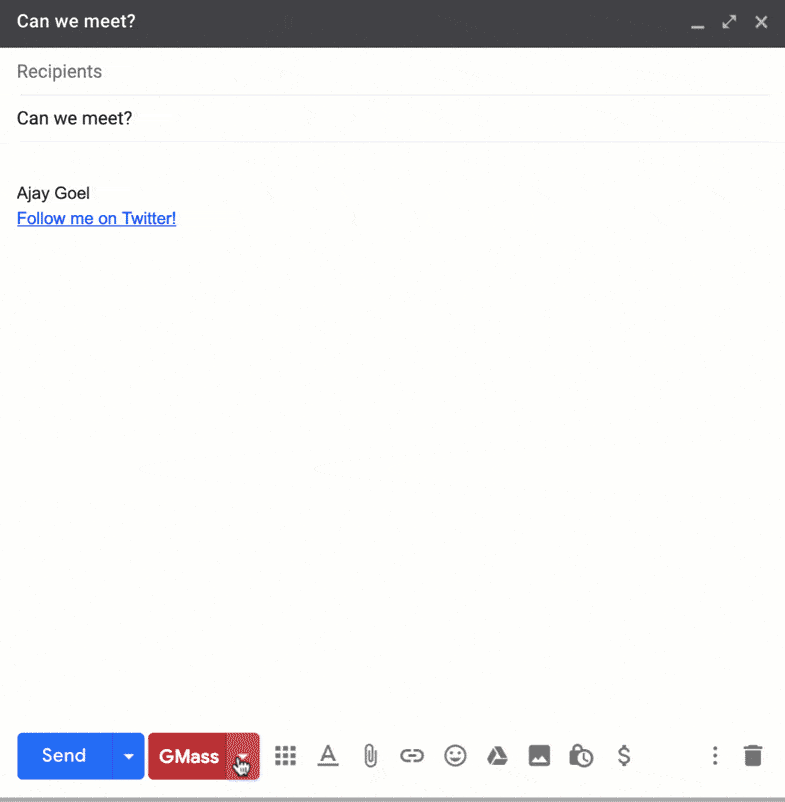 Manually adding hundreds of email addresses to an email is time-consuming and tedious.
Fortunately, GMass lets you quickly link a Google Sheet with your prospects' email addresses for an easy mail merge. Once you connect the sheet, GMass will automatically add all the email addresses to your email recipient list.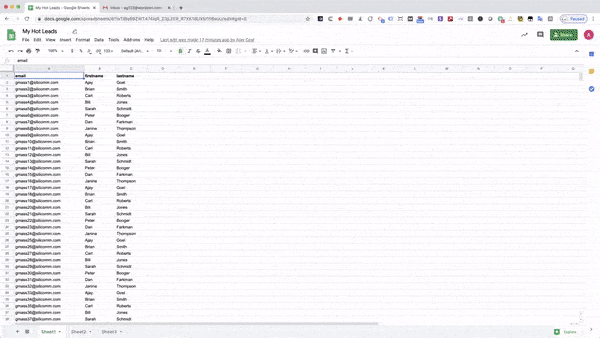 5. Schedule and Send Bulk Emails
Need to send out emails at the right time?
Just use GMass!
Type out your email and schedule it — that's it.
GMass will then automatically send your email at the scheduled time. You can even reschedule emails by going to the Drafts folder and adjusting the timing.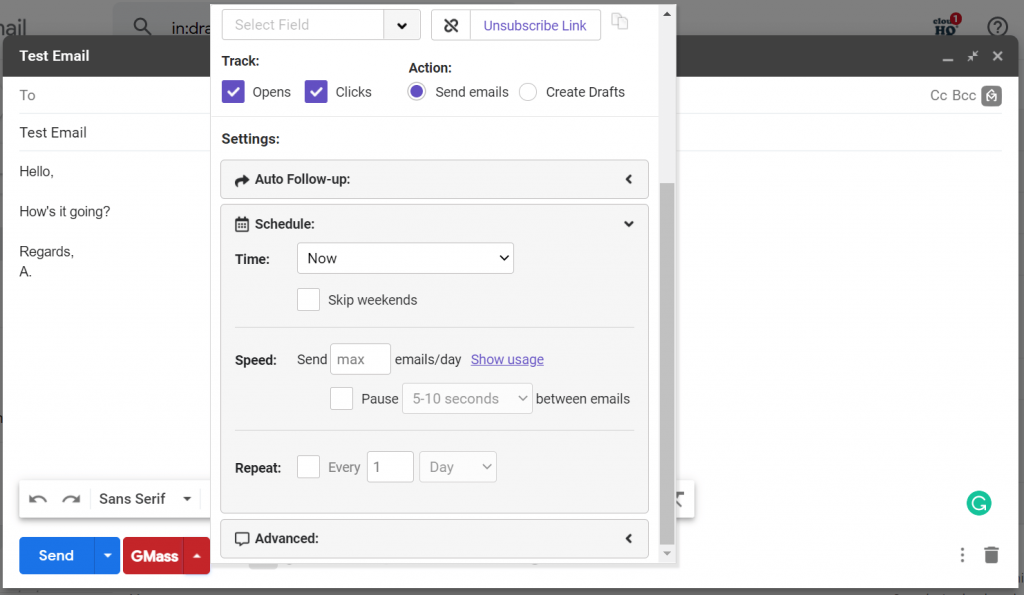 Wrapping Up
Sales tracking software can analyze and present sales data to help you make the right decisions for your business. Check out the tools I've covered here to determine which sales tracking tool best fits your business.
However, just using sales tracking software isn't enough to improve your sales numbers.
You'll also need email marketing tools like GMass to reach out easily to prospects and boost your chances of converting them.
So why not use the GMass Chrome extension to take maximum advantage of your sales tracking software?
See why GMass has

300k+

users and

7,500+

5-star reviews

Email marketing. Cold email. Mail merge. Avoid the spam folder. Easy to learn and use. All inside Gmail.

TRY GMASS FOR FREE

Download Chrome extension - 30 second install!
No credit card required
Love what you're reading? Get the latest email strategy and tips & stay in touch.