Most GMass users know that you can send a personalized mail merge campaign using GMass and your Gmail account with a Google Sheets spreadsheet. Any of the columns in the spreadsheet can be used to personalize the Subject and Message.
Did you know you can also personalize the Cc and Bcc fields? Meaning, you can have each individual email message Cc'd or Bcc'd to an email address associated with the address you're sending to.
An example: You're sending 100 emails to 100 of your customers, but you want each email to be Cc'd to each individual customer's account manager. Each of the 100 customers has a different account manager, so you can't just enter a single email address in the Cc field of the Gmail Compose window. Instead, create a column called "cc" in the spreadsheet you're using, and specify the account manager's email address in the "cc" column.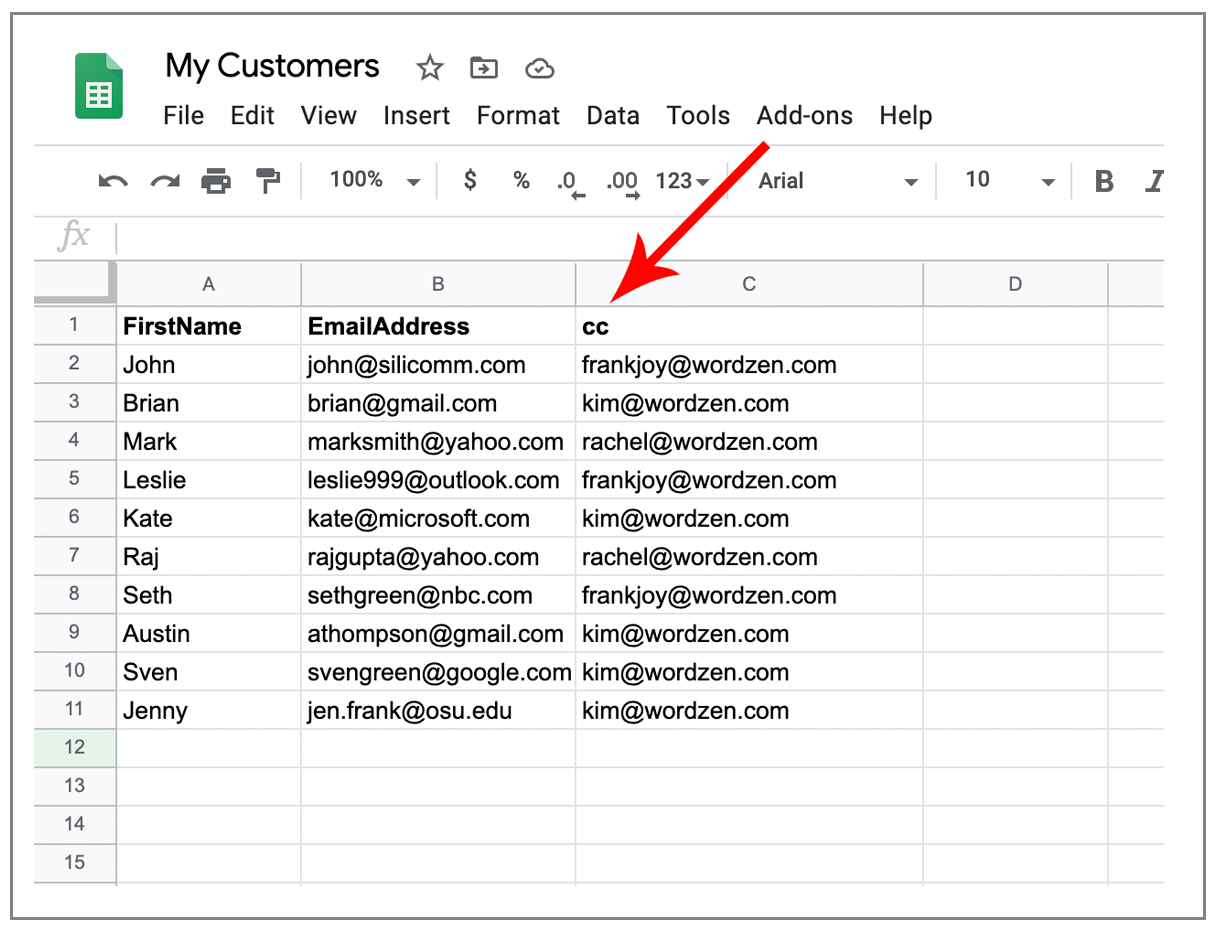 Make sure that the "cc" column comes after the column with the actual recipient email addresses so that GMass doesn't accidentally use the "cc" column as the recipient To addresses (since GMass auto-detects the column containing recipient email addresses).
When you connect to the spreadsheet inside Gmail, the Compose window will be launched with the recipient addresses in the To field.
The Cc field will show as blank, but as long as you have a "cc" column in your spreadsheet, each email message will be Cc'd to the address from the spreadsheet.
This technique allows you to send a mail merge to multiple people per row in your spreadsheet. Similarly, you can set a personalized Bcc address by creating a column called "bcc" in your spreadsheet. Again, make sure the "bcc" column is to the right of the column containing the actual recipient email addresses.
Not using a spreadsheet?
Even if you don't have a spreadsheet where you specify the Cc/Bcc address, you can still enter any address in the Cc and Bcc fields if you want a copy of every individual message to be also sent to that particular address. The behavior of the campaign when you do this is explained here.
Still confused about Cc and Bcc?
If you need a better understanding of how Cc and Bcc work in Gmail, please see my Cc in Gmail guide and my Bcc in Gmail guide.
Personalize even further
Now that you know how to personalize the Cc and Bcc fields, you might also be interested in:
Our personalization engine is almost the industry's most powerful. Read about all personalization capabilities in our complete guide.