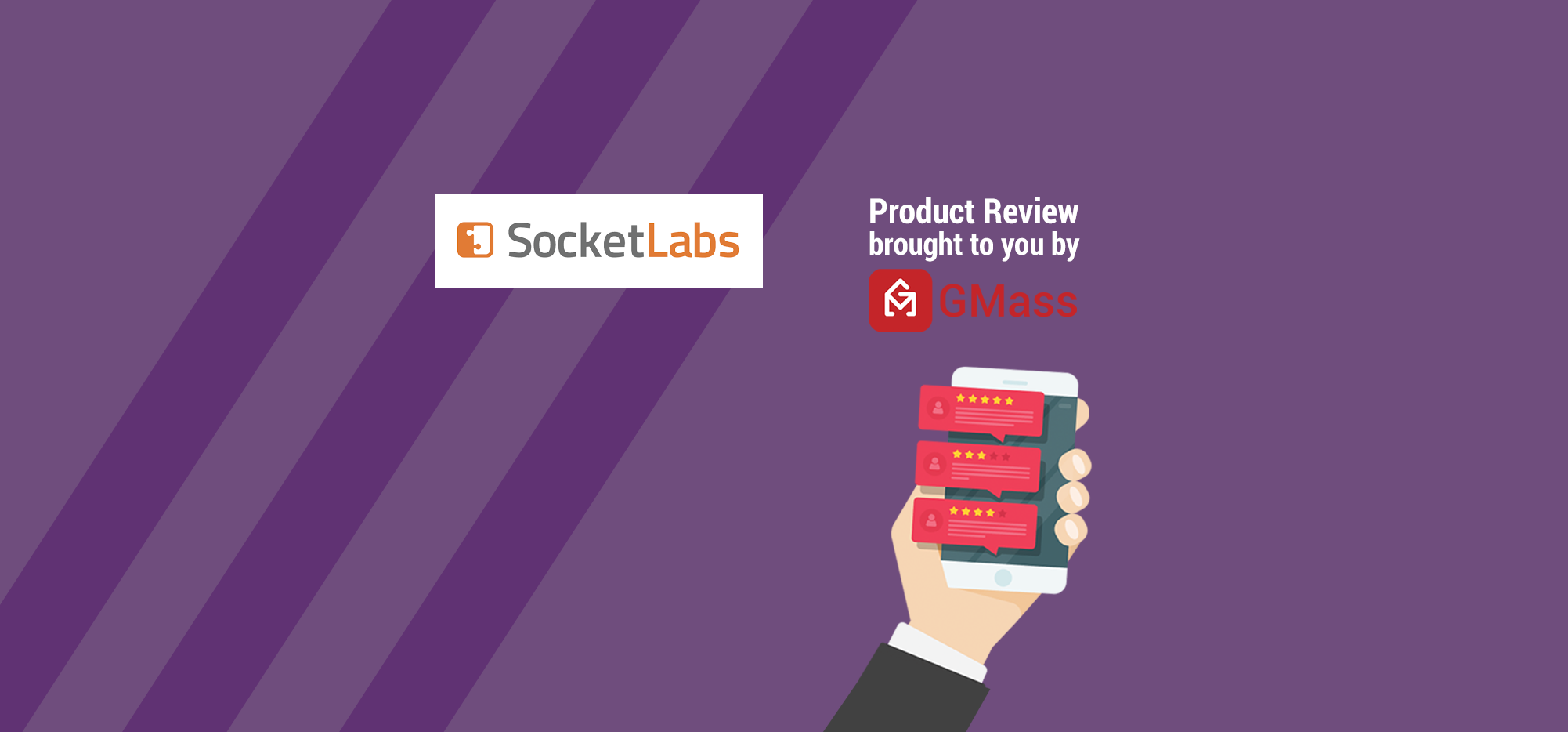 Thinking about using SocketLabs for your SMTP needs?
SocketLabs is an SMTP service and marketing automation platform designed to optimize your email marketing and outreach.
However, is it the best tool for your business?
Whether you're new to bulk email services or are migrating from another service like SparkPost or MailChimp, this SocketLabs review covers the key features, drawbacks, and pricing to help you make an informed decision.
I'll also cover the best tool to help you make the most out of SocketLabs' features.
This SocketLabs Review Contains:
(Click on a link below to jump to a specific section.)
Let's get started!
What Is SocketLabs?
SocketLabs (socketlabs.com) is an SMTP relay service and marketing automation platform based in Aston, Pennsylvania. SocketLabs customers use the tool to set up high-volume email marketing campaigns with ease.
What Is an SMTP Relay Service?
An SMTP relay service, or simply an SMTP service, helps your business set up bulk emails and marketing mechanisms. You can use SocketLab's SMTP service in your go-to email software (like Gmail or Outlook) to add functionality to it.
For example, Gmail limits daily sending to 500 emails/day for free Gmail accounts and 2,000 emails/day for G Suite accounts. However, SMTP services like SocketLabs do not have these limitations, allowing you to send high-volume email campaigns easily.
What Is a Marketing Automation Platform?
Marketing automation allows you to automate several tasks in your marketing process, such as sending emails and follow-ups. These platforms help you save time and effort that you can use for other business activities.
What can SocketLabs do?
SocketLabs various features can help you:
Schedule multiple emails and follow-ups with reliable delivery
Send mass emails and campaigns without daily sending limits
Analyze email delivery and performance via detailed reports
Set up transactional emails for online sales
The rest of this review will take a closer look at SocketLabs' key features and benefits. (But if you're an advanced web developer and you'd like to customize SocketLabs from the more complex back end, read my technical review of SocketLabs here.)
5 Key Features of SocketLabs
SocketLabs has a ton of features to help SocketLabs customers enhance their email marketing campaigns.
Here's a detailed look at the best ones:
1. SMTP Server
An SMTP server allows you to manage your bulk marketing and transactional emails with ease.
What are transactional emails?
They're automatic emails triggered by a specific action or event. For example, if a customer purchases an item, that action would trigger a corresponding transactional email — a payment confirmation sent to the customer.
However, building and maintaining your own SMTP mail server to do this is complex, time-consuming, and expensive.
SocketLabs makes this process easier by providing a powerful, secure SMTP mail server and MTA (Mail Transfer Agent) for your business. This can replace an in-house SMTP server (like Gmail's) or even the SMTP service hosted by your ISP (internet service provider).
How do you use the SocketLabs server?
All you need to do is sign up for their service to receive your SMTP credentials. Then, enter these into your email client (Gmail, Outlook, or Yahoo Mail, etc.) to connect to the SocketLabs SMTP email server.
SocketLabs' SMTP service features:
Excellent deliverability rates to ensure your emails reach the recipient's inbox and aren't marked as spam emails
Unlimited email sending to bypass sending limits associated with Gmail and Outlook
Easy integration with your in-house email applications
DKIM record, SPF, and DMARC authentication for all your email messages
What Is DKIM?
DKIM refers to Domain Keys Identified Mail. This process encrypts outgoing mail and gives each email a digital signature to verify that it was sent by the owner of the domain. To keep your email message secure, only the receiver's mail server can decrypt the incoming email.
What Is SPF?
SPF, or Sender Policy Framework, is a security mechanism to validate IP addresses and web applications that send emails from a particular domain.
The SPF record associated with a domain contains a database of applications and IP addresses authorized to send emails using the specific domain name.
This way, only emails from authorized IP addresses and applications are accepted by the recipient's mail server, while the rest are rejected or flagged.
What Is DMARC?
DMARC stands for "Domain-based Message Authentication, Reporting & Conformance." It's an authentication protocol used alongside DKIM and SPF to provide an additional layer of security to your email and sender domain.
These authentication measures ensure that your outgoing mail remains secure on its way to the recipient's inbox and can't be intercepted or altered.
2. Built-In Template Library and Email Designer
To ensure maximum open rates and conversions, you need to design your emails the right way. But if you aren't experienced with email marketing or design, this can be a tricky process!
Luckily, SocketLabs email offers a range of starter email templates that give you a solid framework to build your emails. These email templates make it simple to plug in your content and create professional emails in no time.
For more experienced users, Socket Labs also features a drag-and-drop email designer. This tool helps you build attractive emails from scratch with ease.
The drag-and-drop email designer allows you to:
Design professional emails that resonate with your brand image.
Use fluid and responsive layouts that can be read on any device.
Easily insert design elements, from text and images to buttons and dividers.
SocketLabs even allows you to personalize these email templates using custom and merge fields. These fields are then filled with mail merge data from your contact list for every single recipient.
This way, you can send personalized, mass emails without manually entering all the personal information yourself.
3. Campaign Management
SocketLabs customers can manage all their email campaigns from the SocketLabs SMTP service itself.
It allows you to set up, automate, and customize drip campaigns with features such as:
The name of the email within the software
The subject and content of your email message
The scheduled time to send each message in your drip campaign
What kind of emails can you send with drip campaigns?
Drip campaigns can be used to automate a series of emails, like:
Welcome emails or onboarding messages
Email newsletters for specific audiences or customer bases
Automatic follow-ups
Sales messages and campaigns
By setting up your drip campaigns via SocketLabs, you can automate the entire process — you don't need to worry about manually sending each email or remembering to follow-up at the right time to maximize email deliverability and open rates.
4. Statistics and Reporting
To optimize your email performance, you need to analyze your marketing campaign against critical metrics.
The SocketLabs email delivery service gives you detailed reports and analytics for all your emails, covering key stats such as:
The number of outbound emails sent and accepted
The number of failed emails and the bounce rate
The number of emails reported as spam
The open rate and click rate for each marketing campaign
These analytics help you identify how you can improve your email marketing, such as eliminating elements of a message that cause some emails to go straight to a recipient's spam folder.
Tip: To improve your email delivery further, the SocketLabs team also offers webinars and guides such as "The Science of Hitting the Inbox for High-Volume Senders."
5. Integration and SocketLabs API
The SocketLabs network (www.socketlabs.com) supports easy integration with a variety of SaaS and software tools to improve your email marketing functionality.
SocketLabs supported integration includes:
Marketing automation: Launchmetrics, SAP Marketing Cloud
SMS and digital communication tools: OpenMessage, SuperPhone
Email verification software: KickBox, VerSafe
Customer experience platforms: Qualtrics, Team Support
Ecommerce tools: CashStar, SAP Commerce Cloud
WordPress plugin
Apart from these direct integrations, SocketLabs also provides email API access for developers (application programming interface) to set up custom integrations. While most email marketers won't need these features, it could help an advanced developer who knows what they're doing.
SocketLabs provides developers with custom integrations such as:
Injection API: Send messages via HTTP POST requests instead of the standard SMTP message injection. This allows you to perform inline mail merges in Basic Send within a single HTTP POST request.
Notification API or Webhook: Set up real-time notifications for various SMTP events like delivered emails or failed messages in any language, platform, or location.
Inbound Parsing API: Deconstruct inbound email messages from text and HTML file data into a file attachment or custom header. SocketLabs provides a detailed summary and report of all parsing activity for your account.
3 Drawbacks to Using SocketLabs
While SocketLabs is a handy marketing automation platform, it isn't perfect.
Here's a closer look at some areas where this tool falls behind:
1. No Contact Management Features
Socket Labs doesn't support an extensive contact management feature.
What does this mean?
A typical SMTP service or software vendor, like Sendinblue, Mailgun, or SendGrid, allows you to manage your contacts from within your bulk email platform.
For a closer look at these SMTP services, check out these detailed reviews of Sendinblue, Mailgun, and SendGrid.
However, with SocketLabs, you must use another tool with contact management functionalities to keep track of multiple recipients and contact lists. This can be inconvenient for large mailing lists and can get expensive as you're paying for multiple tools.
2. Can't Verify Email Addresses
SocketLabs doesn't provide any email verification services to help you optimize your contact lists and filter out invalid recipients.
How does email verification help you?
Email verification allows you to remove false, misspelled, and invalid recipients from your customer or contact lists. This helps you improve your deliverability rate and ensures that your email messages are sent to the correct inbox. In turn, this reduces the chance of your messages being marked as spam emails.
As SocketLabs can't help you verify your email lists within the platform, you'll need to invest in a separate email verification tool to remove invalid recipients from your mailing list.
3. Lacks SMS Marketing or Transactional SMS Message Support
Along with email, SMS is one of the most effective modes of communication for your marketing or transactional message needs.
This is why your typical marketing automation or email service provider also supports SMS marketing and transactional SMS message support. It allows you to connect your email and SMS marketing for a more effective campaign.
However, SocketLabs doesn't support native SMS features — you'll need to use one of the supported integrations or use other third-party tools to handle your transactional SMS messages.
SocketLabs Pricing
SocketLabs offers four pricing plans to suit a variety of business needs. Here's a closer look:
Free plan — Up to 40,000 emails in the first month, then 2,000 emails/month + email templates + analytics + email API.
Basic plan: $39.95/month — Includes all "Free plan" features + up to 40,000 emails/month + 90 days of performance history + 1 secure whitelisted authentication IP address.
Professional plan: Includes all "Basic plan" features + 5 secure whitelisted authentication IP address + 1 dedicated IP address + deliverability consulting + priority customer support.

$79.95/month — Up to 100,000 emails/month.
$125/month — Up to 200,000 emails/month.
$225/month — Up to 400,000 emails/month.
The Best Tool to Upgrade SocketLabs' Marketing Functionality
Although SocketLabs is a great service, it has a few drawbacks.
Luckily, a tool like GMass can help you resolve several of these flaws to take your email marketing to the next level.
What Is GMass?

GMass is a powerful email outreach tool used by employees from major companies like LinkedIn, Google, and Twitter to improve their email marketing. Its powerful mail-merge features make it the best tool to enhance an SMTP service like SocketLabs.
But GMass isn't just for huge firms or social media platforms!
Anyone — from solopreneurs to small businesses and even churches — can use GMass to send emails to their audiences and multiple recipients.
GMass helps you:
Send mass emails via your SMTP service from within the Gmail client.
Analyze your email performance via detailed Campaign Reports.
Set up multi-user access for your entire marketing team.
Personalize mass emails and campaigns for multiple recipients.
Schedule multiple emails and follow-ups with ease.
And the best part?
Getting started with GMass is a piece of cake!
Just install the Chrome Browser Extension today to see your email functionality skyrocket.
How Does GMass Improve Your SocketLabs Marketing?
GMass is one of the only Gmail-based outreach tools that can be set up with an SMTP service like SocketLabs or Amazon SES.
But how does this help you?
Let's take a look:
1. Send Bulk Emails from the User-Friendly Gmail Interface
GMass works within your Gmail account.
This helps you avoid using a complex SMTP service user interface to send bulk message campaigns.
Instead of spending time and effort learning how to use a complex new email delivery platform like SocketLabs, GMass allows you to access its SMTP functionality with the ease of Gmail's user interface.
This helps you save tons of time and resources that could be used to analyze and improve your email marketing performance instead.
2. GMass Supports Team Plans for Multi-User Access
Most SMTP services and email delivery solutions like SocketLabs do not support multi-user access, especially on their budget-friendly pricing tiers.
However, you can easily connect your GMass account to your SMTP relay service to bypass this limitation! GMass' Team plans are extremely cost-effective and provide powerful features at affordable prices.
For a detailed look at how easy it is to connect GMass with SocketLabs, click here.
GMass Pricing
You may be worried that a tool packed with so many powerful email marketing features has to be super expensive, right?
Don't worry!
GMass is one of the most affordable email marketing platforms out there.
Here's a quick look at its tiered pricing plans:
Free plan: includes all features and supports tracking for up to 50 free emails/day
Individual plans:

Minimal plan: $8.95/month – includes all features except auto-follow up emails + provides tracking for unlimited emails
Standard plan: $12.95/month –  removes the GMass footer from emails and offers all "Minimal" features
Premium plan: $19.95/month – offers all "Standard" functions + follow-up with automated emails

Team plan:

Premium plan: starts at $89/month for a team of five members – supports all perks and features
Conclusion
Using an SMTP relay service like SocketLabs is crucial to sending a mass email marketing campaign with ease.
However, as mentioned in this SocketLabs review, this software has a complex user interface and lacks multi-user access. It also can't verify email addresses for you — increasing your chances of email bounces.
Fortunately, GMass allows you to make the most of your SMTP server service provider and take your email marketing to the next level. As it operates within the Gmail interface, it's super simple to use, and its affordable team plans make it the best solution to accompany your SMTP relay service.
So why not sign up for GMass today to experience GMass' email capabilities yourself?
Email marketing, cold email, and mail merge

inside Gmail



Send incredible emails & automations and avoid the spam folder — all in one powerful but easy-to-learn tool

TRY GMASS FOR FREE

Download Chrome extension - 30 second install!
No credit card required
Love what you're reading? Get the latest email strategy and tips & stay in touch.