Did you know that 70-80% of customers prefer virtual sales interactions over traditional in-person ones?
If you're used to in-person meetings with prospects, being thrust into a remote sales team can leave you feeling overwhelmed — especially if you haven't had any prior virtual sales training.
For better or worse, due to the COVID-19 pandemic, virtual sales are the "new normal," and most salespeople have had to adapt.
How do you create meaningful relationships with your leads when you can't be in the same room as them? How do you demonstrate your offering's value in the virtual world when you're used to in-person meetings? 
Don't worry. I'll answer these questions (and more) in this guide.
I'll explain what virtual selling is and highlight six challenges of remote sales. I'll also provide seven practical tips to help boost your virtual selling efforts.
This Article Contains:
(Click on a link to jump to a specific section)
Let's jump right in, okay?
What Is Virtual Selling?
Virtual selling (also known as remote selling) is the process of interacting and converting a lead virtually instead of meeting and interacting with a prospect in person.
Why is it important?
As the world was gradually moving towards digitization, sales processes have had to follow suit.
Then, the COVID-19 pandemic accelerated the speed of the virtual selling revolution.
With in-person meetings out of the picture, salespeople had to adapt.
Quickly.
Whether it was by ramping up their email efforts or scheduling countless Zoom meetings, virtual selling was clearly the new normal.
However, just because it has been widely adopted doesn't mean that it has been perfected.
Only 26% of buyers believe the average sales professional is skilled at selling virtually!
Clearly, there are several challenges associated with virtual selling.
Let's take a closer look at some of them.
5 Major Challenges of Virtual Selling
There are several challenges involved in virtual selling, including:
1. Keeping the buyer engaged throughout the sales conversation
91% of virtual sellers struggle to keep buyers engaged.
Why?
Many people look at virtual interactions as an opportunity to multitask. According to one survey, more than half of respondents admitted to checking their emails during virtual meetings.
And if your leads aren't paying attention to what you're saying, it's going to be impossible to convert them!
2. Building a relationship with the prospect can be tricky
In a face-to-face setting, you can discuss the prospect's concerns and hash things out quickly. You can create an atmosphere where your lead feels at ease, making selling much easier.
However, it's much more challenging to replicate this same atmosphere when the person exists as a two-dimensional image on your computer screen. In fact, 88% of sellers find it challenging to develop a relationship with the buyer in a virtual setting.
While social selling through a computer is not impossible, it does mean that you're going to have to work harder to ensure you're interacting with your prospects in a way that builds meaningful relationships.
3. Can be challenging to demonstrate the value of your offerings
Ultimately, it's your job as a salesperson to sell solutions, not products.
Your prospect has a problem, and you're in the position to make recommendations.
With traditional field sales, field reps can perform a quick demo to give the prospects an idea of what they can expect.
However, in a virtual sales strategy, demonstrating solutions via virtual communication can be challenging. 89% of sellers feel it's challenging to change a buyer's perspective on how to solve their problem.
Why?
One potential cause for this may be due to sellers using poor visuals.
Visuals are great for showing how your product can help the prospect — without going into lengthy descriptions. Moreover, technological difficulties and poor presentation skills can hamper how effectively you can demonstrate your offerings' value to the prospect.
4. It's difficult to gauge body language and pick up personality cues
With an in-person sales meeting, you have the opportunity to leverage non-verbal cues to understand how the conversation is going and steer things in the right direction.
As a sales rep, seeing things like your prospect's posture and hand signals are powerful indicators that'll help you gauge their feelings and emotions. This enables you to understand how the prospect feels about the sales conversation and adapt accordingly.
In a virtual meeting, selling is a lot harder as many of these cues aren't available or are difficult to notice.
5. Leading a virtual sales team can be tough
Communication can be a significant challenge for remote sales teams.
To help mitigate this, sales leaders need to create an environment where team members can express their concerns and collaborate with ease. So if you're a sales leader, ensure your team knows you're available should they face any challenges handling prospects.
Clearly, there are a lot of challenges when it comes to virtual selling.
So what can you do?
7 Practical Tips for Effective Virtual Selling
If you're struggling to close sales virtually, here are seven tips to help:
Tip #1. Leverage the right technology
When it comes to virtual selling, technology is your best friend.
Here's a look at some essential virtual tools you'll need:
A. An email outreach tool
Reaching out to your prospects through email is one of the most effective virtual communication channels. Not only do most customers prefer to be contacted by email, but it's also a scalable solution.
Moreover, emails are less intrusive than other communication channels like cold outreach calls.
Why?
Think about it from the perspective of the customer.
If you receive a call from a sales rep and they dive straight into lengthy descriptions of what their product or service can do, you'd hang up the call within seconds.
On the other hand, if you receive a personalized email containing relevant content that explains how their offering can help you solve your challenges and achieve your goals, you're more likely to engage with it on your own time.
And what's the best way to leverage the power of email?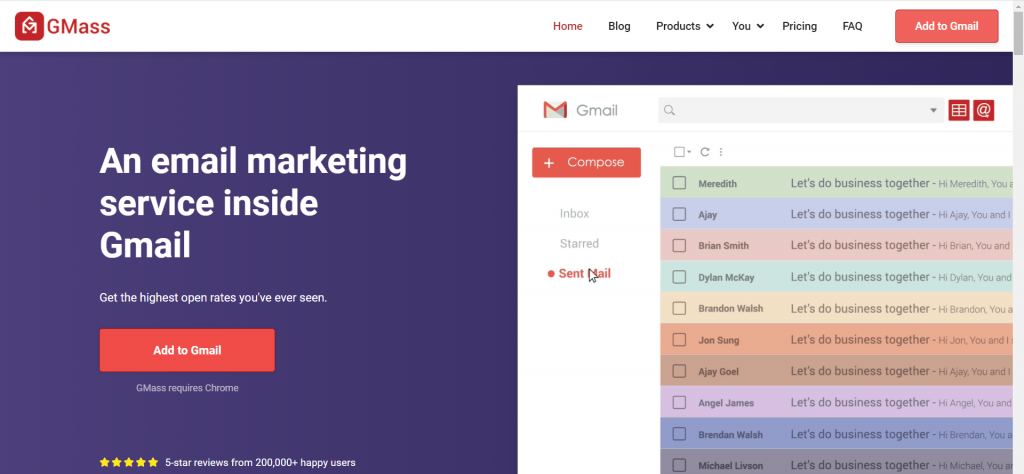 GMass is an email marketing tool that works directly inside Gmail. It's popular among employees at tech giants like Google and Uber as well as those working for social media platforms like Twitter and LinkedIn.
GMass is an excellent tool for small business owners and entrepreneurs as well, helping them reach their target audience efficiently.
Here's a quick look at how GMass helps you navigate the virtual selling terrain:
1. 52% of customers state that they won't do business with an organization that doesn't personalize emails.
Fortunately, GMass can automatically personalize your emails to increase customer engagement. From auto-customizing entire blocks of text to adding personalized images and links, GMass has got you covered.
2. Track core email metrics to see what's working in your campaign and what isn't. GMass will automatically generate a Campaign Report whenever you send an email campaign, highlighting useful metrics like unsubscribes, open rate, click-throughs, and more.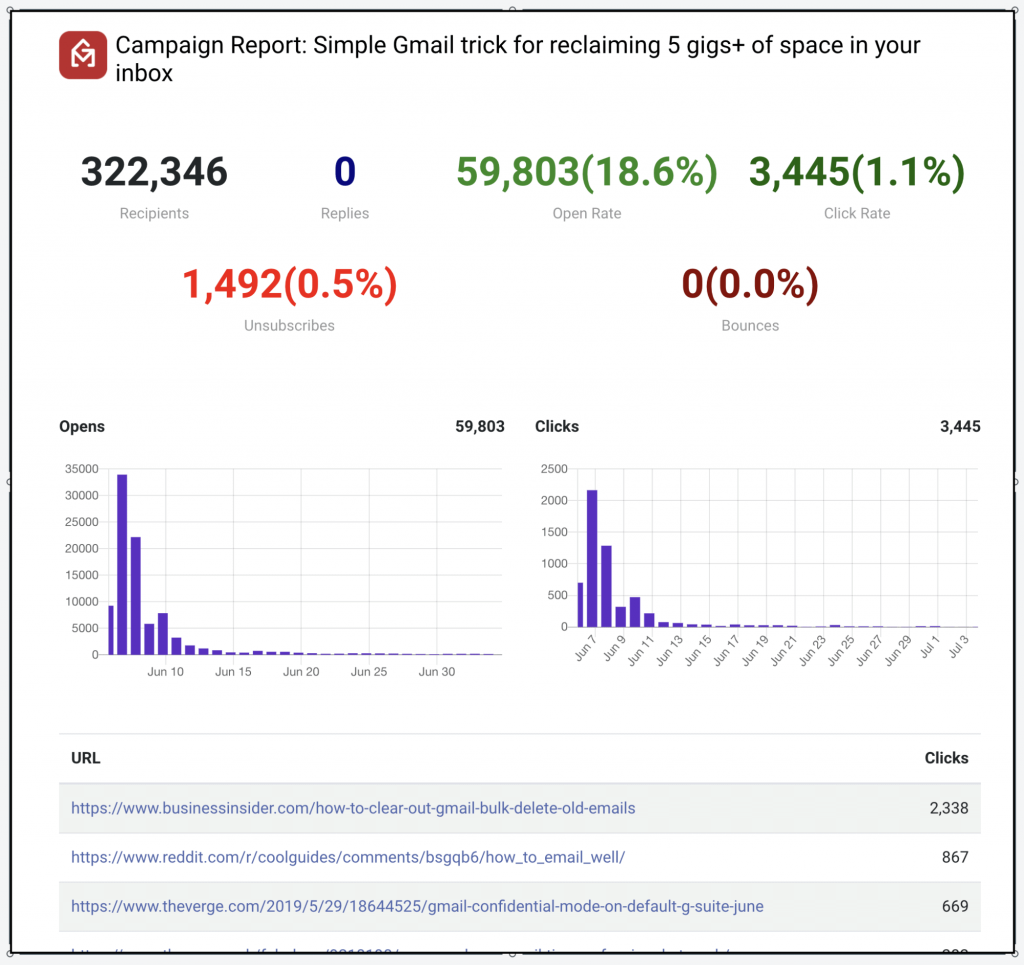 3. As many as 80% of deals require up to five interactions. That's a lot of emails to keep composing, and a ton of follow-up messages!
But don't worry; GMass can automate the follow-up process to help maximize your engagements.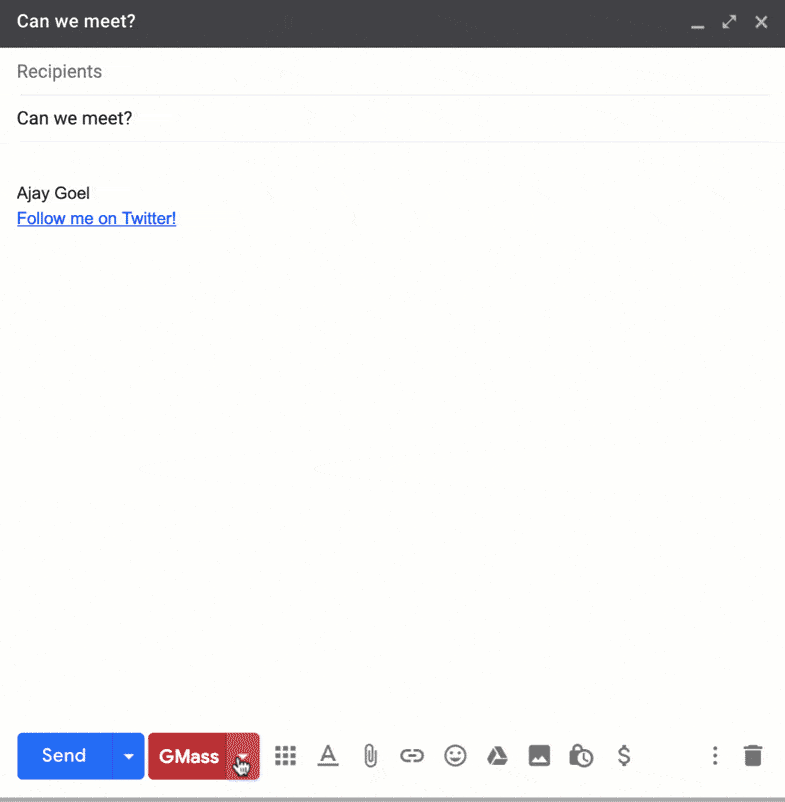 4. Schedule your emails to ensure that they arrive in your prospect's inbox at just the right time. All you need to do is compose the email and schedule it to be sent at your desired time. GMass will take care of the rest.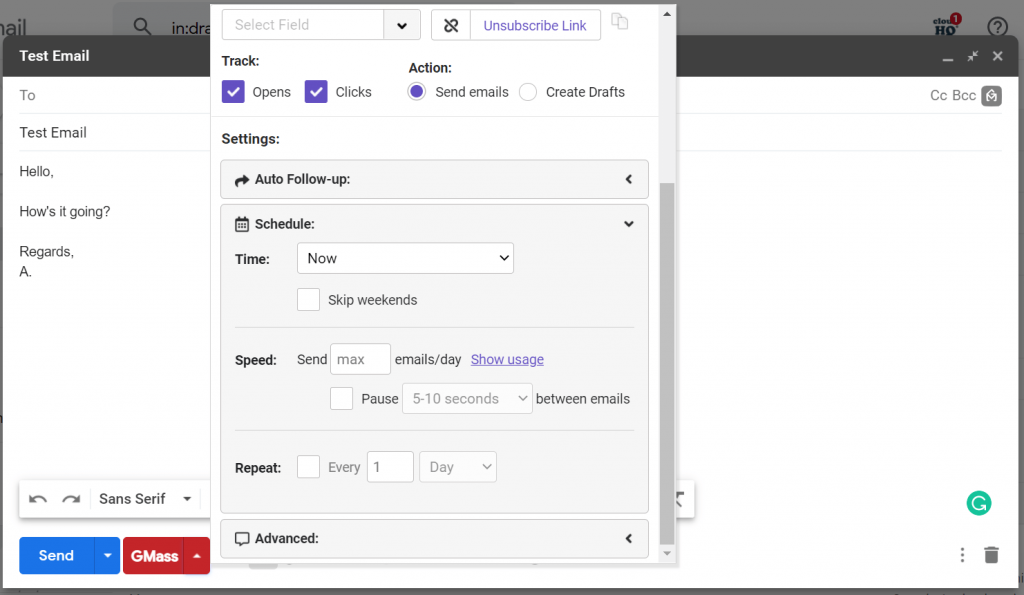 The best part? 
Getting started with GMass is a piece of cake. All you need to do is download the Chrome extension and sign up with your Gmail account, and you're good to go.
B. Video conferencing software
One of the cornerstones of in-person sales is meeting your lead face-to-face.
And while nothing can replace being right in front of your lead, video calls can help you capture some of that magic. Virtual sales calls can help you provide value in an informative and engaging way, creating a more personal experience for the prospect.
Several video conferencing tools can help you, with Zoom, Microsoft Teams, Skype, and GoToMeeting being the most popular.
Using a tool that your prospect is already familiar with makes the virtual sales process a lot smoother. So ask them what video conferencing tool they are familiar with and try to set up a meeting on that platform.
C. Use graphics to enhance your presentations
While most sales calls can be dull, you can keep your B2B buyers or B2C customers engaged with graphics that make your interactions more exciting.
Consider creating an interactive sales deck with photos, charts, icons, infographics, and other graphic tools to add value while keeping the prospect engaged.
Canva is one of the most popular web-based graphics tools that can help you do this. Its free version offers a great variety of templates and designs, or you can opt for a paid plan that gives you access to even more options.
Visme is another excellent web-based platform you can use to create beautiful graphs, reports, and charts to make your presentations more appealing.
D. A CRM tool to help filter data
A customer relationship management (CRM) tool is a massive help in streamlining your virtual sales cycle.
With a CRM, you can manage and analyze customer data, segment your customers, create sales reports, forecast sales, and scale your sales process as the organization grows.
Zoho is a popular CRM tool that offers lead management, omnichannel communication solutions, and various analytics options. HubSpot CRM is another well-known platform that can serve your organization.
Tip #2. Provide additional value
47% of modern buyers have viewed at least 3-5 pieces of content before interacting with a company's sales representative.
And it's important to be aware of this because you don't want to tell your prospects what they already know.
If you can't provide value beyond the information buyers can find on their own, they have no reason to engage with you.
Instead, provide them with additional value throughout the virtual sales process.
Give them solutions to problems that they weren't aware of that could be affecting their success.
For example, you could explore industry trends that impact the prospect and educate yourself on those areas. Then you can find and share relevant information that makes them aware of these issues.
Adding this kind of value is a sure-fire way to engage them and get them interested in what you're offering.
Tip #3. Provide value immediately
Keeping the buyer engaged is critical to having a productive virtual sales meeting.
As a salesperson, this means you need to provide value as soon as the virtual meeting begins. Lead with a unique perspective that you've developed through similar discussions in the past.
An example would be to start the meeting with a challenge you've identified. This will show them you have something to offer from the get-go, help guide the conversation, and create a space where the prospect can trust you.
Tip #4. Ask key questions
Whether it's B2C or B2B sales, asking the right questions is highly effective and goes a long way in making prospects feel involved during a virtual meeting.
But what questions should you ask?
Start by asking them open-ended questions about the challenges they face and the goals they want to achieve. This helps lay the foundations for creating a meaningful relationship, and you'll gain valuable insights into the areas where you can help — and that will improve overall engagement.
Moreover, it makes the prospect feel like you care and opens the door for them to ask you questions. And by providing solid answers to those questions, you'll build trust, which brings me to the next point…
Tip #5. Practice active listening to gain trust
Practicing active listening means paying attention to more than just what your prospect says over the video call.
It's about taking a close look at their choice of words, tone of voice, etc.
In essence, active listening is about absorbing a deep understanding of what your prospect is saying, rather than listening simply to respond. This helps you uncover the buyer's needs and see if they're a good fit for your offerings.
For the prospect, this shows you're genuinely interested in listening to their concerns and helping them find the best solution.
All of this allows you to demonstrate your expertise, which helps build credibility, leading to trust. And without credibility or trust, you're unlikely to land a sale.
Tip #6. Align your marketing and sales teams
Marketing and sales are core business components that can't exist without each other.
And while the two departments may not always see eye-to-eye, having them working in tandem is crucial for an effective virtual selling strategy.
Your marketers have a great understanding of who the customer is through extensive research, but it's unlikely they've spoken directly to your prospects. On the other hand, the sales team can provide great insights into the prospect's biggest pain points or the goals they want to achieve.
For example, since so much of your marketing efforts are likely already digital, marketing teams will have information on what digital assets your leads are interested in seeing. This can make digital pitches easier for sales teams, as they're aware of what the prospects are looking for in advance of a sales pitch.
As a result, aligning marketing and sales teams can increase your closing rate by 67% and boost your marketing revenue by more than 200%.
Tip #7. Track key metrics
Tracking key metrics is a must to ensure you're constantly improving your virtual sales processes. It helps you identify what's working and what could be improved further in your approach.
Here are some key metrics that will help you analyze your virtual selling campaigns:
Opportunity-to-win ratio
Conversion rate
Revenue generated by each representative
Average days to close
Average deal size
How much time the prospect spends in each stage of the sales pipeline
Churn rate
Average lead response time
It's also worth tracking the performance of your emails — as that plays a crucial role in how you reach out to the prospects in the virtual world.
Fortunately, GMass's campaign report automatically summarizes all your email campaign data, including:
The total amount of emails you sent
How many recipients opened your emails
How many recipients clicked a link, and more
Wrapping Up
Virtual selling is here to stay, so it's essential to have the right sales training to stay afloat.
Use the tips in this guide to improve your virtual selling skills and sales performance to hit those targets with ease. And given how popular email marketing is today, you need to have the right email tool to amp up your virtual selling efforts.
In other words, you need GMass.
From auto-personalizing mass emails to analyzing your campaign's effectiveness, GMass can overhaul the way you send emails.
So, why not give GMass a try today and see the benefits for yourself? 
---
Footnote:
https://www.mckinsey.com/business-functions/marketing-and-sales/our-insights/these-eight-charts-show-how-covid-19-has-changed-b2b-sales-forever 
Ready to

transform Gmail

into an email marketing/cold email/mail merge tool?

Only GMass packs every email app into one tool — and brings it all into Gmail for you. Better emails. Tons of power. Easy to use.

TRY GMASS FOR FREE

Download Chrome extension - 30 second install!
No credit card required
Love what you're reading? Get the latest email strategy and tips & stay in touch.