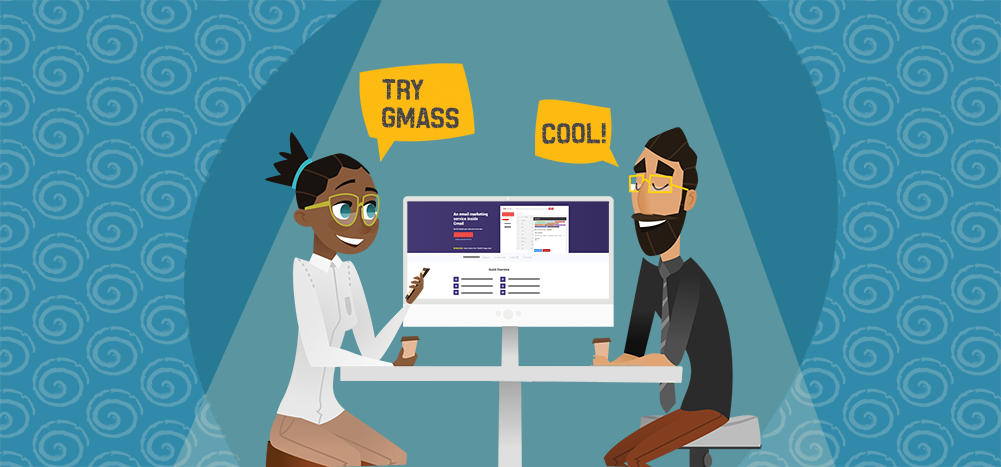 GMass has an affiliate program, making GMass the only mail merge system for Gmail that provides its 500,000 users the opportunity to make money by referring more users to GMass.
As of July 2023, GMass has paid out more than $110,000 to affiliates. If you refer a paying subscriber to GMass, you will earn:
50% of the first year's base monthly fees for any new individual plan subscriber.
20% of the first year's base monthly fees for any team plan subscriber.
20% of the second and third year of the subscriber for both team plans and individual plans.
So to run the math on an example for you…
If you find a new customer who subscribes to our (most popular) Premium plan at $29.95/mo. and they maintain their subscription for three years, you'll receive $179.70 for their first year and $71.88 for years two and three — a total of $323.46!

What our affiliates say…
GMass is a real game-changer for email marketing. But what really impressed me is their affiliate program. They offer generous commissions for up to three years for every new subscriber I refer to GMass.
It's a win-win situation for me and my referrals. GMass is the only mail merge system for Gmail that pays you to share it with others.
– Roman Hruska
MakeMoneyFarm.com
Top Benefits of the GMass Affiliate Program
Make recurring commissions — including possibly the most generous year-one commission in the biz
GMass's affiliate program is recurring — as long as the person who signed up stays subscribed, you'll continue to get your commissions for up to three years.
Our commission structure is also set up to help you max out your payments; the 50% year one payout is one of the most lucrative in the business.
What our affiliates say…
It's been 2 years, and I've earned tons of income from the GMass affiliate program. The commissions are good and even when I'm not creating new promotions, I'm still getting high recurring payouts.
– Daniel
Immediate approval — start making commissions today
Follow the instructions later in this article to get set up with the program. The process takes roughly 30 seconds.
Open to anyone worldwide (with flexible payment options to match)
GMass is a popular product around the world, so the GMass affiliate program is also available around the world.
We offer quarterly payouts via PayPal, Amazon gift card, or Payoneer to facilitate our global group of ambassadors.
Promote GMass however you want
As long as you're promoting GMass legally and not portraying GMass negatively in any way, you can promote as you see fit.
That includes cold email (as long as it's not spam), paid media, and even word-of-mouth. That's right: If you recruit someone to GMass and they sign up without your affiliate code, just let us know within 7 days.
And when someone does click your affiliate link, we give you a lengthy 90-day cookie for them to sign up for an account.
Independently run
There's no need to go through the lengthy sign up and application process you get from a major affiliate platform. At GMass we run our own program which makes for quick signups and tons of flexibility.
Sell a product that really sells itself
Once a person finds out about GMass and starts using it, they tend to understand its incredible value almost immediately. (Check our 7,500+ glowing reviews. That's the recurring theme.)
GMass has a high free trial-to-paid conversion rate and paid subscribers tend to stick with the platform once they sign up.
That's all good news for you as an affiliate. Yes, you'll need to educate people about GMass and its benefits. But once you get them to try it… we like to think GMass does a pretty great job selling itself.
What our affiliates say…
As an email deliverability and email marketing consultant, I'm referring GMass directly to my clients. If someone asks me about the best email automation tools, then I'm referring GMass as it's really best.
At the end of the day, clients need value, so if we are able to explain the real value of using a product, the client will purchase it. And we will able to make a commission by it. My clients are happy to purchase the GMass subscription from my affiliate link.
– Riyad
It costs you nothing, so there's really no downside if you ever plan to tell anyone about GMass (that could be worth $300+)
As we said earlier, GMass gets rave reviews and we know lots of our users recommend the platform to others. We see it every day on social media!
So if you think you ever might refer someone to GMass… might as well sign up for the affiliate program to have it handy.
Even if you're not a traditional affiliate marketer, you could make hundreds of dollars for every person you refer over the course of their subscription.
There's really no downside.
How to Sign Up to Start Referring New Users — Instant Activation!
Go to this page and fill out the brief form.
You'll get your GMass affiliate code, linking instructions, and other program information immediately.
How to Get Credit for GMass Users You Refer
There are two methods by which you can claim a new user signup:
The new user clicks on a link containing your affiliate code. If your affiliate code is 2f87b89368894da3bd32zad434fdb8a3 for example, the link would be in the format of: www.gmass.co/?a=2f87b89368894da3bd32zad434fdb8a3. We'll then cookie the site visitor for 90 days. Note that the visitor must be a first-time visitor to the GMass website.
You can manually let us know that a user you referred has signed up, if you do so within seven days after the user creates their account. To manually let us know:

Compose a new message in Gmail
Put [email protected] in the To field
Put the Gmail account email address of the user you referred in the Subject line
Then hit the main GMass button. Do not hit the Send button.
Payouts
Unlike most affiliate programs, GMass will handle all payouts internally and without the use of a third party. After you sign up, we will work with you to determine the best method of payment. Possible options include: PayPal, Amazon gift card, and Payoneer. Generally, payments will be made to you once a quarter.
Payouts will only be made when an affiliate is owed $20 USD or more.
What our affiliates say…
The GMass Affiliate program is amazing with good recurring commissions. Also, the conversion rate is too good! I really enjoy promoting it.
– Ben
BloggingHawk.com
Keeping You Informed
We'll notify you by email whenever someone you refer takes an action, including:
Signing up for GMass
Subscribing to GMass
Canceling a GMass subscription
That way you're always in the know. We used to be able to notify you when your referral merely installs the Chrome extension before creating an account, but we can't do that anymore since Chrome disabled the ability to do inline extension installs.
How to check your reporting
You can check your affiliate report in the GMass dashboard. At anytime you can get a report of all the accounts that have signed up with your Affiliate ID, and whether they are free or subscribed accounts.
As an affiliate, you'll see a dollar sign icon in the top right. When you click on it you'll see your affiliate report.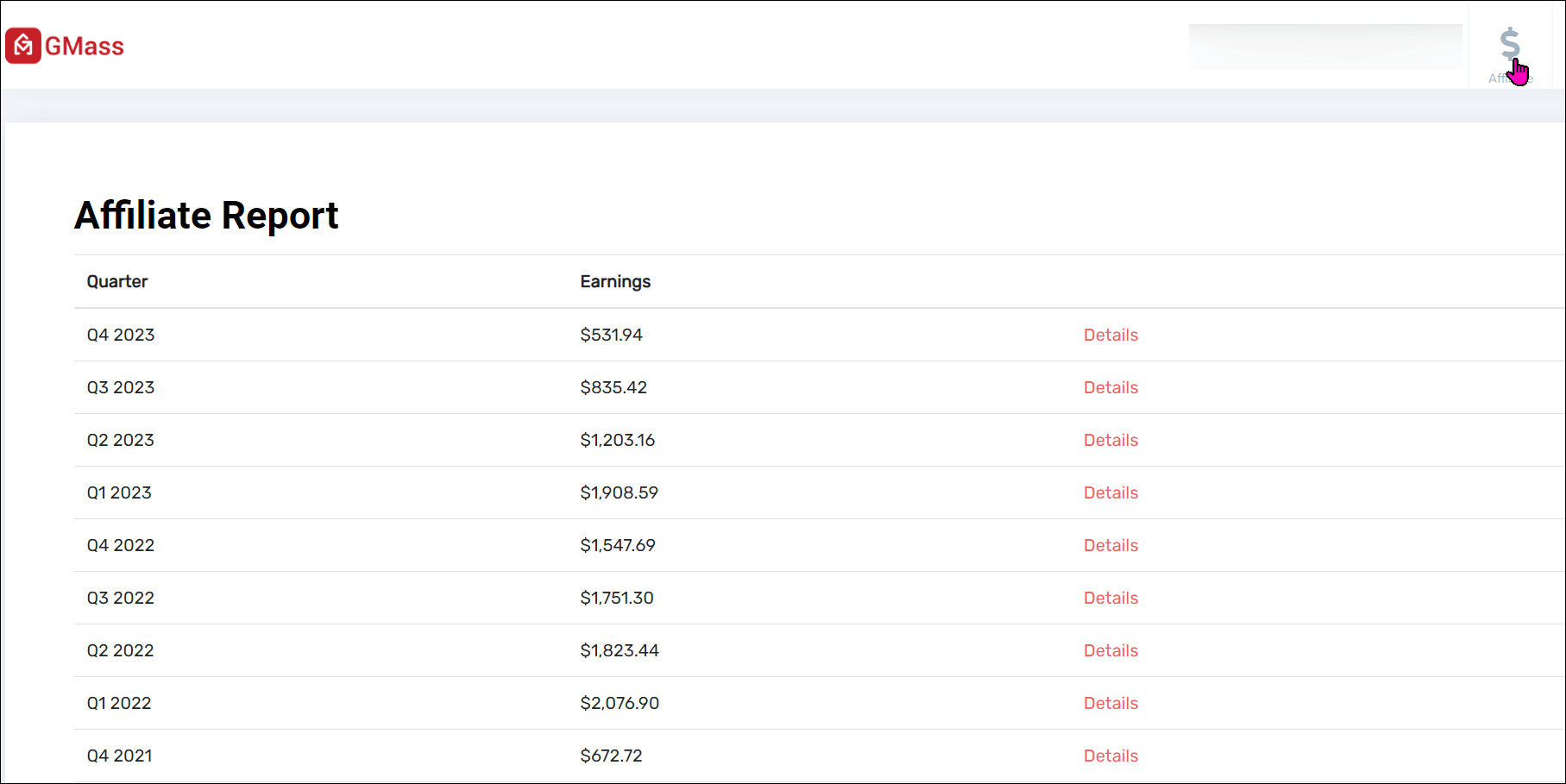 Click into the Details link to see a more granular breakdown of your affiliate commissions for each quarter.
You can also check your reports by sending an email.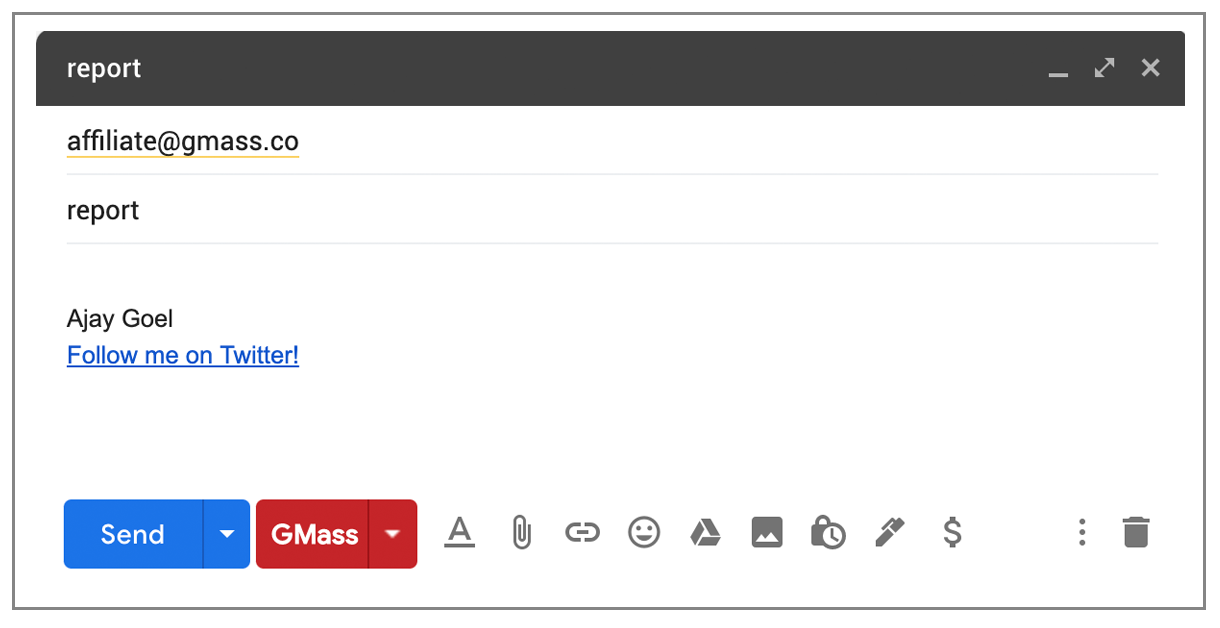 To get that report:
Compose a new message in Gmail
Put [email protected] in the To field
Put the word report in the Subject line.
Then hit the main GMass button. Do not hit the Send button.

The report contains the financial details of all of your referrals, including the revenue generated by each referral and the portion that will be paid back to you. The data updates every Sunday afternoon, so that you can get updated data on how much you've earned every week if you like.
Program Rules and FAQ
The paying subscriber you refer must visit the GMass website by clicking a link with your unique affiliate code so that we can track the referral, OR you must let us know within seven days of someone signing up that you are the one who referred them, using the method above.
If using a link with your affiliate code as the source of your referrals, we will cookie your referrals for 90 days. That way, even if they don't immediately install the GMass extension and connect their account, they will have 90 days to do so for you to still be credited with the account.
If you let us know manually within seven days of a signup that you referred that new user, we may choose to conduct additional research to verify that you do indeed have a relationship with that user. This aspect of the GMass affiliate program is subject to abuse since it's dependent on you the affiliate, being honest.
You cannot refer yourself or others at your own Google Workspace domain. Meaning, if you have a GMass account [email protected], and you refer [email protected], that does not qualify. If, however, you refer [email protected], that does qualify.
Only accounts that are new GMass users can count as an account that you refer. Meaning, you cannot take credit now for a GMass user that signed up last month.
You may not promote GMass in any way that portrays GMass negatively, including sending spam to promote GMass.
We do not compensate for just new users. A new user has to subscribe to a paid GMass plan in order for us to pay you, the affiliate.
Any new subscribers you refer must be legitimate subscribers, meaning they can't be spammers or phishers or use GMass for any nefarious activities.
Any new subscribers you refer must have created their GMass account after you signed up. As an affiliate, you are not required to have a paid GMass subscription yourself.
95% of subscribers pay via Stripe, and 5% pay via PayPal. Unfortunately, due to PayPal's antiquated system, we can't calculate referral fees from subscribers that pay with PayPal. Please encourage your referrals to pay via Stripe so that you get credit for them.
GMass, Inc. reserves the right to terminate the affiliate program at any time, including termination of all payouts, for any reason. In general though, as an affiliate, you can expect to be treated fairly and compensated appropriately for referring paid subscribers.
The rules are subject to change at any time, and when they do, we will update this blog post with those changes.
Time to Get Started!
So if you haven't done so already, it's time to sign up for the GMass affiliate program.
Whether you're an established affiliate marketer, a cold emailer who sees this as a new opportunity, a rookie publisher, someone who just wants to get paid for recommending GMass to friends, or anyone in between — this program is made for you.
So sign up via our quick application we look forward to sending you your first commission check.
See why GMass has

300k+

users and

7,500+

5-star reviews

Email marketing. Cold email. Mail merge. Avoid the spam folder. Easy to learn and use. All inside Gmail.

TRY GMASS FOR FREE

Download Chrome extension - 30 second install!
No credit card required
Love what you're reading? Get the latest email strategy and tips & stay in touch.