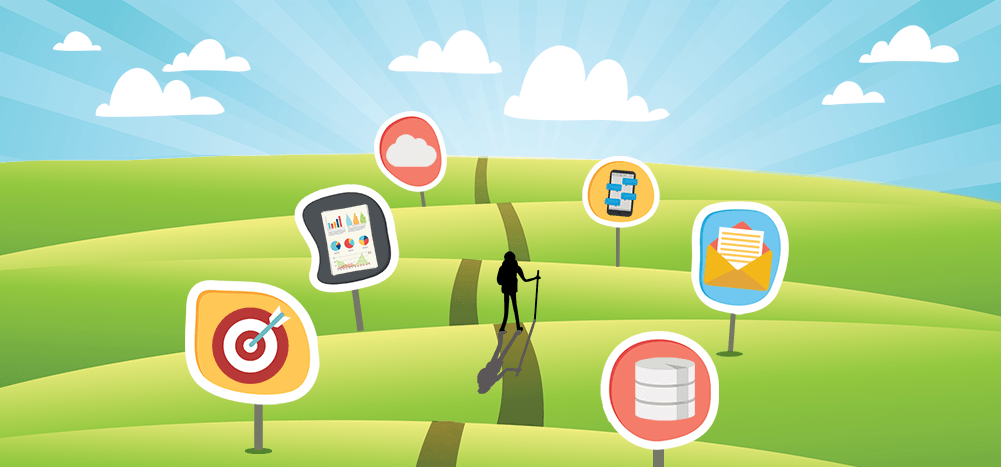 CRM marketing involves using CRM software and related tools to manage leads and nurture relationships. It helps you align your sales and marketing strategies for better conversion and more revenue.
In this article, I'll go over some CRM marketing basics and highlight five fantastic CRM solutions you could use to boost your marketing efforts. And as a bonus, I'll highlight the best way to boost your CRM marketing efforts.
This Article Contains:
(Click on links to jump to specific sections.)
Let's get started.
What Is CRM Marketing?
CRM marketing is a digital marketing strategy that leverages customer relationship management (CRM) software capabilities. For example, you can integrate your CRM software with an email marketing tool to create personalized emails quickly for your leads.
But what is CRM software?
CRM software is an application that helps you manage customer or lead interactions and nurture relationships.
With a CRM tool, you can:
Get a clear overview of all lead or customer interactions.
Align your marketing process and sales pipeline.
Avoid conflicting messages to leads from sales reps and marketing department members.
Facilitate a smooth customer journey for your leads.
Retain existing customers and enhance customer loyalty.
Essentially, customer relationship management software helps you make more data-driven sales and marketing decisions and create better campaigns that boost sales conversions and business revenue.
However, as there are so many CRM software solutions out there, choosing a tool that effectively meets your marketing objectives can be tricky. To help you make the right call, I'll list down some of the crucial features to look for in CRM marketing software.
Note: If you're only looking for a list of CRM marketing tools, feel free to skip to my top five CRM marketing solutions.
What You Should Look for in CRM Marketing Tools
Here are some essential features a software application needs to be an excellent fit for your marketing CRM strategy:
1. Centralized Data Hub
The most fundamental requirement in CRM marketing tools is a centralized data hub or database to store and manage lead and customer information.
You can use the CRM database to organize:
Contact info
Company details
Call logs
Sales and marketing interaction history
Customer satisfaction ratings
Unresolved customer needs
The CRM database contains a gold mine of data that your marketing team and sales reps can use to understand the customer base better. It can help you understand whether a lead is a good or poor fit, whether they're sales-ready or not, and more.
Additionally, it offers a single source of truth (SSOT), ensuring that both the sales and marketing teams make critical business decisions based on the same data.
2. Audience Segmentation
Your marketing CRM software should let you segment customer data to help you target the right audience.
Most CRM marketing solutions support data segmentation based on:
Industry, job, or age
Company annual revenue
Number of employees
Social media activity
Prior interaction behavior like clicks, views, unsubscribes, requests, etc. (Even if a CRM does not support this data, integrating it with a marketing automation software will make it easily available.)
And more
The data segmentation capability in a marketing CRM system sets the groundwork for personalized customer communications. Moreover, it ensures that you approach and nurture only those prospects who are a good fit for your company and add significant sales value.
3. Content Personalization
A marketing CRM system should help you personalize your marketing efforts. This helps tailor your marketing message to reflect a particular lead's specific interests.
For example, the CRM marketing tool can give you the data you need to create customized messages based on the lead's name, company name, industry type, and other specific interests.
Marketing content personalization enables you to:
Improve customer engagement
Carry out better lead nurturing
Boost customer satisfaction
Stand out from the crowd of competitors
Close more sales
4. Workflow Automation
The ability to set up automation workflows within your CRM marketing software can save you a lot of time and effort.
You should be able to create custom trigger-action combinations to automate parts of the marketing or sales process. For example, you could set up a trigger in your email marketing tool to send automatic welcome emails to people who just signed up for your newsletter.
Essentially, workflow automation lets you scale up your marketing efforts quickly to cater to a broad customer base. This way, you can consistently generate an optimal number of leads for your sales reps to pursue and close.
Now that we've covered the essential features to look for in CRM marketing software, let's take a look at my top picks for CRM marketing solutions:
5 Excellent CRM Marketing Solutions
Here are five great CRM marketing software to help you improve marketing efficiency and provide a more wholesome customer experience:
I'll take a closer look at their key features, pros, limitations, pricing, and ratings to provide you a complete picture of these tools:
1. Salesforce Marketing Cloud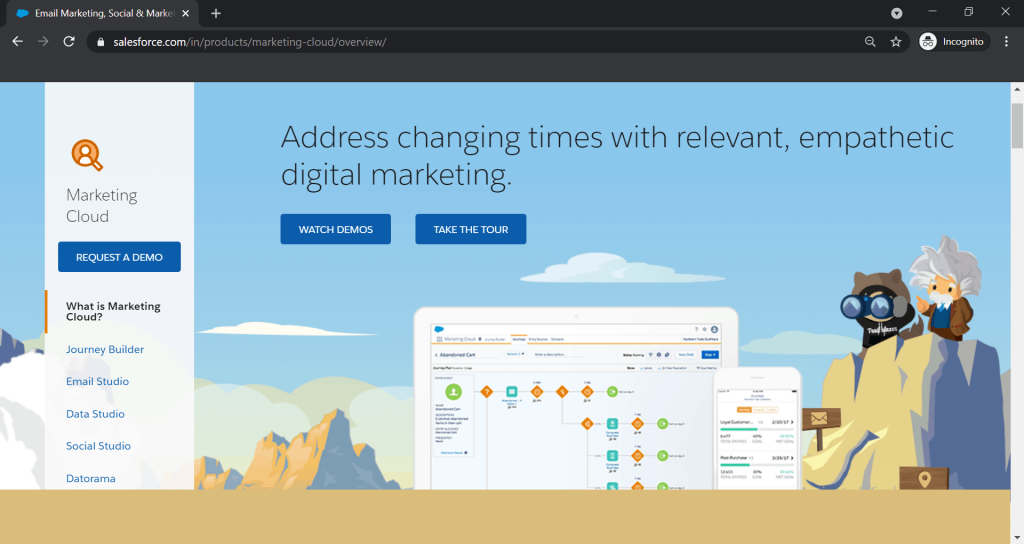 Salesforce Marketing Cloud is a comprehensive customer relationship management product suite. It offers multiple tools to help you manage customer interactions, send marketing campaigns, track marketing performance, and more.
Salesforce Marketing Cloud Key Features
Customer 360 Audience functionality to consolidate, segment, and analyze marketing CRM data
Advertising Studio to help you create personalized ad campaigns by leveraging CRM data
Pardot (aligned with the Salesforce Sales Cloud) to combine sales and marketing efforts in one platform for easier B2B marketing automation
Salesforce Marketing Cloud Pros
Can personalize mobile interactions with your audience, including text messages, notifications, chat messages, and more
Tracks and manages the customer journey in real-time using the interaction studio
AI-powered personalization to market to various types of customers
Salesforce Marketing Cloud Limitations
Can be expensive for a small business
The CRM platform has a steep learning curve.
Lacks advanced built-in analytics capabilities
Salesforce Marketing Cloud Pricing
This marketing CRM platform offers several pricing plans to suit diverse user requirements:
Customer 360 Audiences (starts at $12,500/organization per month):
45,000 unified profiles
10 million super messages
7.5 billion engagement events
And more
Loyalty Management (starts at $30,000/user per month):
Membership administration
Rewards management
Benefits management
And more
B2B Marketing Automation (starts at $1,250/month):
10,000 contacts
Prospect tracking
Marketing ROI reporting
And more
Social Studio (starts at $1,000/organization per month):
Brand listening and engagement on social networks
20,000 monthly mentions
2 social media accounts
And more
Google Marketing Platform (starts at $12,500/organization per month):

Google Analytics 360
Google Analytics 360 integration for Marketing Cloud
Tag Manager 360
And more
Salesforce Marketing Cloud Ratings
Capterra: 4/5 (260+ reviews)
2. Zoho CRM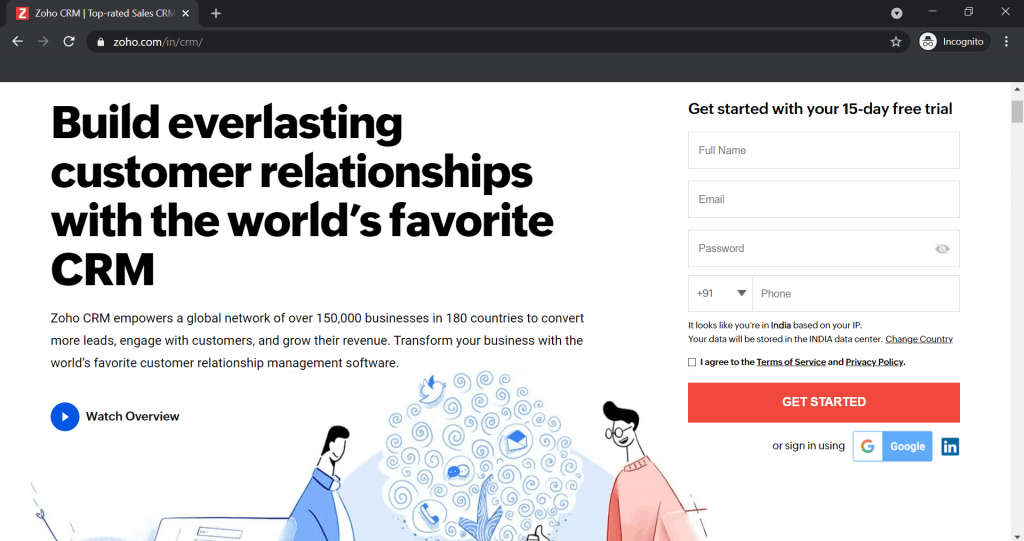 Zoho CRM is a sales and marketing CRM software that allows you to connect with potential customers, track interactions, manage their data, and refine your marketing strategy.
Zoho CRM Key Features
Marketing automation to help you reach out to prospective and existing customers quickly
Reports to gain real-time insights into sales process or marketing campaign performance
Social media marketing features to monitor brand-related conversations online and capture leads directly
Zoho CRM Pros
Collaboration capabilities so that each sales rep and marketing team member can work together
Mobile apps to use their CRM functionalities on Android or iOS devices
Assigns roles to define permissions and control access to customer information on your CRM system
Zoho CRM Limitations
The free plan is limited to only three users.
It provides limited customization fields.
User reviews mention that the tool can be challenging to integrate with non-Zoho applications.
Zoho CRM Pricing
This marketing CRM tool offers five pricing plans:
3 users
Lead tracking
Mobile apps
And more
Standard ($18/user per month):
Supports all "Free" features
Custom workflows
Custom dashboards
And more
Professional ($30/user per month):
Supports all "Standard" features
Validation rules
Web-to-case forms
And more
Enterprise ($45/user per month):
Supports all "Professional" features
Multi-user portals
Advanced customization
And more
Ultimate ($55/user per month):
Supports all "Enterprise" features
Enhanced feature limits
Advanced business intelligence
And more
Zoho CRM Ratings
Capterra: 4.2/5 (4740+ reviews)
3. Nutshell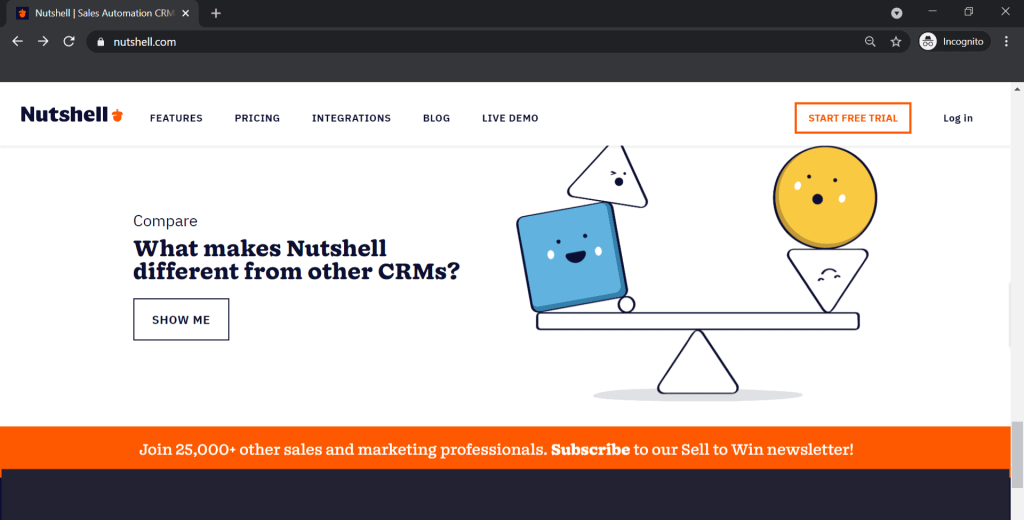 Nutshell is a sales automation and marketing CRM software that helps you with lead generation, lead nurturing, and marketing automation.
Nutshell Key Features
Filters to create marketing lists based on industry, geographical location, and more
Reporting dashboard to see a list of everybody who has opened or clicked on your marketing messages
Timelines to get an overview of every interaction with your potential customers
Nutshell Pros
Can combine sales and marketing contacts in one place, so you won't have to sift through multiple lists.
Integrates with third-party apps like Slack, Microsoft Office 365, Zapier, and more.
Offers built-in collaboration capabilities so you can tag marketing team members and store communications right inside the tool.
Nutshell Limitations
No free plan is available.
UI can be a little cluttered and difficult to navigate.
It lacks advanced lead email filtering capabilities.
Nutshell Pricing
This marketing CRM solution offers two pricing plans:
Starter (starts at $22/user per month):
Communication histories
Activity and results dashboard
And more
Pro (starts at $39/user per month):

Supports all "Starter" features
Automated lead assignment
And more
Nutshell Ratings
Capterra: 4.2/5 (350+ reviews)
4. Agile CRM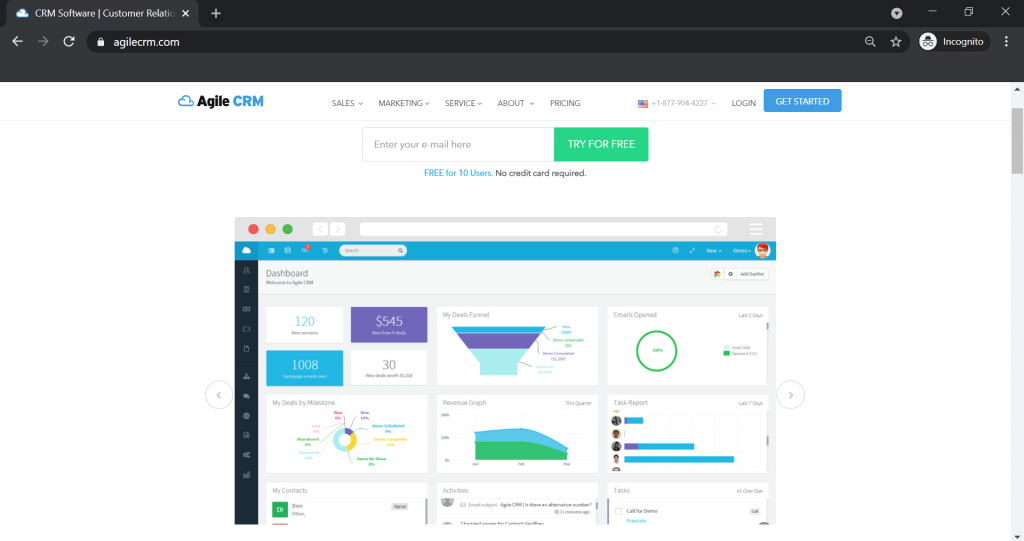 Agile CRM is a cloud-based marketing and customer relationship management tool with sales enablement, marketing automation, and customer support functionalities.
Agile CRM Key Features
Drag-and-drop designer to create marketing automation workflows
Landing page builder to create mobile-responsive and high-converting landing pages
Social media marketing to integrate social media into your marketing strategy
Agile CRM Pros
Can convert abandoning website visitors into potential customers through exit-intent popups
Can create surveys, coupons, and signup forms to increase conversions
Offers customized small business, SaaS, and eCommerce solutions
Agile CRM Limitations
User reviews mention that it can be challenging to import contacts into this CRM tool.
It doesn't integrate directly with popular reporting applications like Tableau.
It supports only limited service automation capabilities.
Agile CRM Pricing
This marketing CRM platform offers four pricing plans:
10 users
Landing page builder
Form builder
And more
Supports all "Free" features
Marketing automation
Social monitoring
And more
Supports all "Starter" features
Mobile marketing
50+ plugins or integrations
And more
Enterprise ($79.99/month):
Supports all "Regular" features
Email and team reports
Dedicated account rep
And more
Agile CRM Ratings
Capterra: 4.2/5 (400+ reviews)
5. Insightly CRM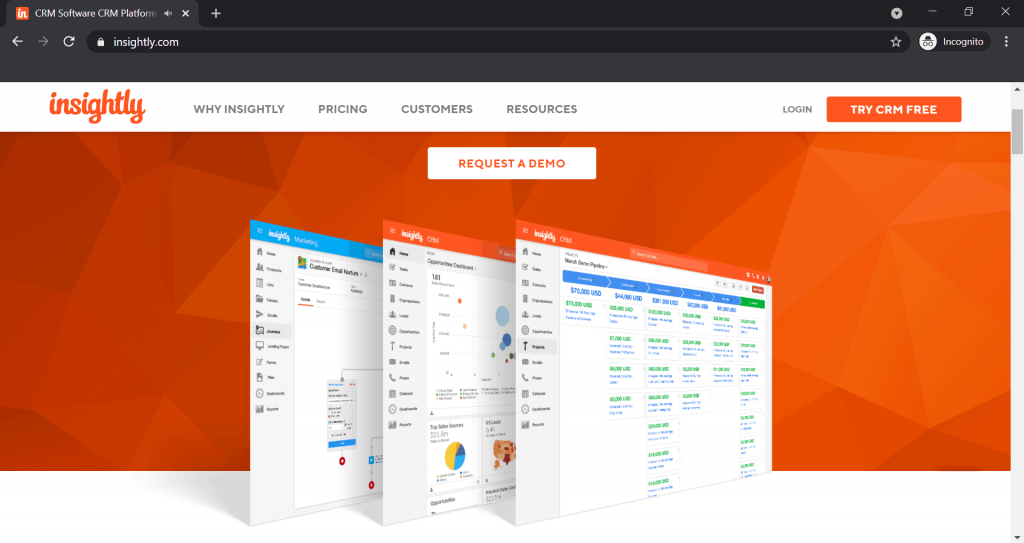 Insightly CRM is a CRM marketing tool that helps you manage marketing communications, sales, and projects under one unified, cloud-based platform.
Insightly CRM Key Features
Relationship linking provides a glimpse of the connections between your potential or existing customers, team members, managers, and more.
Workflow automation can create or update customer lead records with ease.
Project management features help you move won opportunities directly into projects.
Insightly CRM Pros
Lets you build and deploy custom apps with dashboards, reports, and calculated fields.
Supports integrations with Dropbox, Google Workspace, Zapier, Microsoft Office 365, and more.
Provides a rich activity timeline of your marketing emails, phone calls, and meetings.
Insightly CRM Limitations
Limited dashboard capabilities on the Android and iOS mobile apps.
Initial configuration of the tool can be challenging for non-technical users.
Base plan doesn't support workflow automation.
Insightly CRM Pricing
This marketing CRM solution offers three pricing plans:
Plus ($29/user per month):
Lead management
Automatic social media profile enrichment
Relationship linking
And more
Professional ($49/user per month):
Supports all "Plus" features
Lead assignment and routing
Schedule outbound emails
And more
Enterprise ($99/user per month):
Supports all "Professional" features
Custom validation rules
Roles and permissions
And more
Insightly CRM Ratings
Capterra: 3.9/5 (480+ reviews)
G2: 4.1/5 (560+ reviews)
All five of these tools are great CRMs that help you manage lead data and craft effective marketing campaigns.
However, you can't stop at that.
You need to leverage all that customer data you collected and find an effective way to reach out to them consistently. This way, you'll stay top-of-mind so they can remain loyal customers.
Unfortunately, most CRM systems are centered around data collection and organization. When it comes to reaching out to customers effectively, you'll likely need another tool that works along with your CRM.
But what's the communication platform to use?
The Best Way to Power-Up Your CRM Marketing Efforts in 2021
CRM marketing simplifies the customer data consolidation process and streamlines parts of your marketing process.
However, to maintain sustained customer relationships, you'll need to communicate effectively with them consistently. And for this, you need to combine your CRM strategy with an outreach tool that can help you connect with the audience and build stronger relationships.
What you need is GMass!
Wait, what's GMass?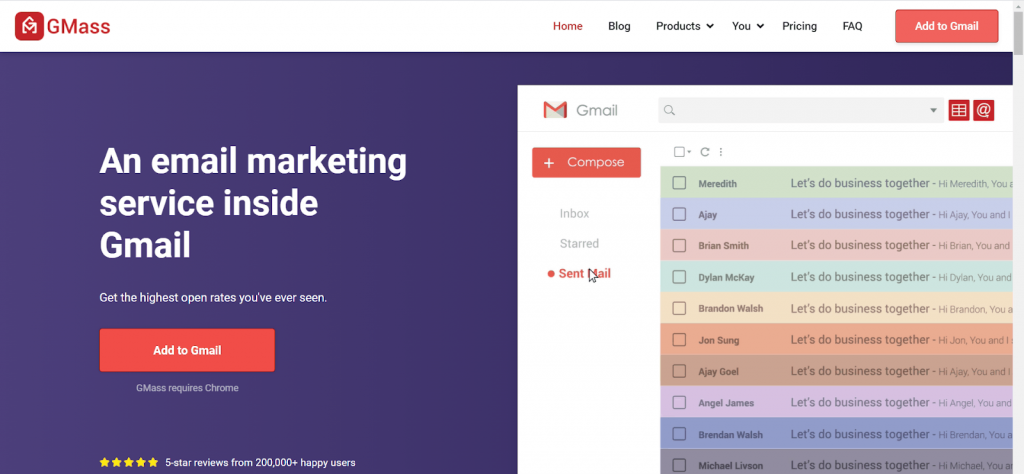 GMass is a powerful email marketing and marketing automation software tool that works right inside Gmail.
Its outreach capabilities have made it a popular marketing tool used by employees in large companies like Google and Uber and workers at social media giants like Twitter and LinkedIn.
But that's just the tip of the iceberg.
The tool is also perfect for any marketing agency, small business owner, or even solopreneur.
You can start using GMass by downloading the Chrome extension and signing up with your Gmail email address.
With GMass, you can:
Send automatically personalized marketing bulk emails at scale.
GMass can customize everything from the subject lines to paragraphs, links, and images in your marketing emails, based on customer data. This helps improve your recipient engagement quickly.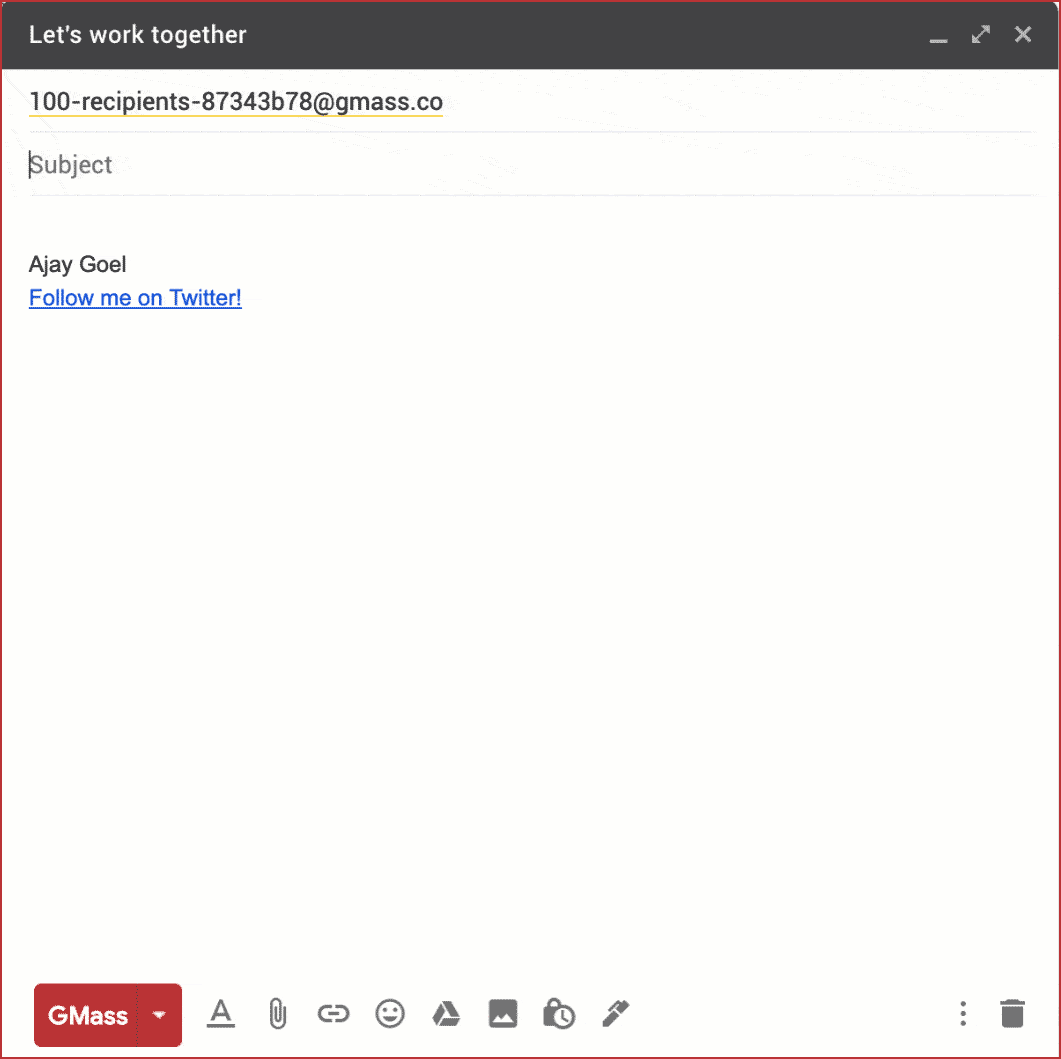 Send out automated follow-up emails to your past email campaigns until a recipient opens an email, replies to it, or clicks on a link.
You can also personalize these follow-up marketing emails and adjust the sending frequency. This way, you can encourage better response rates from your recipients.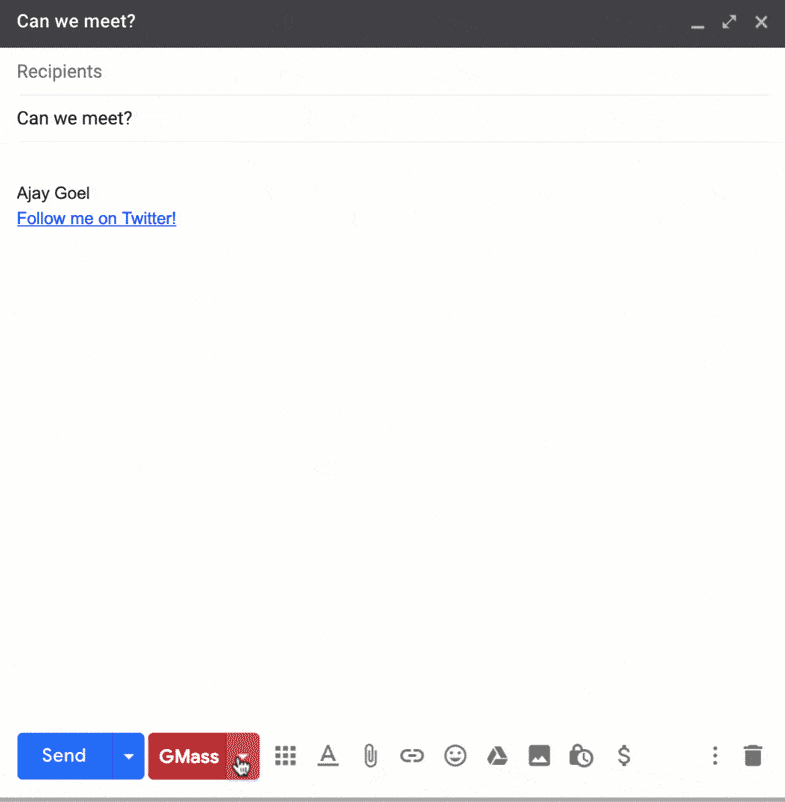 Build targeted email lists directly inside Gmail.
Simply type in some related keywords in the Gmail search bar and hit Enter. Then, you can easily compile an email list from the search results using the "Build an email list from Gmail search results" button.
This way, you can save a ton of time needed to compile email lists manually.

Review email campaign performance through detailed analytics reports generated inside your Gmail inbox. You can evaluate your open, click-through, reply, unsubscribe rate, and more to build better campaigns.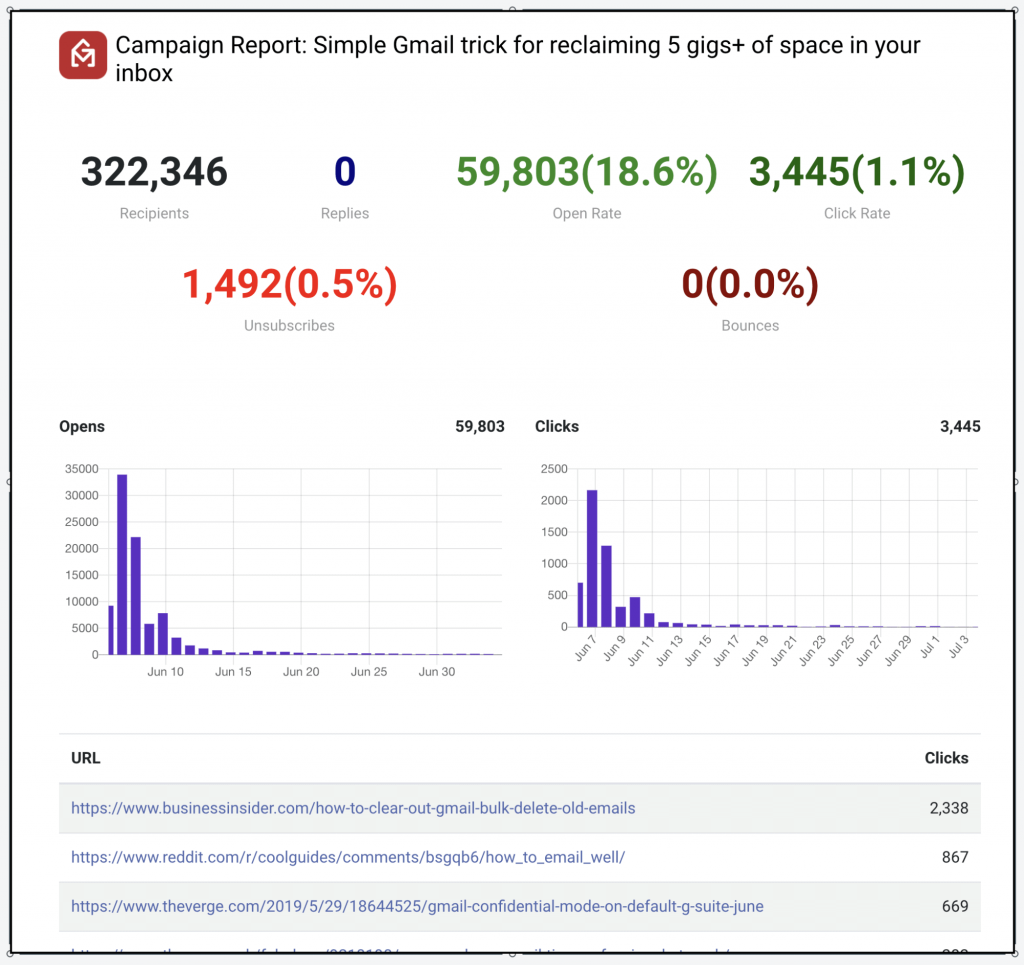 5. Schedule bulk emails in advance to go out at optimal times.
This allows you to reach your audience when customer engagement levels are at their highest.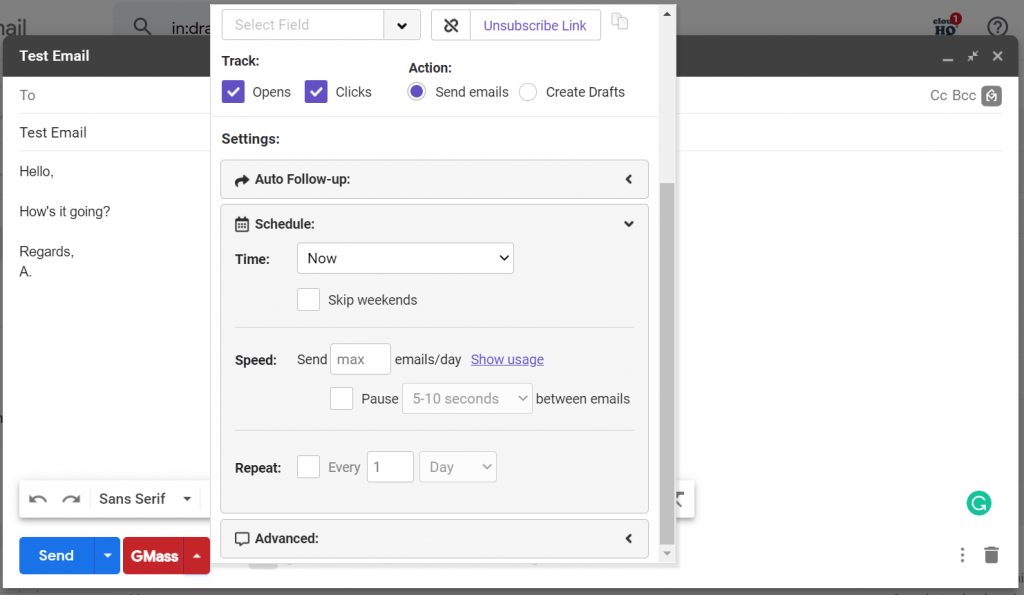 6. Integrate with a marketing CRM system like Salesforce, SMTP tools like SendGrid, Google Workspace apps like Google Sheets, and more to unify your marketing efforts.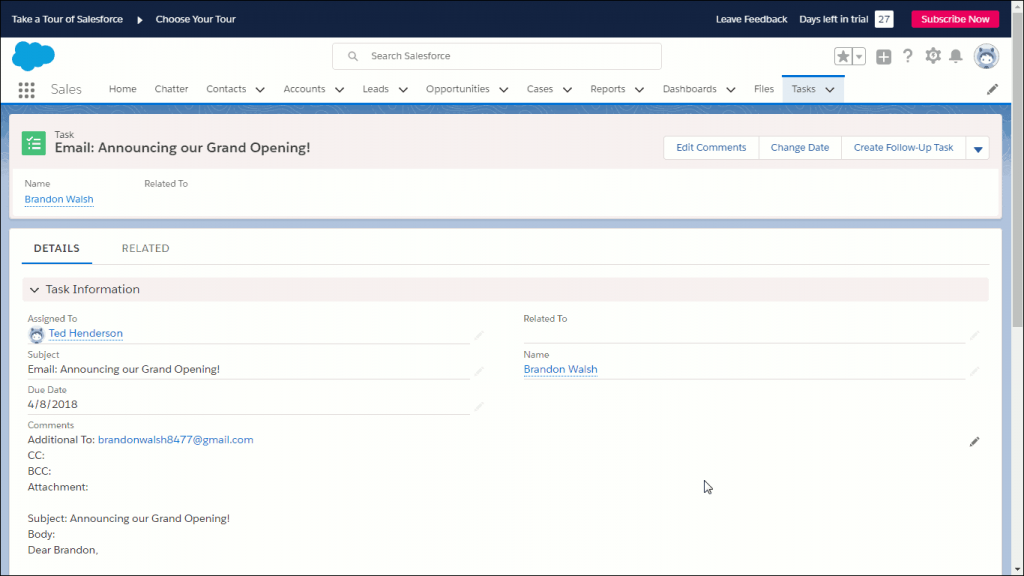 Final Thoughts
CRM marketing gives you a holistic picture of your current and potential customers, streamlines the marketing process, and allows you to make more data-driven marketing decisions.
However, not all CRM marketing tools offer the advanced outreach capabilities a marketer might need to build good customer relations and boost conversions.
Fortunately, it's easy to combine your marketing CRM software with a powerful email marketing and marketing automation platform like GMass.
With GMass, you can create auto-personalized mass emails, build a targeted mailing list, schedule your email communications in advance, review outreach performance through reports, and integrate with multiple third-party tools.
So why not try GMass today and amp up the potential of your marketing CRM system?
Ready to

transform Gmail

into an email marketing/cold email/mail merge tool?

Only GMass packs every email app into one tool — and brings it all into Gmail for you. Better emails. Tons of power. Easy to use.

TRY GMASS FOR FREE

Download Chrome extension - 30 second install!
No credit card required
Love what you're reading? Get the latest email strategy and tips & stay in touch.