Looking for some top-notch prospecting tools?
Prospecting is one of the best ways to increase your customer base and revenue.
It's a critical part of your sales cycle and usually involves:
Building an ideal customer profile.
Identifying people who match it.
Approaching them.
Sound complicated?
Don't worry.
The right sales prospecting tool can make the prospecting process a lot easier.
In this article, I'll explain why you need prospecting tools and highlight the seven best software options available today. I'll go over their key features, pros, limitations, pricing, and ratings to give you a clear picture of each tool.
Prospecting Tools: Table of Contents
(Click on a link to jump to a specific section.)
Let's get prospecting!
Why You Need Prospecting Tools
Prospecting involves qualifying leads and advancing them along the sales funnel. It helps you increase your company's customer base and bottom line.
However, the prospecting process isn't easy and gets overwhelming if you're doing everything manually. Luckily, the right prospecting tools can make your life much easier.
Prospecting tools help you:
Find and nurture leads.
Perform in-depth research on prospects.
Prioritize prospects based on your customer profile.
Monitor prospects who are using competitors' tools.
Approach numerous prospects efficiently.
Maintain consistency during prospect follow-ups.
Streamline the sales process.
Check out my ultimate guide to sales prospecting to discover effective sales prospecting techniques and strategies. 
Now, there are tons of prospecting tools available.
Some of them help you find leads, some make prospect outreach easier, and so on.
In other words, there's no single tool that does everything in prospecting.
You're going to need a combination of them to get the job done.
Luckily, I'm going to highlight some of the different types of tools you're going to need…
7 Excellent Prospecting Tools to Skyrocket Your Sales Productivity
Here are the top seven prospecting tools I'd recommend:
Each of these tools is fantastic at a particular aspect of sales prospecting.
My suggestion? 
Use all or some of them together to make your prospecting process as streamlined as possible.
I'll explore their key features, pros, limitations, pricing, and ratings to give you a clear understanding of each tool: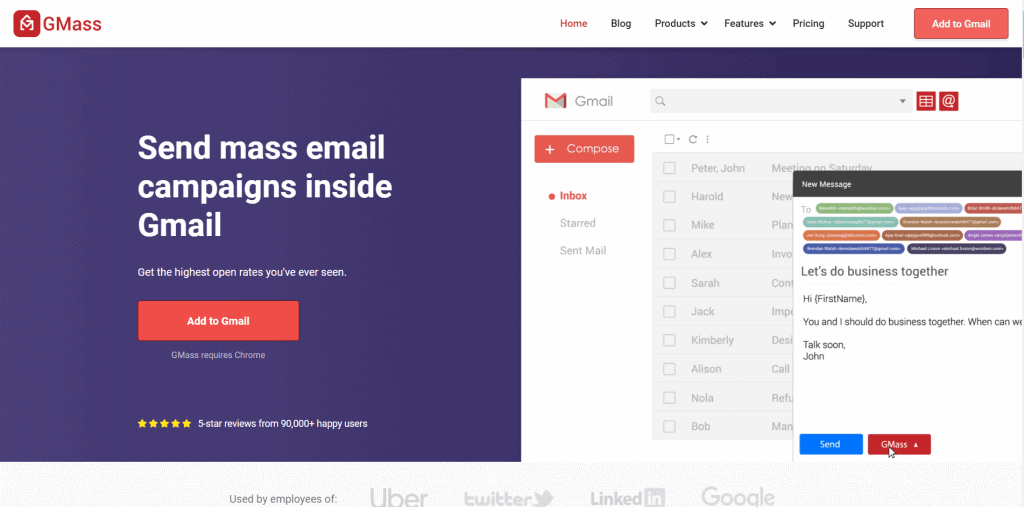 GMass is a powerful email marketing and marketing automation tool perfect for reaching out to prospects.
Its superior outreach capabilities and ease-of-use have made it a popular tool used by employees in large organizations like Uber and Google, as well as social media giants like LinkedIn and Twitter.
The tool is also perfect for small businesses, startups, solopreneurs, casual email users, and even institutions like churches.
The best part?
GMass works within Gmail, so you don't need to toggle between multiple apps when managing your campaigns.
Here's how GMass makes prospect outreach easy:
Building comprehensive prospect email lists is crucial to your sales process.
Why?
They contain leads that you can later qualify and convince to become paying customers.
Unfortunately, manually building an email list of prospects can be painstaking and time-consuming. You'll need to compile an extensive potential prospect list, carefully evaluate whether they match your buyer persona, and put together an email list accordingly.
However, with GMass, building email lists is a breeze.
You just need to enter some relevant keywords related to your target accounts in the Gmail search bar and click Search. Then, GMass quickly builds an email list from your search results and adds email addresses automatically to the Email Compose window.
For example, say you type "pets" in the Gmail search bar.
Gmail displays all emails that include the term "pets." These are people (target accounts) who are connected in some way to the search term "pets" and may constitute the audience you want to reach.
You can now begin crafting your email message for these prospects.

GMass lets you create automatic personalized emails at scale.
Why does that matter?
When you're prospecting, not everyone you approach becomes a customer. So, to increase your sales conversion chances, you must reach out to numerous prospects.
You could send everyone on your list the same message, but that's not going to work.
Why?
72% of recipients only engage with personalized emails.
This means that you have to send a personalized email to each prospect.
However, it's impractical to personalize each email manually before you send it, especially if you've got an extensive prospect list.
Luckily, GMass enables you to auto-personalize bulk emails, including automatically personalizing:
This way, your sales prospecting emails feel tailor-made, which improves engagement and sales conversion rates.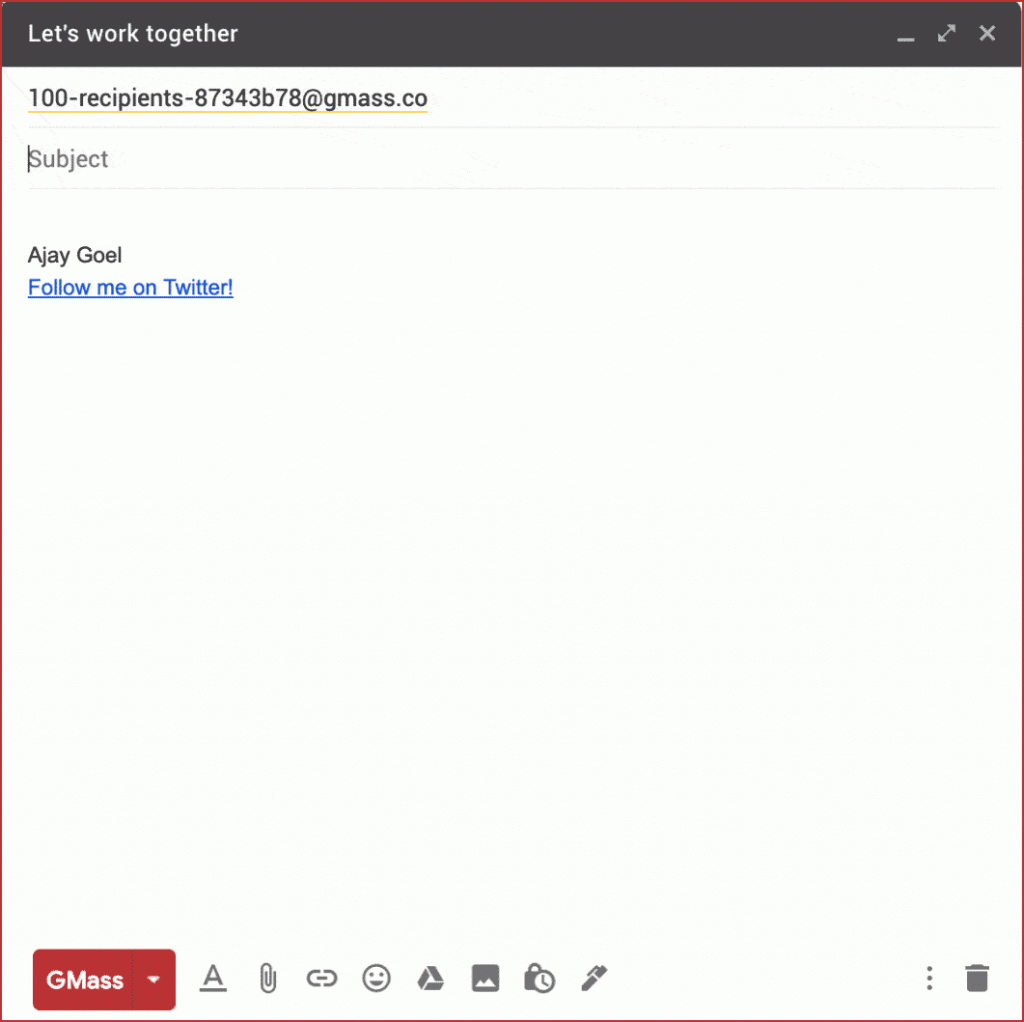 To maximize email engagement, you must send out your emails at optimal times.
They need to reach your prospects when they're checking their inbox, or else your emails will get lost in the sea of other emails they receive every day.
Fortunately, scheduling mass emails is incredibly convenient in GMass.
All you have to do is compose the email message, click the arrow next to the GMass button, and choose a time for your campaign. When it's time, GMass automatically sends the emails to your prospects.
And if there's a change in plans and you need to reschedule the timing of your email, just head to the Drafts folder inside Gmail and make adjustments there.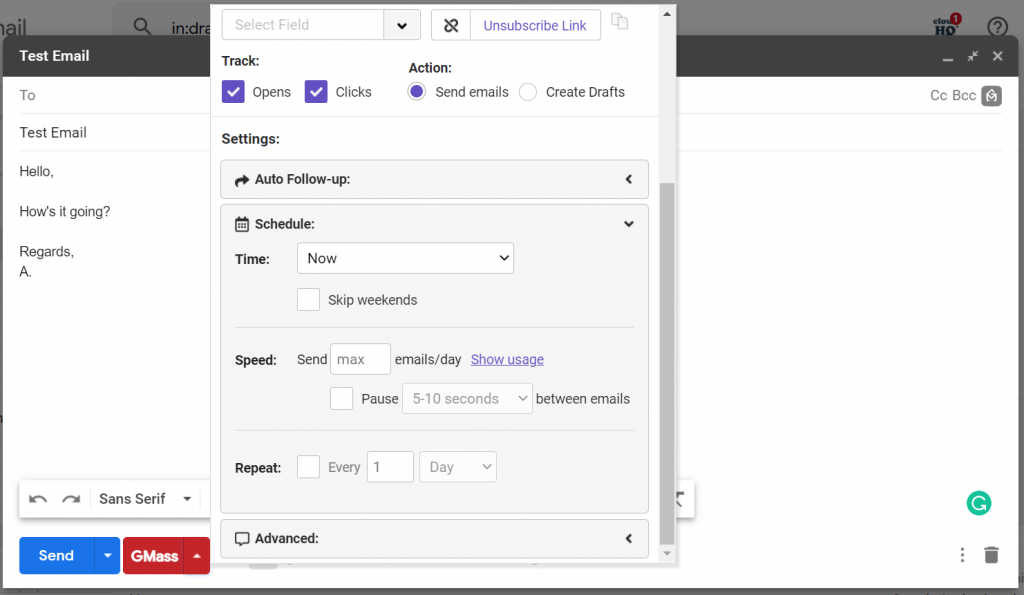 Prospecting isn't something you get right from the get-go.
So you'll need to review and improve your outreach strategy continually while prospecting.
GMass can help with that.
The tool generates in-depth campaign analytics reports within your Gmail inbox to help you correctly evaluate email campaign performance.
It highlights critical metrics like:
Total number of prospects to whom you sent an email campaign
Total number of unique opens and clicks
Reply and unsubscribe rates
And so much more.
And the best part?
GMass can bypass most tracking pixel blockers, so your performance reports are as accurate as they can be.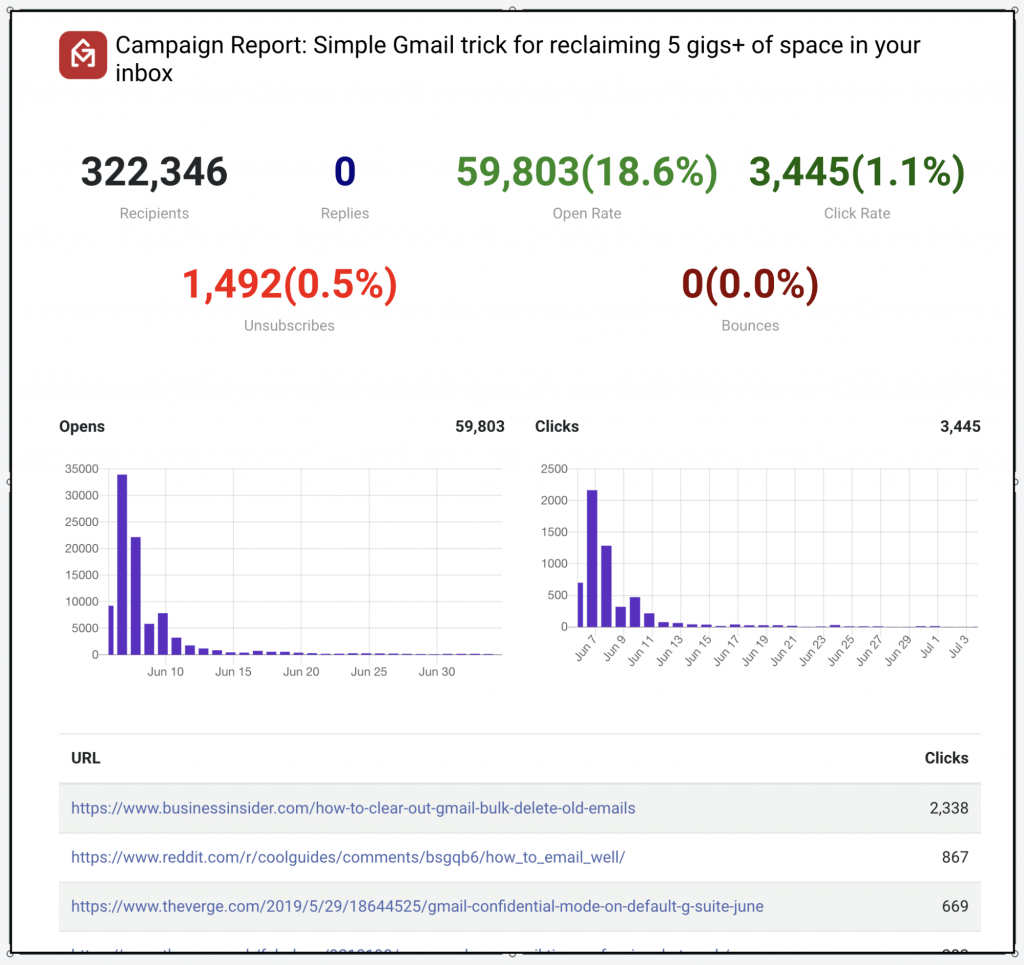 If you want to convince a qualified prospect to become a customer, you need to stay on their radar. And sending an email just once won't help with that.
You need to follow-up on your prospecting messages.
Follow-up emails show prospects that you haven't forgotten about them and continue to care about their mission and objectives.
Moreover, follow-up emails can nudge the prospects to engage with your outreach campaigns.
GMass helps you set up automated workflows to keep sending follow-up emails until a prospect:
Opens an email
Clicks on a link inside
Responds to it
Besides, the tool also allows you to customize everything about these follow-up emails, like the:
Trigger to send out follow-up emails
Number of follow-up emails to send
Time interval between consecutive follow-up emails
Content of your follow-up email messages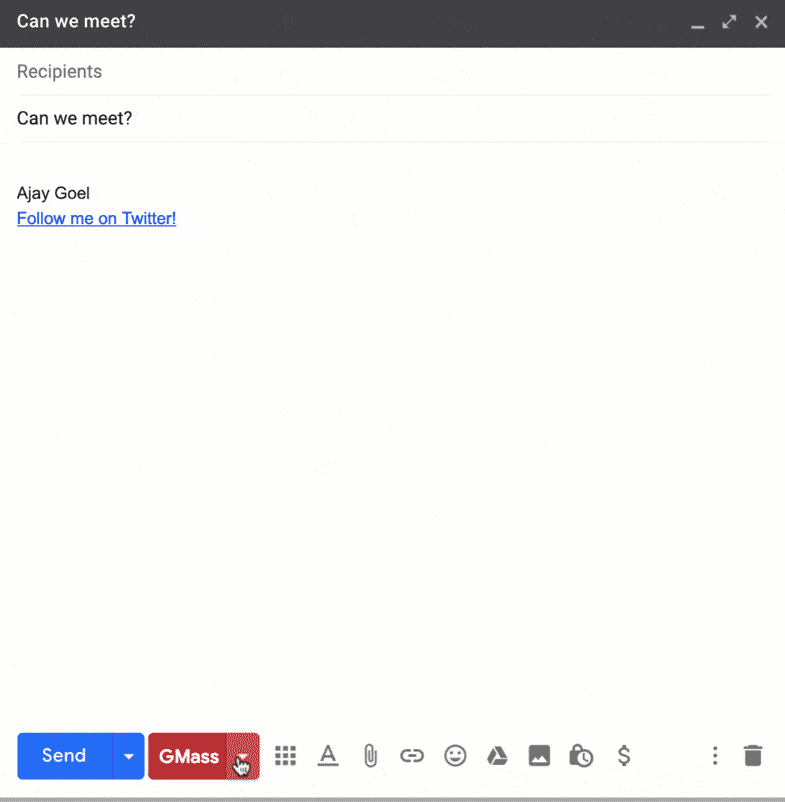 GMass Advantages
Works within Gmail's intuitive and easy-to-use interface
Offers a feature-rich free version
Saves your older emails as templates to modify and reuse in future campaigns
Integrates with various SMTP tools to help you overcome Gmail's email sending limits
Helps improve the deliverability rates of your bulk email campaigns
Detects your recipients' first names from their email addresses automatically
Lets you send behavior-based campaigns that are customized based on prospect responses to your previous emails
Offers an email verifier that helps minimize your bounce rate by verifying prospect email addresses before sending emails
Lets you access outreach capabilities on your Android phone with a Gmail app add-on
To start using GMass, simply download the Chrome extension and sign up with your Gmail account. It's that easy!
GMass Limitations
GMass Pricing
GMass offers three comprehensive pricing plans to suit various user needs:
Free:

Can send up to 50 emails/day
Supports all features except auto follow-ups

Individual:

Standard ($19.95/month or $199/year):

Supports unlimited use
Supports all features except sequences and follow-ups

Premium ($29.95/month or $299/year):

Supports all "Standard" features
Supports sequences and follow-ups

Enterprise ($49.95/month or $499/year)

Supports all Premium features
High-priority support

Team:

Premium (starts at $125/month for a team of five):
GMass Ratings
Capterra: 4.9/5 (580+ reviews)
2. Leadfeeder for B2B Website Tracking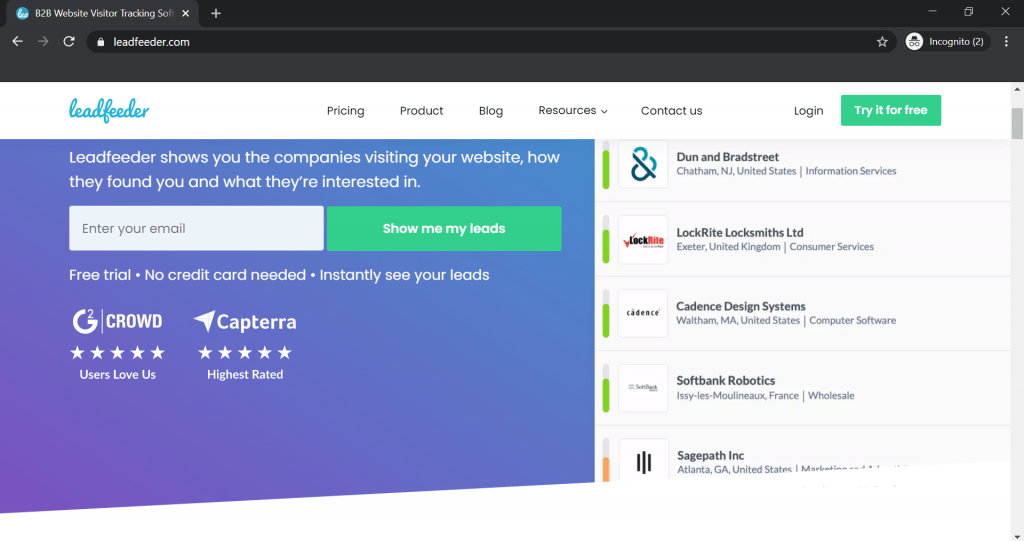 Leadfeeder is a B2B prospecting and website tracking software that provides info about companies visiting your websites to help you improve your B2B sales.
Leadfeeder Key Features
Visitor identification lets you know which companies visit your website.
Email notifications alert you when a target company visits your website.
Browser behavior tracking allows you to find out which pages a visitor viewed.
Leadfeeder Pros
Enables you to develop outreach strategies based on visitor behavior on your website
Helps B2B companies find contact details of employees at a company that visited their website
Users can filter and hide companies to focus only on leads that matter.
Leadfeeder Limitations
The free version offers only limited features.
It gets expensive if you've got numerous leads in your sales funnel.
Leadfeeder lacks team collaboration capabilities.
Leadfeeder Pricing
Leadfeeder offers two pricing plans:
Lite (forever free):

Supports up to 100 leads
Allows data retention for the last three days

Premium (starts at $79/month):

Supports an unlimited number of leads
Allows unlimited data retention
Supports CRM integrations
And more.
Leadfeeder Ratings
Capterra: 4.3/5 (80+ reviews)
3. Datanyze for Sales Intelligence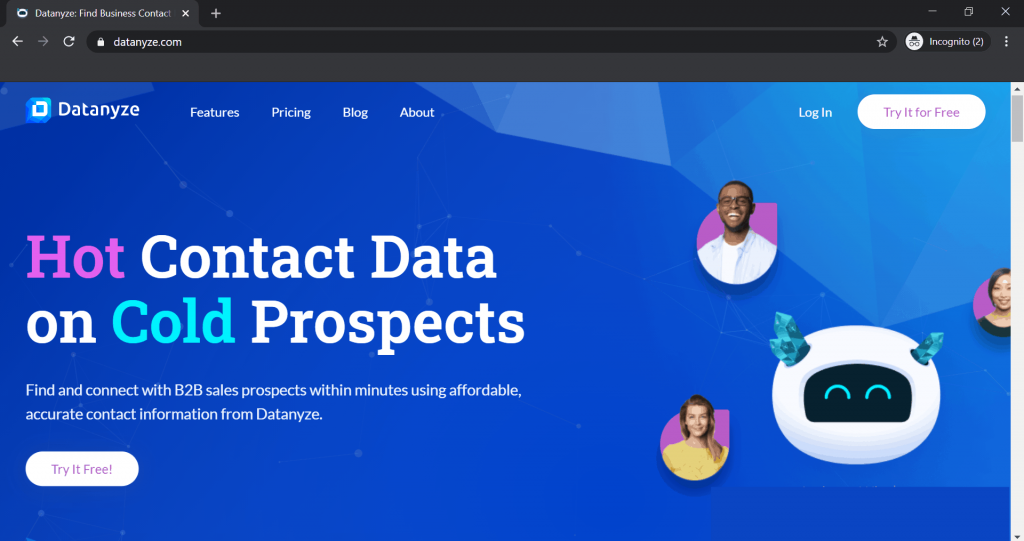 Datanyze is a popular sales intelligence and B2B prospecting tool that helps you find the contact and company data of your prospects.
 Datanyze Key Features
Provides access to contact info like email addresses, mobile phone numbers, and LinkedIn profiles of prospects
Can generate icebreakers containing information from the prospect's world (like personal social media feeds, local news publications, etc.) to help sales leaders start conversations while cold calling or emailing
Offers a Chrome extension that allows you to gather sales prospect data directly from your browser in real-time
Datanyze Pros
Intuitive and straightforward user interface
Reveals what web technology a website might be using
Can export sales prospect data as CSV files
Datanyze Limitations
Does not offer a free plan — only a 90-day free trial
Can collect only limited information for small businesses and websites
Datanyze Pricing
Datanyze offers three pricing plans:
Nyze Lite (90-day free trial):

Allows access to email addresses
Allows access to phone numbers
Provides a Chrome extension
Provides ten credits

Nyze Pro 1 ($29/month):
Nyze Pro 2 ($55/month):
Datanyze Ratings
Capterra: 4.1/5 (40+ reviews)
4. Owler for Company Research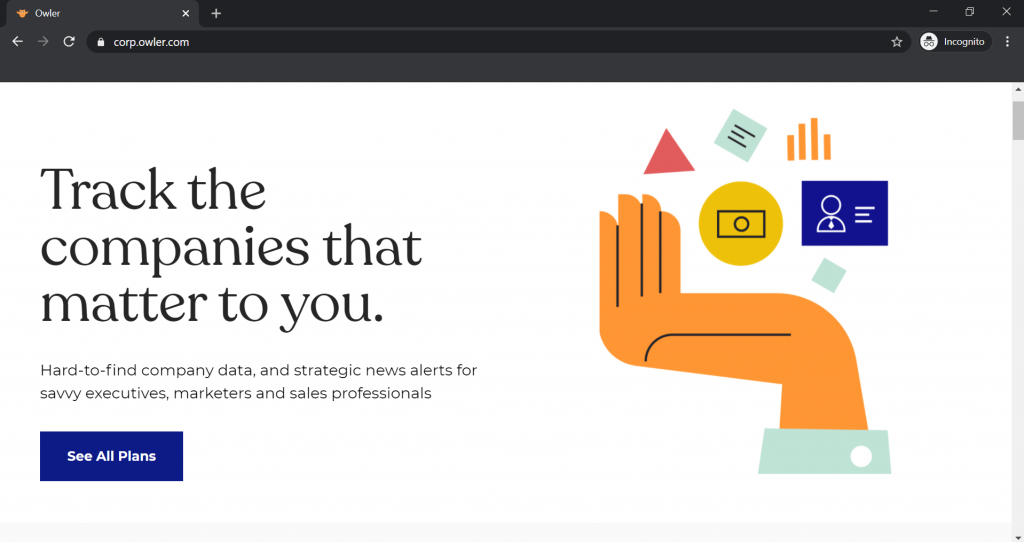 Owler helps you find new prospects, research them, and craft personalized messages based on that info.
Owler Key Features
Comprehensive company profiles provide data like employee count, annual revenue, location, funding, and more.
Competitive graph shows key competitors in your sector or industry.
Advanced search lets you filter through Owler's database based on location, employee count, public/private company status, revenue, and more.
Owler Pros
Can access in-depth data of 14 million+ companies worldwide
Real-time news and Google alert reports related to customers and prospects help you stay up-to-date with developments
Provides custom keyword alerts, brand customization, Salesforce integration, and more for sales teams
Owler Limitations
User interface can be challenging to use
Can be expensive for teams — costs $1,500/year for three seats
Limited customization options for notifications
Owler Pricing
Owler offers three pricing plans:
Community:

Follow up to 5 companies
Follow your top 3 competitors.
Access limited financial data of companies.
Track news and alerts for up to 5 companies.

Pro ($35/month):

Follow unlimited companies
Monitor unlimited companies

Max ($50/month per seat, minimum five seats):

All Pro features
Sycn with CRM
Automation
Owler Ratings
5. BuiltWith for Technology Lookup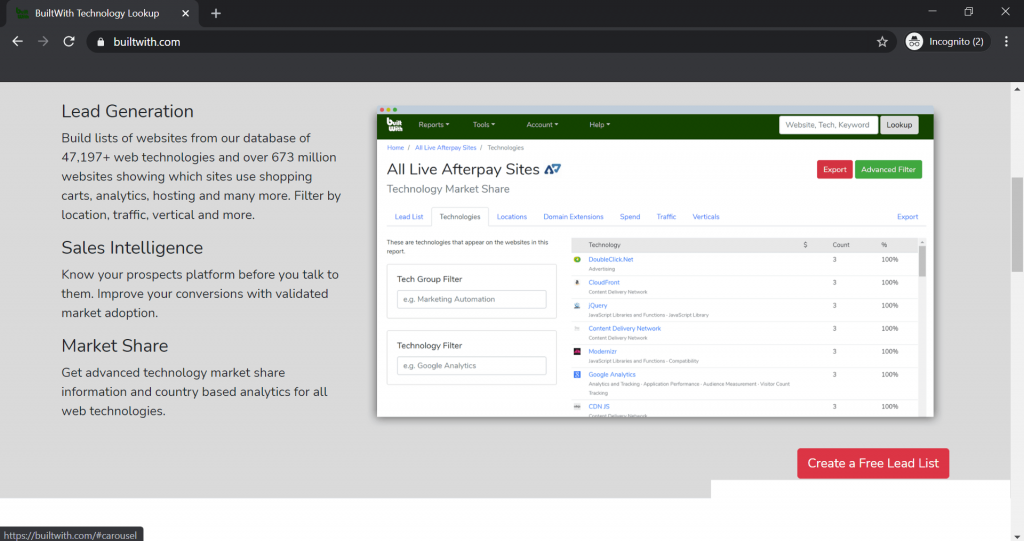 BuiltWith is an advanced prospecting tool that can help you figure out what competitor technologies a particular website is "built with." You can then approach them with your solution as an alternative instead.
BuiltWith Key Features
The lead generation tool covers tech used by 370 million+ web domains.
Competitor comparison helps you find a potential customer who is using trial versions of a competitor's software.
The Company-to-URL feature can convert company names into a list of websites.
BuiltWith Pros
Can create highly targeted reports for its users using advanced filtering
Helps you estimate the technology spend data of a website
Enables you to find your ideal prospect from existing customers using LeadsDiscovery
BuiltWith Limitations
BuiltWith doesn't offer a free plan.
Paid plans are costly — they start at $295/month.
User reviews mention that the tool can be challenging to use at times.
BuiltWith Pricing
BuiltWith offers three pricing plans:
Basic ($295/month):

Supports up to two technologies
Allows up to two keywords
Provides up to two retail reports
And more

Pro ($495/month):

Supports an unlimited number of technologies
Allows an unlimited number of keywords
Provides an unlimited number of retail reports
And more

Team ($995/month):

Includes all "Pro" features
Supports an unlimited number of system logins
And more
BuiltWith Ratings
Capterra: 4.2/5 (10+ reviews)
6. Calendly for Virtual Meetings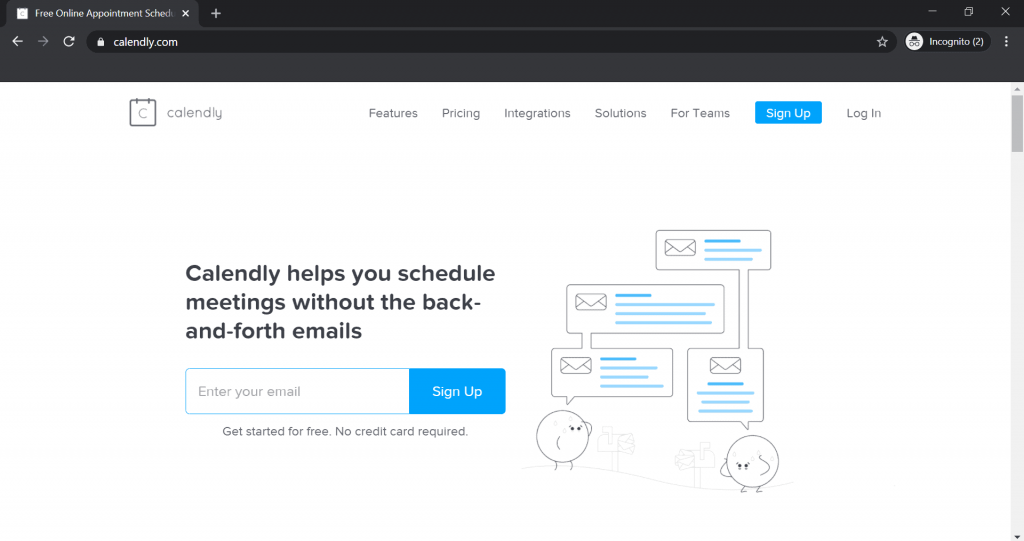 Calendly is an online meeting scheduling platform you can use to connect with prospects.
Calendly Key Features
Schedule one-on-one, collective, and group meetings.
Calendly metrics and reporting let you track prospect engagement.
It connects with Google, Outlook, Office 365, or iCloud calendars.
Calendly Pros
Can easily send out confirmation and reminder emails to improve meeting attendance
Can accept payments from prospects using credit cards, PayPal or Stripe
Supports centralized billing for user subscriptions
You can set up some automations around scheduling and emails by bringing Calendly and GMass together with Zapier
Calendly Limitations
Paid plans can be expensive for large teams — starting at $8/user per month.
It can be difficult to navigate.
It offers limited personalization options to customize your profiles.
Calendly Pricing
Calendly offers five pricing plans:
Basic (free):

Supports one calendar/user
Allows one event type
Can schedule an unlimited number of events
And more

Essentials ($8/user per month):

Supports two calendars/user
Allows an unlimited number of event types
Supports group events
And more

Professional ($12/user per month):

Supports six calendars/user
Includes all "Premium" features
Supports Google Analytics integration
And more

Teams ($16/user per month):

Supports six calendars/user
Includes all Professional features
Connect to Salesforce
And more

Enterprise (contact for pricing)

Supports six calendars/user
Single sign-on
Security and legal reviews
And more
Calendly Ratings
Capterra: 4.6/5 (1370+ reviews)
7. Salesforce Sales Cloud for Customer Relationship Management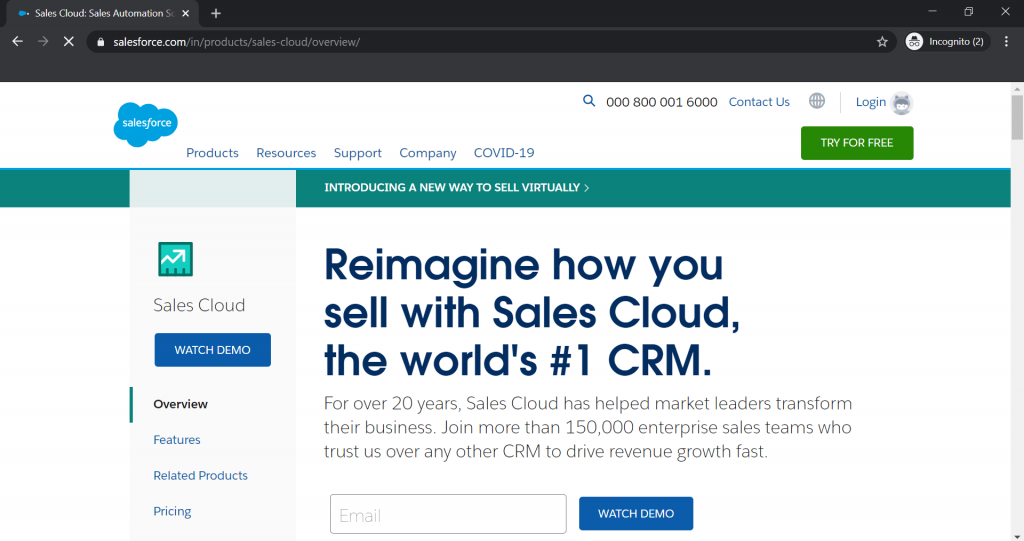 Salesforce Sales Cloud is a sales tool that focuses on CRM (Customer Relationship Management). It helps a sales rep manage the sales pipeline and nurture relationships with prospects.
Salesforce Sales Cloud Key Features
Lead management helps you track a sales lead from click to close.
Visual workflow lets automate your sales prospecting and other business processes using a simple drag-and-drop editor.
Reports and dashboards provide a real-time glance at your prospecting and sales performance.
Salesforce Sales Cloud Pros
Comes with a robust mobile app to help you manage prospects when you're on the move
Can integrate with many third-party apps to amp up the impact of your prospecting effort
Offers powerful customization and configuration capabilities to suit any organization
Salesforce Sales Cloud Limitations
It doesn't offer a free plan, just a free trial.
Paid plans are expensive — starting at $25/month.
There's a steep learning curve since the tool comes with many advanced features.
Salesforce Sales Cloud Pricing
Salesforce Sales Cloud offers four pricing plans:
Essentials ($25/user per month):

Supports account, lead, contact, and opportunity management
Supports email integration with Gmail or Outlook
Offers a mobile app
And more

Professional ($75/user per month):

Supports all "Essentials" features
Provides collaborative forecasting
Supports rules-based scoring of a potential lead
And more

Enterprise ($150/user per month):

Includes all "Professional" features
Allows opportunity splits
Includes advanced reporting features
And more

Unlimited ($300/user per month):

Includes all "Enterprise" features
Offers 24/7 support and configuration services
Provides the Developer Pro Sandbox
And more
Salesforce Sales Cloud Ratings
Capterra: 4.9/5 (15,510+ reviews)
G2: 4.2/5 (11,020+ reviews)
Prospecting Tools: Final Thoughts
Prospecting tools make your life easier by simplifying lead generation, prospect list building, research, and outreach efforts.
Different prospecting tools help with various aspects of your prospecting strategy.
That said, the goal of a sales professional while prospecting is to qualify leads and convert them into paying customers. And one of the most crucial stages in prospecting is outreach.
For effective prospect outreach, you require a tool that helps you build email lists effortlessly and communicate with prospects consistently and in a personalized manner.
Fortunately, GMass does all that and more.
With GMass, sales pros can build prospect email lists, send out personalized email messages to them, follow up with prospects, track their engagement, and ultimately, achieve better sales conversion rates.
So why not try GMass today and skyrocket your prospecting outreach outcomes?
See why

99%

of users say they've had their best deliverability ever with GMass

Email marketing, cold email, and mail merge all in one tool — that works inside Gmail

TRY GMASS FOR FREE

Download Chrome extension - 30 second install!
No credit card required
Love what you're reading? Get the latest email strategy and tips & stay in touch.