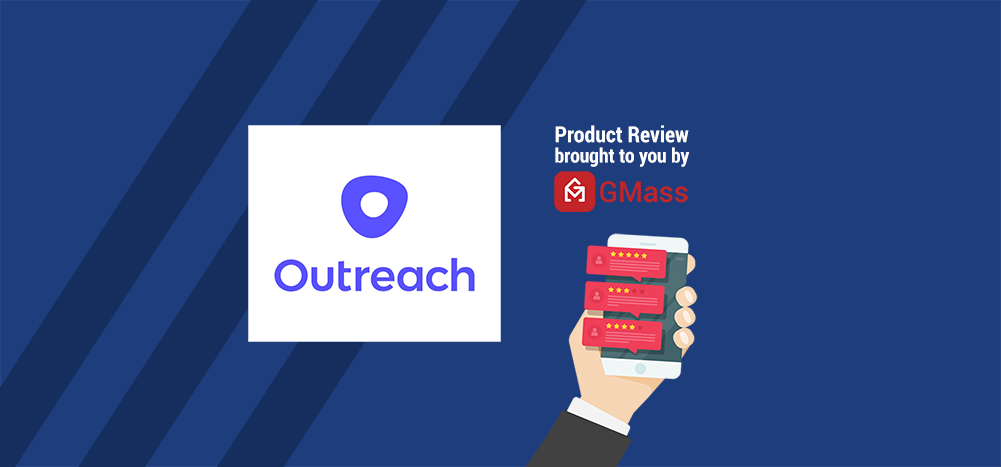 Is Outreach.io the right email outreach tool for you?
This detailed Outreach.io review will help you determine if it suits your email outreach needs or not.
I'll cover what Outreach.io is and highlight its key features, the Outreach.io pricing plan, and its drawbacks to give you a clearer picture of this email outreach tool. Additionally, I'll also highlight the best alternative to Outreach.io to help you reach your prospects!
Here's what's in this article:
(Click on a link to go to jump section of your choice)
Let's get started with this Outreach io review:
What is Outreach.io?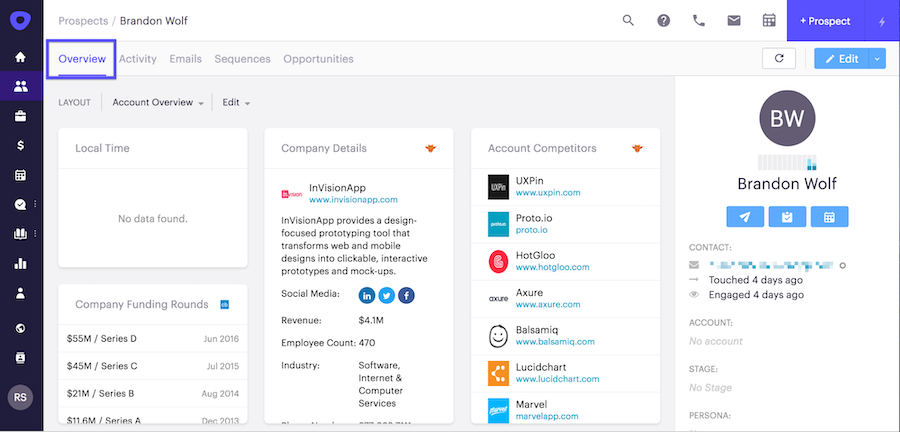 Outreach.io is an email outreach and sales engagement platform that's based in Seattle and is headed by Manny Medina – the current CEO of Outreach.
Outreach.io helps boost communication with outbound sales prospects through email and other touchpoints like cold calling.
This email outreach and sales engagement tool helps you:
Outreach.io Pricing
At the time of writing the article, the pricing was $100 per user per month. Other websites reviewing and comparing the software also mention this price and specify that there is an annual commitment.
However, the Outreach.io website does not show pricing details. You need to sign up for a demo to learn the current pricing.
Key features of Outreach.io
Here's a closer look at the key features of Outreach.io.
1. Sales cadence for effective lead management
Outreach.io is a sales outreach tool that comes with powerful sequences to streamline your lead generation activities.
These sequences are also known as your sales cadence and are comprised of several sub-tasks. These tasks can be delegated to your marketing and sales teams, and they can follow the tasks in each sales cadence to engage in prospecting systematically.
For example, the initial step of your outbound sales process could be a cold email, followed by dozens of other steps.
Additionally, each sales cadence can include tons of sales automation to streamline your sequences in real time. For example, once a prospect signs up for your newsletter, the tool will automatically send them an email from one of their customizable email templates.
2. Efficient customer relationship management
Outreach.io is a SaaS product tool that's built for managing thousands of contacts in a flash.
The Outreach service lets account executives add their sales contacts directly via a CSV file, which eliminates the need to insert each contact manually. This helps you spend less time organizing prospects and gives you more time to focus on communication.
Note:
While Outreach.io is a great tool for prospect management, it doesn't have a built-in prospect finder to discover new contacts in real time like other tools, such as LinkedIn Sales Navigator.
3. Detailed email analytics for efficient campaign management
Outreach.io is an email engagement platform that gives you detailed analytics about your cold email outreach campaigns in real time.
This allows users to analyze how well their email campaigns are performing and tweak their prospecting and outreach strategies to achieve higher customer success rates.
Here are a few metrics that your sales teams can track with Outreach.io:
Open rate – Number of outbound emails that were opened.
Bounce rate – Number of emails that failed to go to the recipient.
Email deliverability rate – Rate of emails successfully delivered.
These metrics help you analyze your email campaigns and determine what needs to be changed to improve your results. You can even use these insights to streamline your sales process across other touchpoints!
The three drawbacks of Outreach.io
While Outreach.io is a handy tool, it has a few key drawbacks.
Here's a look at these challenges:
1. Outreach.io pricing is expensive
The biggest disadvantage of using Outreach.io for cold email outreach is their expensive subscription fee. Outreach.io doesn't publish their pricing models for the marketing automation platform — but their prices start at $100/user/month.
And remember, $100/user is the Outreach.io pricing just for the base model — it goes up depending on your team size and needs.
And as the Outreach.io pricing model is on a per-user basis, a small content marketing team of just five members will have to churn out over $500 per month just for a sales engagement platform!
2. It has a complicated user interface
This is another key Outreach.io drawback.
Sure, you have to spend $100/month on a sales automation tool, but as long as you can get started with your sales development right away, it shouldn't matter, right?
The problem is that Outreach.io is difficult for most salespeople to use!
Your salespeople will need to spend a considerable amount of time learning the ins and outs of the software before they can use it for prospect communication. This can leave users frustrated and reduce their likelihood of recommending Outreach.io to others.
3. Doesn't integrate with Google Sheets
You'd expect a sales engagement platform that costs $100/month to make mail merges easy, right?
Unfortunately, Outreach.io only supports mail merge contact uploads via dated CSV files instead of connecting with modern tools like Google Sheets.
How does this become an issue?
Any sales enablement platform that integrates with Google Sheets can make your work a breeze!
Remember, most people now use Google Sheets as their primary spreadsheet tool. And since it stores everything in the cloud, your data will rarely go missing!
But since Outreach.io still uses CSV files, you'll have to ditch the convenience of Google Sheets to support and readjust your process around Outreach.io. This can be very frustrating if you're already used to getting your work done quickly through Google Sheets.
The perfect Outreach.io alternative: GMass
While Outreach.io has some good features, it also has some key challenges that stop it from being the perfect outreach platform.
Luckily, your sales teams won't be forced to cope with those Outreach.io drawbacks. You can just use a tool like GMass to combat those issues instead!
What is GMass?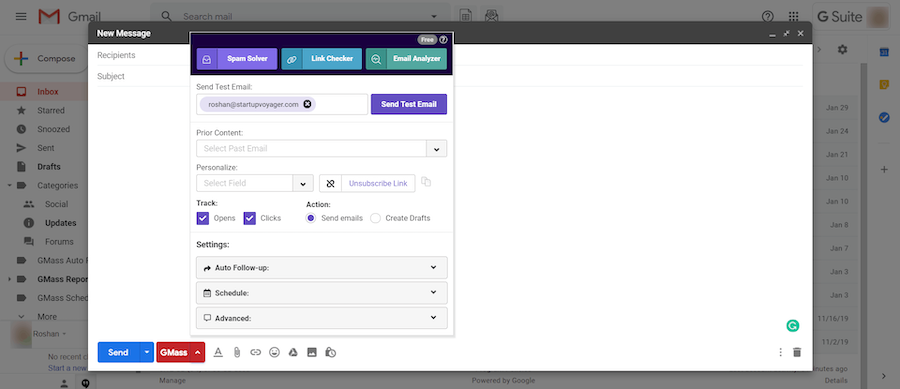 GMass is an email outreach tool that helps you send mass email campaigns straight out of your Gmail inbox.
Tech giants like Google and Uber and social media platforms like Twitter and LinkedIn use GMass for their email campaigns.
But GMass isn't just a great tool for sales professionals from giant SaaS companies!
Anyone can use GMass to send emails to a targeted audience.
Startups, solopreneurs, and even institutions like churches can easily get started with GMass!
With GMass, you can:
Quickly send marketing and sales emails to prospects from your Gmail inbox.
Automatically personalize mass email campaigns.
Automatically track campaign engagements accurately.
Simplify the scheduling of email campaigns and follow-ups.
Set up custom tracking domains easily.
Plus, anybody can start using the GMass email automation platform in no time!
Just download the Chrome extension, sign up with your Gmail email address and you're ready to start conversations with your prospects!
Why GMass is better than Outreach.io
Here are the features that make GMass a much better tool than Outreach.io for prospecting activities.
1. Better ROI
One of the chief issues with the Outreach.io sales enablement platform is that it is incredibly expensive.
However, unlike most other tools, GMass has super user-friendly pricing plans!
Here's a look at them:
Free plan: includes all features + supports email tracking for up to 50 emails daily.
Individual:

Minimal: priced at $8.95 per month – all features except automatic follow-ups + limitless email tracking + email automation.
Standard: $12.95 per month – offers "Minimal" features + removes GMass footer from emails.
Premium: $19.95 per month – offers "Standard" features + automatic follow-ups.

Team:

Premium: starts at $89 per month for a team of five – supports limitless email tracking + all other features.
This way, whatever your business size is, GMass' affordable pricing makes it the only email outreach software you need!.
2. It's super user-friendly
GMass is a powerful email automation platform that works inside Gmail, unlike Outreach.io.
You don't need to download a special email automation tool or adapt to a new interface. Just add the Chrome extension, log on to Gmail, and start sending out email campaigns using GMass.
This is going to make your outreach email experience a breeze!
3. Powerful integrations with Zapier and Google Sheets
Sales enablement tools like Outreach.io only let you add your customer data via CSV files.
However, as most people use Google Sheets these days, that isn't helpful!
Luckily, GMass is one of the few email tools that can integrate directly with Google Sheets. This way, all you need is an email finder to find the emails of your prospects and then upload all your contacts to a Google Sheet file.
Connect that file with the GMass outbound sales platform, and your sales reps can instantly create an email list out of those contacts!
GMass can even integrate with Zapier, making it a lot easier for your sales professionals to automate your processes.
That's not all!
GMass has an automatic Build Email List feature that can streamline your email list building workflow.
Just perform a search inside Gmail using a keyword, and the app will build an email list with the resulting email IDs of your prospects and customers related to that word!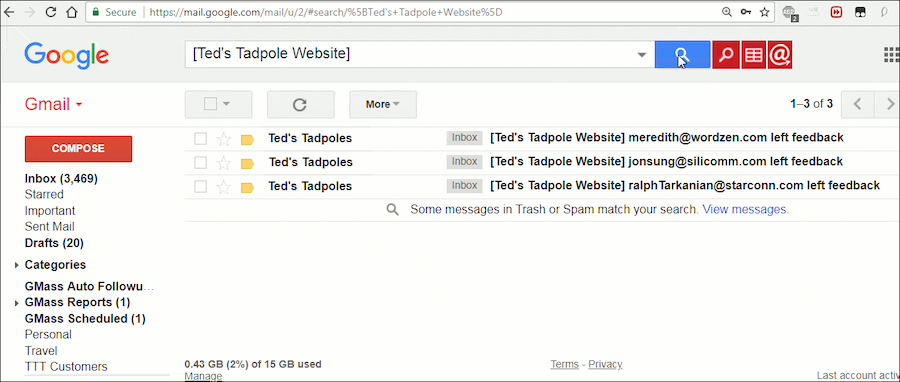 4 Other handy GMass features
The GMass email automation tool has tons of other features that can make the email outreach process a breeze.
Here's a look at some of these features:
1. Advanced email personalization
Your sales professionals could send out tons of cold emails every day — but if they're not personalized, you're not going to achieve much.
Think about it:
Would you like to engage with a generic inbound email that's directly copied from one of those online email templates or an inbound marketing email that's tailor-made for you?
But when your sales reps are sending emails out to hundreds of recipients at once, customizing each one manually is impossible.
Don't worry, GMass can do all the legwork for you!
You can easily personalize mass emails in GMass to improve your customer relationship-building process.
Here are some of its features:
Auto First-Name Detection and Entry – GMass can automatically detect a recipient's first name from their email address and allow you to add it to an email addressed to them.
Add Customized Paragraphs – GMass can personalize paragraphs of text in your email on an individual basis.
Add Personalized Images and Links – GMass can personalize images and links for each person in your contact list.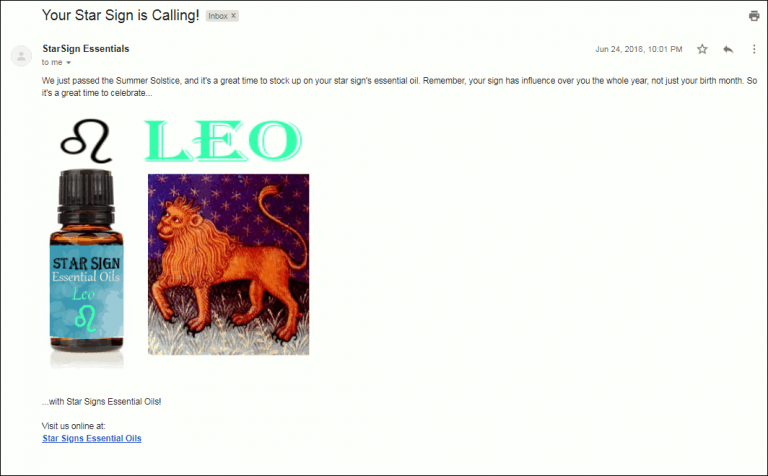 Click here to learn more about personalizing emails before your sales reps send them to each recipient.
2. Powerful Analytics and Campaign Reports
Whenever you send an email campaign via GMass, it generates a Campaign Report. These Campaign Reports contain several useful metrics you can use to better your email campaigns and increase customer success.
You can even use these metrics to streamline other processes like managing your customer lifecycle to increase revenue and provide a great customer experience.
Here are a few of the metrics present in a Campaign Report:
No. of Total Recipients:
Number of unique email addresses to which an email campaign was sent.
No. of Unique Opens:
Number of individual email addresses that opened an inbound email you sent.
Note: GMass provides you with accurate email statistics by tracking unique opens. If a recipient opens an email more than once, GMass won't show these new opens.
No. of Unique Clicks:
Number of unique email addresses that clicked on a link in your email.
No. of Replies:
Number of receivers that replied to your email.
No. of Unsubscribes:
Number of recipients that unsubscribed from your email messages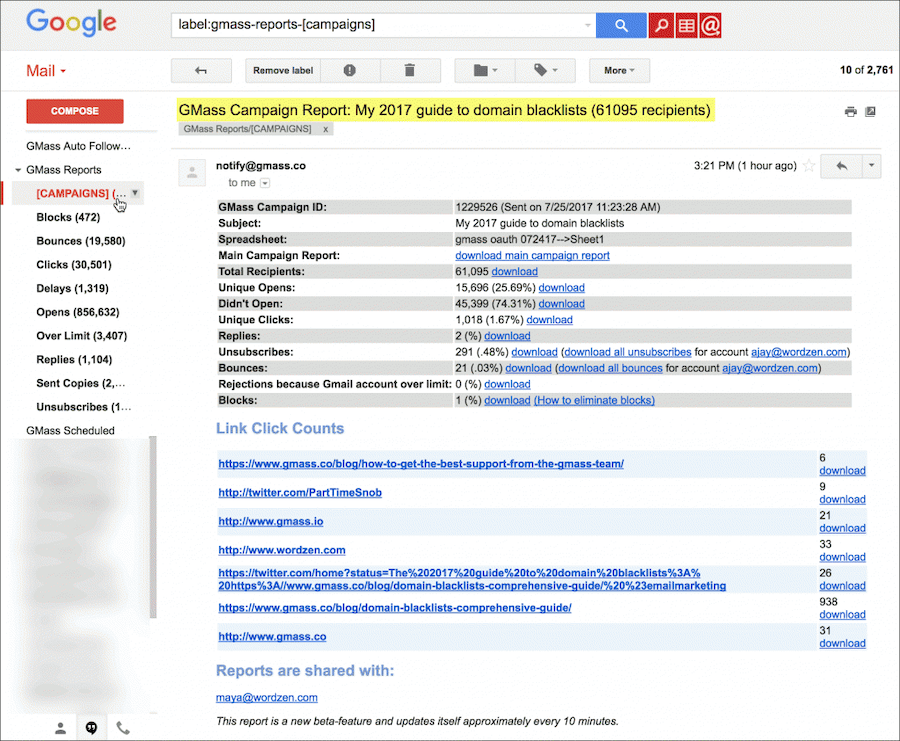 That's not all!
GMass puts all your Campaign Reports right inside your Gmail inbox. You can access them from the [CAMPAIGNS] label in the sidebar.
3. Automate your follow-ups
Most of your cold email recipients won't respond to your inbound message right away.
Some might not even open your first email.
So how do you get them to engage with your sales reps?
Through follow-up emails!
But manually sending hundreds of outbound follow-ups?
Sounds like an exhausting experience, right?
That's why GMass can help you boost email engagement by automating your follow-up email workflow.
Your sales development reps can also customize everything about your follow-ups, such as:
The trigger (or command) for sending the follow-up email.
For example, GMass can send a follow-up when a recipient clicks on any link in your email message.
The number of follow-up emails to be sent.
Scheduling the time gaps between every follow-up email.
The content to be included in the follow-up email.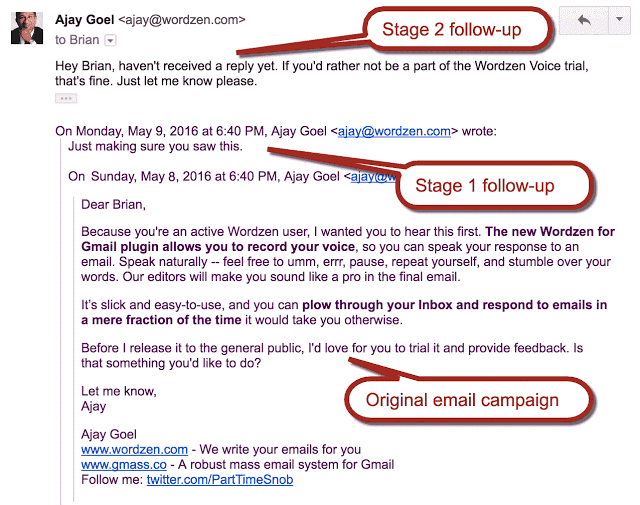 4. Simplified email scheduling
Timing your outbound email campaigns is essential for maximum engagement.
If you don't send emails when people are about to check their inbox, your engagement and customer success rates will plummet!
But your marketing team can't stay online all the time just to send emails at the correct time, right?
Don't worry.
GMass is an engagement platform that can help you plan and schedule your email campaigns to optimize engagement rates.
Just compose your outbound email and schedule a time to send it.
GMass will handle the rest!
What if there's a change in schedule?
Don't worry!
You can reschedule your emails through the drafts folder anytime.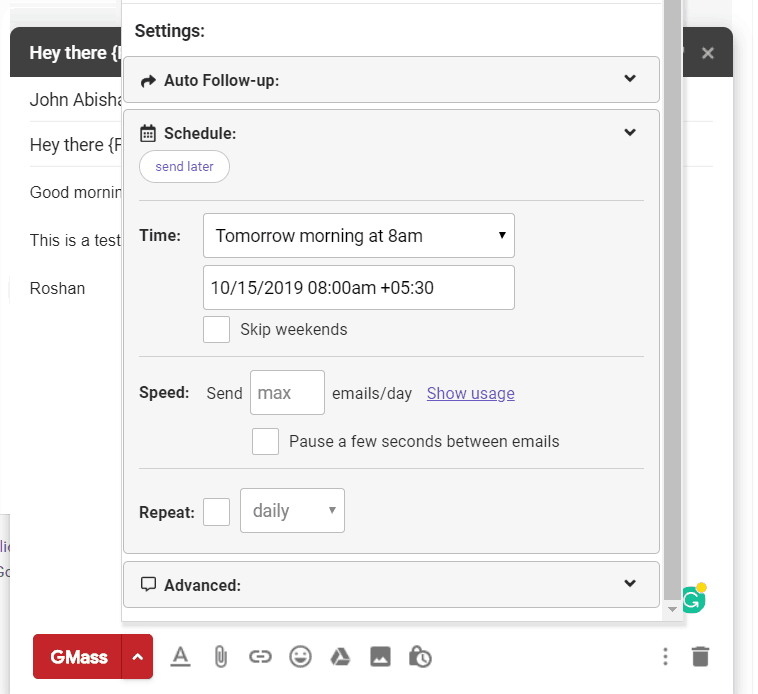 Conclusion
While Outreach.io markets itself as an all-round outreach tool for customer-facing sales reps, this Outreach.io review shows you that it's far from perfect.
The Outreach.io pricing plans are expensive; it lacks some key features and integrates poorly with CRMs.
Why settle for a tool like Outreach io when an app like GMass exists?
This email outreach tool has everything you need to build customer relationships and increase revenue in no time. GMass also has an attentive customer support team to help you out with anything you need!
So why not download the GMass Chrome extension today and give your sales reps an instant boost?
See why

99%

of users say they've had their best deliverability ever with GMass

Email marketing, cold email, and mail merge all in one tool — that works inside Gmail

TRY GMASS FOR FREE

Download Chrome extension - 30 second install!
No credit card required
Love what you're reading? Get the latest email strategy and tips & stay in touch.