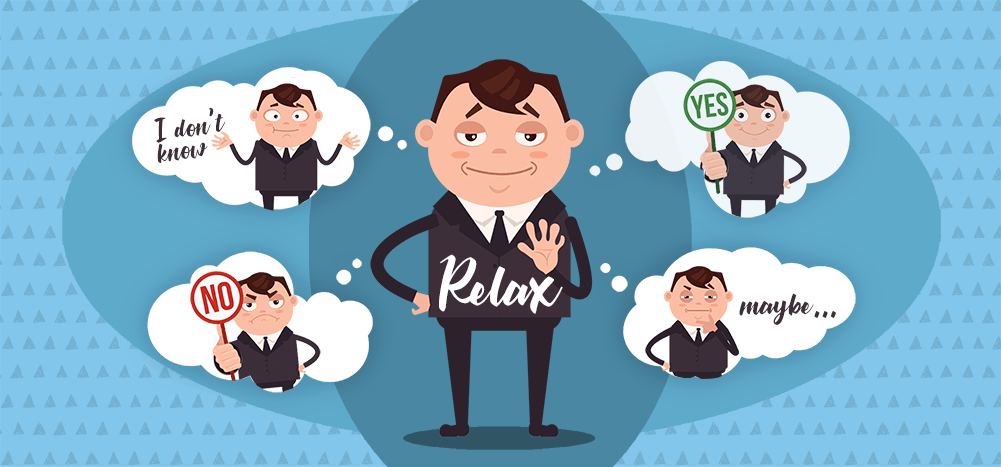 You're here because your emails are either going to the Spam folder or are being outright rejected with bounce messages indicating there's a block in place.
Is it the fault of GMass?
It might be. It's actually happened before, although it's rare.
If you're sending non-commercial email (club announcements, news to friends, etc.) and you're used to always having your emails land in the Inbox, and suddenly they're getting rejected or landing in Spam, then GMass could be the cause.
If you're sending commercial email, like email marketing campaigns or cold email campaigns, and you're seeing a change in deliverability, it might be that recipients aren't engaging with your emails like they used to.
Read on to determine if GMass is the cause of the issue.
The one change GMass makes
There's only one difference between sending an email with GMass versus the regular blue Gmail Send button, and it involves a "tracking domain" that GMass inserts into your email if you are using any of these three features:
Open tracking
Click tracking
The unsubscribe link
If you turn all of these features OFF, then the fact you're using GMass becomes completely invisible, and this will eliminate the possibility of GMass being the cause of a spam issue.
So one quick test you can run right now is sending the same email with GMass but turning all of these settings off (see below for how to do that).
In this guide, we will isolate the changes that GMass makes to determine whether GMass is causing the issue, or whether the issue would be present even if you didn't use GMass.
Here is a step-by-step guide to determining if GMass is the cause of the spam issue and how to solve it. This is the same set of steps our support team uses when helping a user through this issue, and with this guide, you should be able to self-diagnose the issue and fix it yourself.
Step 1: Use the Gmail Send button to send the same email
Compose your email to the problematic email address, remove the unsubscribe link (if you included one) and send the exact same email with the Gmail Send button, instead of the GMass button.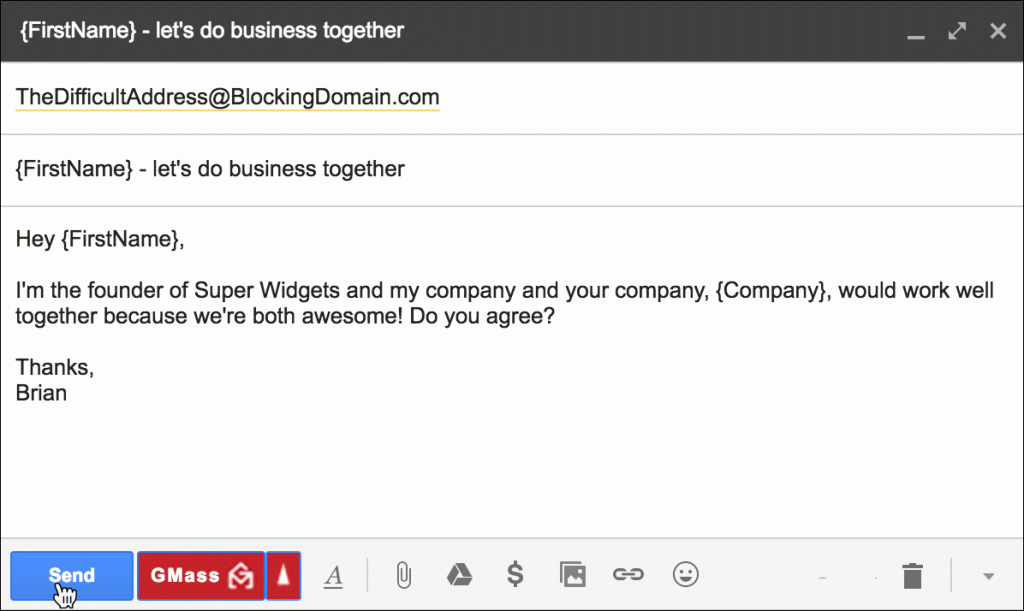 When you send with the Gmail Send button, the email won't contain the GMass-inserted tracking domain. It's the equivalent of sending with GMass with open tracking, click tracking, and the unsubscribe link all turned off.
Did your email get delivered?
If so, now send it with the GMass button one more time to confirm that it's GMass that's causing the spam issue.
If you've determined that it's GMass causing the issue, now move onto Step 2.
If your email still didn't get delivered after using the Gmail Send button, then there's something about the content of your email or source of your email (if you're using an external SMTP service) that's causing the issue, and the issue is unrelated to GMass.
Step 2: Send with GMass again, but remove traces of GMass
When you send with the GMass button, GMass makes several changes to your email, depending on your Settings.
Track Opens: GMass adds an open-tracking pixel to the bottom of your email.
Track Clicks: GMass modifies your links to hit the GMass server first before redirecting to your final destination URL.
Unsubscribe Link: If you include the GMass unsubscribe link, then that link is personalized for each individual recipient.
Prevent these changes that GMass makes to your email by turning OFF open tracking, turning OFF click tracking, and removing the unsubscribe link.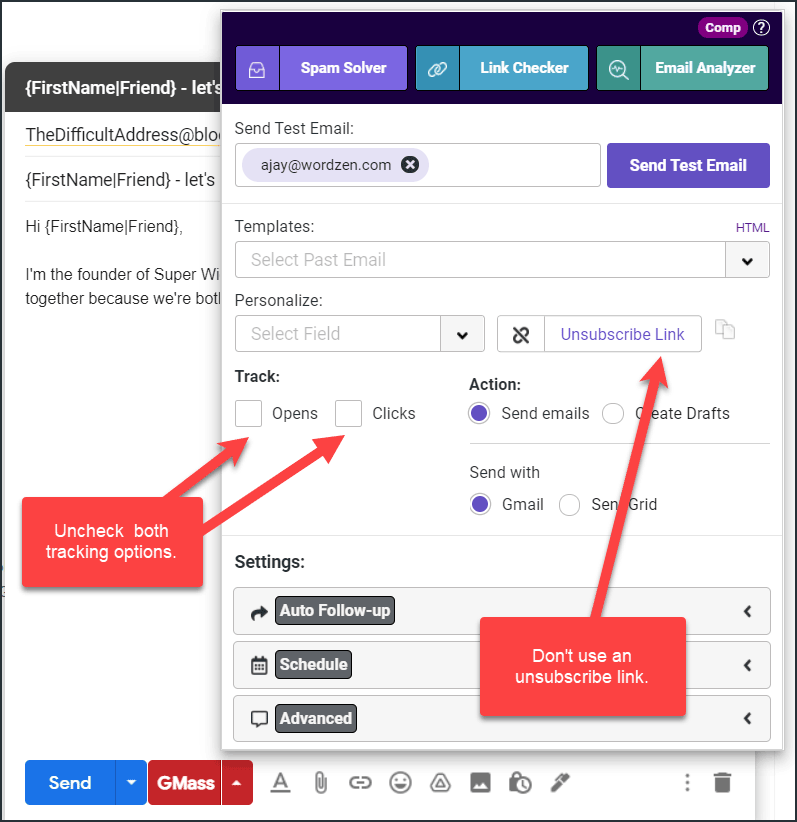 Now, send your email with the GMass button again. Now an email receiver won't be able to distinguish between sending with the Gmail Send button versus the GMass button.
Did your email get delivered?
If so, you know it's an issue with GMass tracking. You should set up a dedicated tracking domain, which will almost certainly fix the issue, or if you like, you can keep open/click tracking turned OFF, and skip the unsubscribe link. If you're going to remove the unsubscribe link, your emails should be of a non-commercial nature.
If your email still didn't get delivered, then something is very strange, because now the GMass button is acting equivalently to the Gmail Send button, and we already know that the Gmail Send button is successfully delivering your email, otherwise you wouldn't be here at Step 2. Proceed to Step 3.
Step 3: Looking at IP address and other issues
If your email still isn't delivering, we now know that GMass isn't causing your deliverability issue.
The cause could be one of the following:
Are you using GMass with an external SMTP service? If so, the delivery issue could be because of the IP address of the SMTP server.
Send your email to a Gmail or a G Suite address. If it's going to the Spam folder, open that email up from the Spam folder and examine the reason that Gmail gives for the spam issue. Sometimes Gmail will tell you outright that it's the from address or the DKIM-signing-domain that is the reason for the block.
If you're using GMass and sending via Gmail and not an external SMTP service, the receiver could be detecting that the Gmail API is being used rather than native Gmail. GMass makes use of the Gmail API for most of its functionality. This would be an extremely rare scenario, but there is a header that gets inserted into an email sent by GMass, versus the native

Gmail Send

button, that reveals that the Gmail API is being used.
If it's not GMass's fault…
If you've performed the steps above and determined that GMass is not the cause of the issue, then the final step is to use our deliverability tools to isolate and fix your issue.
If the issue isn't GMass's fault, then our support team is limited in the help it can provide you. Our support team can run the spam solver on your behalf to help you determine the cause of the issue, but then it may be your responsibility to "cure" the cause. That may involve sending "from" a different domain, or if you're using an third party SMTP service, talking to them about their IP reputation.
Often times solving a spam/blocking issue requires a lot of trial and error on your message, playing with the subject, message, and tracking parameters, until your email finally delivers. Sometimes a single word in the subject line can make the difference between the Inbox, the Promotions folder, or the Spam folder.
Finally, if you're truly sending unsolicited email that most people won't want anyway, there's probably not much anyone can do to help you. Emails should either be purely opt-in, or relevant enough to the recipient that they'll be delighted to get your email.
So should you turn off tracking and remove the unsubscribe link?
The ultimate test of deliverability is to turn off open and click tracking and exclude your unsubscribe link, because then there's no trace of GMass anywhere in your email. If 100% deliverability is the goal, and getting stats on opens and clicks aren't important to you, then go ahead and take this approach. Typically this is the approach used by non-commercial emailers, where the most important factor is ensuring everyone on the list gets the email.
For most commercial emailers, stats are important, so leaving open and click tracking on, and providing an unsubscribe link, are important. In these cases, the best practice is to set up a dedicated tracking domain to isolate your reputation from all our other users.
Some spam filters are especially aggressive, such that even if you have a dedicated tracking domain, and even if your emails are purely opt-in and wanted by all of your recipients, your emails can get blocked. For example, Mimecast is a particularly aggressive spam filter that could block your email just for including any tracking in it. We've also noticed that optonline.net addresses are particularly aggressive in blocking emails with open and click tracking.
Should you try a competitor of GMass?
You might be wondering:
"Should I use a competitor of GMass, and will that solve the issue?"
Any competitor of GMass that sends emails directly through your Gmail account, will be equivalent to GMass with the only differentiating factor being the the tracking domain.
If you're using GMass and are on a shared tracking domain, and that tracking domain gets flagged, you'll have a deliverability issue. Similarly, if the competitor uses a shared tracking domain amongst its users and that shared tracking domain is flagged, then you'll notice a deliverability issue.
If you use the competitor but turn all tracking off, then the deliverability will be the equivalent of using GMass with all tracking turned off.
Similarly, if you set up a custom tracking domain with GMass, and you set up a different custom tracking domain with a competitor, then as long as there's no reputation difference between the two custom tracking domains, the deliverability will be equivalent.
Ready to

transform Gmail

into an email marketing/cold email/mail merge tool?

Only GMass packs every email app into one tool — and brings it all into Gmail for you. Better emails. Tons of power. Easy to use.

TRY GMASS FOR FREE

Download Chrome extension - 30 second install!
No credit card required
Love what you're reading? Get the latest email strategy and tips & stay in touch.