While traditional selling may simply push a product or service without considering what the client needs, consultative selling takes a different approach — it focuses on helping the potential client overcome their challenges.
But is consultative selling as good for your business (and leads) as it seems?
In this article, I'll discuss what consultative selling is and its three overlooked benefits. Then I'll mention seven easy-to-follow strategies you can pursue to become a truly successful consultative salesperson.
This Article Contains:
(Click on links to jump to specific sections.)
Let's jump right in, shall we?
What is Consultative Selling?
Consultative selling is a sales approach that prioritizes helping your prospects over pushing your product or service.
Unlike traditional selling or transactional selling, where your sales rep focuses on one-time sales and achieving revenue targets, the consultative approach puts the prospect front and center. It empowers the potential customer to overcome their challenges and achieve their goals.
But what does the consultative sales approach involve?
As a sales leader or salesperson adopting the consultative selling technique, you would:
Reach out to and engage prospective clients.
Try to understand the true nature of your prospects' pain points.
Help prospects explore different solution categories.
Guide potential customers on how to weigh the pros and cons of each solution category.
Recommend the perfect solution based on your consultation.
However, you need to understand that sometimes your solution may not be best suited for a prospect's unique requirements. In that case, you should recommend an alternative that's more suitable for the prospect or potential buyer.
Why?
Because the ultimate goal when implementing the consultative sales methodology is to help your prospects — not to force a sale.
The idea with this sales technique is that even if a prospect or potential buyer doesn't purchase your product or service at the moment, they'd remember how helpful you were to them.
It's quite likely that, down the line, they might refer someone to you or purchase from you in the future.
Now that you know what the consultative sales technique is, let's see how it can benefit your business:
3 Overlooked Benefits of Consultative Selling
Many salespeople fail to see the massive benefits that this form of selling has. Adopting a consultative sales approach in your business helps you in three ways:
1. Build Trust
With the consultative selling approach, you won't blindly push a product or service on a potential buyer.
Instead, your salesperson will first ask the prospective customer about their pain points, short-term goals, and vision — essentially, find what they actually want.
Asking prospects what they want before making a sales pitch can make a lot of difference.
How?
It shows that you genuinely care about addressing the prospect's needs and not just about closing your sale. This makes it easier for the prospect to trust you and your recommendations because you emphasize the consultative in "consultative sale."
They won't perceive you as a pushy salesperson but an advisor on whom they can rely.
2. Provide More Compelling Solutions
The consultative selling process involves active collaboration with your prospects. As a result, your sales professional will have a good understanding of your prospect's unique challenges and goals.
Based on this understanding, your salesperson can provide informed and compelling solutions to the potential customer.
But how?
You can customize your solution to match a prospect's needs uniquely.
And even if you can't offer a customized solution that matches the prospect's requirements, you can point them in the direction of alternatives that are best suited to their needs.
In this respect, the consultative approach is similar to solution selling.
3. Refine Your Lead Pool
Your consultative sales conversation can reveal if a particular lead or potential buyer is a good fit for your business.
How?
By talking to a potential customer, you'll know more about their unique needs, budget, timeline, and priorities. Based on this info, you can determine whether a potential client matches your ideal customer profile and buyer personas.
This way, your sales rep can focus their efforts on good-fit leads who would benefit from your product or service. And as for bad-fit leads, the consultative salesperson can recommend alternatives they could try and then remove them from your sales pipeline.
Knowing which leads to pursue and abandon will help your sales professional:
Close more deals with minimal effort
Streamline the sales cycle and stop wasting time on leads that would not close
Improve your sales performance
Close deals with far higher customer retention rates
But how do you get the consultative sales process in motion?
Are there any practices you can follow while implementing a consultative selling strategy?
7 Powerful Consultative Selling
Strategies
Here are seven easy-to-follow practices that will help you make the most out of your consultative sales technique:
Best Practice #1. Ask Good Questions of Your Prospects
Asking good questions is crucial to the consultative selling approach.
What do I mean?
Good questions are empathetic and open-ended. And answers to such questions help you understand a prospect's unique context, challenges, short-term goals, and long-term vision.
Additionally, good consultative selling questions also empower your potential client to discover critical insights for themselves. This includes the nature of their pain points, consequences of not overcoming their challenges, positive implications of having the right solution, and more.
Here are some consultative selling questions your sales professional can ask the potential customer or buyer during a sales conversation:
What are your most significant needs and challenges right now?
What would be the biggest benefits of being able to address these needs and challenges?
Have you explored any solutions to your challenges yet?
What criteria do you have to decide whether a solution is right for you?
Best Practice #2. Listen Actively to What Your Prospects Have to Say
Unfortunately, many sales professionals don't properly listen to what prospects say during the sales conversation.
And to make things worse, these salespeople also interrupt prospects mid-speech to showcase their product or service. Doing so will only make you look like a pushy and untrustworthy salesperson.
What can you do instead?
Listen actively to what your potential client or prospect is saying.
And as you listen, stop focusing on what response you're going to give them as soon as they're done talking. Instead, try to understand everything that your potential customer is saying. If anything feels unclear, request clarification.
Active listening is one of the most essential consultative selling skills your salesperson needs to develop.
This is because it conveys that you genuinely value the prospect's input and care about providing a solution that will make a difference in their lives.
To get better at active listening, keep these tips in mind:
Avoid distractions during your consultative sales conversation.
Note down the critical points (challenges, objectives, etc.) covered by your prospects.
Occasionally paraphrase what the prospect just said to confirm your understanding.
Don't rush the conversations — give prospects the time to collect their thoughts.
Ask a relevant open-ended question to encourage your prospects to share more about their unique context, challenges, and goals.
If you're in a face-to-face sales meeting or a video call, pay attention to their body language, tone, facial expressions, and more to better understand the potential customer's needs.
Best Practice #3: Do In-Depth Research on Your Prospects
Gather as much information as possible about your prospects and their businesses.
Research can help you determine whether a prospect will actually benefit from your product or service. Moreover, it will allow your sales reps to talk about things your prospects can relate to in your conversations.
How do you do prospect research?
For starters, sales organizations can look up the prospect's social media handles (LinkedIn, Facebook, etc.), find relevant news articles and interviews on them, and more.
Additionally, the sales organizations can study the prospect's niche or industry to:
Analyze recent trends and developments
Identify future opportunities and challenges
Evaluate how your product or service fits into their bigger picture
And more
However, when discussing your research findings with prospects, your consultative salesperson should stick to only the most relevant ones and be concise.
Remember, the goal isn't to showcase your research skills — it's to convince a potential customer or buyer that you genuinely understand their context and have their best interests in mind.
Best Practice #4: Add Value to Your Prospect's Life
When communicating with your prospects, always ensure that you're adding value to their lives.
But how?
Use your conversations to educate prospects on the complete nature of their challenges and the categories of solutions available to them. A good strategy for educating your prospects is to share relevant, helpful content with them.
This can include:
Blogs
Ebooks
Case studies
Infographics
Whitepapers
And more
Sharing such resources would help your prospects better understand which solutions can effectively help them overcome their unique challenges.
Best Practice #5: Consistently Follow Up with Your Prospects
Your prospective client will rarely decide to convert the first time that you approach them. This is especially true if multiple stakeholders are influencing the buying decision.
My point?
Your prospect or potential buyer will need more nurturing and convincing before they're ready to buy from you. And until the prospect is prepared, you must sustain your conversational momentum to stay top-of-mind with them.
And following up with your prospect can help with that.
Your salesperson can send follow-up emails to the prospect, call them to check if they've got additional questions, reach out on social media to see how things are going, and more.
However, it's best to stick to follow-up emails since they're non-intrusive and cost-effective.
And with the right email marketing tool, you can also quickly scale up your email follow-up efforts to stay in touch with many potential clients.
Best Practice #6: Be Open to Feedback from Your Prospects
One of the most valuable traits needed in the consultative sales approach is openness to feedback.
Why?
Your prospects may have some concerns about your product or service, which makes them unsure about buying. And when they raise those concerns to you, you must be willing to hear them out.
When a prospect or potential buyer tells you about their concerns, you could get new insights into customer needs.
And based on this information, you can adjust your positioning, amend your solution, or perhaps even suggest more suitable alternatives. This can be especially helpful in product selling as it can help you develop new use cases.
Moreover, feedback from a prospective client or buyer can help you identify gaps in your consultative sales process and opportunities for improvement.
You can use this input to refine your sales approach and become a better consultative seller.
That's not all.
When you're open to feedback, you create a safe space for collaboration with your prospects, which will help to improve your customer relationships.
Best Practice #7: Leverage Software Solutions to Simplify Your Consultative Sales Approach
The consultative selling approach involves a lot of work — your salesperson will need to:
Research about prospects
Reach out to them
Send follow-ups to keep them engaged
And do so much more
That's the work needed for just one prospective client.
Imagine how many hours your salesperson will need to consult and engage with several prospective clients consistently!
However, with the right tools, your consultative selling process gets easier.
For example, you can use dedicated prospecting tools like Leadfeeder and Datanyze to find prospects and gather sales intelligence on them. Additionally, with CRM tools like Salesforce and HubSpot Sales Hub, you can organize all of this info conveniently in one place.
Finally, you can approach and engage with these prospects with software like GMass — a powerful free email marketing tool that works entirely inside Gmail.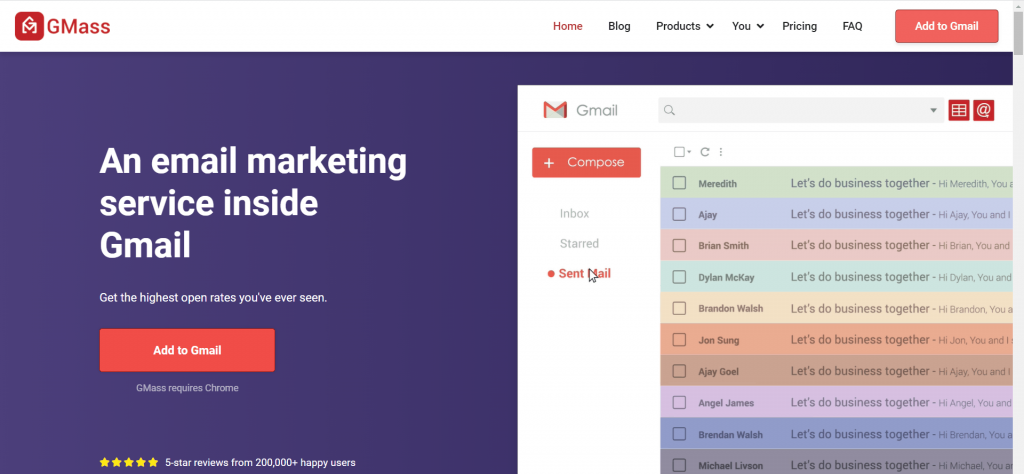 With GMass, you can:
Final Thoughts
Consultative selling is a powerful sales approach that prioritizes addressing a customer's needs. Here, instead of trying to push your own product or service, you try to find the solution that works best for your prospect.
However, without the right tools, your consultative selling strategy could be unsustainable.
Fortunately, with a good prospecting tool, CRM system, and email marketing software like GMass in your toolkit, you can easily find the right prospects and address their key challenges.
So why not kick things off and try GMass today to upgrade your consultative selling process?