Marketers and salespeople use newsletters, case studies, and other indirect marketing techniques to build brand awareness.
And while these digital marketing practices may capture a client's interest, you can only drive sales conversions by prompting customer action.
But how exactly do you do that?
By leveraging direct response copywriting!
It helps you drive a prospect towards immediate action as soon as they've finished reading your marketing message.
In this article, I'll list ten no-nonsense best practices to enhance your direct response copywriting outcomes. I'll then share a fantastic email marketing automation tool to elevate your direct response copywriting process and convert more leads.
This Article Contains:
(Click on links below to jump to specific sections)
What Is Direct Response Copywriting?
Direct response copywriting is writing a marketing email or sales copy that gets an immediate response from your audience.
As a response, your reader may:
Purchase your product.
Go to your landing page.
Download a case study, and so on.
This form of copywriting requires an in-depth understanding of your audience and uses a straightforward, personal approach.
It's perfect for creating your ad copy, scientific advertising, and more.
Direct vs. Indirect Response Copywriting
Unlike direct response copywriting, indirect response copywriting doesn't care about leveraging urgency or getting an immediate response.
Indirect response copywriting has one goal: stay on the prospect's radar till they're ready to buy.
That's why the type of content you use in the indirect response marketing or sales copy should:
Build brand awareness and credibility.
Show how you're different from the competition.
Nurture prospects slowly and steadily.
Let's now look at some actionable tips to refine your direct response copywriting process.
10 Best Practices for Successful Direct Response Copywriting
Here are ten best practices to help you improve at direct response copywriting:
1. Define Your Direct Response Copywriting Goals
Before drafting your direct response copy, have a clear goal in mind.
What do I mean by that?
Ask yourself what specific action you want the recipient to take after reading your email.
This could be something like:
Signing up for your free software trial.
Joining your webinar.
Subscribing to your newsletter.
Purchasing a product from your website.
The direct response copy must emphasize your priorities and effectively communicate them to your readers. Only then will they be able to act on it.
2. Understand Your Audience and Handle Their Pain Points
Celebrated copywriter, Eugene Schwartz, observed that the copywriter's task is "not to create mass desire, but to channel and direct it."
Simply put, your copy isn't for everyone ⁠— it's meant for your target audience.
And to carry out effective direct response copywriting for your target market, you'll need a clear understanding of their goals, preferences, and pain points.
To gain insights about your potential customer, you can:
Analyze your current customer data and look for qualities that define your ideal customer.
Interact with your followers on social media. Observe how they engage with each other and take stock of their expectations.
Gather data about your competitors and determine whom their content targets and why.
Once you understand your audience's needs, you can tailor your direct response copy to address their pain points. Doing so proves that you genuinely care about helping them out and have viable solutions at hand.
3. Craft an Eye-Catching and Impactful Subject Line
The subject line is the gateway to your direct response body copy.
Most readers use it to decide whether to open your email message ⁠— 69% of recipients report an email as spam solely based on its subject line.
My point?
Make the subject line relevant, eye-catchy and compelling.
Specifically, ensure that your subject line:
Intrigues your readers.
Hints at your email's big idea.
Promises something exciting.
Is concise and clear.
For example, here's a direct marketing email subject line promising a solution to a pain point marketers face:

Want to discover some effective subject lines?
Read my articles on:
4. Create an Informative and Compelling Long Form Copy
Many marketers avoid writing long form copy, thinking it'll bore prospects.
However, an engaging and informative long form copy drives better traction and a higher conversion rate than short copy.
But how?
Unlike short copy, long form copy:
Gives you room to add relevant statistics, history, FAQs, and social proof.
Lets you reuse the same CTA in different places to trigger action.
Convinces readers they're making an informed choice, advancing them along your sales funnel.

For instance, the above direct response copy from Adobe is an excellent copywriting lesson on writing long form content.
5. Include an Irresistible CTA to Drive Conversion
After you've informed, educated, and convinced your target audience with your email body, you may need them to:
Visit your landing page or sales page.
Sign up for your newsletter.
Request a product demo.
Download a case study.
Subscribe to your services, and so on.
But how do you prompt action?
Add a strong call to action (CTA) nudging readers to take immediate action.
The CTA is the climax of your direct response email.
It's the springboard launching your customers towards taking immediate action.
For example, check out this strong call to action asking users to sign up for Spotify Premium:
As you can see, your CTA needs to be clear, concise, irresistible, and actionable ⁠— making it easy for readers to act without getting confused or overwhelmed.
6. Personalize Your Content Copy for the Reader
Receiving a generic direct mail will turn off your readers, causing them to lose interest.
Instead, your direct response copywriter should personalize the emails to make them look tailor-made to each recipient. Your direct mail must show the potential customer you genuinely care about solving their unique problems.
To personalize your copy, you can:
Address your recipient in the subject line.
Mention your reader's name in the email body.
Provide viable solutions to the prospect's pain points.
Feature content relevant to your reader's location or demographic.
Share a relevant social proof example, like a testimonial.
Customize the direct response copy based on your reader's niche or industry.
Here's a great copy that's personalized based on the customer's location: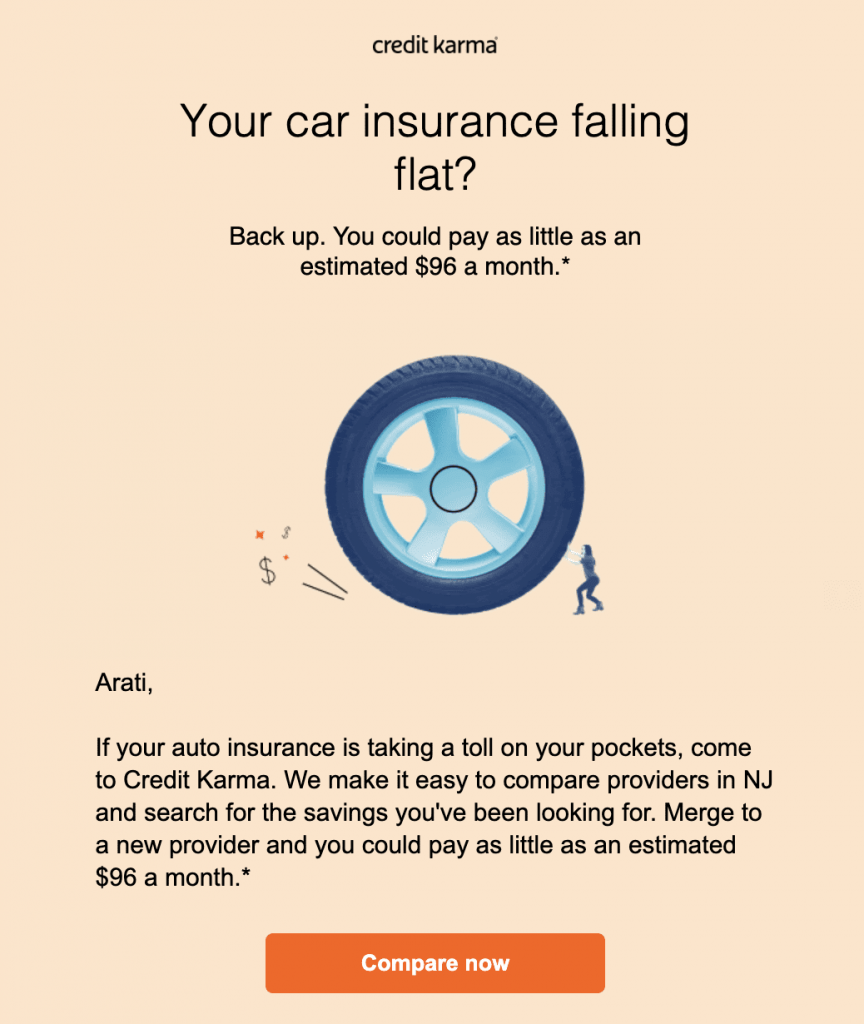 7. Use Simple Language to Make Your Copy Clear and Understandable
Since direct response copywriting focuses on getting an instantaneous response, keeping your emails simple and understandable is critical. The more understandable your copy is, the greater your chances of eliciting a response.
For instance, Coursera uses straightforward language in their direct marketing message shown below: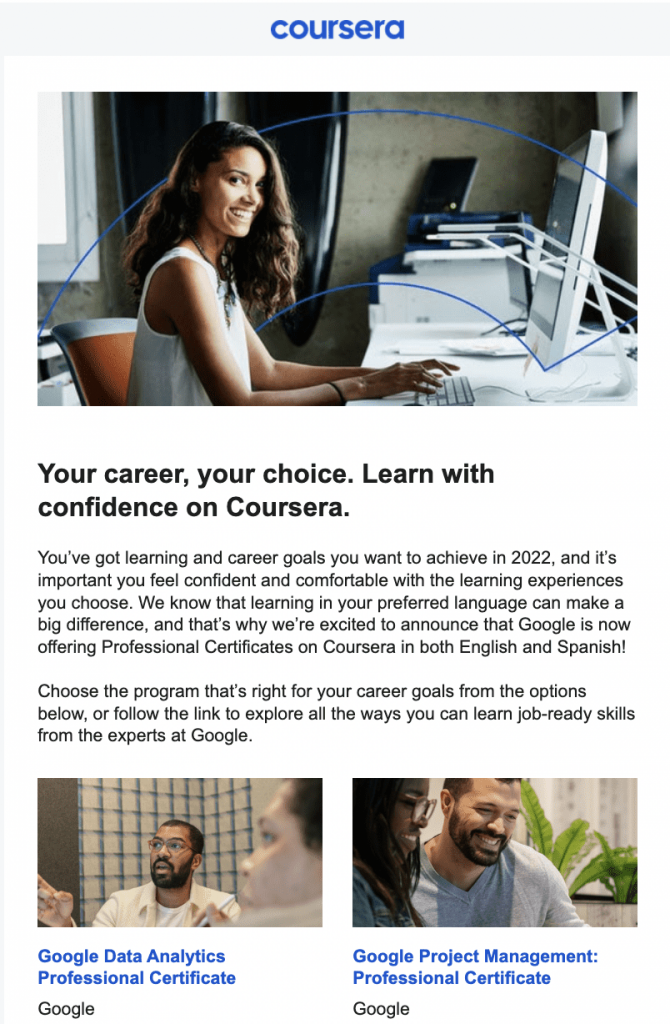 And here's how you can create a copy that's as easily understandable as Coursera's:
Avoid jargon or complicated language in your emails (even in scientific advertising).
Keep explanations precise without harping on irrelevant details.
Offer a clear and logical narrative that seamlessly moves from point to point.
8. Edit Your Copy to Refine Grammar and Enhance Readability
Overanalyzing your content while drafting the direct response copy can slow things down.
For effective direct response copywriting, draft your email content quickly — keeping in mind your copy goals and brand voice. Then, edit your email ad copy or sales letter ruthlessly.
Your direct response copywriter should focus on the copy's:
Flow of thought.
Factual accuracy.
Consistency of punctuation.
Use of grammar.
Sentence structures.
Formatting, and more.
9. Leverage Urgency to Trigger Action
Remember, your direct response copy must encourage customers to act in response to your email content.
But even if you've got an irresistible subject line, a compelling email body, and a persuasive CTA, many prospects will still resist taking immediate action. That's why you need to incentivize readers to act.
One excellent tactic you can use here is leveraging urgency. 
You can tell readers that:
Your product is selling out fast.
You're running a special, limited-time campaign.
You're giving away free stuff to recipients who sign up today, or so on.
The idea is to subtly push readers to click on your CTA button before they might lose interest.
Hulu's email below is an excellent direct response copywriting lesson.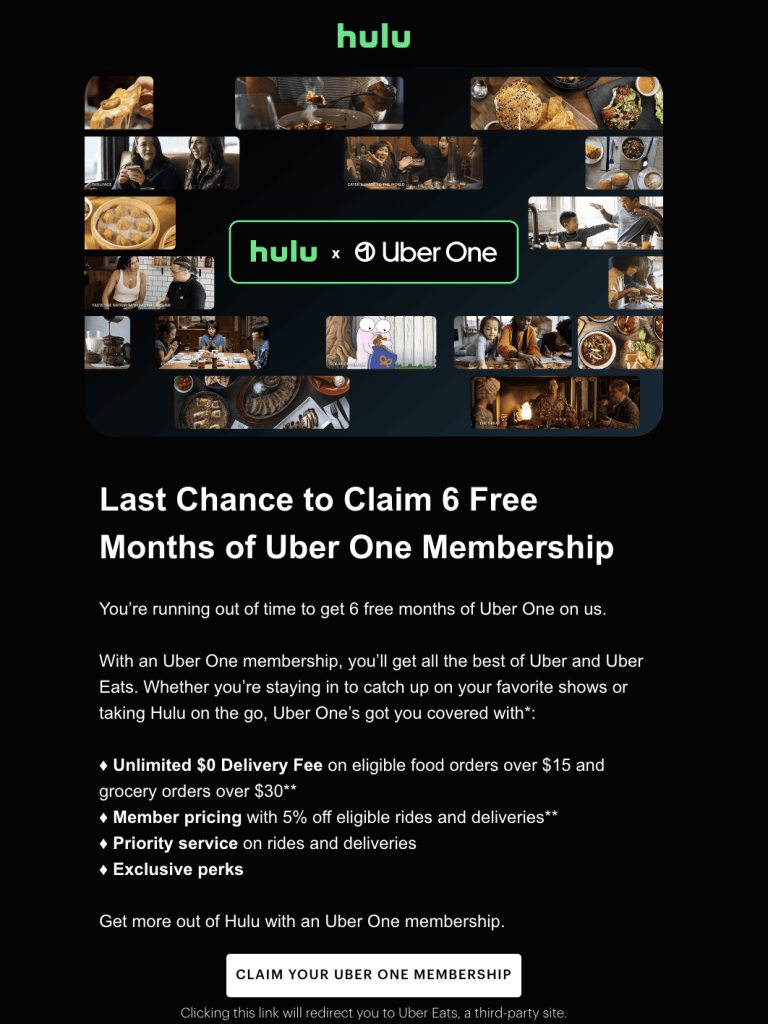 This great copy instills a sense of urgency by asking readers to hurry up and claim their free Uber One membership before it expires.
10. A/B Test the Copy to Determine the Best Fit for Your Audience
If you're a direct response copywriter hoping to inspire readers to take action, fine-tune your copy for optimal engagement and conversions.
But how?
Create different versions of your direct response email's:
Subject line.
Body copy.
CTA.
Template, and more.
Then, test the success of each variation in securing your direct response marketing outcomes.
Testing helps you optimize your direct response copy and direct marketing strategy based on your target audience's needs.
Split testing (A/B testing) different email components this way reveals exactly what your readers are looking for — the type of content that gets them to click on your CTA or ignore your email messages.
Now that we've covered some handy direct response copywriting tips, I'll share an excellent tool to help you achieve your direct marketing goals.
Boost Your Direct Response Copywriting Outcomes in 2022 with GMass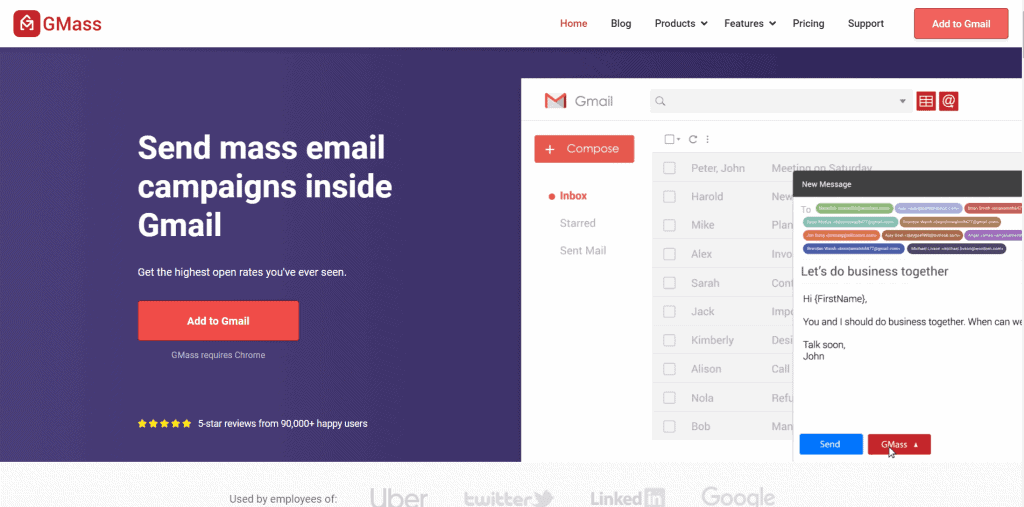 GMass is an advanced email marketing automation platform you can use to create and send personalized direct response emails at scale.
Its easy-to-use features make GMass the ideal tool for digital marketing professionals, entrepreneurs, salespeople, SEO specialists, and small business owners. GMass is also a popular email marketing tool among employees at social media giants like LinkedIn and Twitter.
With GMass, you can:
To access these outstanding features and more, download the GMass Chrome extension and sign up for free with your Gmail or Google Workspace account.
Wrapping Up
Direct response copywriting helps you trigger instantaneous customer action and improves your sales conversion chances.
The tips listed above can refine your direct response copywriting process and deliver better content marketing results.
But if you'd like to take your direct response copywriting game up a notch, use a powerful email marketing automation tool like GMass.
With GMass, you can automatically personalize your direct response emails at scale, schedule email marketing campaigns, track the response rate of your emails, automate follow-ups, and do so much more.
Download the free GMass Chrome extension to amp up your direct response email copywriting efforts today!
See why GMass has

300k+

users and

7,500+

5-star reviews

Email marketing. Cold email. Mail merge. Avoid the spam folder. Easy to learn and use. All inside Gmail.

TRY GMASS FOR FREE

Download Chrome extension - 30 second install!
No credit card required
Love what you're reading? Get the latest email strategy and tips & stay in touch.