Email outbound software helps you send outbound emails to prospects.
And unlike inbound emails you send to subscribers, outbound or cold emails are personalized emails you send to people you haven't interacted with before but with whom you would like to connect.
However, since the recipient might not know you, you'll have difficulty engaging them.
Don't worry.
With the right email outbound tool, salespeople and marketing teams can send successful outreach campaigns effortlessly.
In this article, I'll go over what features to look for in an excellent email outbound tool. Then, I'll cover 12 top email outbound software offerings, including their key features, pricing, and customer ratings.
This Article Contains:
(Click on links to jump to specific sections.)
Let's get started.
What to Look for When Choosing Your Email Outbound Software
Here are five must-have features in email outbound software:
Email Personalization: Since recipients usually ignore generic outbound emails, you'll need the capability to send personalized emails at scale.
Email Reports: Without email performance reports, you won't know which outbound emails are effective and which ones aren't.
Automated Follow-Ups: You can't manually follow up on each outbound email, so you'll need the functionality to send automated emails as follow-ups.
Email Scheduling: Scheduling features help your email reach the right inbox at the right time for better open and reply rates.
Now that I've covered the essential features, let's explore the top email outbound software available today.
12 Best Email Outbound Software to Boost Your Sales
Here are 12 email outbound software tools you can use to approach and convert leads:
GMass is a powerful email outbound and email marketing automation solution that works inside Gmail. Its advanced cold email outreach functionalities have made it a popular tool used by employees in powerhouses like Google and Twitter.
This cold email tool is also perfect for sales and marketing professionals, startup founders, and small business owners — essentially anyone who uses email.
GMass Key Features
Let's explore five GMass features you can leverage in outbound email campaigns:
Most outbound email recipients may not know who you are. Naturally, if you send them a generic email like some amateur sales rep, it's almost guaranteed to be ignored.
What do you do instead?
Simple: you send them tailor-made emails.
But isn't that time-consuming?
Not when you're using GMass!
With GMass, you can automatically personalize:
This way, you can quickly personalize your emails at scale for each recipient, increasing your chances of connecting with them.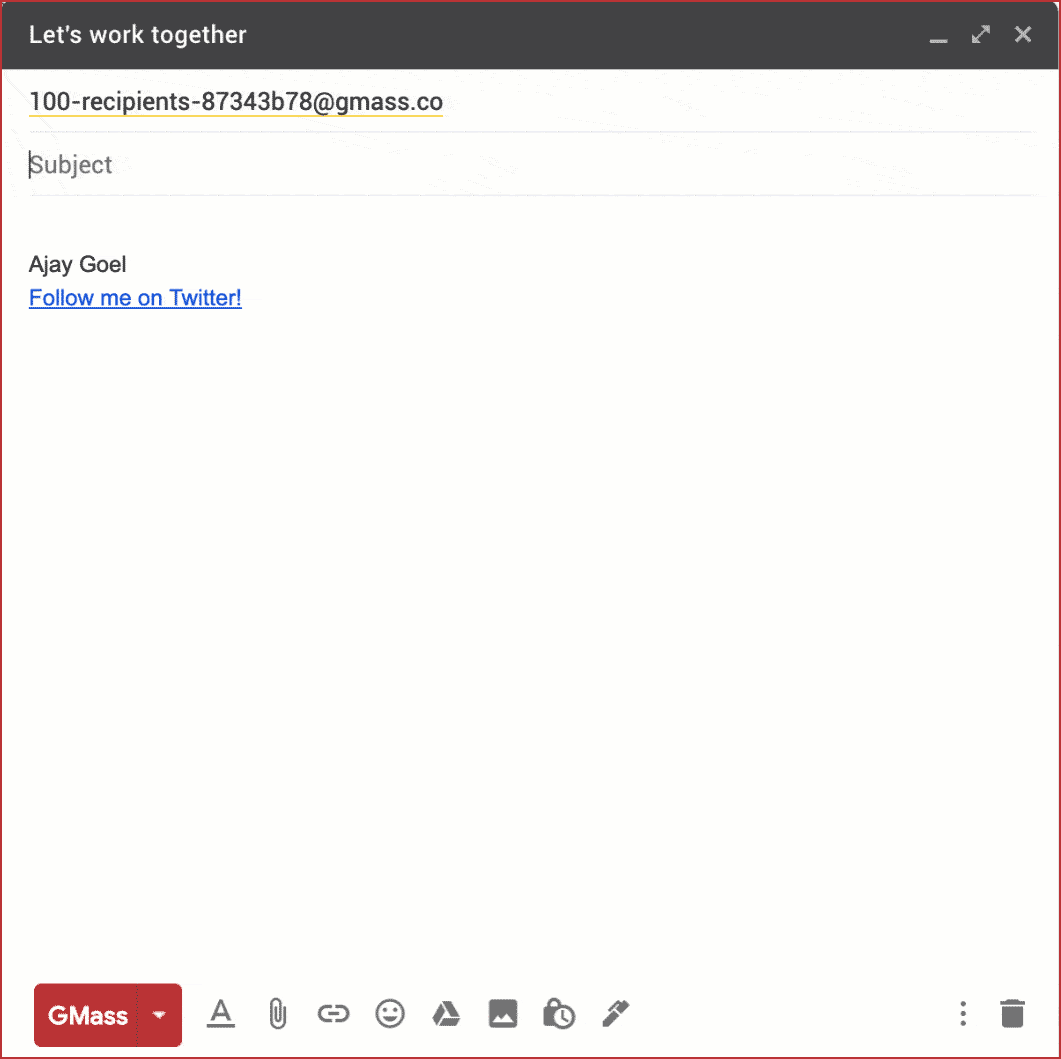 GMass lets you specify a date/time for your outbound email campaign. When it's time, the tool will automatically send your emails.
This way, you:
Don't have to be online when the sales or marketing campaign goes out
Can approach prospects across time zones
The best part?
Your emails reach prospects when they're likeliest to engage, boosting your email open rate.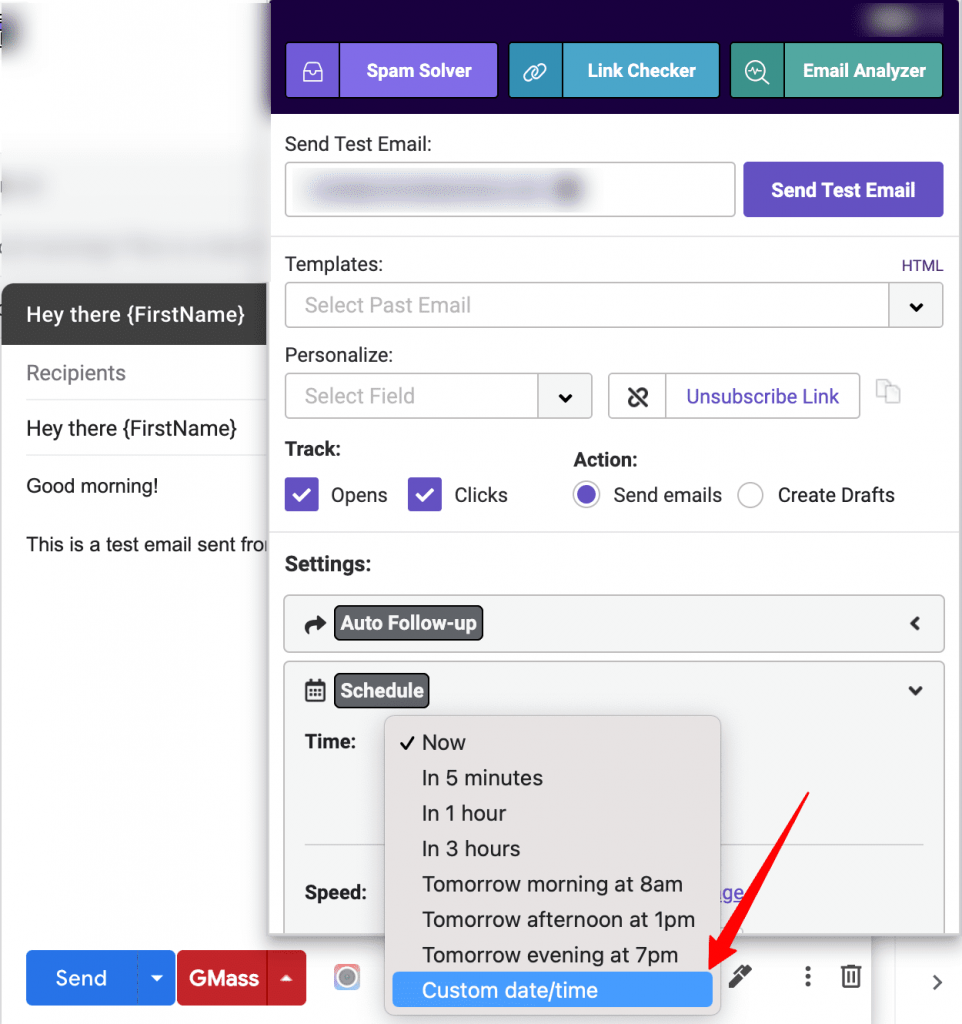 When you send an outreach or marketing campaign with GMass, it automatically generates a Campaign Report in your inbox.
This analytics report gives a clear picture of the performance of your tracked emails, including:
Open rate
Reply rate
Bounces
Unsubscribes, and more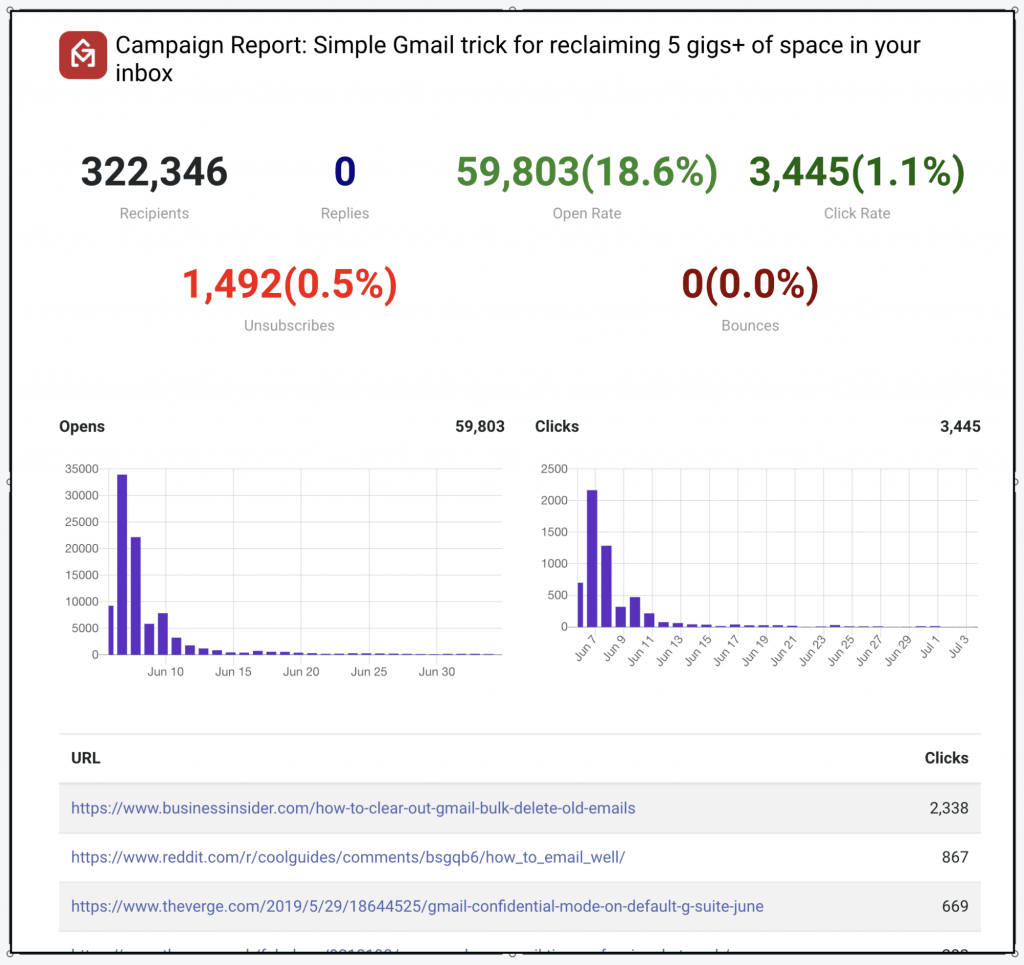 A single follow-up email can boost reply rates by 21%. Imagine what multiple follow-ups can do!
However, manually creating and sending follow-ups is tiring.
Fortunately, you can automate the process with the GMass cold email software and send follow-ups until you receive a reply.
You can also choose:
What triggers the follow-up sequence
How many follow-ups to send
The time interval between follow-ups, and more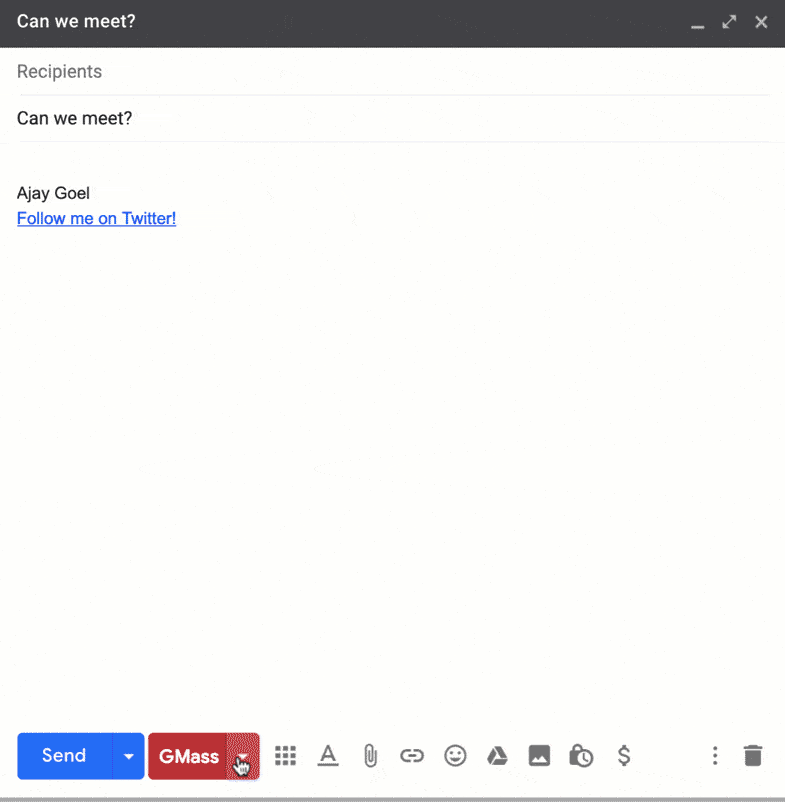 An email list lets you send an outbound campaign to a large number of people easily.
Here's how you can build an email list:
Place "lead magnets" on your website to collect email addresses.
Create an email list from your current contacts.
The #2 approach is much quicker and helps create a more targeted email list.
To create an email list in GMass, all you have to do is perform a Gmail search with keywords related to your target audience, and GMass will automatically build the email list for you.

You can also easily connect an email list stored in Google Sheets, Excel, or a CSV file to GMass.
But that's not all!
GMass supports various other advanced features to take your outbound email campaigns to the next level.
Other Powerful GMass Features
Here are some more useful GMass features:
To use GMass, download the Chrome extension and sign up for free with your Gmail or Google Workspace (formerly G Suite) account.
Free (up to 50 emails/day):
Individual:

Standard ($19.95/month):

Break Gmail's sending limits
Advanced mail merge personalization
Conditional content
And more

Premium ($29.95/month):

Supports all "Standard features"
Follow-ups and sequences
AB testing
And more

Enterprise ($49.95/month):

Supports all "Premium" features
High priority customer service
And more

Team ($125/month for 5 users):

Supports all "Enterprise" features
GMass Customer Ratings
Capterra: 4.9/5 (760+ reviews)
G2: 4.7/5 (740+ reviews)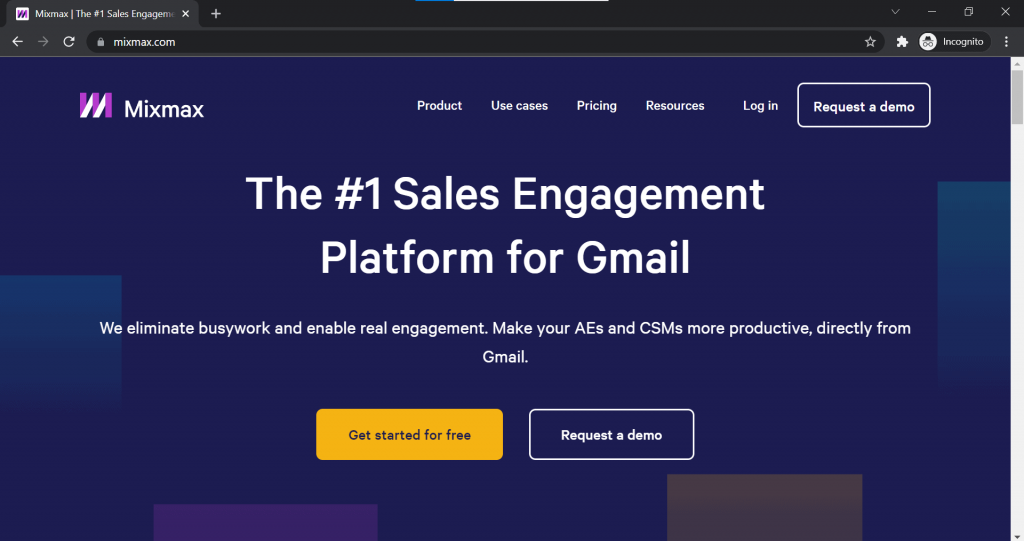 A sales engagement platform built for Gmail, Mixmax helps you automate outbound email campaigns, track performance, and so on.
Mixmax Key Features
Send drip campaigns from Gmail and Salesforce to engage your prospects.
Save outbound emails as templates and share the best ones with your sales team.
Set reminders so that you don't forget to respond to important sales email messages.
Schedule meetings effortlessly by sharing your availability as clickable dates/times in your emails.
Mixmax Pricing
Mixmax offers four pricing plans:
Free Plan:

Track 100 email opens/month
Undo send
Follow-up reminders
And more

Starter ($12/user per month):

Supports all "Free Plan' features
Track unlimited email opens
Chat with email collaborators
And more

SMB ($29/user per month):

Supports all "Starter" features
Sequences
Click tracking
And more

Growth ($65/user per month):

Supports all "SMB" features
Personalization
Recommended send times
And more
Mixmax Customer Ratings
Capterra: 4.5/5 (170+ reviews)
G2: 4.6/6 (520+ reviews)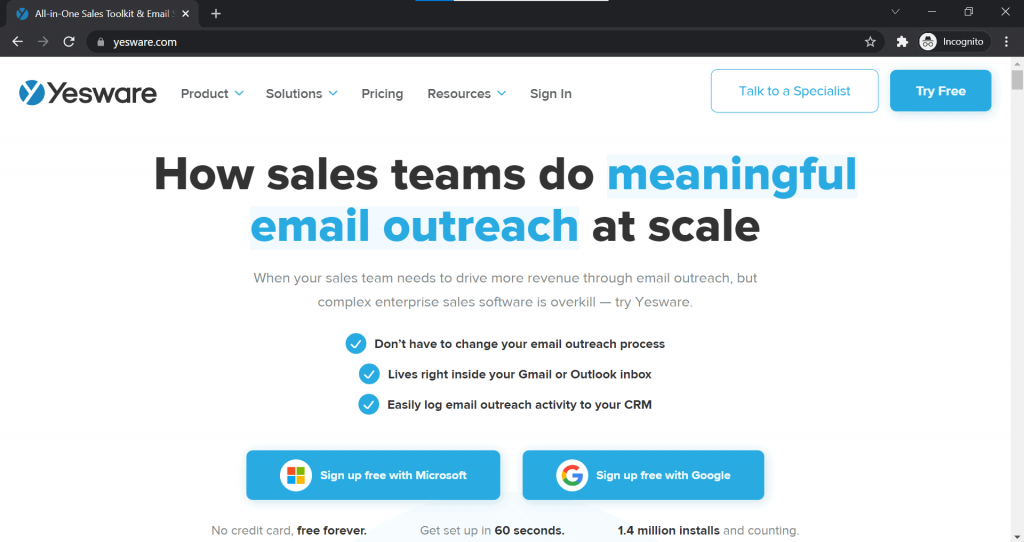 Yesware is a cold email software and sales prospecting tool that allows you to send outreach emails at scale.
Yesware Key Features
Know who opens your outbound emails, clicks the links inside, etc.
Helps you approach leads through emails, LinkedIn InMails, and phone calls.
Track your outbound emails and measure performance from your Gmail/Outlook inbox.
Integrate Yesware with Salesforce to sync your email activity with the CRM.
Yesware Pricing
Yesware offers the following pricing options:
Pro ($19/user per month):

Unlimited email open tracking
Unlimited link tracking
Unlimited personal email templates
And more

Premium ($45/user per month):

Supports all "Pro" features
Automated email campaigns
Campaign reports
And more

Enterprise ($85/user per month):

Supports all "Premium" features
Salesforce sync and reporting
And more
Yesware Customer Ratings
Capterra: 4.3/5 (160+ reviews)
G2: 4.4/5 (720+ reviews)
4. HubSpot Sales Hub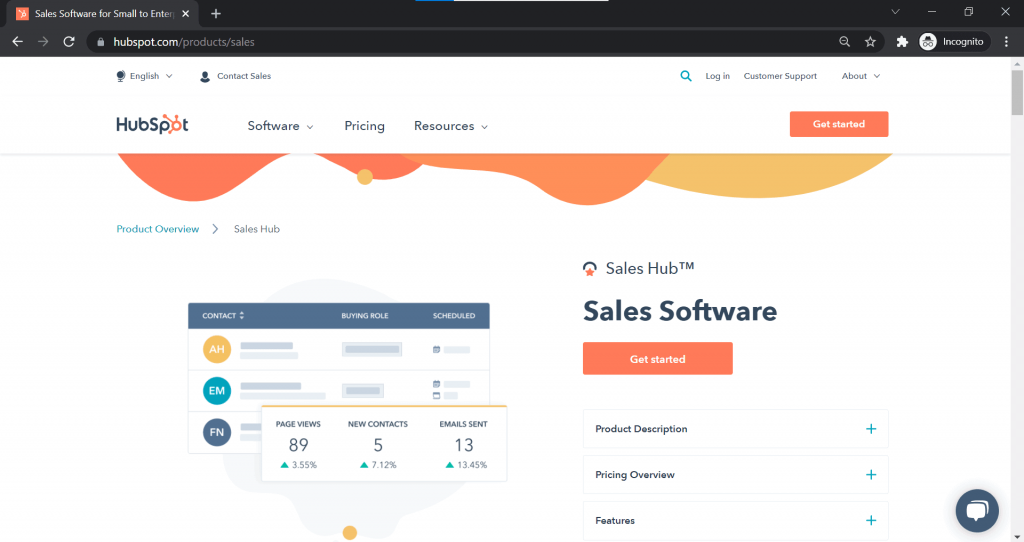 While HubSpot Sales Hub is primarily a CRM system, its email automation and tracking capabilities make it a useful email outbound software solution.
HubSpot Sales Hub Key Features
Turn your high-converting outbound emails into reusable email templates.
Automate email personalization and follow-up tasks to scale up your outbound efforts.
Check the built-in activity stream to see which emails a prospect opened and when.
Access your lead's contact info, company details, and more from your inbox.
HubSpot Sales Hub Pricing
Its pricing plans include:
Free:

Email scheduling
Up to 200 email tracking notifications
Up to 5 email templates per month
And more

Starter (starts at $50/month for 2 paid users):

Supports all "Free" features
Unlimited email tracking notifications
Up to 5,000 templates
And more

Professional (starts at $500/month for 5 paid users):

Supports all "Starter" features
Up to 5,000 sequences
Sales analytics
And more

Enterprise (starts at $1,200/month for 10 paid users):

Supports all "Professional" features
Up to 100 shared inboxes
Customizable permission sets
And more
HubSpot Sales Hub Customer Ratings
Capterra: 4.5/5 (2910+ reviews)
G2: 4.4/5 (8050+ reviews)
5. Reply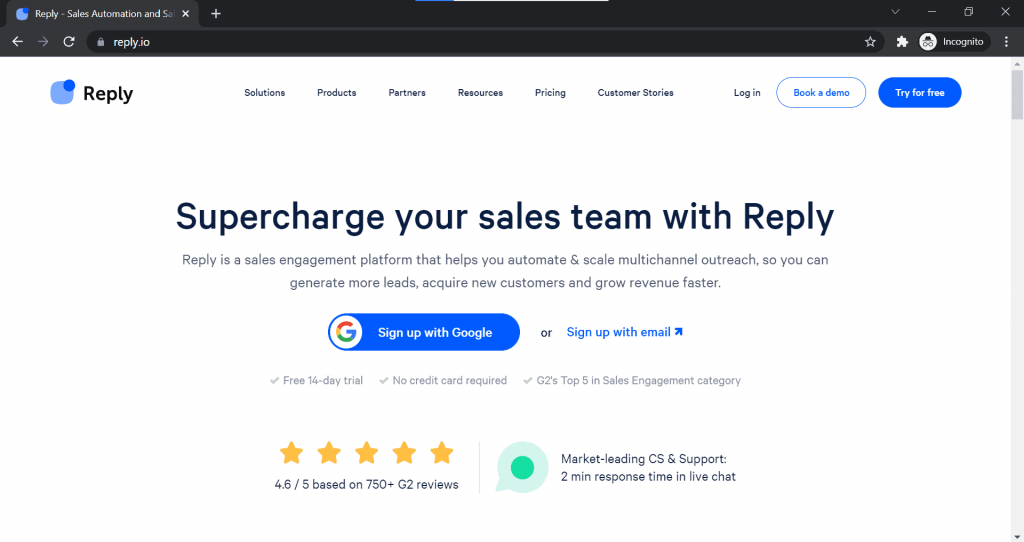 Reply is an email outbound software solution that also lets you connect with leads via phone and social media.
Reply Key Features
Set up multi-channel sales sequences across email, SMS, and LinkedIn.
AB test your email content to increase your conversion chances.
Leverage the LinkedIn Email Finder feature to automate email search on LinkedIn tools.
Reply Pricing
Reply comes with several pricing plans:
Sales Engagement (starts at $70/month per user):

Unlimited sequences
All channels included
Customer success service
And more

Email Search (paid plan starts at $49/month):

Find up to 5,000 business emails
Connect with LinkedIn and LinkedIn Sales Navigator
Publish contacts to a sequence in Reply
And more
Reply Customer Ratings
Capterra: 4.6/5 (80+ reviews)
G2: 4.5/5 (780+ reviews)
6. Salesforce Engage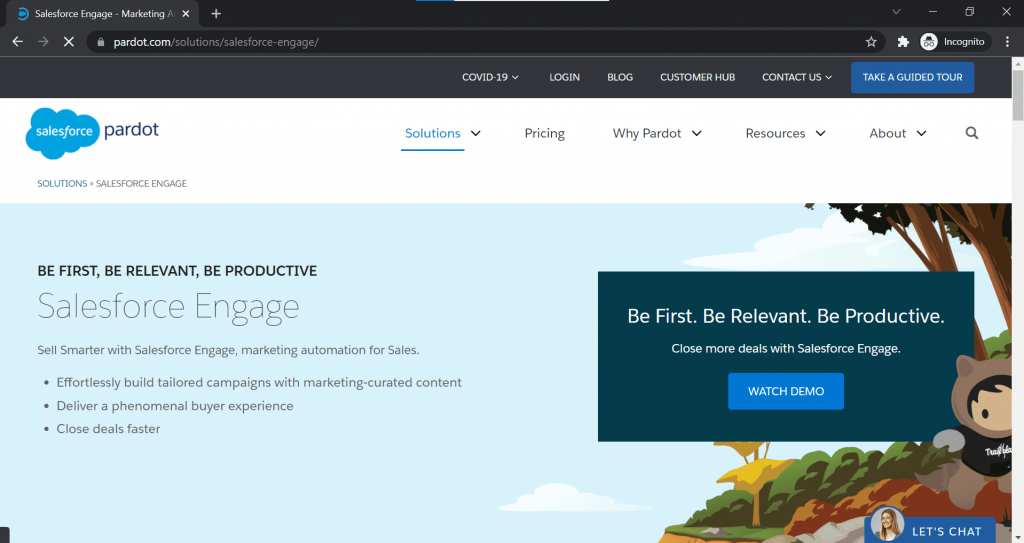 Salesforce Engage is an email marketing tool and marketing automation platform you can use to send one-to-one outbound emails.
Salesforce Engage Key Features
Log your Gmail/Outlook interactions automatically inside Pardot and Salesforce.
Monitor your outbound email campaigns and uncover trends to close the sale faster.
View prospect engagement with your email marketing campaigns in real-time.
Create your outbound emails quickly using templates.
Salesforce Engage Pricing
Salesforce Engage offers a paid plan at $50/user per month.
Salesforce Engage Customer Ratings
Capterra: NA
G2: 4.3/5 (10+ reviews)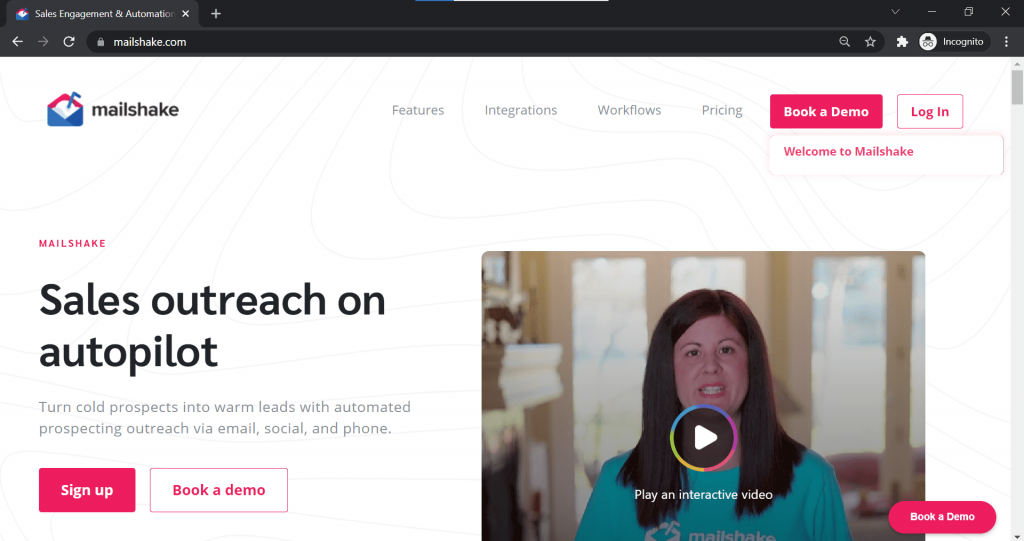 Mailshake is a cold outreach and email sequence software that helps you approach cold prospects through email, phone, and social media.
Mailshake Key Features
Send mail merge campaigns as 1-to-1 emails to your prospect list.
Select from pre-crafted follow-up email templates to boost your reply rates.
Auto-generate your outbound email copy with Mailshake's AI Email Writer.
Integrate with third-party apps like Pipedrive using Zapier.
Mailshake Pricing
Mailshake has two pricing tiers:
Email Outreach ($59/user per month):

Email personalization
Automated email sequence
AB testing
And more

Sales Engagement ($99/user per month):

Supports all "Email Outreach" features
Custom tasks
Social selling
And more
Mailshake Customer Ratings
Capterra: 4.7/5 (90+ reviews)
G2: 4.7/5 (130+ reviews)
8. Close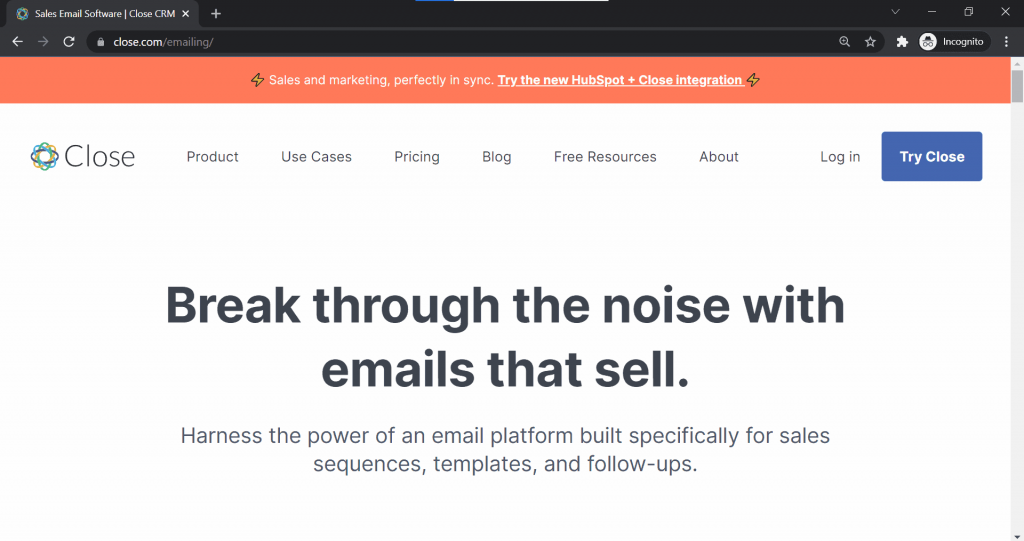 Close is a CRM software and email platform that supports email outbound sequences, follow-ups, and templates.
Close Key Features
Bulk enroll prospects meeting your outreach criteria into an email sequence.
Personalize your emails with dynamic lead data using Template Tags.
Build outbound email sequences to re-engage cold leads and get more referrals.
Log your sales emails to the CRM for better historical context about a lead.
Close Pricing
Here are Close's pricing options:
Starter ($29/user per month):

Email and open response tracking
Scheduling & reminders
Snooze & undo send
And more

Basic ($69/user per month):

Supports all "Starter" features
Unlimited templates
Sales reporting
And more

Professional ($99/user per month):

Supports all "Basic" features
Bulk email sending
Email sequence
And more

Business ($149/user per month):

Supports all "Professional" features
Custom graphs
Custom roles and permissions
And more
Close Customer Ratings
Capterra: 4.7/5 (130+ reviews)
G2: 4.5/5 (200+ reviews)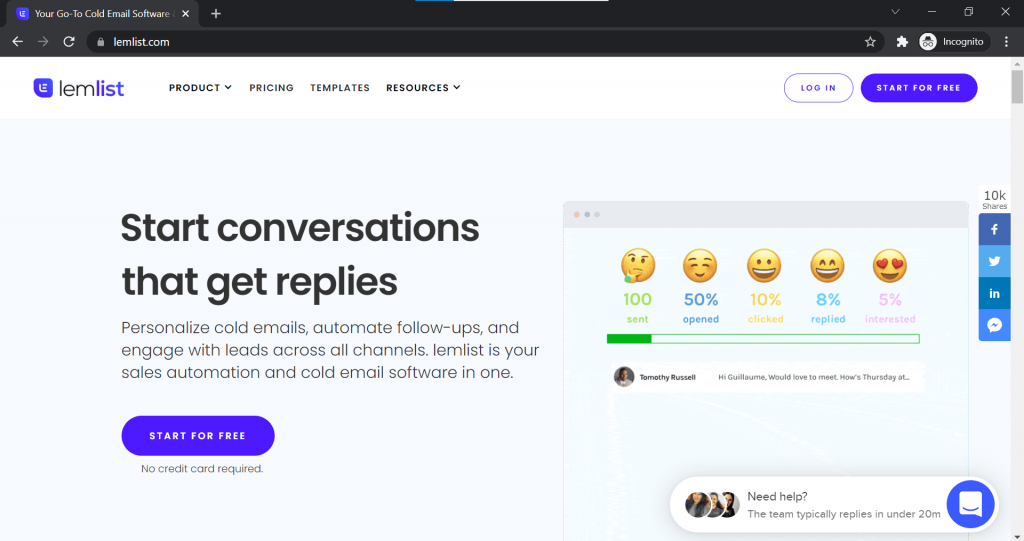 Lemlist is a cold email tool you can use to set up multi-channel sequences covering email, landing pages, and more.
Lemlist Key Features
Include custom intro lines and call-to-actions in your automatically personalized emails.
Run audits to see where your emails land for improving deliverability.
Specify email sending limits so that your team doesn't go overboard with their email marketing campaigns.
Use the calendar overview to see which email campaign is up next, what stage a sales lead is at, and more.
Lemlist Pricing
Lemlist is priced as below:
Email outreach ($59/user per month):

Send cold email campaigns
Automated sequences
And more

Sales engagement ($99/user per month):

Supports all "Sales engagement" features
Multichannel campaigns
Video, chat, and calendar integrations
And more
Lemlist Customer Ratings
Capterra: 4.6/5 (320+ reviews)
G2: 4.3/5 (80+ reviews)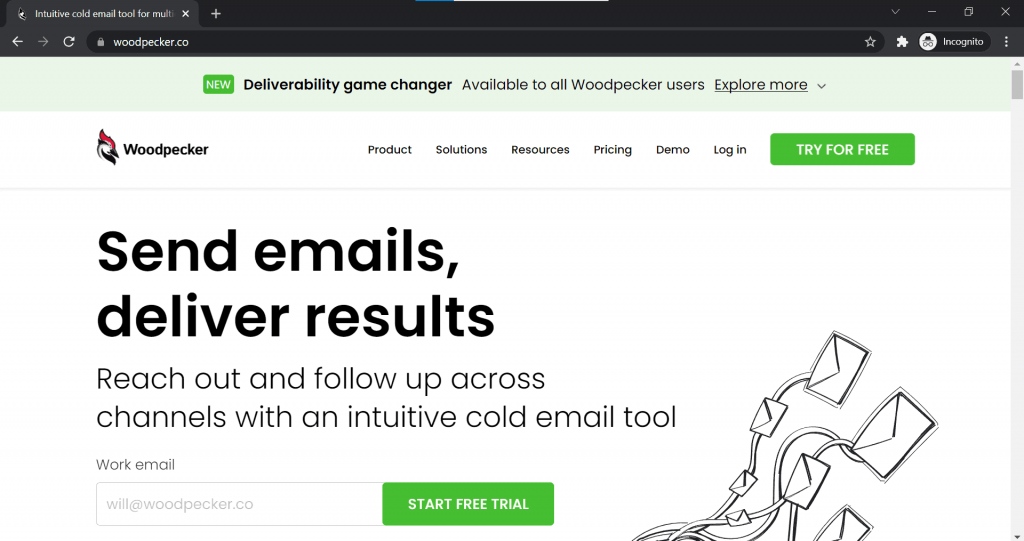 Woodpecker is an email tool that helps automate your cold outreach campaigns and improve your email deliverability.
Woodpecker Key Features
Enhance your sender reputation so that your outbound emails don't go to spam.
Customize your email delivery schedule to reach prospects at optimal times.
Receive in-app notifications alerting you of issues with your email account.
Leverage If-campaigns that adjust your emails based on the recipient's interest level.
Woodpecker Pricing
Here are Woodpecker's pricing plans:
Tier 1 ($39/slot per month):

Contact up to 50 new people daily
Unlimited email follow-ups
And more

Tier 2 ($44/slot per month):

Supports all Tier 1 features
Contact up to 200 new people daily

Tier 3 ($49/slot per month):

Supports all Tier 1 features
No daily limit on contacting new people
Note: A slot refers to an email address you connect to Woodpecker for sending emails.
Woodpecker Customer Ratings
Capterra: 4.8/5 (10+ reviews)
G2: 4.4/5 (30+ reviews)
11. Gmelius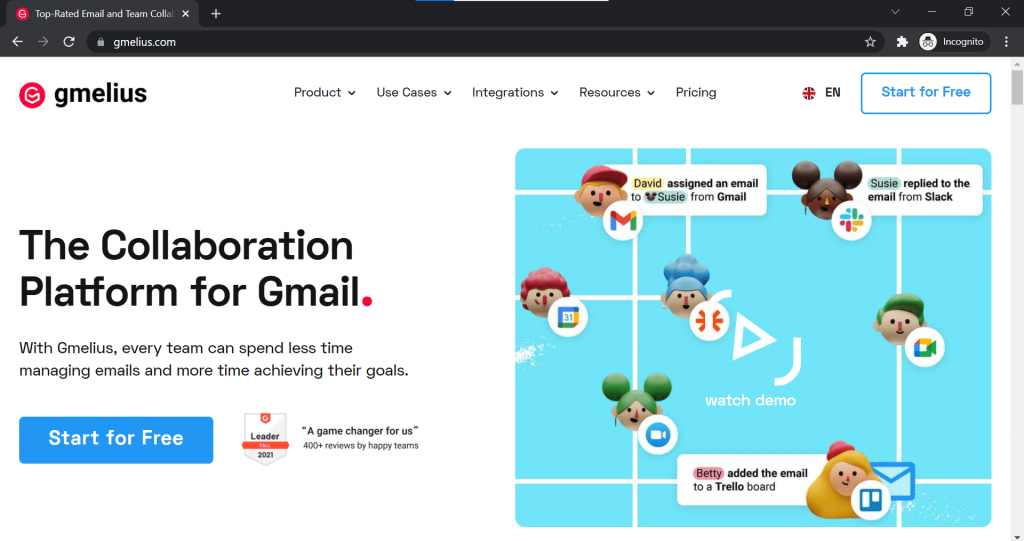 Gmelius is an email automation tool and email sequence software with built-in collaboration capabilities to let you manage the email outbound process more smoothly.
Gmelius Key Features
Keep your leads engaged by sending them automated drip campaigns.
Convert your Gmail emails into Kanban tasks you can assign to your sales team.
Share your outbound drafts with the sales team for feedback and suggestions.
Add context to your outbound email conversations through Email Notes inside Gmail.
Gmelius Pricing
Gmelius has the following pricing structure:
Plus ($12/user per month):

Unlimited email tracking
Email notes and comments
Email templates
And more

Growth ($24/user per month):

Supports all "Plus" features
Email sequence
Mail merge campaigns
And more

Enterprise ($69/user per month):

Supports all "Growth" features
Unlimited Gmail labels and Kanban boards
5-month analytics window
And more
Gmelius Customer Ratings
Capterra: 4.7/5 (30+ reviews)
G2: 4.4/5 (450+ reviews)
12. Zoho Campaigns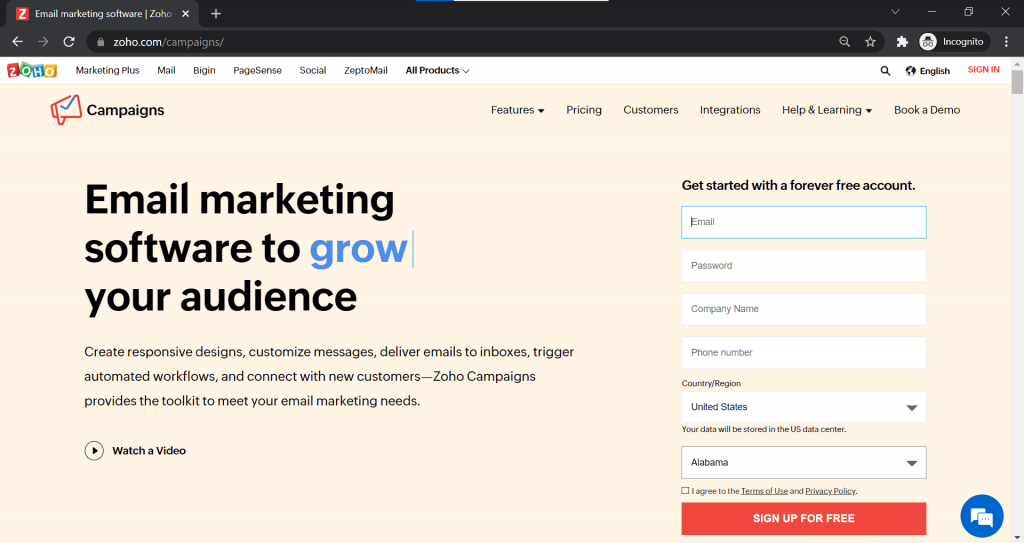 Zoho Campaigns is an email marketing software solution that offers cold outreach and sales prospecting capabilities.
Zoho Campaigns Key Features
Trigger email messages based on prospect interaction with your outbound campaigns.
Implement prospect engagement strategies using the email workflow builder.
Schedule an email series to send outbound emails to your prospects at the right time.
Manage your outbound campaigns on the go with the Zoho Campaigns mobile app.
Zoho Campaigns Pricing
Zoho Campaigns is available at three price levels:
Forever Free:

Basic email templates
Reports and analytics
Merge tags
And more

Standard (starts at $4/month for 500 contacts):

Supports all "Forever Free" features
Unlimited emails
AB testing
And more

Professional (starts at $6/month for 500 contacts):

Supports all "Standard" features
Drag-and-drop email automation workflows
Sent-campaign notifications
And more
Zoho Campaigns Customer Ratings
Capterra: 4.1/5 (180+ reviews)
G2: 4.3/5 (820+ reviews)
Final Thoughts
With email outbound software, you can easily create tailor-made emails at scale, reach the right inbox at the right time, and automate your follow-up process.
However, choosing the perfect email outbound software for your specific needs can be tricky.
If you're looking for an easy-to-use tool with advanced outreach features, why not start with GMass?
In addition to essential features, GMass also helps you send behavior-based campaigns, perform sentiment analysis on your replies, and do so much more.
Download the GMass Chrome extension and level up your outbound email capabilities! 
Ready to

transform Gmail

into an email marketing/cold email/mail merge tool?

Only GMass packs every email app into one tool — and brings it all into Gmail for you. Better emails. Tons of power. Easy to use.

TRY GMASS FOR FREE

Download Chrome extension - 30 second intall!
No credit card required
Love what you're reading? Get the latest email strategy and tips & stay in touch.