Great email copywriting goes beyond the actual email content.
It considers the email subject line, how you personalize said content, your call to action, and more.
To help you master it, I'll discuss 12 foolproof email copywriting best practices that'll sway your subscribers not just to open the email but to read it and take appropriate action. I'll also mention a powerful email marketing tool you can use to level up your email copywriting efforts.
This Article Contains:
(Click on the links to jump to specific sections)
Let's begin.
12 Email Copywriting Best Practices You Should Adopt Today
Email copywriting offers a fantastic way to:
Build your brand awareness.
Retain your existing customers.
Boost your conversion rate and more.
However, your recipients have limited time and may hardly spend 10 seconds reading each email.
Don't worry.
With compelling email copy, you can capture the readers' attention, keep them engaged, and prompt action.
Just follow the email copywriting tips I've mentioned below to level up your email game today:
1. Understand Your Audience's Pain Points and Preferences
Before writing your email copy, thoroughly research your target audience to identify their pain points and preferences.
This can help you decide what email content you should share with your audience.
For instance, let's say you're an e-commerce store selling golf equipment, and your audience is searching for beginner golf clubs. Your email can feature some great beginner clubs they can check out, or it can share a handy guide mentioning dos and don'ts for golf beginners.
But how can you do this research?
Sending surveys to your existing email list is an easy way to collect info about your target audience.
You can also use social media marketing to garner insights from people outside your email list.
Based on all the info gathered, create a buyer persona that your email copywriter can refer back to while crafting emails.
What's a buyer persona?
A buyer persona is a detailed description of someone who represents your target audience. It helps you create more targeted and relevant content for your readers.
2. Write a Short, Eye-Catching Email Subject Line
Your readers receive hundreds of emails every day and won't have the time to read each email. That's probably why almost 47% of people decide whether to open an email based solely on its subject line.
And since the subject line is the first thing to grab the reader's attention, you need to get it right!
But how do you craft an eye-catching email subject line?
You can start by personalizing the email to include the recipient's name.
A study reveals that emails with subject lines addressing the recipient by their first name or business name have an 18.30% open rate.
Another factor to consider is on what device your audience views their emails.
Since many of your subscribers probably use email on their mobile devices, keep your subject lines mobile-friendly — ideally between 25 and 35 characters.
You can take things a step further by mentioning a pain point in the subject line and alluding to how you address it in your email body copy.
To help you out, here are five subject line examples for inspiration:
"Need help crafting your content marketing copy, [first name]?" 
"[First name], your favorites are back in stock!" 
"5 B2B email marketing tactics experts swear by"
"BOGO from April 14-16 — grab them now!" 
"[First name], your cart misses you."
3. Ensure Your Email Copy Aligns with the Subject Line
Once you've caught the reader's attention with your subject line, you need to keep them engaged with your email body.
But for that, your email body copy should align with your subject line.
What do I mean by that?
For example, let's say your subject line promises to share the best time to send emails to subscribers.
Your email copy must provide that answer.
Mention the best time for getting high open rates in the body content or add a CTA redirecting to a blog post showing optimal times for sending emails.
Following this best practice helps you build and nurture trust among subscribers. They can trust that your brand won't send emails with a disconnected subject line just to get them to open the email.
On the flip side, if your email body copy doesn't deliver on what you promised in the subject line, your email can come across as clickbait.
That's not all.
To make things worse, your readers may mark your emails as spam, hurting the email deliverability of your future email campaigns.
4. Personalize Your Email Copy for Maximum Engagement
If you want an email subscriber to engage with your email (like clicking on your CTA button), you need to personalize your email.
You can start by mentioning their name in the subject line of your email marketing campaign. Take it up a notch by crafting a body copy tailored to their preferences, interests, or purchase history.
For example, let's say a customer recently purchased a personal care product like a shampoo or conditioner from your website.
You can send them a personalized email message suggesting related products like body wash. Alternatively, you send customized emails offering them discounts on the brands or products they've already purchased.
This way, your email copy is bound to capture the readers' attention and improve conversions.
5. Use Targeted Marketing to Create Relevant Emails
Relevancy isn't limited to your subject line.
Remember, once the reader opens your email based on the subject line, your email content should keep them reading.
For this, you can leverage targeted marketing.
What's that?
Let's say you have a group of people in your email list who have subscribed to your email newsletter but never purchased from your online store.
Within this group, assume you've got two subgroups:
Group A: Those who have added products to their wishlist/cart.
Group B: Those who haven't added products to their wishlist/cart.
The email marketing approach you'll use for each group will differ.
For instance, you can gently nudge people in Group A (with an active buying interest) by reminding them of items in their cart.
On the flip side, Group B, which only subscribed to your email newsletter, may not know everything your company offers. Here, you'd be better off talking about 2-3 relevant products or services in detail, with a clear CTA leading them to explore more about your offerings.
6. Talk about Benefits, Not Features
If your emails simply preach about all the features your product/service offers, it can come across as tasteless marketing, and it's bound to turn off your reader.
Instead, shift your focus to the unique benefits you can offer customers — how you can add value to their lives.
For instance, if you're writing marketing copy to sell tents, don't focus on features like the materials used or peak height. Alternatively, describe how the tent is perfect for a trek across the mountains on a rainy day since it's leak-proof and sturdy.
You can also highlight customer reviews showcasing how people benefit from your offerings.
My point?
Sharing your product's benefits makes for a more compelling email copy than rambling about its features.
7. Develop a Unique Brand Voice and Use It Consistently
While drafting your email copy, it's crucial to remember that a recipient doesn't interact with you but with your brand.
That's why you'll need to develop a distinctive and consistent brand voice that can be used by your:
Email copywriter.
Email marketer.
Social media marketing team.
Digital marketing team, and others.
What's a brand voice?
A brand voice is nothing but the personality your brand uses in its communications. It should help readers identify your brand even if they skipped reading your email address or even the subject line.
For example, if you're an e-commerce brand in the personal care industry, your brand voice can be conversational and light-hearted.
But if you're in the legal industry, your marketing emails will probably sound more professional.
Keeping your brand voice consistent throughout the email marketing campaign can foster a better customer experience and build brand loyalty.
8. Speak Directly to Your Reader
Every email you send is about your reader — not you.
That's why it makes sense to use second-person pronouns such as "you," "your," and "yours" to address the target audience directly.
Using these pronouns is especially important in your welcome email since it can leave a lasting impression on the reader. This first impression is critical to building a long-term relationship with your subscribers.
Now there's no magic number for how many second-person pronouns you should use.
But I recommend using such pronouns at least 10 times to ensure your copy is oriented toward the reader.
If you're facing trouble writing emails this way, just imagine drafting an email to a friend or someone you know. This way, you can easily keep the language direct and focused on the reader.
9. Keep Your Email Copy Short and Simple
With email copywriting, less is more.
Don't use hundreds of words if you can convey the same idea with a few dozen words.
Wondering why?
A two-line paragraph on your laptop can look like a regular-sized paragraph on a mobile device. Keeping your paragraphs short and simple ensures that your mobile readers get a good reading experience.
Another reason to keep the overall email body short is that people generally don't read every line and word carefully.
They scan through the email marketing copy and pick out the most salient points.
Filling your email with lots of text makes this process harder for the reader and increases the likelihood of them ignoring or deleting your email.
Remember, your aim is to direct your readers to the CTA button or link, so best not waste their time narrating a story. I'd encourage you to stick to one thought per paragraph while writing emails to avoid overwhelming your readers.
10. Stick to a Single, Clear Call to Action
After the subject line, your call to action (CTA) is probably the most important part of the entire email campaign.
But you want to keep it simple and not include too many CTAs.
For example, you don't want to have a CTA asking readers to click on a link redirecting to your landing page and another CTA to follow you on a social media handle in the same email.
Ideally, stick to a single CTA, like:
Subscribe to our newsletter.
Buy now!
Follow us on Twitter.
Explore more on our website.
Add this item to your cart. 
These simple yet effective CTAs tell the reader exactly what the expected and desired action is from their end.
I'd also recommend keeping the CTA in a separate button rather than a link.
Why?
Since most readers scan through an email marketing copy, a CTA button will stand out among all that text, drawing their attention and increasing their chances of clicking on it.
11. Leverage Consumer Psychology in Your Email Marketing Strategy
While emailing a prospect, you can use psychology to influence consumers.
Here are three consumer psychology tactics you can use to your advantage in an email marketing campaign:
A) Power Words
Power words can evoke emotions in an email subscriber and prompt them to open your email and click on the CTA button.
For example, instead of just saying you have some new findings regarding your industry, use words like "surprising" or "incredible" alongside your findings to elicit an emotional response.
B) FOMO
Another tactic you can leverage is FOMO (Fear of Missing Out).
This can take the form of a limited-time sale with a subject line saying, "Prices dropped for 24 hours only!" Such a subject line creates a sense of urgency and makes your readers feel they'll miss out on a great deal if they don't act now.
C) Social Proof
As an email marketer, you can use social proof like customer testimonials, case studies, and press mentions to establish legitimacy and trust around your brand.
You can leverage this best practice for new customers who might be on the fence about investing their money in your product/service.
12. Make Split Testing Your Emails a Habit
AB testing or split testing is when you create two slightly different versions of a good email and test them with your target audience to determine which version performs better.
For example, you can design two variants of the CTA button and see which leads to more clicks.
You can also test with different:
Subject lines.
Power words.
Email marketing copy lengths.
Colors and images.
Social proof.
Sending schedules, and more.
Constantly testing how your audience responds to different approaches is a great way to keep your copy fresh, innovative, and relevant to subscribers.
Moreover, changing small aspects of your email marketing copy as a response to feedback helps improve your customer experience.
Now that we've gone over some best practices to help you write the best email copy, I'll mention a powerful tool you can use to make the most of your email copywriting efforts.
The Best Email Marketing Tool to Use in 2022: GMass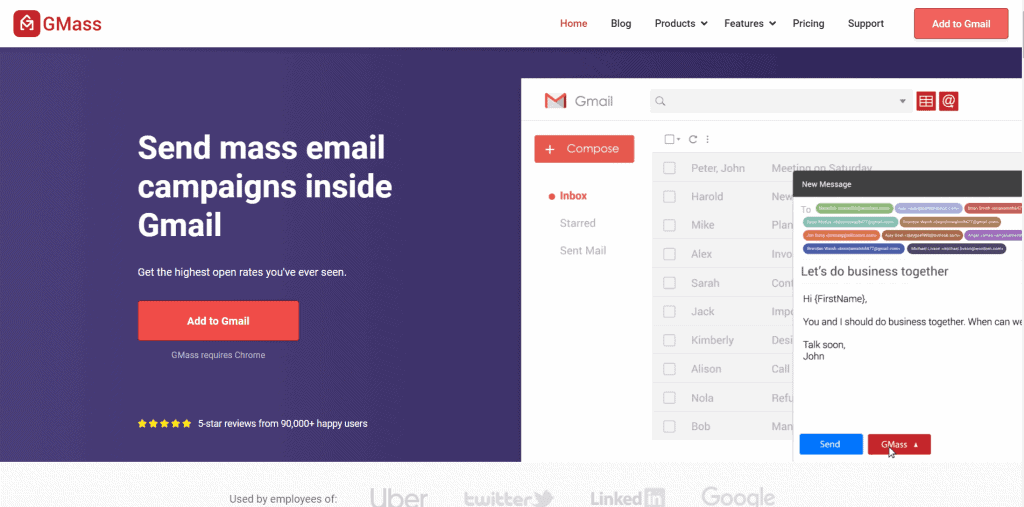 GMass is a robust email marketing automation tool that works entirely inside Gmail.
Its advanced capabilities make it a popular software solution among copywriters, sales professionals, small business owners, and even employees at social media giants like LinkedIn and Twitter.
With GMass, you can:
To start using GMass, download the GMass Chrome extension and sign up for free using your Gmail account.
Final Thoughts
Email copywriting might seem difficult at first, but it can help you build brand awareness, nurture incoming leads, and increase sales.
You can make the most out of every email campaign you create and deploy using each best practice I've outlined above.
For this, you can use the email marketing automation tool GMass. The tool lets you personalize your cold email campaigns at scale, automate follow-ups, analyze email performance, and do so much more.
Download the GMass Chrome extension today and take your email copywriting to a whole new level!
See why GMass has

300k+

users and

7,500+

5-star reviews

Email marketing. Cold email. Mail merge. Avoid the spam folder. Easy to learn and use. All inside Gmail.

TRY GMASS FOR FREE

Download Chrome extension - 30 second install!
No credit card required
Love what you're reading? Get the latest email strategy and tips & stay in touch.