Email copywriting can take on many forms, whether it's advertising a new product, recommending an existing one, or simply wishing customers a happy birthday.
However, writing an engaging email copy that gets recipients to take the desired action is no easy task.
To help you out, I've compiled a list of 15 amazing email copywriting examples you can get inspiration from. I'll dive deep into what makes each marketing email work and how you can replicate these brands' success for yourself.
This Article Contains:
(Click on the links below to jump to a specific section)
Let's get started.
12 Fantastic Email Copywriting Examples
Great email copywriting is at the heart of each email marketing campaign. And this includes everything from the subject line to the body of the email and the CTA button.
There are multiple ways you can craft a good email that your subscribers will respond to.
Let's explore some of these below:
Note: All images have been sourced from reallygoodemails.com.  
1. Supergoop: Welcome Email
A welcome email gives the recipient the first impression of your business and sets the tone for all future communications they have with you.
In fact, 74% of all email subscribers anticipate receiving one right after they subscribe to your mailing list.
Often you'll find welcome emails with offers and discount codes, like this email from Supergoop. This is a smart strategy as it opens a line of communication with the subscriber and gives them an instant reward for choosing your company over your competitors.
Subject Line: Welcome to the Bright Side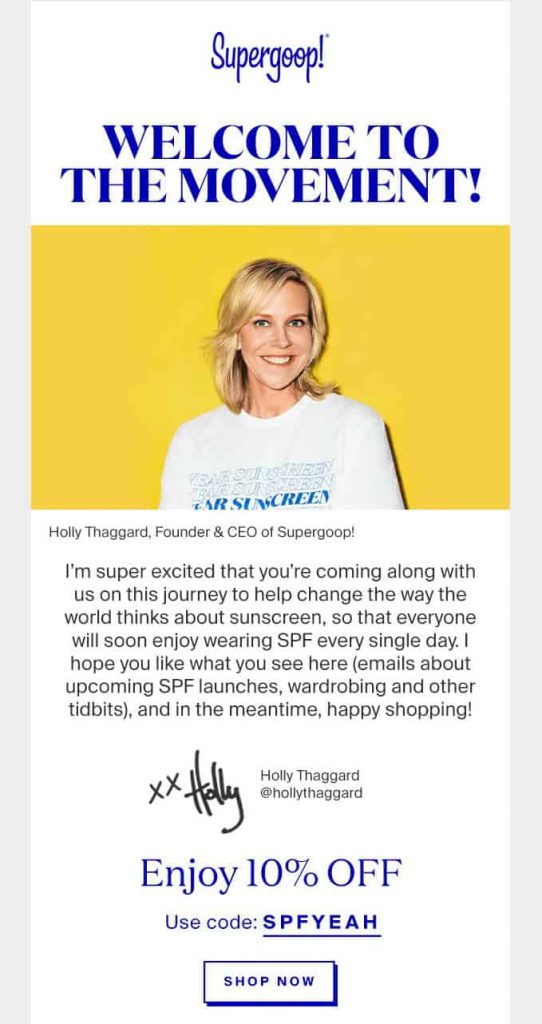 Like Supergoop, you can use the welcome email to explain how your business works, what you offer, and what subscribers can expect from any future correspondence.
The email further invites the subscriber to form a connection with the brand by offering a message from the CEO itself. This humanizes the brand and makes every new subscriber feel special.
2. Google Maps: Re-Engagement Email
While losing a certain amount of your email list due to attrition is understandable, losing too many readers can signal a problem with your email marketing strategy itself. For instance, if you don't use personalization, subscribers might just delete your email without even reading it.
To avoid losing subscribers, you can send out re-engagement emails designed to bring them back. This can help affirm their membership with your company and boost your overall engagement levels.
For example, here's a re-engagement email from Google Maps that tugs at the recipient's heartstrings with a simple, high-quality picture.
Subject Line: We miss you on Google Maps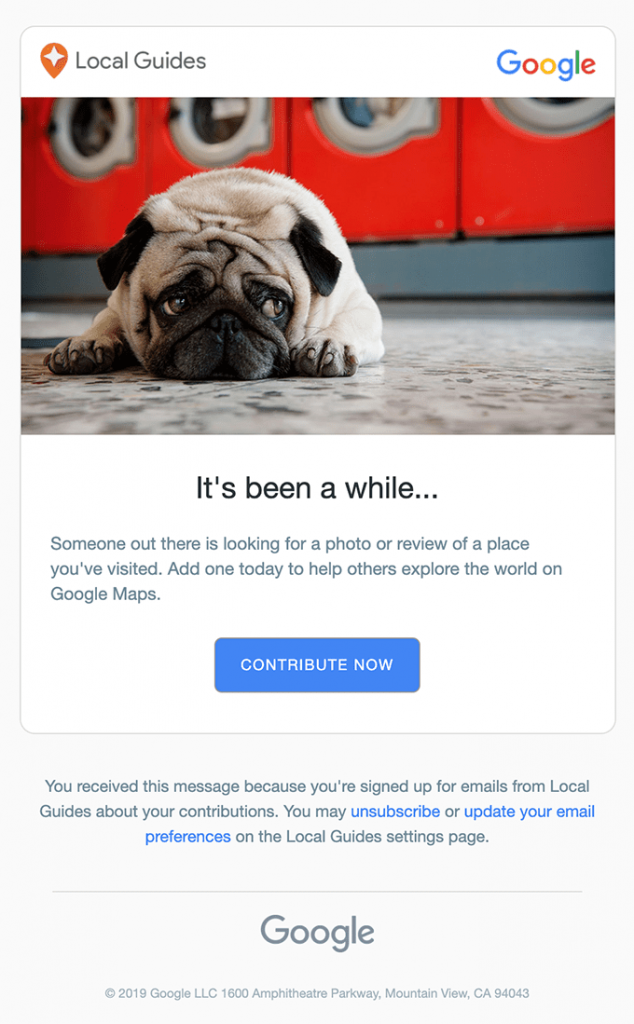 The point of this email isn't to overwhelm the reader with information but rather to bring them back to engage with you. And sometimes, the trick is to be simple and let the email body copy speak for itself.
3. Fitbit: Summary Email
Depending on your company and business model, you could send your subscribers daily or weekly summaries of their activities over a given period.
Providing a summary email tailored for each subscriber will almost guarantee they will open and read it — giving them an instant snapshot of their activity.
For example, Fitbit sends its subscribers a summary email detailing how many steps they took in a week.
Subject Line: Your weekly progress report from Fitbit!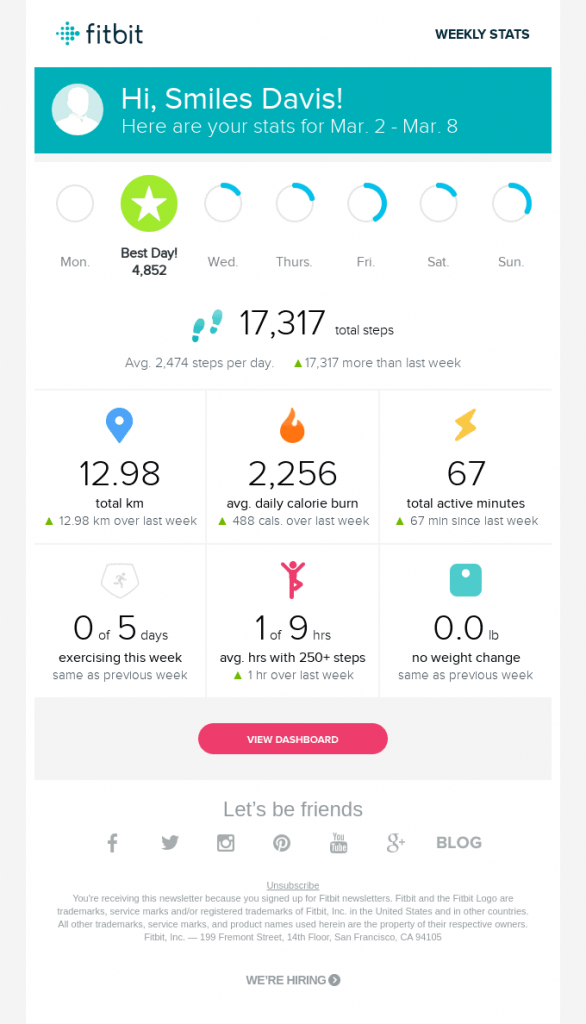 In the above email content, the averages are easily visible, and the subscriber doesn't have to scroll down to read it, making for a better reading experience.
4. KIDLY: GIF Email
GIFs make it super easy to communicate complex messages. They pique and capture the reader's attention to help them focus on the core message of the email.
That's why, in 2020, about 52% of email marketers used GIFs in their marketing emails.
While it ultimately depends on your brand voice, using GIFs in your email copy can actually improve engagement. Here's an email marketing example illustrating that:
Subject Line: Black Friday: 6 awesome deals FTW 🎉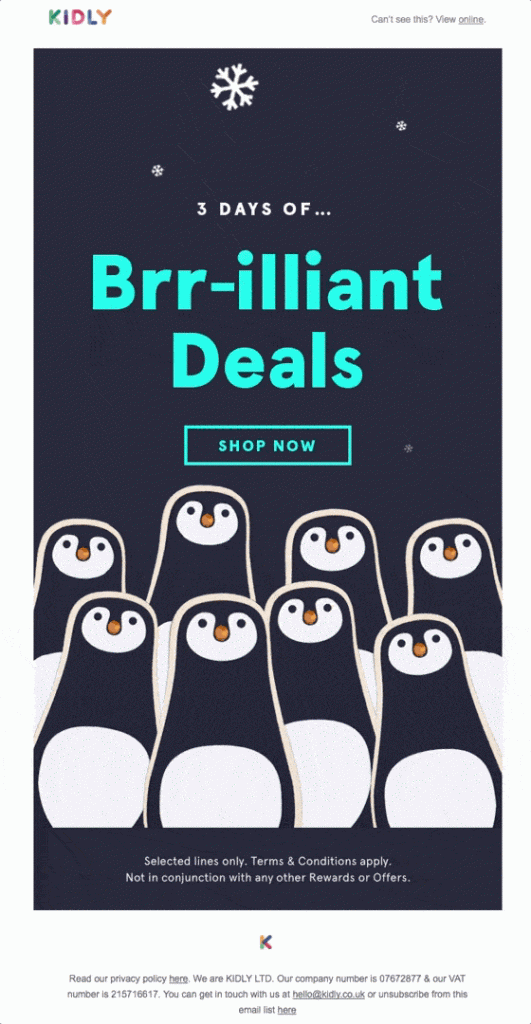 You'll find it difficult to focus on anything other than the GIF in the above email, which is exactly what the email copywriter intended. That, along with the pun, gives a fun spin to an already attractive sale message for a kids' brand.
Still unsure how GIFs can improve email engagement?
Here's some proof: in 2014, Dell used a GIF-centered sales email to launch their new product.
They received a:
42% increase in click-through rate.
103% increase in conversion rate.
109% boost in revenue.
All of this just by using a GIF in their email!
If you want to experience a similar success story, I'd suggest incorporating a GIF now and then in your B2C and B2B email marketing messages.
5. Goodreads: Recommendation Email
Depending on your business, you can send your subscriber an email recommending them products similar to the ones they've shown interest in.
For example, the instant you mark a book as "Read" on Goodreads, it automatically sends you an email notifying you of the same and showing your review and rating (if you left one). They also give you a CTA button for following the author so you can stay updated on their newest releases.
Subject Line: You finished Musashi. What's next?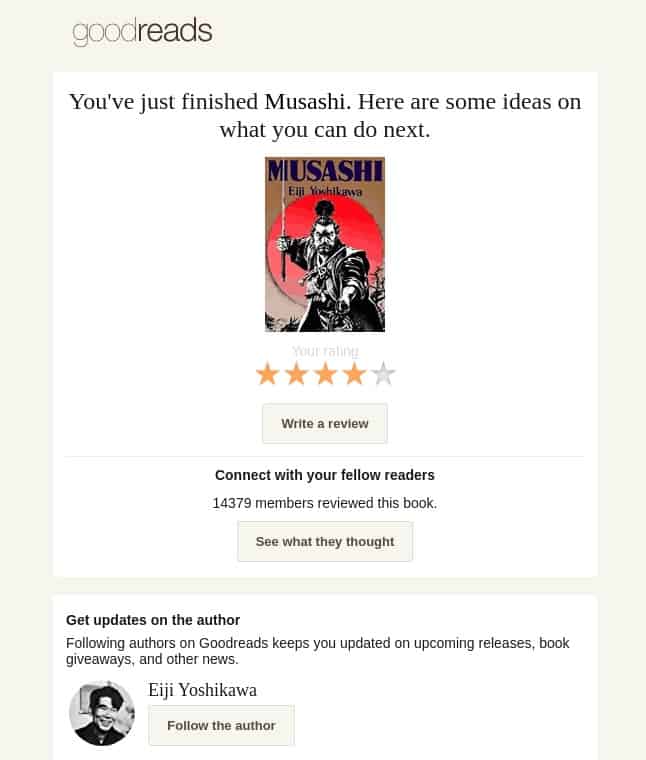 This encourages email subscribers to go to the Goodreads app to read community reviews and explore the author's other works, thereby improving engagement.
6. Puma: Birthday Email
The easiest way to ensure your recipient engages with an email is to make it entirely about them.
And there's no better way to do that than by wishing them a happy birthday, like this email from Puma. You can even give the subscriber a discount code or a free gift to celebrate the occasion.
To make things simpler, you can create a birthday email template using bright colors and imagery, which you can customize on a recipient-by-recipient basis.
Subject Line: Happy birthday [recipient name]!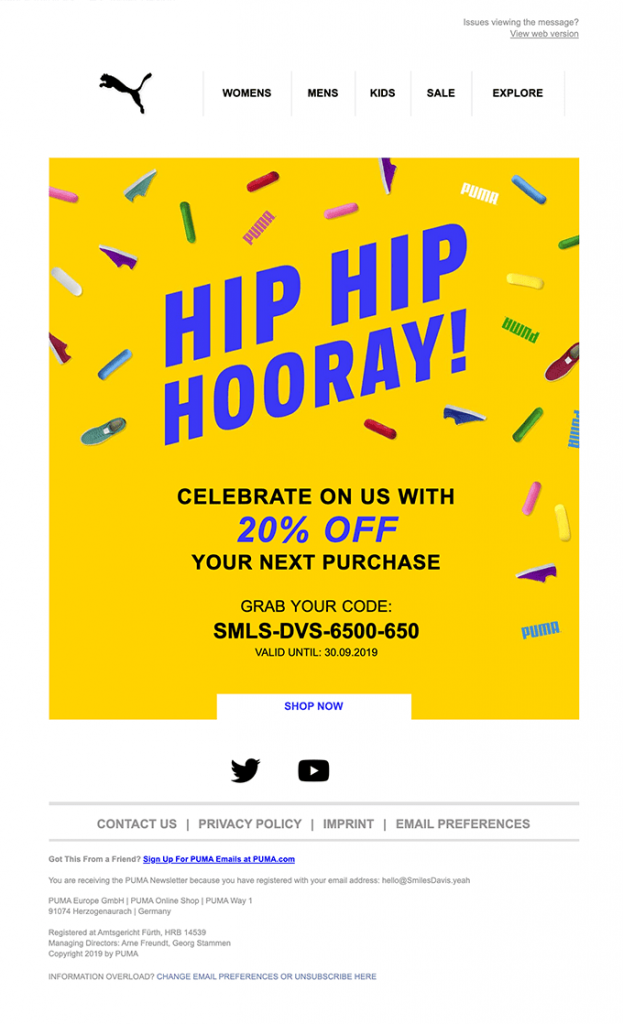 The purpose here is to make the customer feel connected with your brand and ultimately make a purchase that feels like a reward to them. Over time, your subscribers will expect birthday emails and specialized offers from you, creating a dependable relationship.
7. Masterclass: Email with Video
Did you know that B2B company Igloo Software boosted their email CTR by 189% in 90 days just by incorporating videos in emails? 
Many such B2B email marketing examples show that using videos is a great way to improve recipient engagement. It allows your subscribers to visualize what you're selling them, making it seem more real and tangible.
For example, in this Masterclass video email, you get a taste of what you can expect when you download their app and sign up for the classes.
Subject Line: Three reasons to love our new app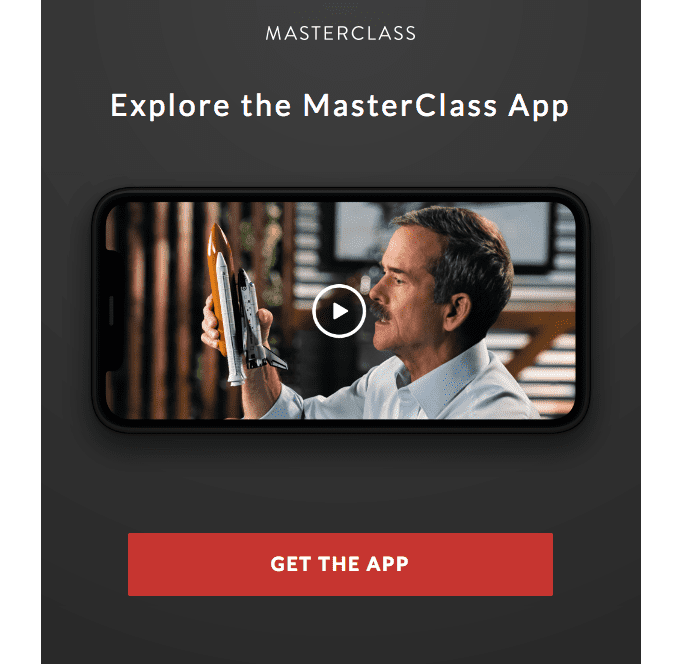 Adding the word "video" in your subject line or preview text can also excite subscribers about what the email holds, improving open rates and follow-throughs on your CTA button.
8. Canva: Email Newsletter
Both B2C and B2B marketers often use newsletters to inform their audience of a new product launch, a recent blog post, sales offers, new landing pages, and other news.
For example, here is an email newsletter by Canva that explains how they now provide fun backgrounds you can use for your Zoom calls.
Subject Line: Did somebody say new Zoom virtual backgrounds?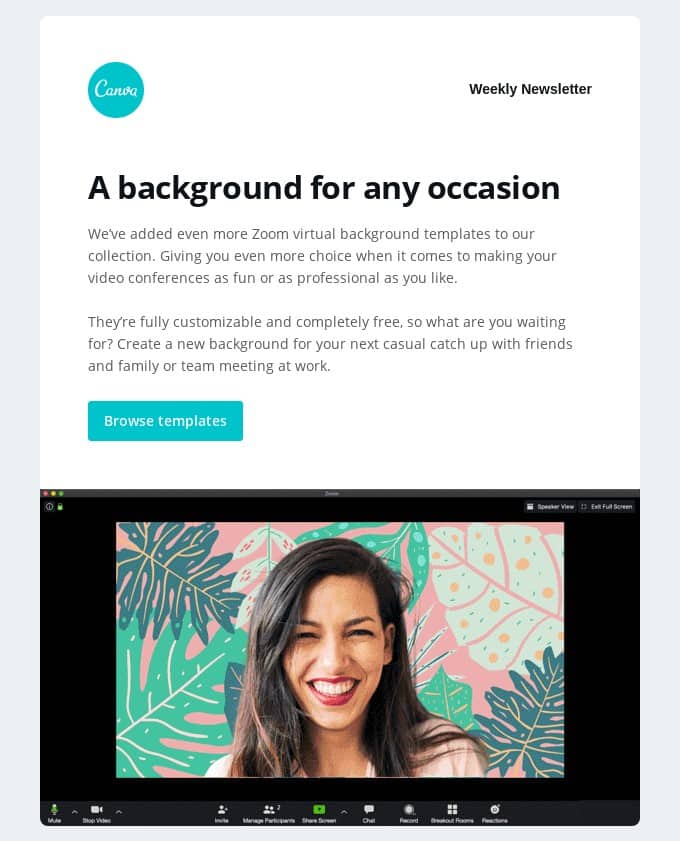 Your email copywriter can make the newsletter more interactive by posing a question that subscribers can answer via your social media marketing channel or by commenting on a blog post.
Check out my related post on newsletter copywriting to learn how you can master it.  
9. Forever 21: Personalized Email with Coupon
A personalized email is a specifically curated type of email that you send to increase recipient engagement.
It usually contains a recipient's details such as their name, purchase history, wishlist, etc.
For example, this Forever 21 marketing email starts with a header announcing the brand is dropping the pricing for some of the email subscriber's wishlist items. This is an effective email as it catches the reader's attention and retains it by promising savings.
Subject Line: We saved these and got you 20% off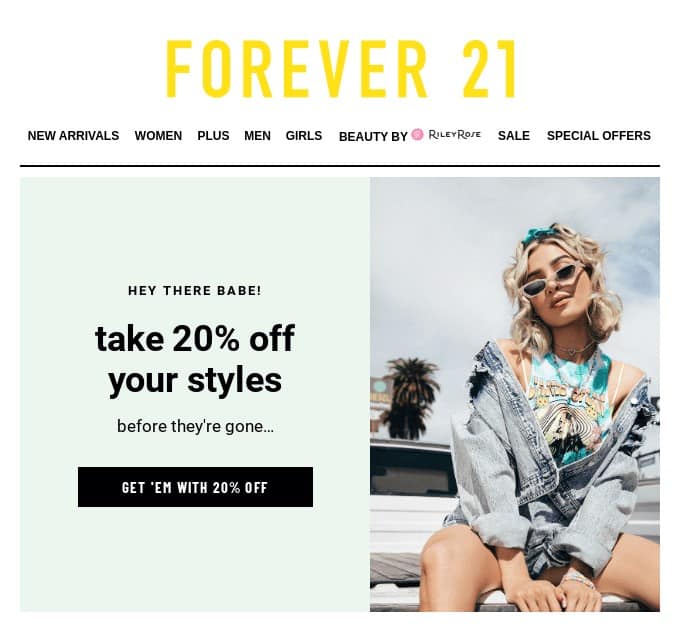 Sending personalized emails is a must for any e-commerce store or retailer that wishes to grow its potential customer base.
But why?
Personalized marketing emails cater to the recipient's specific interests and speak to them as an individual. Additionally, 72% of consumers said they would exclusively interact with personalized messaging.
That's why I suggest you implement personalization in your email marketing strategy.
But how do you personalize each email?
By using an email marketing automation tool like GMass!
Used by copywriters, digital marketers, and other professionals, GMass lets you:
To start using this email automation software, just download the GMass Chrome extension and sign up for free using your Gmail account.
10. Penguin Random House: E-commerce Email with Emoji
When writing emails, you must ensure it suits each recipient's unique needs.
But that doesn't mean your email marketing copy should be dull.
Email copywriters and marketers are increasingly choosing to add an emoji in their subject line and email bodies to stand out among the crowd. Doing this can also help your company come across as fun, casual, and with the times.
In this email marketing example by Penguin Random House, most of the email design consists of emojis — a fun way to increase subscriber engagement.
Subject Line: Guess the Book Titles Based on Emojis!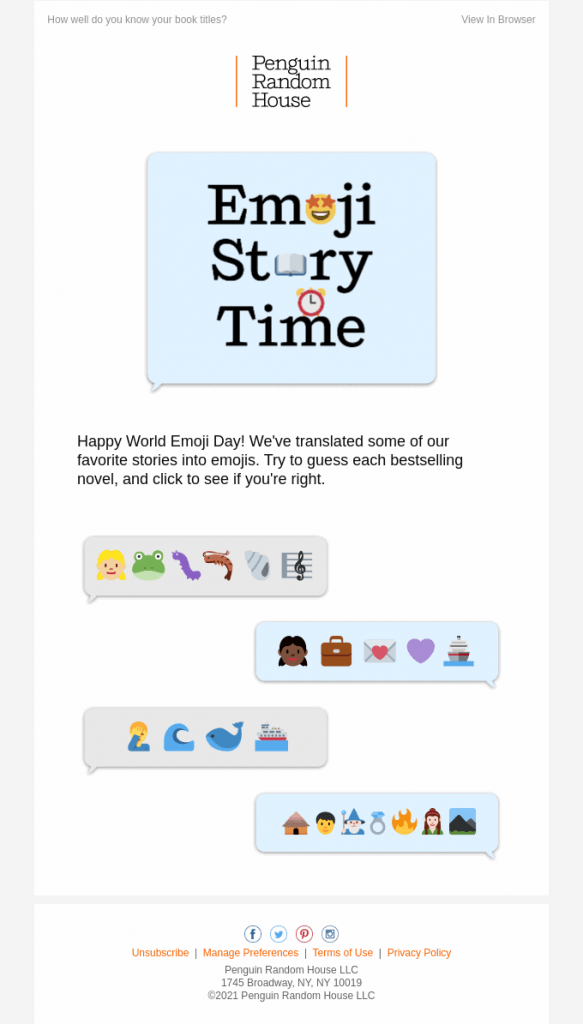 Still not sure if you should use emojis?
Here are some more reasons to use emojis in your marketing copy:
Note: Using emojis ultimately depends on your audience and the type of business. For example, firms in the legal space would probably not use emojis as the subject matter is intense, and they need to reflect that image as well. 
11. Lush: Target Audience Email
This Lush email is a great example of segmenting your audience and targeting their specific pain points.
Here, Lush targets the parents of small children who went trick or treating during Halloween and ended up with a sugar rush.
Subject Line: Need to calm a sugar high?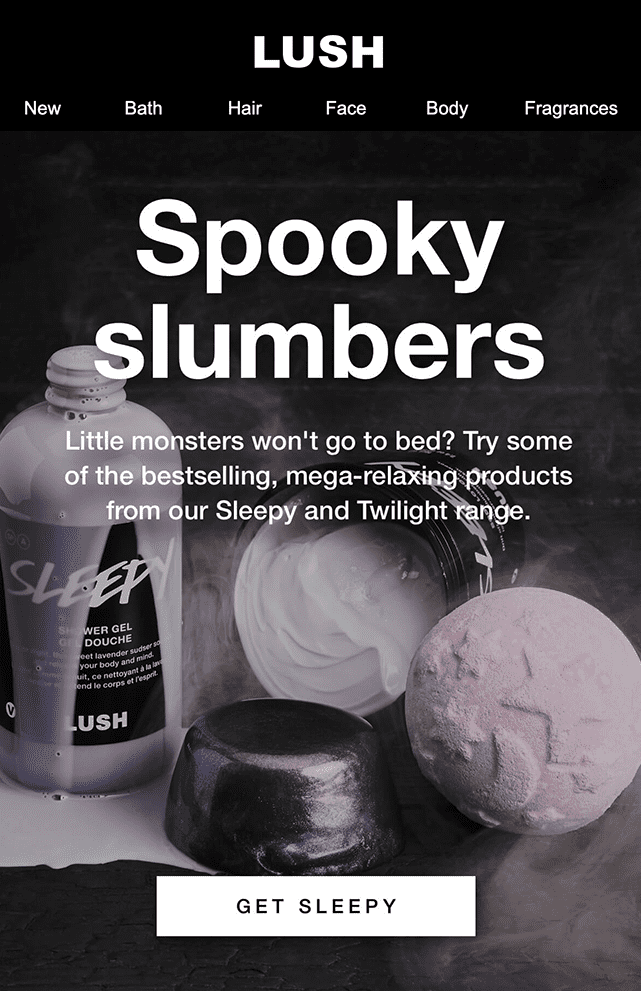 Rather than have parents deal with kids staying up late, Lush's marketing copy advertises some bath products subscribers can use to help children relax for bed after a night of trick or treating.
This email campaign shows that Lush understands its customer base and can create relevant email content for each segment of its target audience.
12. Netflix: Winback Email
This is a pretty cut-and-dry email from Netflix informing the subscriber their free trial to the service is ending.
However, they personalize it through the subject line by suggesting the subscriber continue this business relationship.
Subject Line: Your free Netflix trial is ending- let's stay together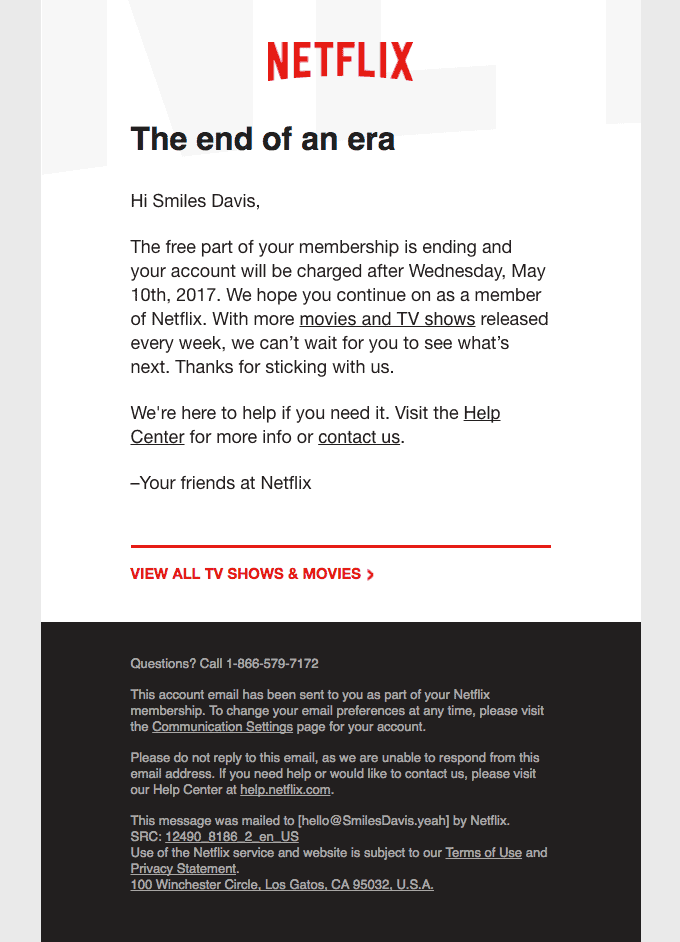 The email copy is theatrical by using the phrase "end of an era" and the sign-off further personalizes the Netflix team by calling them the subscriber's friends.
All of these small details come together to form a promotional email that's:
Informative.
Casual.
Eye-catching.
Additionally, the core message is kept at the start so the reader can understand the email's purpose even if they just glance at the notification.
It also creates a sense of urgency, prompting the potential customer to take immediate action as their free trial ends soon. And with a simple CTA button that asks you to check out all their offerings, Netflix also subverts the typical, straightforward CTA you might expect.
The result is a great example of a short and sweet email that implies what your next action should be without necessarily detailing it.
Wrapping Up
Writing emails with fantastic copy doesn't have to be difficult.
You can easily replicate the B2C and B2B email marketing examples I covered here to create a suitable copy for your business needs.
And by using email marketing automation tools like GMass, you can streamline your efforts and receive actionable data on how each email marketing campaign is performing, allowing you to perfect the next one.
Download the GMass Chrome extension today and make your email copywriting irresistible to readers! 
Email marketing, cold email, and mail merge

inside Gmail



Send incredible emails & automations and avoid the spam folder — all in one powerful but easy-to-learn tool

TRY GMASS FOR FREE

Download Chrome extension - 30 second install!
No credit card required
Love what you're reading? Get the latest email strategy and tips & stay in touch.