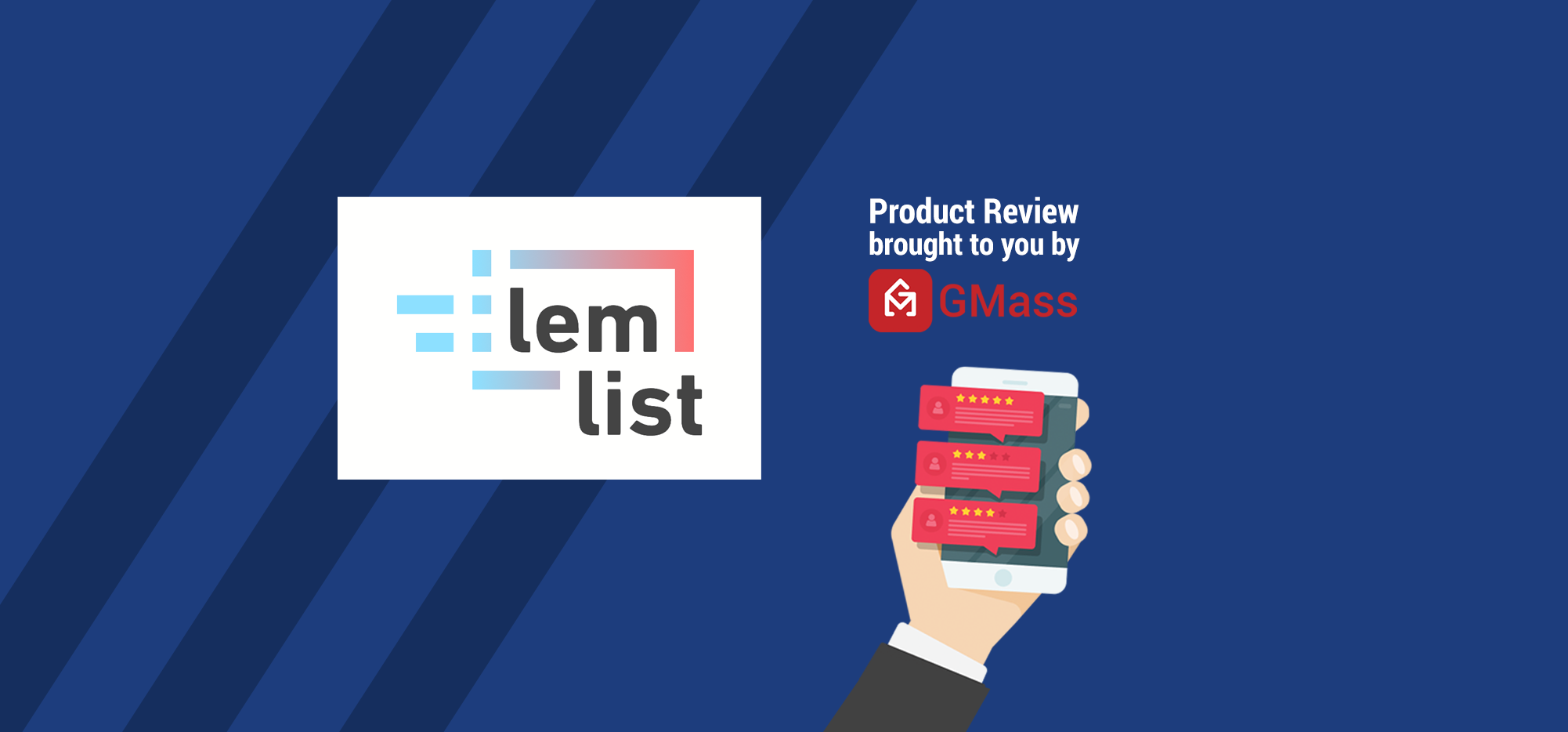 Is Lemlist the right email outreach software for you?
This Lemlist review will help you determine if it's a good fit for your email marketing needs.
I'll go over its features, drawbacks, and pricing to give you a better idea of this email outreach tool. I'll also cover the perfect Lemlist alternative for all your email outreach campaigns.
Here's what this Lemlist review contains:
(Click on the links to jump to a specific section)
Let's get started.
What is Lemlist?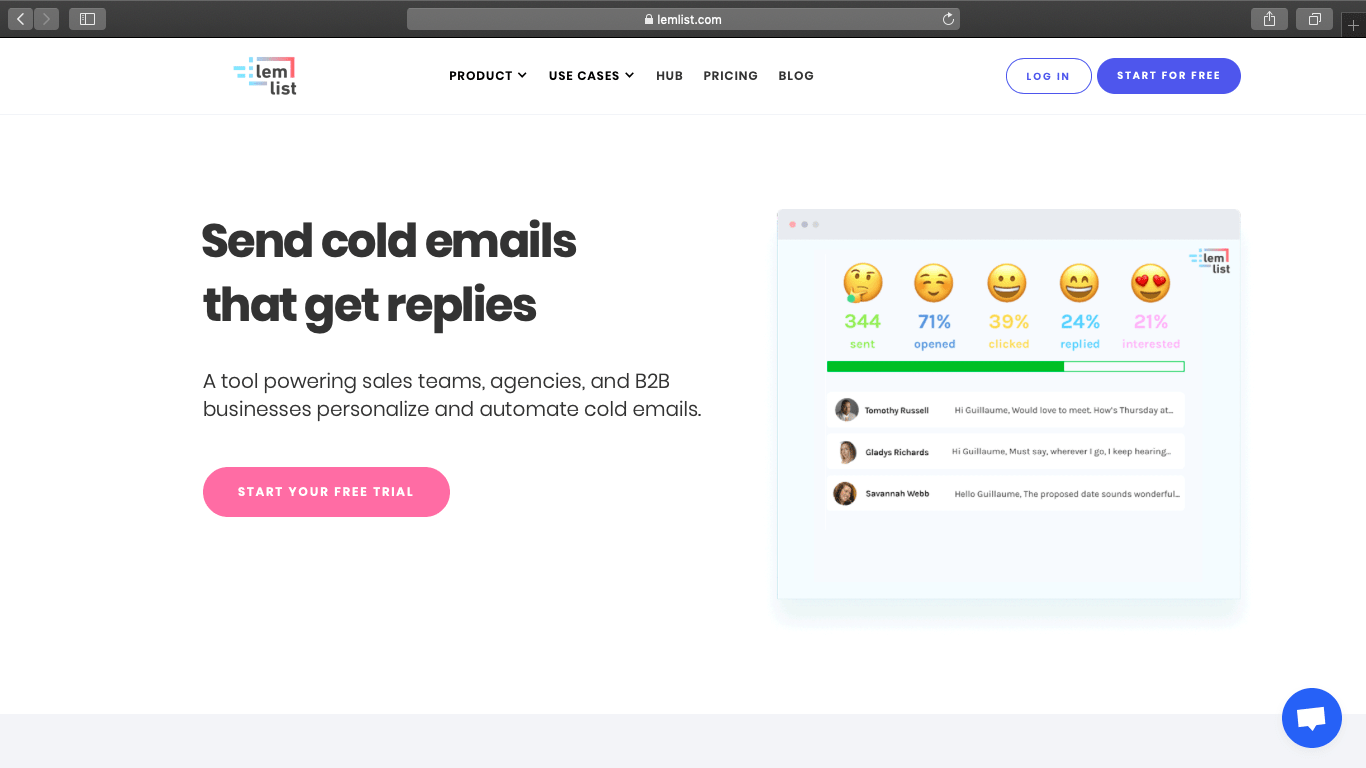 Source: Lemlist Website
Lemlist is email automation and cold outreach software that lets you send cold emails to a target audience. It's usually used by SaaS companies and small businesses to streamline their lead generation activities.
4 Key Features of Lemlist
Here's a closer look at some of Lemlist's main features:
1. Easy Email Personalization
Lemlist has powerful email personalization features that let you send customized emails via mail merge to boost your cold email outreach.
Like most cold email tools, Lemlist helps you create personalized emails by adding recipient data from a CSV file to an email template.
You can add custom variables like:
First name
Company name
Recipient address
You can also add personalized images to premade templates when cold emailing your target audience.
How does this help?
Image personalization adds an extra level of customization to your email campaigns.
While it might not suit all brands, image templates can make generic cold emails more engaging and fun.
2. Automated Email Sequences
Like Mailshake and other marketing automation tools, Lemlist lets you automate follow-ups and create personalized email sequences for your marketing campaigns.
How does this help?
As follow-ups are part of the same email thread, recipients will have the context of previous emails.
Its marketing automation features also let you automate responses based on customer actions. For example, if someone replies to your email, the tool can pause the automation sequence or send them a response from premade templates.
You can also use its A/B testing feature to test email sequences for different subject lines. This way, you can perfect your sales automation campaigns for maximum email deliverability!
3. Custom Tracking Domains
Lemlist makes it easy for you to use custom tracking domains for your email campaigns.
Why is this important?
Most spam filters automatically filter out certain domains as spam. If you send cold emails from these domains, they go straight to your prospects' spam folder.
By using a custom domain that isn't automatically marked as spam, you can boost your bulk email deliverability!
4. Handy Integrations
Lemlist lets you integrate with:
CRMs like Salesforce and HubSpot
growth hacking tools like Phantombuster
other marketing tools via its Zapier integration
The benefit?
You don't have to manage your prospect data across multiple apps.
Additionally, Lemlist's sales automation features help streamline the data transfer between these platforms.
4 Main Drawbacks of Lemlist
Although Lemlist is a great tool for email marketing and automation, it's not perfect. Here are its biggest drawbacks:
1. Doesn't Support Email Attachments
Unlike most cold email tools, Lemlist doesn't let you add email attachments, like presentations or reports, to your emails.
Why is this a problem?
It severely limits engagement with your prospects!
If you want to send any document, you'll have to upload it to the cloud and then create personalized links to add to your email.
Additionally, you won't be able to know:
The time prospects spend on your attachments.
The document sections in which they're interested.
What they do with the attachment, like forwarding or downloading it.
2. Expensive Pricing Plans
While Lemlist used to be available on AppSumo with a lifetime deal, that's no longer the case!
Today, there are three Lemlist pricing plans available:
Silver: $29/month (individual plan) – 100 emails/day + unlimited campaigns.
Gold: $49/month per user – all "Silver" features + 500 emails/day + personalized images + basic integrations.
Platinum: $99/month per user – all "Gold" features + dynamic landing pages + personalized videos + chat and Calendly integration.
For a small business, $29/month for an individual user can be quite costly! And as the other plans are on a user basis, large sales teams could easily end up paying more than $500 per month for a cold email outreach tool!
3. Works As a Separate Interface from Gmail
Like many marketing tools, Lemlist works outside Gmail in a separate interface. This makes it time-consuming and tedious to manage your campaigns.
How?
New users will have to get familiarized with its interface before they can work on their marketing campaigns. Additionally, you constantly have to switch between your Gmail account and Lemlist to manage your emails — severely limiting the tool's ease of use.
4. Daily Limits on Email Sending
Lemlist can only send outreach campaigns to some of the contacts you find via prospecting.
Why?
Unless you go for their super costly Platinum plan, you can only send a limited number of emails per day.
It also doesn't integrate with bulk email tools like SendGrid that can help bypass the Gmail sending limit.
This severely limits your sales outreach.
Think about it.
Even small businesses like startups have a massive target audience. However, with Lemlist's email automation, you can only reach a fraction of them!
The Perfect Lemlist Alternative: GMass
While Lemlist is a good sales automation and email outreach tool, it has some major drawbacks.
Luckily, GMass is an email marketing platform that can overcome all these issues!
What is GMass?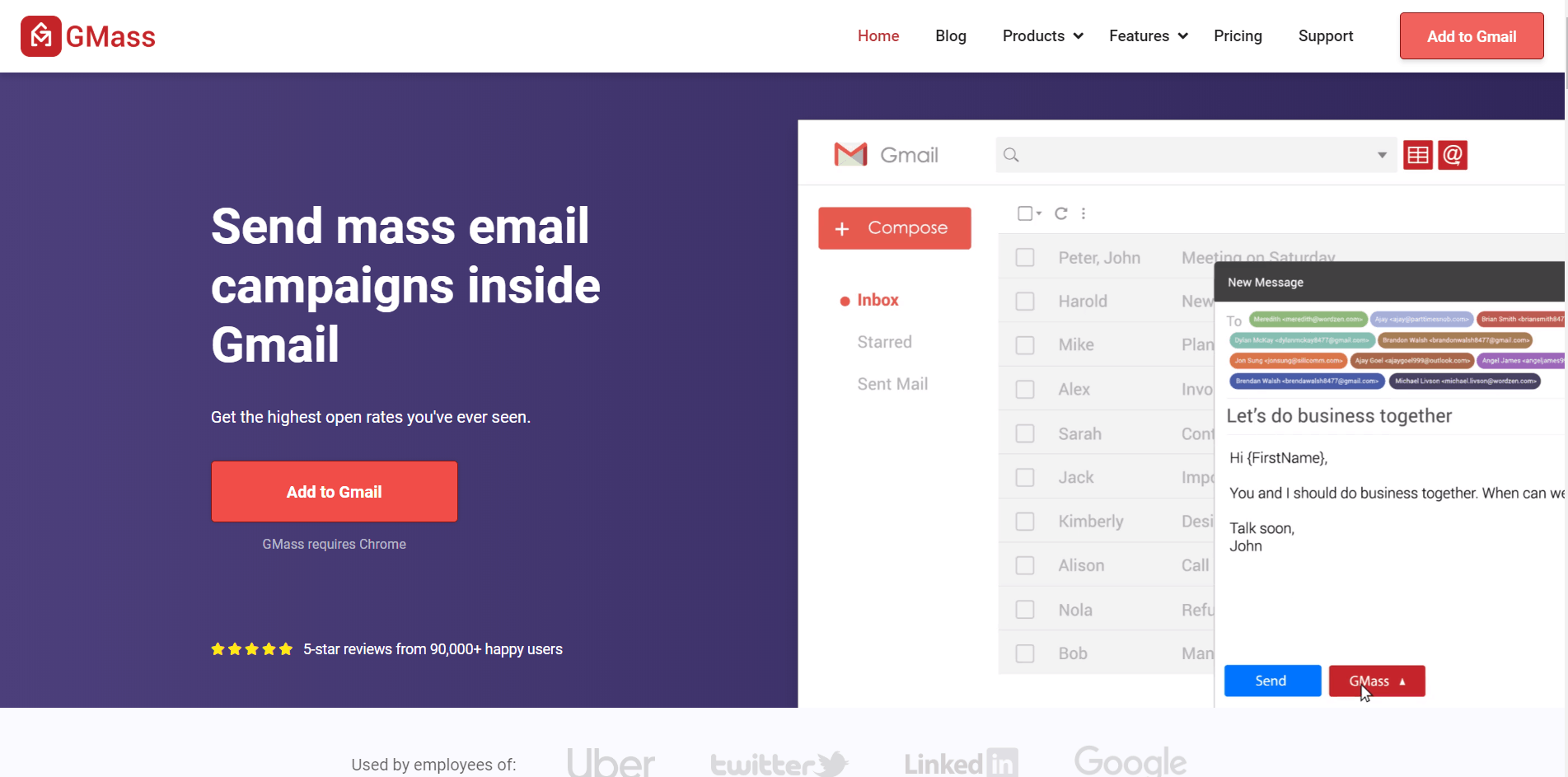 GMass is a powerful email marketing software that helps you send and manage email campaigns right inside your Gmail inbox. Its powerful cold email outreach features have made it a popular platform that's used by Google, Uber, and even social media giants like LinkedIn, Twitter, and Facebook.
GMass lets you:
Accurately track your outreach campaigns.
Quickly send emails to tons of prospects.
Personalize your campaigns using mail merge.
Implement email automation at scale.
Save any email as a custom email template.
What's more…
You can get started with GMass in no time — just download the Chrome extension, sign up with your Google account, and you're all set!
4 Reasons GMass is Better than Lemlist
Here's why GMass is a better cold emailing tool than Lemlist:
Unlike other marketing tools such as Lemlist, Mailshake, and MailChimp, GMass works within your Google inbox for maximum ease of use.
How does this help?
You won't have to switch between multiple tabs to manage your email campaigns.
Reduced onboarding time as you're using the familiar Gmail interface.
This also extends to the Gmail Android app, where GMass functions as a handy Gmail add-on.
2. You Can Send Email Attachments of Any Size
Attachments can boost the engagement of your outreach emails, right?
As GMass works inside your Gmail account, you can use any Gmail feature with GMass — including attachments. You can attach almost any kind of document to your emails — reports, presentations, case studies, you name it!
Additionally, GMass' auto follow-ups always contain attachments from the original email! This helps maintain the context for your future outreach emails.
GMass doesn't place any limit on the number of emails you can send per day.
It lets you send unlimited personalized emails for each campaign!
But what about Gmail's sending limits?
Unlike most cold email tools such as Yesware and Mailshake, you can integrate GMass with bulk email software like SendGrid to bypass Gmail sending limits entirely!
Even the GMass team uses this integration to send emails to over 400,000+ people at a time.
GMass also offers some of the most user-friendly pricing plans in the email outreach space.
The software offers several pricing plans to suit your needs:
Free: Includes email tracking for 50 emails/day + all features.
Individual:

Minimal: $8.95/month – includes unlimited email tracking + all features except auto follow-ups.
Standard: $12.95/month – all "Minimal" features + removes GMass footer for sent emails.
Premium: $19.95/month – all "Standard" features + auto follow-ups.

Team:

Premium: from $89/month for a group of 5 + all features.
Whatever your company size, GMass is the most user-friendly and affordable email tool for your cold emailing needs!
Other Useful GMass Features
GMass also offers tons of other features to boost your email marketing campaigns. Here's a closer look at them:
GMass auto-generates a Campaign Report after every email campaign that gives you accurate tracking stats. As it tracks stats in real-time, you can keep up with your prospects' activity to improve your lead generation strategies!
The tool tracks several core metrics like:
Total Recipients: Number of email addresses that received your campaign.
Unique Opens: Number of unique recipients that opened your email.
Note: GMass tracks unique email opens to give you accurate stats. If the same recipient opens your email twice, it won't show up here to inflate your results.
Didn't Open: Number of email IDs that didn't open your email.
Unique Clicks: Number of unique IDs that clicked on at least one link in your email.
Replies: Number of email IDs that replied to your email.
Unsubscribes: Number of recipients that clicked "unsubscribe" in your email.
Bounces: Number of emails that weren't delivered due to invalid email IDs.
Rejections because your Gmail account is over-limit: Number of emails that were undelivered as you reached your Gmail sending limit.
Blocks: Number of emails undelivered because the recipient marked your email address as spam.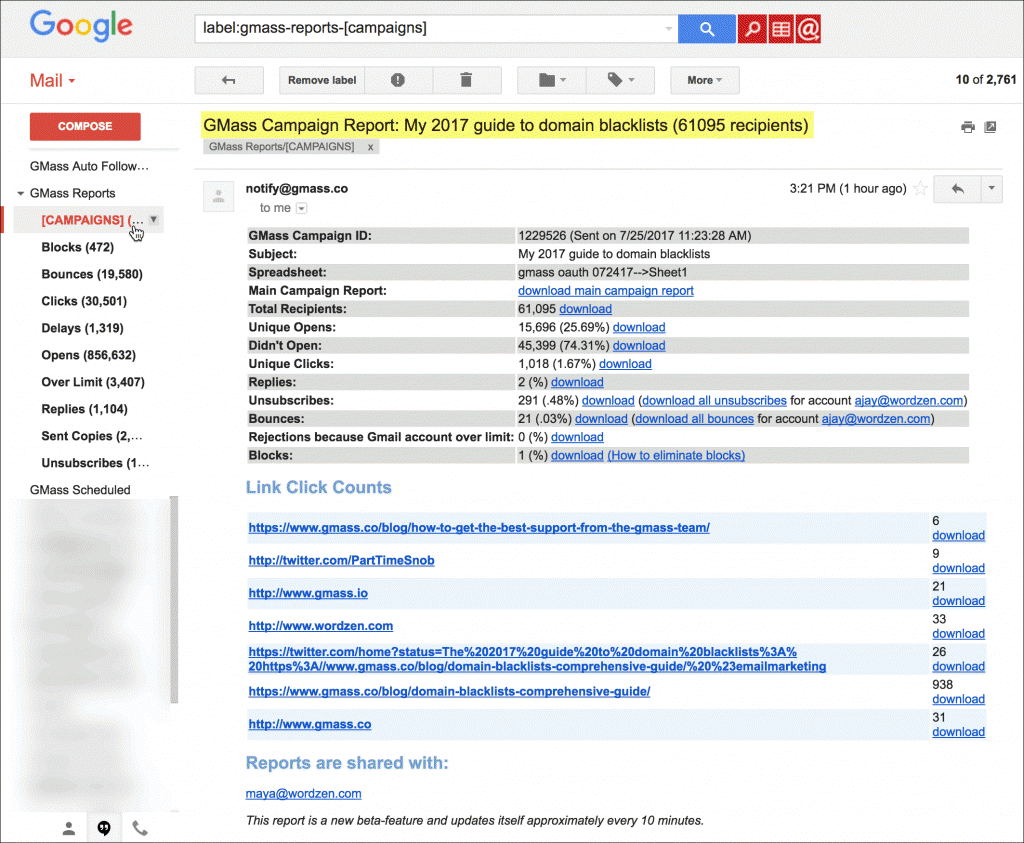 And the best part?
Unlike other email platforms such as Lemlist, GMass places all Campaign Reports within your Gmail inbox! You can easily access them from the [CAMPAIGNS] label in the Gmail sidebar.
Cold emailing at the right time is essential to maximize engagement.
Why?
If your cold email reaches prospects when they're likely to check their inbox, they're more likely to open your email!
But you can't time and send hundreds of cold emails manually, right?
Luckily, GMass lets you schedule all your email marketing campaigns for maximum ease of use.
Just write a new email (or use an email template), set the time, and GMass will send emails automatically at that time.
You don't have to be online when your cold emails go out!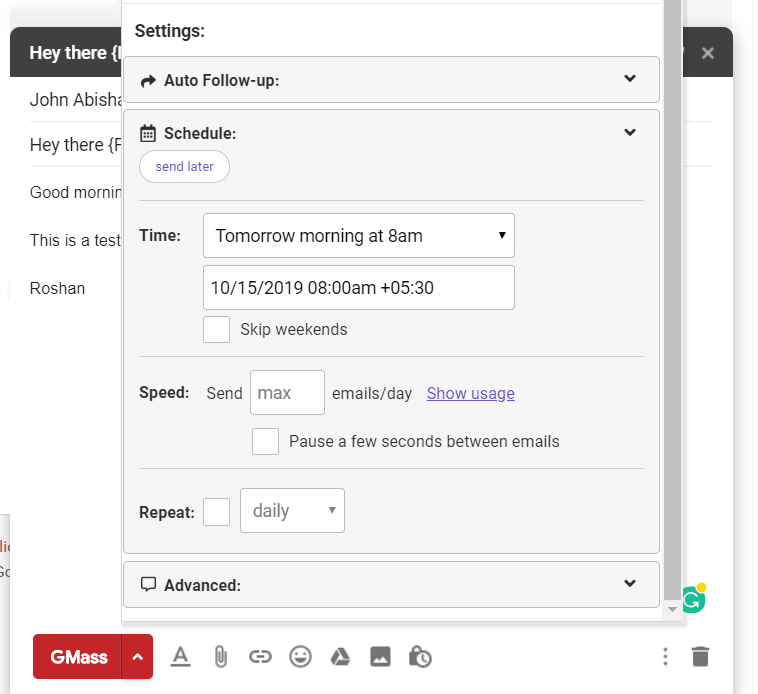 Change in plans? Not an issue.
You can reschedule emails at any time through your Gmail Drafts folder!
Sending follow-up emails is crucial for lead generation activities.
However, you can't follow up on each prospect manually, right?
Luckily, GMass can automate the entire follow-up process for you! You can even customize all follow-up emails, with settings like:
The trigger to send a follow-up email.
For example, every time someone replies to your campaign, they're automatically sent a follow-up email.
The number of follow-up emails sent to each prospect.
The time between each follow-up email.
The follow-up messages or templates.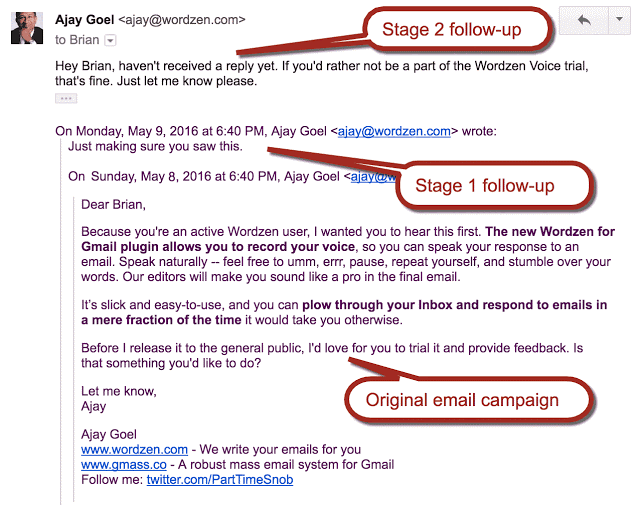 Note: For advanced email automation features, you can also use our Google Sheets Zapier integration.
To improve prospect engagement, you need to personalize your cold emails.
Why?
Prospects rarely engage with a generic marketing email.
But customized emails that are personalized for them and their needs?
They love interacting with those!
However, creating personalized cold emails for each prospect would take an eternity!
Fortunately, GMass supports mail merge automation to help you quickly create personalized emails. It gives you advanced personalization features like:
First Name Detection and Entry – GMass automatically detects and enters each prospect's first name from their email address.
Personalized Blocks of Text – Personalize entire paragraphs for each prospect.
Customizable Images and Links – Send custom images and links for each recipient.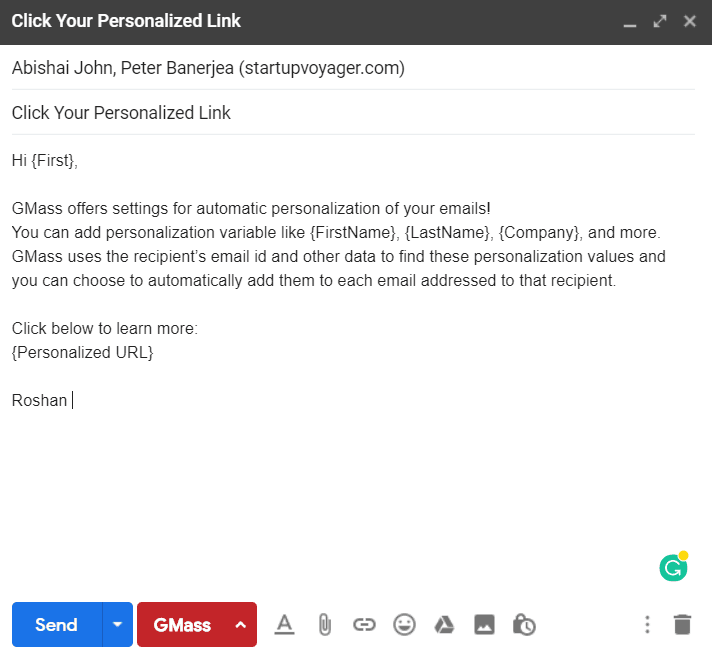 What's more…
Thanks to GMass' Google Sheets integration, you don't have to create a CSV file for the mail merge! It can automatically plug-in prospect details from a Google Sheets file into your customized emails.
With GMass, setting up your own custom tracking domains is a piece of cake!
How does this help?
Custom tracking domains are essential for your email deliverability. They let you bypass spam filters that categorize emails by domain.
This way, your drip campaigns won't end up as spam even before reaching your client!
Conclusion
While Lemlist is a good cold email outreach platform, it has too many drawbacks.
As seen in this Lemlist review, you can't send emails with attachments, the pricing is costly, and its email sending capability is limited.
Why settle for less when a tool like GMass can solve all these issues?
This email marketing platform has everything you need for your email sending needs!
So why not download the GMass Google Chrome extension today and experience it yourself?
Email marketing, cold email, and mail merge

inside Gmail



Send incredible emails & automations and avoid the spam folder — all in one powerful but easy-to-learn tool

TRY GMASS FOR FREE

Download Chrome extension - 30 second install!
No credit card required
Love what you're reading? Get the latest email strategy and tips & stay in touch.