Wondering how to perform a mail merge in Google Docs?
A mail merge is a core component of most email workflows as it lets you quickly send a batch of personalized emails to an extensive email list.
Usually, you'd use a spreadsheet tool like Google Sheets or Excel to perform a mail merge, but that isn't the only option out there.
You can also use the mail merge Google Docs approach.
In this step-by-step guide, I'll walk you through the process of creating a mail merge using a Google Doc template with screenshots and suggest a more streamlined mail merging method.
But there's a caveat!
Using Google Docs for mail merge is unnecessarily technical and a waste of time. If you want a faster and easier way, just jump to this section.
This Article Contains:
(Click on a link to jump to the specific section)
Let's get started.
What Is a Mail Merge?
A mail merge is a process used to create personalized emails at scale by using data from a spreadsheet or data file.
Usually, the process requires two separate documents:
The main document that you'll be sending out (like an email). This document will have a placeholder for the data that will be added automatically during the mail merge.
A data file containing the information you'll link to your main document. This can be a spreadsheet or Google Docs file.
At the end of the process, the mail merge would have combined the two documents into one personalized message.
Now that you know what a mail merge is, let's go over the process of creating a mail merge using Google Docs.
How to Perform a Mail Merge in Google Docs
Before we dive into the mail merge Google Docs process, it's important to note that Google Docs doesn't have a native mail merge feature — unlike Microsoft Word.
As a result, there are two popular ways to do a mail merge in Google Docs:
Using a third-party add-on.
If you're familiar with coding basic scripts in Python, you can use the Google Docs API to perform a mail merge.
Otherwise, consider using a third-party tool like Autocrat to handle the technical aspects.
Note: A simpler alternative to using third-party tools to perform a mail merge:
Instead of using a third-party tool for your mail merges, just use Google Sheets with GMass, the ultimate mail merge tool. Feel free to skip ahead to find out more about performing mail merges with GMass.
However, if you really want to use Google Docs as your mail merge base, let's go over how to use Autocrat.
A. Create the main document and the data file
Before using Autocrat, we need to create the documents required for the mail merge process.
Here are the steps involved:
Create a Google Sheet containing the data you want to merge.
This will be your data file.
Ensure that you include headers for each data column as you'll use them as personalization placeholders in your Google Docs document. These headers can be anything like your recipient's names, job titles, companies, etc.
For example, here's the data document I've created:

Next, create your main document — the file you'll send that contains placeholders for your data.
To do this, type your email body in Google Docs and add merge tags to it.
The merge tags are placeholders where Autocrat will insert the data from your Google Sheet.
Create a merge tag using the < > symbols and match them with your spreadsheet's column headings. An example of a merge field you could use is <<First name>>.
Here's the template I've created: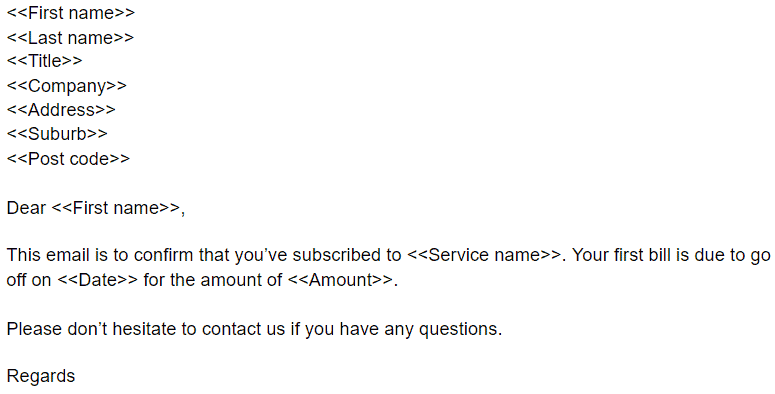 B. Install Autocrat
Once your documents are ready, you need to install the Autocrat add-on.
Follow these steps:
Open the Google Sheet containing your data, locate the Add-ons menu and select Get add-ons.

Search for Autocrat and install it.
Then, use the dialog box to give Autocrat access to your Google account.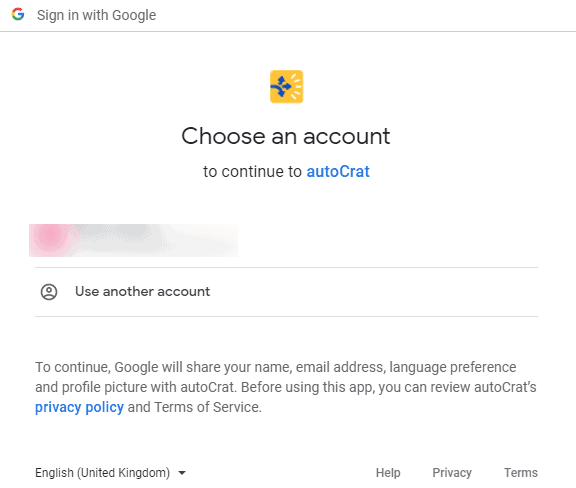 C. Use Autocrat to perform the mail merge
Here's how to use Autocrat to perform a mail merge:
Select Add-ons > Autocrat > Launch in your Google Spreadsheet file to launch Autocrat.

Once Autocrat has launched, click NEW JOB.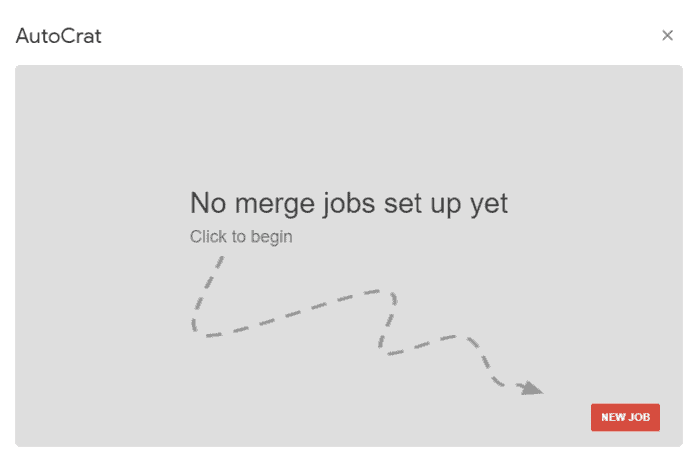 Provide a name for the merge job, and press Next.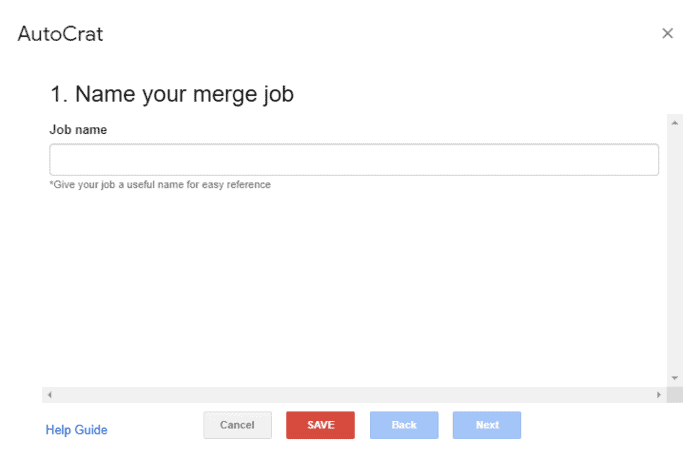 Now, select "From Drive" and choose the Google Doc template (the main document) you created earlier and click Next.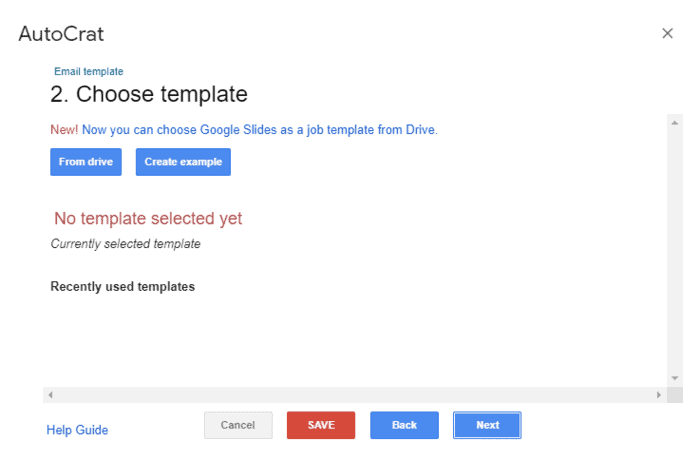 You now need to link your source data (Google Sheet) to the template document (Google Doc). If the tags in your template document match the columns in your source data precisely, Autocrat will automatically map them. Otherwise, you'll need to map them manually using the drop-down menus on the right side of the screen.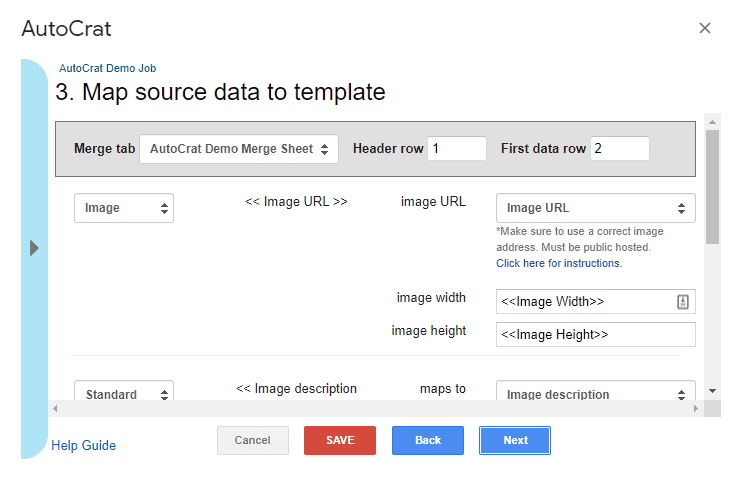 Autocrat gives you the option to save all the merged documents you create into one folder for future use. Additionally, you can save your merged document as a PDF document or a Google Docs file. 
Once you've completed all the steps, select the play button to start the mail merge.
You can also use the pencil icon to edit the mail merge, the eye icon to preview it, and the trashcan icon to delete it.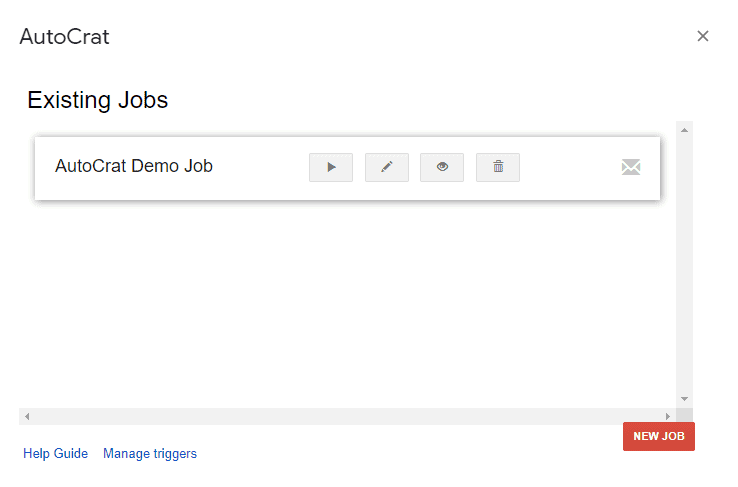 Once you've run the job, your merged document would look something like this: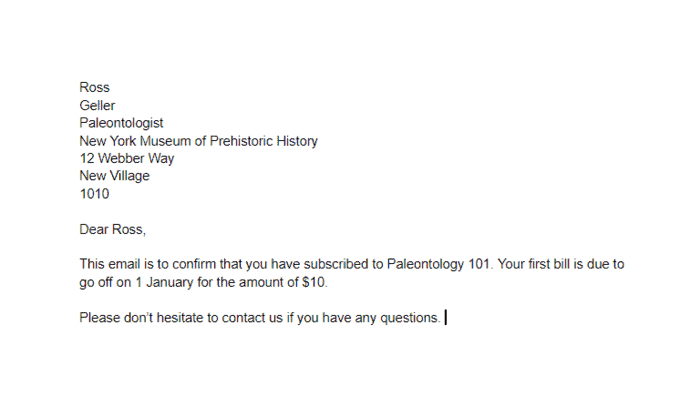 Why Google Docs Isn't Ideal for Performing Mail Merges
If you're used to performing a mail merge via an Excel spreadsheet or a Word document, you'll find that the process isn't nearly as simple in Google Docs.
This is because a Google Docs document doesn't have native mail merge capabilities.
And while it's possible to do a Google Docs mail merge without any third-party help, this requires some technical coding know-how. So if you have no experience with programming, you need to use a third-party tool like Autocrat.
However, there's a downside to using tools like Autocrat. Not only are they are complicated to use, but also they serve only one purpose: running a mail merge.
You can't create email lists, analyze recipient engagements, or even automate follow-ups — all of which are essential for email outreach campaigns.
For a far more straightforward and comprehensive mail merge solution, consider using the Google Sheets GMass integration. Not only does GMass help you create effortless mail merges, but also it can handle almost any other aspect of email outreach.
The Easiest Way to Perform Mail Merges in 2021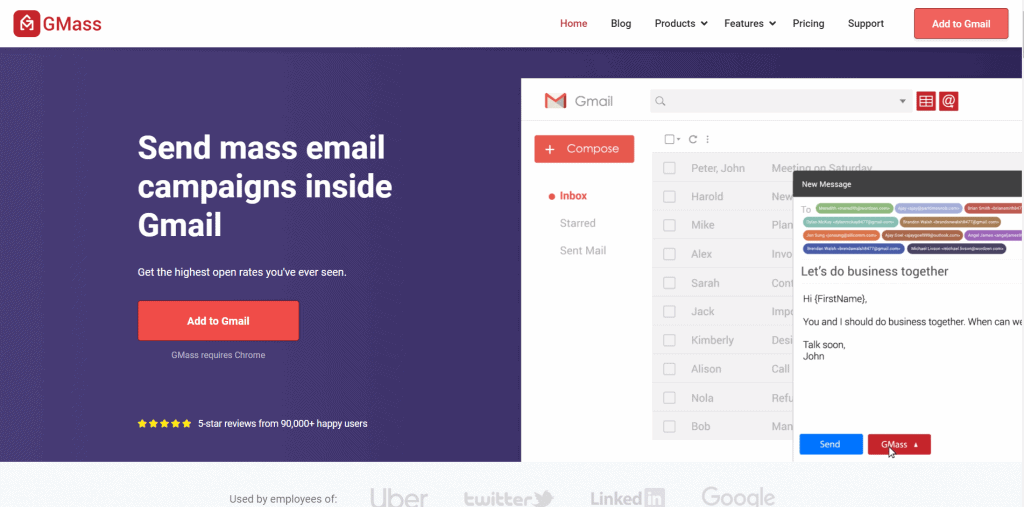 GMass is an advanced email marketing tool that works directly inside your Gmail account. Its excellent mail merge features have made it popular among employees from tech giants like Uber and Google to social media platforms like Twitter and LinkedIn.
But it isn't just for massive companies.
Whether you're a solopreneur or are simply in charge of your church's newsletter, GMass can streamline your email sending process.
How to Create a Mail Merge with GMass
GMass' Google Sheets integration lets you perform massive mail merges instantly.
Here's how to do it:
Download the GMass Chrome extension from the Google Chrome store and sign in with your Gmail account.
Format your mailing list spreadsheet in plain text so that GMass can use it. Add headers to your columns, such as FirstName and LastName.

Next, compose your email and then click the GMass button in the top right-hand corner of the Gmail draft. You don't need to add any placeholders here.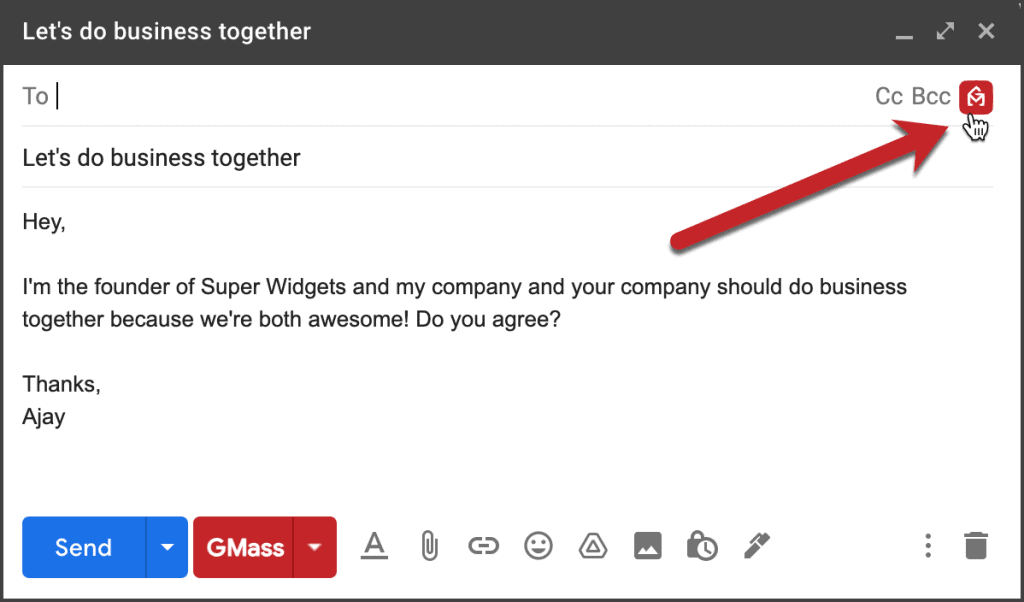 Now, from the drop-down menu that shows up, select the Google Sheets file you created earlier.
If you have multiple sheets in your spreadsheet file, choose the sheet you want to use for the mail merge.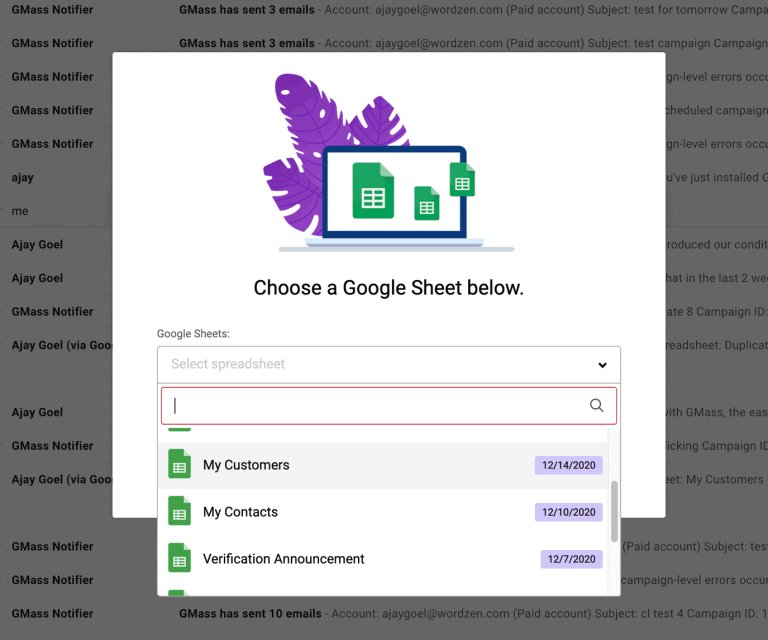 Once done, click on CONNECT TO SPREADSHEET.

GMass will now automatically insert email addresses into your email's 'To' field.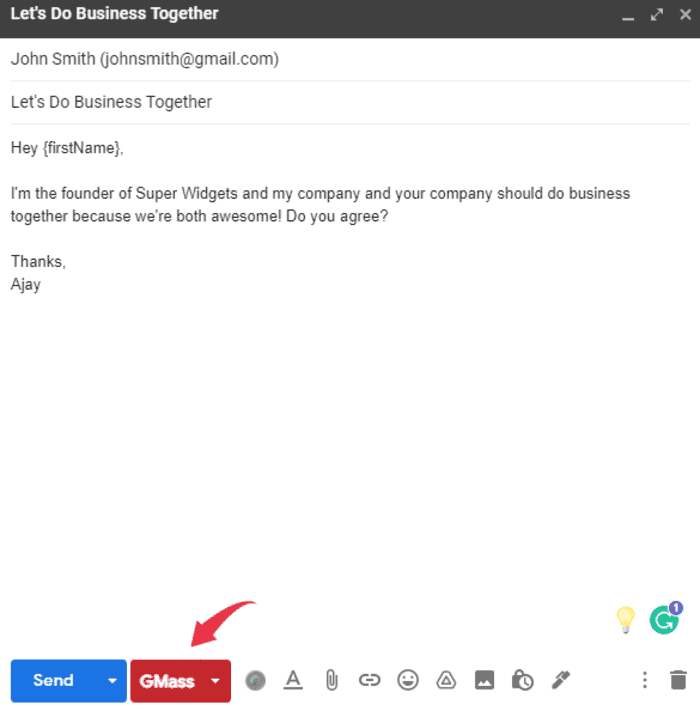 Next, select the downward-facing arrow next to the GMass button to bring up the Settings window.
Here, you can automatically create personalized emails, set a follow-up, schedule emails to be sent later, and more.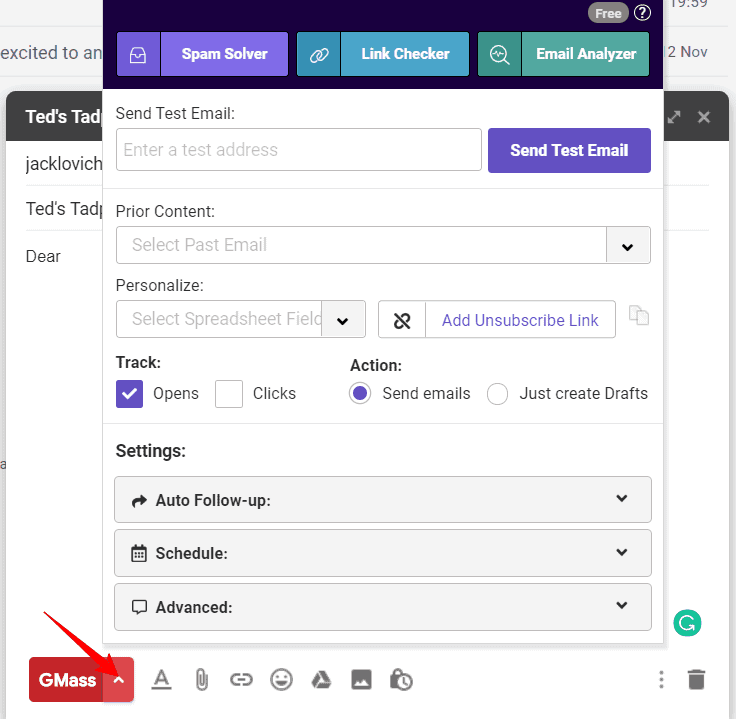 To personalize your email, select the Personalize drop-down menu to view all column headers in your spreadsheet.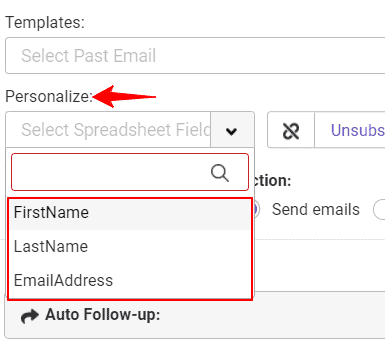 Select the required column header you want and add it as a placeholder in your email.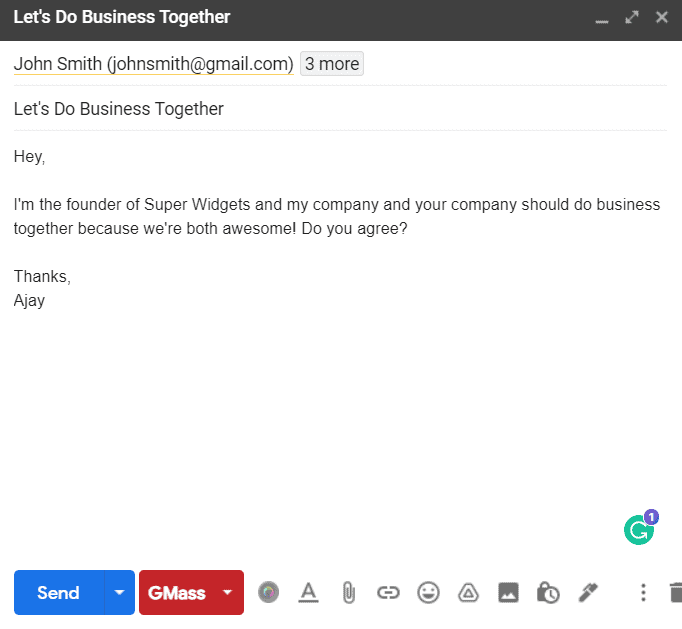 It's time to perform the merge.
Click the GMass button once you're ready to send your merged email.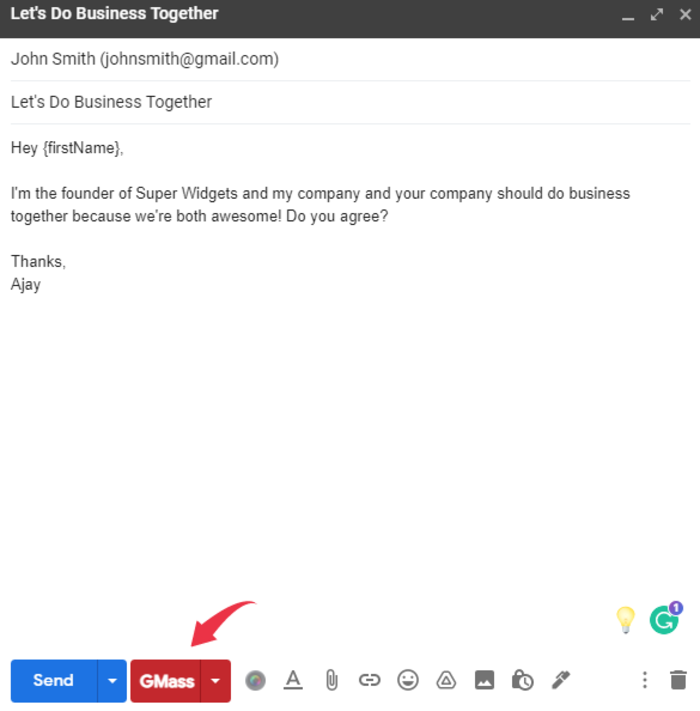 Depending on the scheduling options you've chosen, GMass will automatically send it immediately or at a later time.
Check out my Google Sheets mail merge article for more information on the mail merge process.
However, performing Google Sheets mail merges isn't all that GMass can do for you.
From automatic follow-ups to personalization, GMass has you covered!
Some other great features include: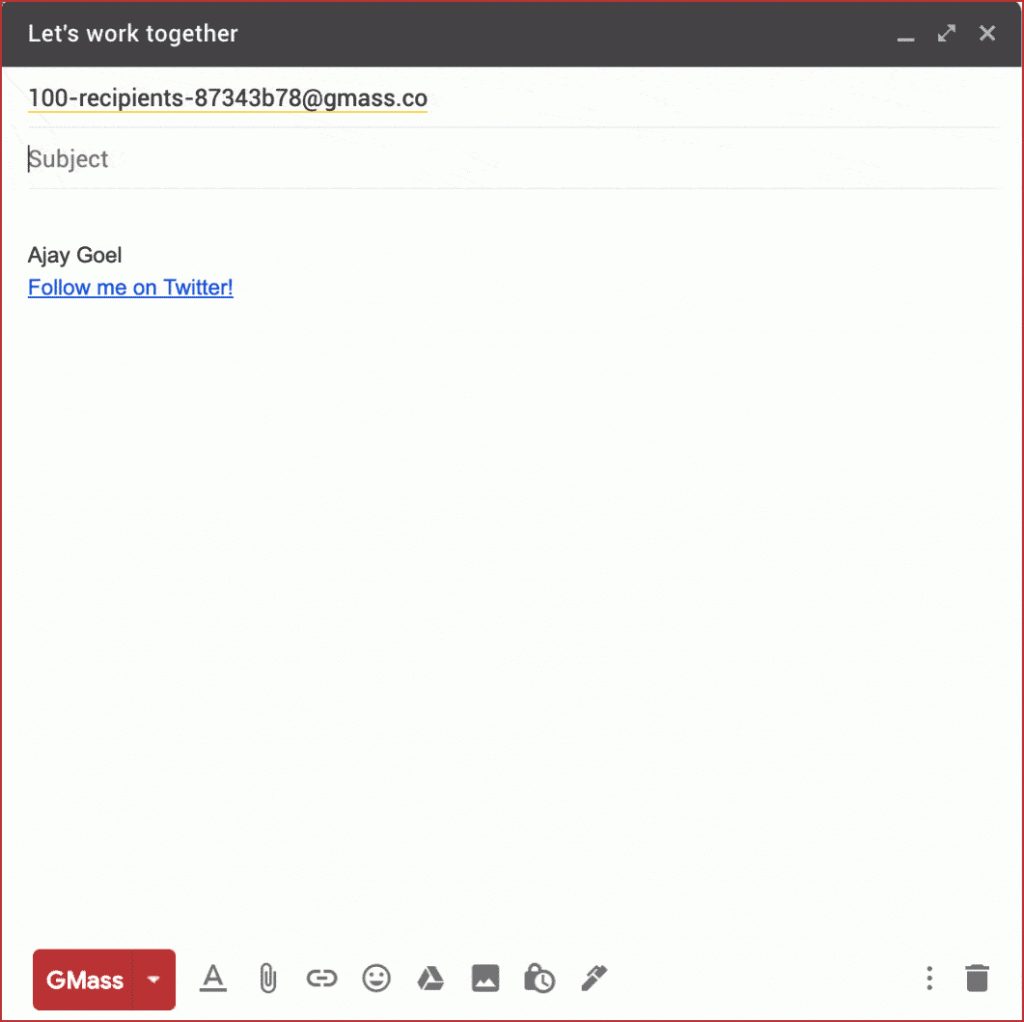 Email Analytics & Reports: GMass will automatically generate detailed reports that analyze your email campaign data, like the open rate, click rate, unsubscribes, and more.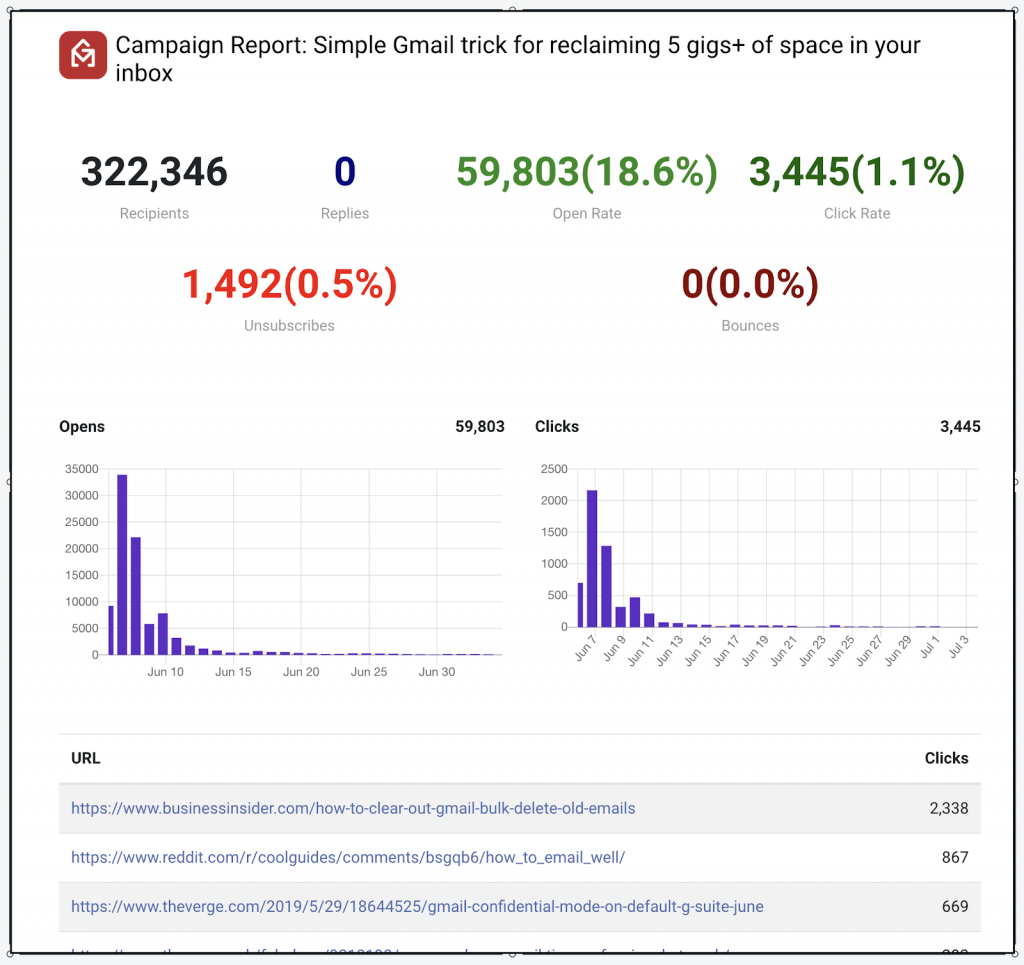 Scheduling: With the Scheduling feature, you can create multiple emails at once and schedule them to be sent later.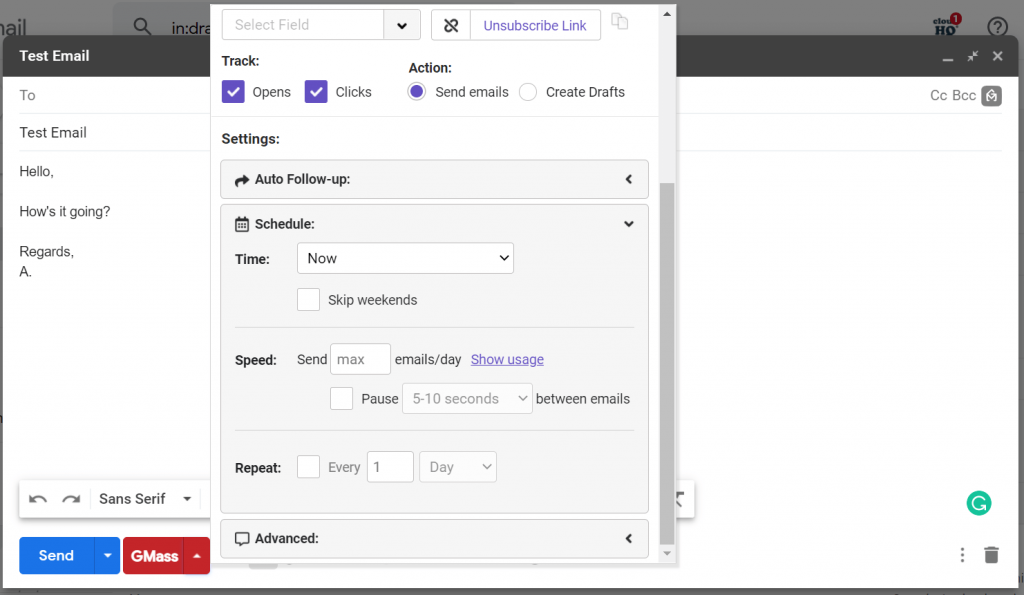 Bypass Gmail's sending limits: With GMass, you can send up to 10,000 emails per rolling 24 hours — bypassing your account's sending limits. GMass will also automatically schedule all the emails you can't send today to be sent the next day.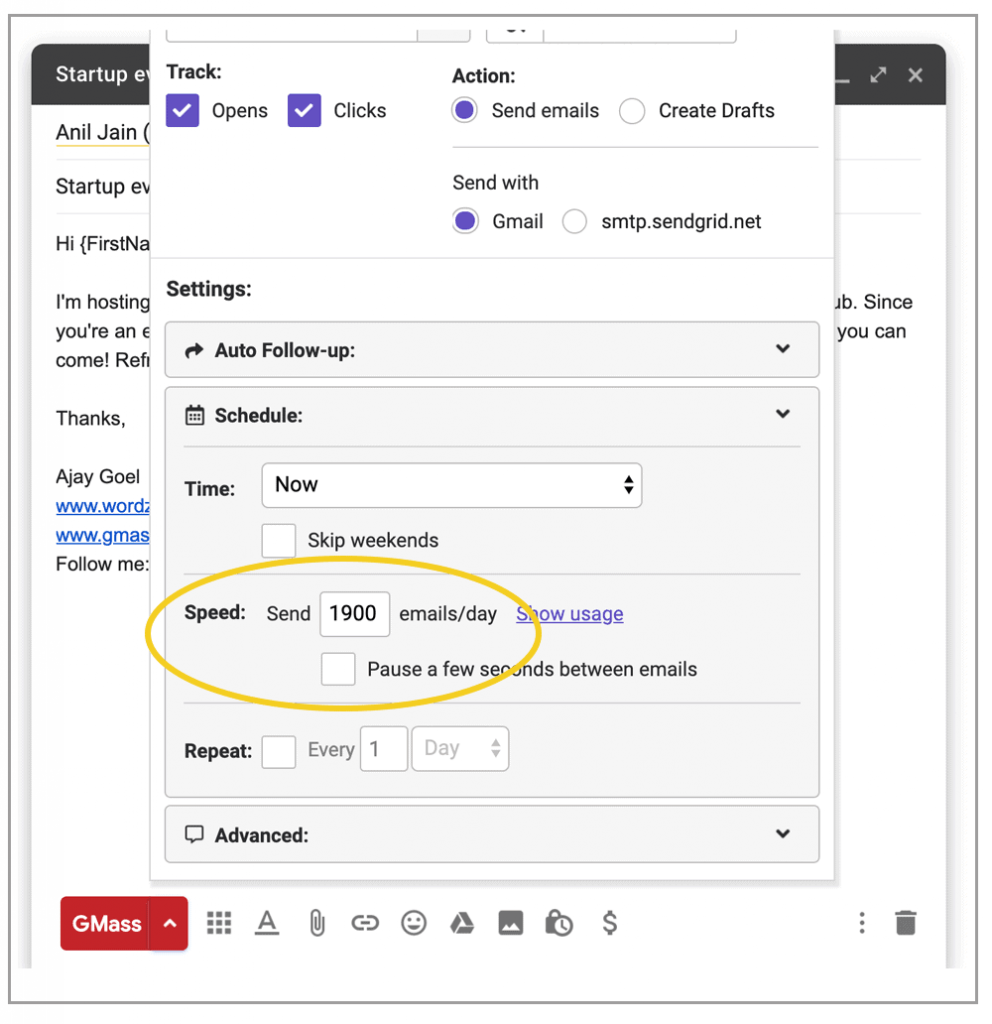 Wrapping Up
While it's not impossible to perform a mail merge with a Google Docs template, the process is much more complicated than using Microsoft Word or Excel.
And while tools like Autocrat can help you to a certain extent, they're not an ideal solution.
The process remains largely inconvenient, and you're limited in terms of what you can do.
Fortunately, GMass offers you a more straightforward way to perform a mail merge and boost your email marketing activities. From automatic email personalizing and follow-ups to detailed analytics and reporting, GMass is the only emailing tool you'll ever need.
Download the GMass Chrome extension today and perform massive mail merges with ease!