Looking for the best marketing automation software?
A marketing automation tool helps you streamline your marketing process and improve your marketing efficiency.
It allows your marketing team to target the right audience, create personalized messages that resonate with your leads, and consistently add qualified prospects to your sales funnel.
In this article, I'll briefly look at what marketing automation software is and cover its main types. Then, I'll highlight three powerful marketing automation tools that can streamline your marketing activities and help you generate more revenue.
This Article Contains:
(Click on links to jump to specific sections.)
Let's begin.
What is Marketing Automation Software?
Marketing automation software is any platform that helps you automate repetitive marketing tasks and streamline your marketing process. By allowing you to send automated marketing campaigns, these tools help improve your marketing campaign performance.
With the right marketing automation technology, you can:
Increase your marketing efficiency and ROI (return on investment) with your marketing efforts
Ensure that you have a steady stream of high-quality prospects in your sales funnel for your sales reps to pursue
Scale up your marketing campaign initiatives to appeal to a larger audience
Target your potential customer base and create automation workflows to send them personalized messages
Eliminate human error while capturing lead or customer data
Hone your lead generation, lead management, and lead nurturing strategies
Track marketing effectiveness and identify improvement opportunities for your marketing team
What are the Different Types of Marketing Automation Software?
Here are some popular types of marketing automation software available today:
But which marketing automation software is best suited to your needs?
This depends primarily on your marketing tasks and which channels your prospects use. However, you'll likely need a combination of these different types to boost lead generation significantly and maximize your outreach efforts.
That's why I've highlighted the best tools in each of these categories to enable you to automate your marketing tasks today.
3 Comprehensive Marketing Automation Tools to Boost Engagement
Here are three powerful marketing automation tools that can power up your marketing effectiveness:
I'll cover their key features, pricing, and ratings to give you a holistic view of each tool:
1. GMass for Email Marketing Automation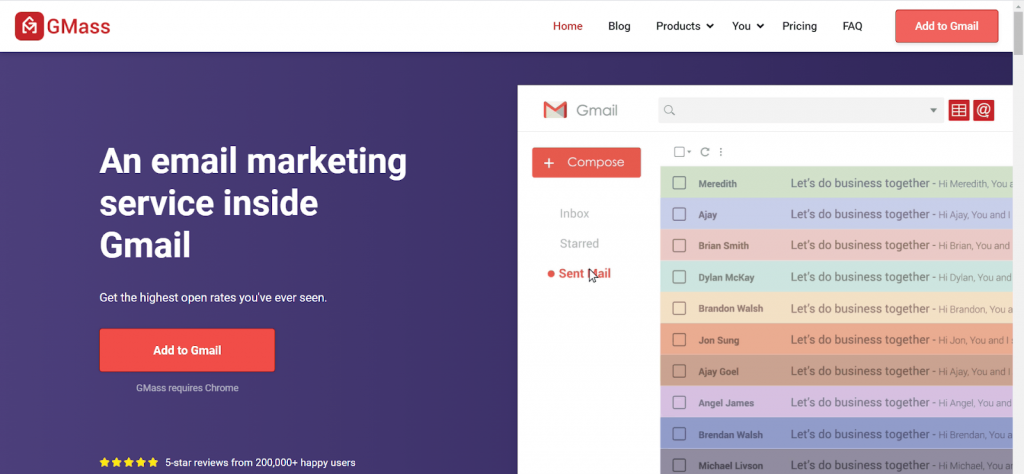 GMass is a powerful email marketing and marketing automation tool that works entirely inside Gmail. Its automation features have made it a popular marketing tool used by employees in powerhouses like Google and Uber and social media giants like Twitter and LinkedIn.
So is GMass only for big enterprises?
No!
This email marketing automation platform is also the perfect go-to tool whether you're a startup, small marketing agency, consultant marketer, or solopreneur.
To start using the GMass email marketing platform, all you need to do is download the Chrome extension and sign up with your Gmail account.
GMass Key Features
Here's a quick look at some of GMass' powerful marketing automation features that make it a must-have for every marketer:
Sending generic emails to your recipients might seem like a time-saving marketing strategy.
However, it will probably yield low customer engagement rates since about 72% of consumers only engage with personalized messaging.
It's also important to recognize that your leads want you to understand their unique goals and challenges. And to show that you do, you must create personalized email messages tailored to each lead's buyer persona and specific needs.
GMass lets you auto-personalize bulk email messages for better marketing effectiveness.
You can use this email marketing automation platform to personalize everything about your emails instantly, from the subject line to paragraphs, images, links, and more.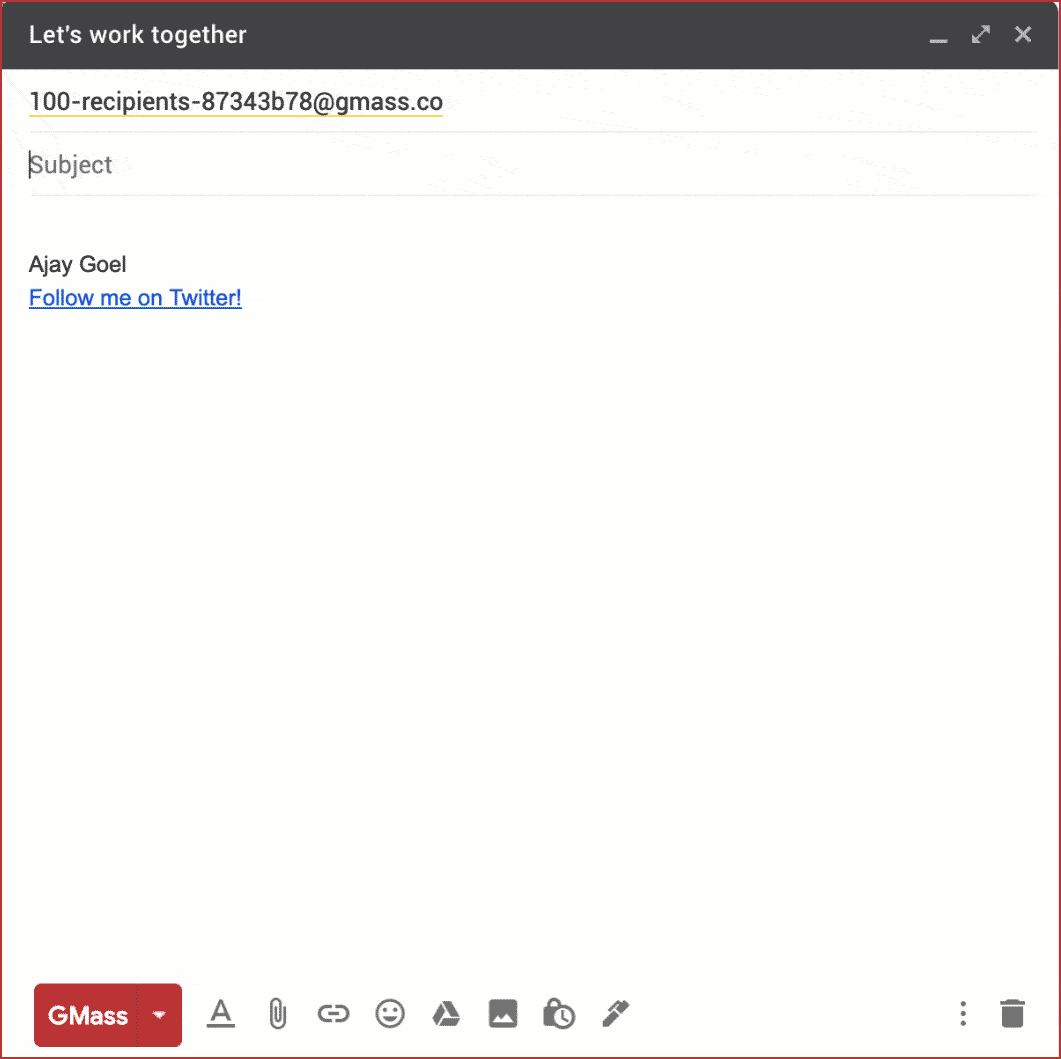 A marketer must always review their past email campaigns to identify improvement opportunities. GMass provides accurate email campaign insights in the form of detailed analytics reports that you can access right inside your Gmail inbox.
The reports offer critical insights like the:
Open rate
Click-through rate
Reply rate
Unsubscribe and bounce rates
And more
You can use these metrics to understand what resonates best with your leads and modify your marketing strategy accordingly.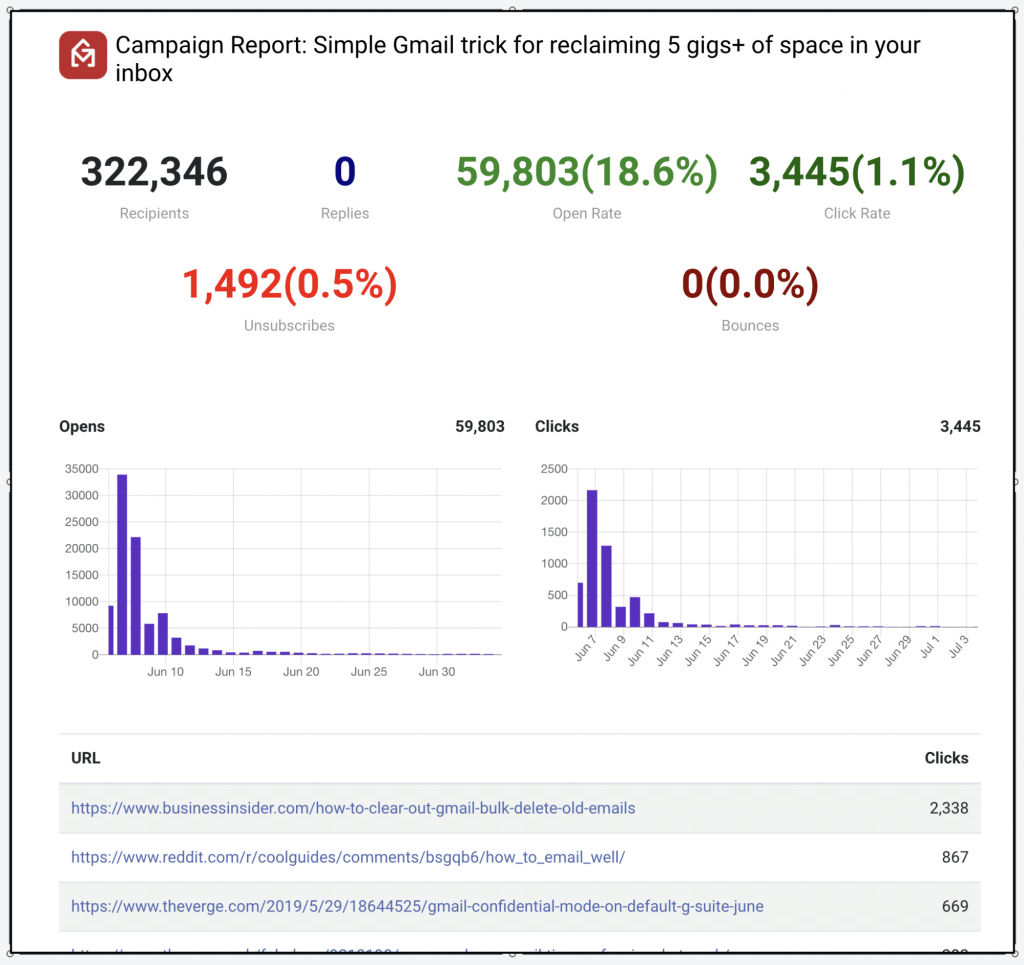 That's not all.
GMass' powerful email deliverability wizard also provides data-driven insights to help you achieve higher inbox placement, better customer engagement, and a superior customer journey.
For maximum email engagement, your marketing team needs to follow up on your past emails consistently.
With GMass, you can quickly put together automation workflows to send follow-up emails and stay on top of your leads' minds with ease.
Using this email marketing tool, you can send automated emails to recipients who haven't opened your email, replied to it, or taken other action. Moreover, you can decide the frequency of your automated emails and choose to personalize these follow-up messages for better engagement.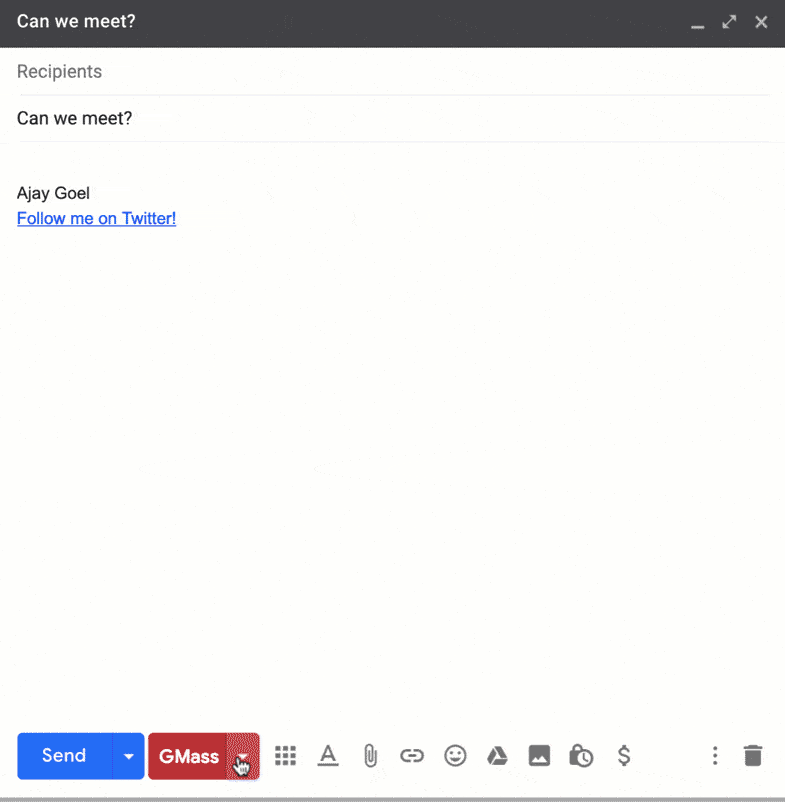 Building an email list makes it easier to send campaigns to a broad audience.
However, it's time-consuming to gather your leads' email addresses manually and then categorize each one according to their buyer personas, etc.
Luckily, with GMass, this marketing activity is effortless.
How?
To create an email list with GMass, just enter keywords related to your target audience in the Gmail search bar and click Search. Once the results are displayed, click on the "Build an email list from Gmail search results" button.
GMass will then automatically build your email list and add it to the To field in a new Compose window. Now, just type your message and send it with GMass.

You can also quickly build an email list in Google Sheets and connect it with GMass to send personalized mass emails.
For maximum customer engagement, reaching your recipients' inboxes at optimal times is critical. With GMass, you can schedule mass email campaigns to reach prospects when they're most likely to engage with your emails.
To schedule your bulk email campaigns:
Compose your email message and add recipients.
Click the downward-facing GMass arrow to set your email schedule.
Click the GMass button.
When it's time, GMass will send your mass email campaigns automatically.
And if you feel like rescheduling, you can quickly modify the email schedule from the Gmail Drafts folder.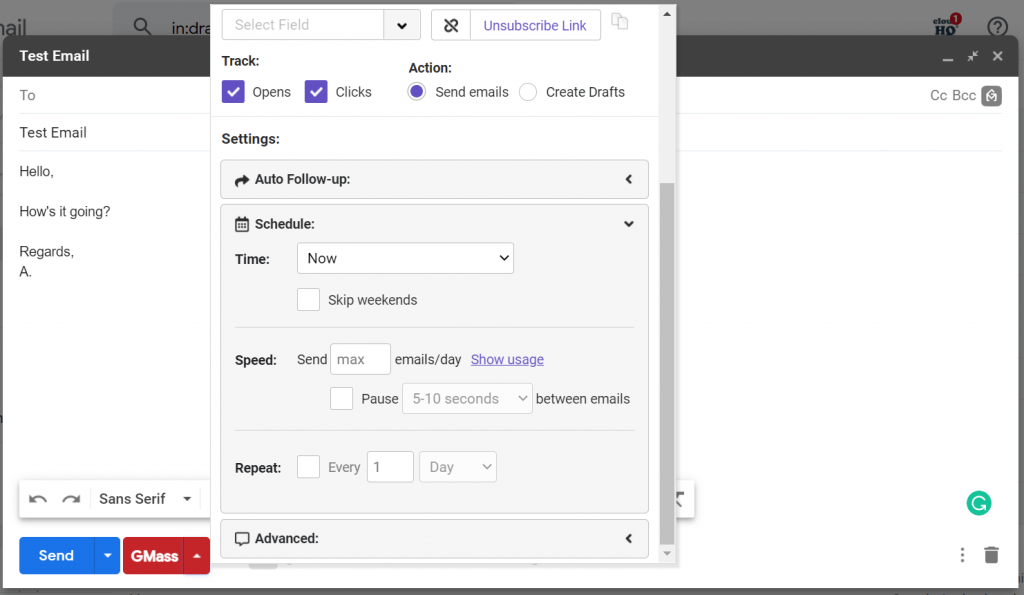 GMass Pricing
This email marketing automation solution has three pricing plans to match different user needs:
Lets you send up to 50 emails/day
Supports all features
Supports unlimited use
Offers all features except auto follow-ups and sequences
Supports all "Standard" plan features + auto follow-ups and sequences
Premium (starts at $89/month for a team of five):
GMass Ratings
Capterra: 4.9/5 (580+ reviews)
2. HubSpot Marketing Hub for Inbound Marketing Automation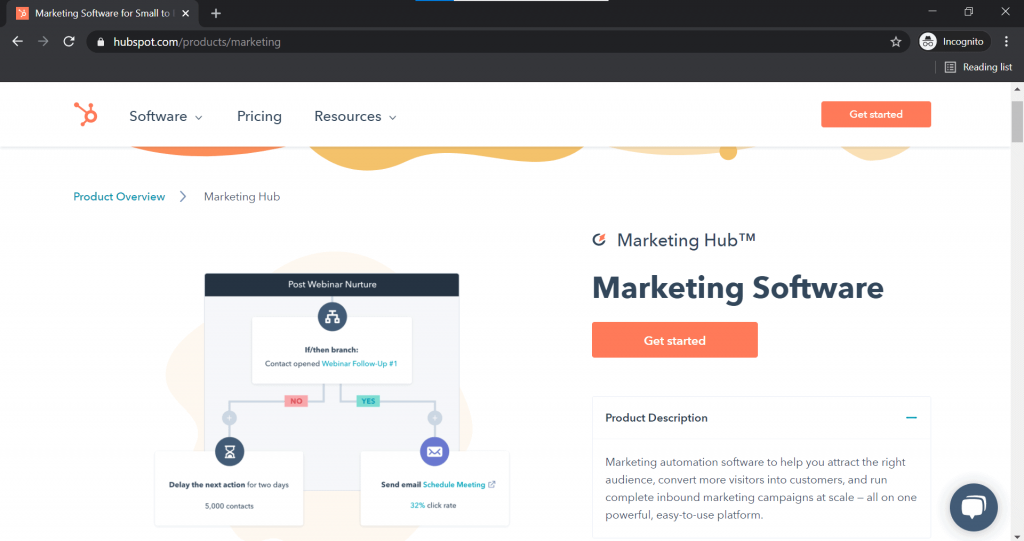 HubSpot Marketing Hub is a powerful marketing automation software that helps you attract "good-fit" leads, convert them into customers, and run inbound marketing campaigns at scale.
HubSpot Marketing Hub Key Features
It can help with lead nurturing and lead management and lets you set up automation workflows to speed up your marketing tasks.
Blog editor makes it easy to draft and publish high-quality content marketing assets that resonate with your target audience.
Landing page builder allows you to create no-code landing pages to convert your website visitors quickly.
Social media management helps you publish content and keep track of important interactions on social networks like Facebook, Instagram, and LinkedIn.
Digital marketing analytics provide custom reports that help you make smarter, data-driven decisions.
HubSpot Marketing Hub Pricing
This inbound marketing automation solution has four pricing plans (prices vary depending on the number of your contacts):
Landing page builder
Ad management
Forms
And more
Starter (starts at $50/month for 1,000 marketing contacts):
Supports all "Free" features
Conversational bots
Contact website activity tracking
And more
Professional (starts at $890/month for 2,000 marketing contacts):
Supports all "Starter" features
Marketing automation system
Multi-language content marketing
And more
Enterprise (starts at $3,200/month for 10,000 marketing contacts):
Supports all "Professional" features
User roles
Multi-touch revenue attribution
And more
HubSpot Marketing Hub Ratings
Capterra: 4.5/5 (4430+ reviews)
G2: 4.4/5 (6530+ reviews)
3. ActiveCampaign for Omnichannel Marketing Automation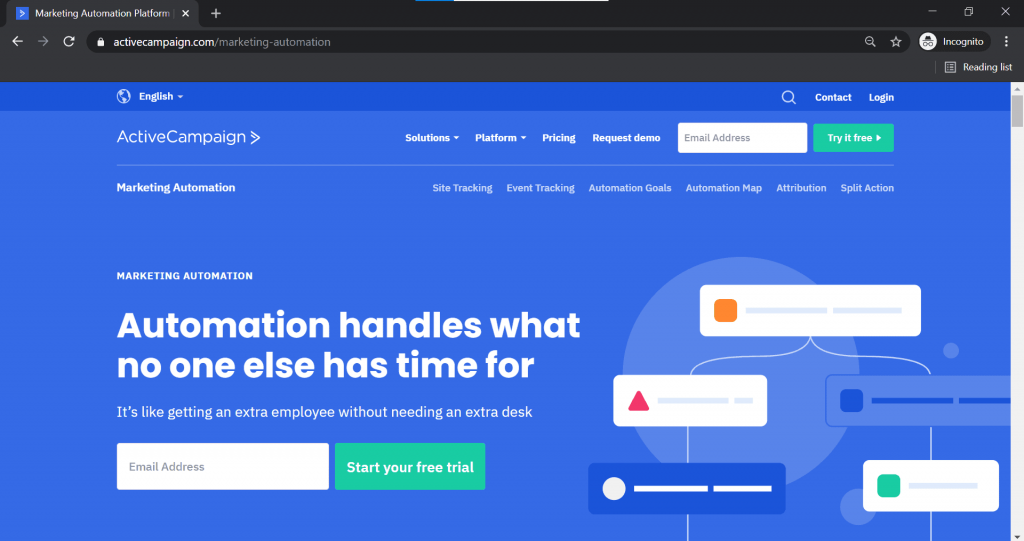 ActiveCampaign is an omnichannel digital marketing and customer experience automation platform that's designed to help you approach potential customers via the right channels and engage with them at every stage of their customer journey.
Read my in-depth ActiveCampaign review.
ActiveCampaign Key Features
Omnichannel marketing allows you to engage with prospects across multiple channels through landing pages, text automation, social media, and more.
Pre-built automations help you develop and send automated marketing campaigns to boost conversions.
Site and event tracking empower you to understand what people are doing on your website, which will help you follow up accordingly.
Advanced reporting makes it easy to understand which digital marketing efforts work best and identify opportunities for further improvement.
ActiveCampaign Pricing
This omnichannel marketing automation tool has four pricing plans (prices vary depending on the number of your contacts):
Lite (starts at $15/month for 500 contacts):
Marketing automation system
Site and event tracking
Segmentation
And more
Plus (starts at $70/month for 500 contacts):
Supports all "Lite" features
Contact scoring
Automations map
And more
Professional ($159/month for 500 contacts):
Supports all "Plus" features
Website personalization
Marketing attribution
And more
Enterprise ($279/month for 500 contacts):
Supports all "Professional" features
Custom reporting
Social data enrichment
And more
ActiveCampaign Ratings
Capterra: 4.6/5 (1190+ reviews)
G2: 4.6/5 (7250+ reviews)
2 Additional Tools to Complement Your Marketing Automation Strategy
I've already covered some very comprehensive marketing automation tools that help you scale up your outreach efforts. And while they should be enough for most marketers, sometimes, you need tools with specialized marketing automation features to help you out further.
Here are two additional automation tools you could consider to boost your marketing efforts:
1. Twilio Messaging for SMS Messaging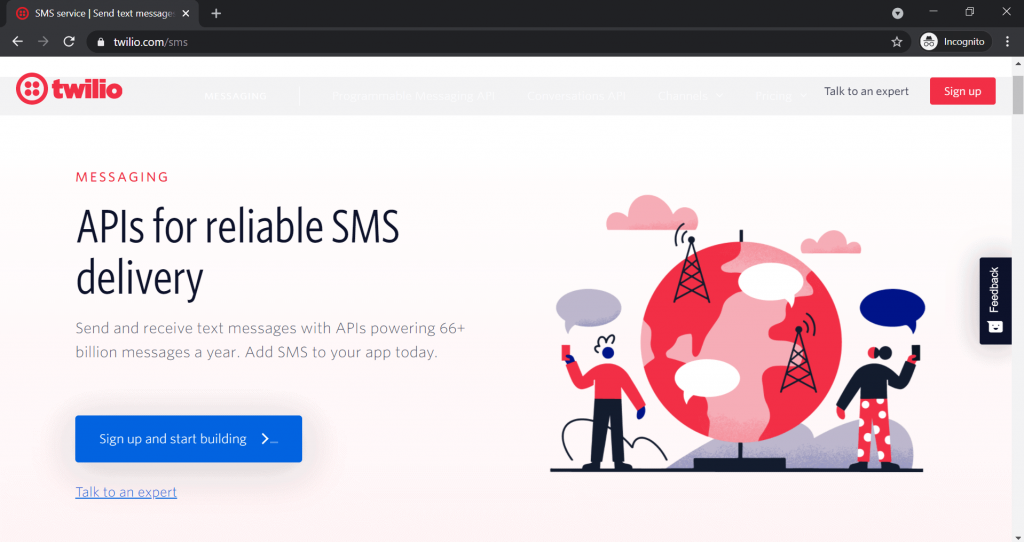 Twilio Messaging is an SMS (Short Message Service) marketing platform and automation tool that helps you connect with a potential customer via text messages.
Twilio Messaging Key Features
Marketing messages allow you to send targeted offers to engage a customer list.
Messaging insights provide real-time feedback on message delivery, errors, and responses.
Intelligent sender selection lets you execute consistent, localized, and compliant messaging.
Support for mass message delivery to over 200 global phone types, including toll-free, shortcodes, and alphanumeric IDs.
Programmable message APIs help you deliver mass alerts to customers at scale.
Twilio Messaging Pricing
This SMS marketing automation solution provides a pay-as-you-go pricing structure:
Text Messaging ($0.0075/message):
Send text messages to local numbers, toll-free numbers, and shortcodes.
Picture Messaging ($0.0200/message):
Send picture messages to local numbers, toll-free numbers, and shortcodes.
Twilio Messaging Ratings
Capterra: 4.6/5 (230+ reviews)
2. Keap for Customer Relationship Management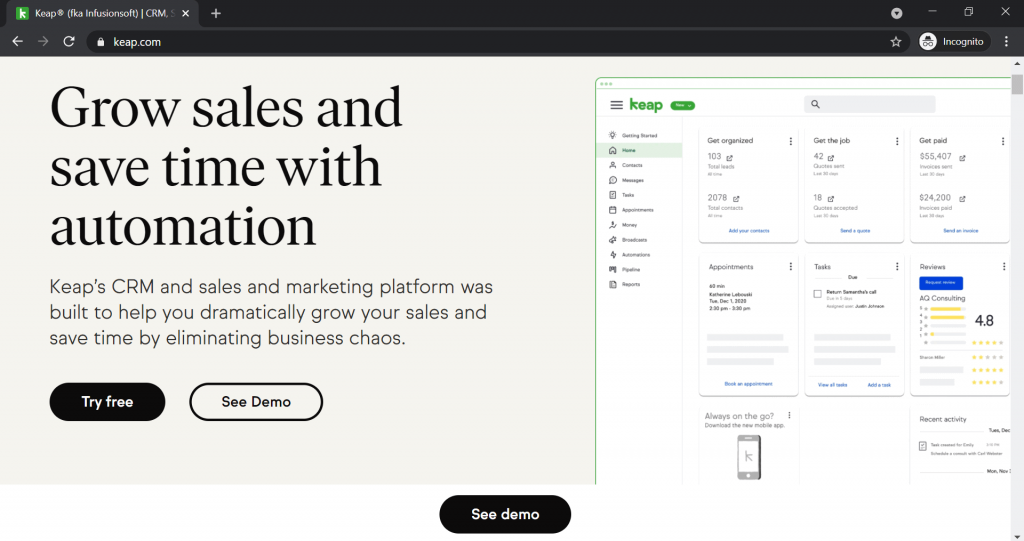 Keap (formerly Infusionsoft) is a CRM (Customer Relationship Management) and marketing automation platform that helps you approach your target audience and nurture leads to boost revenue.
Keap Key Features
Customer Relationship Management system helps you store customer data and other related info like the interaction history, lead sources and scores, and more in one place.
Automation builder lets you customize and automate your marketing process.
Analytics dashboard offers valuable insights into lead and customer data.
Android and iOS mobile apps support lead management even when you're on the move.
Integrations with email clients like Gmail and Outlook help you send automated marketing campaigns.
Keap Pricing
This CRM and marketing automation system has three pricing plans (prices vary depending on the number of your contacts):
Lite (starts at $79/month for 500 contacts):
Contact segmentation
B2B marketing management
Lead generation features
And more
Pro (starts at $149/month for 500 contacts):
Supports all "Lite" features
Landing page creation
A/B email testing
And more
Max (starts at $199/month for 500 contacts):
Supports all "Pro" features
Lead nurturing through scoring
Subscription management
And more
Keap Ratings
Capterra: 4.1/5 (1080+ reviews)
G2: 4.1/5 (1060+ reviews)
Final Thoughts
Marketing automation software can help you increase the efficiency of your marketing campaigns.
And while there are many marketing automation software solutions out there, only a few powerful tools come with easily accessible and advanced marketing automation capabilities.
GMass is one such marketing platform.
It gives you all the essential email marketing automation features you need like auto-personalized emails, detailed campaign reports, automated emails for follow-ups, and more!
So why not try GMass today and boost your marketing efforts today?
Ready to

transform Gmail

into an email marketing/cold email/mail merge tool?

Only GMass packs every email app into one tool — and brings it all into Gmail for you. Better emails. Tons of power. Easy to use.

TRY GMASS FOR FREE

Download Chrome extension - 30 second install!
No credit card required
Love what you're reading? Get the latest email strategy and tips & stay in touch.