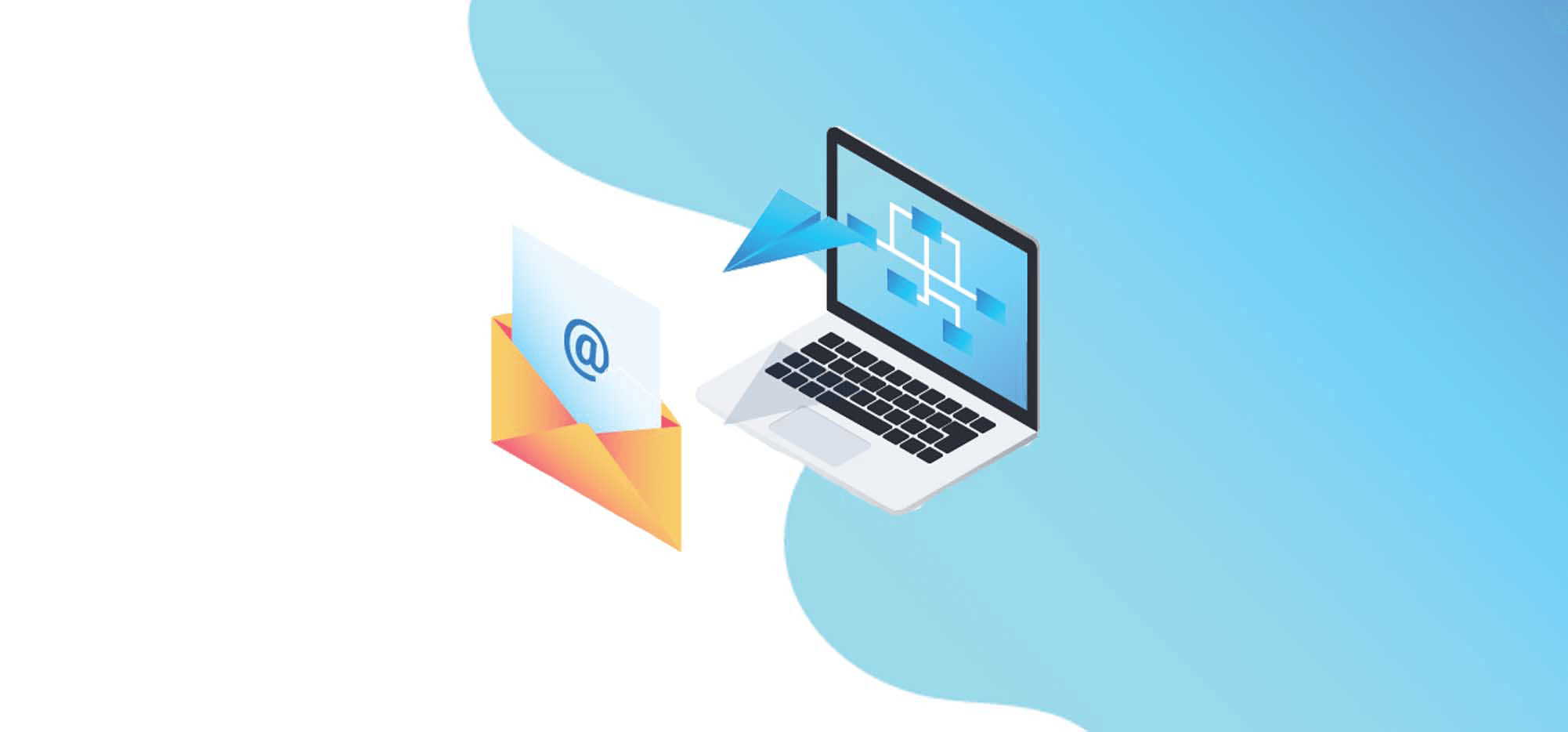 Networking emails help you build new connections and nurture professional relationships.
However, if the recipient doesn't open your networking email, all your efforts are wasted.
To ensure that this doesn't happen, you'll need a killer networking email subject line — one that can capture the recipient's attention.
In this article, I'll share 30 networking email subject line examples you can use in different scenarios and offer five handy tips to help ensure that your networking emails convert.
Then, I'll discuss how a powerful email outreach tool can streamline your networking email campaigns. Finally, I'll answer some FAQs related to networking email subject lines.
This Article Contains:
(Click on links below to jump to specific sections)
Let's dive in.
30 Networking Email Subject Lines That Are Proven to Work
Effective subject lines get your networking emails opened and enable you to convert digital networking opportunities.
In contrast, subject lines that aren't personalized and sound spammy may prompt the recipient to ignore your message. Or worse, your email may trigger the recipient's spam filter and head straight to the spam folder.
But don't worry.
To help you stay clear of spam filters and boost your open rate, I'll cover 30 proven networking email subject lines you can use right away:
A. Introductory Email Subject Lines
Writing introductory emails can be tricky.
Why?
The person you're trying to connect with doesn't know you yet, so they have no reason to open your email.
But if your subject line looks authentic and personalized, it will make an excellent first impression. And in such a scenario, there's a decent chance that the recipient will open your email, even if you're a new contact.
Now, let's go over some introductory email subject lines that get your emails opened:
1. Reaching Out for Some Expert Advice on (Topic)
Everyone loves compliments.
That's why being referred to as an expert on some relevant topic — for example, as a career expert in the tech recruitment space — is something your potential connection is bound to love.
People are usually happy to offer helpful advice (especially career advice), provided you ask nicely. Besides, asking for something adds a sense of urgency and increases the likelihood of a quick response.
In short, this subject line provides an easy way to get the conversation going and (possibly) gain some valuable insights on a topic.
2. Loved Your Recent Article in (Publication)
Many introductory emails come across as inauthentic.
"I am a big fan of your work, and I've been following you for a while" is now a well-recognized spam template.
However, referencing a specific piece of content (for example, a blog post) that the recipient wrote is a great way to come across as authentic. It shows that you're genuinely interested in connecting with the contact and increases the likelihood of getting a response.
3. Fellow (Common Interest / Qualification) Looking for an Opportunity to Connect
If you're on the lookout for networking opportunities, shared interests and qualifications present easy ways to connect with a contact.
Mention them in your subject line to establish some common ground to build the discussion.
However, when referencing common interests or qualifications, only use information readily available to the public — their industry, alma mater, Linkedin profile details, or even a blog post they wrote.
Don't get excessively personal by digging through a recipient's social media (for example, Facebook, Instagram, or Twitter) profiles and reference a picture they took at a party!
Other Effective Introductory Email Subject Lines
Here are a few more introductory subject lines that'll work perfectly with your networking emails:
"Just Caught the Interview You Had with (Person's Name)"
"I'm a Fellow Alum from (University Name) and Would Like to Connect"
"I'm a Fellow (Job Title) at (Company Name) and Would Love to Connect"
"Had a Quick Question about Your Article on the (Company Name) Blog!"
"I Love That (Thought, Idea, or Opinion) You Shared in (Publication)"
B. Follow-Up Email Subject Lines
Chances are, you'll have to follow up on your initial interactions (meeting request, informational interview appointment, or digital networking event invite) with a prospect.
Why?
Because you didn't get a response from the recipient for some reason.
Dropping the prospect at this point could be premature.
Maybe they simply forgot to respond or are waiting for some other information. Whatever the case may be, a follow-up email is the perfect way to politely nudge them and keep the conversation going.
To enhance your follow up emails, here are three simple subject lines:
1. Hi (Recipient's Name), This Is (Your Name)
This eye catching subject line reminds the recipient who you are.
Since you're mentioning names, the recipient will know that this is a genuine email — even if they don't remember you very well. Moreover, by keeping your subject line slightly vague, you're encouraging them to open your mail to see what it contains.
2. Hi (Recipient's Name), Just Following Up on Our (Call/Meeting) the Other Day
This subject line directly references a past conversation, a social media interaction, or an event with the recipient.
It's a great way to instantly jog their memory of a previous interaction and even make a new meeting request.
3. Hi (Recipient's Name), Enjoyed Our Last conversation — Would Like to Engage Again
This subject line refers to a previous conversation or phone call, letting the recipient know that you aren't a complete stranger.
It also tells the prospect that you enjoyed your last conversation with them and are interested in building a professional relationship. This subject line sets your message apart from other unsolicited cold emails in their inbox.
Other Effective Follow-Up Email Subject Lines
Here are some great subject lines to use in your next follow-up emails:
"Would You Be Attending (Upcoming Event)?"
"It Was Great Meeting You at (Networking Event)…"
"Reaching Out Again to Connect and Talk about (Topic)"
"Great Meeting You at the Meet-Up. What's Your Takeaway from the Event?"
"It Was Nice Meeting You, Here's the Information I Promised"
C. Number-Driven Email Subject Lines
Leading with numbers is a great way to interest a reader and provide a glance at what you're offering. Quantifying the content on your mail, such as "3 ways I can…" or "The 5 Best…" is a simple way to get their attention.
You can add numbers to your introduction or follow-up email to make it look more enticing.
Here are a few simple number-driven subject lines:
1. The 5 Ways (Recipient's Company) and (Your Company) Can Work Together
By mentioning "5 Ways" in your subject line, you're being specific and creating a lot of curiosity. This is bound to get their attention and convince them to open your email.
Additionally, by mentioning the names of the companies involved, you add a layer of personalization and authenticity to the email.
2. 3 Things I Loved About Your Article in (Publication)
This is an excellent example of using numbers to supplement your introductory emails.
Sure, referencing previously written content is a great way to look authentic, but that's not all.
By adding a number to your subject line, you're letting the contact know what specific things stood out. It shows them that you thoroughly did your research — which leads to interest.
3. 5 Ways How (Recipient's Company Name) Could Benefit from Better (Idea)
As you're offering the prospect a means to gain something, they're likely to consider your email seriously. By sharing how their company could benefit from your idea, you instantly pique their interest and entice them to open your email.
Other Effective Number-Driven Email Subject Lines
Here are four additional number-driven subject lines you can use today:
"Loved These 4 Insights from Your Recent Article in (Publication)"
"7 Things I am Hoping to Learn from Your Talk at the (Upcoming Event)"
"Found Your 6 Tips on Addressing (Pain Point) Very Useful"
"Would Love to Know More about the 8 Strategies You Discussed in Your Talk at (Event Name)"
D. Mutual Connection Reference Email Subject Lines
Mentioning a mutual connection or acquaintance is an effective way to grab your recipient's attention. While they may be reluctant to engage with strangers, sharing a mutual acquaintance can improve your professional networking prospects.
Here are some subject lines you could use to reference mutual connections:
1. We Met at (Event Name) with (Mutual Connection)
Here, you provide two points of reference to your contact — an event they attended (for example, a digital marketing event or a networking event) and a common acquaintance or coworker you know.
This referral contact helps foster an instant connection with the prospect.
2. (Mutual Connection) Suggested That I Introduce Myself
When you first introduce yourself to a new prospect, chances are that you might fail to get their attention.
This subject line is handy in such scenarios because it shows that the mutual connection trusts you enough to recommend you. And unlike cold emails with no previous context, referencing a common contact this way makes the recipient more receptive to what you have to say.
3. Do You Know (Mutual Connection)?
Instead of the usual pleasantries, directly referring to a common connection that your recipient knows will get their attention. This subject line shows that you're straightforward and not a complete stranger. As a result, the recipient would be more open to a conversation.
Other Effective Mutual Connection Reference Email Subject Lines
Take a look at four more mutual connection reference email subject lines to use today:
"(Mutual Connection) Recommended You to Me!"
"Referred by (Mutual Connection) — Are You Available to Talk?"
"(Mutual Connection) Told Me You're an Expert on (Topic). Hope You're Open to a Discussion Sometime?"
"Referred by (Mutual Connection) to Get Your Opinion on (Topic)"
Now that you have some outstanding networking email subject lines in your arsenal let's look at some quick tips to make your professional networking emails even more effective.
5 Handy Tips for Networking Email Success
Here are five valuable tips to make your networking emails hit the bull's eye:
1. Keep Your Subject Line Short
The primary goal of your networking email subject line is to get your recipient's attention and encourage them to open your email. And you don't need a long-winded subject line for that.
Besides, long-worded email subject lines come across as spammy and might trigger some automatic email spam filters.
That's why it's better to write specific and concise subject lines.
Ideally, your subject line should have a maximum length of 40 characters — making it readable on smartphones as well.
Pro tip: Use an online subject line checker to help hit the perfect length for your networking email subject line.
2. Time It Right
Your email needs to reach your recipient at the right time.
Most of your prospects want to start the day productively, and any non-urgent email may be overlooked or archived.
As a good rule of thumb, for maximum reach, you should send networking emails (or sales emails) between 8:00 PM and 12:00 AM — when they have the highest rates of opens and engagement.
Avoid sending emails at the end of the workweek and right before a holiday to avoid ending at the bottom of your recipient's unread pile.
Fortunately, you can use an email outreach tool to schedule your emails in advance so that they go out at the most optimal times.
3. Personalize Your Emails
While sending emails for digital networking, you must directly reference your recipient to increase conversions.
You can do this through personalized emails that use personalized subject lines.
Mentioning details like a recipient's name, job title, company, etc., is a great way to show your email recipients that you've handcrafted the networking, marketing, or sales emails for them. This makes it easier for you to forge a connection with the prospect and get a response.
And with the help of an email marketing tool, you can easily personalize the subject line and body of your networking email campaigns at scale.
4. Ask for Advice — Not Favors
Never directly ask the recipient for a favor whenever you write a networking email.
Why?
It's obvious that you're only emailing to get something out of them. Instead, opt for a slower, more organic approach, where you ask for advice and build a genuine connection first.
5. Conduct a Quality Check
As your subject line is the first thing a reader will see, it better be perfect.
There should be no spelling errors, no grammatical mistakes, and no unclear information — your writing should be flawless.
You can always use an online subject line checker to help you write a good subject line. A subject line checker rates your subject line on different variables like word length, engagement, and readability to ensure that it's perfect.
Given the significance of networking email subject lines, you can't afford to mess them up.
To give your networking email campaigns the boost they need, you need a powerful email outreach tool like GMass.
How GMass Can Help with Your Networking Email Campaigns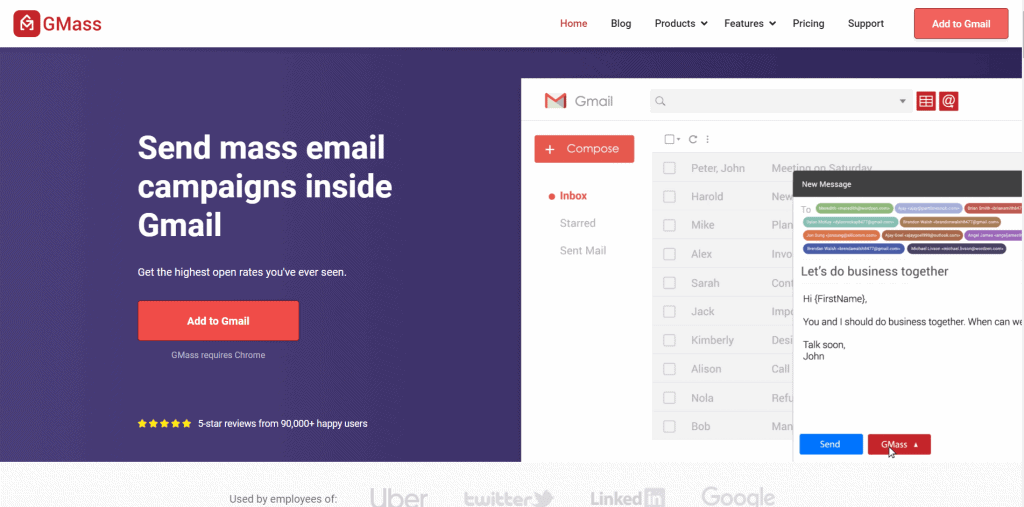 GMass is a powerful email marketing and marketing automation tool that helps you send email campaigns from the comfort of your Gmail inbox.
It's got tons of features to boost your networking email's open rate, click-through rate, and response rate in no time!
GMass is preferred by employees of large companies like Google, LinkedIn, and Twitter for its advanced outreach capabilities. The tool's also perfect for you if you're a casual sender, marketer, business owner, or startup founder.
Here's how GMass can help you craft effective email campaigns:
To start using GMass, download the GMass Chrome extension and sign up for free with your Gmail account.
Next, I'll answer some FAQs related to networking email subject lines:
3 Networking Email Subject Line FAQs
Here are the answers to three commonly asked questions related to networking email subject lines:
1. Why Are Networking Email Subject Lines So Important?
Everyone's heard that a great subject line is vital to email success.
But why?
Here's what research says:
69% of email recipients send an email to their spam folder based on its subject line.
47% of email recipients opened an email based on its subject line alone.
Personalized subject lines are 22% more likely to be opened.
Your email's subject line plays a massive role in whether the networking email is successful or not. Your subject line can be the difference between making a valuable connection and getting blocked by a recipient.
2. What Does a Good Networking Email Subject Line Look Like?
An effective networking email subject line should be attractive and informative to grab your recipient's attention and persuade them to open your email.
Besides being compelling and to the point, effective subject lines should speak to the prospect and inspire action. This not only increases the odds of your message being opened, but it also appears relevant to the recipient and enhances their reading experience.
3. What Should I Put in a Networking Email Subject Line?
The best networking email subject lines will have a personal touch that sets them apart from other generic subject lines.
Besides including the recipient's name, add something memorable like an event where you met or the subject of a blog post they recently published. Cover all of these within about 40 characters, and you'll end up with an excellent networking email subject line.
Wrapping Up
Crafting a professional networking subject line can be challenging, but it's not rocket science.
Your networking email subject line should be concise, clear, personalized, and actionable.
And while there are several aspects to take care of when crafting your networking email subject lines, tools like GMass can help make things a lot easier.
With GMass, you can automatically personalize your networking emails, schedule them to go out at optimal times, send out automated follow-ups, and do so much more.
Sign up for GMass today to streamline your networking email process!
See why GMass has

300k+

users and

7,500+

5-star reviews

Email marketing. Cold email. Mail merge. Avoid the spam folder. Easy to learn and use. All inside Gmail.

TRY GMASS FOR FREE

Download Chrome extension - 30 second install!
No credit card required
Love what you're reading? Get the latest email strategy and tips & stay in touch.