Want to learn how to craft an excellent prospecting email?  
Look, I get it.
Prospecting is hard. Writing a prospecting email can be even harder.
As a sales rep, you need to write an email that will genuinely stand out among the hundreds of emails in your prospect's inbox to increase your chances of landing a conversion. That's a cold email copywriting challenge for anyone.
After all, any business decision-maker you reach out to is bound to be on the radar of thousands of cold emailers. So it's no secret that most of us simply hate receiving cold emails.
But don't worry.
In this guide, I'll cover what email prospecting is and highlight useful tips and prospecting email templates to help get you started.  I'll even introduce you to a powerful tool to streamline your email outreach activities.
Prospecting Email Writing: Table of Contents
(Click on a link to jump to the specific section.)
Let's get started.
What Is a Prospecting Email?
A prospecting email is an outreach email used by sales representatives to contact a potential customer or lead.
Prospecting emails are useful for several reasons, such as introducing yourself and your business or highlighting a possible solution you feel could benefit the recipient.
The key idea behind a prospecting email is to reach out to people who are interested in your product or service.
While you may have never interacted with them before, you should be sure that they're interested in what you're selling or promoting to increase your chances of landing a sale.
5 Simple Tips for Writing Effective Prospecting Emails
While other marketing channels like cold calling can still be useful, email remains the go-to lead generation channel for many businesses today.
However, just because it's popular doesn't mean it's easy.
It can be challenging for even a seasoned sales professional to craft a prospecting email that leads to a sale.
So before sitting down and writing your prospecting email, here are a few things to keep in mind:
1. Research your prospect
While it's easy enough to gather some contact information of a potential client, things can get tricky when you need to dig a little deeper.
And as time-consuming as this can be, you need to have all the relevant details before writing your email.
Why?
As a salesperson, it's impossible to get a conversion without first confirming if a customer fits into your buyer persona.
Doing your research ensures that the prospect you're reaching out to has the potential to move through the sales pipeline, which helps you avoid wasting their time and yours.
But where do you start?
If your prospects are already part of your email list, an excellent starting point would be to check the resources they have interacted with on your website — like an ebook they may have downloaded. This can provide valuable information on what they're hoping to find.
Additionally, go through your prospect's social media.
Twitter and LinkedIn are generally the most effective, as their posts tend to be public. Alternatively, you could try Facebook and Instagram.
Moreover, checking out the "about page" of your prospect's company or personal blog may reveal useful information about their interests.
2. Have a captivating subject line
It doesn't matter how thorough your prospecting efforts are because…
…if you don't get your email's subject line right, you won't get anywhere.
As many as 69% of recipients mark an email as spam based on the subject line alone.
So here are a few tips to help you craft a compelling subject line:
You must also avoid using spam terminology like "Buy now" or "Great offer" in your subject line, as it can make your email appear spammy. When your emails are marked as spam, it affects your sender reputation and future email deliverability — which greatly harms your prospecting activities.
Wondering how to avoid spam filters?
Check out my in-depth guide on why your emails go to spam for some effective solutions. 
3. Keep your email short
According to a recent study, outbound emails containing about 20 lines of text (or about 200 words) result in the highest click-through rates.
People don't enjoy reading long emails, so keeping them short and to the point is an excellent way of letting your prospect know you value their time.
Feel free to include everything you need to construct a complete email, but avoid adding anything that could distract the recipient from the core message.
For example, you don't need to include things like "I hope this email finds you well."
Instead, go straight to the point and pique their curiosity to encourage a response.
4. Include social proof
Including social proof is a tremendously powerful way of making your prospecting email look more legitimate. Mentioning it in an email can improve response rates by as much as 468%!
So why does including social proof have such a positive effect?
Social proof is quite compelling because it leverages the way our brains have evolved to think. One of the most vital cues our brain uses for decision-making is seeing what everyone else is doing.
A practical method for incorporating social proof into your email is to attach a study that reinforces the message. You could also include testimonials from one of your most well-known customers.
5. Send your email at the right time
Timing can make a big difference in whether people open your emails or not.
However, knowing when to send your email can be tricky since there isn't a one-size-fits-all answer.
As a sales representative, your experience will tell you the best time to send your email depends on your recipient. And the best way to determine that is to experiment.
However, studies have shown that certain days and times can be more effective than others. For example, Tuesday has some of the highest response rates, with Thursday and Wednesday coming in second and third, respectively.
As for the best time, the same studies suggested that late morning, around 10 AM, is the most popular. Alternatively, 8 PM, 2 PM, and 6 AM could also result in higher response rates.
6 Free Prospecting Email Templates to Use Today
If you want your sales emails to stand out from the tons of emails a prospect receives every day, you need to ensure they're as engaging as possible.
However, manually writing each email from scratch can be a time-consuming process.
Fortunately, here are six excellent email templates you can use to get started right away:
1. Suggest a solution
If you've noticed a prospect on an online forum commenting on a problem your product could help with, incorporate it into your email.
Hi [prospect],
I saw your comment on [network] about the [pain point] you're experiencing and wanted to let you know that I may be able to help you. 
We at [company name] regularly help our clients resolve similar problems, and I believe we have a few solutions you might benefit from using. In short, we [provide a brief description of the product or service]. 
If you're not interested in a demo right now, the blog post below may also help. 
[link] 
If you want to hear more, I am happy to get on a call to walk you through how we can help.
Either way, thanks for your time. I hope you find a solution soon! 
All the best,
[Your name]
2. Reference a recent company announcement
If your target company is quite large, referencing a company announcement can be relatively easy.
This method is also useful because most announcements indicate some form of change, which can be an excellent opportunity to provide your prospects with solutions.
Hi [prospect], 
Since I work in [your industry], I came across your [company name] while reading our industry's recent news updates.
I noticed your company just announced [company announcement]. 
Because of [event], I believe an important priority for you now is [business aspect]. 
Am I right?
So, we at [company name] thought you might like to hear about how we've helped [some company names] adjust to their new situations as smoothly as possible. 
If you'd like to hear a little more about how our [solution] can help, would you like to have a ten-minute call early next week? If so, I'm happy to send a few time options, or you can book a spot on my Calendly schedule.
All the best, 
[Name]
3. Provide value
See if you can find an opportunity to provide the recipient with some quick, useful information. For example, you can leverage some insights you may have from working in a specific industry to push your value proposition.
The key here is to avoid being disparaging — and starting with a compliment never hurts.
Hey [prospect],
I wanted to let you know that I enjoyed the design of your company's website. 
The visuals are compelling and drive home the message. It's also fairly easy to navigate the UI. 
I have forwarded the website link to several contacts I think could benefit from your services. 
However, if you'll permit me to point out one thing, I noticed a small error in [where the mistake is]. It's an easy fix, and I'd love to help you with it. 
If you're interested, would you like to have a call sometime this week? 
Cheers, 
[Name]
4. Find common ground
If you've noticed you and a potential prospect have some common ground, use it to reach out to them and encourage a sale.
Hi [prospect], 
I noticed that you recently started working with [brand name], so I thought I'd use the opportunity to introduce myself. 
[your company name] has worked extensively with [brand name] before, so if you need some help getting started, let me know. I can always introduce you to [person at brand name] if that would be useful. 
Our product is the perfect complement to [brand's offering], and if you're looking to enhance its functionality, I may be able to help. 
Anyway, thanks for your time and best of luck! 
All the best,
[name]
5. Ask if you're talking to the right person
People tend to enjoy helping others, especially when it doesn't take too much effort.
Capitalize on this and reach out asking if you're contacting the right person.
Hi [prospect], 
I'm trying to reach the person I could talk to about [issue your product solves].
I've worked with businesses such as [prominent client names] to help improve their [business aspect] by [brief product description], and I would like to help you, too. 
I was wondering, could you put me in touch with the person I should contact? 
Thanks for your time, 
[Name]
6. Send a congratulations email to a new hire
If you notice a prospective company has recently made a new high-profile hire, consider sending them an email wishing them well in their new role.
Dear [prospect], 
Congratulations on your new position with [company name]! 
We have been following your accomplishments at [previous company], and I was wondering if you are thinking of implementing similar strategies at [company name]?
We have helped similar businesses implement [aforementioned strategy] successfully. Here are a few case studies [link]
If you'd like more information, I'd love to schedule a call sometime early next week. 
Regards,
[Name]
How to Simplify Your Email Outreach With GMass
Using the tips and templates I covered above should help you write captivating sales prospecting emails.
However, between personalizing your emails to suit each recipient and ensuring they're being sent at the right time, crafting an excellent prospecting email can be time-consuming.
And that's without considering the multitude of follow-up emails you'll likely need to send.
Fortunately, GMass can streamline the process quickly.
If you want to consolidate your emailing process, consider using an email outreach tool like GMass.
What is GMass?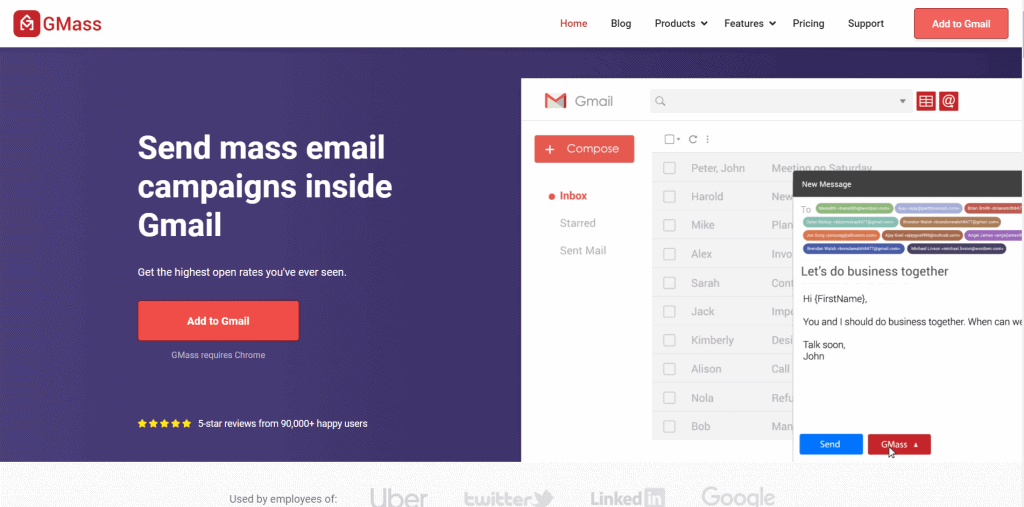 GMass is a powerful email marketing automation tool that works directly inside your Gmail account. Its robust set of features has made it popular among employees at social media giants like Twitter and LinkedIn and multinational tech corporations such as Uber and Google.
However, the beauty of GMass is that everyone can use it.
Whether you're a salesperson at a large conglomerate, a small business owner, or in charge of your church's newsletter, GMass can help streamline your entire email process.
How?
From tracking how your recipients interact with your emails to scheduling follow-ups, GMass takes the hassle out of almost every aspect of email outreach.
Here's a quick look at how some of GMass' impressive features can improve your email prospecting activities:
You no longer need to spend so much time creating personalized emails from scratch — GMass can do it for you!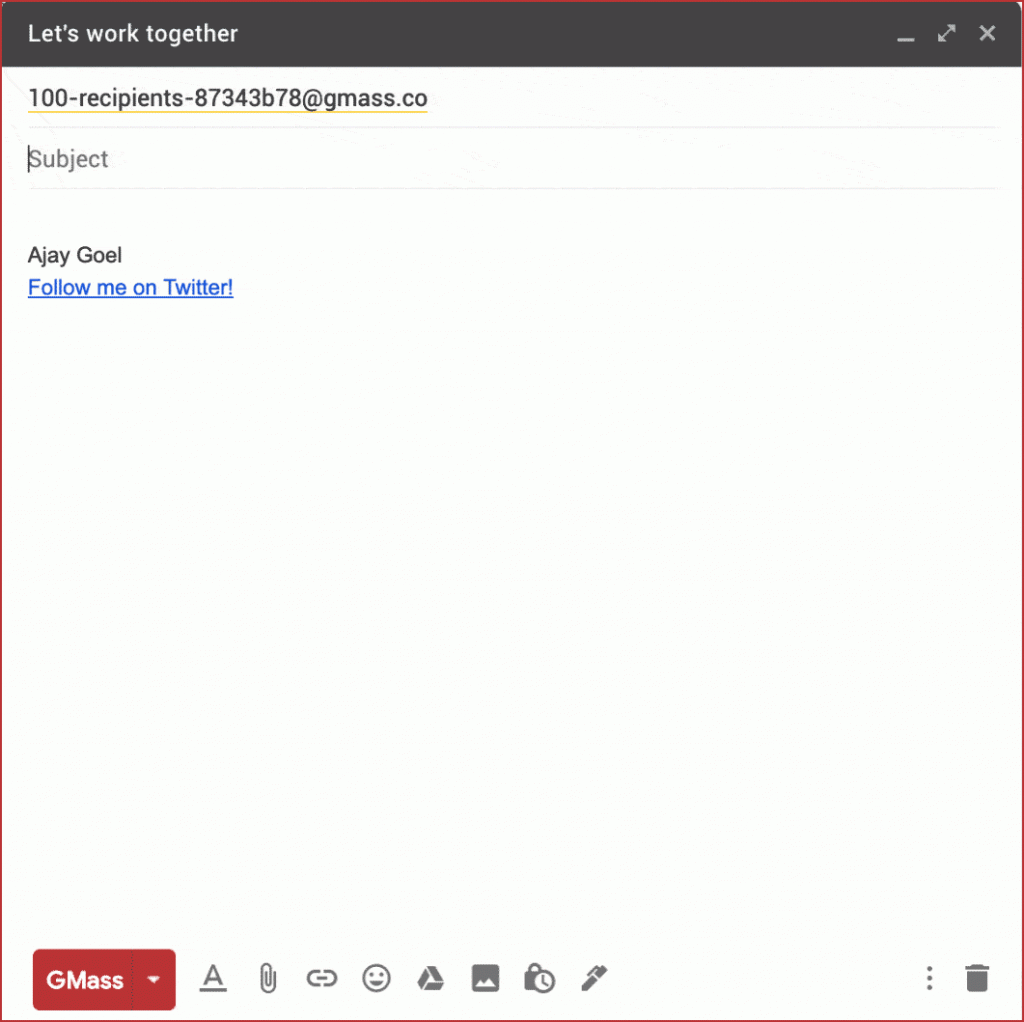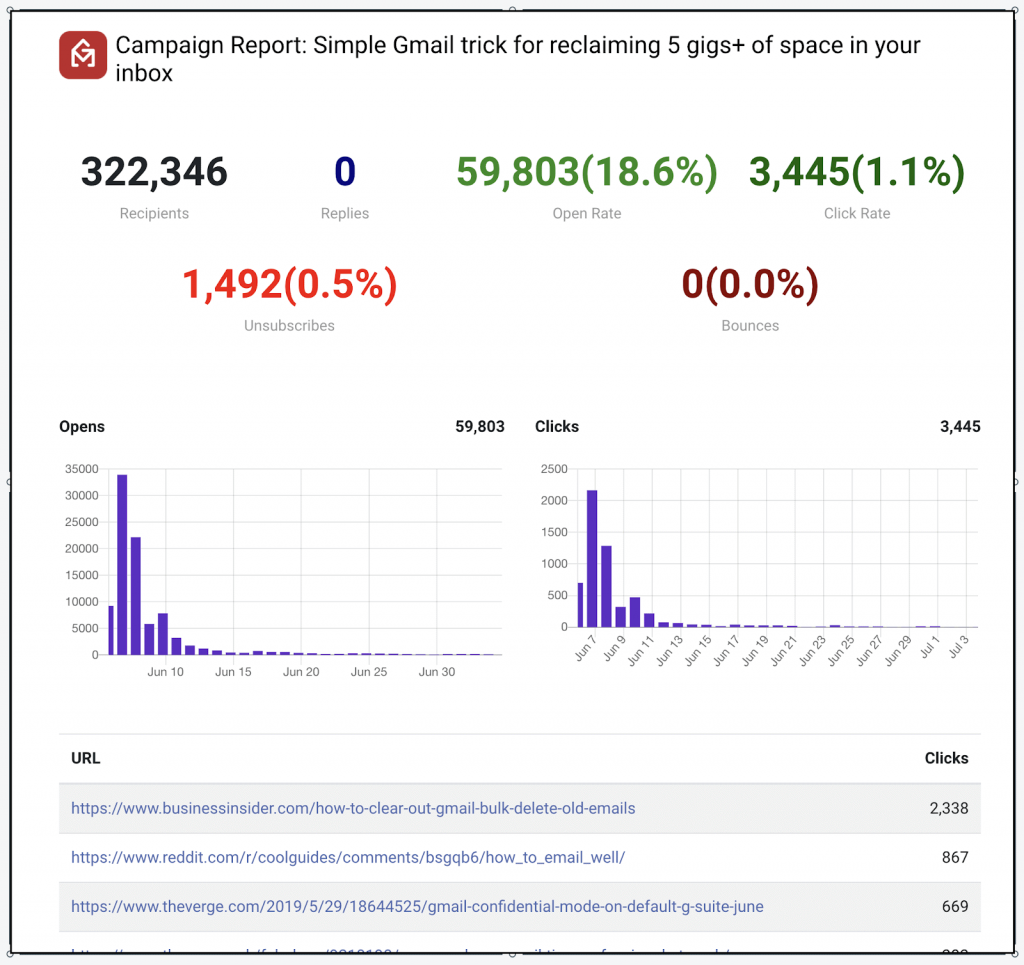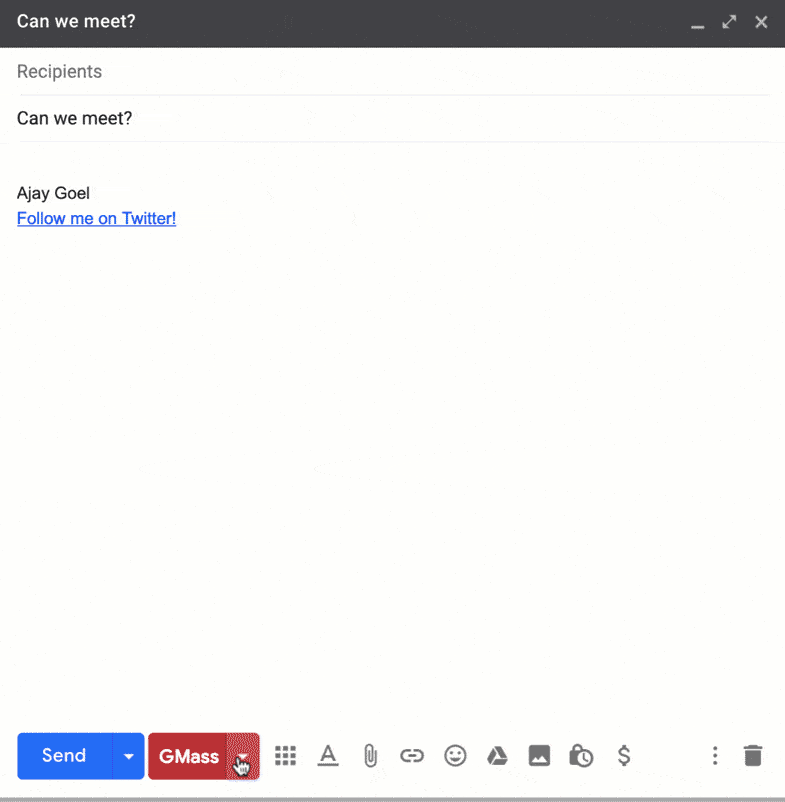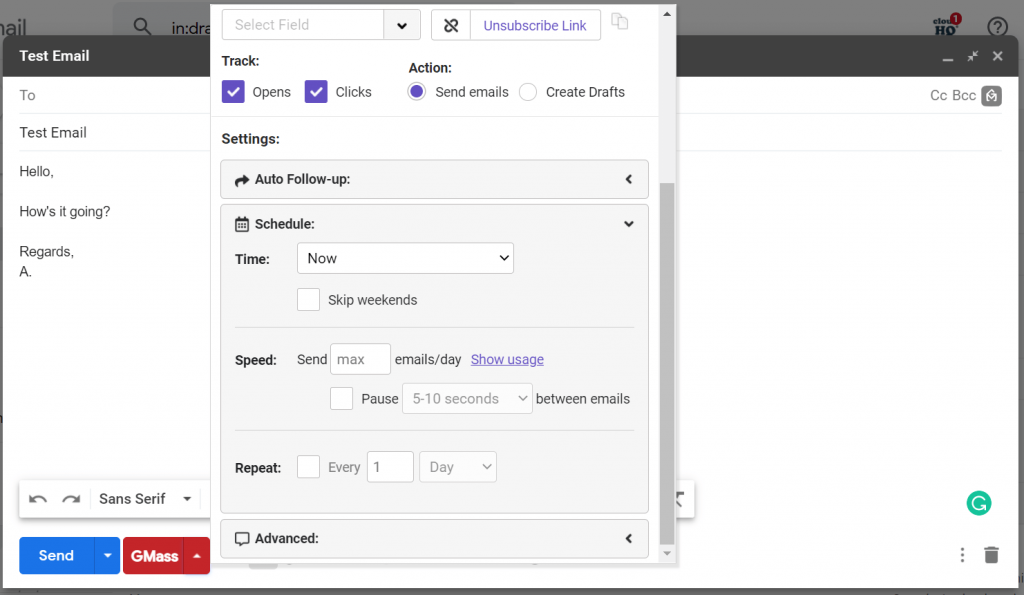 All you have to do is click the red magnifying glass after running a Gmail search.

The best part?
Signing up and getting started with GMass couldn't be easier.
Simply download the extension from the Chrome store and sign up with your Gmail address!
Prospecting Emails: Wrapping up
While sending successful prospective emails can be difficult, your gains will come from a lot of experimentation and research.
Start by looking at your prospect and trying to understand their needs better. Then, use the tips and templates I covered here to create the perfect prospecting email.
And to boost your emailing capabilities further, give GMass a try.
Packed with tons of useful features, from automatic email personalization to creating mass campaigns in seconds, GMass is the ultimate emailing tool for your outbound prospecting needs.
Download the GMass Chrome extension and experience the benefits of effective prospecting emails today!
Ready to send

better emails

and save a ton of time?

GMass is the only tool for marketing emails, cold emails, and mail merge — all inside Gmail. Tons of power but easy to learn and use.

TRY GMASS FOR FREE

Download Chrome extension - 30 second install!
No credit card required
Love what you're reading? Get the latest email strategy and tips & stay in touch.