If you're an email marketer using Gmail or G Suite (formerly known as Google Apps) as your email sending platform, you probably want to understand just how many emails you can send through your Gmail account.
First, distinguish between a regular Gmail account and a G Suite account. A regular Gmail account is an account with an address containing the domain gmail.com or googlemail.com. G Suite, the business product of Google, means your email addresses contain your organization's domain, like john@acme.com or ajay@wordzen.com. In this case, acme.com or wordzen.com is a domain whose email is controlled by Gmail. You can log in to your business's email account by way of Gmail.
What are the basic Gmail sending limits?
Regular Gmail accounts have a limit of 500 individual emails/day.
Source:
https://support.google.com/mail/answer/22839?hl=en
G Suite accounts have a limit of 2,000 emails/day.
Source:
https://support.google.com/a/answer/166852?hl=en
The limits I've described above apply only if you're sending individual emails to one recipient only, the kind that would be sent if you're using GMass. They apply on a rolling 24 hour basis. That means that if you have a regular Gmail account and you send 500 emails at 2:00 p.m. on Wednesday, and it takes 10 minutes for the emails to send, you won't be able to send any more emails until 2:10 p.m. on Thursday. Another example: if you send 100 emails from 2 p.m. to 3 p.m. on Wednesday, and 400 emails between 3 p.m. and 4 p.m. on Wednesday, then you won't be able to send any emails until 2 p.m. on Thursday, at which time you'll be able to send a max of 100 emails. After 4 p.m., you'll be able to send more.
There are other limits in effect if you're sending say, one email with 10 email addresses in the To field, and limits if you have your account set to auto-forward, and other limits explained in the URLs referenced above.
7 ways we break your limits
A brief history of how we've overcome Gmail's limits
For a long time, the biggest frustration amongst GMass users was hitting Gmail's sending limits and receiving a flurry of "You have reached a limit for sending mail" bounce messages in the Inbox. To address this, we built the distributed scheduling feature, where you can send large campaigns of 10,000 recipients or more, and GMass will spread it evenly over a number of days, so as to not exceed your daily sending quota.
This technique proved to have its limitations, however, because Gmail doesn't always allow you to send your full account limits.
To further address this, GMass added the option of being able to set an outside SMTP server with your account, such that you could still use GMass and Gmail to launch your email campaigns, but the emails would actually be sent via a third party sending service rather than by Gmail directly. From the user's standpoint, however, everything would still look and feel the same: the emails would still show up in your Sent Mail folder, and everything from opens and clicks to bounces and replies would still be tracked.
For our non tech-savvy users, however, signing up for a third party SMTP service and connecting it to GMass was frustrating and difficult. To address that frustration, we made it possible for users to use our internal SendGrid account. We created an application process for "good" senders where we would connect their GMass account for them to our internal SendGrid account, so the user could skip the technical details and just send.
Still though, this requires "work" on behalf of the user, because the user has to
Apply to use our SMTP server.
Wait for approval from us.
Remember to choose the "SendGrid" option instead of the "Gmail" option in the GMass Settings box.
The Seven Ways
There are seven ways we can help you get around the gmail.com limits of 500/day and the G Suite limits of 2,000/day.
Now, if your campaign is under 10,000 recipients and exhibits the qualities of a legitimate sender and not a spammer, we'll automatically push the remaining portion of the campaign through SendGrid after you hit Gmail's limits.. You won't have to wait for your Gmail quota to reset, and you won't keep getting flooded with "You have reached a limit" bounces.
If your account has a high reputation with us, meaning it's long-standing and your deliverability metrics are good, we might "push" the remainder of your campaign through our internal SMTP server if you hit your account's limits. For example, if you're sending a 5,000 person campaign, and your account sends the maximum of 2,000/day, after the first day when 2,000 emails are sent natively through Gmail, our algorithm might select your campaign to send the remaining 3,000 emails instantly over our SMTP server. (You also have the power to turn this re-routing off.)
Similar to #1, if your account has a good reputation with us, and your campaign hits your Gmail limits earlier than expected, as is often the case with new Gmail accounts with little history with Google, we might also select your campaign to be pushed through our internal SMTP server.
You can connect your own SMTP server to your GMass account, and then using your Gmail account with the GMass Chrome extension, you can send virtually unlimited emails this way, using your Gmail account interface. This feature allows you to send an unlimited number of emails from your Gmail account.
If you connect an SMTP server to your account, you can then choose which campaigns are sent natively vs which are sent via the SMTP server. You can also set your account so that when you send natively over Gmail, if you hit a limit, the remainder get rerouted to the SMTP server you connected.
If you don't connect an SMTP server and your campaign hits its limits and it's not automatically selected by our algorithm to push the remainder over SMTP, our support personnel might hand pick your campaign to finish sending over SMTP if it's of a non-commercial nature.
If your campaign hits its limits and never sends over SMTP, we will simply distribute the email volume over multiple days until all emails are sent.
Finally, sometimes you can break your own account limits just by trying. The 500/day and 2,000/day for Gmail and Google Workspace accounts, respectively, doesn't always hold true. Sometimes Google will give you more than the standard limits. If your campaign is close to finishing but GMass stops it from finishing because of the limit, we'll also give you a link to click to ignore Gmail's limit and send it anyway, naturally through your Gmail account, and not through an external SMTP server. For example, if you're a Google Workspace user and you send a campaign to 2,100 people, and we stop sending at 2,000 to respect your limits, you can try sending the remaining 100 right now. You can also choose to permanently ignore Gmail's limits and in that case, for all of your campaigns, we'll never stop them when they hit limits, unless we detect that Google is bouncing your emails because of the this.
FAQ on pushing your remaining emails over our SMTP server
What's the secret formula to getting pushed through SendGrid?
We can't say, but we have a pretty sophisticated and accurate way of determining whether a campaign is opt-in.
What about the deliverability advantage of Gmail?
When GMass automatically pushes a campaign via SendGrid rather than Gmail, the email is no longer going through the Gmail's deliverability servers, but our recent data shows that the IP of the sending server is less relevant than it used to be for email deliverability purposes.
Inbox placement has more to do with the actual sender, the domain's reputation, and the content of the email, rather than the sending IP. Meaning, we've been noticing that if half of a 5,000 recipient campaign sends through Gmail, and the other half sends through SendGrid, the open rates for each batch of 2,500 are around the same.
However, to ensure that we're not compromising your campaign's deliverability by re-routing it through SendGrid, we'll show you your campaign's open rates, broken out into TWO groups — the chunk of emails sent natively via Gmail, and the the batch sent via SendGrid.
Here's an example of what you'll see in a campaign report:

I don't want my email campaigns automatically pushed to SendGrid. How do I stop it?
You can set this in your Settings, and we'll set your account to never use this new capability.
A special trick you can try, but that I haven't tested
If you're a Google Workplace customer, you can configure your account to use Gmail's own SMTP relay server (smtp-relay.gmail.com) and send 10,000 emails per account per day with a maximum sending capacity of a whopping 4,600,000 emails per day across all of your Google Workplace accounts. Don't believe me? Google states it right here.
What happens if you exceed your Gmail account limits?
If you're logged into Gmail, and your account is at its limit, this is what happens when you hit the Send button:
If you're using any kind of external app to send emails through your Gmail account, the app will be able to successfully connect to your account and place the email in your Sent Mail folder, however the email won't actually send. Instead, you'll get a bounce notification indicating the email hasn't been sent because your over your limit.
The other kind of Google limit
There's another kind of Google limit which some Gmail accounts hit that isn't directly related to how many emails you've sent but rather how quickly you sent them. This is called a "rate limit" error, and you'll know if you've sent emails too fast because you'll see this error when you try to send:
Google.Apis.Requests.RequestError User-

rate

 

limit

 exceeded. Retry after 2021-01-16T07:28:21.855Z (Mail sending) [429] Errors [ Message[User-

rate

 

limit

 exceeded. Retry after 2021-01-16T07:28:21.855Z (Mail sending)] Location[ - ] Reason[rateLimitExceeded] Domain[global] ]
This is a Gmail API error. Meaning, you won't see this error during the regular course of using your Gmail or G Suite account, but you might see this error in warning messages when sending mail merges or cold email campaigns with Gmail. If GMass encounters this error when sending one of your campaigns, we pause your campaign for an hour and add a delay to your campaign. Meaning, your campaign will resume sending in an hour, but this time, there will be a 5-10 second space in between emails.
How can you tell how many emails you've sent over the last 24 hours?
Gmail doesn't provide an easy way of determining how many emails you've sent over the last 24 hours, other than looking at your Sent Mail folder and manually counting, but GMass calculates this for you and displays it. Click the Show usage button in the GMass Settings box to see how many emails you've sent over the prior 24 hours. This will help you determine how many emails you can send at any given time.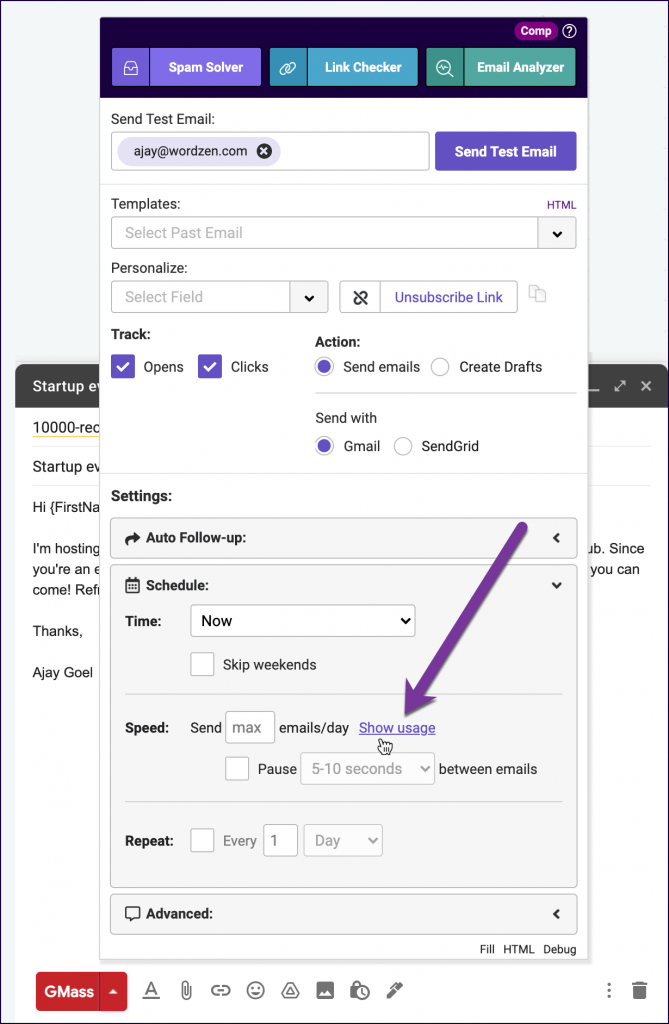 How does GMass manage your account's sending limits?
You can send a mail merge campaign through GMass to several thousand email recipients in one go. GMass employs several methods for sending large campaigns through your Gmail account:
GMass will automatically distribute your email campaign over multiple days to avoid exceeding your account's limits. For example, if you have a Google Apps account, where your limit is 2,000 sent emails/day, and you want to send a campaign to 10,000 people, GMass will evenly distribute your campaign at 2,000 emails/day for 5 consecutive days.
GMass counts how many emails you've sent through your account over the past 24 hours when calculating how many emails in your campaign can be sent right now. Let's say that you've sent 15 "regular" emails through your G Suite account in the last 24 hours using the blue Gmail Send button, and now you're sending a 2,500 person campaign. GMass will send 1,985 emails now, and 515 emails 24 hours later. In cases where you're mixing send types, sending some campaigns natively with Gmail and sending some campaigns over SMTP, GMass will count only the emails sent natively through your Gmail account when determining where you fall within your Gmail account's limits.
GMass will pause sending of your email campaign when it detects that you've exceeded your account limits. It does this by analyzing the number of your sent emails over the prior 24 hours and scanning for bounce notifications in your account that indicate you're over your limit. When this happens, GMass will pause your campaign and retry in one hour.
How can you re-send emails to addresses that bounced because you were over your limit?
If you received the dreaded bounce that is "from" mailer-daemon@gmail.com with the Subject "You have reached a limit for sending mail", you probably want to resend your email to the recipients that resulted in this bounce.
Fun fact: In the summer of 2019, Gmail changed the From Address associated with these "over limit" bounces. They used to come from nobody@gmail.com but now they come from mailer-daemon@googlemail.com.
In most cases, GMass will automatically re-queue these specific email addresses for your campaign. That means you don't have to take any action, and when it's determined that your account can send again, or if your campaign gets re-routed to an external SMTP server, then these addresses that bounced the first time will subsequently get your email.
In certain situations though you may want to manually re-send your email to the email addresses that bounced.
Using the GMass segmentation tool, doing so is just a matter of a few clicks.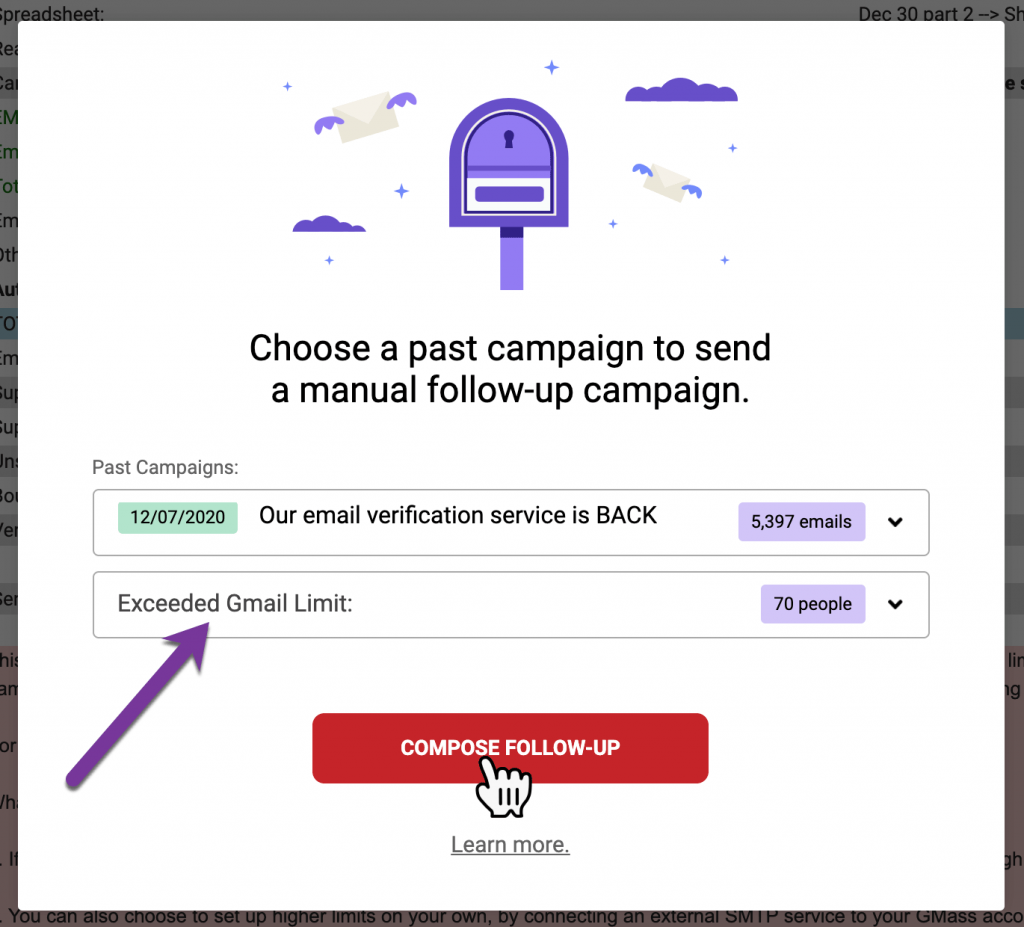 1. Click the red @ button near the Gmail Search bar. This launches the segmentation tool.
2. Choose the campaign from the dropdown that experienced the blocking.
3. Under Behaviors, choose Over Limit.
4. Next click the main COMPOSE FOLLOW-UP button.
5. A Gmail Compose window will launch and the To field will be filled with the addresses you want to send to, the addresses that previously blocked your campaign.
6. Next load the content of your campaign by clicking the GMass Settings arrow and choosing your original campaign from the Campaigns dropdown. Your Subject and Message will be set.
7. Lastly, ensure all other GMass Settings are how they should be, such as Tracking of opens and clicks, and make sure the Schedule is set to the desired time of sending.
8. Finally, hit the red GMass button to send. Your campaign will now go to the email addresses that blocked you the first time.
You may also be interested in best practices to avoid over-limit bounces in Gmail.
Those are the fundamentals of Gmail's and Google Apps' email sending limits and how GMass navigates those limits to allow you to send large mail merge campaigns. Remember that you can use the GMass unlimited sending feature to avoid these limits altogether.