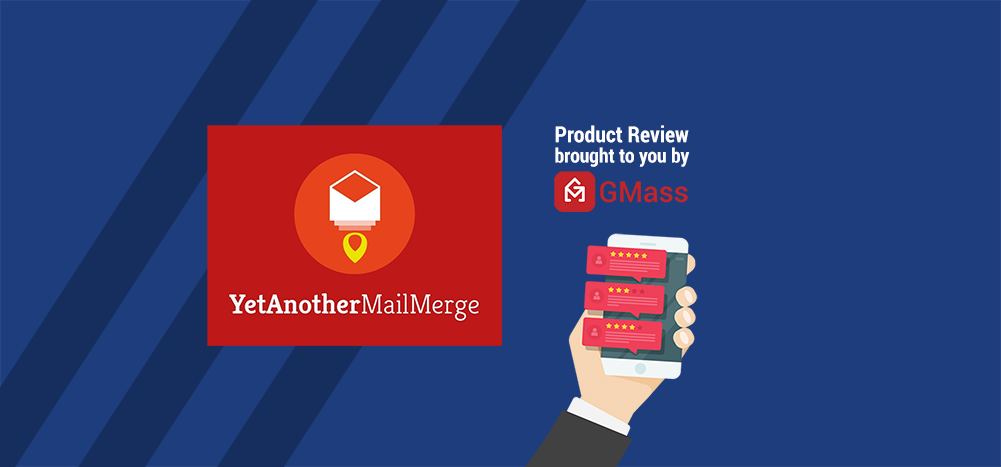 Is Yet Another Mail Merge the right email marketing platform for you?
This Yet Another Mail Merge review will help you find out if it's a good fit for your email marketing campaign needs or not.
I'll cover its features, the Yet Another Mail Merge pricing plans, and its drawbacks to help you make a decision. I'll also highlight the best YAMM alternative in 2020 for all your email marketing needs!
Here's what this Yet Another Mail Merge review contains:
(Click on the links to jump to a specific section)
Let's get started.
What is Yet Another Mail Merge?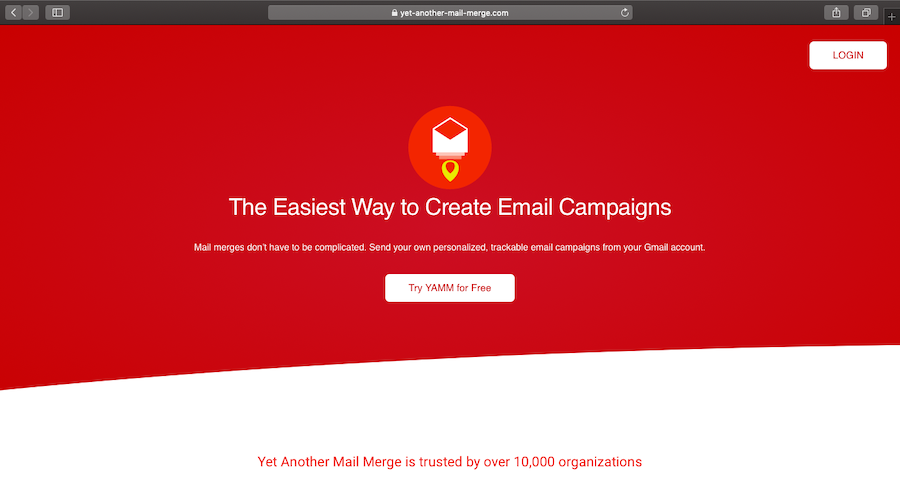 Yet Another Mail Merge (or YAMM) is a Gmail mail merge tool available in the Chrome web apps and the Google Sheets add-on store. It uses the Gmail API to automate tasks and lets you send emails to multiple recipients.
This Google Sheets add-on can run on most browsers except Internet Explorer. But unlike many other browser-based tools such as MailChimp, Yet Another Mail Merge works within Gmail.
It integrates with Gmail G Suite and your Google Sheet to help you send a mass email from the Google platform itself. 
Yet Another Mail Merge Pricing Plans
Yet Another Mail Merge pricing includes:
Individual plans:

Basic: free plan – send up to 50 emails per day for one Gmail account.
Gmail.com Premium: $20/year – send up to 400 emails per day for one Gmail account + scheduling features + tech support.
G Suite Individual: $40/year – send up to 1500 emails per day for one G Suite account + scheduling features + tech support.
3 Key Features of Yet Another Mail Merge
Here's a quick look at the main features of Yet Another Mail Merge:
1. Seamless Email Personalization
Yet Another Mail Merge functions as a powerful mail merge add-on that lets you send personalized emails to multiple recipients to boost email engagement.
To send personalized emails in YAMM, you can add recipient data from a Google Sheets file to a YAMM email template. However, your Google Sheet must be properly formatted for mail merge to work.
How do you format each merge field correctly?
Each row in the spreadsheet should contain the records in your email list, and each column should be a personalization label, like:
First name
Company name
Address
These labels act as placeholders for the recipient data in individual emails that YAMM adds automatically. This way, you can use YAMM to send customized emails to your email list easily.
2. Extensive Email Template Library
Like other mail merge tools, Yet Another Mail Merge has an extensive template library that makes composing bulk email a piece of cake.
Instead of creating another mail merged email for each campaign, just use a premade email template from the YAMM library. You can also create a custom template in Google Docs and then use YAMM to import the Google Doc to Gmail.
Once your YAMM template is ready, you can then perform a mail merge with Gmail to personalize your email. For added flexibility, the tool also lets you use templates to send notification emails whenever someone submits a Google Form.
3. Send and Track Email Campaigns
Sure, Yet Another Mail Merge lets you send personalized email campaigns to hundreds of prospects with its mail merge feature.
However, that isn't all.
You can also use YAMM to track your campaign's performance to analyze deliverability and identify improvements for future email campaigns. However, your campaign will be tracked only if you've enabled tracking for it.
Once you've enabled email tracking in YAMM, a tracking report is auto-generated each time you send a campaign.
This report includes various metrics, like:
Email open rate: the percentage of emails opened in a specific campaign.
Click through rate: the ratio of recipients who clicked a link in the email to the total number of recipients who opened the email.
Bounce rate: the percentage of emails that were undelivered in a specific campaign.
This tracking report will automatically open up on your spreadsheet's right sidebar after you send a campaign.
The 3 Drawbacks of Yet Another Mail Merge
While Yet Another Mail Merge is a great tool, it isn't perfect.
Here are the three main disadvantages of using YAMM:
1. Email Tracking Is Complicated to Use
While YAMM tracks many useful email metrics, the email tracking function can be complicated to use.
Why?
This happens due to several reasons:
Receipts (tracking records) are only stored for the past ten days
Yet Another Mail Merge only stores records for up to ten days. If you sent your campaign 20 days ago but didn't open the Google spreadsheet reports within the ten-day period, you won't be able to retrieve those records.
Tracking isn't automated
Remember, to track a campaign, you must enable tracking when you start mail merge. If you forget to do this, your campaign won't be tracked once you hit the send button — preventing you from analyzing your mail merged email's engagement.
Campaign stats aren't available in your inbox
YAMM stores campaign stats in the Google Sheets spreadsheet you link during the mail merge process. This complicates campaign analytics, as you need to keep track of each campaign's unique Google spreadsheet in your Google Drive.
These factors make YAMM's analytics pretty complex to manage!
2. Lacks Support for Mobile Devices
Mobile accessibility is essential for any email marketing professional today!
Why?
You need to be able to track emails on the go and have access to your mail merge tools anytime, anywhere.
However, Yet Another Mail Merge does not yet support mobile apps. Whether you need an iPhone, iPad, or Android app — YAMM doesn't have it.
3. Can't Bypass Gmail Sending Limits
Yet Another Mail Merge does not integrate with third-party apps like SendGrid to bypass Gmail mail sending limits.
Its sending quota only allows you to send 400 individual emails per day with a Gmail account, and 1,500 emails per day on a G Suite account.
These sending limits are extremely low for mass email campaigns — which severely limits your campaign engagement and potential conversions.
The Best Yet Another Mail Merge Alternative
While Yet Another Mail Merge is a good email marketing platform, it has several drawbacks.
Luckily, GMass is a great tool that can take care of all of those challenges!
What is GMass?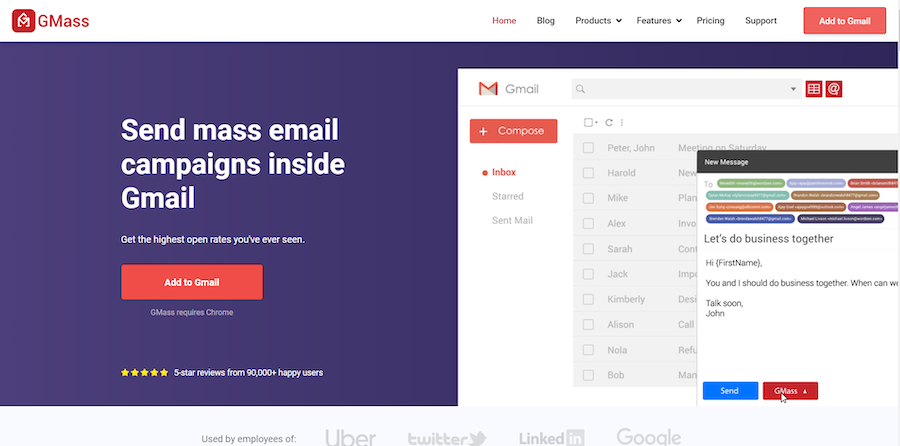 GMass is a powerful email marketing platform for Gmail users that lets you send and manage email campaigns within your Gmail inbox. Its mail merge features have made it a popular outreach tool used by employees from giants like Twitter, Google, LinkedIn, and Uber.
However, GMass isn't just for sending a massive email marketing campaign!
This mail merge tool is also used by institutions, clubs, churches, solopreneurs, and small businesses to create and send emails to a target audience!
GMass helps you:
Track email campaigns automatically.
Send emails and campaigns to multiple recipients.
Personalize individual emails for your entire email list.
Schedule multiple emails in advance.
The best part?
Getting started with GMass is super easy — just download the GMass Chrome extension from the Chrome add-on store and sign up with your Google account.
It's that simple!
Why GMass is Better than Yet Another Mail Merge
Here's a look at the features that make GMass the perfect YAMM alternative:
GMass auto-generates a Campaign Report after you send an email campaign. It highlights real-time email stats to help you analyze your campaign engagement with ease. This way, you get all your stats without worrying about manually setting up anything before your mail merge.
The Campaign Report includes stats like:
Total Recipients: The number of email addresses to which you sent your email campaign.
Unique Email Opens: The number of unique email addresses that opened your email.
Note: GMass only tracks unique email opens for accurate email metrics. If a recipient opens the same email twice, the report won't show these as two different email opens and inflate your results.
Didn't Open: The number of recipients who did not open your email.
Unique Clicks: The number of unique email IDs to click on at least one link in your email.
Replies: The number of recipients who replied to your email.
Unsubscribes: The total number of recipients who unsubscribed from your emails.
Bounces: The total number of emails undelivered as they were sent to invalid email addresses.
Rejections because your Gmail account is over-limit: The total number of emails that were not delivered as you reached the email sending limit of your Google account.
Blocks: The number of emails undelivered as the email ID marked your Google account as spam.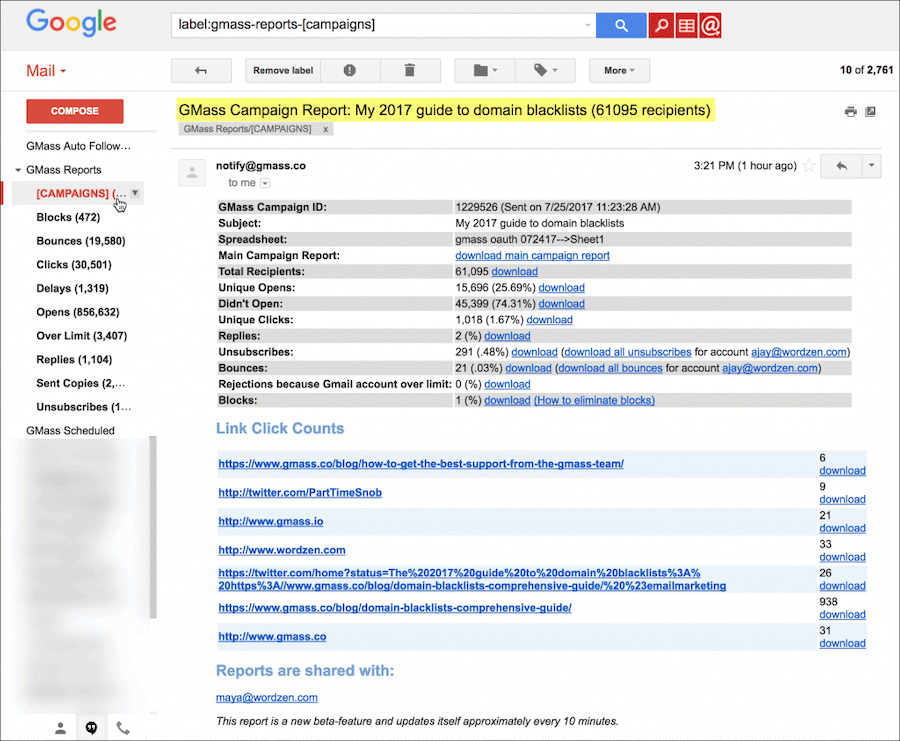 What's more …
Unlike most other email applications like Yet Another Mail Merge, GMass displays the Campaign Report right inside your Google inbox. Instead of opening a separate interface or spreadsheet to check your reports, you can quickly access them from the Gmail sidebar!
2. Gmail Add-on for Mobile Accessibility
Thanks to its Gmail Google add-on, you can instantly access GMass from any of the Android devices you use.
How does this help?
After installing the add-on, you can use GMass on any Android phone while you're on the move.
You don't need your computer to manage your email marketing or merge tool anymore. Just log in to your Gmail account to access all your GMass email campaigns on any device!
Unlike Yet Another Mail Merge, GMass doesn't limit the number of emails you can send every day.
How?
GMass can integrate with third-party services like SendGrid to bypass the Gmail mail sending limits. In fact, the GMass team uses this integration to send newsletters to over 400,000+ recipients!
What's more …
GMass offers mail merge and email campaign features in all its pricing plans (including the free version). No matter what your budget or company size is, you can send bulk email campaigns!
5 Other Handy GMass Features
Sometimes you need to send follow-ups to boost your campaign engagement.
However, this can be tedious and time-consuming when you're sending tons of mass emails.
Imagine manually following up on hundreds of prospects!
Luckily, GMass automates the process of sending follow-up emails to help you engage your prospects.
Instead of manually sending each follow-up, you can automate them with several customizations like:
The trigger for sending a follow-up email in Gmail.
For example, when a customer opens your email, you can send them a follow-up instantly.
The number of follow-ups sent to each person.
The time period between each follow-up email.
The content of the follow-up email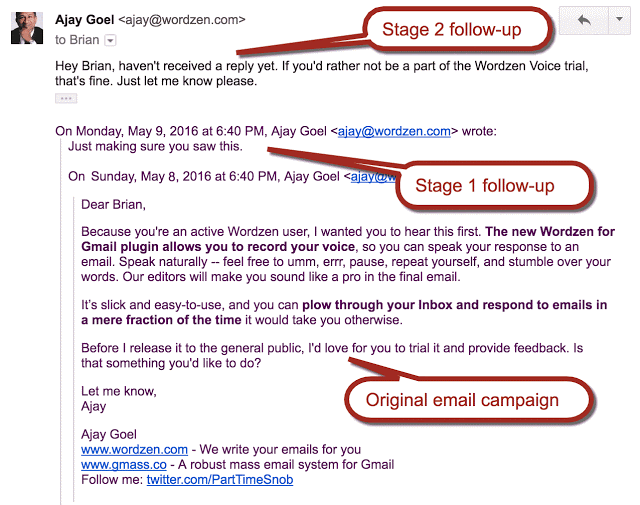 If you want better email conversions, you need to send personalized emails in your outreach campaigns.
Think about it.
What are you more likely to engage with:
Generic mass marketing emails?
Or customized emails that cater to your individual needs?
However, you can't manually create hundreds of customized emails!
That will take you forever!
Luckily, GMass automates this process for you.
And unlike some other tools, you won't have to create a separate Google Apps script, Microsoft Word document, or Excel spreadsheet for this!
Here are the step-by-step instructions for creating mail-merged emails in GMass:
Add all your recipient data to a Gmail Google Sheets file.
Connect it to GMass.
A pop-up window displaying your Google spreadsheets appears.
Select the corresponding Google Sheet from a drop-down menu to import data.
Use personalization tags to insert recipient data to your email quickly.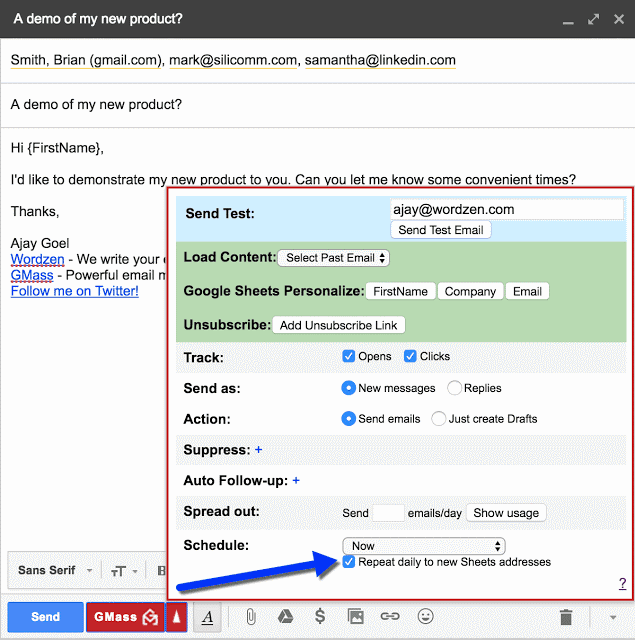 But that's not all.
You can even personalize your email draft with additional features like:
Personalized blocks of text: send customized emails by personalizing entire blocks of text for your recipients.
Automatic First-Name Detection and Entry: GMass can auto-detect the first name of your recipients (including your Google contacts) from their email address.
Customized Images and Links: send customized emails by adding custom images or URLs for each email recipient.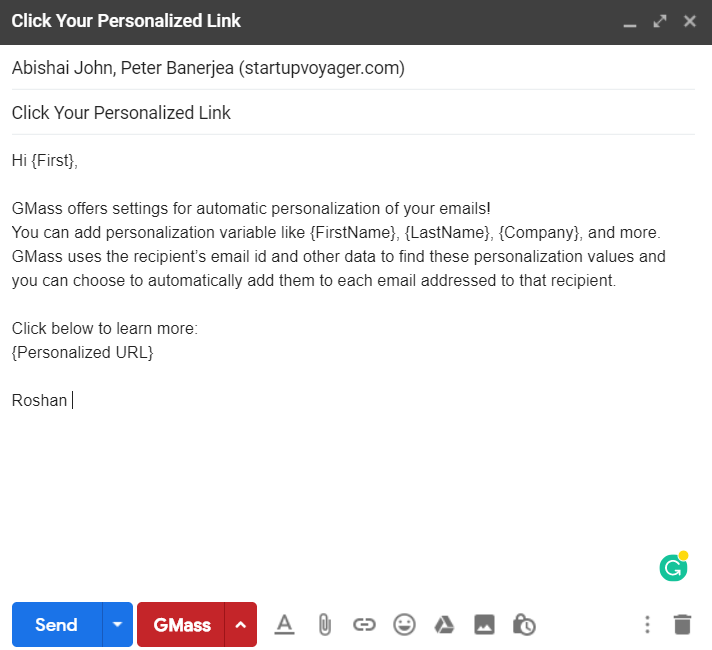 Note: If you prefer using a Microsoft Excel sheet or a Word mail merge, check out this simple tutorial for step-by-step instructions on how to do it in GMass.
GMass supports instant scheduling for every email marketing campaign.
How does this help?
Prospects are more likely to engage with customized emails that are sent when they're checking their inbox.
However, to send each email manually at the right time, you'd have to be online 24/7!
Luckily, GMass makes it easy to schedule bulk email for a large contact list.
Just create your email draft and schedule the sending time.
GMass then automatically sends the email at the set time — you don't need to be online when the emails sent!
What's more …
Rescheduling email messages is a piece-of-cake. If there's any change in schedule, you can easily reschedule each email draft right from your Google Drafts folder!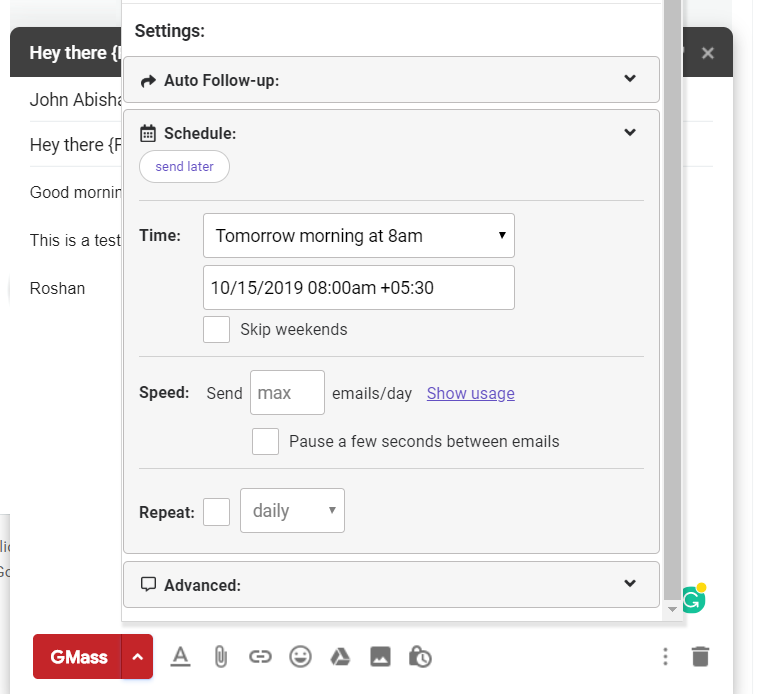 Custom tracking domains help you boost your email deliverability.
How?
Most spam filters categorize certain domains as spam. If your email is sent from one of these flagged domains, they'll be immediately filtered into your recipient's spam folder.
Luckily, GMass makes it super easy to create a custom domain that you can use specifically for sending email campaigns. This way, as it's a personalized domain, it won't be flagged, and your campaign deliverability significantly improves!
5. User-Friendly Pricing Plans
GMass' affordable pricing plans offer tons of features at a very user-friendly price point.
Here's a closer look:
Free version: supports automated email tracking for 50 emails/day + all the other features.
Individual Plans:

Minimal: $8.95/month – unlimited email tracking + all features except auto follow-ups.
Standard: $12.95/month – offers "Minimal" features + removes GMass footer for sent emails.
Premium: $19.95/month – offers "Standard " features + auto follow-ups.

Team Plan:

Premium: starts at $89/month for a team of 5 and includes all features.
Don't have a credit card?
No problem!
GMass accepts payments by PayPal as well!
Conclusion
Sure, Yet Another Mail Merge is a great tool, but it's far from the perfect email marketing software.
As seen in this Yet Another Mail Merge review, YAMM's email tracking features are complicated to use, and its campaign sending limits are too low for many businesses!
Why settle for that when you have a superior mail merge tool like GMass instead?
GMass gives you tons of powerful features for all your email marketing needs.
So why not download the GMass Chrome extension today and try it out for yourself?
Ajay is the founder of GMass and has been developing email sending software for 20 years.