Finding the best cold email automation software for your unique needs can be challenging — especially since it's a bit different than hunting for general cold email software.
You'll have to check for essential features like automatic email personalization, bulk scheduling, and auto follow-ups. You'll also have to test the tool to see if it's easy to use and suitable for your team.
To help you out, I'll cover what features to look for in cold email automation software.
I'll then share my top 12 picks for cold email automation tools, walking you through their key features, pricing, and customer ratings.
Cold Email Automation Tools: Table of Contents
(Click on links to jump to specific sections)
Let's get started.
7 Key Features You Should Look for in Cold Email Automation Tools
Here are seven features your cold email automation software will need:
Automatic Email Personalization: Cold emailing is a volume game, so the functionality to automatically personalize your sales outreach emails is a must-have to boost conversions.
Mass Email Scheduling: Engaging with leads in different time zones will be challenging without the ability to schedule emails.
Email Analytics Reports: You should be able to analyze your cold emails' effectiveness by tracking vital email metrics like open, click-through, reply rates and more.
Email List Builder: The functionality to build a targeted email list makes it easier to email tons of prospects at once.
Automated Follow-Ups: You can improve recipient engagement by automating your follow-up email process.
A/B Testing: With split testing, you can efficiently work your way to cold emails with a high conversion rate.
CRM Integration: Syncing your cold email tool with a CRM gives you a holistic picture of prospect details and interactions.
12 Great Cold Email Automation Software Picks for 2022
Here's my hand-picked list of the 12 best cold email automation software: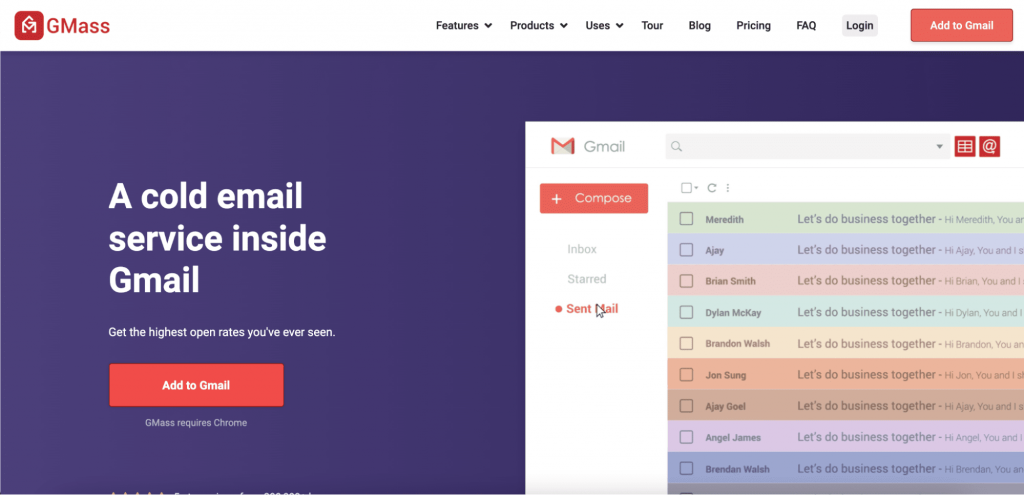 GMass is a powerful cold email outreach and automation software that works inside Gmail.
Its robust cold emailing capabilities and ease of use make it the go-to cold email tool for salespeople, marketers, small business owners, and even employees at large companies like Google, Uber, and Twitter.
Curious about what GMass offers you?
Let's find out.
GMass Key Features
Here are five key GMass features that make it perfect for your cold outreach needs:
Your prospect's inbox is probably flooded with outreach emails. That's why sending a generic cold outreach email won't cut it.
You'll need to personalize the outreach message based on the prospect's unique persona and interests. This makes the email relevant to the prospect, improving your chances of receiving a response.
But isn't personalization time-consuming?
Not when you're using GMass!
With GMass, you can create an automatically personalized email campaign easily.
You can add personalized: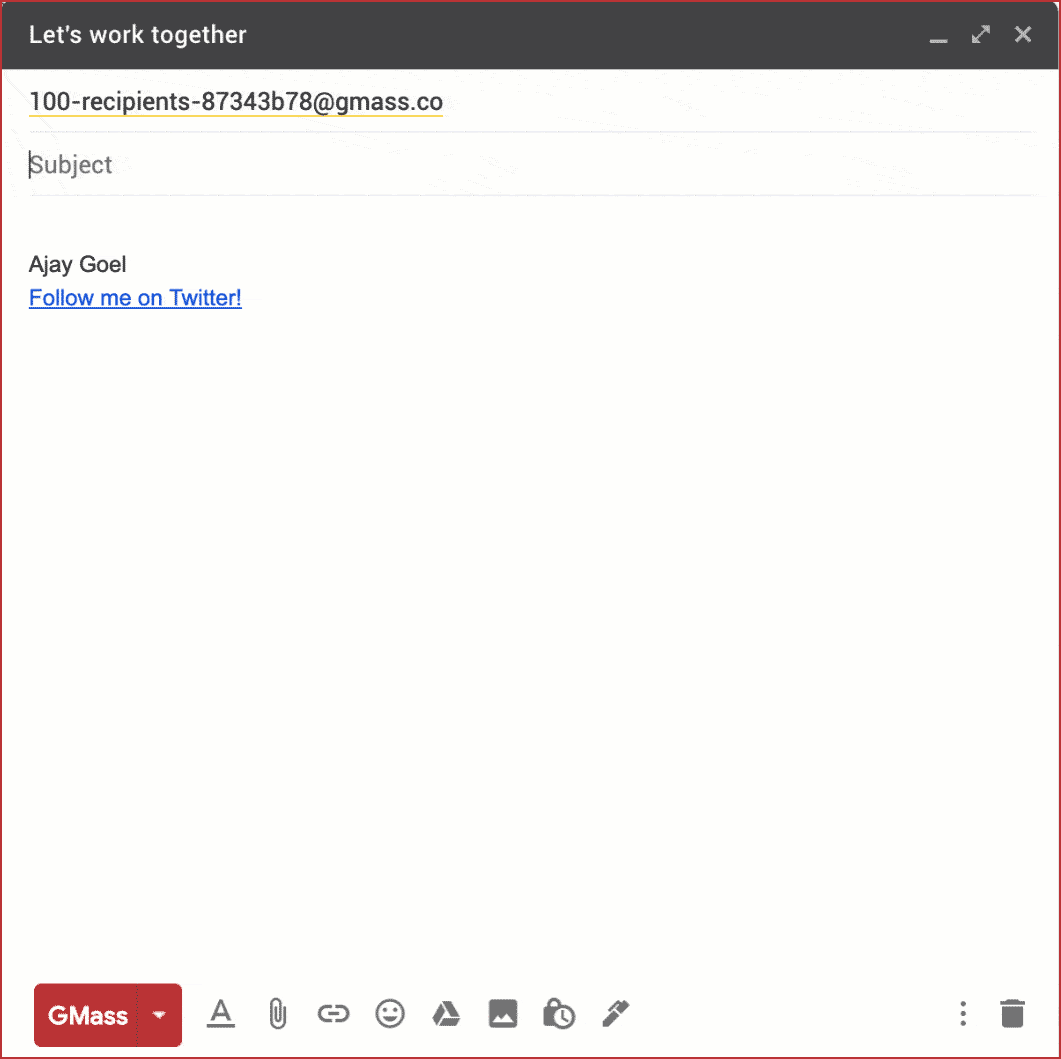 GMass lets you schedule your cold email to go out at a future time automatically. You can choose from pre-configured dates/times or enter a custom date/time. This way, your email will reach the recipient's inbox when they're likeliest to read your email.
Should your plans change, you can quickly reschedule the email from the Gmail "Drafts" folder.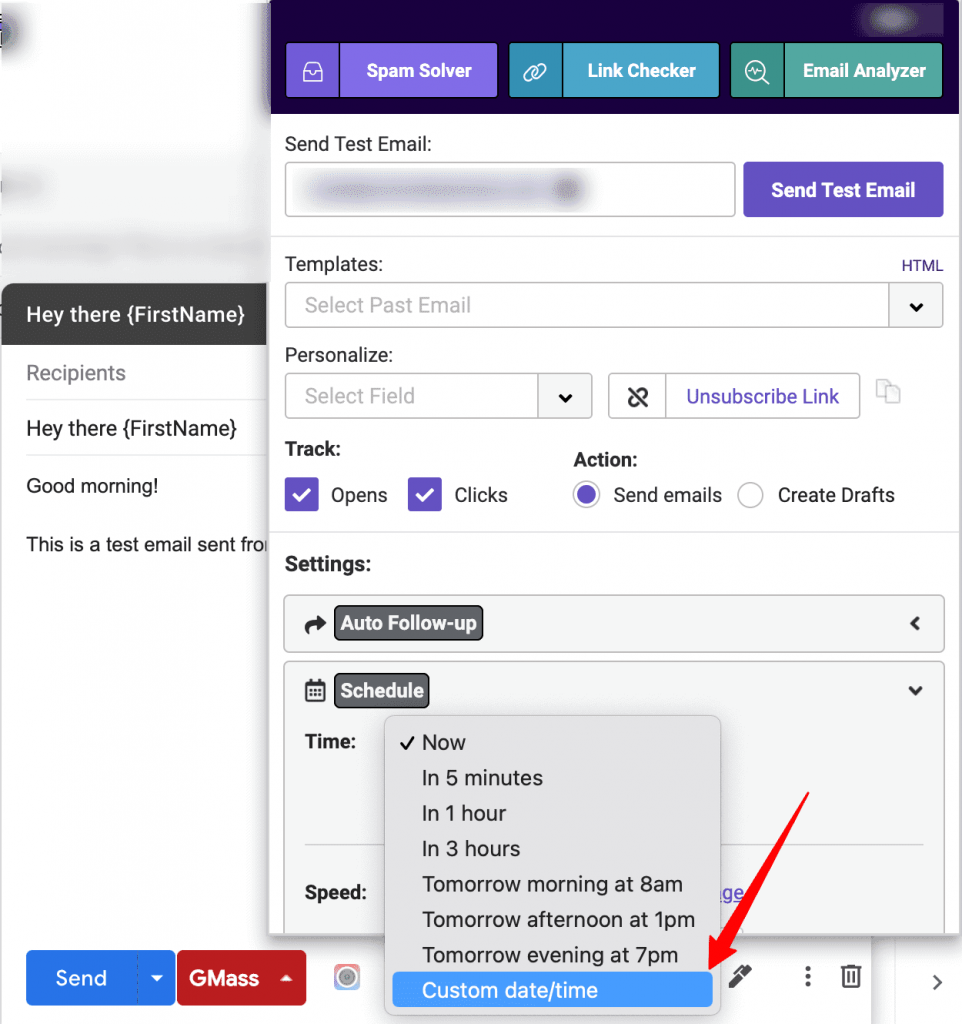 In most cases, only a few leads will engage with your first cold email.
But that doesn't mean cold emails are ineffective.
Instead, it means that you need to follow up on your initial conversation — a study reveals that just one additional follow up email can increase your response rate by 65.8%.
However, managing the follow-up process is tedious if you've got a long contacts list.
Is there an easier way to follow up with leads?
There is!
In GMass, you can easily set up an automatic workflow to follow up till a potential customer replies.
And the best part is that you can personalize everything about these follow-ups, including the:
Follow-up triggers.
Number of follow-ups.
Time interval between follow-ups, and more.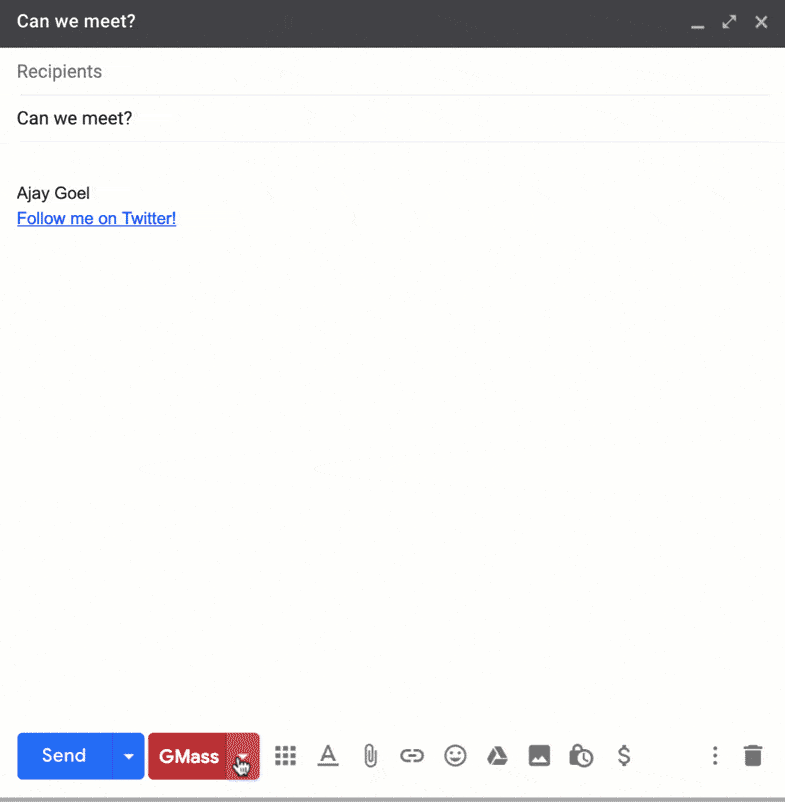 When cold emailing a potential client, there's no guarantee your emails will work.
But to understand the effectiveness of your cold emails, you'll need to measure email performance metrics.
Fortunately, every time you send a cold outreach email with GMass, a detailed Campaign Report gets auto-generated in your Gmail inbox.
The report shows crucial metrics like your:
Open Rate: Number of unique recipients who opened your cold email.
Reply Rate: Number of unique recipients who replied to your cold email.
Click Rate: Number of unique recipients who clicked a link inside your cold email.
Bounce Rate: Number of cold emails that went undelivered due to invalid addresses.
Unsubscribe Rate: Number of recipients who opted out of your cold email campaigns.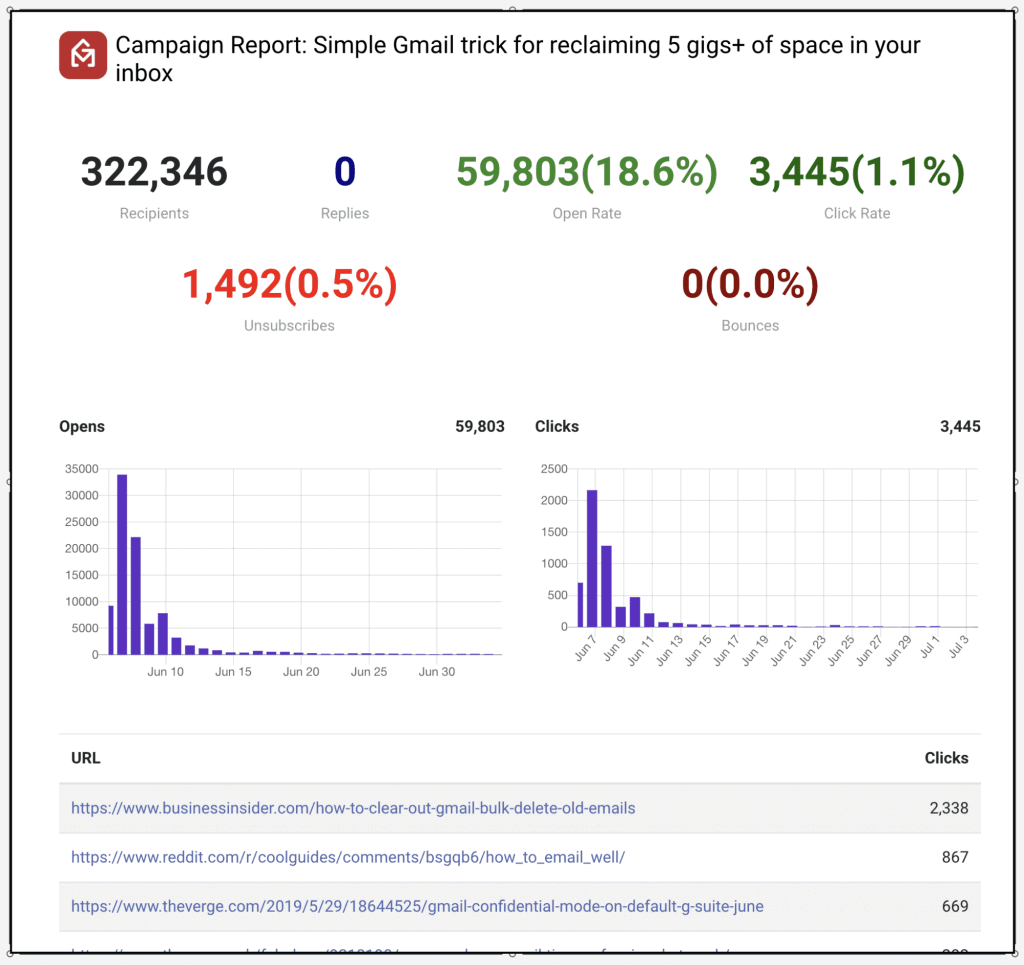 Emailing your cold leads one by one is inefficient.
A better approach is to build an email list of your leads and send them a targeted cold email campaign.
But how exactly do you build the email list?
In GMass, building your email list is as simple as doing a Google search. Just head to your Gmail account and search for keywords related to your target audience. GMass will then automatically compile an email list from your Gmail search results.

Want to know what more GMass can do for you?
Let's take a look at five of GMass' other robust features:
GMass provides multiple pricing options to suit different customer needs. There's a robust free plan offering all features but a limit of 50 emails per day. Paid plans begin at $19.95/mo (or $199/yr) for individuals or start at $125/mo for teams of five.
GMass Customer Ratings
Capterra: 4.9/5 (770+ reviews)
G2: 4.7/5 (750+ reviews)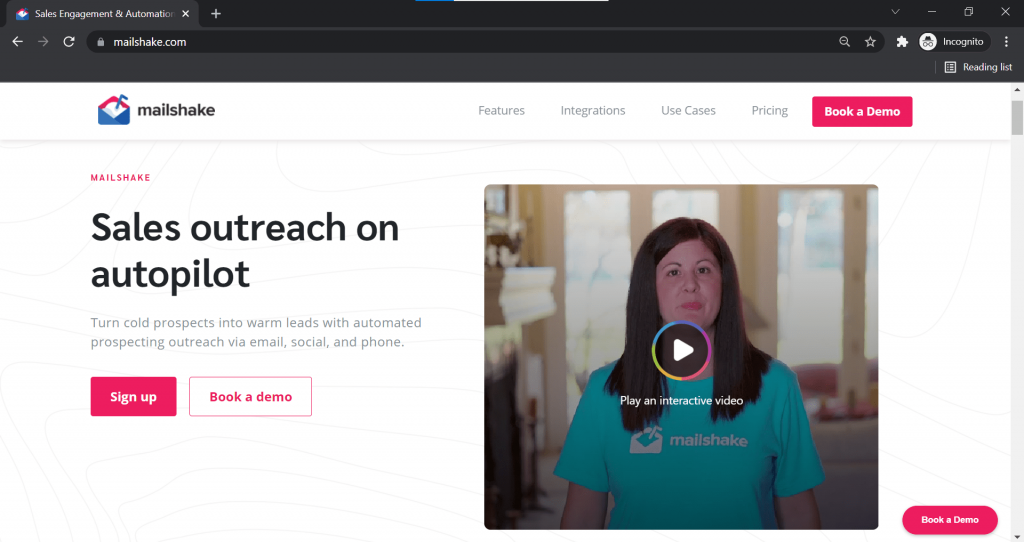 Mailshake is a cold email automation tool and sales engagement platform to connect with your prospects.
Mailshake Key Features
See which part of your email sequence converts best by monitoring email opens, replies, clicks, etc.
Integrate with CRM software like Salesforce, HubSpot, and Pipedrive.
Use the "Email Copy Analyzer" to boost readability and deliverability.
Mailshake Pricing
Mailshake offers an Email Outreach plan at $59/user per month, with features like email personalization and automated email sequences. It also provides a Sales Engagement plan at $99/user per month, supporting social selling features. There is no free trial; you'll have to sign up to try it out.
Check out our comparison of the campaign creation process in Mailshake, GMass, and Lemlist.
Mailshake Customer Ratings
Capterra: 4.7/5 (90+ reviews)
G2: 4.7/5 (150+ reviews)
3. PersistIQ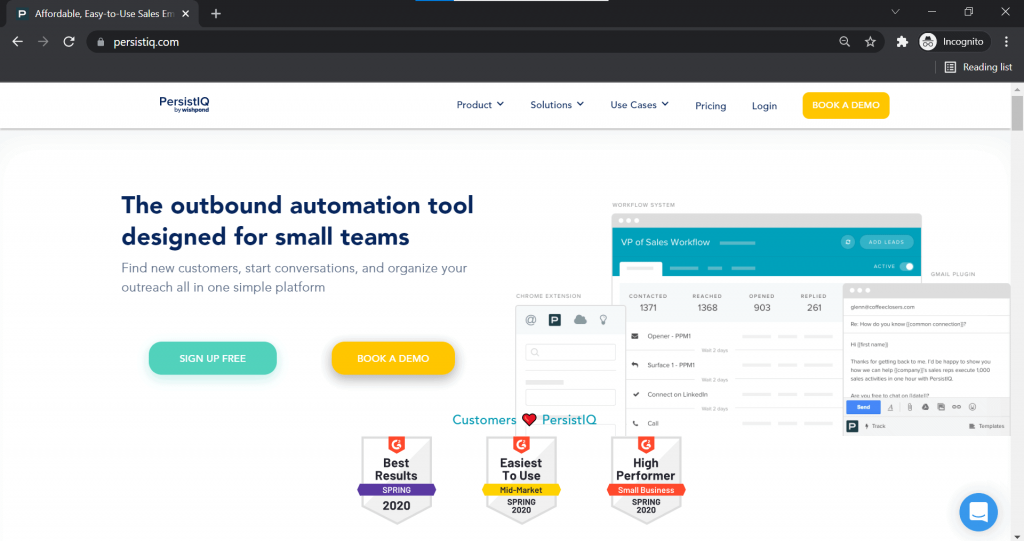 PersistIQ is a cold email outreach tool designed to help small teams find, approach, and convert prospective customers.
PersistIQ Key Features
Find your prospects' email addresses with the LinkedIn email scraper.
Log your sent and received emails automatically to the Salesforce CRM.
Create a personalized cold email quickly using template variables.
Access your cold email template library directly from the Gmail inbox.
PersistIQ Pricing
The tool's paid plans (starting at $75/user per month) support A/B testing, an unlimited number of prospects, and a Chrome / Gmail extension.
PersistIQ Customer Ratings
Capterra: 4/5 (20+ reviews)
G2: 4.7/5 (250+ reviews)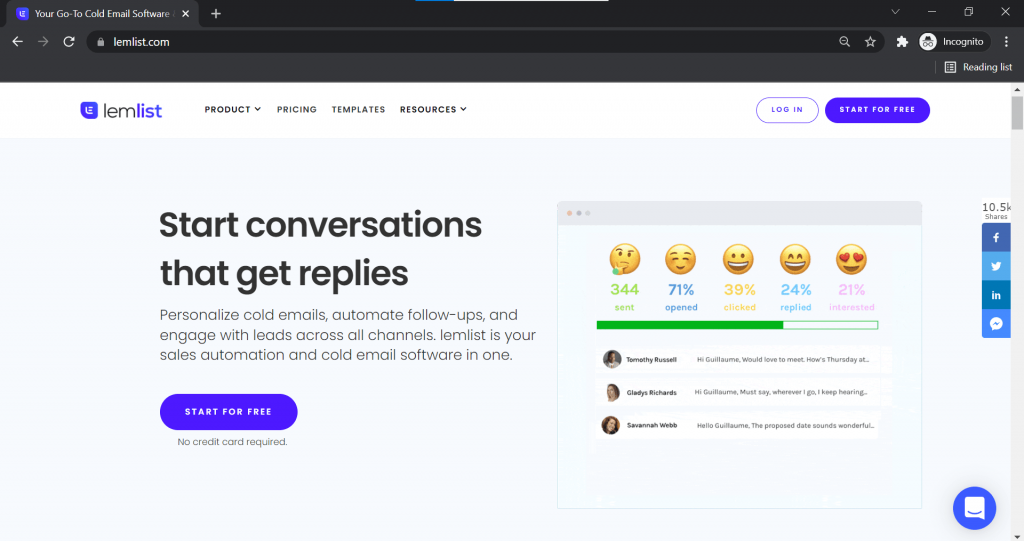 Lemlist is a cold email marketing tool with sales campaign automation and multi-channel engagement capabilities.
Lemlist Key Features
Personalize images in your cold email with company logos, screenshots, etc.
Incorporate LinkedIn messaging and cold calls into your outreach flow.
Connect with Gmail, Outlook, or any other email provider via SMTP.
Lemlist Pricing
Their Email outreach plan ($59/user per month) allows you to personalize images and schedule emails. Additionally, they have a Sales engagement ($99/user per month) plan supporting cold calling and dynamic landing pages.
Lemlist Customer Ratings
Capterra: 4.6/5 (320+ reviews)
G2: 4.3/5 (80+ reviews)
5. HubSpot Sales Hub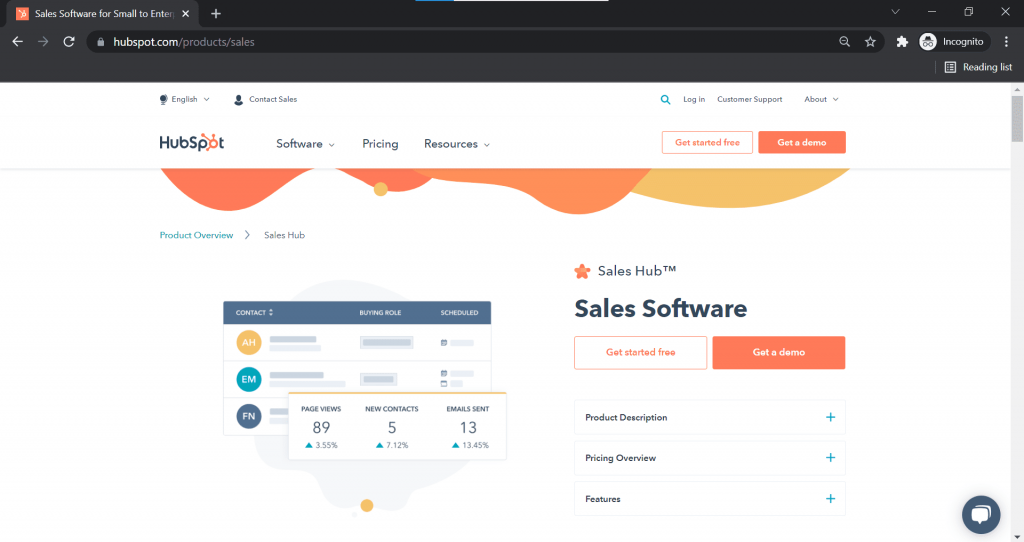 HubSpot Sales Hub is an outbound sales and cold email platform offering deep insights into your prospects and helping you automate the email outreach process.
HubSpot Sales Hub Key Features
Personalize your cold email template with CRM data.
Know when leads open your emails so you can follow up promptly.
Set up a follow up email sequence to stay on top of the prospect's mind.
Optimize your cold email outreach campaign with A/B tests.
HubSpot Sales Hub Pricing
HubSpot's free plan helps with email tracking and scheduling. Its paid plans (starting at $50/month) support email templates, click notifications, and customizable workflows.
HubSpot Sales Hub Customer Ratings
Capterra: 4.5/5 (300+ reviews)
G2: 4.4/5 (8000+ reviews)
6. QuickMail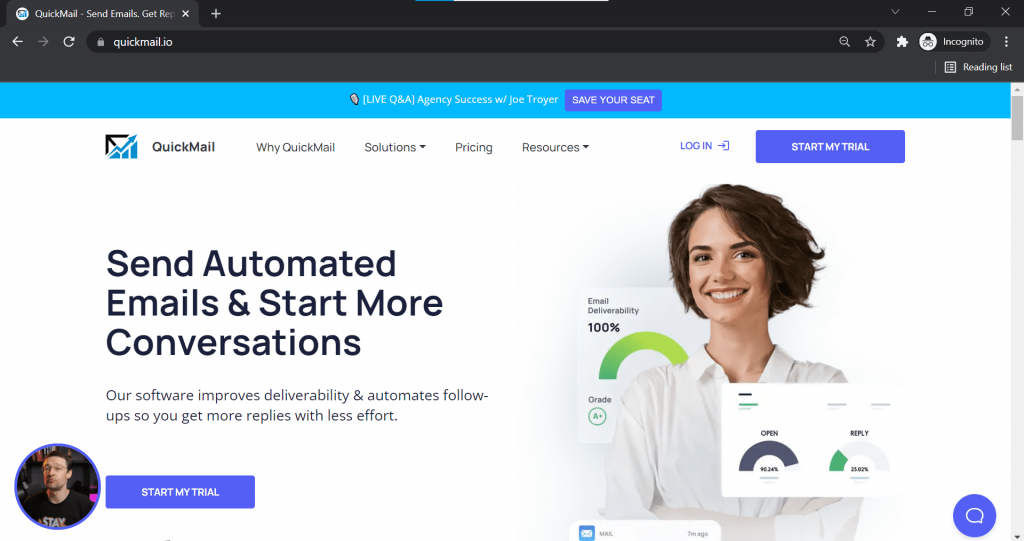 QuickMail is a cold email software solution that helps you maximize your email deliverability and response rate through auto follow-up capabilities.
QuickMail Key Features
Use inbox rotation to send your cold emails automatically from multiple inboxes without triggering the spam filters.
Manage cold email campaigns for multiple clients from the same account.
Check the "Audit Log" to see the changes made by team members to your cold email campaigns.
QuickMail Pricing
QuickMail paid plans (starting at $59/month) support multi-touch email campaigns, automated follow-ups, a Zapier integration, and more.
QuickMail Customer Ratings
Capterra: 4.8/5 (20+ reviews)
G2: 4.7/5 (50+ reviews)
7. Reply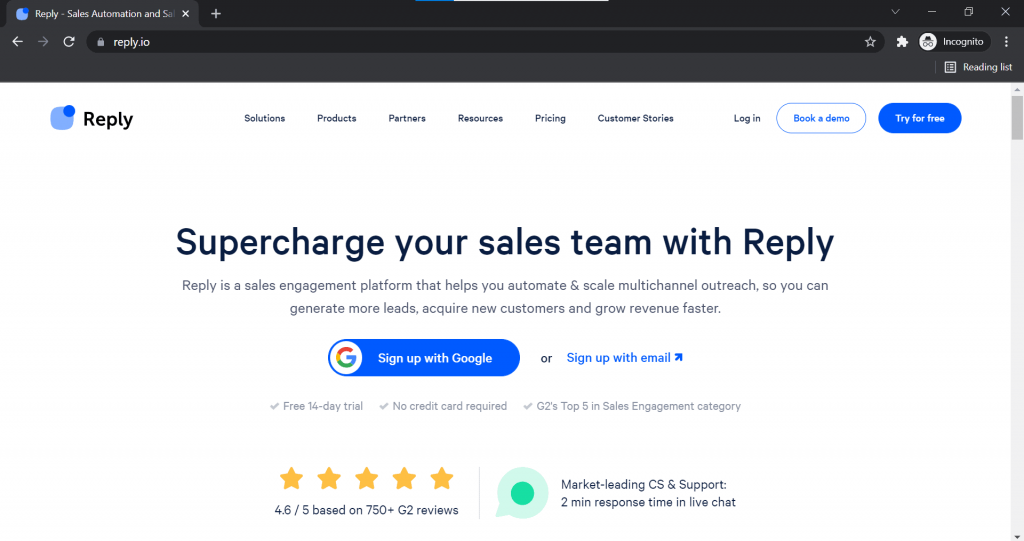 Reply is a sales enablement tool that can automate your cold emails and LinkedIn outreach messages to reach out to potential customers.
Reply Key Features
Import your prospects' email addresses from LinkedIn and LinkedIn Sales Navigator.
Evaluate the effectiveness of your cold email copy using AI-powered text quality scoring.
Collaborate on your email campaigns and prospects with team members.
Sender better cold emails using email quality checks and A/B testing.
Reply Pricing
Reply's paid plans (starting at $70/email account per month) support up to 1,000 contacts a month and offer unlimited sequences and CRM integrations.
Reply Customer Ratings
Capterra: 4.6/5 (90+ reviews)
G2: 4.5/5 (790+ reviews)
8. Salesloft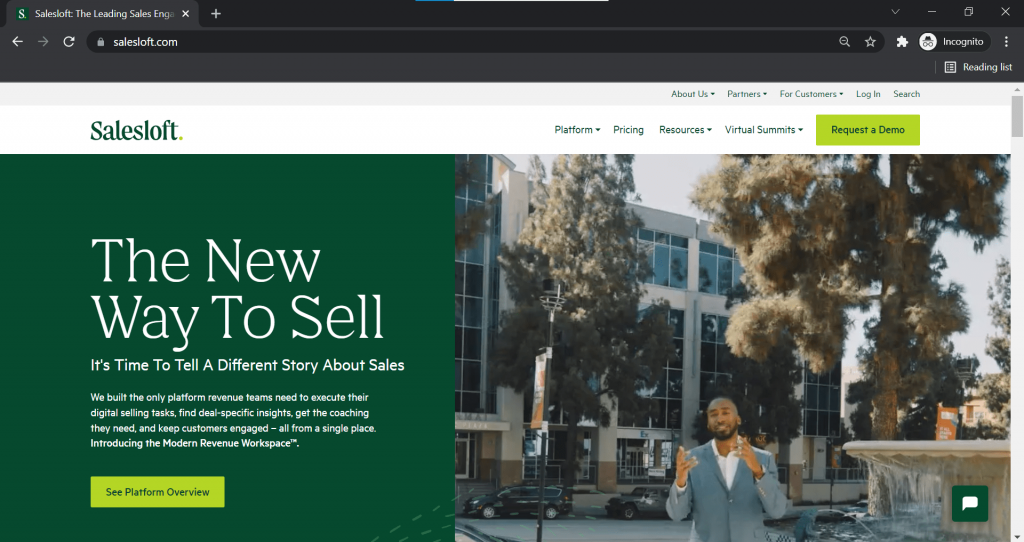 Salesloft is a sales engagement platform that allows you to automate lead interactions across phone, email, and social media.
Salesloft Key Features
Detect the recipient's time zone automatically to reach the right inbox at the right time.
Know how many recipients have opened or replied to your cold email messages.
Verify your email addresses automatically to avoid sending spam emails.
A/B test your personalized email variants to discover which marketing email offers the best conversion.
Salesloft Pricing
Contact their sales team for a custom quote.
Salesloft Customer Ratings
Capterra: 4.3/5 (160+ reviews)
G2: 4.5/5 (2850+ reviews)
9. Streak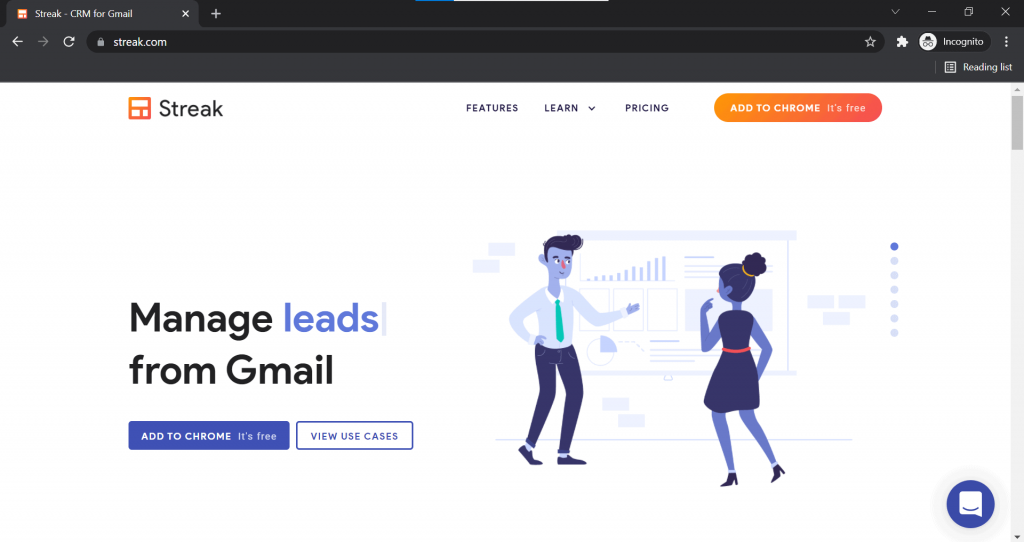 Streak is a CRM system and cold email software solution you can use to manage your customer relationships and send your sales campaign via Gmail.
Streak Key Features
Import your prospect data from a Google Sheet or CSV file.
View email tracking information directly in your Gmail inbox.
Pin important emails at the top of your inbox based on specific criteria.
Link together the email communications of different teams to keep everyone on the same page.
Streak Pricing
Streak's free plan provides email tracking and automatic email sharing capabilities. Its paid plans start at $19 per user per month for 5,000 CRM contacts and 800 emails per day.
Streak Customer Ratings
Capterra: 4.5/5 (410+ reviews)
G2: 4.5/5 (150+ reviews)
10. ContactMonkey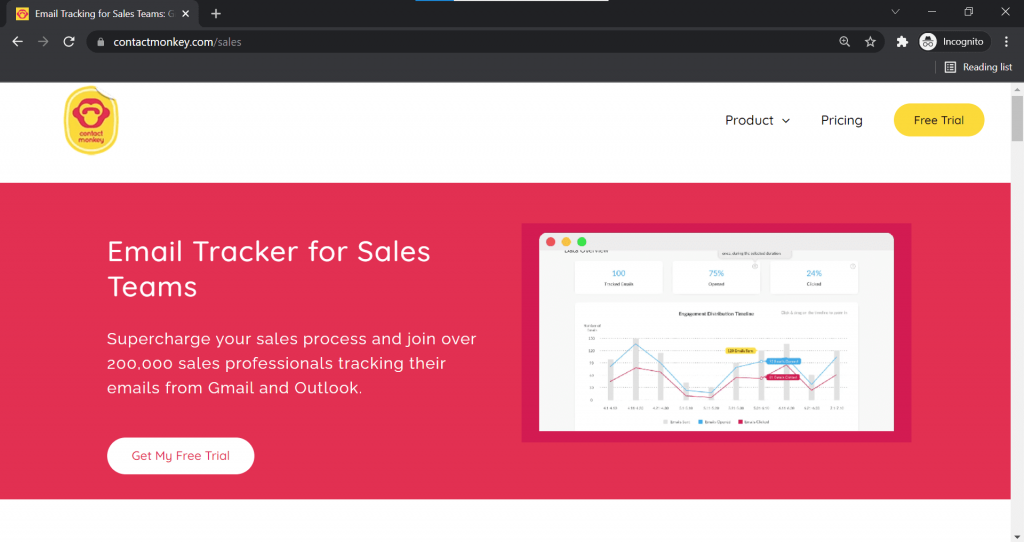 ContactMonkey is a cold email outreach and email tracking software solution you can use with your Gmail or Microsoft Outlook accounts.
ContactMonkey Key Features
Get notified instantly when a prospect opens your cold email or clicks on a link inside.
Use mail merge to create a personalized cold email campaign in Gmail or Outlook.
Schedule your emails to reach prospects at their peak hours.
Share the best-performing email templates with your sales team.
ContactMonkey Pricing
ContactMonkey's paid pricing options are only available on request.
ContactMonkey Customer Ratings
Capterra: 4.1/5 (80+ reviews)
G2: 3.7/5 (60+ reviews)
11. Overloop
Overloop is an all-in-one CRM system you can leverage to find email addresses, run cold email campaigns, and improve customer engagement.
Overloop Key Features
Build personalized drip campaigns for your prospect list.
Automate your email follow-ups to engage with leads at scale.
Track your email open rate, click rate, and other metrics in real-time.
Search in bulk for the email addresses of multiple prospects.
Overloop Pricing
Overloop pricing starts at $42 per month, which gives you 50 email finder credits and five workflows.
Overloop Customer Ratings
Capterra: NA
G2: 4.3/5 (60+ reviews)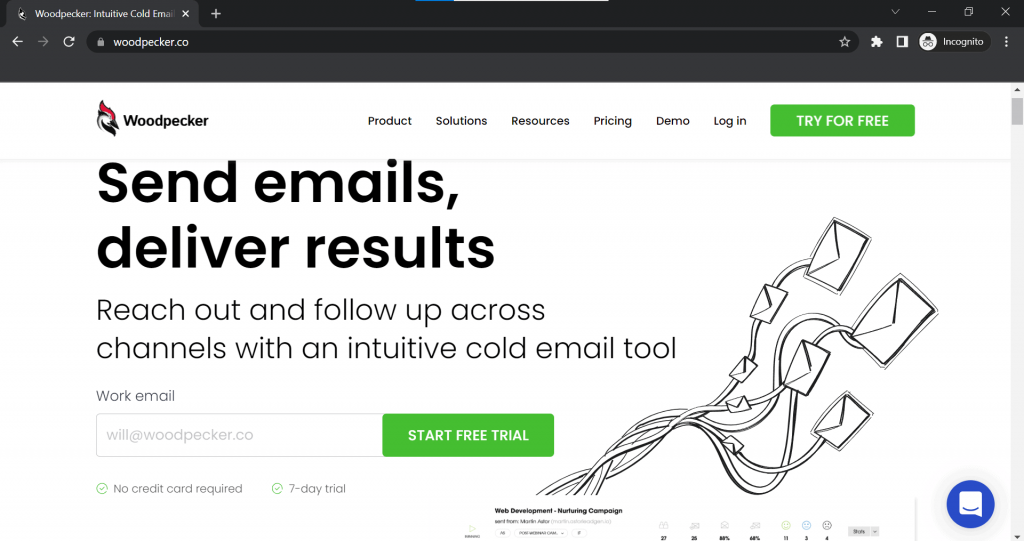 Woodpecker is a cold outreach and email marketing tool that makes it easy to approach leads and follow up with them across multiple channels.
Woodpecker Key Features
Validate your recipient email addresses in real-time and protect your sender reputation.
Send in-thread follow-ups to provide context and boost your reply rate.
See who's interested in your cold email campaign with AI-based interest detection.
Use outreach cadences combining email, LinkedIn, and call.
Woodpecker Pricing
Woodpecker's cold email pricing plan starts at $39/month per email account and offers unlimited email follow-ups, email open detection, and other features.
Woodpecker Customer Ratings
Capterra: 4.8/5 (10+ reviews)
G2: 4.4/5 (30+ reviews)
Cold Email Automation Tools: Final Thoughts
With cold email automation, your sales team can engage tons of leads simultaneously.
And while picking the best cold email software solution for your needs is anything but easy, a great place to start is GMass.
Whether you work for a large company or own a small business, GMass is one of the best cold email software out there. Its cold outreach and marketing automation features help you send mail merge campaigns, schedule mass emails, automate follow-ups, and do so much more.
Why not try GMass today and simplify your cold email automation efforts?
See why GMass has

300k+

users and

7,500+

5-star reviews

Email marketing. Cold email. Mail merge. Avoid the spam folder. Easy to learn and use. All inside Gmail.

TRY GMASS FOR FREE

Download Chrome extension - 30 second install!
No credit card required
Love what you're reading? Get the latest email strategy and tips & stay in touch.