Want to learn about CRM emails and how they can help you? 
Email marketing no longer involves sending generic emails to as many recipients as possible.
Professional email marketers understand that it's about each individual lead — and how you have to personalize marketing emails to their particular needs and interests.
And one of the quickest ways to do this is by using CRM email marketing tools.
In this article, I'll talk about what CRM emails are and their key advantages. I'll also cover how you can overhaul your CRM email marketing campaign for maximum engagement.
This Article Contains:
(Click on a link to jump to the specific section.)
Let's get started.
What is CRM Email Marketing?
CRM email marketing refers to the integration of CRM tools within your email marketing campaigns. This helps you create personalized and engaging emails for prospective customers and existing customers with ease.
The ultimate goal of CRM email marketing is to build a strong relationship with existing leads and potential customers to ensure you stay top-of-mind with them.
But what is CRM?
CRM (customer relationship management) refers to the practice and software that companies use to manage their sales pipelines, promote positive lead interactions, understand customer insights, and improve business relationships.
Let's now take a quick look at how CRM email marketing differs from traditional email marketing.
How CRM email marketing differs from traditional email marketing
When you check your inbox and see you have emails from an obscure company or a business you signed up with a while back, chances are, you're witnessing a form of traditional email marketing.
Traditional email marketing is typically used to send a generic message to your mailing list, such as for a sale or a promotion. While this is great for quickly reaching out to many people, these emails are usually generic and unengaging.
On the other hand, sending CRM emails is a much more involved process. It focuses on the individual rather than quickly mass marketing to a broader audience.
CRM software, along with an email marketing tool, will help you find new leads and improve engagement with current ones by aggregating, organizing, and analyzing customer data.
The sales team can then use this data to manage the customer relationship better — tracking them through every phase of the sales process, providing relevant content, and facilitating appropriate interactions at each stage.
6 Advantages of CRM Email Marketing
Understanding your CRM data is crucial to improving your email marketing strategy.
That's why most businesses adopt CRM software as a hub for organizing and making sense of valuable customer data and insights. The CRM system then presents this data in a way that's easy to interpret, so you can quickly see the areas that need improving.
As a result, CRM email marketing offers several advantages like:
1. You gain a better idea of who your marketing prospect is
Because CRM software can capture relevant customer data from incoming emails and organize it into one database, it's easier to hone in on each lead's nuances. This ensures you know who your customer is while making it easier to track changes through the sales pipeline.
2. Improve sales by sending the right message to the right customer
With access to various reports and analytics, it becomes far easier to create an email that resonates with a potential customer. In fact, personalized email marketing can generate an ROI of up to 122%!
3. It becomes far easier to find new customers
When you understand your existing audience, it becomes easier for a salesperson to find similar people who fit the mold and could be attractive leads. Additionally, you can use the insights into what existing customers enjoy to adjust your campaign and reach a wider audience.
4. Boosts engagement with existing customers
Having access to all your relevant customer emails under one roof improves your targeted campaign outreach by helping you build on previous interactions and make better connections.
5. Benefit from marketing automation
CRM software offers features that can help sales teams streamline administrative tasks. This automation allows you to spend more time on value-generating activities, such as nurturing leads, instead of admin duties.
6. It's more effective than social media marketing
One study found that email marketing is nearly 40 times more effective than social media marketing. The same survey also revealed that the buying process is almost three times longer when using social media.
However, there are several other reasons email marketing is so effective, including:
a. You can reach more people with email
As of 2020, there are about 4 billion email users worldwide. While there are only slightly fewer social media users, about 3.8 billion, social media platforms are ruled by algorithms — making it far less likely that your message will reach its recipient.
Moreover, social media has extremely low engagement levels compared to email. Just because someone likes your post or leaves a comment doesn't mean that they might be interested in your offerings.
b. It's easier to personalize emails
Email marketing provides a far greater personalization level than many other communication channels. You can customize emails at scale and develop campaigns based on where the lead is in the sales funnel, providing greater control over your marketing efforts.
How to Select the Right Email Marketing CRM for Your Business
The email marketing CRM you need will vary according to your type of business, how you operate, and the kind of customer you target.
So, when deciding which tool to use, ask yourself the following questions:
A. How much complexity do I need?
Initially, you may not need highly complex features. Ensure the tool you decide on is simple enough to help you start using it quickly.
However, it should also be scalable — as when your business grows, you might need more complex CRM functionality.
For example, initially, you may not need your CRM to assist with customer retention challenges or automate many processes. But as you scale up, these features will become increasingly important.
B. In what processes do I currently lag behind?
As your business grows, there will be processes that become necessary. So, the tool you choose must provide additional functionality by improving or creating new processes.
Some of these processes could include sales forecasting, detailed reporting, and marketing automation features such as generating dynamic content.
Your tool should add to what is currently in place and give you the ability to pursue processes you couldn't manage without it.
C. What other software does CRM software integrate with that can help me?
While your CRM must integrate with your email marketing tool, it must also work with your existing workplace software — such as project management, HR programs,  and other marketing tools.
Now that you know what you should look for, you may be wondering:
"Where can I find a solution that's simple to use, easily scalable, and can integrate with a lot of my other tools?"
You don't have to think about it too much, because the answer's right here:
The Best Solution for CRM Email Marketing: Use GMass with Salesforce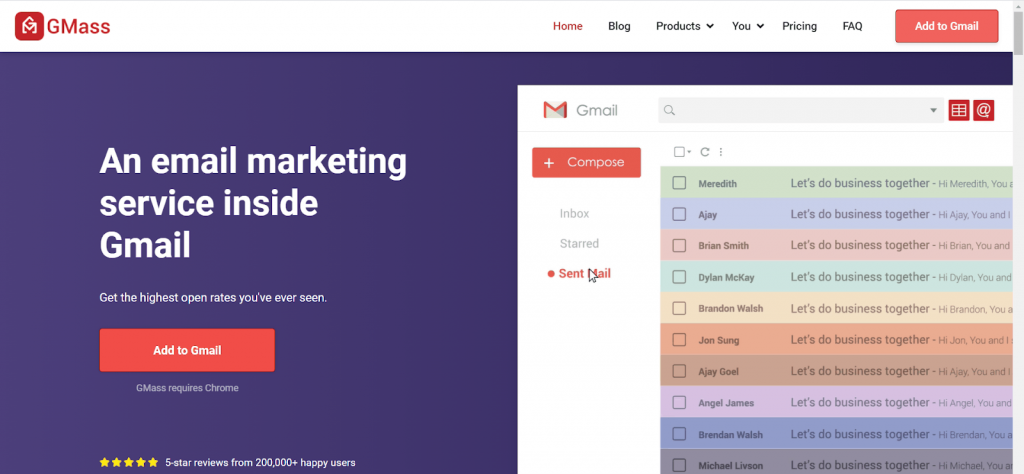 GMass is a powerful email outreach tool that works right inside Gmail. Its exceptional outreach capabilities and ease of use have made it popular among employees in large organizations like Uber and Google and those working at social media giants like LinkedIn and Twitter.
The tool is also a perfect solution for small businesses, startups, and solopreneurs.
The beauty of GMass lies in its ability to operate as a CRM tool as well.
It allows the user to aggregate, organize, and manage their email outreach information in one place. This can help avoid unnecessary costs and complexity when it comes to managing your email marketing campaigns.
What's more…
GMass integrates with Salesforce, one of the most popular CRM tools, to provide users with additional functionality.
This allows the sales team to access a centralized database to review all email communication — which helps reduce redundancy, share data, and improve searchability.
Here's a closer look at how GMass helps you with CRM emails:
A. Integrates with Salesforce
While GMass is a good CRM manager by itself, some users may have more complex CRM needs.
Fortunately, if you're a Salesforce subscriber, GMass integrates with the CRM platform for additional CRM functionality.
Linking GMass to Salesforce is a relatively straightforward process. And once you're connected, Salesforce will automatically log the emails you send via GMass to your Salesforce account.
So all communication you have through GMass will be stored within the Salesforce app — including the recipient names, the time you contacted them, and the content of the email.
This makes it easier to track communication, analyze your marketing campaigns' efficacy, and update existing data.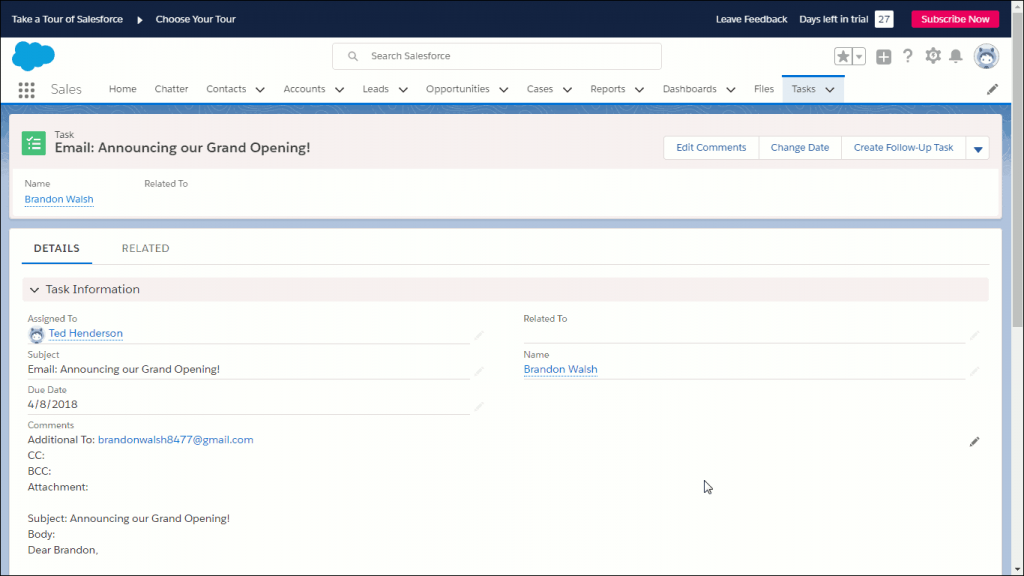 To integrate the two software solutions, all you need is to have accounts with Salesforce and GMass. Then, it's a matter of simply activating the "Email to Salesforce" functionality within Salesforce.
Read my step-by-step guide on how to do that.
Remember, personalizing your emails is critical to having them stand out in your recipient's inbox. Sending personalized emails to specific recipients has been shown to increase revenue by 58%.
However, as important as personalizing emails is, it's impossible to personalize all your email content manually.
Fortunately, GMass can automatically personalize your emails in bulk, personalizing things like: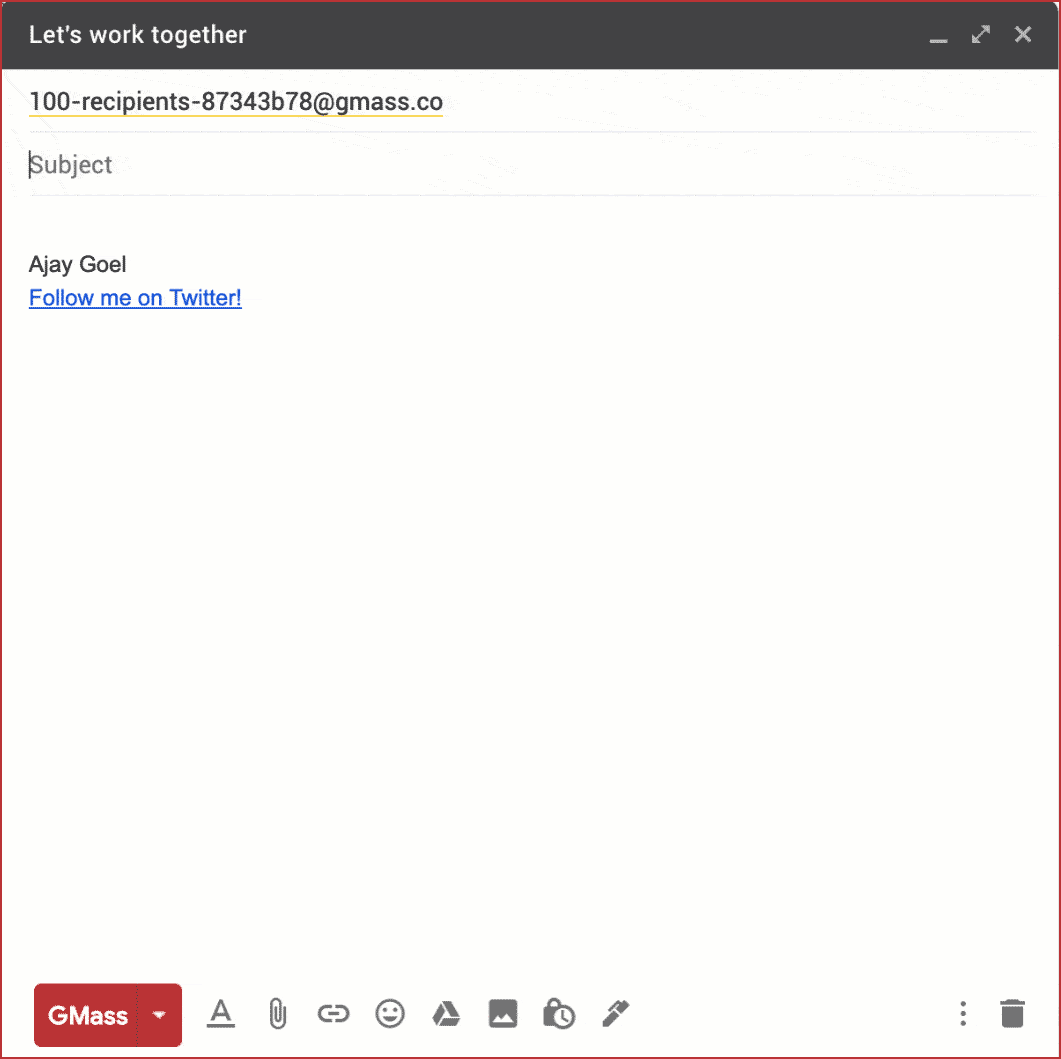 Email marketing involves continually reviewing and improving your outreach strategy. Analyzing detailed campaign reports is an excellent way of doing this.
GMass generates in-depth campaign analytics that you can access within your Gmail inbox, making it easy to identify areas that need improvement.
GMass highlights vital metrics like:
The total number of recipients
How many unique opens and clicks
How many recipients unsubscribed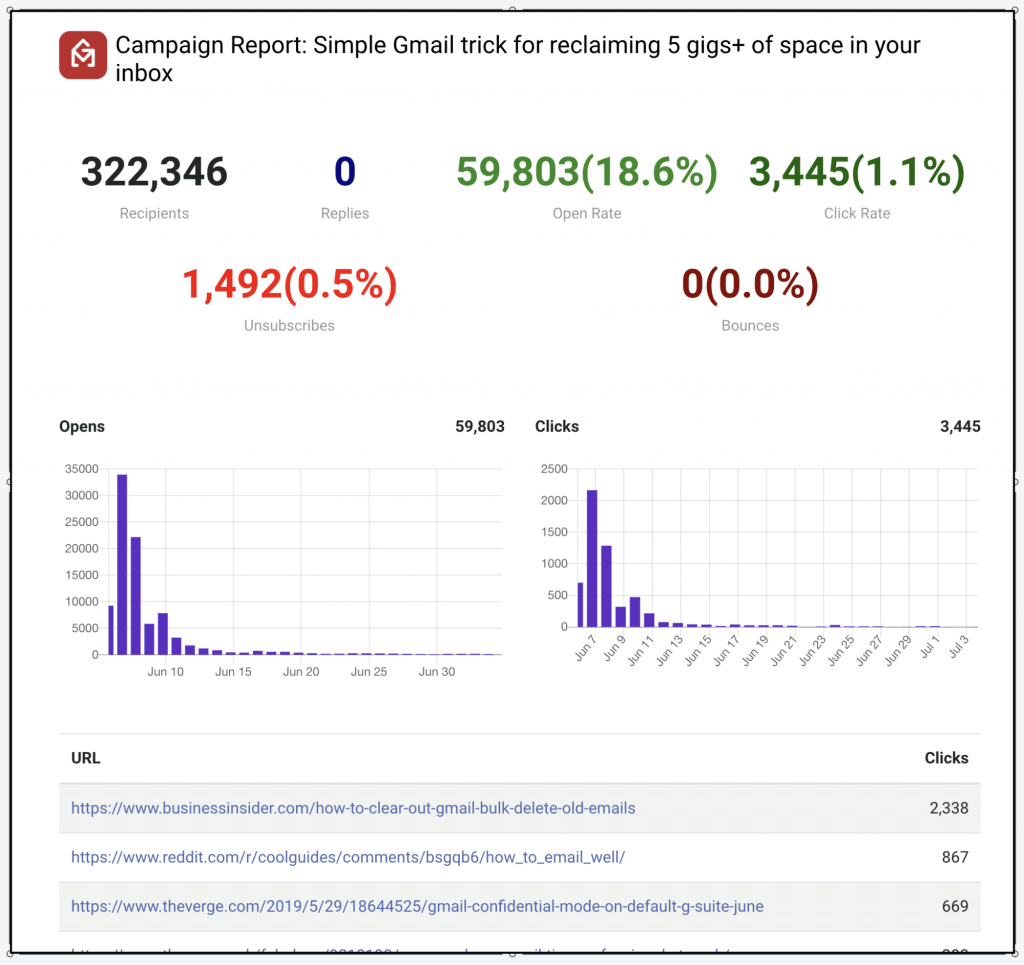 Recipients hardly ever respond to the first email. So if you want to convert a lead into a customer, you need to stay on their radar.
And the easiest way to do this is with a follow-up email.
With GMass, you're able to send automated emails and can even:
Choose the recipient behavior that triggers an automatic follow-up. You can send follow-ups to those who didn't reply, didn't open, or didn't click any included links.
Personalize the content and timing of each follow-up
Add rich text to your emails and more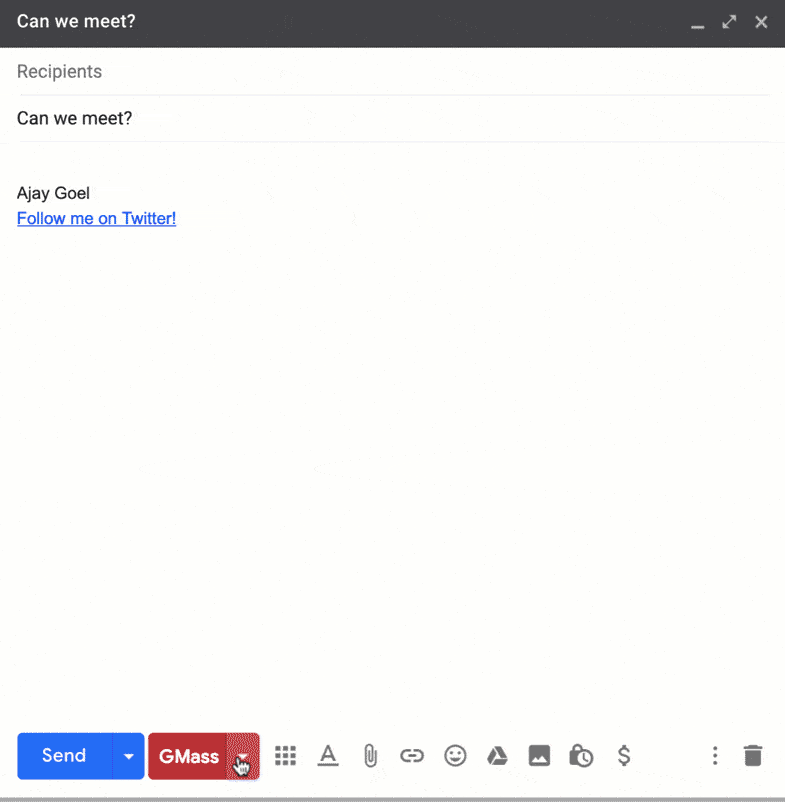 As a sales rep, you must create a comprehensive email list of leads that you plan on converting to customers. However, it's challenging to perform this process manually.
Don't worry.
GMass can streamline the process.
Just enter the keywords relating to your targeted accounts in the Gmail search bar and hit search. For example, if you search for "fish tanks," Gmail will display all emails that contain the term "fish tanks."
Once you have the results, hit the red magnifying glass button, and GMass will automatically build an email list — adding all these email addresses to a new Compose window.

Additionally, GMass integrates with Google Sheets to build your mailing list quickly so that you can send mail merge marketing campaigns right away.
As an email marketer, it's important to ensure that your emails reach their recipients at the right time for your campaigns to have the desired effect.
To make sure this happens, you can schedule messages with GMass.
Just compose the email when you have the time, and select a different time to send it. When that time comes, GMass will automatically send the emails.
And if you need to reschedule the timing of an email, all you need to do is navigate to your Drafts folder inside Gmail and make any changes you need from there.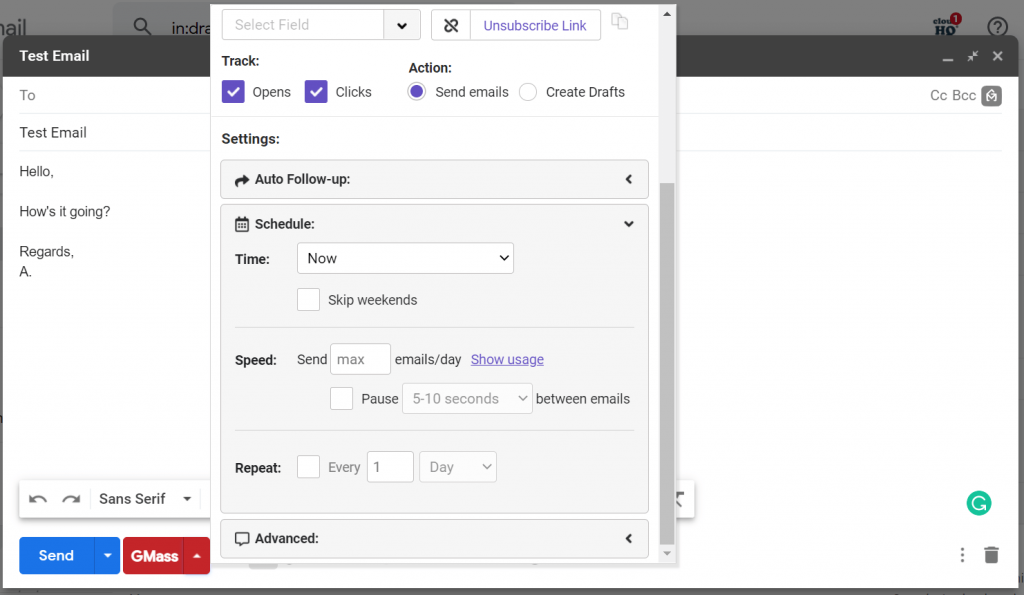 GMass's email deliverability wizard provides data-driven answers to improve your email sending.
For example, you may want to know the answers to questions like:
How does email verification affect deliverability?
Which SMTP services can you use to bypass Google's sending limits?
Does adding a delay to your emails result in a higher open rate?
GMass's email deliverability wizard will help you answer these questions to create the best campaigns with ease.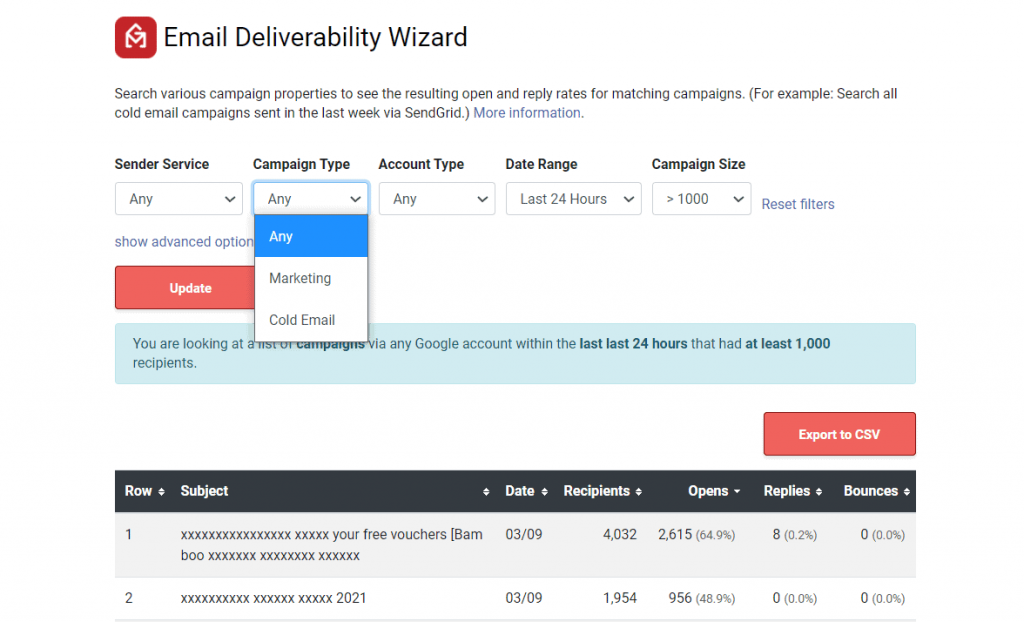 Wrapping Up
CRM email marketing is one of the most efficient ways to track, monitor, and reach qualified leads.
And if you want to take your CRM emails to the next level, consider using GMass.
This powerful Gmail extension can boost your response rates with powerful features like automatic email personalization, detailed analytics and reports, and more.
Additionally, if you need more CRM functionality, just integrate GMass with Salesforce and take advantage of their combined capabilities.
To get started, why not download the GMass extension today?
See why GMass has

300k+

users and

7,500+

5-star reviews

Email marketing. Cold email. Mail merge. Avoid the spam folder. Easy to learn and use. All inside Gmail.

TRY GMASS FOR FREE

Download Chrome extension - 30 second install!
No credit card required
Love what you're reading? Get the latest email strategy and tips & stay in touch.