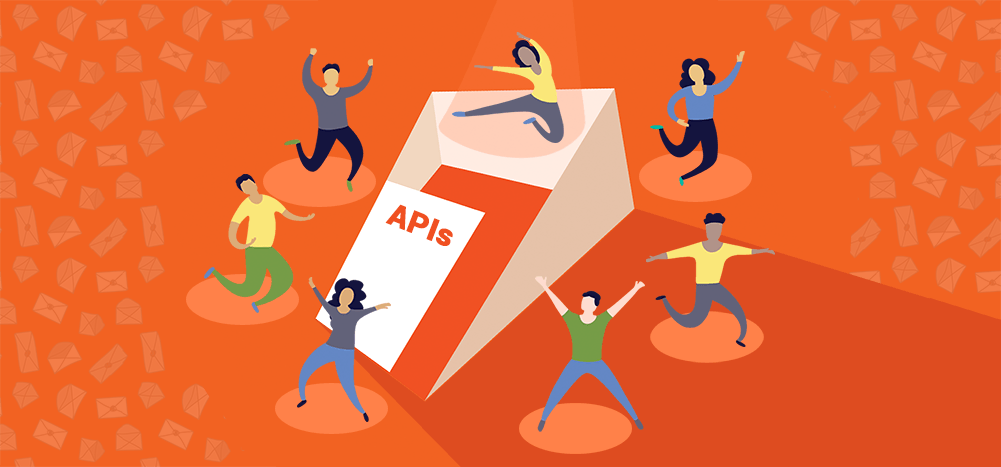 Looking for a dependable email API?
Email APIs help you automate, optimize, and personalize your transactional and marketing emails.
However, with several email API services available, which one should you use?
To help you decide, I've highlighted the top 7 email APIs along with their key features, pros, and pricing details.
This Article Contains:
(Click on the links below to jump to a specific section.)
Let's get started!
What's an Email API?
An API (Application Programming Interface) helps two or more tools interact with each other. With an email API, an application or website can interact with an email service provider to send an email message directly from the app or website.
For example, when you make a purchase on an e-commerce website, you instantly get a shipping notification in your mail. This automated email sending is made possible through an email API.
What's a transactional email?
A transactional email or a transactional message is an automated email message generated through user triggers on a website/app.
Email messages like an order confirmation or a password reset mail are common examples of transactional emails.
Before diving into the best email API services, I'll clarify four terms to help you understand email API better. However, if you're already well-versed with API terminology, feel free to skip ahead to my top 7 email APIs list.
A. API Call
An API call is a request sent from an API to a server to retrieve the necessary information required for the API to perform a certain task. For example, logging into an app or performing a Google search makes use of API calls.
B. HTTP API
The Hypertext Transfer Protocol (HTTP) is the bedrock of the World Wide Web. It's designed to send information between any web browser (client) and web server.
An HTTP API is an API that uses the HTTP protocol to transfer information across the internet.
C. RESTful API
REST (Representational State Transfer) or RESTful API allows developers to make different types of API calls and receive data in any format without using any programming language or client libraries.
For example, when you look for a flight list in a travel app, the list you receive and the structure/format in which you receive it is determined by the app's REST API.
D. SMTP
SMTP (Simple Mail Transfer Protocol) is an email communication protocol used to transfer outgoing emails from one email account to another through an SMTP server.
Read my in-depth guide on SMTP.
Top 7 Excellent Email APIs
Here are the seven best email APIs that help boost your email marketing experience:
1. Gmail API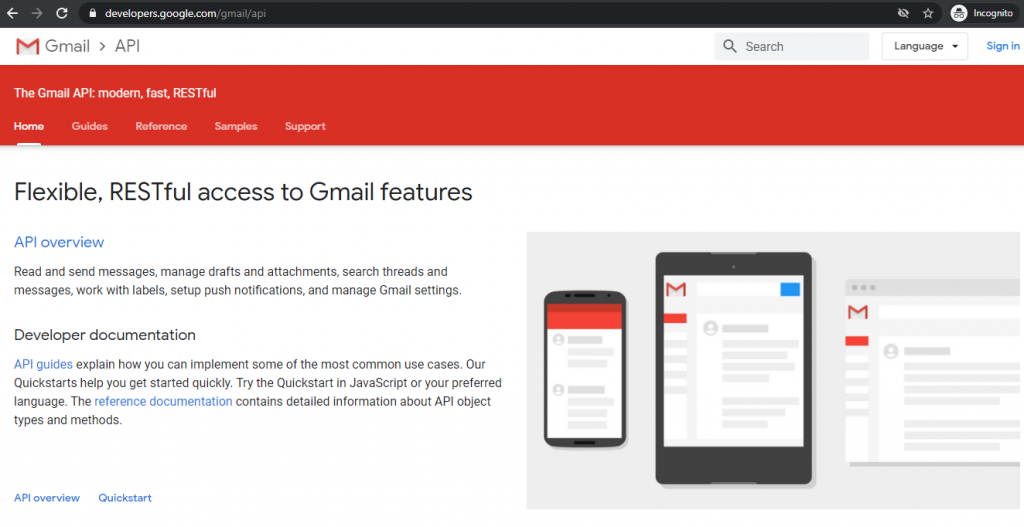 Here's a quick look at some key features of the Gmail API:
Gmail API Key Features
Lets you send and fetch HTML emails with or without attachments
Provides simple HTTPS access through RESTful API calls
Apart from JSON and XML formats, it allows you to make API calls using standard web languages like Java and Python.
The Gmail API uses the OAuth 2.0 protocol, which offers the strongest authorization and authentication features to keep your data safe.
Gmail API Pros
Helps automate outgoing emails
Assists in migrating email accounts from other API providers
Can create email filters to find and manage messages
Offers great email delivery speed since it uses Gmail's mail server
Gmail API Pricing
Gmail API is available for free, but it has certain daily usage limits applicable to all API calls. These limits are also known as quota units that measure Gmail's resource usage.
Daily usage: 1 billion quota units/day (meaning you can make 1BN API calls in a day for your app).
Per User Rate Limit: 250 quota units (API calls)/user per second.
Ajay's Email Tip
The best way to boost email engagement is by starting and ending your email message properly. Check out my detailed guides on how you can start and end emails perfectly for optimal engagement.
2. Amazon SES Email API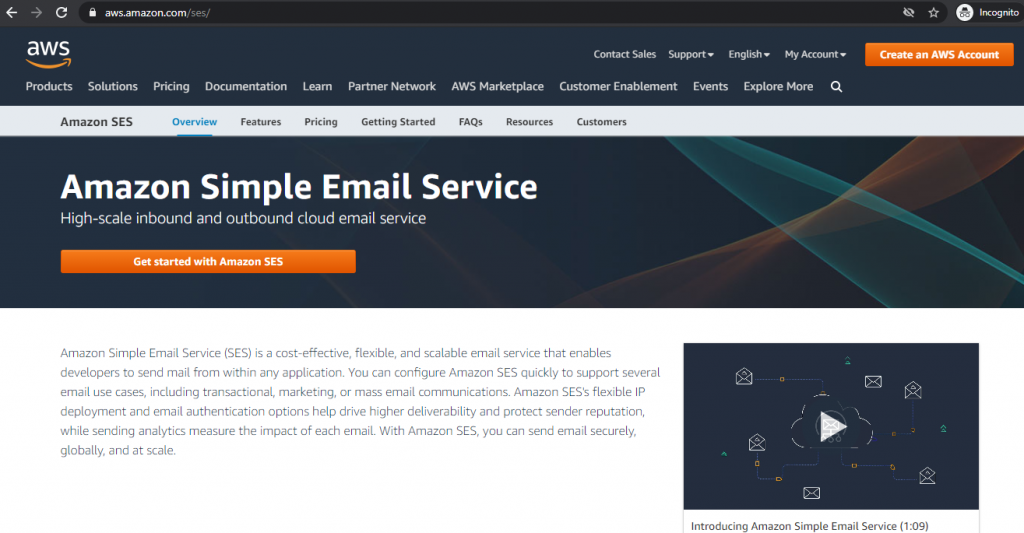 Amazon SES is one of the most cost-effective email services. Moreover, it only allows an authenticated user to send an email message.
Check out my in-depth Amazon SES review. 
Amazon SES Email API Key Features
You can send email two ways: Formatted, in which SES customizes the email message for you, and Raw, which lets you manually compose and send email messages.
Lets you make an API request via HTTPS requests, AWS SDK (Software Development Kit), and AWS CLI (Command Line Interface)
You can create email templates via its Create Template API operation.
Will highlight data over outgoing email deliverability, bounce rates, complaints, etc.
Carries out the senders' email address authentication through SPF (Sender Policy Framework) and DKIM (DomainKeys Identified Mail)
Amazon SES Email API Pros
You can use the Create Template API to develop up to 10,000 email templates under an SES account.
Allows email sending to almost 50 destinations (a destination is a mailing list of recipients)
Offers strong email deliverability via well-connected Amazon Internet Services Infrastructure across several AWS Regions worldwide
Detailed API documentation available for developer usage
Amazon SES Email API Pricing
Amazon SES offers a pay-as-you-go service.
Under its Free Usage Tier, you can integrate SES with applications running on Amazon EC2 (Elastic Compute Cloud) and send the first 62,000 emails for free.
However, after you've exhausted the free limit, SES charges $0.10 for every 1,000 emails.
And even though you're using the Free Usage Tier, you'd have to pay these SES charges:
$0.12 for per GB of outgoing mail data
Data transfer fees for using other AWS services
3. SendGrid API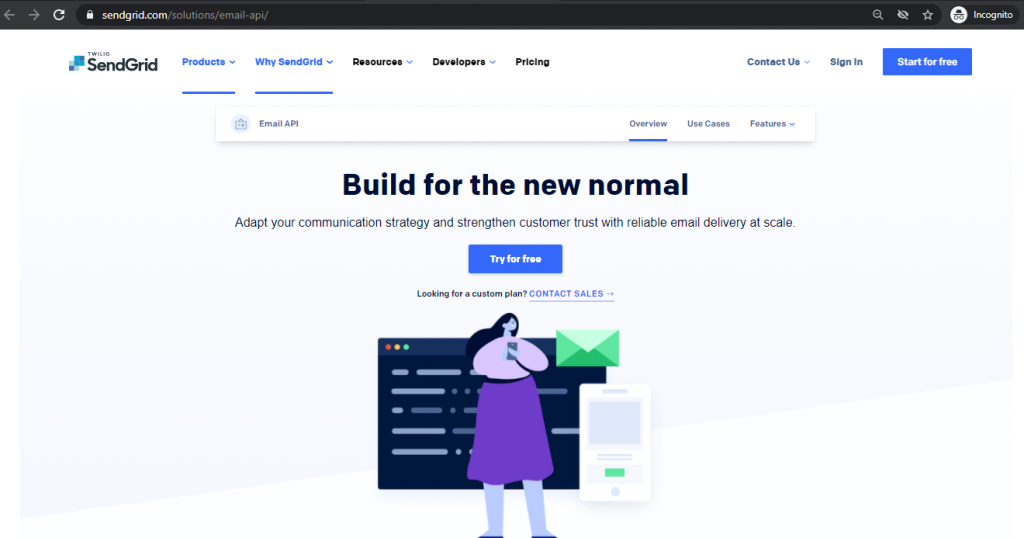 Twilio SendGrid is a unique email marketing service offering both Web API (email API) and SMTP API.
Read my detailed SendGrid review. 
SendGrid API Key Features
The Web API helps you manage marketing emails, email lists, email scheduling, and more.
Its SMTP API offers email templates, personalized delivery options, and advanced email analytics.
You can create sub-accounts, add team members, and manage multiple accounts for better collaboration.
Its Parse Webhook feature helps you upload profile pictures through emails.
Get real-time email event notifications on email opens, bounces, spam, etc.
SendGrid API Pros
Has a Node.js client library to help developers interact with the API faster
Can deliver 60 billion emails per month through its built-in MTA (Mail Transport Agent)
Ensures data protection through enforced TLS encryption, Privacy Shield, and GDPR compliance
Aims for inbox placement via dedicated IP address, custom DKIM, SPF records, and feedback loops
SendGrid API Pricing
SendGrid has a Free plan with a sending limit of 100 emails/day. Paid plans start at $14.95/month and include support for 1,000+ emails.
4. Mailgun API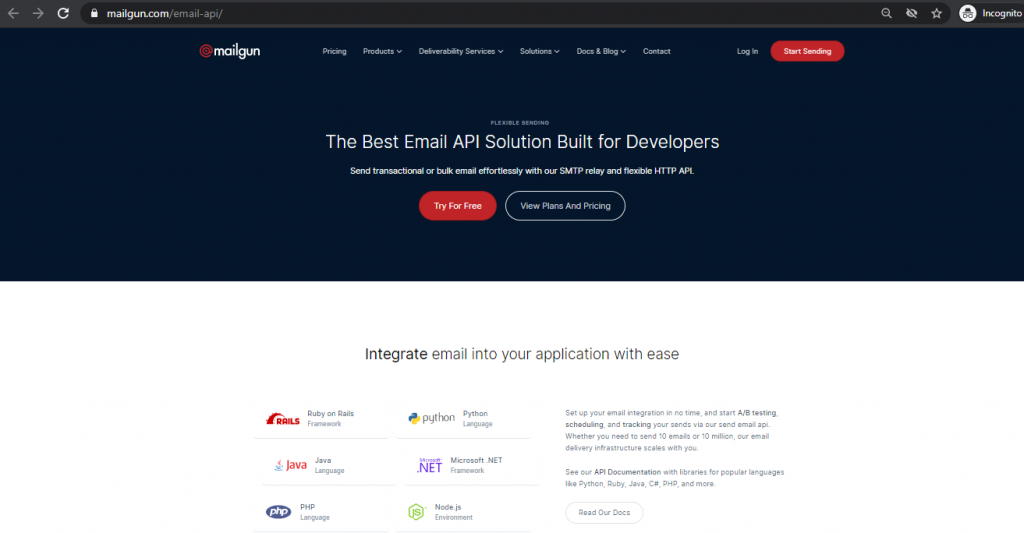 If you're looking for an email service specifically designed for developers, Mailgun is for you.
Want to know more about Mailgun? Read my detailed Mailgun review. 
Mailgun API Key Features
The real-time Email Validation API and Bulk List Validation Tool help you instantly identify and remove invalid email addresses from the database.
It supports A/B testing, email tracking, and scheduling.
It supports popular web languages like PHP, Python, Ruby, and Java.
Along with email marketing analytics, it also offers detailed logs for diagnosing and fixing email errors.
You can send targeted emails via list segmentation based on demographics, company size, etc.
Mailgun API Pros
Can use white-labeling for better email deliverability when using shared IPs
You can verify if your emails are blocked or delivered to spam folders with the Email Spam Checker tool.
Can send bulk emails quickly through the Rapid Fire Throughput SLA feature
Integrates with Mailjet for email marketing campaign management
Mailgun API Pricing
Mailgun's Flex plan is a pay-as-you-go plan. It offers 5,000 free monthly emails for three months. However, upon exceeding this limit, you'll be charged $0.80/1,000 emails.
It includes features like webhooks, email tracking, and analytics, etc.
Its monthly paid plan starts at $35/month and supports 50,000 emails and additional features like email validation and dedicated IP address, etc.
5. Sendinblue API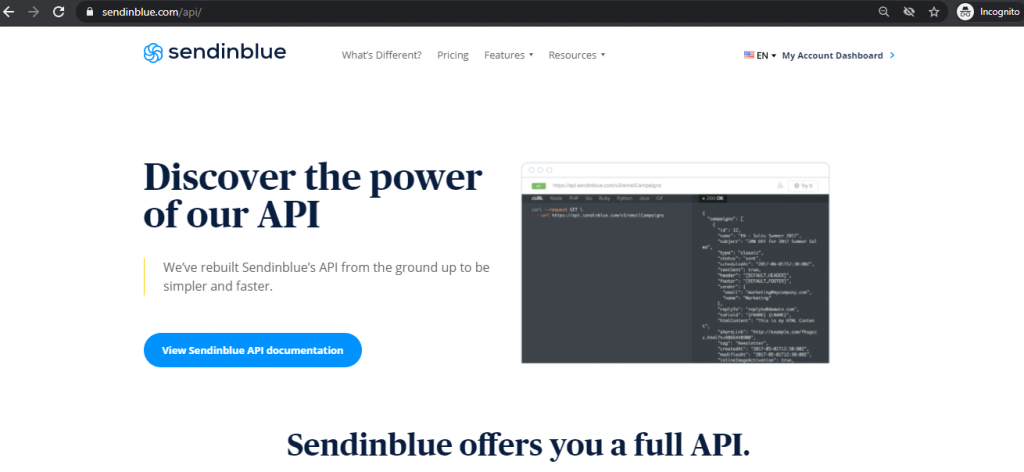 Check out my in-depth Sendinblue review to know more about the tool.  
Sendinblue API Key Features
Supports 400 API requests in a minute to help you deal with high volume requests
Can create automation workflows for transactional emails like cart abandonment follow-ups
Offers email analytics and email deliverability reports
Helps you create SMS campaigns to send promotional offers over text messages
Sendinblue API Pros
Its REST API not only helps you create and send email campaigns but also helps you set up webhooks and WebSockets — making transactional message sending smoother and quicker.
Can send text messages directly from an app or website
Its email API is GDPR compliant.
API client is available for common languages like Java, PHP, and Python.
Sendinblue API Pricing
Sendinblue has a Free plan that includes 300 emails/day and unlimited contacts.
Paid plans start at $25/month and support 100,000 emails, among other features.
6. Postmark API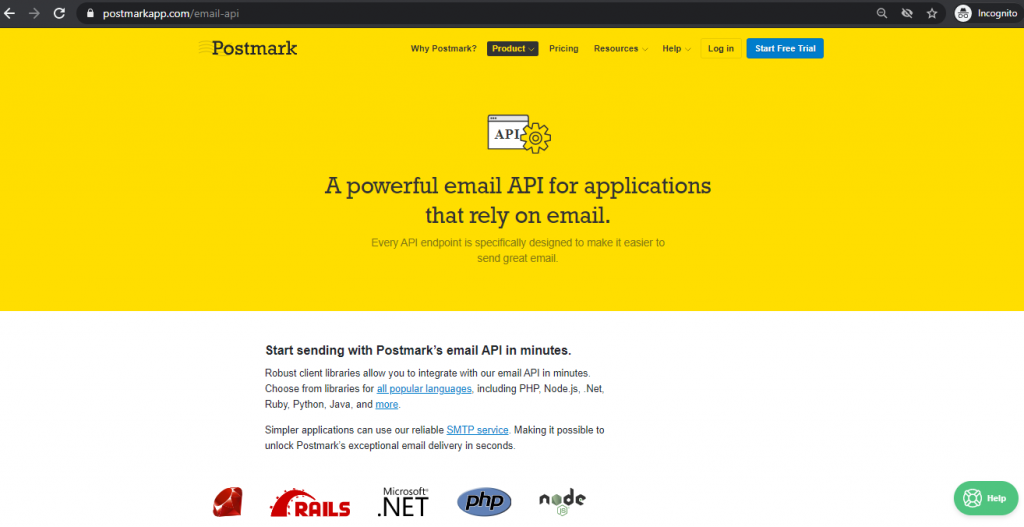 Postmark is an excellent app for sending transactional emails and application emails. It also offers great customer support and no-frills API documentation.
Read my detailed Postmark review. 
Postmark API Key Features
The email API is developed according to REST constraints that allow you to format and automate transactional email sends, user triggers, etc.
Offers API libraries for Ruby, .NET, Java, and PHP
Accepts up to 500 messages per API call and a 50MB payload size, including attachments
Messages API provides details on all inbound and outbound messages sent through a specific server.
Postmark API Pros
Easy to set up and use
Can use webhooks with the email API for real-time notifications on email opens and bounces
Tries to ensure high email deliverability
Has built-in, responsive email templates
Postmark API Pricing
Postmark has monthly pricing plans that start from $10 for 10,000 emails.
7. Pepipost Email API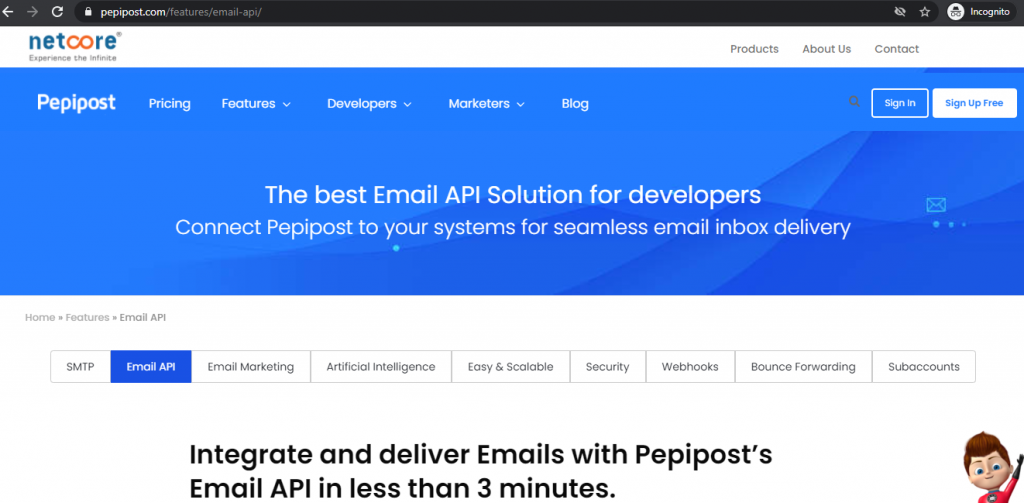 Built for developers and enterprises, Pepipost aims to achieve high inbox placement and quick delivery.
Read about all their services in my comprehensive Pepipost review. 
Pepipost Email API Key Features
Lets you send emails to single/multiple recipients and customize the email content and subject
The settings object in its email API offers advanced configurations for email scheduling.
The tags object supports email segmentation for different types of transactional emails.
Pepipost Email API Pros
Suitable for both large organizations and SMBs
In case of any input error, it offers all the error details in plain text via an HTTP 400 status code with a JSON object for maximum visibility
Has excellent customer support
Doesn't charge for opened emails
Pepipost Email API Pricing
Pepipost's pricing structure is based on the number of emails you send per month.
For 150,000 emails, it charges $25/month; and when you exceed this limit, $0.60 is charged per 1,000 emails.
It also comes with a free trial plan with 30,000 emails for the first month and has a forever free domain account with a daily limit of 100 free emails.
Is Email API Better Than SMTP for Sending Bulk Emails?
An email API's and SMTP's core functionality revolves around the same thing.
It involves transferring an email message from any website/application or transferring information from one mail address to another.
So which service should you use?
To help you decide that, here's a quick look into the advantages and limitations of using SMTPs and email APIs:
A. Advantages of Using SMTP
Here are the three key benefits of using SMTP:
1. Easy to Set Up
SMTP doesn't rely on heavy coding. This makes it easy to configure for both marketers and developers.
2. Greater Compatibility
Since it maintains a standard protocol, you can always connect an external SMTP to any email marketing tool. For instance, you can connect your SMTP server with an email marketing tool like GMass without any TLS or SSL encryptions on your chosen port.
GMass is a powerful email outreach tool that works directly from Gmail's user-friendly interface. Integrate GMass with any SMTP server of your choice to instantly boost your email marketing campaigns.
3. No Updating Required
Unlike an email API, whose protocols are subject to change, SMTP uses a standard set of guidelines and doesn't require frequent updating.
B. Limitations of Using SMTP
Although SMTP is widely popular, it has two major drawbacks:
1. Inconsistent Deliverability
Most SMTP relay services use shared IP addresses. This may negatively affect sender reputation resulting in deliverability issues. Moreover, while email addresses can be white-labeled, it requires additional DNS modifications.
2. Multiple Back-and-Forths
Email sending through SMTP is a slow process as it contains multiple back and forth conversations between servers. Not only does this delay email sending, but it also increases the chances of unsuccessful deliveries.
C. Advantages of Using Email APIs
Here are the three advantages of using email APIs:
1. Faster Email Transfer
There is less back-and-forth communication between servers while using an API, which results in faster delivery speed.
2. Analytics
Unlike SMTP, an email API usually includes statistical insights into recipient-email interactions like open and click rates, and deliverability, etc., which are valuable to any marketer.
3. Security
When using email API to send emails, you need to use an API key. This protects your website or application from phishers or spammers.
D. Limitations of Using Email APIs
Here are the two limitations of using an email API:
1. Requires Coding Knowledge
Setting up and running email APIs isn't easy, as it relies heavily on coding. Even if you have detailed documentation, understanding and implementing it for email sending can be a real challenge.
2. Needs Repeated Updates
Unlike SMTP, API versions change with each passing year. So you'll have to keep an eye open for updates and make changes to suit the new protocols.
What's my verdict?
While both email API and SMTP have their advantages and limitations, you can't definitively rank one over the other. Ultimately, your choice of email transfer procedure depends on your business, customers, and marketing needs.
While email API is suitable for sending bulk transactional emails and SMS campaigns, SMTP services are best for sending large email marketing campaigns.
Wrapping Up
Email APIs are great tools for better email delivery and inbox placement.
They will help you automate your email delivery process and improve your marketing campaigns and transactional emails.
To determine the best API for your needs, just go through the seven tools I listed here. Once you have a good idea of what each tool can offer you, you can easily find one that best suits your API needs.
Ajay is the founder of GMass and has been developing email sending software for 20 years.