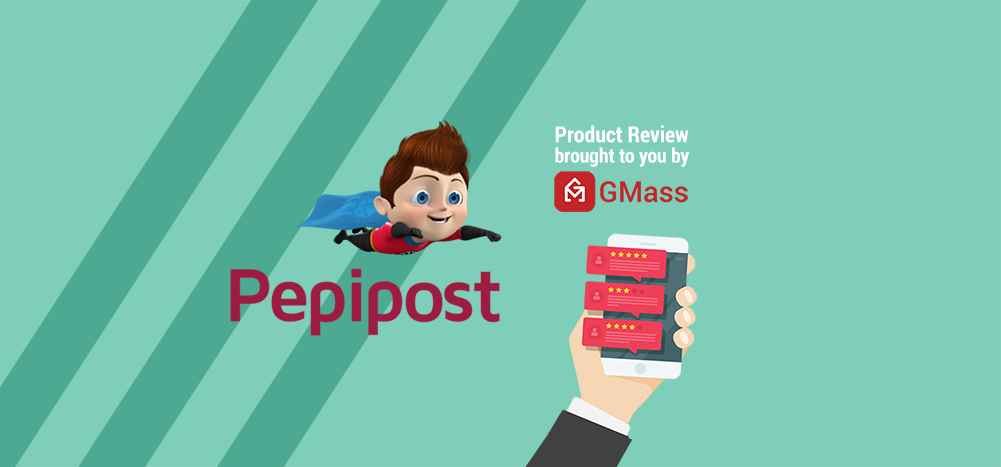 Wondering if Pepipost is the right email sending service for you?
Pepipost is a cloud-based email delivery service designed to send transactional emails. Pepipost also offers an SMTP service and email API solutions.
But is Pepipost the right email management solution for your needs?
In this Pepipost review, I'll walk you through its noteworthy features, key limitations, and pricing model.
And if, by the end, you feel that Pepipost doesn't meet your requirements, I'll also highlight the best way to enhance Pepipost's features using an easy integration.
This Pepipost Review Contains:
(Click on a link to jump to a specific section.)
Let's begin.
What Is Pepipost?
Offered by Netcore Solutions, Pepipost is an email delivery service designed for developers and enterprises. It helps you send transactional emails efficiently and tries to ensure that your emails are tailored for efficient inbox delivery.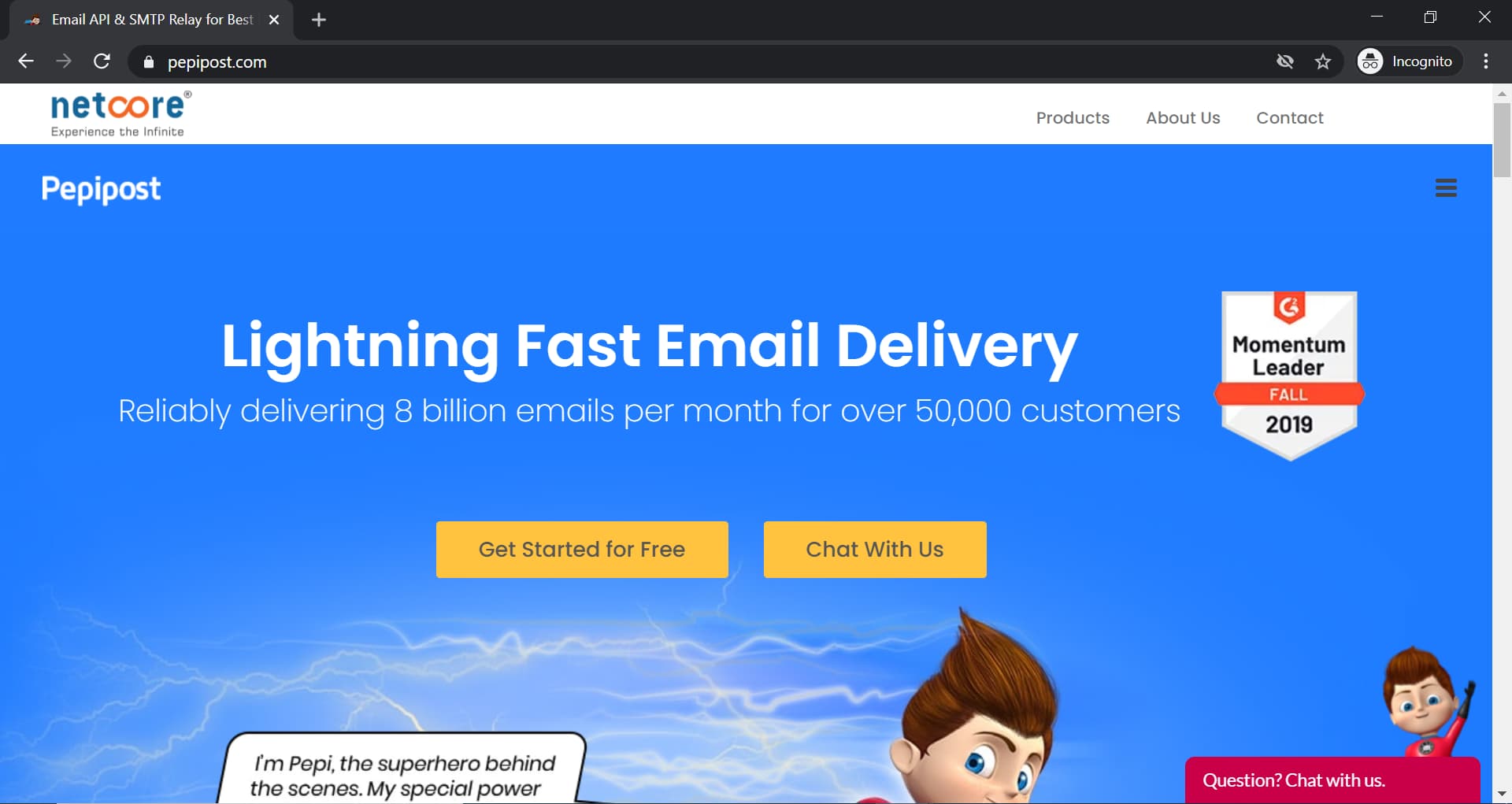 Specifically, Pepipost offers email API and SMTP relay services to boost your email deliverability.
What Is SMTP?
Simple Mail Transfer Protocol (SMTP) is an email protocol used for managing outgoing emails. Setting up your own SMTP server allows you to bypass sending limits when using email clients like Gmail or Outlook.
For example, a G Suite account lets you send 2,000 emails over 24 hours, while a regular Gmail account limits you to just 500 emails/day.
And if you're running a promotional or informational campaign, you may want to send more emails than that. In such a situation, you can use Pepipost's SMTP service to send tons of emails easily.
For a more in-depth understanding of SMTP, read my ultimate guide to SMTP.
What Is an Email API?
An email API can help you access an email service's functionalities right from your website or app.
For example, let's say you purchased an item on an eCommerce website. The website might use an email API (for example, the Gmail API) to send you an update on shipping details via an email marketing tool.
Why Do Businesses Use Pepipost?
Pepipost is an email delivery engine that runs on the cloud. It helps you send transactional emails or trigger emails to your customers while trying to ensure that your emails end up in the recipients' inboxes, and not in their spam folders.
With Pepipost, you can send emails using an SMTP relay or HTTP API. If you've got your own mail server, they recommend that you use the SMTP relay service. And if you're using online portals or mobile apps, they suggest that you go for the HTTP API as your mailer service.
Who Uses Pepipost?
Because it focuses on the technical side of things, such as SMTPs and APIs, Pepipost is an email tool primarily designed for developers with a good level of experience and coding expertise. However, it can also be used by knowledgeable marketers in small or large businesses.
What Are the Key Features of Pepipost?
Pepipost offers a host of features — ranging from the Pepipost API services to Artificial Intelligence (AI) functionality.
Some key features covered in this Pepipost review are:
Here's a detailed look at each feature:
1. SMTP Service
At its core, Pepipost is a cloud-based SMTP service provider. The SMTP relay service is designed to help you achieve efficient inbox delivery without worrying about outbound mail server limits.
To ensure reliable email deliverability, Pepipost has SMTP servers installed at multiple locations globally.
How to Use the Pepipost SMTP Service
To start using the Pepipost SMTP service, you'll first need to complete their SMTP service integration with your account.
To set up the SMTP connection:
Modify the default settings of your mail server's SMTP configuration.
Replace your existing SMTP server credentials with those from Pepipost.
Change the hostname to smtp.pepipost.com.
Set the SMTP port to 25, 587, or 2525.
Once that's done, you can use Pepipost's SMTP server for sending and tracking emails.
In case your website runs on WordPress, and you want Pepipost support for SMTP, you can use the WordPress Pepipost Plugin. The plugin uses an API integration to send emails directly from your WordPress account.
Similarly, Pepipost also has an integration with Drupal to help with email management for websites that use Drupal.
2. Email API
Pepipost recommends that you use their SMTP service to send emails, but if you're looking for a more robust integration, they offer the Email API service.
How to Use the Pepipost Email API
The Pepipost API must first be integrated with your application.
This usually begins with an API key authentication. Use Pepipost's integration documents and the Pepipost API code libraries for this. They support multiple development frameworks like Java, Python, C#, and more, to make it easy on the developer.
All these materials are available in their Software Development Kit (SDK) published on GitHub. The SDK also lets you submit "pull requests" for project changes.
Once the integration is complete, you can use the Pepipost Email API for:
Sending your emails
Real-time/offline tracking of your emails
3. Email Subaccounts
When you have multiple team members using the same account to send emails, it can make things difficult, as you're not sure who's using the account and will need to avoid simultaneous logins.
That's why it makes sense to have distinct subaccounts for each team, and multiple passwords to facilitate access.
Luckily, this is exactly what the Email Subaccounts feature does in a Pepipost account.
The master account can create and assign separate child accounts — each complete with its own login, SMTP credentials, account settings, and bandwidth for marketing spends.
Note that the subaccounts are mutually exclusive — each has a different IP address, and any of them can be disabled in real-time.
Another advantage of the subuser management feature is that you can manage everything under one umbrella by allocating adequate credits for your subaccounts.
A big plus is that you won't have the hassle of paying separately for each subaccount because only the master account is billed for total marketing spends.
4. Data Security
Pepipost takes data security seriously.
Their servers are located at dedicated spaces within secure data centers. Their facilities are also spread out globally to ensure that your services aren't disrupted by any geo-specific issues.
Pepipost is also GDPR compliant.
What does that mean?
General Data Protection Regulation (GDPR) is a data privacy and security law governing the European Union that puts constraints on software like cookie scanning technology.
Additionally, Pepipost supports TLS for all your outbound emails for added security.
Security protocols like SPF and DKIM are built into the sending domain system, and Pepipost suggests that clients also use the DMARC policy.
What follows are technical definitions of the security policies mentioned above. If you aren't interested in them, skip to the next section.
What Is TLS?
Transport Layer Security (TLS) is a popular protocol used to provide end-to-end security for data exchange across applications. This ensures that your emails are sent securely with Pepipost.
What Is SPF?
Sender Policy Framework (SPF) restricts users from sending emails on your behalf by predefining which IP addresses can send emails to a particular domain or recipient. You'll need to change your domain's DNS setting to enable SPF.
What Is DKIM?
DomainKeys Identified Mail (DKIM) provides an extra layer of security by adding a digital signature to the emails you send. Your receiver's server can then check the digital signature to verify its source.
What Is DMARC?
Domain-based Message Authentication, Reporting, and Conformance (DMARC) is a policy that ties SPF and DKIM together. First, it verifies whether or not the sender's emails are protected by SPF and DKIM. Then, it informs the receiving server of what must be done if the two security protocols fail.
Finally, it reports back to the sender about the emails that failed the DMARC domain verification.
Pepipost Pricing Model
Pepipost initially started with a pricing structure that charged you only for unopened emails.
However, they've now shifted to a pricing model that bills you based on the number of emails you need to send every month.
The pricing structure for Pepipost is as follows:
150,000 emails at $25/month, and $0.60 for every 1,000 extra emails
400,000 emails at $85/month, and $0.55 for every 1,000 extra emails
600,000 emails at $145/month, and $0.50 for every 1,000 extra emails
1,000,000 emails at $245/month, and $0.45 for every 1,000 extra emails
2,000,000 emails at $445/month, and $0.40 for every 1,000 extra emails
They also offer a free trial that lets you send 30,000 emails in the first 30 days from your sending domain, and a "forever free" account with a daily limit of 100 emails.
What Are the Three Major Limitations of Pepipost?
Sure, Pepipost has some interesting features, but it does have a few limitations:
1. Not an Email Marketing Tool
Pepipost is primarily an email delivery service and not an email marketing tool.
An email marketing tool would allow you to :
Schedule bulk emails automatically
Set up follow-up email automation
Perform powerful email list segmentation
Unfortunately, Pepipost doesn't have such features built-in to its service.
Instead, you'll have to integrate Pepipost with open-source email marketing tools like Mailtrain or Mautic — which is an additional, unnecessary, and time-consuming step.
2. Complicated User Interface
The most troubling drawback with Pepipost is its complicated user interface.
To accomplish even basic tasks, like sending a test email, a user is forced to toggle and scroll through multiple screens.
For starters, the user interface is new to you, so you'd naturally take some time getting familiar with and adapting to it. But when the user interface is also complicated to use, the whole user experience becomes incredibly stressful.
Its domain verification system is another frustrating issue, according to user reviews.
While its purpose is to promote good senders in the email ecosystem so that all its users have a low bounce rate, the domain verification can be far too strict. For example, your sending domain can get rejected without an adequate explanation about why during the sign-up process.
Pepipost user reviews also highlight a lack of proper documentation for its features. Additionally, many essential visual guides on how to use various functionalities (such as the customizable dashboard) are unavailable within the user interface.
3. No Mobile Support
You'd normally expect email delivery service providers to offer a mobile application to its users.
Why?
Mobile support is essential because your business runs 24/7, and it is much easier to use your mobile phone to manage your emails when you're on the move or away from the office.
However, Pepipost doesn't offer a mobile app on Android or iOS to send emails or evaluate your deliverability metrics. You'll always have to have your laptop or desktop handy!
4. Expensive Pricing
Pepipost can be expensive to use — especially if you use one of their pro plans.
According to industry stats, it's significantly higher than other email delivery services, such as Amazon SES.
The base plan starts at $25/month — an expensive pricing structure, considering that Pepipost is primarily an email delivery service without additional email marketing functionality.
While the subaccounts feature lets you allocate email credits to a subuser within the master account, unused credits are not carried over to the next month.
The Best Way to Add Enhanced Functionality to Pepipost: GMass
Pepipost is a good SMTP relay service that, unfortunately, comes with severe limitations.
Fortunately, all you need to add enhanced functionality to Pepipost is to connect it with the ideal email marketing platform — GMass.
What's GMass?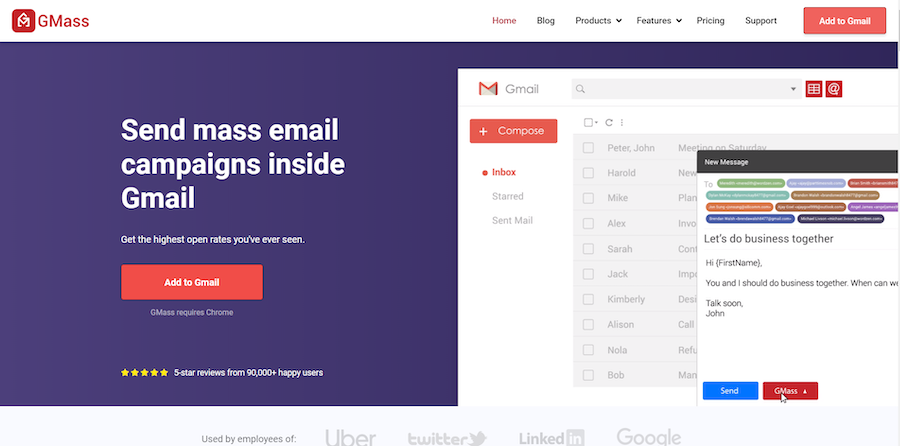 GMass is an email marketing and marketing automation platform that works within your Gmail inbox.
Its ease of use, superior outreach capabilities, active customer support team, and disruptive pricing model have made it a popular software solution that's used by employees of Google, Uber, and social media giants like Twitter and LinkedIn.
However, GMass isn't just for the big guys. It's also perfectly suited to the needs of small businesses, nonprofits, churches, solopreneurs, and more.
GMass helps you:
Automatically send personalized bulk emails.
Access real-time reports to understand your deliverability metrics and traffic sources.
Schedule emails in advance.
Track customer engagement.
Create automated workflows to send follow-up emails.
Use a custom tracking domain.
Essentially, it helps you do most of the things that Pepipost can't!
To use GMass, all you need to do is download the Chrome extension and sign up with your Gmail account. Easy, right?
GMass Pricing Plans
GMass' pricing structure is as follows:
Free: supports automated email tracking for 50 emails/day + all other features
Individual:

Minimal: $8.95/month – unlimited email tracking + all features except auto follow-ups
Standard: $12.95/month – includes "Minimal" features + removes GMass footer for sent emails
Premium: $19.95/month – includes "Standard" features + auto follow-ups

Team:

Premium: starts at $89/month for a group of 5 and includes all features
How Does GMass Enhance Pepipost?
GMass can make up for Pepipost's drawbacks because, ultimately, GMass is more than just an email delivery service.
Not only does GMass give you a ton of email marketing features that Pepipost can't offer you, but it also works within the Gmail user interface and can also be used as an add-on with the Gmail Android app.
A. Uses the Gmail User Interface for Email Marketing Activities
Since it works within Gmail, GMass uses the Gmail user interface itself.
That means unlike most other email marketing software, you don't have to get familiarized with a new tool to start your email marketing campaigns. You can use something you already know and use every day!
To compose bulk emails, just use the standard Gmail email editor.
To run campaigns and use marketing automation, use the Gmail inbox.
For analytics? Access the Campaign Reports right from the Gmail sidebar.
With GMass, you no longer need to toggle and scroll through a thousand screens to send campaigns and monitor relevant emails, your open rate, etc.
B. Add-on with Gmail App
Working within Gmail means that GMass can be used as an add-on with the Gmail Android app. No more relying exclusively on your laptop or desktop to run email campaigns!
All GMass features can be managed within the convenience of your smartphone.
You simply need to install the Gmail app on your mobile after setting up a GMass account.
How Does GMass Work with Pepipost?
You can carry out an easy integration of your GMass account and Pepipost account to send unlimited mail-merge emails within Gmail.
This way, you benefit from GMass' advanced email marketing features, Gmail's user-friendly interface, and Pepipost's ability to surpass Gmail's email sending limits.
To do this, you'll need to:
Set up a GMass account
Set up a Pepipost account
Link your GMass account to the Pepipost SMTP service by modifying your SMTP settings on the GMass account
To learn more about setting up an SMTP server in Gmail with GMass, read this article.
What Are Some Popular Comparisons for Pepipost?
Pepipost is not the only ESP (Email Service Provider) out there.
You also have various Pepipost alternatives like:
SparkPost
WP Mail SMTP
Amazon SES
Remember, Pepipost isn't an email marketing tool — it's only an email delivery platform.
So if you're looking for a comprehensive solution for your email marketing needs, using Pepipost alone might not be enough. Luckily, you can connect Pepipost or any of the alternative tools I've listed above with GMass!
Conclusion
Here's the deal:
Pepipost is a good SMTP relay and email API service.
However, it's not a comprehensive email marketing tool.
If you're looking for an email solution with capabilities like automatic scheduling of bulk emails, powerful email personalization, and a user interface with zero complications, just link Pepipost with GMass.
The GMass email marketing automation tool offers tons of indispensable features along with mobile support straight from the free plan.
Sign up for GMass today, and make the most of your email campaigns with Pepipost!
Ready to send

better emails

and save a ton of time?

GMass is the only tool for marketing emails, cold emails, and mail merge — all inside Gmail. Tons of power but easy to learn and use.

TRY GMASS FOR FREE

Download Chrome extension - 30 second install!
No credit card required
Love what you're reading? Get the latest email strategy and tips & stay in touch.