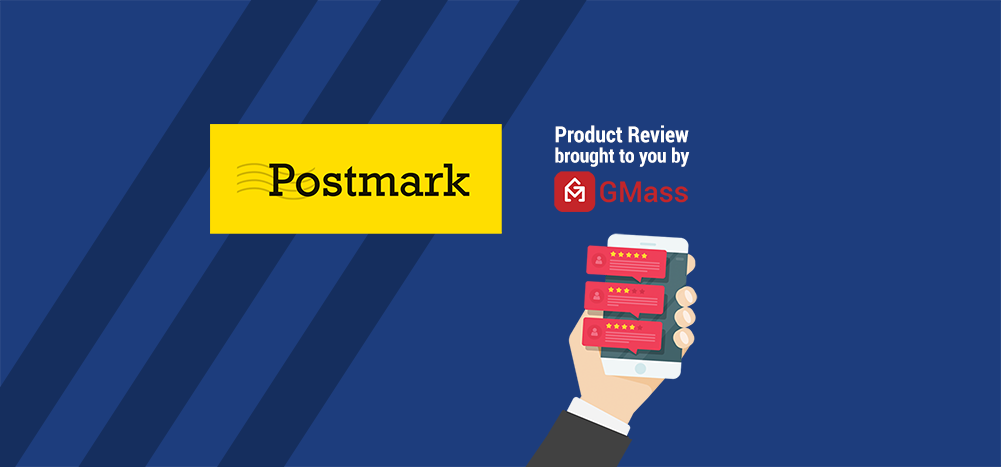 Interested in using Postmark for your email marketing and SMTP needs?
Postmark is an SMTP service provider that focuses on improving your deliverability rates. With an email API, detailed analytics, pre-made templates, and much more, Postmark can appeal to businesses of all sizes.
But can its features cater to all your needs?
This Postmark review covers everything you need to know about this email service. I'll talk about its key features, limitations, and pricing details to help you make an informed decision.
This Postmark Review Contains:
(Click on a link below to jump to a specific section.)
Let's dive into the review.
What Is Postmark?
Postmark is a SaaS email service provider that will help you deliver your application emails. It offers SMTP services, an email API, and other transactional email services to businesses of all sizes.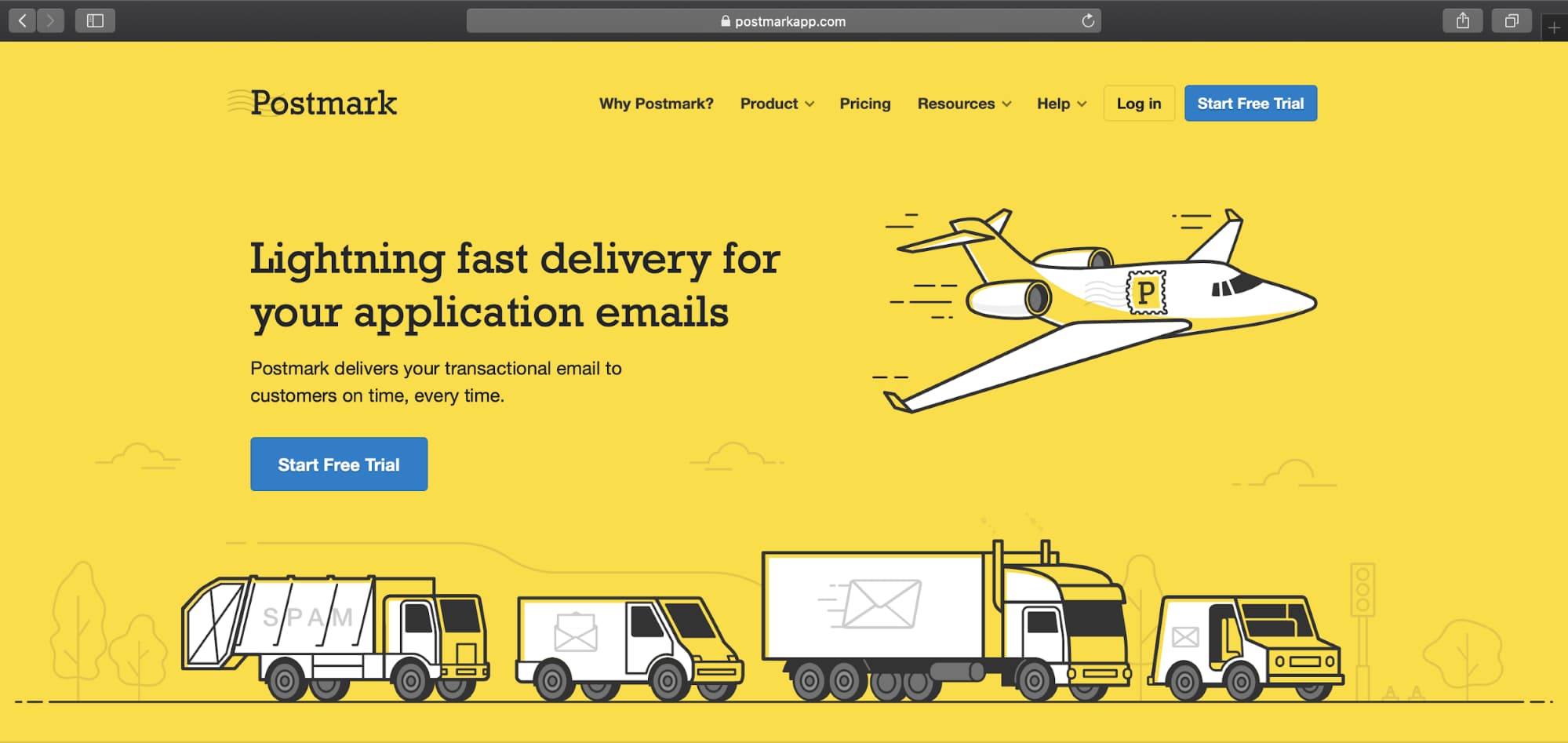 Confused about what SMTP and email API mean?
I'll explain what they are and how these product details are relevant in the context of email marketing.
What Is SMTP?
Simple Mail Transfer Protocol or SMTP is a communication protocol that enables you to send outgoing emails.
Why does this matter?
When using an email client like Gmail, for example, there's a limit on the number of emails that you're allowed to send in a day. It's 500 emails/day for a regular Gmail account, and for a G Suite account, it's 2,000 emails/day.
But as an email marketer, you might want to send more than 2,000 emails on any given day, and such sending limits restrict your outreach.
This is where a third-party SMTP relay service like Postmark helps you. It lets you bypass any sending limits placed by the email client or ISP (Internet Service Provider). You can then send unlimited promotional emails every day!
To know more about SMTP, read my ultimate guide here.
What Is an Email API?
An email API is a type of Application Programming Interface (API) used by a website or an app to access the functionalities of an email marketing platform.
eCommerce websites generally use email APIs to send you notifications about shipping details, password resets, and purchase summaries, etc. If you run a commercial site, this means you won't have to compose an email manually every time someone orders something from your store — the email API does it for you!
What Are the Key Features of Postmark?
In this Postmark review, I'll highlight the tool's five key features:
1. Transactional Mail Service
Postmark helps you set up transactional mail systems for your business with ease.
What are transactional emails?
Transactional emails are personalized, unique messages sent from a business to its customer. Password resets, transaction evidence, welcome emails, and shipping details are all examples of transactional emails.
Some types of transactional emails you can send using Postmark are:
Account detail changes or password reset emails
Purchase confirmation and receipt logs
Shipping and delivery information
Comment notifications and trial expiration emails
As transactional emails are one of the most important types of application emails, the Postmark service tries to maintain competitive deliverability rates for them.
Keeping transactional emails a priority, Postmark helps improve your sender reputation and prevent such emails from being marked as spam.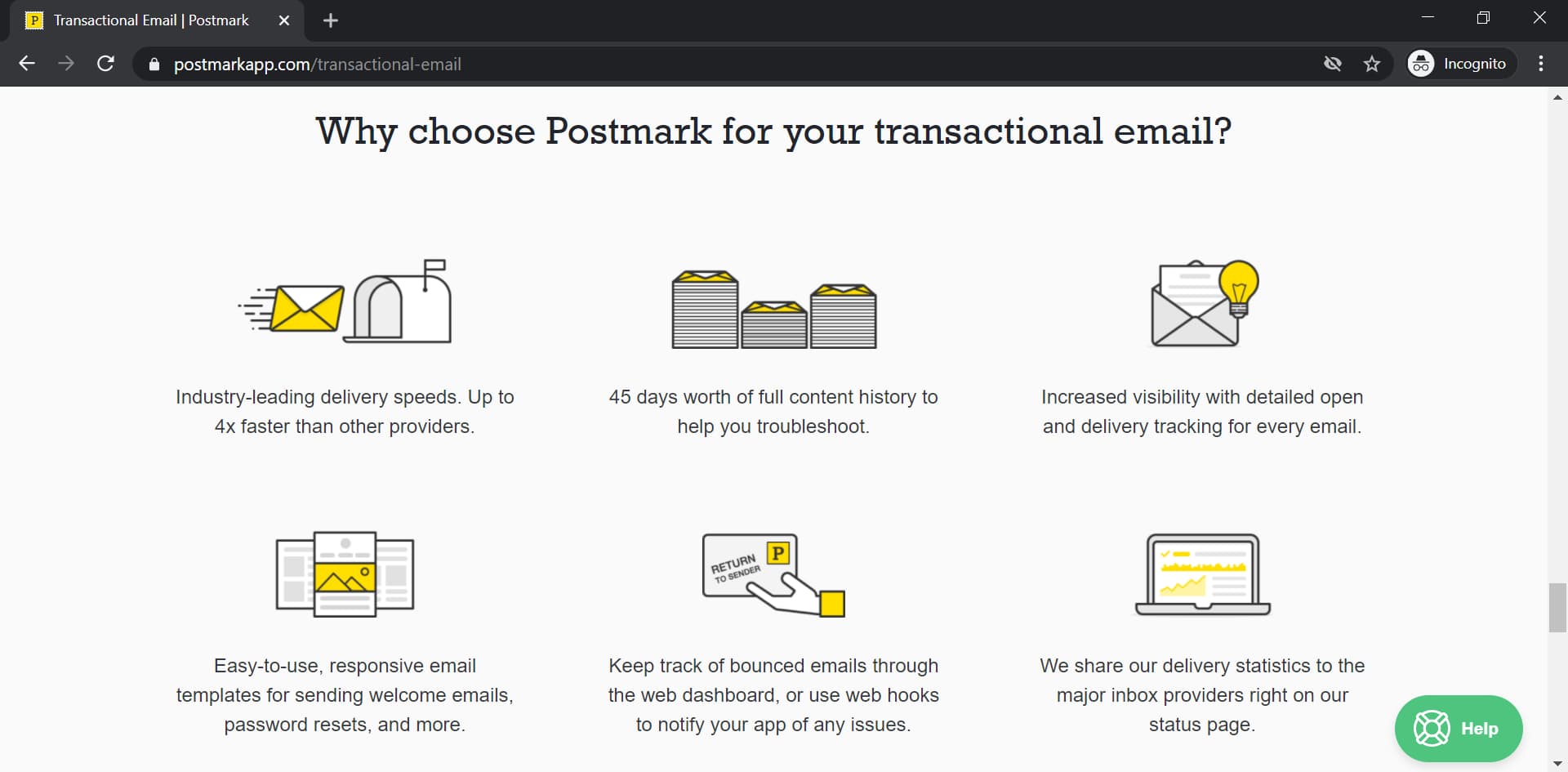 2. Email Delivery Service
Unlike newsletters and marketing emails, your transactional emails should reach your customers instantly.
Why?
A transactional mail includes vital details that customers expect to receive as soon as the triggering event occurs. Delays in this process can frustrate and confuse customers, costing your business in the long run.
To help you keep up with these expectations, Postmark tries to ensure that your emails find their way into clients' inboxes instead of spam folders and that they're delivered as fast as possible.
For example, websites running on WordPress can use plugins like the Postmark for WordPress plugin to generate and send transactional emails directly from the website. This avoids any delay that can result from manually running a separate computer software or cloud-based application.
Additionally, Postmark only allots dedicated IPs to high volume senders. Low and mid-volume senders, on the other hand, are given shared IPs with established sender reputations.
This allows lower-volume senders to obtain optimum delivery from the get-go, instead of having to build their sender reputation from scratch.
To be eligible for a dedicated IP, you need to be a customer sending 300,000 emails/month or more.
But that's not all.
The best part?
High delivery speeds are a core feature in all Postmark pricing plans. You don't need to pay any additional or hidden costs to unlock high-speed delivery.
3. Detailed Email Analytics
To optimize your email performance, you need detailed stats and reports to understand what's working or what needs to be improved in future campaigns.
Postmark offers powerful email analytics to give you detailed insights into your application emails.
Some of the key email metrics Postmark tracks include:
Bounce rates: percentage of subscribers on your mailing list who couldn't receive your message because the recipient's email server returned it
Open rates: percentage of subscribers on your mailing list who opened the email
Click rate: percentage of subscribers on your mailing list who clicked on at least one link within the email
Ajay's Email Tip
An easy way to improve your open rates across the board is by starting and ending your emails properly. Read my in-depth guides on how to start and end an email for some useful tips.
Postmark also allows you to access a detailed 45-day history of all email logs. These can easily be searched through and filtered depending on the data your business needs.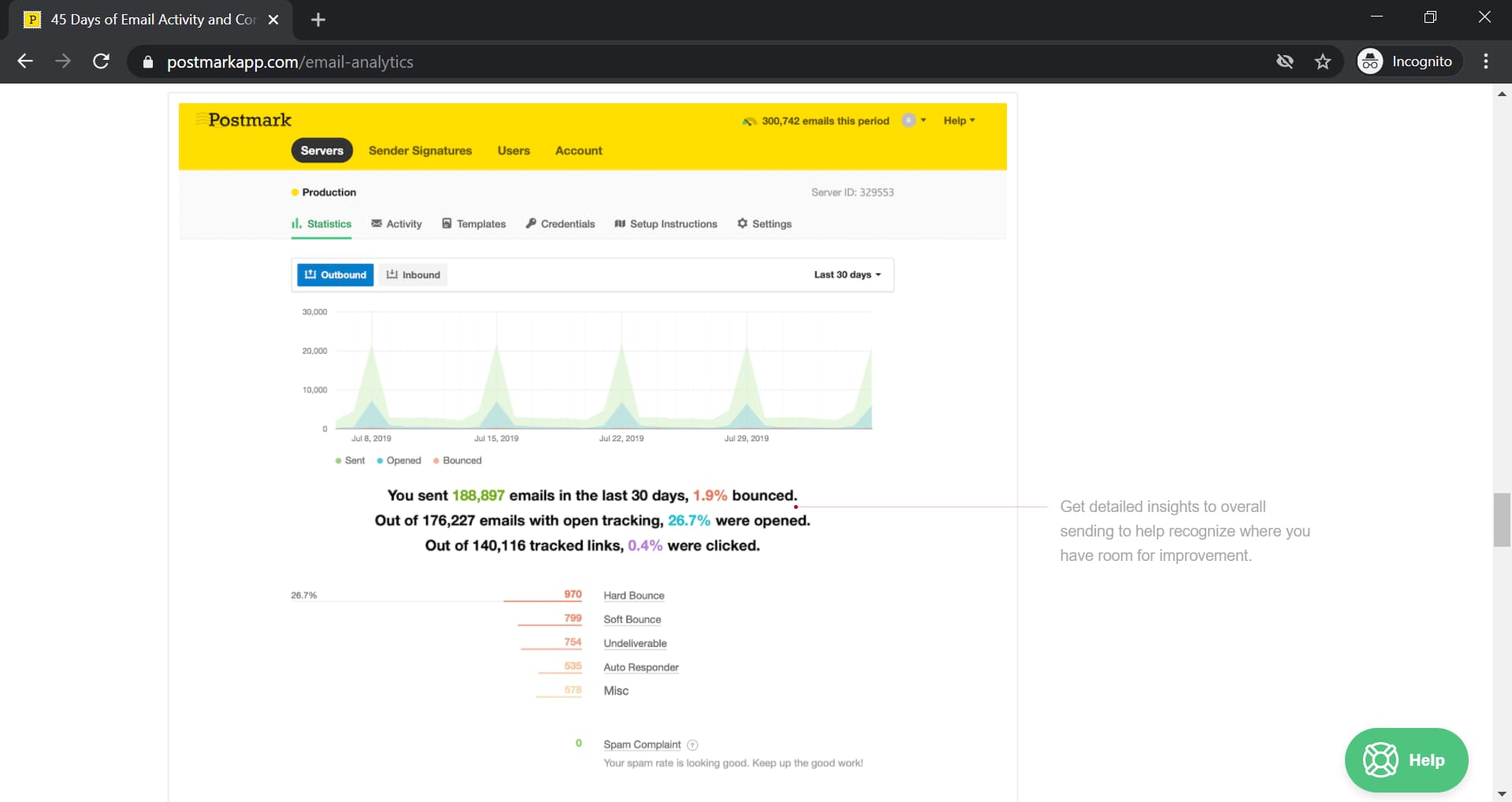 4. Email API
Postmark offers several APIs to send emails and manage servers, templates, and domains.
Websites, web apps, or other applications can use Postmark's marketing capabilities through the email API to send notifications about order confirmations and shipping details, etc.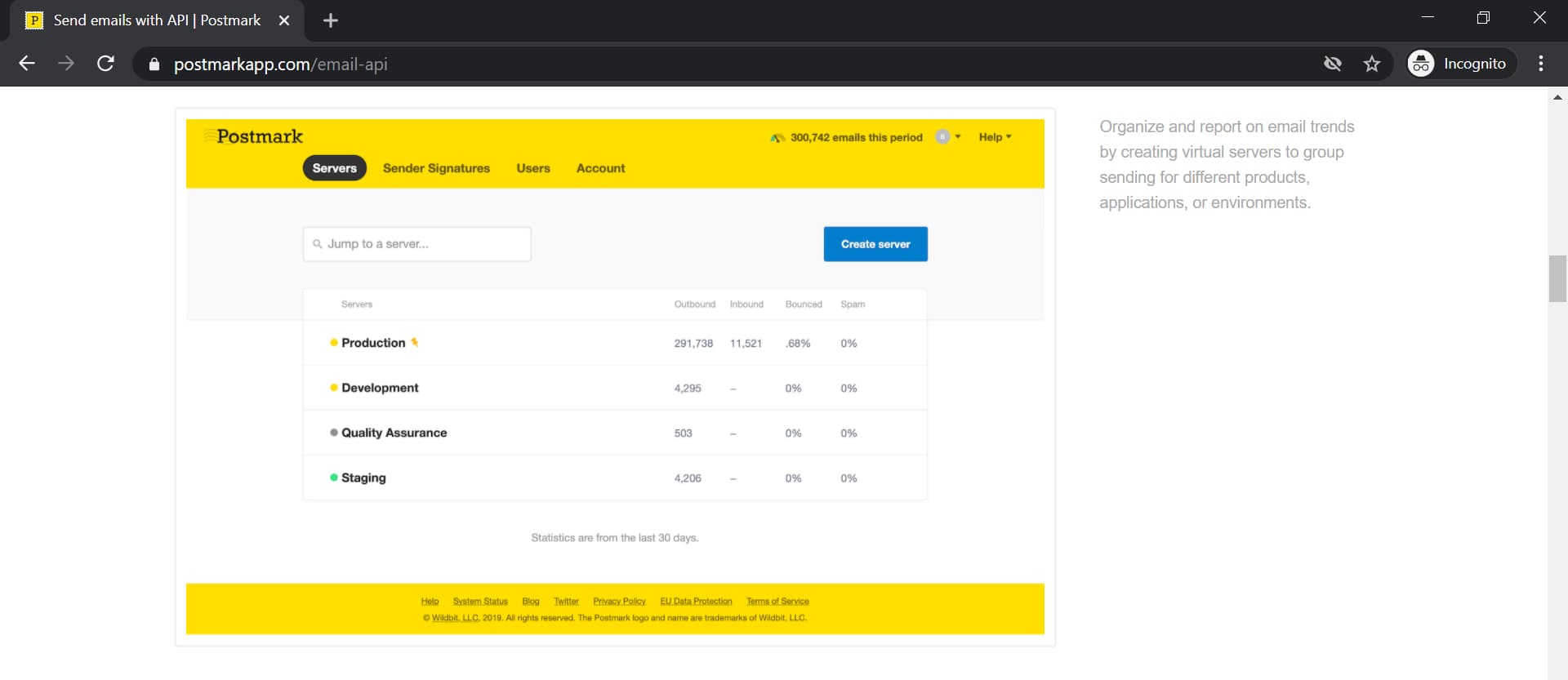 Integrating the Postmark email API into your service is easy because Postmark contains powerful client libraries and supports all popular languages, including Node.js, PHP, Python, Java, and more.
Once the integration is complete, you can split application emails into logical groups based on which application or environment is sending them. For example, you can sort emails sent from your website and web app separately.
This is useful when you need focused reports and want to set up multi-party permissions.
Additionally, when using webhooks with your email APIs, you're notified of emails that have been delivered, opened, bounced, or clicked (when the recipient has clicked a link within the email).
Note: Webhooks allow an application to provide real-time information to other applications.
5. Large Library of Email Templates
Building, testing, and managing email templates can be time-consuming — and that's time you could spend on improving campaign performance instead!
To help you out, Postmark features a vast library of compatible, integrated, and responsive email templates.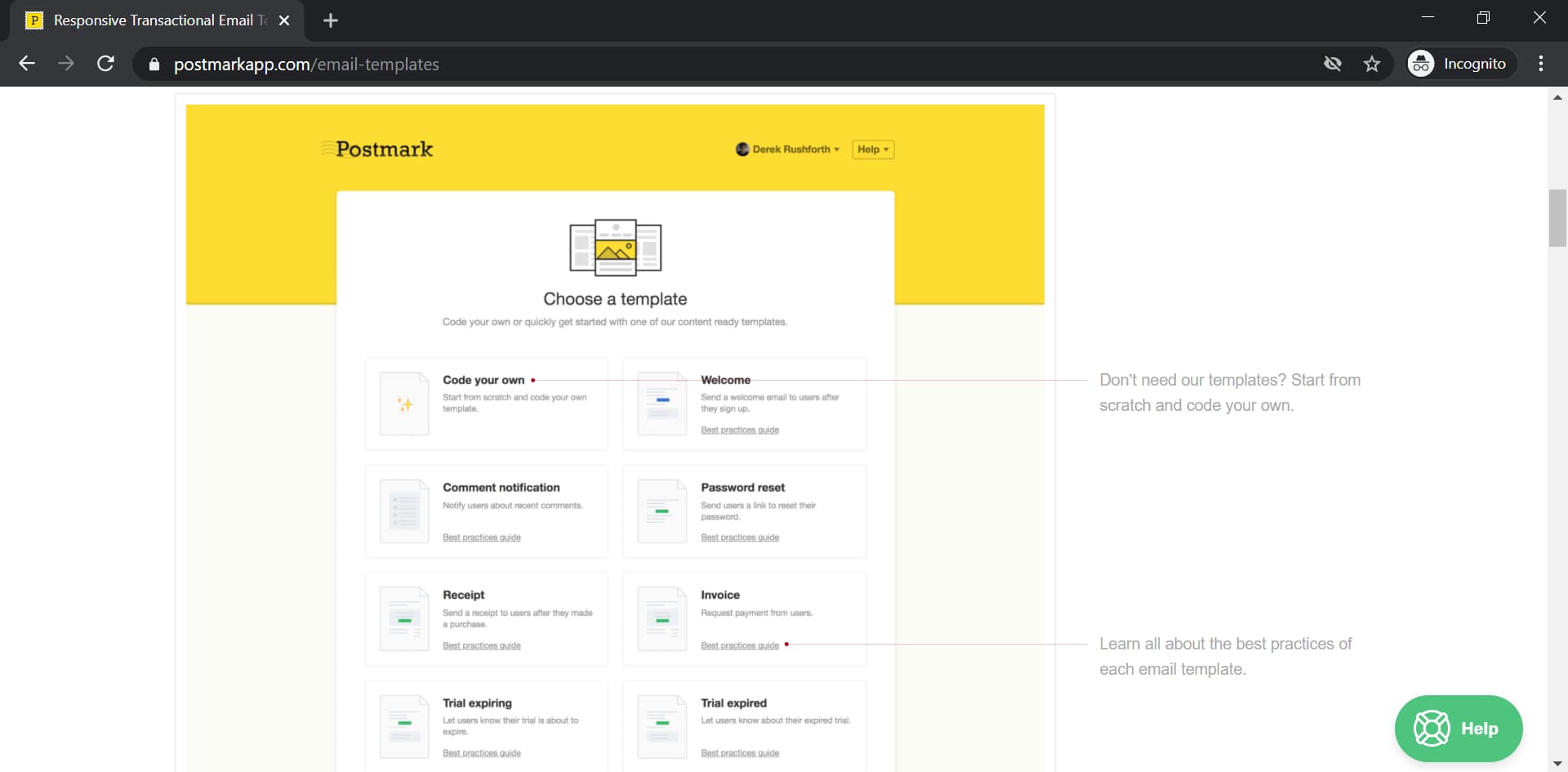 You can use the available pre-made templates to put together application emails quickly, such as password resets, comment notifications, and welcome emails, etc. As you're filing through these templates, you'll find that they're completely customizable — helping you easily edit and use them according to your needs.
Postmark Pricing
Postmark is billed monthly, and the pricing depends on your email volume requirements per month.
Here's a breakdown of the Postmark pricing structure:
10,000 emails – $10 + 1.25 per 1,000 additional emails
50,000 emails – $50 + 1.00 per 1,000 additional emails
125,000 emails – $100 + 0.85 per 1,000 additional emails
300,000 emails – $200 + 0.60 per 1,000 additional emails
700,000 emails – $400 + 0.45 per 1,000 additional emails
1,500,000 emails – $700 + 0.35 per 1,000 additional emails
3,000,000 emails – $900 + 0.30 per 1,000 additional emails
5,000,000 emails – $1,200 + 0.25 per 1,000 additional emails
A free Postmark trial is available for every new account created. The trial has no expiry, and you can send up to 100 emails/month free, forever.
What Are the Limitations of Postmark?
Postmark is a powerful tool for sending and managing transactional emails like welcome emails and comment notifications. With great deliverability metrics, detailed analytics, and clever APIs, Postmark packs a punch.
However, there are a few limitations to using Postmark.
To help you make an informed decision, I'll talk about its three key limitations.
1. Lacks Essential Email Marketing Features
Postmark was initially designed only for transactional emails.
So, it's understandable that Postmark hasn't provided a wide array of email marketing features in the past.
However, with the new Message Streams feature, Postmark supports an array of different application-based emails like:
Product update announcements
Updates to terms of service
Promotional emails and other kinds of broadcast emails
However, when Postmark shifted its focus from transactional to application emails, it failed to include essential email marketing features like:
Personalization of bulk emails: to create personalized bulk emails at scale
Email scheduling: to schedule email campaigns in advance in line with your email marketing strategy
Automated follow-ups: to set up automatic workflows for sending follow-up emails
A/B testing: to conduct split testing to find which campaign works best for you, and optimize accordingly
With such essential features missing, Postmark might not be able to provide the marketing edge you'd get from other dedicated email platforms like Mailchimp and SparkPost.
2. Expensive Pricing
Although it offers exceptional deliverability for your transactional emails, the Postmark pricing structure is a little too expensive.
For example, for $50/month, you can send a maximum of 50,000 emails with Postmark. And then there's an additional cost of $1 per 1,000 emails after that.
Let's compare that to a Postmark alternative like Pepipost that offers 150,000 emails for $25/month, and just $0.60 for every additional 1,000 emails.
Postmark isn't nearly as cost-effective, especially when it doesn't have the necessary features of a full-fledged email marketing tool.
3. No SMS Support
Unlike tools such as Sendinblue that allow you to simultaneously manage SMS marketing and email marketing campaigns from the same interface, Postmark doesn't offer SMS marketing services.
Given that mobile phones are everywhere, receiving transaction updates on your phone via SMS is common — and even expected. Unfortunately, it's not something you can do with Postmark.
The Best Way to Enhance Postmark Functionality: GMass
If you want to benefit from Postmark's email deliverability without facing some of its email marketing drawbacks, don't worry.
There's an easy and ideal solution to improving Postmark — GMass!
What's GMass?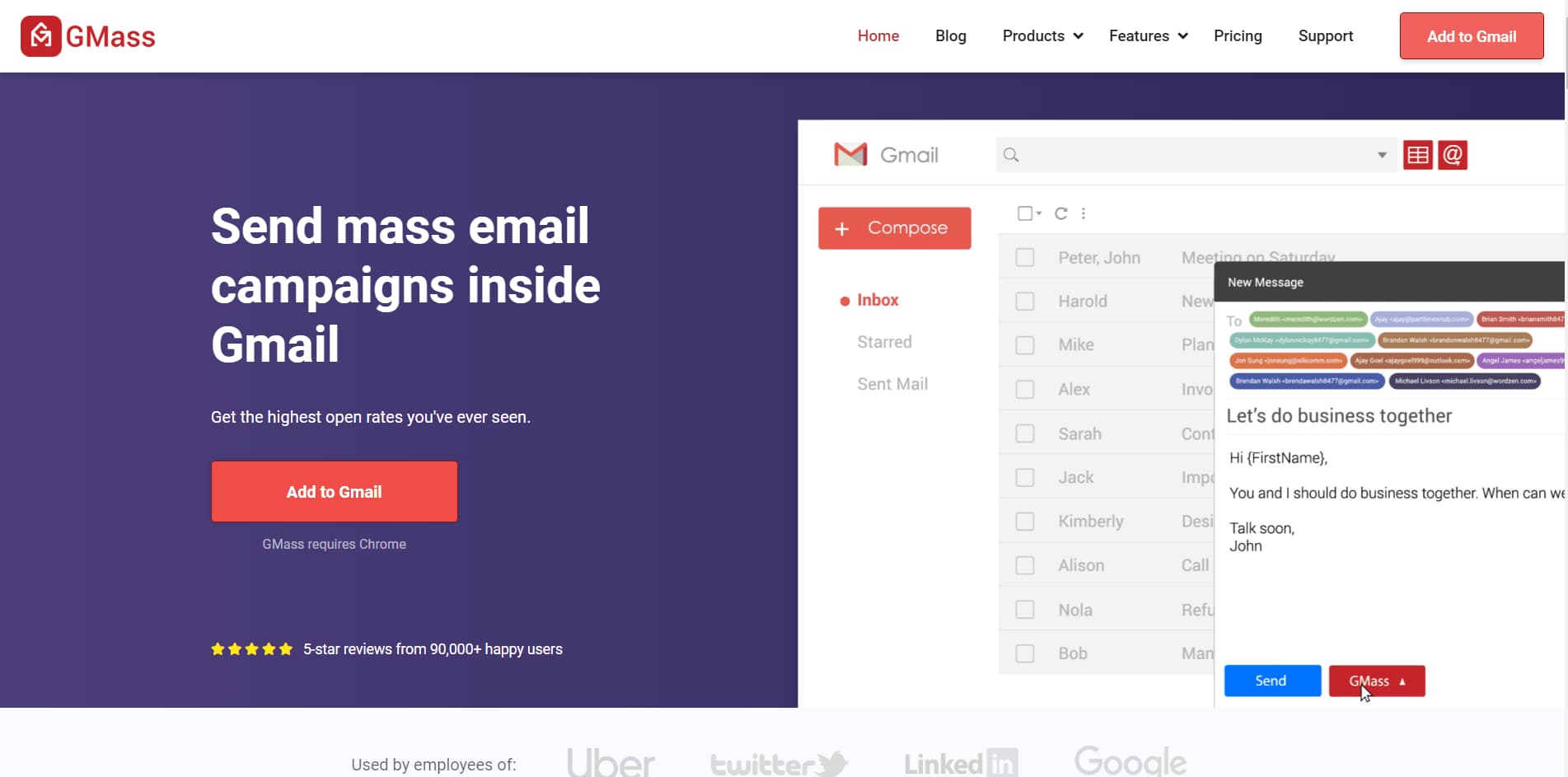 Based in the United States, GMass is a marketing automation and email marketing platform that works within Gmail.
Its powerful outreach capabilities, superior ease of use, and proactive customer service make it a popular mail merge tool used by employees working for Google and Uber, and social media firms such as Twitter, Facebook, and LinkedIn.
However, GMass isn't just an ideal marketing solution for big tech firms.
It's perfect for the email marketing needs of small businesses, solopreneurs, and even churches.
And the best part?
GMass works right inside Gmail — meaning that you don't need to get familiarized with a new tool to start marketing. It's all familiar, convenient, and powerful!
To get on board with GMass, just download the Chrome extension and sign up with your Gmail account.
With GMass on your side, you can:
Combining the functionalities of Postmark and GMass only takes a few straightforward steps.
How Does GMass Work with Postmark?
Customers using Postmark can leverage GMass' easy-to-use Gmail interface, powerful outreach features, and proactive customer support to carry out well-rounded and effective marketing campaigns.
Once GMass and Postmark are integrated, you can send unlimited mail-merge campaigns from within Gmail. You can even use the GMass add-on for the Gmail mobile app to manage your campaigns on the go!
To integrate Postmark and GMass, just follow these simple steps:
Create an account on Postmark by filling in the required fields.
Create an account on GMass.
Refresh the Chrome plugin to ensure that an appropriate version of GMass is in use.
Connect your GMass and Postmark accounts by modifying the SMTP settings on your GMass account.
For more info on linking GMass with your SMTP service, read my setting up Gmail SMTP settings guide.
GMass Pricing
Since Postmark is an expensive solution, you might be concerned about spending additional money on a separate tool.
Don't worry. You can avail yourself of all of GMass' features for next to nothing!
GMass' pricing structure is as follows:
Free: supports automated email tracking for 50 emails/day + all other features
Individual:

Minimal: $8.95/month – unlimited email tracking + all features except auto follow-ups
Standard: $12.95/month – includes "Minimal" features + removes GMass footer for sent emails
Premium: $19.95/month – includes "Standard" features + auto follow-ups

Team:

Premium: starts at $89/month for a group of 5 and includes all features
Conclusion
Postmark is an excellent tool for sending transactional emails. Its high-performing deliverability rates, detailed analytics, powerful APIs, and large template library make it a valuable tool for any business.
However, when it comes to email marketing campaigns, Postmark offers only limited email marketing capabilities — and that will limit your campaign engagement.
Fortunately, you can augment and amplify Postmark's features by using it with the GMass email marketing and marketing automation platform.
GMass' superior outreach features and its active customer service will empower you to make the most of Postmark.
So what are you waiting for?
Create your postmarkapp.com account, link it to GMass, and hit all the right notes with your email campaign!
However, if your decision is not to go for Postmark, you can always look at other SMTP providers like Amazon SES, Mandrill, and SendGrid.
To help you, here are my reviews on other popular third-party SMTP service providers:
Ready to

transform Gmail

into an email marketing/cold email/mail merge tool?

Only GMass packs every email app into one tool — and brings it all into Gmail for you. Better emails. Tons of power. Easy to use.

TRY GMASS FOR FREE

Download Chrome extension - 30 second install!
No credit card required
Love what you're reading? Get the latest email strategy and tips & stay in touch.