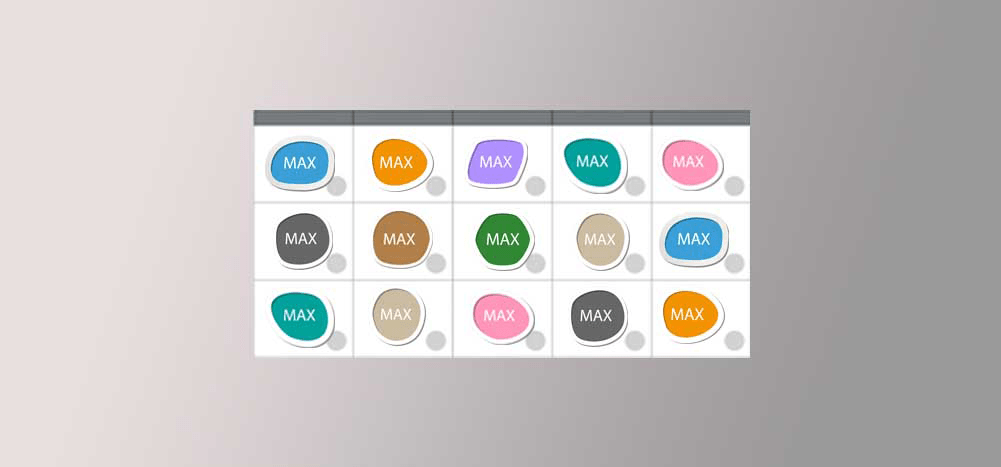 If you're a reputable sender, GMass will now automatically push your campaign over our SMTP server if your campaign pauses because of a Gmail sending limit issue.
A brief history of how we've overcome Gmail's limits
For a long time, the biggest frustration amongst GMass users was hitting Gmail's sending limits and receiving a flurry of "You have reached a limit for sending mail" bounce messages in the Inbox. To address this, we built the distributed scheduling feature, where you can send large campaigns of 10,000 recipients or more, and GMass will spread it evenly over a number of days, so as to not exceed your daily sending quota.
This technique proved to have its limitations, however, because Gmail doesn't always allow you to send your full account limits.
To further address this, GMass added the option of being able to set an outside SMTP server with your account, such that you could still use GMass and Gmail to launch your email campaigns, but the emails would actually be sent via a third party sending service rather than by Gmail directly. From the user's standpoint, however, everything would still look and feel the same: the emails would still show up in your Sent Mail folder, and everything from opens and clicks to bounces and replies would still be tracked.
For our non tech-savvy users, however, signing up for a third party SMTP service and connecting it to GMass was frustrating and difficult. To address that frustration, we made it possible for users to use our internal SendGrid account. We created an application process for "good" senders where we would connect their GMass account for them to our internal SendGrid account, so the user could skip the technical details and just send.
Still though, this requires "work" on behalf of the user, because the user has to
Apply to use our SMTP server.
Wait for approval from us.
Remember to choose the "SendGrid" option instead of the "Gmail" option in the GMass Settings box.
An easier way going forward
Starting a few days ago, we have our most simplest option yet to circumvent Gmail's sending limits.
Now, if your campaign is under 10,000 recipients and exhibits the qualities of a legitimate sender and not a spammer, we'll automatically push the remaining portion of the campaign through SendGrid after you hit Gmail's limits.. You won't have to wait for your Gmail quota to reset, and you won't keep getting flooded with "You have reached a limit" bounces.
How will you know if we've "pushed" your campaign?
If your campaign is selected by our algorithm to be pushed to our SendGrid server, you'll get an email notification like this: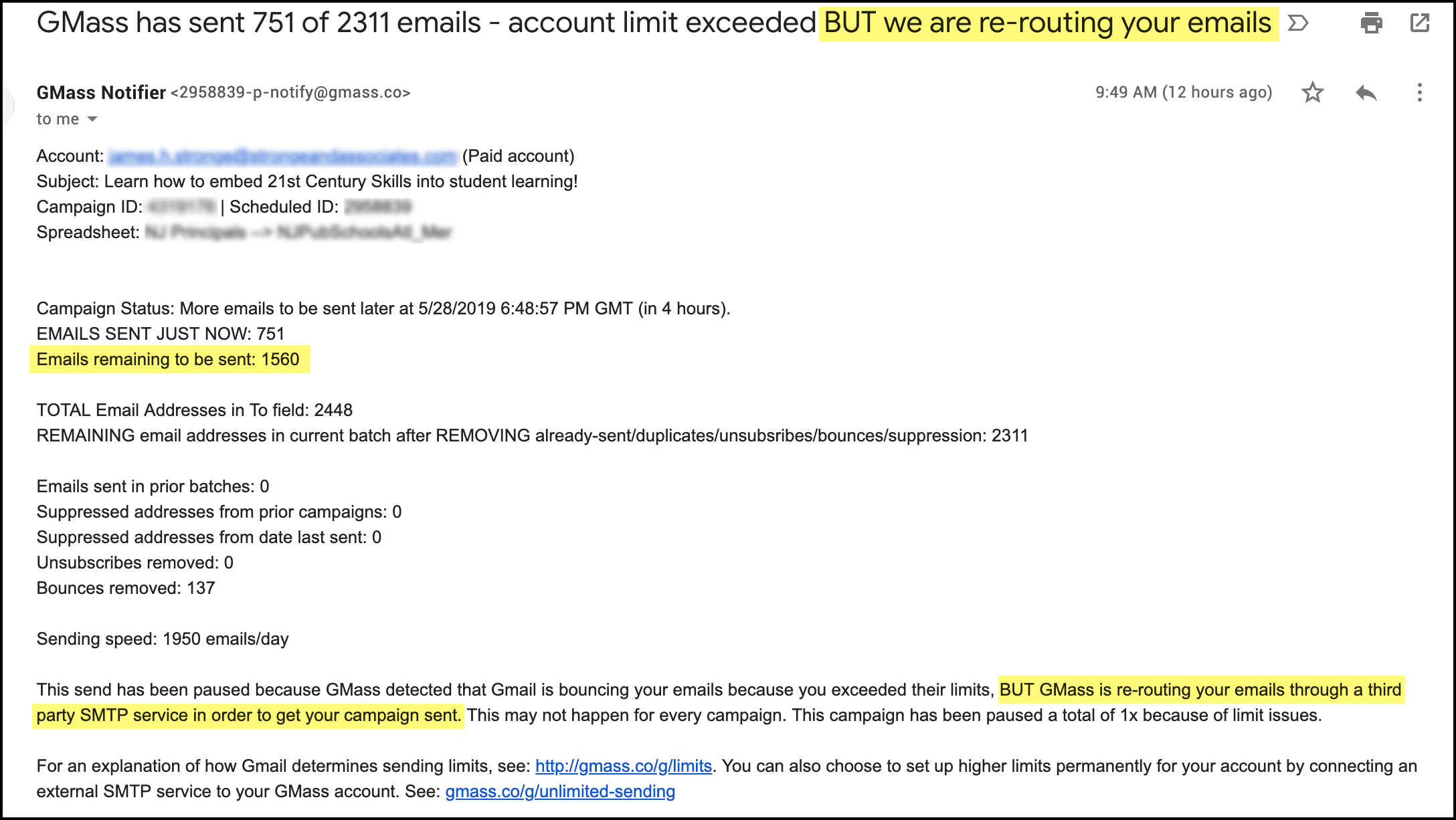 The Subject will clearly indicate that we're pushing your campaign through our SendGrid server.
Shortly after, you'll receive another notification like this, confirming that the email is now sending through SendGrid.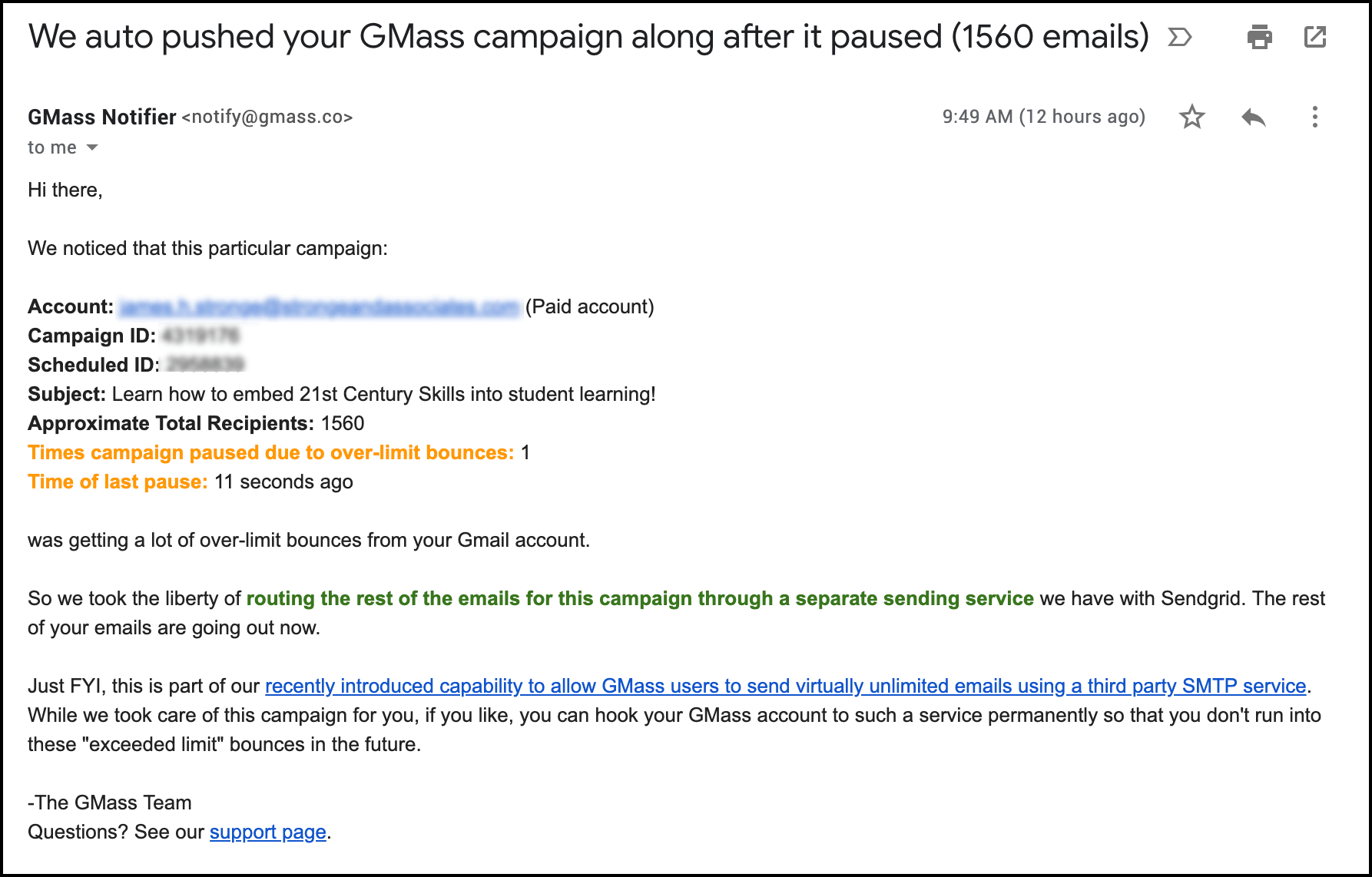 What's the secret formula to getting pushed through SendGrid?
We can't say, but we have a pretty sophisticated and accurate way of determining whether a campaign is opt-in.
What about the deliverability advantage of Gmail?
When GMass automatically pushes a campaign via SendGrid rather than Gmail, the email is no longer going through the Gmail's deliverability servers, but our recent data shows that the IP of the sending server is less relevant than it used to be for email deliverability purposes.
Inbox placement has more to do with the actual sender, the domain's reputation, and the content of the email, rather than the sending IP. Meaning, we've been noticing that if half of a 5,000 recipient campaign sends through Gmail, and the other half sends through SendGrid, the open rates for each batch of 2,500 are around the same.
However, to ensure that we're not compromising your campaign's deliverability by re-routing it through SendGrid, we'll show you your campaign's open rates, broken out into TWO groups — the chunk of emails sent natively via Gmail, and the the batch sent via SendGrid.
Here's an example of what you'll see in a campaign report:

I don't want my email campaigns automatically pushed to SendGrid
No problem, just let us know, and we'll set your account to never use this new capability.
Ajay is the founder of GMass and has been developing email sending software for 20 years.